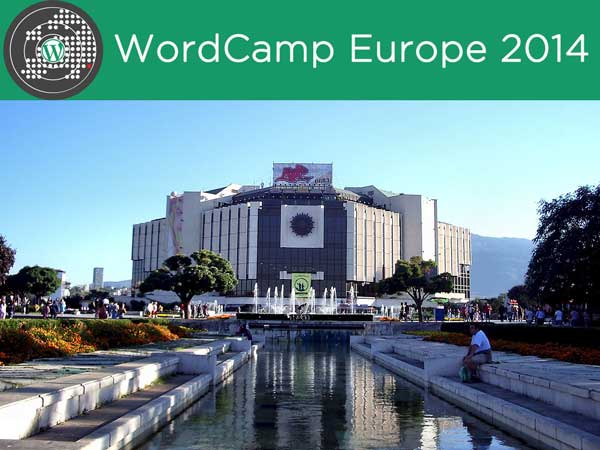 Our take on this year's WordCamp Europe
---
We just got back from WordCamp Europe 2014 at Sofia – Bulgaria, wow, what an experience! We have all been to local meetups before but as a company this was our first major WordCamp, and our first sponsorship (with more to come). It was amazing seeing so many WordPress community members, professionals, enthusiasts, from so many places around the world, all together in one place. There were over 880 attendees at this year's WordCamp Europe, among them were many distinguished speakers & personalities from the international WordPress community, many well known companies and teams which contribute great products & services to the WordPress ecosystem, and of course many many volunteers who made the whole event happen. One could say that at the event the atmosphere felt almost "electrifying" as knowing that so much knowledge and so many similar minded people with more or less common interests, all concentrated in one city, in one single place, gave you a feeling that you are surrounded by an invisible "positive energy field" (if that makes any sense, but those attending know what I mean).
For our team WordCamp Europe was the anticipation and realization of more than a year's hard work and dedication, since we would be officially launching our brand, platform and product at the event.
The Day Before
We arrived late in the afternoon one day earlier. It was an "interesting" experience for us, since it was the first time we had ever flown internationally in a small twin engine turbo-prop airplane, flying through the middle of a weather depression. It felt like being stuck in a tin-can and put on a roller coaster ride as we flew through the turbulence & air pockets and slowly left the low pressure weather system behind us – but boy, what a ride!
Arriving in Sofia, we were first greeted by the cold (~10C/50F), it was chilling, since an hour earlier we had been in Athens at 32C/90F so we were still in our T's and shorts. The first thing we noticed was beautiful and huge Mt. Vitosha, with it's snow covered peaks glairing down on Sofia – wow, one could characterize it a "majestic" sight, since it made Sofia look small and insignificant in comparison. Sofia is the capital of Bulgaria, which is part of the EU, and is a medium sized eastern European city, with around 1.3 million inhabitants. Driving to the hotel one could see the remnants of the "iron curtain" in the architecture of older buildings, while simultaneously the complete westernization of the place was also apparent, with huge billboards advertising all the big known brands, fast food chains etc.. so it definitely gave you the impression of a mixed personality, with old and modern era's coexisting.
Once we checked into the hotel, we were off to the speakers dinner to grab a bite, meet-up with friends and have a beer. Finally we got a chance to put faces to names and met friends that we had been collaborating with for the previous months, while arranging the event was still in the works. It's there we got a chance to meet Grant, a freelance web developer from Scotland and WordCamp Europe volunteer, who at just 23 years old, was already making a living building beautiful websites and we also met Vassilis, a wceu sponsor from CSSIgniter (they create really great premium WP Themes and offer them online), who's "driving to WordCamp" horror stories were a great laugh. We met Sam from the states, who was an excellent ambassador of his country and a great guy (stop apologizing Sam!), and of-course we met up with Noel who was our wceu sponsor liaison, co-ordinator, and lifeline during the arrangements. All in all it was a great night with lots of laughs shared and stories told – after that we were off to sleep for the grand opening of day 1.
WordCamp Day 1.
Day one started early, real early, we were up and about at 6:00am, volunteer attendance at the venue was at 7 and registrations opened at 8. After we got our booth setup, after drinking a few cups of coffee and after getting over the last minute near-disasters (you know, Merphy's law stuff is true, especially when you realize that your one and only demo screen which you had to specially ship, has a custom power adaptor which you forgot to pack and you can't find it locally), we were finally ready to say "Hello World".
Well the world answered, and said "Hello Pressidium – show us your stuff!", and the five of us were immediately overwhelmed by attendees visiting our booth, asking us questions, watching our demos, giving us feedback, and in general expressing so much interest in our platform and service. Initially we did not know what to expect and we were really surprised with the amount of attention we received. A whole spectrum of people, with totally diverse backgrounds wanted to know all about what we had built, from the nooks and crannies of our architecture, to the integrated features of our UI, it seemed everyone had a use-case to present and the feedback we got was priceless.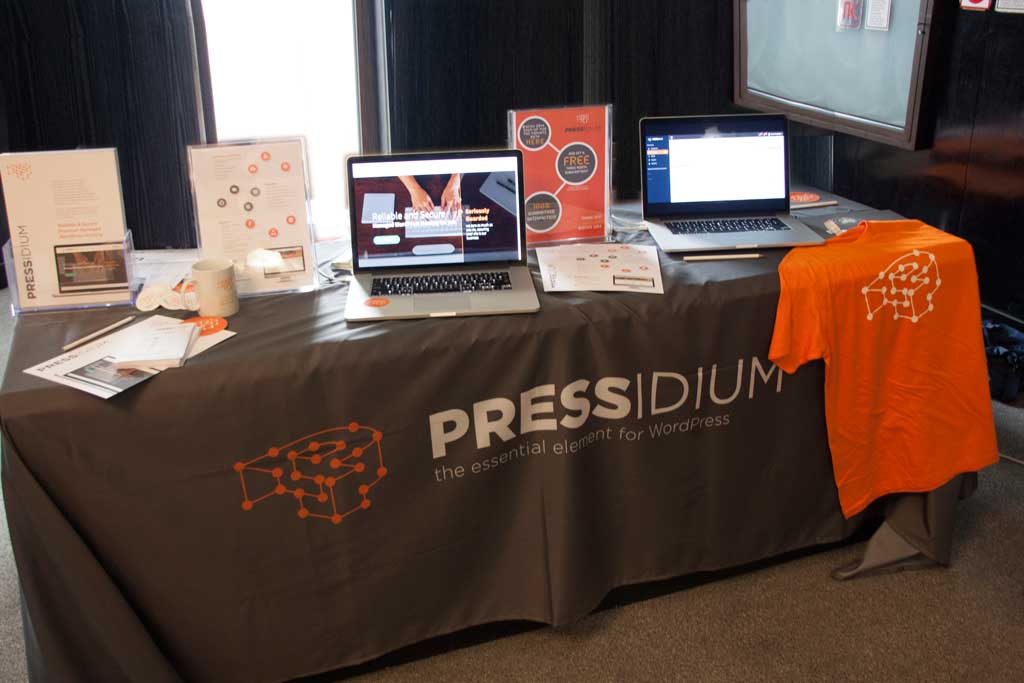 As engineers it felt liberating to be able to demo and explain our platform to people who understood what we were talking about, and it was thrilling to see that people really, I mean really, liked it. It was if everyone has faced or is facing common problems, the very problems that our solution is called to answer.
To top it all, during the day we got to meet Matt Mullenweg, who dropped by our booth to say Hi. We are honored that he devoted his to time to check out our demo and have a pleasant one on one Q&A with us about our stuff – Thank you Matt!
We had planned on tag-teaming the booth so that we could each individually go and watch every talk that we were interested in, well that didn' t really work out because we had so many people remaining and asking questions at our booth that we lost almost all the sessions we wanted to attend. Luckily every talk at #WCEU was recorded on video so we are looking forward to watching those presentations that we missed.
After-party
Well I guess this was the biggest, coolest and greatest geek party that we have ever been too. We met-up at a place called Mixtape 5, in an underpass near the venue. After being frisked and checked by security, stamped with a UV-Pass and after checking-in our coats, we got in and it was packed! Free drinks for all! We got to hang out and have a few drinks with our friends Tomas & Justas who we were glad to have met during the day. The team from Lithuania "code the globe" by literally traveling it! and immediately after #wceu were booked on a flight to Dubai for a project there and immediately after that they were off to Kuala Lumpur in Malaysia…w00t!
At the party it was great meeting up with the people we had talked to during the day. Socializing with the wceu crowd was a blast, so many people with different backgrounds, from different countries and different cultures but in a way we were also all the same, all with similar interests, all with experiences and adventures to tell and all so friendly and fun!
And as expected in the early morning hours we slowly dragged ourselves back to the hotel, to try to get a few hours sleep before day two started.
WordCamp Day 2.
Well, day two started funny, and by funny I mean, well, sort of slow, we got to the venue at around 8:45am – and basically only volunteers were there (gulping down coffee like us). At 9' people slowly started appearing, and by 9:30 enough early birds finally arrived for the day to begin as scheduled. Everyone (including us) was a little hung-over from the previous night, but by noon all adverse effects had worn off and everyone was full of energy again, of course with the help of the special soured-milk drinks and local breakfast pastries being offered in the main hall.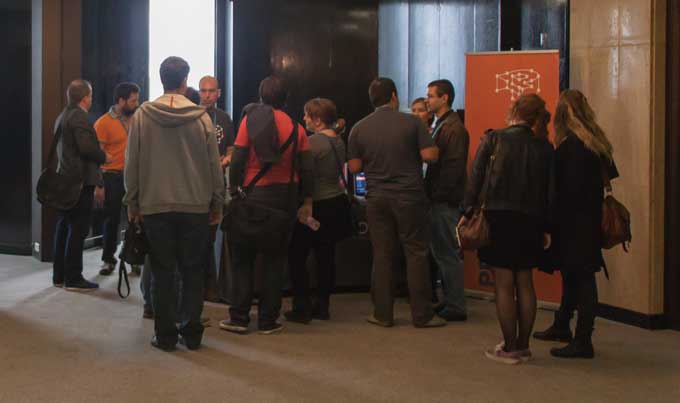 Again we were swamped by attendees visiting our booth, all interested in hearing about our stuff. Same as day one, we were accepting sign-ups into our Beta program and as a thank you we were giving away a small gift pack & T-shirt, with the only difference that on day two we also decided to give away a bunch of coffee mugs we had specially made for WordCamp Europe attendees. We were afraid that we wouldn't be able to give them all away, but, man, they went like hot cakes and were gone within a couple of hours (sorry to all those who didn't get one, we will make more next time! promise!).
After lunch, everyone attended the main event which was the one hour Q&A with Matt Mullenweg and Om Malik interviewing (1st adopter of WordPress). It was great to see so many interesting questions answered by Matt and get a feeling of which direction WordPress is heading. It was also great through Matt's answers to see that so many core values are being upheld, and that people in high profile positions still remain faithful to their roots and fundamental beliefs. We would like to especially thank Matt for mentioning us when the discussion came to new age webhosts and how to scale WordPress for high performance popular sites. All in all it was a very interesting session which provided significant insight into where we are heading, or at least where we all would like to be heading.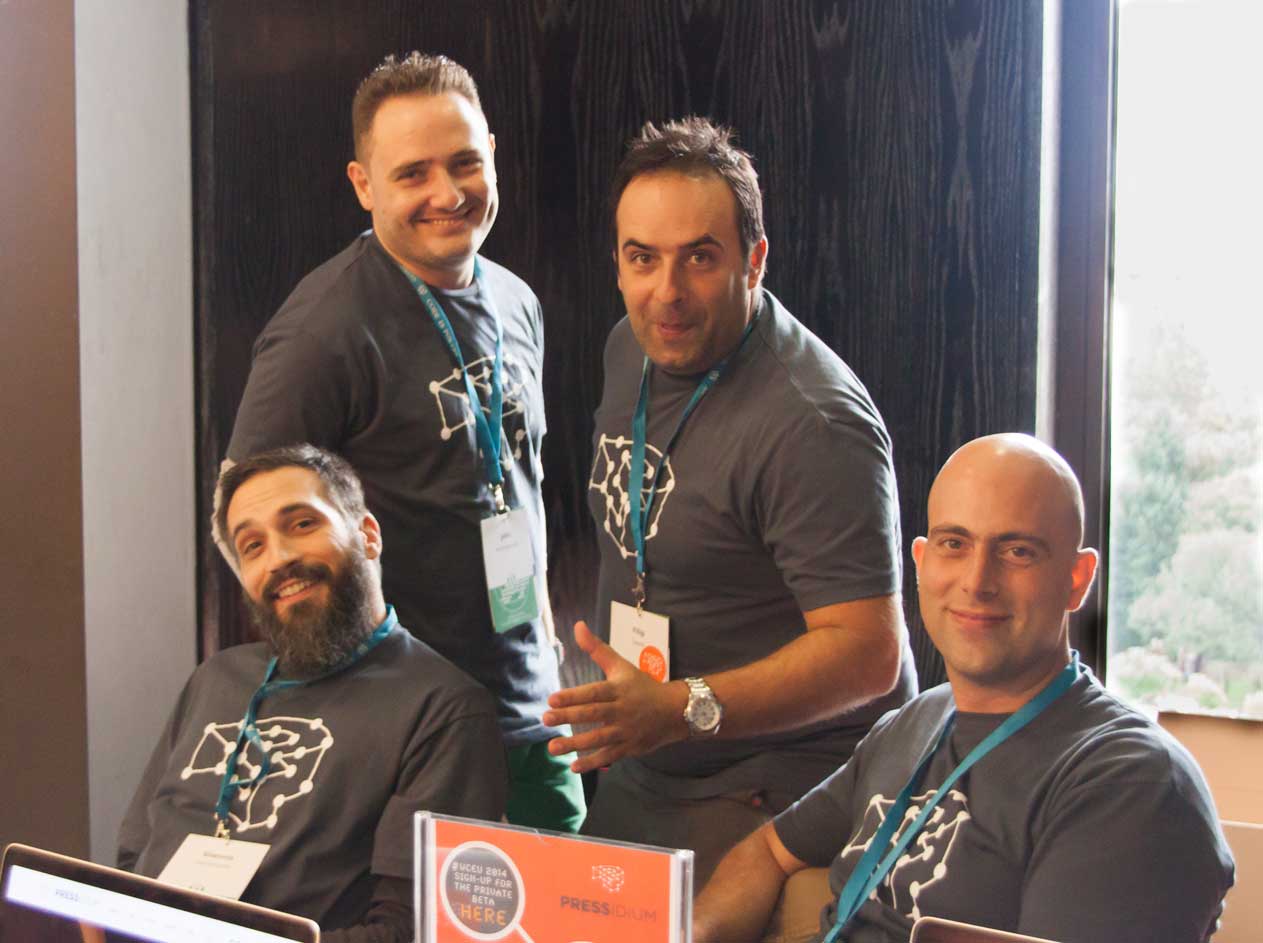 As day two came to an end, and all were now feeling tired and drained, at the Pressidium booth we looked back to recap on the past days events, and we got truly ecstatic, wow! we received more than 300 developer applications into or Beta program! thats about 260 more sign-ups than what we were expecting!
We don't even know where to begin to express our sincere gratitude to the community for the overwhelming support and interest. At the very least as a minimum token of our appreciation, each and every sign-up into the Beta program will be rewarded with a free three month personal plan subscription, and hopefully the feedback we get from the program's participants will help make our platform even better than what it already is – so that's just great!
After the final talks ended and we got everything packed up, we headed off to meet-up for dinner with the WordPress Greek Community at a traditional Bulgarian tavern. There we had a chance to try local Bulgarian treats and hang-out with new friends and partners, had laughs and shared stories with the guys! Takis, Andonis, Kostas, Fotis, Tasos, Aristeidis & everyone – you guys are a hoot!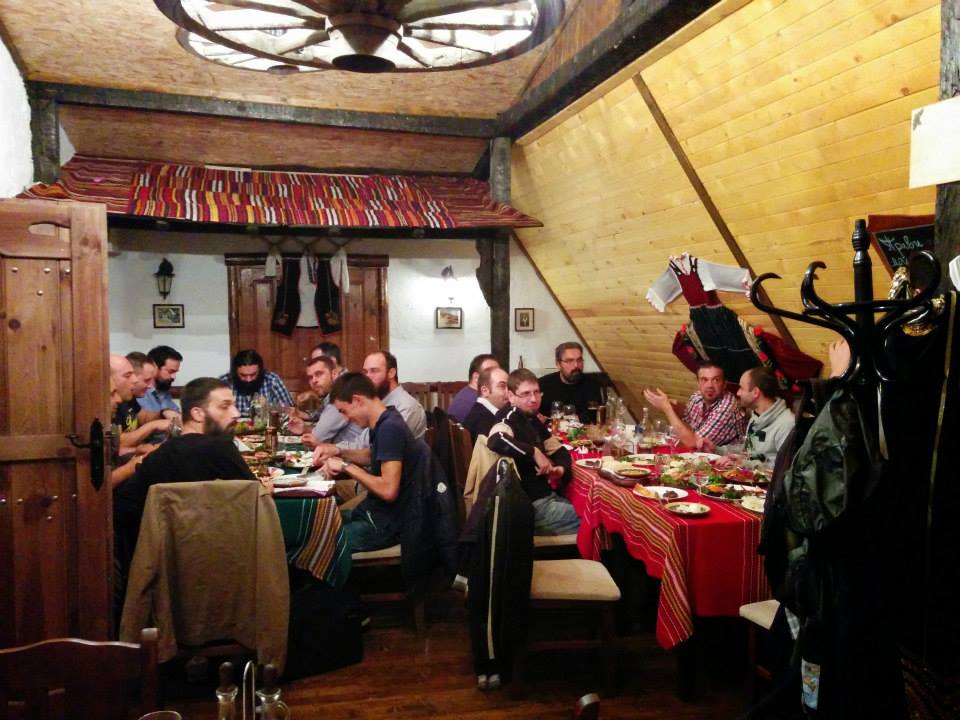 So, to cap it all up, the new friends, the experiences, the crowd, the volunteers, the speakers, the attendees, the talks, WordCamp Europe '14 in a nutshell:  "FRIK'N AWESOME" – From our hearts, Thank you all! and see you next year at #WCEU 2015!