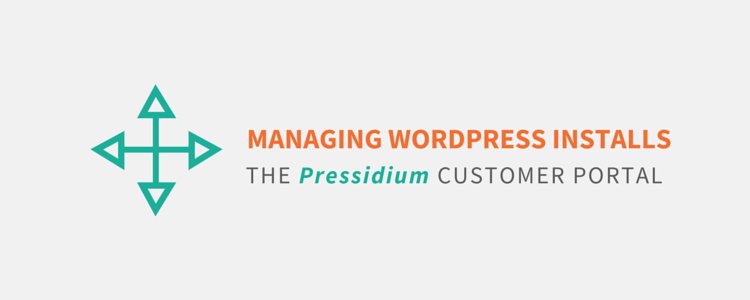 Managing a WordPress website isn't always easy. There are plugins and themes to update, core WordPress files to upgrade, development to carry out and backups to keep safe and that's just the tip of the iceberg. Imagine that scenario times 10, or 20, or 100.
This is the reality of many a freelancer or agency with multiple clients to take care of. Much of your time is spent in maintenance and admin, instead of designing and developing. Wouldn't it be more efficient if you could deal with everything all in one place, so you can get back to doing what you love?
Of course it would! You'd free up much more of your precious time, without worrying about a backlog of tasks to tick off your long to-do list.
While Pressidium Managed WordPress Hosting won't update your themes or plugins for you, we do provide a way for you to achieve everything else, including keeping up with the latest core WordPress updates. Read on to discover everything you need to know about the Pressidium Customer Portal, and how you can make it work for you and not the other way round.

Your Installations At A Glance
From personal experience, navigating your hosting account successfully can be an achievement all on its own. They're not always the easiest of beasts to decipher – some even have their own video tutorials for just such a purpose.
But should you really need to take a crash course in navigation, just so you can view the websites you've got installed and manage them? It seems a bit counter-intuitive and with different hosts using different setups, that's a whole lot of learning to take on before you've even started.
That's why at Pressidium, we've custom built a bespoke user portal providing a quick, clear, at-a-glance snapshot of what's going on in your account. No bells and whistles, no complex navigation, just a seamless user experience providing only the tools and functionality you need to have access to.
We manage the technical side of things behind the scenes, leaving you with the essentials.

An All In One Overview
From the moment you log into your Pressidium Customer Portal, you face an instant snap-shot of recent activity for your account. Your WordPress installations are listed right there in the dashboard, with previews on stats, overage, traffic and backups.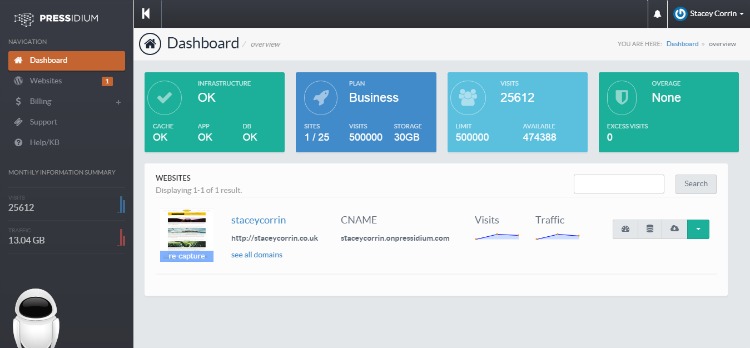 Having your installations displayed like this, makes it easy to prioritize your tasks. Instead of wasting time clicking from screen to screen, you're straight in there from the very beginning.
Along the top of your dashboard overview, you can quickly garner the status of the Pressidium infrastructure, gain quick stats on your traffics and monitor for overage. It's all about giving you precisely what you need, without you having to go searching for it.

Effective Support At Your Fingertips
You're bound to need a helping hand here and there, but why should you have to go trawling through dedicated support forums for assistance? Your customer portal is a gateway to endless support via our built in ticketing system. Whatever the problem or query, you can submit a ticket right there and then and get your matter dealt with.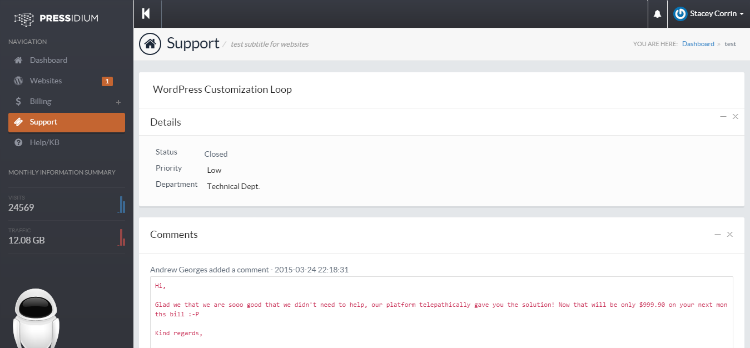 You'll even get a notification of all responses, along with archives of your tickets for future reference. Since our support responses tend to be long and detailed, this is a great way to store up your own knowledge-base to tap in to when you need it.

Backups At The Click Of A Button
With multiple clients, comes the responsibility of keeping their installations safe and secure. Backing up the database and content of your clients websites on a regular basis is one of the best ways to ensure you've always got a spare copy of their data to hand.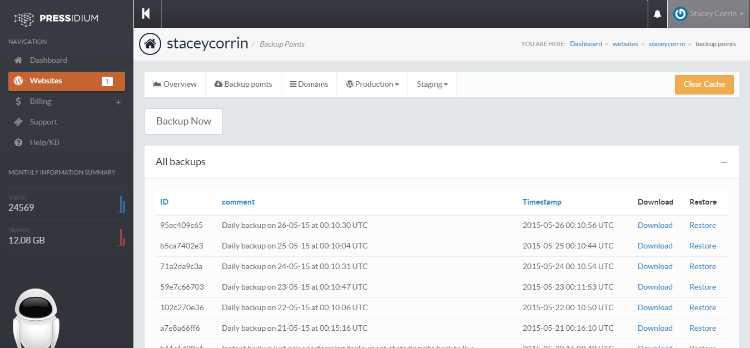 Instead of dealing with yet another plugin that you'll need to keep up to date, Pressidium allows you to create instant backups whenever you need them. One click of a button from your Customer Portal automagically backs everything up, giving you and your clients a safe restore point should you need to access it.

Essential Statistics & Billing
It's not just your clients websites that need managing and taking care of. Other factors such as your account details, billing and payment methods and statistics are all part and parcel of the admin side of things.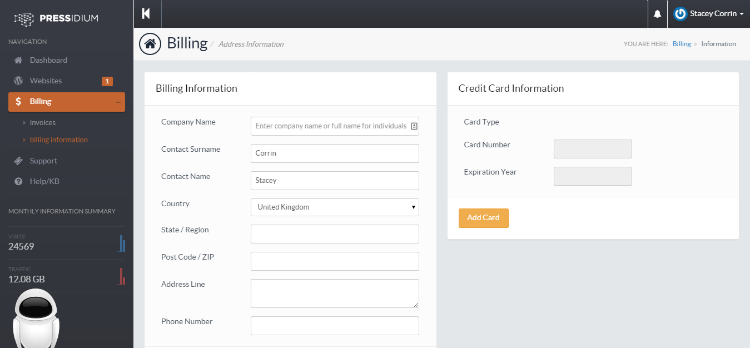 Need quick access to your invoices? Your billing area lists every invoice ever issued for your Pressidium account. All you need to do is click to download them to keep your financial documents in order. It's really that simple.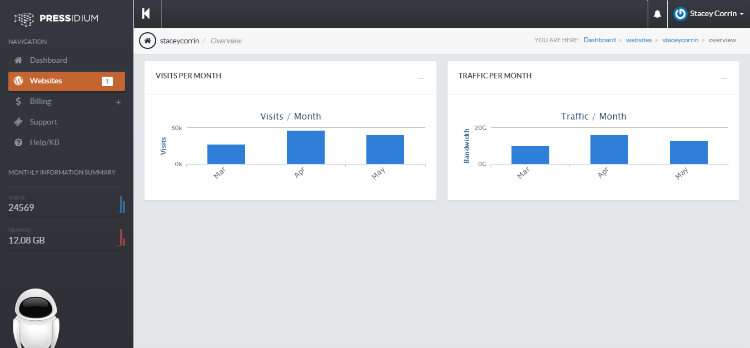 No doubt you check in with your clients regularly, giving them updates on the status of their WordPress installations. Because we provide only the essential information regarding traffic usage and statistics for each of your websites, you're able to include these in your reports without having to dig through the many layers of your Google Analytics data.

Making Your Work Life Easier
The whole idea behind the way we've designed the Pressidium Customer Portal, is central to the need to make your working life easier, in order to give you more time doing the things you love.
No-one wants to spend hours on administration and maintenance. Let's face it, it's dull work. With Pressidium Managed WordPress Hosting, you can manage all your WordPress websites from one dashboard. No fuss, no annoying extras that only serve to get in the way. Just pure simplicity, built from the ground up to serve your core needs.
Now isn't that a refreshing change?
JOIN HUNDREDS OF BUSINESSES THAT USE PRESSIDIUM TO SCALE THEIR WORDPRESS SITES