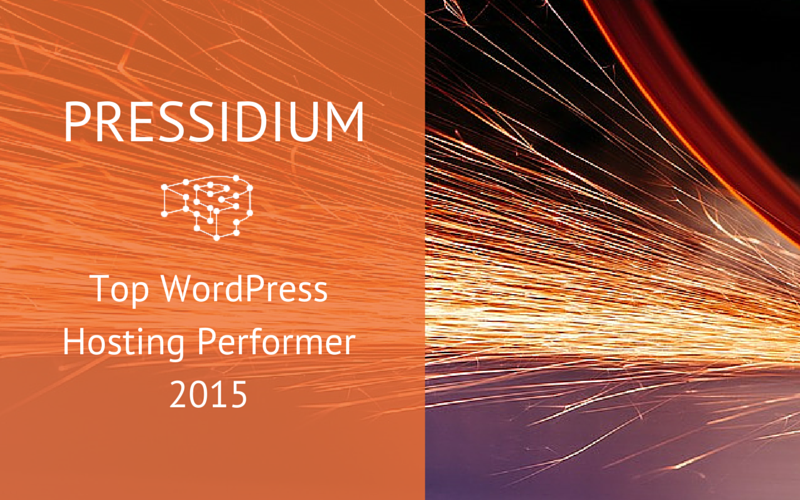 For a while now, Pressidium has been working hard behind the scenes to make our Managed WordPress Hosting, the very best it can be.
It hasn't always been easy. We've faced many hurdles along the way. Long, eye-watering evenings have been spent – more often than not, carrying on into the next day – ensuring the Pressidium Pinnacle Platform lives up to expectations.
You see, we don't like to make promises we can't keep. We don't simply put a claim out there that we can't back up. Instead we put every effort into proving that what we say is true.
This is why the recent news that Pressidium has been thoroughly tested and included in Review Signal's Top Tier WordPress Hosting Performance Award for 2015, has been like music to our ears. It confirms that the hard work has paid off and what's more, it demonstrates that what we've been saying all along, hasn't been untruthful.
What Is The Review Signal Benchmark And Who Is Kevin Ohashi?

Review Signal is a hosting review site created by consumers for consumers. Created by the dedicated Kevin Ohashi, it aims to sift through the sometimes unreliable and biased reviews on the web, to bring consumers honest and tested information which they can use to choose the best hosting options for their needs.
On Review Signal's about page, Kevin writes that they,
"…present an overall picture of a company based on all the messages we've collected about that company. Our math isn't very fancy, it's an approval rating. For example, if 500 people said something positive about company A and 500 said something negative about company A, the rating would be 50%. We also distill the data we collect into trends to see how a company has done over the past 12 months."

The WordPress Hosting Performance Benchmark, is an annual test carried out on a broad range of WordPress hosting providers in the market. It's a test that's highly regarded in the community as one of the most reliable pieces of information out there, by which you can accurately compare providers based on hard evidence, and therefore by most it is now regarded the industry standard benchmark.
Naturally it's not a fool-proof system, but Kevin goes out of his way to ensure the tests are fair and that they stand up to scrutiny. He personally invests months of his own time into these tests, sometimes at his own personal expense. We think that's commendable and can only thank him for his hard work and dedication.
Pressidium's Test Results

As newcomers it was our first time in the test and we were sincerely humbled and honoured to be given the opportunity to take part, even though we knowingly had a comparative handicap as we were the only entrant who had a datacenter tested outside of North America (in London UK). This increased the network distance between Kevin's test servers and our servers and might of killed our performance. Despite this we decided to push on and take part in the test, regardless of the result, it's just who we are. So, even taking this handicap into account, it ends up that we did amazingly well, even better than many of our North American based counterparts, and we are simply thrilled by the results.
Here's what Kevin himself had to say about Pressidium:
"Pressidium was a new entrant and it did exceptionally well. They are UK based and suffered slightly on some performance tests because of latency between the UK and the US testing locations used. For example, the Blitz testing showed fewer responses, but their total of 10 errors shows pretty clearly that it was a throughput across the Atlantic ocean issue more than their service struggling because it had a 1 second spread from the fastest to slowest response. Incredibly consistent performance. Despite their geographic disadvantage in this testing they still managed to keep a sub-one second response from four US testing locations in the WebPageTest testing. Overall, a top tier performance from a competitor from across the pond."
You can view all of the results and much more detail on Review Signal's blog.

The Final Results
Pressidium was awarded Top-Tier WordPress Hosting Performance for 2015, that means that we are among the best of the best in terms of performance, reliability, throughput and speed. As Kevin so eloquently puts it;
Each of these companies performed with little to no failures in all tests and exhibited best in class performance for WordPress hosting.


A Humble Thank You

With the inclusion of Pressidium in the top performers list, we'd like to take this opportunity to thank Kevin for such a detailed and honest review. Given that we were relatively new, the fact that we even made it onto the test list is something we're incredibly grateful for.
We'd also like to thank you, the person reading this. Even just by being here, you're helping us to grow, reach new people and get our message across. Without the help and support of our subscribers and the loyal community that's built up around us, we wouldn't be where we are now.
So from the bottom of our hearts, thanks for sticking around and believing in us.
What This Now Means For The Pressidium Team

New partners are signing up with us every single day. This means we're constantly working around the clock to provide everything we claimed we would. But this doesn't mean we've forgotten our goals.
We're still 100% dedicated to revolutionizing the Managed WordPress Hosting industry and making it a better, fairer place.
Very soon we'll be launching a new section on our website, that's dedicated to the Enterprise customer. It will include new pricing plans for Enterprise Level businesses requiring Enterprise Level plans, so keep an eye out on our Twitter feed and Facebook page for news of it's launch.
We're also working on number of feature requests submitted by our existing partners. We can't reveal too much about these features yet, however we'll be sure to keep you posted as soon as we have more news.
Thank you once more, for being a part of our revolution. We'd be lost without you.
Team Pressidium.
JOIN HUNDREDS OF BUSINESSES THAT USE PRESSIDIUM TO SCALE THEIR WORDPRESS SITES