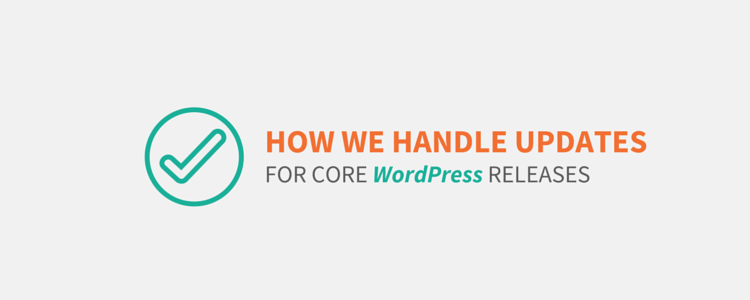 Updating to the latest version of WordPress is crucial for the security of your website. As we've seen in recent months, vulnerabilities are always being found that could potentially leave your site open to attack. But sometimes it's not always as easy as hitting the update button. Whichever way you update your core WordPress installation, there's always the inevitable bugs that follow.
With Pressidium Managed WordPress Hosting we take a more intuitive approach to ensuring you're always using the latest, most stable version of WordPress. Read on to discover how we keep you updated and the rigorous process we follow.
Updating WordPress The Conventional Way
It's pretty safe to say that most of us have experienced the joys of standard shared hosting at some point in the past. When it comes to updating your WordPress installations on these standard hosting environments, it's often the case that you're left to do the nail biting task of updating WordPress yourself.
This can be a somewhat nerve wracking position to be in, particularly if your technical knowledge is limited. What if the update goes wrong? Who do you turn to for help? What do you do if something breaks during the update and you don't know how to fix it?
For freelancers, it means you need to manually update every WordPress installation you manage. With multiple clients on your books, that's a whole lot of time taken out of your work day.
Then there's the inevitable bugs that are found after an update. These can create multiple problems. In the case of large agencies, you'd need to pull in additional resources to troubleshoot and find solutions to these bugs for each individual client setup. Each website is different after all, with different setups and requirements.
Pressidium's Approach To Updating WordPress
How we approach updating WordPress however, is different to what you're probably used to. Instead of jumping on the latest update, all guns blazing and leaving a trail of destruction in our wake, our Managed WordPress Hosting has a system in place designed to iron out any foreseeable problems, before they hit our customers websites.
Before we roll out a new WordPress update, we begin by sending it to our lab for rigorous testing by our engineers. They're the WordPress experts, therefore they're the best people for finding something that isn't working as it should be.
This process usually takes around two weeks, enabling the team to do their thing without putting any customer sites in jeopardy. It also leaves enough time for subsequent patches and fixes for known bugs to surface and to be implemented.
Only when we are 100% happy that the latest version is as stable as it can be, do we schedule automatic updates out to our customers. Naturally if you're impatient to try out the newest release, our customers are able to manually update their WordPress installations before the automatic roll-out. This article from our support archives, talks you through how to do this. Otherwise all customers will be updated behind the scenes on the scheduled release date, without having to touch a thing.
Why Does It Take So Long?
Now you might be thinking that roughly two weeks is a heck of a long time to have to wait for an update. We totally agree with you, but let's be practical for a moment. Do you really want to upgrade as soon as possible, and then realize something's broken and you don't know how to fix it?
In our experience, it takes a while for potential bugs to surface after WordPress releases any new update. Thousands if not millions of people will be trying to do the same thing as you – upgrading, finding a bug, reporting it and waiting for a fix.
In our lab we effectively try to break the update in order to identify any weaknesses and vulnerabilities. We then brainstorm and research solutions to these issues to make the entire update as secure as possible. Naturally this takes time.
If we were to roll the update out as soon as it's released, we'd be inundated with support requests, broken websites and quite rightly, worried customers. We don't want you to have to worry about a thing. Therefore this is the most logical, efficient and least disruptive solution we have right now. We're pretty sure it's worth waiting for.
On Updating Plugins And Themes
Updating your WordPress plugins and themes on the other hand, is a whole other matter. The responsibility of keeping your themes and plugins up to date, usually lies with the customer, it's not something Pressidium manages for you.
In certain circumstances however, we will step in and update plugins or themes that pose a serious security risk to our infrastructure. In these instances a member of our DevOps team will first contact you to make you aware of the issue and to give you time to personally update. While we wait for your response, we'll be actively mitigating the exploit using the virtual patching technique in our web application firewall.
If however we're unable to reach you and it's clear you won't be responding to our communications, we will update the vulnerable plugin or theme ourselves, to ensure the ongoing security of you, your websites and the rest of our customers.
What This Means For Pressidium Customers
It may be an unconventional way of doing things, but then we're not a conventional Managed WordPress Hosting provider. We strongly believe that updating WordPress in this way, allows us to provide you with a seamless WordPress experience, with effortless transitions from one update to the next.
In return for your patience, you get peace of mind in knowing you haven't got multiple websites to update – it's all done for you automatically, behind the scenes. You'll also have the assurance that your installation is stable, that it won't break and potentially lose you revenue in the long run.
We live in a world of instant gratification, where we must have things right this minute. Rarely do we think about the consequences of those actions before we've made them. Thankfully at Pressidium we do think before acting. Your livelihood depends on it.
JOIN HUNDREDS OF BUSINESSES THAT USE PRESSIDIUM TO SCALE THEIR WORDPRESS SITES