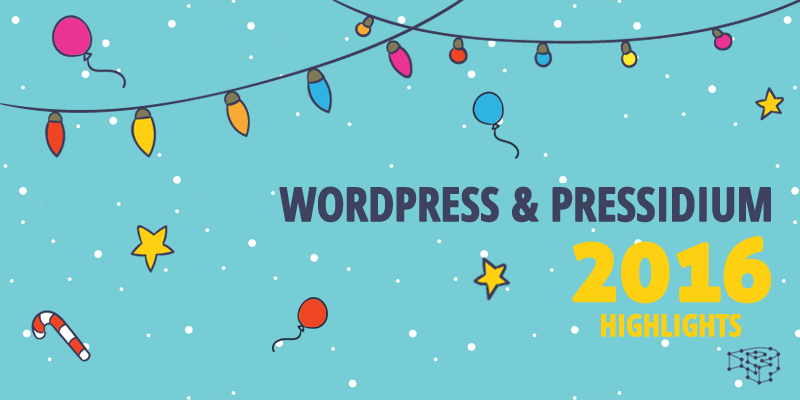 2016 as you would probably not doubt, was a very intense year, to say the least. Our company kept on growing fast while many exciting things were happening in WordPress. At the same time, the rest of the world was seemingly going mad.
Let's start with the world of WordPress.
WordPress 2016 Highlights
Undoubtedly, the highlight of this year was the  release of WordPress 4.7 "Vaughan". This new version features several enhancements across all functions. The most impressive feature, though, is a new REST API which makes all WordPress functions available in a programmatic and modern way. Your website's posts, comments, settings, etc can be externally accessed through that API in a standardized interface. This transforms WordPress from being a blog platform to a fully-fledged Content Management System (CMS).
The second, most exciting WordPress highlight of the year was the release of PHP 7!  Besides the dazzling performance increases it registers, it also introduces a new and exciting set of language features and optimizations. These will bring much joy to developers and WordPress users alike!
Pressidium's 2016 Growth and Expansion
Scaling and growing have been the main challenges for us in 2016. The number of our hosted websites and staff has tripled, while our revenue has increased by a whopping 350% ! Our new Pressidium Data center region deployment in N. America and Oceania/Asia Pasific  is probably the  top highlight of ours  which shines the brightest in 2016!
We've also announced full support for Let's Encrypt certificates, automated renewals included. This initiative will help the Internet become much more secure, for everyone, and we fully support that.
Following the release of PHP7, We put it to the test and it registered a 100% performance increase over PHP5, across all concurrency tests,  delivering 2x transactions and cutting in half the response time.
We've also deployed the following features and you can find them extensively analysed here:
In addition, we have also tested and deployed the following features for our updated Portal:
Plugin updates can be managed directly from the Portal for every installation.
New major release of Pressidium Adaptive Cache Engine. It features additional cache performance optimizations and improved compatibility with e-commerce and forum sites.
Universal SSL and Certificate management per installation.
Domain and Redirect management improvements per installation.
Full Multisite Support with a choice of standalone or multisite at deployment.
WP Debug and WP Editor Control.
PHP Runtime Version Control.
Storage Usage Reporting.
What is more, there is a number of some very significant and helpful, upcoming features scheduled for deployment within the new year:
 A Role Based Access Control that will allow new users and roles to be created for your organization's needs.

 Full Offsite backup archive available for download from the Pressidium Portal.
As you probably know, we have been awarded Top Tier WordPress Hosting performer for 2016 by ReviewSignal. This is the highest level performance award a company can aspire to achieve and for this, we are extremely proud of! However, we are even more proud because this was the second consecutive year this award was granted to us! This year's benchmark tests were divided into price tiers, and we were awarded top-tier in all of them.
For 2017, This One Important Thing
Now that we're done with the sights and the sounds and the numbers, let's talk about something else. Something important. Probably the most important thing that there is.
When we first started Pressidium, we had only one tiny bit of hard earned wisdom which was, well, it's better to build something long lasting that is based on giving value, trust, and care than something frivolous.
And infrastructure is not a frivolous thing. It needs to be long lasting, enabling and trusted to carry out the enterprise. And the enterprise is well, you. Your life and your commerce.
Your everyday thing. What you do in order to thrive, not just survive.
Our vision of a fault-tolerant infrastructure for all, stood in contrast with the currently shaky world in which we live. But we did our thing, nonetheless. In bad days and in good days.
In all of this we went on in a facetious manner, tempered by the decades of practicing Stoicism in various badly-lit IT departments.
In the coming of the new year, we wish everyone only this one important thing. To continue doing what you do everyday. To establish a rhythm, a system, your own infrastructure. To go where you want to go. That is what we truly support. Not servers, or tickets or software. But your own way of doing this. Whether that is selling handcrafts or managing media content for a gazillion channels.
And please 2017, let's have some more music this year. Thanks.