WordCamps are an excellent way to connect and join in with the WordPress community. This time we have the great pleasure of announcing our sponsorship of WordCamp San Diego 2016. Pressidium has participated in a number of WordCamps previously, most notably WordCamp Europe 2014 and WordCamp Vienna 2015, and most recently WordCamp Prague 2016, while we're sponsoring WordCamp Jacksonville 2016 too. We've found them to be a great way to support the WordPress community, and to connect with both existing and future Pressidium users, while forming lots of long-lasting friendships over the few days of networking.
When and Where
WordCamp San Diego 2016 is being hosted over two days at the former Naval Training Center in Point Loma, starting on the 23rd April. There's an excellent lineup of speakers who are incredibly popular within the community, including:
[columns] [column 1/2]
Kevin Koehler

Chris Lema

Steve Zehngut

Carrie Dils

Jason Rosenbaum

Jennifer Bourn

Tom McFarlin

Chris Ford

Tony Perez

Christina Hills

Lucy Beer

Matt Cromwell

Pippin Williamson

Andrew Behla

Carolyn Sonnek

Kyle Maurer

Brian Bourn

Scott Stewart

Sam Hotchkiss

Verious B. Smith III

Adam Silver
[/column] [column 1/2]
Deena Mayne

Sarah Benoit

Lisa Ghisolf

Nile Flores

Mary Baum

Mark Uraine

Russell Aaron

Zack Tollman

Josh Cummings

Alicia St Rose

AJ Zane

Josh Pollock

Carl Alexander

Stephen Carnam

Konstantin Obenland

Erick Hitter

Evan Scheingross

Greg Taylor

Dustin Meza

Jarrett Gucci
[/column] [/columns]

See You There
Many of you already know Ansel Taft, either you've read one of his very informative posts, have followed his advice or shared your opinion with him. Ansel is a front end developer from San Diego, CA. He started building websites in the 90's and fell in love with WordPress in 2008. He helps admin Advanced WordPress and the WordPress Front End Developer groups on Facebook. In his free time he loves watching movies, drinking craft beer, and spending time with his wife and two girls. Ansel has always been there to answer questions, and lend a helping hand or share precious words of advice. Ansel will be at the Pressidium Booth, ready to answer your questions and discuss Pressidium Managed WordPress hosting in detail, and of course, there will be swag which we're sure you'll love! Just look out for our bright orange logo, it's difficult to miss!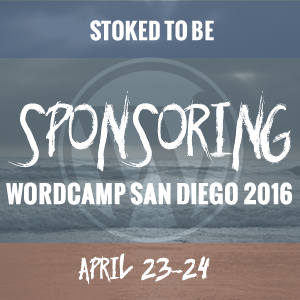 Win A Free Ticket
We're also delighted to be able to offer a total of 2 free tickets to WordCamp San Diego 2016, completely free to two lucky winners. So if you've been itching to attend but haven't got your ticket yet, enter our Giveaway below and you could very well be one of the lucky ones! Terms and Conditions can be found within the widget.
Needless to say we're really excited to be able to sponsor what promises to be another memorable WordCamp. We'll be following along with updates on Twitter and Facebook and wish everyone attending an excellent time!