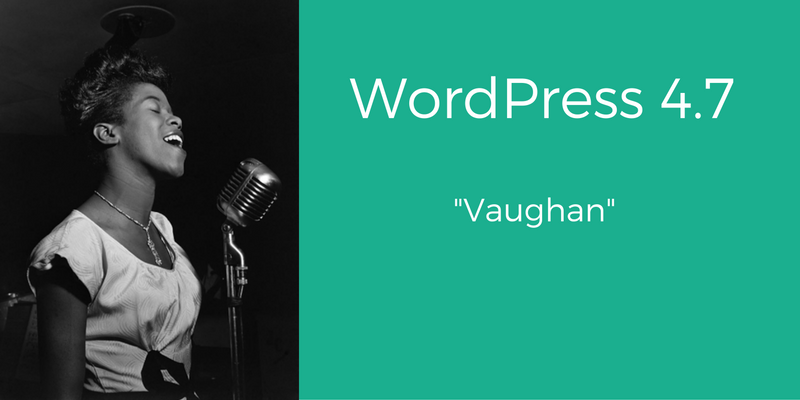 WordPress 4.7 was just officially released to the public, on the 6th December 2016. This new release is a tribute to American jazz singer Sarah "Sassy" Vaughan; the "Divine voice" according to many critics. This new release key features include the much awaited WordPress REST API, video headers, a new theme (Twenty Seven) aimed for business sites and many more.
Updates and Features of WordPress 4.7
This new stable release brings the following improvements and additions:
Theme Starter content –  Individual themes can provide starter content for your website, ranging from widgets to sample menus, social icons and images.
Edit Shortcuts – Visible icons help you edit and live preview your website faster.
Video Headers – Captivate your audience by placing a video to your WordPress blog header.
Smoother Menu building – Create pages while building menus, without leaving the customizer.
Custom CSS – Tweak your CSS and instantly live preview it without page refreshes.
PDF Thumbnail Previews – Document management is easier now with PDF thumbnails.
Dashboard in your language – Support for multiple languages in your dashboard too, not just in your blog.
REST API Content Endpoints – Make your WordPress site's posts, comments, settings and etc, externally accessible in a machine-readable way, using a standardised interface.

The integration of the WordPress JSON/REST API is very exciting news. It transforms WordPress from being "just" a web blogging platform into a fully fledged application development environment and Content Management System (CMS).  We will explore the WordPress REST API and what it means for your business, in more depth and detail soon!
Under The Hood Improvements
The following internal additions and improvements have made it to this new release:
For more details about the changes made with "Vaughan", you can see the full post over on the official WordPress blog.
 On Updating Your Installations
Based on our WordPress core update policy, we normally start automatically updating our customer sites two weeks from the official launch date of the new release. We know how much important the Holiday season is for you. So in order to  make sure that this highly demanding period goes as smooth as possible, we've decided to make the upgrade to WordPress 4.7 on Monday, 9th of January, 2017.
Also, once we push our 4.7 release and make it available for new WordPress installations, any customer that is not willing to wait for our usual grace period to pass, will be able to update as soon as they wish to using the manual update process outlined in this support article.

If you have any further questions or queries, you're welcome to either open a support ticket or contact us.