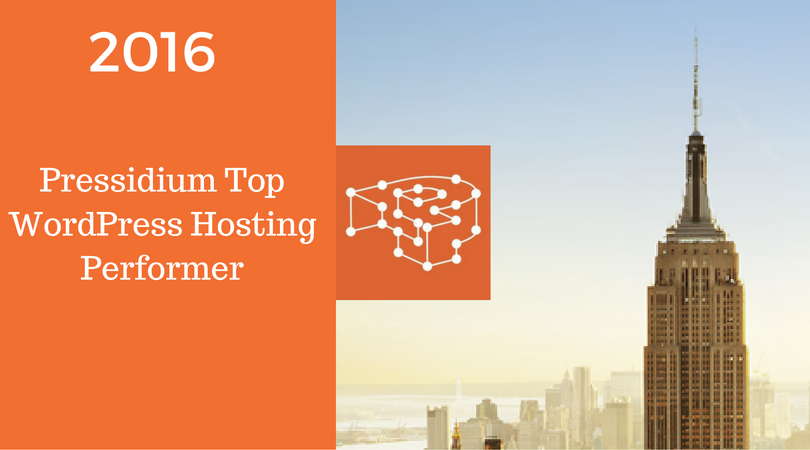 We're proud to announce that for the second year in a row, Pressidium has been awarded Top Tier WordPress Hosting Performer in the industry's well known WordPress hosting benchmark performed by Review Signal for 2016. This is the highest level performance award any host can aspire to achieve and following our success last year in the same benchmark, the news came as "music to our ears" validating all of our hard work and innovation over the past year.
Review Signal is a consumer to consumer website that aims to provide accurate information and honest reviews about hosting options, and now in their fourth year, the WordPress Hosting Performance benchmarks are considered as the industry standard test for hosting performance. This year's performance test was organized by different price ranges, as the market has changed quite a bit since last time. Kevin Ohashi, founder of Review Signal, had the following to say on the matter:
"This year is a bit different than years past where every company and plan competed against one another. When I started the price gap was from $5/month to $29/month. Last year the gap was $5.95 to $299. I was only testing entry level plans but the market has dramatically changed since I first got started. Today, there is demand at many different price points and lots of companies have gone upscale with WordPress.com VIP at the top of the price bracket starting at $5,000/month. The only logical way to break things up was by price brackets."
Some test parameters were also changed:
The Blitz.io and LoadStorm tests get progressively more demanding in order to match the price-plan tier.
Additional countries from all around the world were included in this year's WebPageTest.org test: London, Frankfurt, South Africa, Singapore, Shanghai, Japan, Sydney and Brazil.
Pressidium's Test Results
We improved quite a few things regarding performance since last year, and managed to not only top but significantly surpass our previously superior results. We recently deployed two new data centers to directly serve the regions of N. America, Oceania & Asia Pacific. We've also upgraded to PHP7, and rolled out a new version of our adaptive caching engine. All of these improvements dramatically improved average and peak response times, and eliminated the few timeout errors we had last year.
Our platform performed exceptionally well in all benchmarks and across all available price ranges. Offering enterprise-level performance and capabilities with every WordPress hosting plan is still our main tenet, and this could not have been demonstrated any better than in the test's results.
The $51-100 price range results
In Review Signal's 3000 concurrent user LoadStorm test our Professional class plan registered a 5x improvement of Peak Response Time since last year's award winning results and a 133ms faster Average Response Time.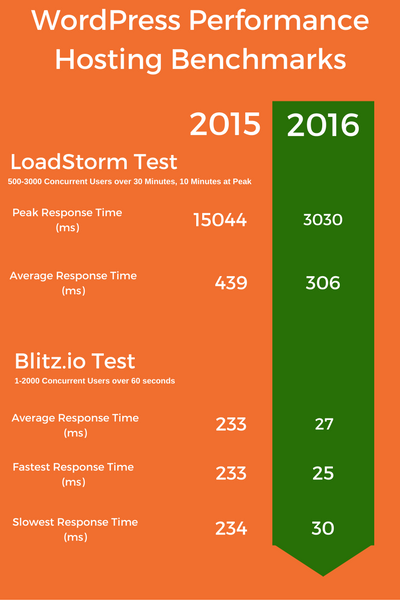 The Blitz.io test results were even more impressive, showing an eight-fold improvement on all response times (Average, Faster, and Slower). Additionally, the number of timeouts dropped from 9 to 0.
Hard to really expect a better performance. Pressidium's entry level plan remains in the top tier for another year.
The $101-200 price range results
In the second 4000 concurrent logged-in user LoadStorm test, our Business class plan clocked the fastest Peak and Average Response times. A total of 563624 requests were processed with no errors at all. In the Blitz.io test, we scored the fastest Average, Fastest and Slower Response times among all competitors.
Another test, another top tier performance. Not much to say beyond, excellent.
The $201-500 price range results
In the 5000 concurrent logged-in user LoadStorm test, our Business-Plus class plan clocked the fastest Average (266 ms) and Peak Response times  (4894 ms) among all hosts taking part in the benchmark.
Pressidium's platform processed around 690,000 uncached requests with no errors at all, while the 3000 concurrent user Blitz.io test was handled without any issues as well.
I'm running out of positive adjectives to say how well Pressidium has done this year. A perfect LoadStorm test with zero errors, the lowest peak response time and lowest average response time. Followed up by a near perfect Blitz test. Top tier for sure.
The Enterprise $500+ Test Results
In the final and most demanding LoadStorm test with 10,000 concurrent logged in users, our entry level Enterprise-I plan processed nearly 1.3 million uncached requests with a negligible error rate of only 0.28% and an average response time of 324 ms. In the 5,000 concurrent user Blitz.io test, all 140,000 requests were processed with zero errors and with an amazingly snappy average response time of just 26 ms.
Pressidium maintained a nearly flat average response time, easily a top tier performance.
You can read the whole test with much more details here.
What's Next?
Ensuring that our infrastructure's performance remains top-tier is only one part of our overall mission. We are planning to roll out a set of new Pressidium Portal features that will give our clients finer access controls and easier management in the case of multiple sites, users, plugins and themes.
For awhile now we've also had magnificent results using Facebook's HHVM PHP compiler (available and production ready on our high-end plans), which we plan to include in next year's Review Signal Benchmark. Stay tuned for more announcements in the near future!
JOIN HUNDREDS OF BUSINESSES THAT USE PRESSIDIUM TO SCALE THEIR WORDPRESS SITES
Did you like this article?
Subscribe to our blog and get awesome WordPress content straight to your inbox.
SUBSCRIBE