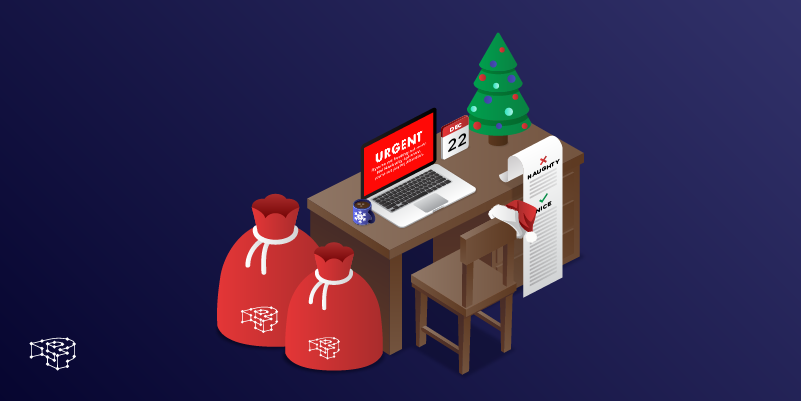 This update is festive, despite the pressing-looking website on Santa's laptop. It's festive because it has brought growth. New team members, new clients, but also new challenges, as these go hand in hand with growing. And we've been growing quite intensely this year; with annual revenues, hosted sites and the number of staff members all doubling over the last. This gives us immense joy, and slightly less time. 
We feel 2018 will be a lot busier for us. 
The following are some of the deliverables we have down the pipeline, starting Q1:
A completely revamped dashboard, more pleasant to use, and more productive. 

Improved development workflow, as well as tighter integration. 

Richer and easier to use Knowledge Base.

Smoother on-boarding experience. 
Changes will be incremental and they will not disrupt your workflow. Future updates will be announced here. We always love to hear your input so please send any comments, suggestions, or ideas to featurerequest -at- pressidium -dot- com, or tweet us at @pressidium. Our roadmap is shaped by you. 
Take some time to read about our Role-based Portal users feature, our full HTTP/2 protocol support as well as our  Let's Encrypt SSL Certificate initiative and PHP7 benchmarking
✱
On another note, besides Merry Christmas and a Happy New Year, we'd also like to see the Net Neutrality appeal become undone. (We feel Santa would too, as he doesn't like anyone telling him how fast his connection can go).  Since we are engineers ourselves, with a long-standing career in telecoms, we are emphatically against such a decision.
Please read first HubSpot's excellent FAQ THIS! article detailing the whole appeal, and then visit this page to voice your disapproval to The Congress. We feel it's important as this touches the lives of everyone.
Now that we've put that behind us, Merry Christmas everyone and a Happy New Year!
Did you like this article?
Subscribe to our blog and get awesome WordPress content straight to your inbox.
SUBSCRIBE