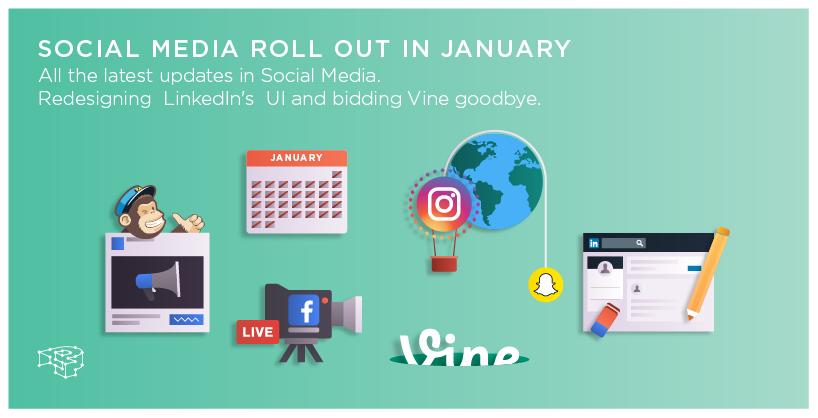 The first month of the year was anything but boring! And in this article we will navigate the world of social media updates and the numerous changes that took place in January.
Facebook
New Project Launch and Security Feature
Facebook declared its quest against fake news in January by launching The Facebook Journalism Project.  True to its form, as a platform for sharing and communicating ideas, it announced its collaboration with publishers. It also announced the creation of new tools for journalists and users, ensuring that the news appearing on the platform is valid.
Then, it took security to a higher level. For those of you, often worried about your Facebook accounts being hacked, worry not! You can now opt for a security key that will ensure your identity. The platform takes two factor authentication to the next level, by providing a hardware token in the form of a USB security key. This can be plugged to your USB drive and you will be able to link this token to your account.
New Features delivered to the users and New targeting options for the marketers
For the Users:
Live Broadcasts from Desktops are now available. The feature was initially rolled out in May 2016 and was restricted to smartphones. But it caught on and it is now becoming available to desktops  as well.
Facebook users in Ireland are the first ones to be able to see the New Facebook Stories. Perched at the top of your screen above your Newsfeed, Facebook Stories will be a slideshow of your photos and videos, with a 24-hour lifespan.
For the Marketers:
The platform has always been tinkering with ways to help marketers deliver more relevant ads which resonate with their audiences.
Enabling new way to target ads based on the user's web activity. Facebook will shape the ads according to what the user searches on the web, be it a product and/or a service.
Newsfeed style, carousel ads are beginning to appear on the Messenger App.
Only a few days ago, MailChimp informed its users that it will roll out a tool supporting Facebook Ad Campaigns  . This is said to help marketers target new and existing customers and even use the emailing lists to create lookalike audiences in their Facebook Ads.
Twitter
The platform's Social Media update expanded the Explore Tab to include trends, Moments, Search and the best live video too. The Explore Tab provides the users with all the interesting information found under one tab. This makes the product become more user-friendly and less complicated. The feature will be rolled out within the coming weeks.
As Twitter has long announced, Vine was eventually ceased in January 2017. The 6-second video network is out for good, and so Twitter has moved on to create the Vine Archive. A collection of all posts created by Vine, from 2013 to 2017, where the users can look up posts by year, genre and a number of useful parameters.
Instagram
Did you notice the new Live bubble pulsing at the top of your screen? next to your selected users Instagram Stories? Yes, there is a new feature rolling out. A Social Media update that takes the Live Streaming Option global and allows you to enjoy Live broadcasting without it being saved. Once the streaming is over, the content is gone.
LinkedIn
The Social Media update regarding LinkedIn, uncovered a new UI experience to its users, as the web page was redesigned, sporting a 7-key menu on the navigation bar located at the top of the page and a universal search box. The new design changes will be slowly introduced to the mobile app as well. It reveals more available options to engage with people, groups and products. Users will be able to connect, share content and navigate themselves around interesting posts more easily. With the updated UI more detailed analytics are provided, regarding who is reading and engaging with your content.  Suggestions on people to follow or articles to read, and a list of guidelines that will make your profile or your company page stand out.
Tumblr
Tumblr users can now enjoy a Social Media update that delivers a great amount of stickers and filters to add them to their photos, taking their creativity up a notch.
Snapchat
Snapchatters have been introduced to a new update that has a Universal Search Bar situated at the top of their screens . This enables them to search for friends, contacts, friends' stories, fast and easily, making thus the content more searchable for the user.
Summing Up
The Social Media update roll out and news posted here are only a summary of what took place in January. Keep reading, as every month, we will be having a round-up of all the fascinating things that shape the world of Social and Digital Media. Have a lovely month!