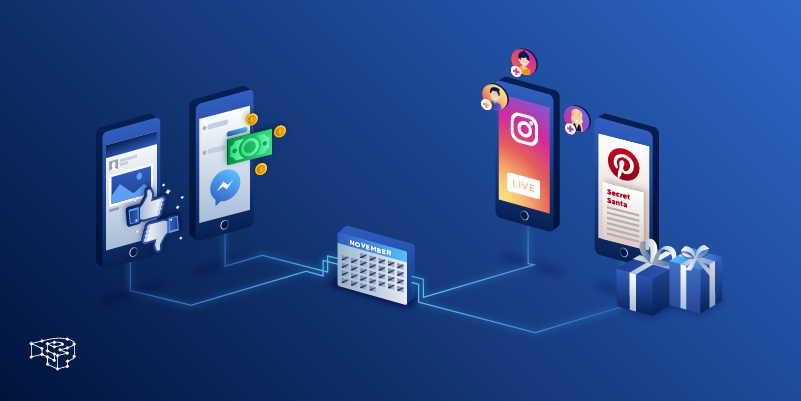 We welcome another month by taking a look at the latest Digital and Social Media Updates!
Facebook
New Features
Taking Polls with GIFs. A new polling option is available to all the users, Desktop and Mobile alike! Engage with your friends and followers, ask for their opinion and have them express their view via a GIF-supported poll.
Live Streaming of College Basketball Games. Through Facebook Watch users will be able to enjoy 47 College Basketball Games. This is only available to US users.
Goodbye Messenger Day, Hello Revamped Facebook Stories! Did you happen to notice the change? Facebook decided to dismantle Messenger Day by merging it with Facebook Stories. The latter is one of the least popular features on the platform. The new and revamped Facebook Stories are available on both platforms.
Stories of Events. This is a new addition enabling the user to upload and post photos and videos from a specific event. Users can contribute their visual content which the Event's Administrator will approve or disapprove.
A Crisis Donate Button. An additional feature was introduced in the Crisis Response Hub of the platform. It allows the user to donate money to organizations helping victims of a crisis.
The Switcher. For those of you out there with more than one accounts, The Switcher is an admittedly handy feature. It conveniently allows you to switch between accounts with only a few clicks.
Tested Features
Flagging Fake News with Trust Indicators. After embarking on a quest to fight fake news a new addition is launched and that is trust indicators. The users will be able to see information about the publisher of an article all attached to the article itself. The information shared will contain a range of fields from the publisher's ethics policy to corrections and fact-checking.
Use a Selfie for Account Verification. Only a couple of days ago, the Network confirmed that it has been testing a new way to verify a user. And that is a photo-based verification, a Selfie. The users will be asked to upload a photo of themselves and then they will be waiting for the platform software to review the photo, verify the user and grant them access to their account.
Messenger
Streaks. "Borrowing" yet another SnapChat feature! Messenger Users will soon start noticing a small lightning bolt next to the name of the user they have been messaging the most frequently. Right next to the bolt there is a number indicating the number of consecutive days they have been exchanging messages with that person. Upon tapping on the conversation a prompt pops up to remind you the streak of your ongoing conversation and urge you to keep on messaging each other.
Send Paypal Invoices.  Messenger Users with Paypal Accounts can now send invoices over Messenger. This does not only include peer-to-peer payment. In fact, the service has been expanded so as to include the buying and selling of products on Facebook Marketplace too.
Twitter
Replacing Character Counter. The Character Counter has been replaced by a circle. So instead of seeing the countdown of the characters still available for your Tweet, you now see a circle filling up as you type and reach 280 characters.
Testing a Tweetstorm Interface.  A Tweetstorm is a series of multiple Tweets published by one account and telling a long story. These Tweets are connected and have been broken down into numerous instalments due to character limitations. Tweetstorms are becoming all the more popular with users and for this Twitter has taken to creating a tweetstorm interface for Android users. With the new Interface, you can type in your Tweets, and have them queued up so that they will be sent one by one. You can edit your queued up tweets and perform any last-minute changes and updates.
Instagram
Old Photos Allowed on Stories.  So far Stories have been allowing only recently-taken photos and videos to be posted as Stories. As there was a 24-hour-limit. However, this limitation no longer stands and all you have to do is simply tap on the camera roll button, navigate around your photos and choose the pics you wish to post in Stories.
Ask to Join a Friend's Insta Live Broadcast. Seeing your friend going Live on Instagram and care to Join? Tap on the Request Button and participate in their Live Broadcasting. See the double smiley face on your screen? Tap on it to see how many of your friends have requested to join the broadcast.
Doodling all over your friend's photos. You can now doodle the photo your friend sent you via Direct Message. Spice it up creatively by "Remixing" it using custom text and doodles. Once you are done with it you can send it back to your friend.
Pinterest
Sections. Sections are subcategories within a Board allowing you to categorize and organize your Pins into groups. Users will now spot suggested titles for their Sections, ideas for better organizing a Board's content.
Lens Your Look. Pinterest can take pride in delivering great visual search tools to its users. By adding a photo of a clothing item to the text search and searching for it you are served with ideas and suggestions on how to wear that item and how to style it. Add a written query, give some context to the visual search and alter the searches according to what you wish to find out.
Scan Pincodes. Did you happen to come across an item in a magazine that you liked very much and wanted to find out more about it? all you need to do is take out your phone, use the camera and scan the Pincode available on the page so that you receive all the details you need about the specific item. It's that easy!
SnapChat
Major Redesigning. As rumour had it the Network was up for a major redesigning. A revamping aiming at separating content produced by friends from the content produced by publishers. The User Interface is no longer the same. As swiping left lands the user on the new Friends page where all your Friends' Chats and Stories are listed. Swipe Right and you land on the Discover Page where you can navigate around the content you have subscribed to or see suggested Stories the platform believes you might be interested in.
Have a Lovely and Festive Month!