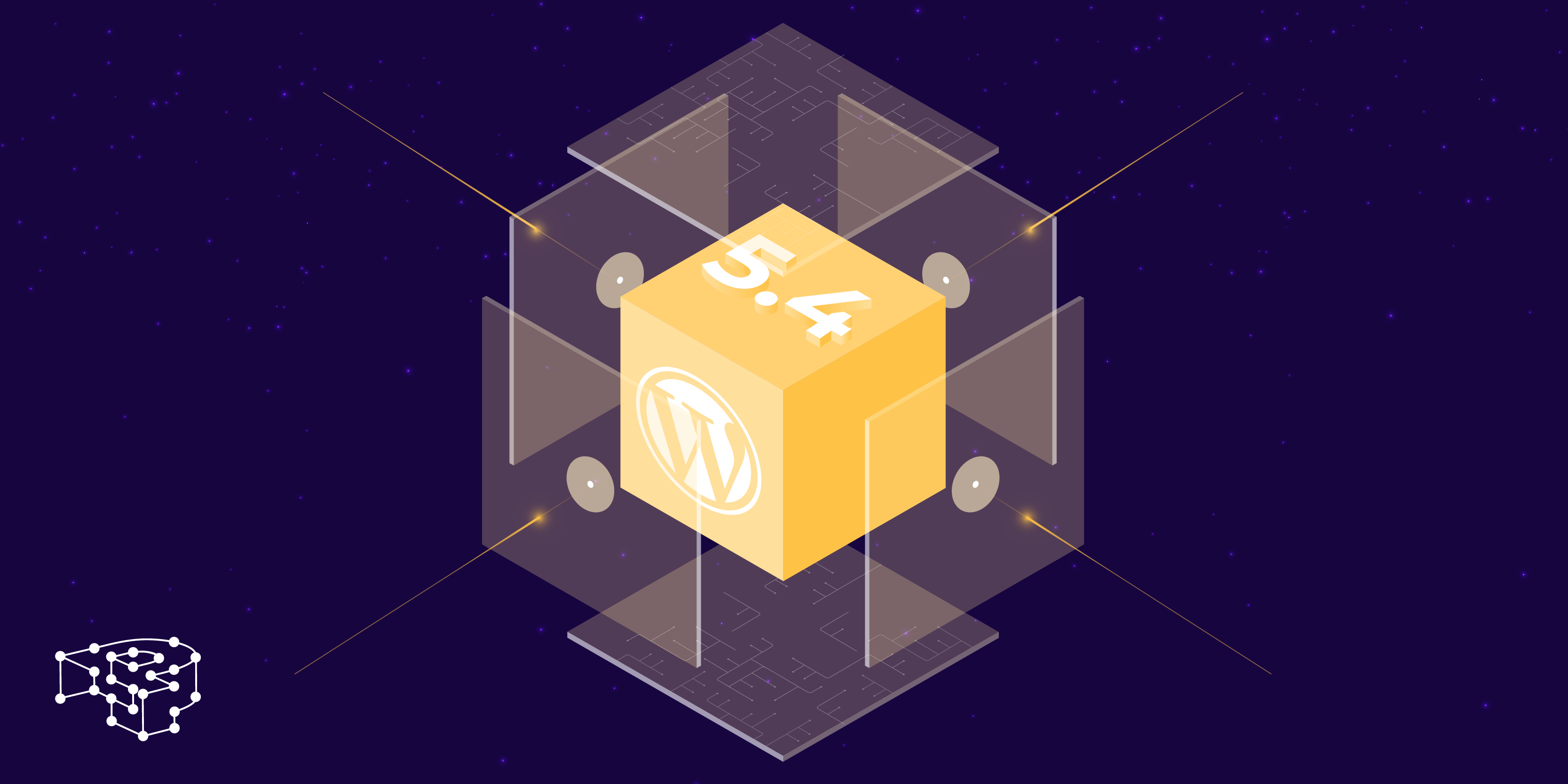 WordPress 5.4 has landed. 'Adderley' was released on the 31st March and comes with a host of new features including some significant block updates, a 14% faster editor and more. Let's take a quick look at some of the main features in this release.
Major Block Updates
Blocks are how things are done in WordPress now and each update since 5.0 has bought with it some major improvements and enhancements. 5.4 is no exception with two brand new blocks plus a range of additions to existing blocks.
New: The Social Icons Block
This block takes very little figuring out! As the name suggests it allows you to add in social media icons to your pages and posts quickly and easily.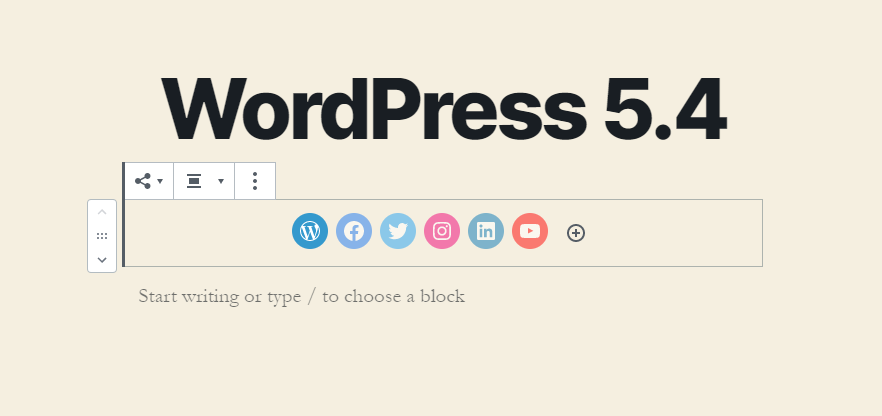 These link to your own social profiles and can't be used for social sharing. To do that you'll still need a separate plugin like AddToAny.
New: The Buttons Block
Subtle difference here… the old Button Block is being replaced by the Buttons Block! The plural nature of this name gives the game away. As you might have guessed, the new (or updated really) block allows you to now add multiple buttons that line up side by side. This is really very useful as it's a common layout in many designs.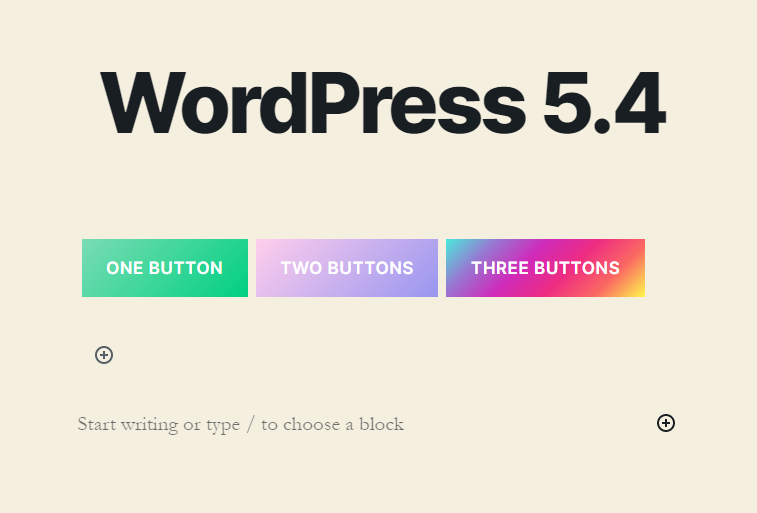 In addition to the ability to add multiple buttons you can now also choose different backgrounds and gradient colors for your buttons.
Improved: Better Color Options for Blocks
Color is a quick way to make your website stand out. Previously you could only do things like change the color of ALL of the text within a text block. Now you're able to change the color of any text you highlight giving you much more flexibility.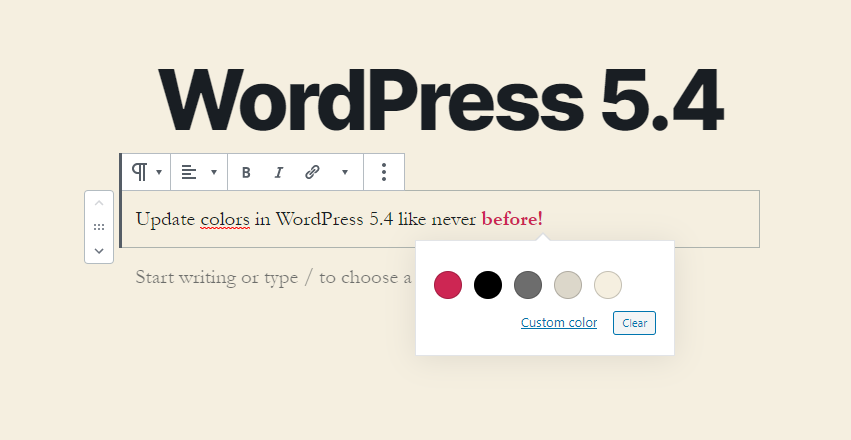 The background color of blocks can also be changed and if you use columns you'll now also be able to separate these from regular paragraph blocks using color. On the face of it, it's a small change but the variety of layout styles that can now be achieved increases significantly thanks to these changes.
Other Improvements
There are, as always with major WordPress upgrades, some significant 'under the hood changes. If you're interested then check out the 'Field Guide' provided by WordPress which goes into greater detail than this article could.
Before we conclude this brief overview of WordPress 5.4 let's take a look at a few of the most notable changes you'll see when you upgrade to WordPress 5.4.
Welcome Message
The first thing (almost literally) that you'll see when you create a new page or post is a Welcome Screen which guides you through some of the key features about the block editor.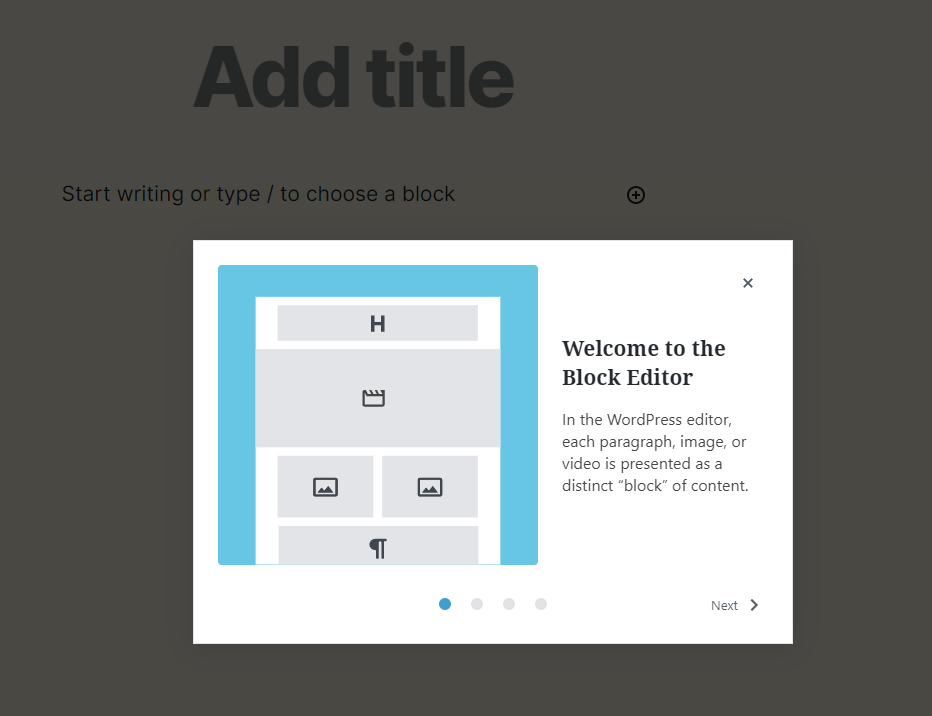 It's a nice little touch that helps you feel at home if you're new to WordPress blocks.
Improved: Latest Posts Block
WordPress is a favorite platform for bloggers and WordPress 5.4 adds in an improved Latest Posts block which allows you to display a thumbnail image alongside a title, text excerpt and a post date. It makes viewing the latest posts much more appealing.
New: Block Selector Tool
In a funny way, this might be a favorite addition to WordPress 5.4. The block selector tool. If you've been using blocks for a while you might have noticed that it can sometimes be hard to select the block you want, particularly if they were nested in a group block.
Now, the select tool makes this MUCH easier.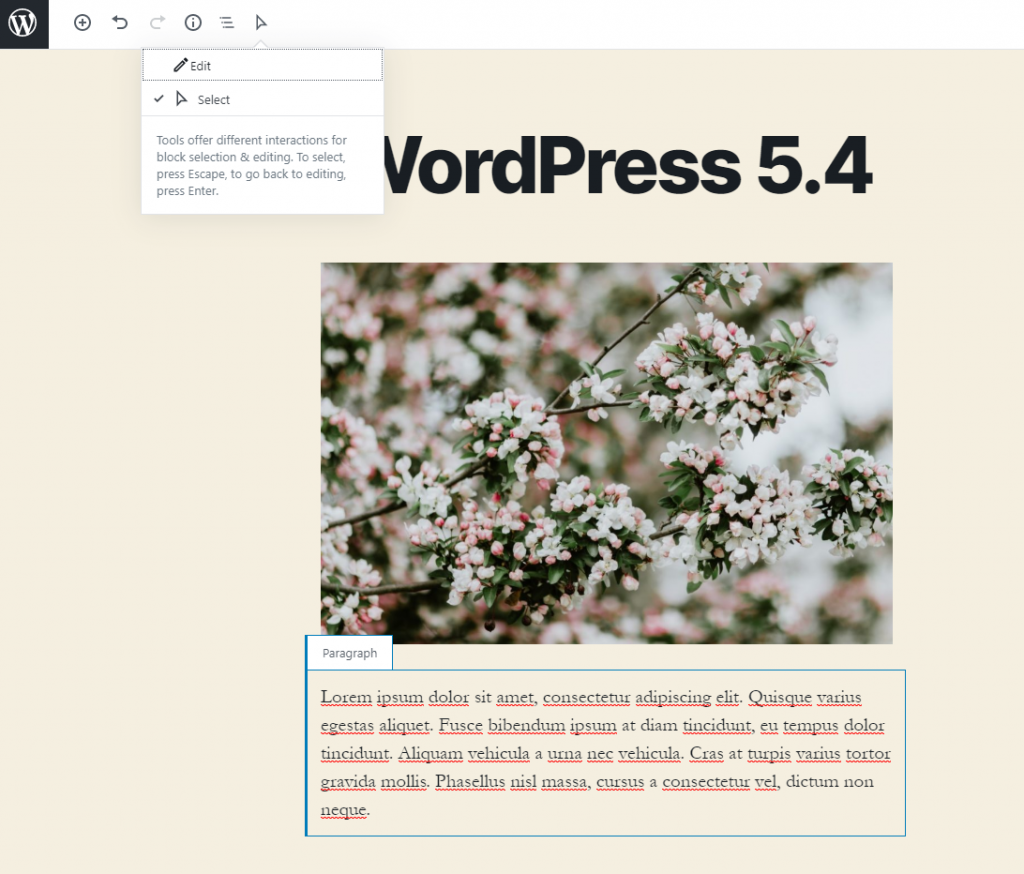 Are You Hosting Your Website With Pressidium?
We are now running WordPress 5.4 as the default WordPress version on our platform. This means that any new sites you create on Pressidium will be loaded with WordPress 5.4!
As a managed WordPress provider, we take care of all WordPress core updates for our clients. Each version is carefully tested prior to release. We are happy that 5.4 is suitable to be pushed out to our customers websites and this update will happen on the 27th April 2020.
As with all our upgrades you will receive two 'Upgrade Notification' emails with the second being sent hours before we upgrade your site. Our systems will test your site during the upgrade process having first taken a snapshot backup. If after the upgrade your website looks to be performing normally then you will be notified of the successful upgrade. If we encounter any problems with the upgrade however your website will instantly be restored to the backup taken prior to the upgrade and one of our team will contact you to help.
If you would like to manually upgrade your WordPress core to WordPress 5.4 prior to the 27th April then you can easily do this via the WordPress Admin panel. And as always, if you have any questions regarding the upgrade or anything else to do with your website hosting please submit a support ticket and our team will be happy to help.
Enjoy Automatic WordPress Core Updates with Pressidium!
View our price plans