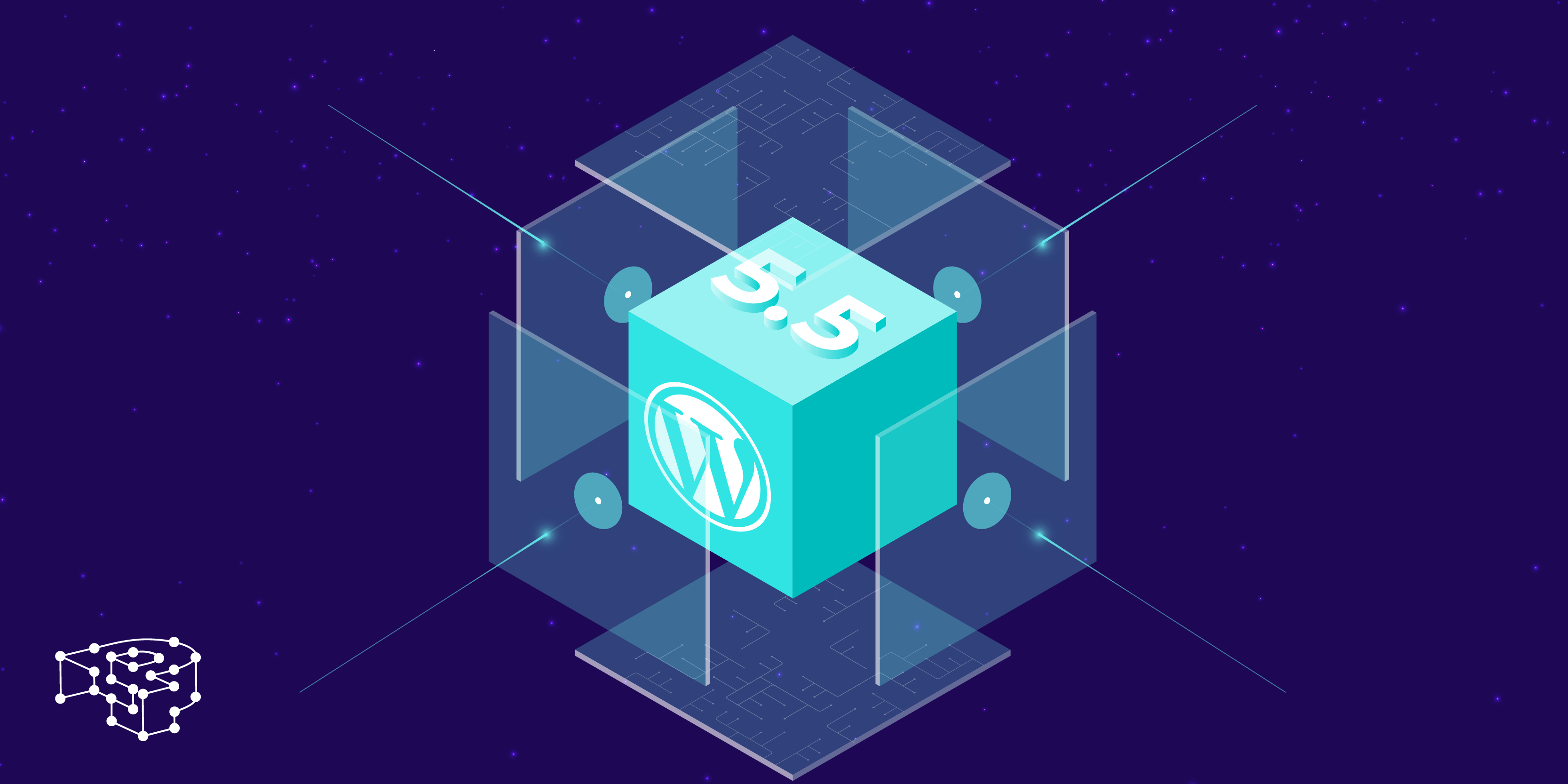 The latest and greatest version of WordPress arrived on 11th August. WordPress 5.5 (or Eckstine) is the second release this year and promises significant improvements in three areas; speed, search and security.
Its release got off to a slightly bumpy start with thousands of users reporting that the upgrade had broken their site. This was due to WordPress 5.5 deprecating support for jQuery Migrate which is estimated to have affected around 50,000 websites. In addition, an issue with how themes handle pagination also caused many sites to break. A fix in the form of a plugin 'Enable jQuery Migrate Helper' released by the WordPress team meant many sites suffering issues were able to begin working again.
Since the release of WordPress 5.5, a maintenance release, 5.5.1 was hurried out on the 1st September which contained a number of fixes to stop websites breaking. Although it wasn't ideal that 5.5 contained these issues in the first place, the responsiveness of the WordPress community who worked to sort the problem has been impressive and highlights just how well supported WordPress is as a platform.
As a managed WordPress host, we always test new versions of WordPress in order to identify any issues that could cause problems for our clients before upgrading their websites. On this occasion we took the necessary step of delaying a mass upgrade to 5.5 until the bulk of these issues had been ironed out (of course, if individual customers wanted to upgrade to 5.5 immediately then this was facilitated). We are pleased to announce that, after testing, WordPress 5.5.1 will now be deployed across our platform on the 28th September. Any new installs created on our platform are now created with 5.5.1.
So, although it's true to say there were perhaps more teething issues with the latest version of WordPress than usual, with these problems resolved, 5.5 promises some major improvements that have been long awaited. Let's dive in and take a look at some of the new features available to you today!
Speed
A much requested feature in WordPress has been for 'lazy loading' images. This means that only images that are visible on your screen will actually load and others are delayed. WordPress has made this a default feature for all sites by adding the 'loading' attribute to the image img tag. This is supported by all major modern browsers with the notable exception of Safari.
This is a fantastic addition to WordPress. Anyone familiar with SEO will know just how important page speeds are and, with the relentless increase in mobile device usage, anything that can help reduce the amount of data needed to be downloaded by an end user (and in doing so speed up the loading process of a site) is welcomed.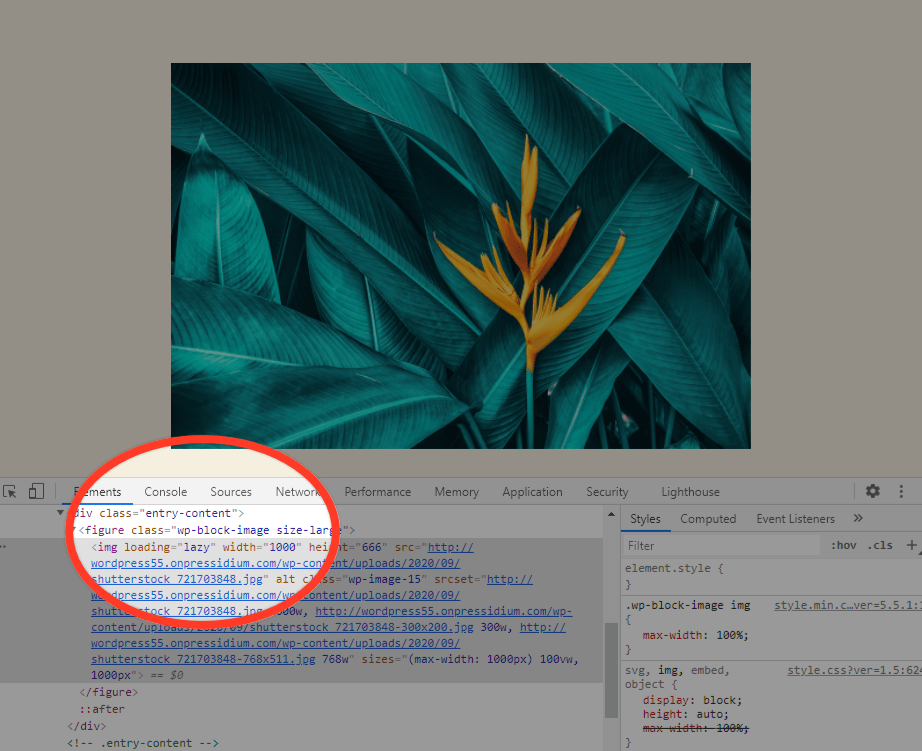 Lazy Loading is applied by default so there is nothing you need to do to enable this. Just upload images as usual.
Search
Until now, if you wanted an XML sitemap of your website published that would help search engines like Google understand the layout of your site and the content on it, you had to add one either manually or by using a third party plugin like Yoast.
Now, with WordPress 5.5 XML sitemaps are automatically published for your website. Sitemaps are an important part of WordPress SEO and it's nice that no longer do you have to remember to add an XML sitemap. One less job to do! If you want to take advantage of additional features offered by third party XML sitemaps (or already have one enabled) then not to worry. Most XML plugins will automatically disable the new 'default' WordPress XML sitemap.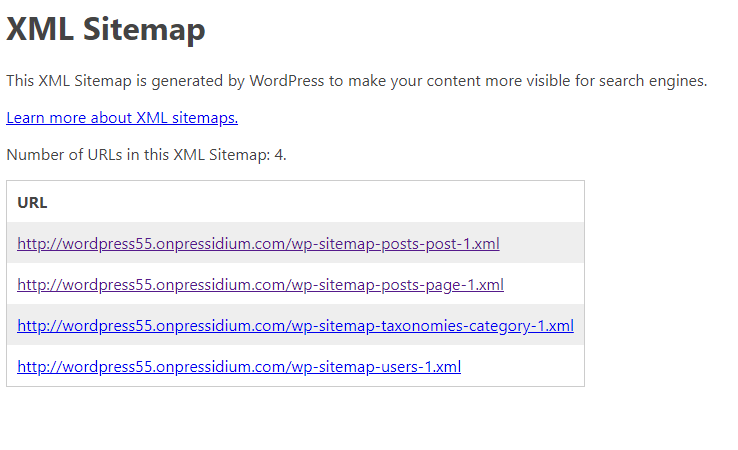 Security
We all know just how important it is to keep both themes and plugins up-to-date to ensure your site remains secure (if you were unaware of this then take note!). Until now, responsibility for updating both themes and plugins has fallen to the website owner who needed to a) check for outdated plugin/theme versions and then b) manually update these.
At Pressidium we help our clients keep their websites secure by notifying them of any plugins that are outdated that we believe could critically impact the security of their website. For serious cases we will proactively move to update these plugins on their behalf. It's important to upgrade plugins to the latest versions 'intelligently' as sometimes new versions can introduce features that may break a website (or remove support for a function that means certain features could stop working on your site). As such, it can be no bad thing to routinely check for plugin updates (which can be done across all your sites from within the Pressidium dashboard saving you the time of logging into individual websites). By manually upgrading plugins you can check that updates don't impact the function of your site and roll things back (using a snapshot or daily backup on the Pressidium platform) if things go wrong.
None-the-less it can prove to be a time consuming task especially if you have a large portfolio of sites or, like many of us, you can never quite seem to find the time in a day to undertake routine maintenance like this.
WordPress 5.5 solves this problem in one swoop by now offering an auto-update function that can be turned on for individual plugins. So, for plugins that are generally very well supported and tested (like Yoast SEO) you might choose to enable 'auto-update' whilst leaving this option disabled for a plugin that has proved more temperamental in its behaviour previously.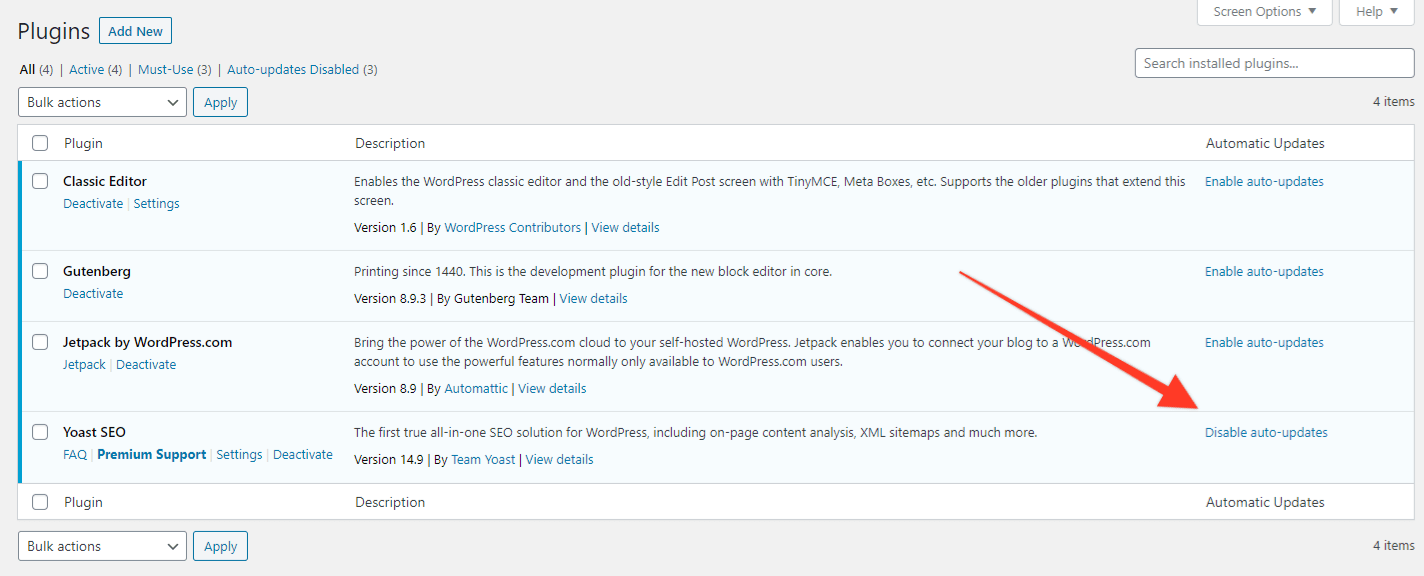 The new auto-update feature also applies to themes. In the same way as for plugins you can choose to enable or disable this feature.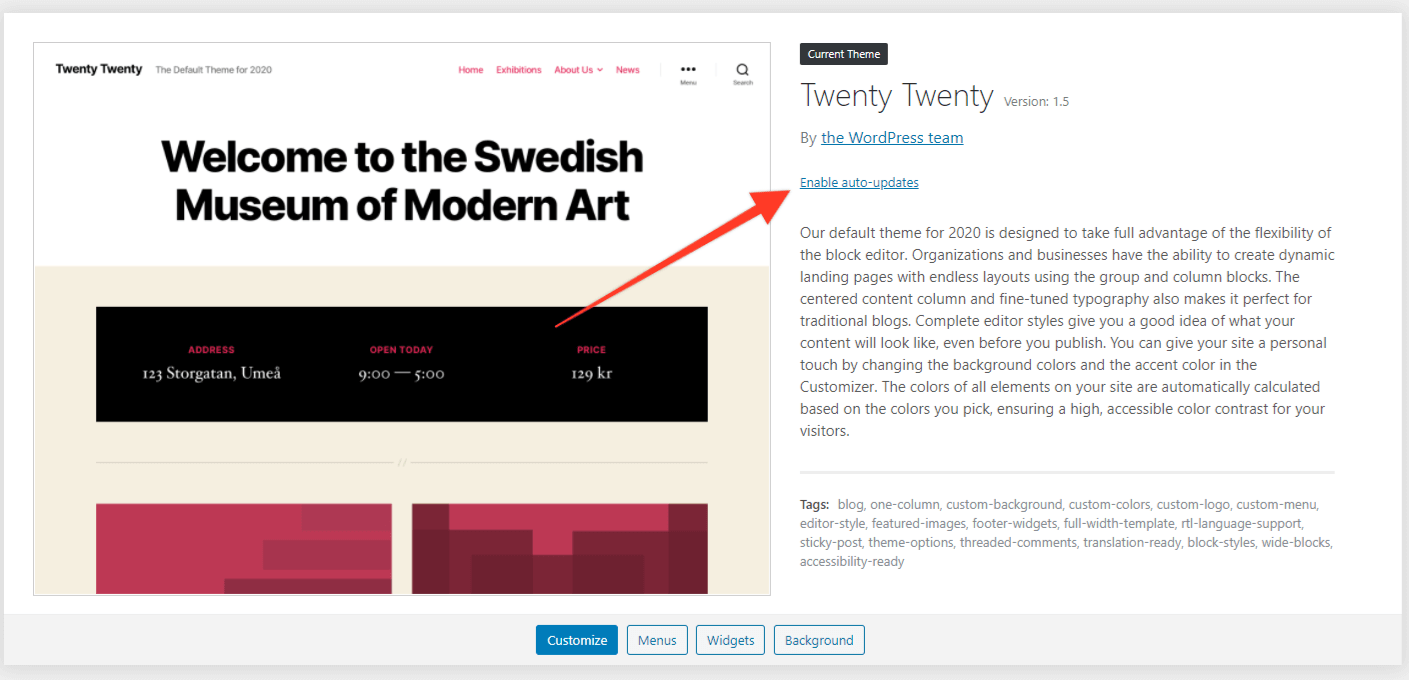 So, if you've not got the time to manually update plugins and themes but want to make sure you're running the latest version it's now super easy to do. Upgrade to WordPress 5.5 and go select 'Enable Auto Update' in the Plugin and Theme sections!
Block Editor Updates
Since the release of Gutenberg, the WordPress team have been busy adding new features and enhancements to what is now he default block editor in WordPress. WordPress 5.5 is no exception to this trend with a number of exciting new features including:
Block Patterns: These are a range of commonly used blocks with pre-configured settings that you can quickly add, saving you time when creating page layouts as well as making it easier to achieve consistency in your style across your website. More will be added as WordPress themes and plugins register their own.
Block Directory: Add new blocks directly from the block directory from within the editor. This really helps speed up the time needed to create page layouts using the different types of blocks that are available.
Edit images inside the block: Crop, rotate and zoom images right from in the image block. A real time saver!
There have also been a number of UI changes to the block editor that make working with blocks that much easier. Borders are now highlighted more clearly and even the 'Add new block' button is now more obvious.
Developer Updates
If you're a WordPress developer then you'll enjoy a host of 'under the hood' updates such as server-side registered blocks in the REST API and updates to the PHPMailer library going from version 5.2.27 to 6.1.6. Another notable change is the ability to define a site's environment type (such as staging, production etc) in a standardized way. You can retrieve that type with wp_get_environment_type() and execute only the appropriate code.
Summary
WordPress continues to leap forward with innovative updates that keep ensuring it remains the number one CMS available today. And a great CMS deserves the very best hosting. Pressidium provide world-class managed WordPress hosting engineered with unmatched industry leading technology coupled with DevOps Support that goes beyond expectations and becomes an extension of your team. Find out more about our hosting here.
Host your WordPress Website with Pressidium!
View our price plans