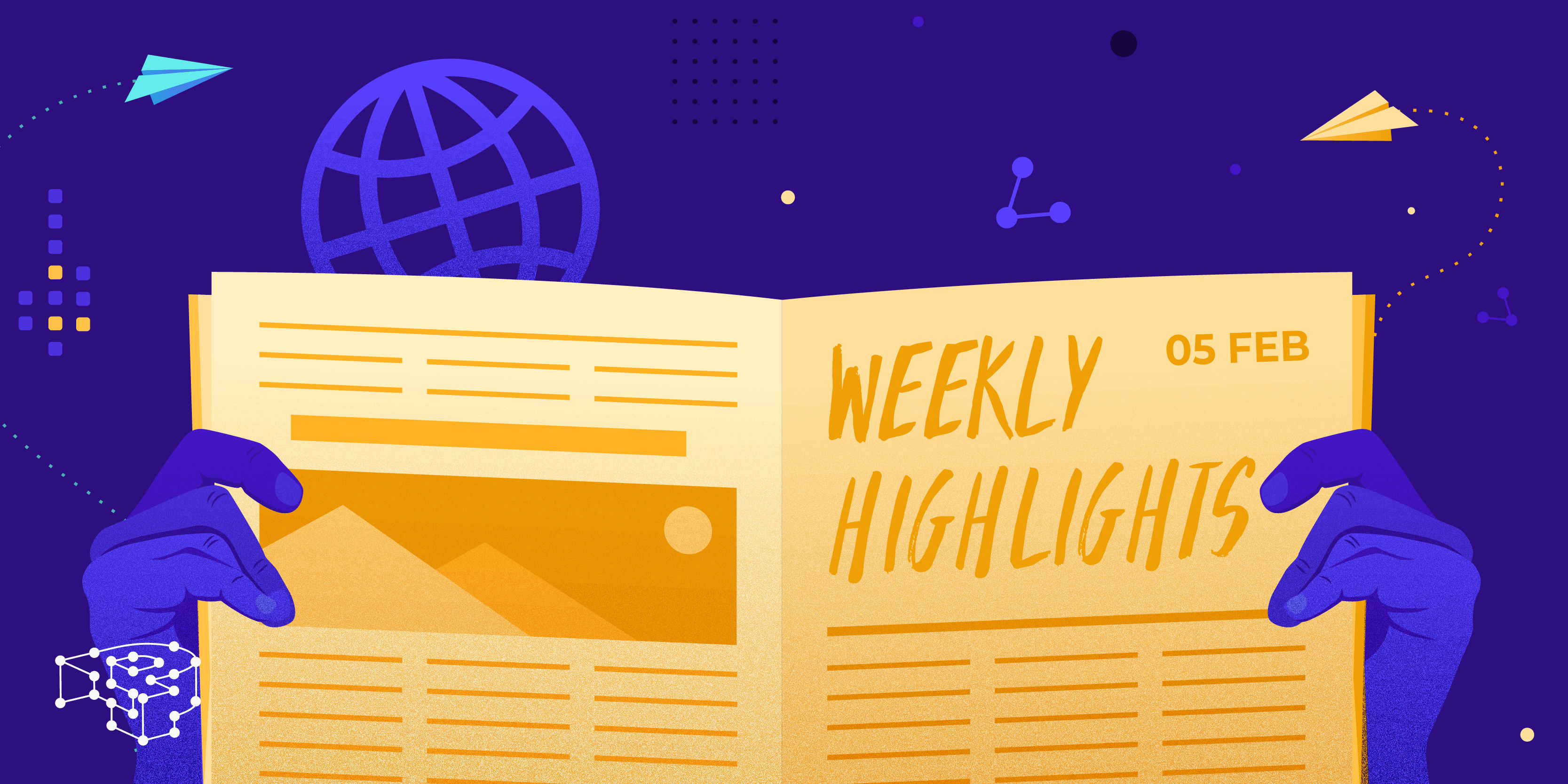 Another week has been and gone. And here just in time for the weekend is your weekly roundup of articles from across the web with a focus on technology, business news and of course WordPress!
From us all here at Pressidium, have a great weekend!
The Battle Inside Signal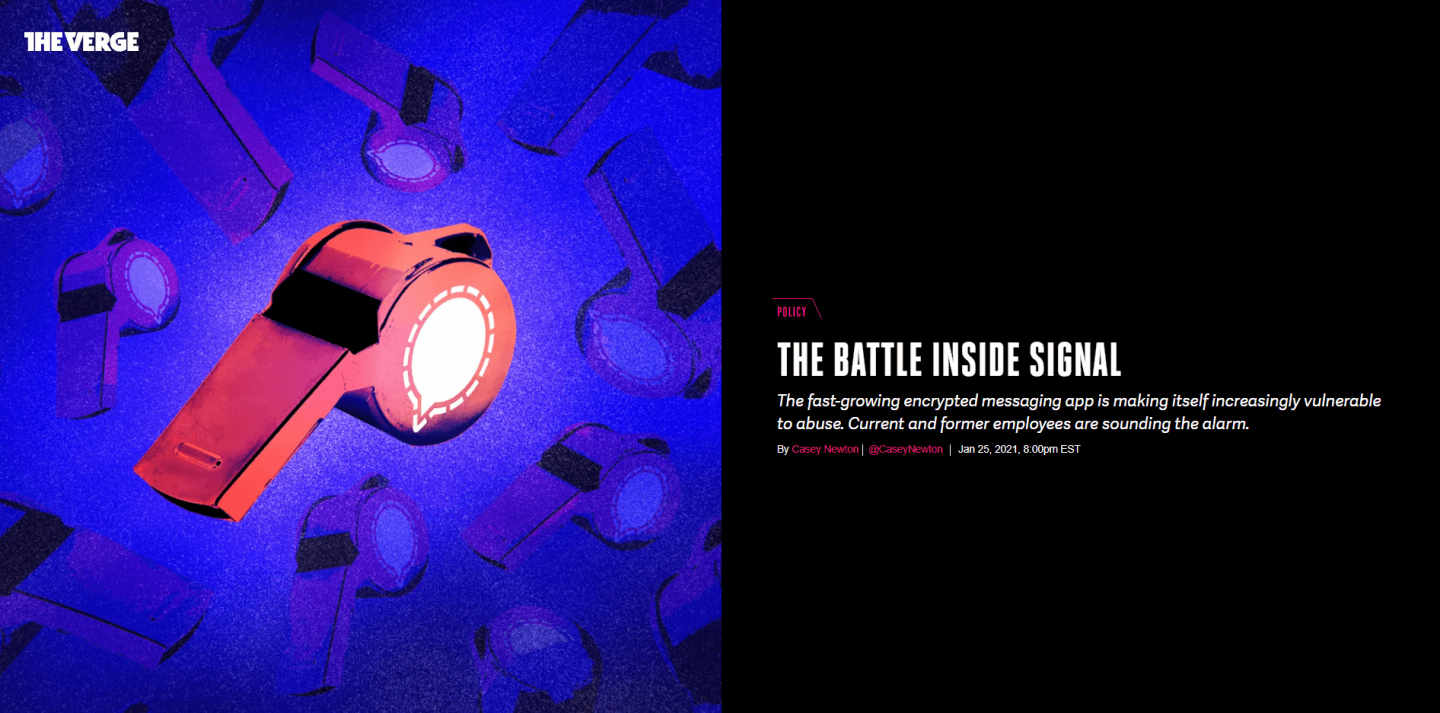 On January 6th, WhatsApp users around the world began seeing a pop-up message notifying them of upcoming changes to the service's privacy policy. The changes were designed to enable businesses to send and store messages to WhatsApp's 2 billion-plus users, but they came with an ultimatum: agree by February 8th, or you can no longer use the app.
The resulting furor sparked a backlash that led Facebook-owned WhatsApp to delay the policy from taking effect until May. In the meantime, though, tens of millions of users began seeking alternatives to Facebook's suite of products. Among the biggest beneficiaries has been Signal, the encrypted messaging app whose development is funded by a nonprofit organization. Last month, according to one research firm, the six-year-old app had about 20 million users worldwide. But in a 12-hour period the Sunday after WhatsApp's privacy policy update began, Signal added another 2 million users, an employee familiar with the matter told me. Days of temporary outages followed.
The tyranny of passwords – is it time for a rethink?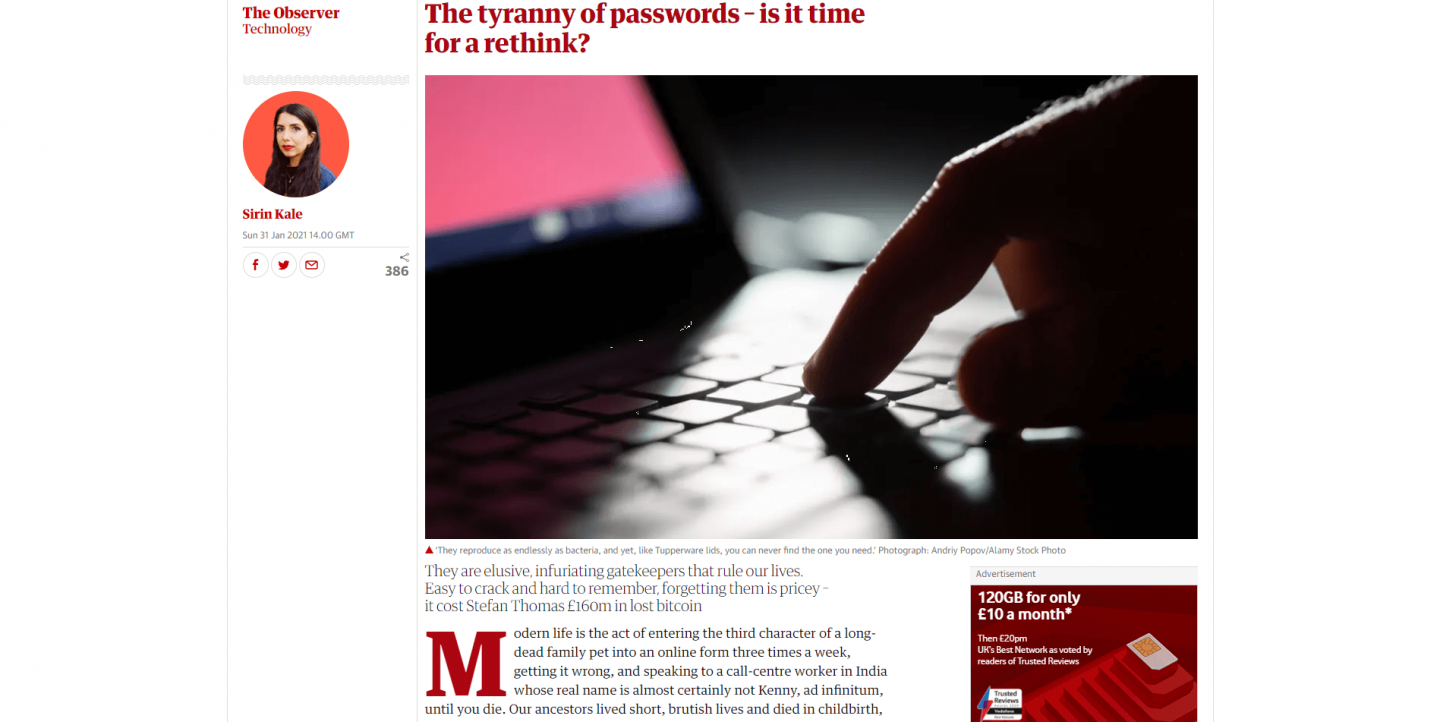 Modern life is the act of entering the third character of a long-dead family pet into an online form three times a week, getting it wrong, and speaking to a call-centre worker in India whose real name is almost certainly not Kenny, ad infinitum, until you die. Our ancestors lived short, brutish lives and died in childbirth, or were gored to death on the battlefield, but at least they didn't have passwords, and that's something.
The tyranny of passwords; it colonises modern life. These petty dictators deny us access to our bank accounts, our baby photos, our phone contracts, even our heating. They reproduce as endlessly as bacteria, and yet, like Tupperware lids, you can never find the one you need. They are our boyfriends, our girlfriends, our children, our pets. A talented and motivated adversary could probably work yours out in the time it has taken you to read this paragraph.
New Chrome Browser 0-day Under Active Attack—Update Immediately!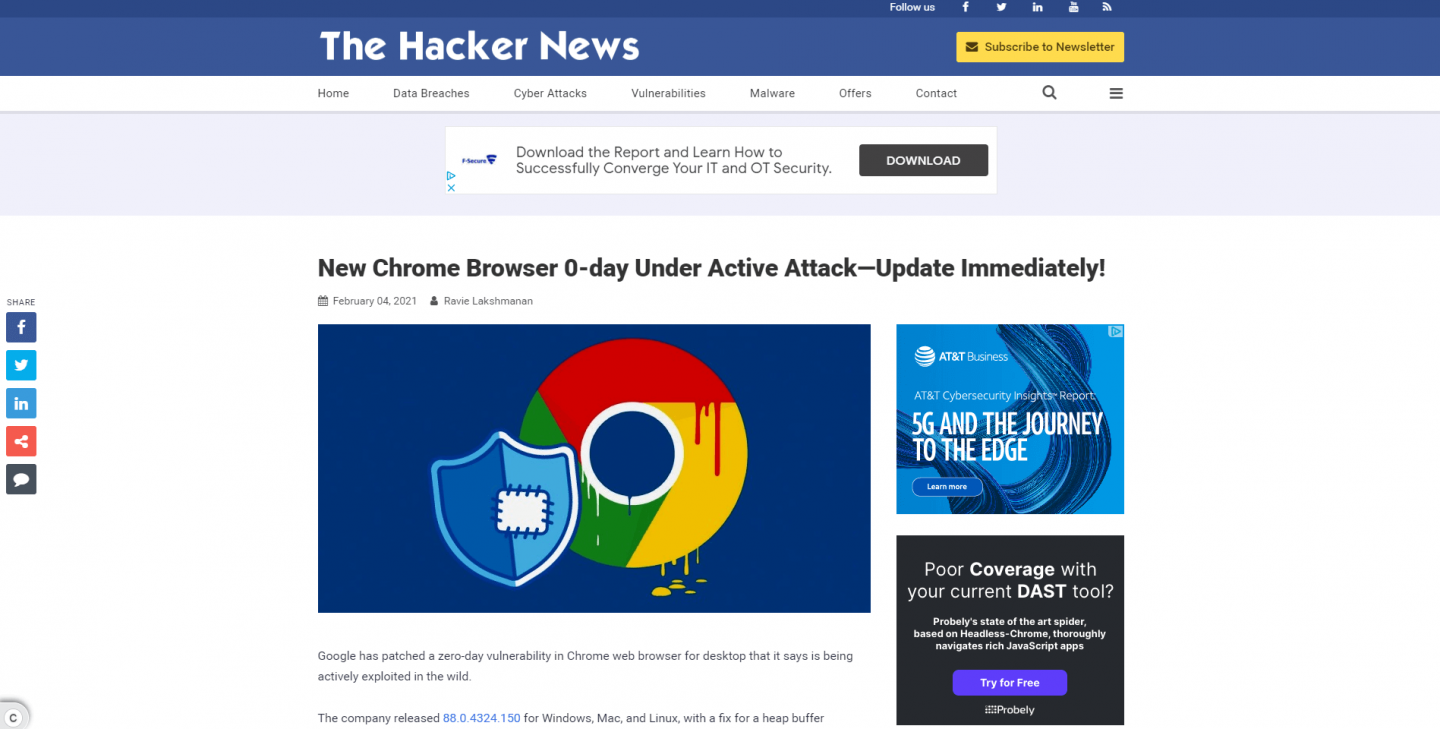 Google has patched a zero-day vulnerability in Chrome web browser for desktop that it says is being actively exploited in the wild.
The company released 88.0.4324.150 for Windows, Mac, and Linux, with a fix for a heap buffer overflow flaw (CVE-2021-21148) in its V8 JavaScript rendering engine.
"Google is aware of reports that an exploit for CVE-2021-21148 exists in the wild," the company said in a statement.
Biden White House Sticks with WordPress for Website Relaunch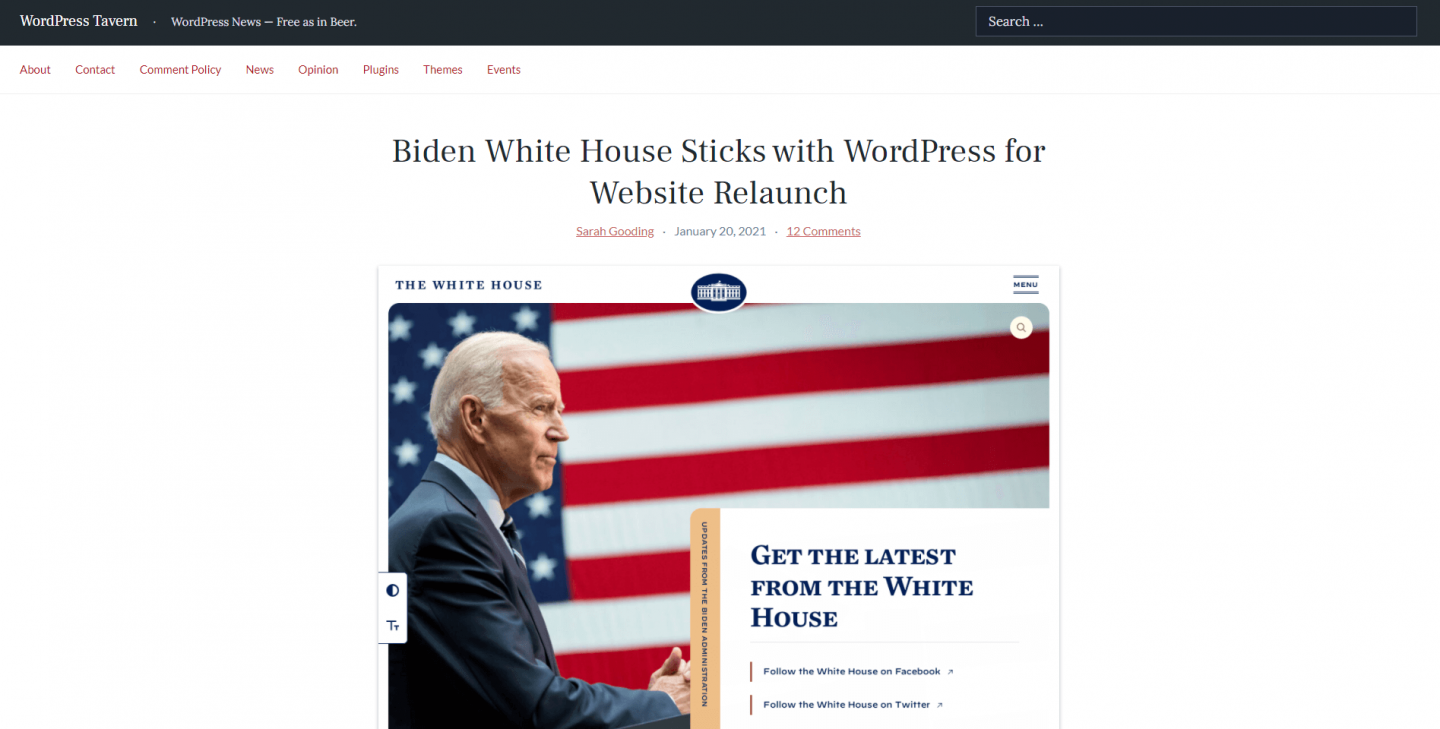 President Joe Biden unveiled a new whitehouse.gov that has been relaunched on WordPress. The previous administration switched from Drupal to WordPress in 2017, and technologists working with the Biden administration decided to stick with the same CMS.
In keeping with the multilingual and accessibility features implemented on the Biden-Harris transition team website, whitehouse.gov launched with toggles for contrast and font size, along with a Spanish language switcher. The relaunched site also includes an accessibility statement with a commitment from the administration to work towards conforming to the Web Content Accessibility Guidelines (WCAG) version 2.1, level AA criteria.
Host your WordPress Website with Pressidium!
View our price plans