How do I reset file permissions ?
The answer is simple. You don't reset anything. We do it for you automagically when you asked for it either from your customer portal or from within your WordPress site using our Pressidium Plugin.
Using your portal
To reset file permissions from the portal, just navigate to your WordPress site and from the command bar select "fix file permissions" either from the "Production" or "Staging" menu.
See the following screenshot :
From within WordPress
To reset file permissions from within your WordPress site, just navigate to the WordPress admin panel and select Pressidium from the side menu. Navigate to the "Utility" tab and select the "Reset File Permissions" button.
Check the following screenshot :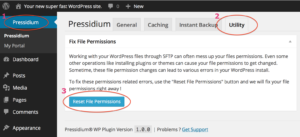 If you need to reset file permissions for your staging site, follow the same procedure in the staging environment.
When file permissions reset is required ?
You need to fix your file permissions when you are experiencing strange errors while you are loading your WordPress site. For example if the generated error contains the terms "denied" or "forbidden", then most likely this means you need to reset your file permissions.
Who messes my file permissions anyway ?
Hard to tell. File permissions can be messed up by various reasons, for example :
Installing WP plugins
Installing themes,
Performing certain SFTP operations
So, whenever you see file permissions related error, just reset file permissions and problem solved.
What file permissions are applied after all ?
On Pressidium, we do apply the following file permissions on your WordPress site :
All directories have 755 permissions
All files have 664 permissions
/wp-content/mu-plugins/ directory is writable but any Pressidium mu-plugins provided file or directory is not.