Pressidium's vision is simple. It's to design and perfect an industry-leading managed hosting service for our favorite platform – WordPress.
With unparalleled premium Enterprise Architecture Web Hosting, our system provides lightning-fast, robust, scalable and secure hosting to anyone who owns or manages a professional WordPress site.
Enterprise Architecture
Completely bespoke architecture, custom built to maintain high availability that won't let you down.
Transparent Scalability
Your environment grows as your business grows, no need for migrations!
Real DevOps Support
Enjoy first class support and DevOps collaboration between your developers and our IT.
Awarded 2015 Top Tier WordPress Hosting Performance 

Performed with little to no failures in all tests and exhibited best in class performance for WordPress hosting.

Kevin Ohashi

This is exactly what I need - a company that cares about my client's websites as much as I do. I know you will be super successful. THANK YOU

Kathy Rasmussens

Overall I am extremely impressed by Pressidium. We've had 100% uptime, but more impressive is the capacity that our site has using Pressidium. Running up to 1000 concurrent users and the site didn't slow down or miss a beat at all! Great service and great support. We couldn't be happier.

Charles Coxhead

Got my first site migrated across and, wow. That is seriously fast. I have never seen a site load so quickly. Seriously impressive!

Alexander Newnham

We ran a load impact test on a new site we are hosting with Pressidium to see how it coped with up to 500 concurrent virtual users over 10mins...and we are very impressed with the results. No real impact on load time at all and we're using their cheapest plan. Worth a look for sure!"

WP Dev Shed

As someone who lives and breathes WordPress, I can't recommend enough that you engage with these guys immediately... I'm certainly not going anywhere soon.

Doug Belchamber

We started testing and tracking Pressidium early this year; and we are very impressed with their services. In short, choosing them is a no-brainer for those who are looking for premium WordPress hosting -

Pressidium is 5-Stars!

Jerry Low

It's an honor to work with a team such as yours, and I'm looking forward to more successes like this one in the near future. THANK YOU

Russell Tepper

Brilliant.

I couldn't have asked for more. The initial chat with Andrew was reassuring. The migration process with Giannis was seamless. The on-going support with the team is very responsive and interactive. Thank you.

David Hartshorne

I can't even express how grateful I am. Not only did you migrate all of my client sites at no cost but you are the one and only hosting company that took the time to fully understand and analyze each site and fix inherent issues.

Kathy Rasmussens

My most sincere congratulations for your hard work, your professionalism and your passion at Pressidium. In all those years managing Fire Rescue News I have never seen somebody offer so much support and in such a positive way. My site now flies and my worries are over

John S. Retsios

Easy to use, best support and know how, the platform works very well, fast and it is painless to manage - everything you would want from your WordPress host - Just Perfect!

Carol McKeon

Hosting with Pressidium is like having a business partner; someone who cares about my website just as much as I do.

Michael J. Tillman

Pressidium: top notch service meets best ever support; Pressidium's support is excellent, and they are passionate about what they do. They offer advice and guidance about optimizing your site. They are also patient and responsive. All these qualities are part of a formula for success.

Amanda Sidebotham

Thank you all for your help getting my sites migrated so quickly and diligently. While it was unfortunate that circumstances forced this switch, I'm so far seeing it as a blessing in disguise. I'm looking forward to growing my business with you guys.

Doug Belchamber

If you're searching for really fast Wordpress-hosting with even faster support I recommend Pressidium. Setting up your account in the dasboard is easy. And if there's a problem, help is on its way! Nice pricing, superfast performance!

Arthur van der Spek

Thank you so much!

I'm SO happy that I no longer need to use Complex Caching & Backup plugins, and that backups / caching are "automagically" included.

Such a great part of the Pressidium service! That's fantastic!

Kristel Hayes

I was away from my emails this weekend and was so inspired to come back and see how synergistically you were able to work and provide a solution. I want to thank you so much for your truly awe-inspiring level of clarity, dedication and expertise. Thank you!

Russell Tepper

Really helpful nice folk.  Speedy website now too!

Jennifer Bath

Thanks again for your wonderful service!

The amazing way you approach business will no doubt lead to the success of your business and that of your clients.

Kevin Brown

You guys ROCK! I love your personal and quick service!
I am recommending you in my network as the best I have seen. It is great to have dedicated engineers who are truly experts in their field helping me with all the stuff that caused me SO much trouble in the past. You really saved me a lot of worries. Thumbs up for your excellent service and good vibe!

Vivi Frølich
The Pressidium® Pinnacle Platform has no single-point-of-failure and is built from the ground up to be highly available and fault tolerant. Simply put, we ensure your site is always up and running.
State-of-the-art security is one of our top benefits (and priorities). Protection is ensured by a number of comprehensive countermeasures implemented to fight against malicious attempts and attacks.
Built with real-time, high-performance clustered environments it allows your sites to serve and expand along with your particular business' needs.
Dedicated Cluster
Highly Available and Load Balanced cluster. Designed to serve your website from multiple servers.
Security
Web Application Firewall protecting you from outside threats. Proactive malware scanning and removal included!
Speed
Based on Varnish Cache engine our Adaptive Caching solution makes your site lightning fast and is able to adapt to your content.
Enterprise Search
Is your website's search slow? We provide a dedicated search solution for you.
Account Manager
Benefit from a single point of contact for all your needs.
Backups
Two effective forms of backup. Instant for your development and content needs and Off-Site for disaster recovery.
CDN Included
All plans include CDN to ensure lightning fast delivery of static content.
Custom Needs
Need additional nodes? What about custom configurations? We're here for you!
Staging Sites
One click to create a staging site and one click to deploy from staging. Never break your websites again when testing new things.
Managed Updates
No more broken WordPress upgrades. We test, manage and deploy all core updates before rolling them out to our servers.
HHVM
YES, WordPress on HHVM! Enjoy faster load times and the safety net of php-fpm fallback in case of HHVM restart.
Control Panel
Manage everything you need all from one place. Our Control Panel has been custom built for simplicity and ease of use.
Never fails, always scales design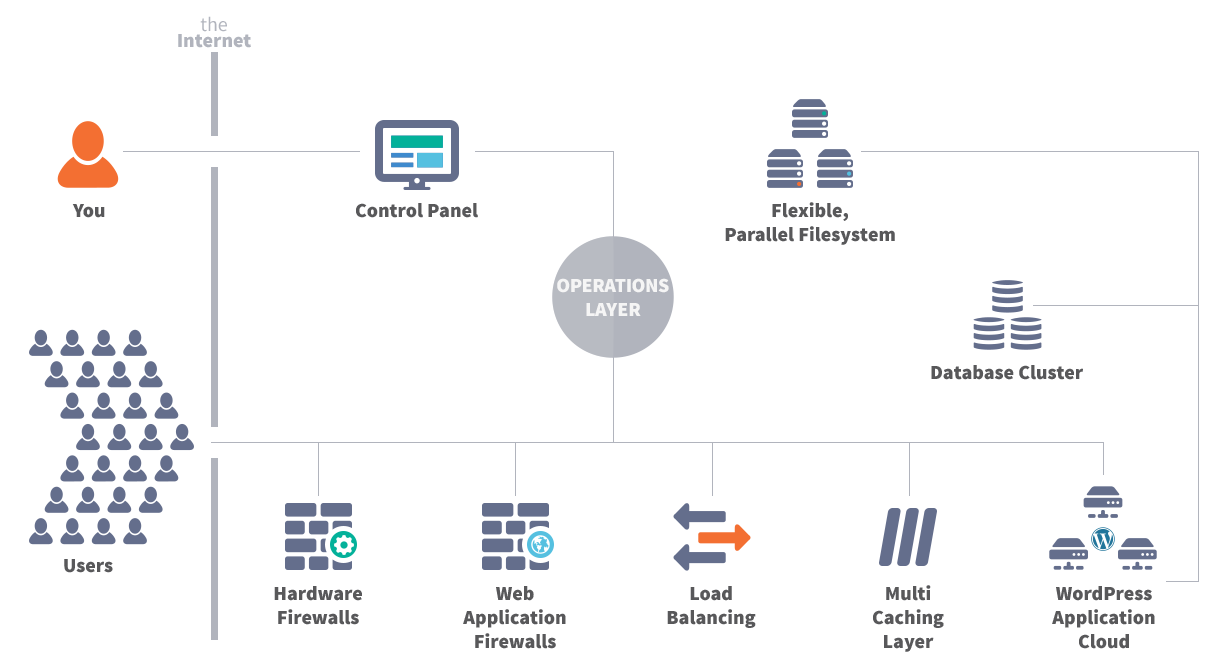 Pressidium® Enterprise Architecture
click on an element to see details
DMZ Firewall Layer
This Network Based Firewall layer is the first line of defence against malicious activity and Denial of Service (DoS) attacks. It is a low level deep packet inspection layer that filters and inspects each incoming & outgoing packet for malformed requests and monitors the sanity of connections. If something isn't right, it will immediately take countermeasures to protect your site.
Web Application Firewall Layer
The WAF (Web Application Firewall) Layer is a high-level application layer firewall which inspects actual http requests and filters web content to and from your WordPress site. It will, for example, pick up SQL-Injection attacks, bad-bots, brute-force attacks or malicious cross-site scripting activity. If something is detected as out-of-order, the malicious attempt is stopped here, protecting your website from any further penetration. This is also where SSL termination & acceleration takes place.
Dynamic Load Balancing Layer
This layer performs intra-datacenter dispatching and load-distribution of requests to your site. This is where real-time and dynamically responsive Load Balancing of web and network traffic is performed. The layer ensures that delivery of your site's content is accelerated, as each request is intelligently dispatched to the least busy server. If traffic on your site peaks, our Total Traffic Management solution will evenly distribute load across our server farms eliminating the pitfalls of slashdot effects, while further enhancing security by abstracting inner-layers of the internal private network.
Multilayer Adaptive Caching
We've built on the best. We've taken Varnish as a building block for our http cache and have created our unique multilayer adaptive caching platform. In the Web-Cache tier, a farm of dedicated caching servers simultaneously perform 2 layers of caching. The Hot-Cache layer which stores all frequently accessed content in dedicated RAM, and the Warm-Cache layer which uses SSD disk-arrays for less frequently accessed 'cold' content. This increases overall cache-hit ratios and results in your site performing significantly better over standard caching. Finally we have taken it one step further, we have created our own adaptive caching mechanism which will profile your site's traffic to enforce the most efficient caching rules for your site.
WordPress Application Layer
This tier consists of a farm of servers running the latest WordPress version & PHP 7. This is where your site's code resides, a copy of which is located on each server in the farm so your site is delivered simultaneously by all servers. Combined with our php object cache and php opcode cache which are all stored in RAM, this tier performs all the magic required in-order to dynamically render your website into beautiful html pages. This layer is the 'brains' of your site and it is where most of your site's processing is carried out while data is moved between tiers.
Database Cluster Layer
The database layer consists of synchronously replicated and clustered triplets of Master-Master databases which are based on Percona XtraDB Cluster. Percona XtraDB is a Galera MySQL cluster and is an active/active high availability and high scalability open source solution for MySQL® clustering. We use a three node per cluster topology for maximum parallel write-performance and efficiency. Combine this with the huge amounts of RAM we dedicate to the db query cache and your site's performance is accelerated to the highest possible levels.
File Storage Layer
HA web-scale SSD-based storage for simultaneous parallel access to files from multiple application nodes. Our file-system utilizes a hybrid mixture of synchronous and asynchronous replication. This results in read operations at local SSD based access speeds, incredibly faster in comparison to conventional network attached file systems. The file system automatically replicates content across all servers in a 2N+1 mirrored design and allows simultaneous read & write access for any node. We also asynchronously replicate all content to off-site storage, and offer continuous point-in-time recovery coverage, in-case disaster strikes.
Operations Layer
This layer is where our OSS & BSS systems reside. It's built upon Service Oriented Architecture (SOA) and we have developed our own Enterprise-Service-Bus with BPM workflow orchestration, asynchronous messaging (+ queuing) and Web-Service APIs for all operations. Provisioning, billing, monitoring & alerting are all performed in this layer. For around the clock health & performance monitoring we also use NewRelic and Nagios/Icinga to monitor every component of our platform, from low-level infrastructure up-to each and every PHP process. We also constantly monitor the latency of each website and check it's overall performance score, in-case of any deviation or drop, an alarm is instantly raised.
Customer Portal
The Customer Portal provides customers full management via out-of-band and abstracted access to the Ops-Layer. Through its clearly designed web interface, traditionally complex and technically demanding management tasks have been made fast and simple. The portal takes full advantage of Pressidium® Pinnacle Platform's extremely high level of automation and built-in intelligence and gives full control of an enterprise-grade platform without requiring any technical know-how.
The Pressidium Promise
We ensure that your site will be constantly available, seriously protected against threats, shielded from attacks, and tuned to be lightning fast.
We invite you to take us up on our promise and learn how Pressidium is changing the landscape of managed WordPress hosting.
Join the revolution and discover Pressidium!
PRESSIDIUM ENTERPRISE PLANS