Highly Available Architecture for Maximum Uptime.
N-Tier architecture with no single point of failure for reliability, performance, and maximum security.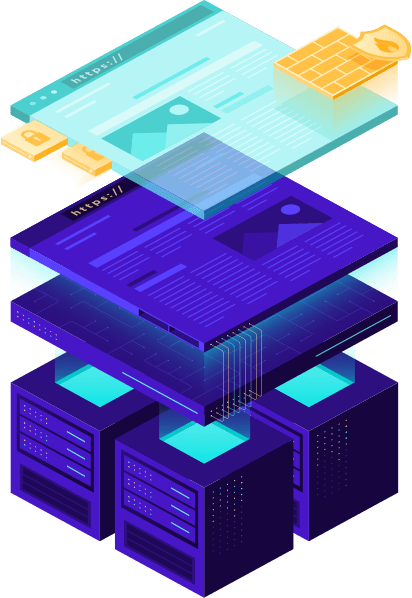 " We felt that the WordPress industry, in general, was disparate in terms of the quality, infrastructure and services it provided and that's what we wanted to change. How? With standards-driven engineering, transparency and enterprise infrastructure built from scratch by IT veterans. "
Filip Slavik
Co-Founder & Lead Developer

Uptime
Our Platform has no single-point-of-failure and is built from the ground up to be highly available & fault tolerant. We ensure your site is always up and running.
Highly-available load balanced architecture
Benefit from our Load Balanced Fault Tolerant High-Availability Architecture, by enjoying characteristics found only in very large & costly enterprise environments.
Staging Sites
It's your own playground environment where you can create a replica of your site. Run any tests you wish and check any changes you like without impacting your live production site.
Automatic Scalability
Our infrastructure scales on demand, both horizontally & vertically, without any disruption of service for your site. As demand grows new server clusters are deployed to our cloud.
Expert WordPress support
Our Team of WordPress experts has significant and diverse experience at diagnosing and dealing with issues that other hosting companies wouldn't even touch. We're here to help!
Instant Backups
One-click Instant Backups allow you to backup your site, secure it, restore it and even view and download previous backups. It's an easy and hassle-free process.
Full Server Management & DevOps
From hardware failures to server upgrades, we take care of everything so that you focus on growing your business.
Offsite Backups
Automated offsite backups for disaster recovery are performed daily to a secure remote location. It's the most reliable way to make sure everything stays safe in case disaster strikes.
Managed WP core auto-updates
We not only ensure that your site runs on the latest version of WordPress but we also monitor and test each release before we roll it out.
We are an Extension of your Team
The entire Pressidium team is committed to helping you build the fastest and most scalable website for your users. We listen to your needs and propose ways for you to optimize your performance.
Industry leading response times
No first-level support agents. Our helpdesk is 100% staffed by experienced engineers
Zero escalation policy, our engineers will provide turn-key management of your issue, from the start to finish
We work as part of your team, and invest our time in understanding your unique business case in order to serve you better
Security
Hassle-free threat prevention so your time is spent building your business with peace of mind. No plugins required!
Managed WordPress auto-updates
We proactively install WordPress security updates. We keep your site up to date and secure without you having to think about it. Whenever WordPress issues a minor or major update, we test it and then proactively apply it to your site.
Let's Encrypt SSL Certificates
All our plans include full support for free Let's Encrypt Certificates. SSL secures the communication between your website and your visitors, authenticates your website's identity, and ensures data integrity between browser & web server.
Managed web application firewall (WAF)
All our plans include application layer scanning by leveraging a proprietary web application firewall focused on securing WordPress sites. This is part of our complete stack of security services, providing end-to-end protection for your site. We wholeheartedly support your right to feel safe and we provide you with the means to be so.
SFTP Service
Secure file access to all your WordPress sites that allows you to make direct file level changes and tweaks to any of your sites via a single login and encrypted protocol communication. Fully locked-down environment where it's impossible for any user to gain access to another user's files & data.
Malware monitoring and removal
We proactively scan, detect and block malware and vulnerabilities. This is all done transparently at the infrastructure layer, without the need for any plugins or configuration from your part. In the unlikely event of one of our customer's sites is compromised, we will fix it. For free.
Bad-bots filtering
Tired of bad bots hitting your site day and night, stealing your resources, and giving you zero value? Not to worry, as our security stack leverages classification techniques to identify and reject this type of traffic, while allowing legitimate search engine bots to freely index your site.
We are Global!
With four main data center regions in North America, Europe, Oceania & Asia Pacific, and 42 strategic edge locations spanning the entire globe.
Speed
Lightning-fast, scalable, robust and secure hosting for your WordPress sites.
Dynamic Load Balancing
Ensures that delivery of your site's content is accelerated, as each request is intelligently dispatched to the least busy server. If the traffic on your site peaks, our total traffic management solution will evenly distribute load across our server farms eliminating the pitfalls of slashdot effects.
Global Enterprise CDN powered by HTTP/2
Accelerate delivery of your content with our Global Enterprise Content Delivery Network, which is integrated right into your WordPress site. We have placed HTTP/2 powered content delivery servers at 42 strategic edge locations around the globe, in order to get your content as close as possible to your visitors, minimizing packet loss and network latency.
Enterprise HA SSD Storage
Enterprise-grade RAID Solid State Disk Arrays utilizing our Highly-Available (replicated) web-scale SSD-based cluster file system for parallel access to files from application nodes. The file system automatically replicates content across all servers in a 2+N design and allows simultaneous read & write access to any node. An almost infinite amount of storage nodes allow for capacity expansion and I/O load distribution is supported.
Multilayer Adaptive Caching
Our unique multi-tier adaptive caching platform consists of five separate caching mechanisms. These provide caching of content, php objects, php opcode and db query results in RAM (hot dataset) and SSD (less frequently used dataset). These 5 layers combined with the optimal design of hardware and network tiers, accelerate website speed to the fastest it can possibly go. No need to install and configure caching plugins in order to achieve top speeds.
PHP Optimization & PHP 7 Support
At the root of every WordPress hosting platform, everything comes down to PHP processing. You'll be glad to know that we have been tweaking PHP optimization techniques over the past 15 years, and based on this extensive experience, we have super-charged Pressidium PHP processing time. Our server-side processing is now hundreds of times faster than standard PHP setups.
Full HTTP/2 Support with SSL Acceleration
We offload SSL transactions at the load-balancing layer. This significantly accelerates traffic towards backend servers as web application server farms are no longer burdened with the CPU intensive task of encrypting and decrypting internal http traffic on the private network. The result is 100% secured & SSL encrypted web browsing at significantly faster speeds.
User Dashboard
Quick, easy and effective control of all WordPress sites with our simple & beautiful one-click interface.
Website Analytics
Our brand-new Analytics panel provides a wealth of information right at your fingertips. Three data panels, Requests, Caching and Geo & IP are updated daily with a range of helpful stats giving you pinpoint information on the number of hits to your site, how your website cache is performing and the top IPs of visitors including the country they are from. Up to 30 days of data is available giving you historical insights into your website performance and usage.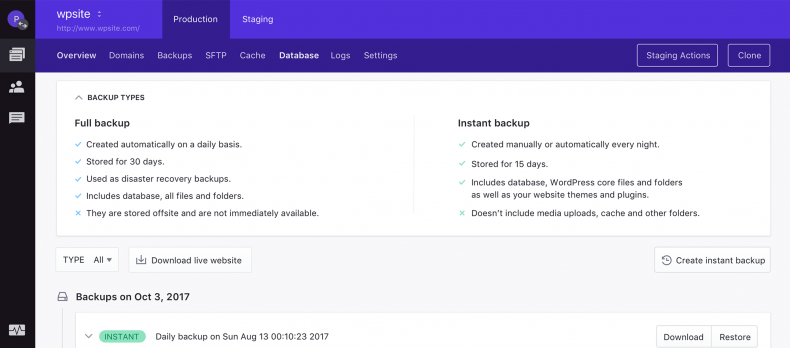 Never be afraid of damaging your site
Planning of making a risky change and you're afraid of damaging your site? Instant backups were made for this exact purpose, so customers can initiate a 1-click instant backup process before performing risky changes on their production sites. Better safe than sorry!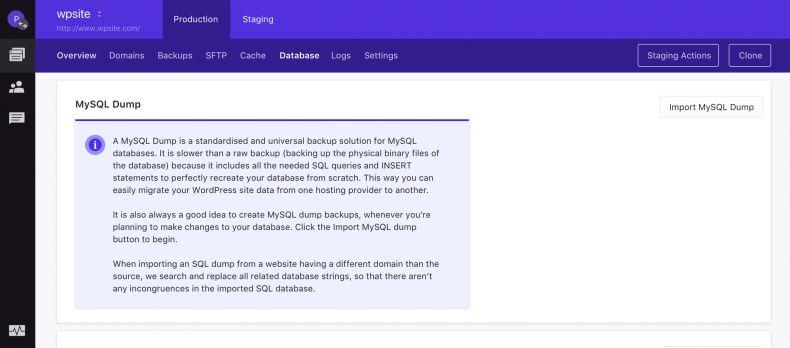 Database administration is easy
PHPMyAdmin is the most popular tool for MySQL database management. So instead of building another database manager, we decided to include PHPMyAdmin in our platform and integrate a Single Sign On mechanism in it so you don't need to remember any extra credentials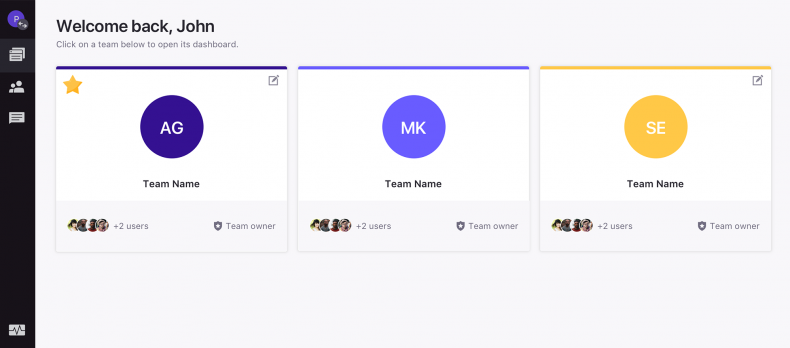 Manage who has access where with Team Roles
A Pressidium Team represents a billable Pressidium account, you can have multiple websites under your team and you can also invite users to join your team under pre-defined user-roles. This is a great feature for granting access to your WordPress development team or to freelancers who are working on your website, it also removes the need from sharing passwords with other people. WordPress freelancers can join multiple Pressidium teams and switch between teams using their own unique username and password.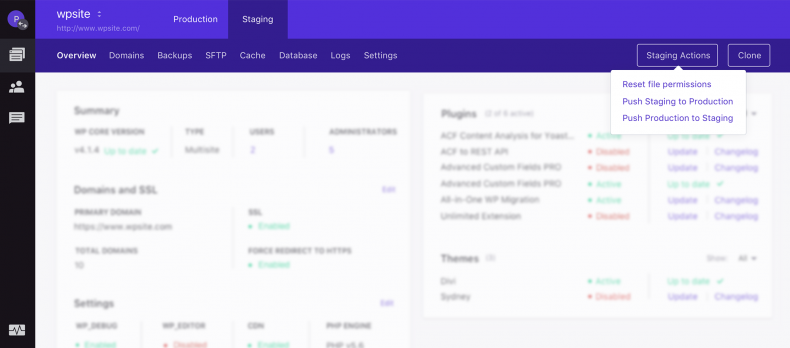 From staging to production with one click
Having a Staging site is a great tool when you need to test something (e.g., new plugin, change of theme) before deploying it to your production. But what happens when everything works fine and you are happy with the result in your staging site? Our one-click deployment takes care of everything for you! Υou simply push your staging site to production with just one click.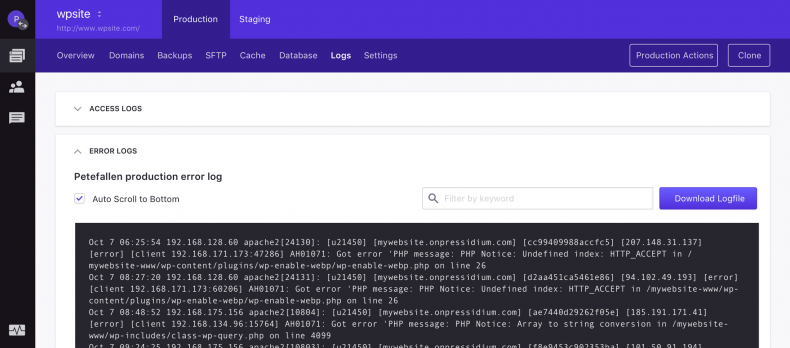 Access your web server's logs from your screen
One way or another, every WordPress user comes to a point where they might need access to the webserver's logs for troubleshooting. Our log viewing application, which gathers web server logs in real time from our web farm, has been directly integrated into your browser screen. And you are able to download the log file directly on your computer.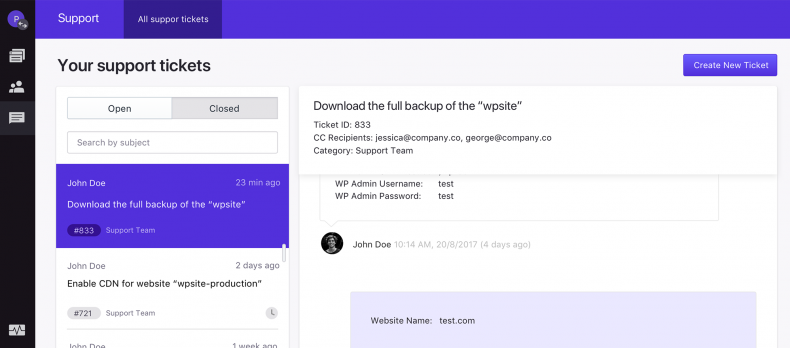 Integrated support ticketing service
Can't find what you're looking for? No need to worry, as you can open a support ticket 24/7 from inside the portal and we will provide you with the answers.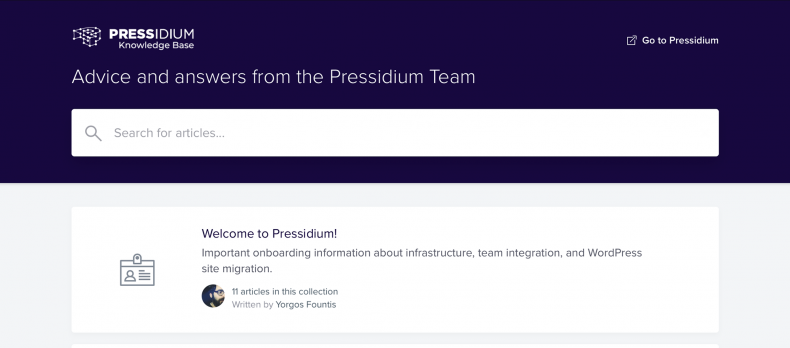 Helpful and user-friendly Knowledge Base
Having trouble and needing some help? You can search through our Knowledge Base database and read helpful articles covering multiple areas.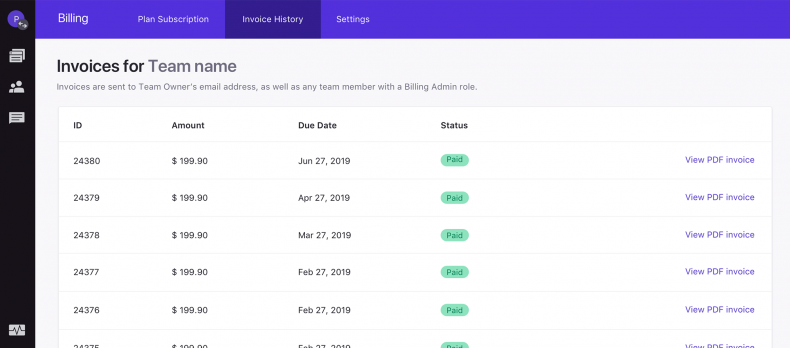 Invoice and Billing History in one place
Under the Billing screen, you can find your Invoice History. It shows each invoice generated under your account since your initial subscription to our service, as well as a corresponding status (whether it's paid or outstanding). In addition, you can choose to view full invoice details online, through the portal, or even download it for reviewing it at a later time.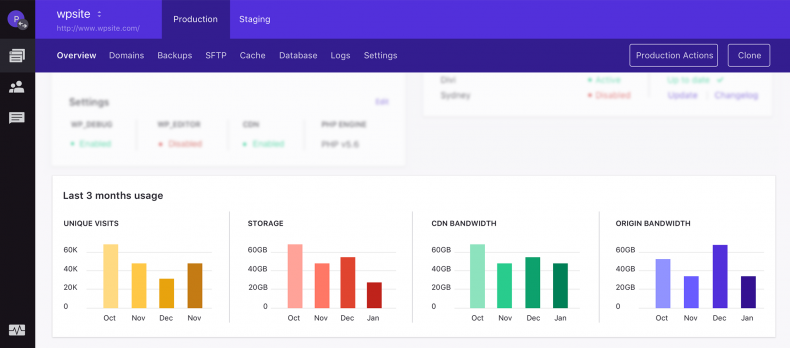 Full view of your site's analytics
View aggregated usage statistics of all your sites on the sidebar of your Portal screen, or just simply select a WordPress site and view the respective usage reporting. Statistics are updated in real-time, giving you a full view of your WordPress sites usage.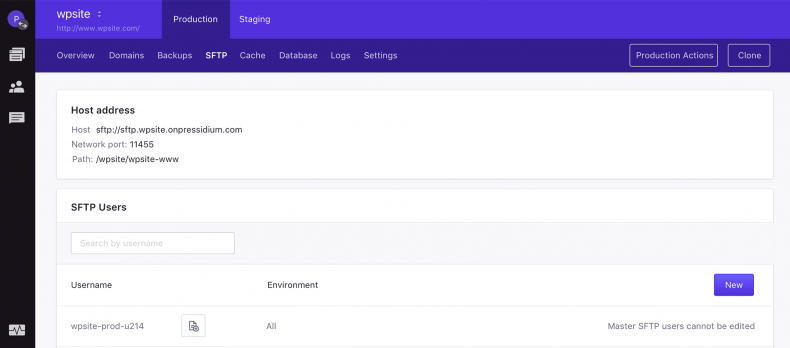 Managing multiple SFTP users is easy and simple
From the Pressidium Dashboard, you can delegate access to your site by managing multiple SFTP Users. You can have separate users for each of your site's environment allowing you to have fine-grained control of everything without any fuss.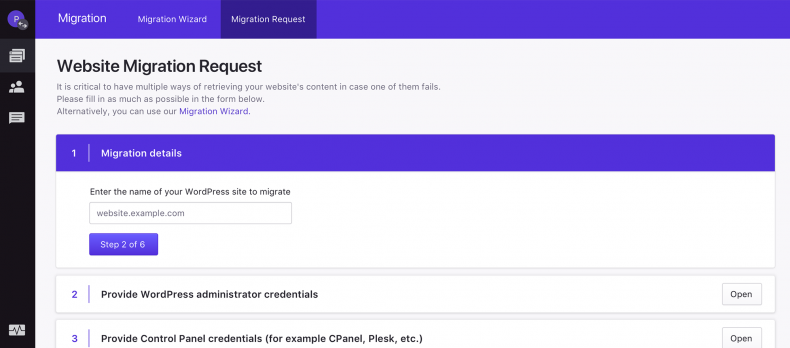 Migrate a website yourself or leave it up to us
With the Migration Wizard at your disposal, your migrations are easier and simpler. But should you encounter any kind of difficulty, you can open up a migration request ticket and we will perform a valet, hassle-free migration for you.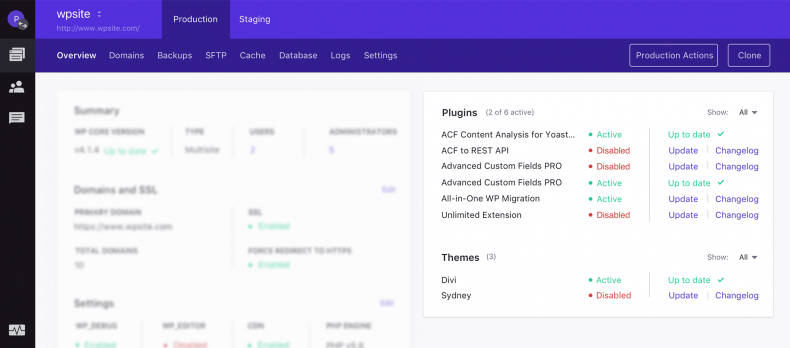 Trouble-free updates of your plugins & backups of your site
From your dashboard, you can easily control and carry out all Plugin Updates necessary for your site to run smoothly and securely. With the Safe Plugin Update feature, your updated site is instantly backed up so that you can roll back to it if need be.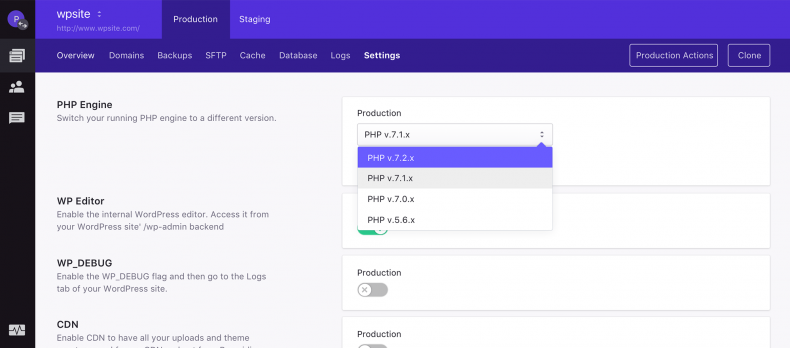 PHP engine selection was never easier
PHP processing is at the root of every WordPress hosting Platform. From the Pressidium Dashboard you can opt for the latest and greatest PHP7 or you can roll back to the PHP5.6 for compatibility. All with one click.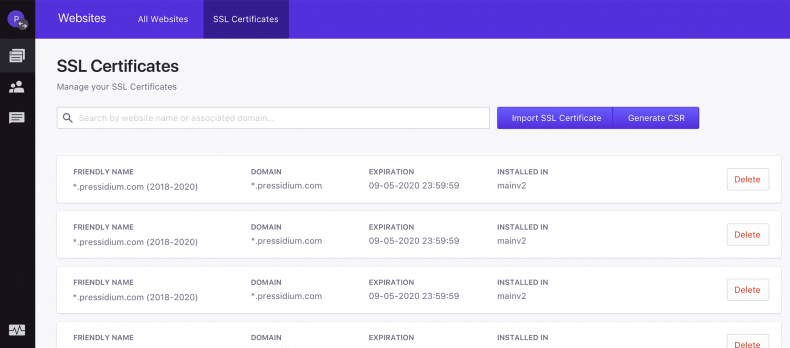 SSL Certificate management on one screen, for secure communication.
Control, manage and install the SSL Certificates of your websites on one screen. Check out all the details about their Validity Period, the date they were issued, their expiration date and when you should renew them so that your site's communication is always secure.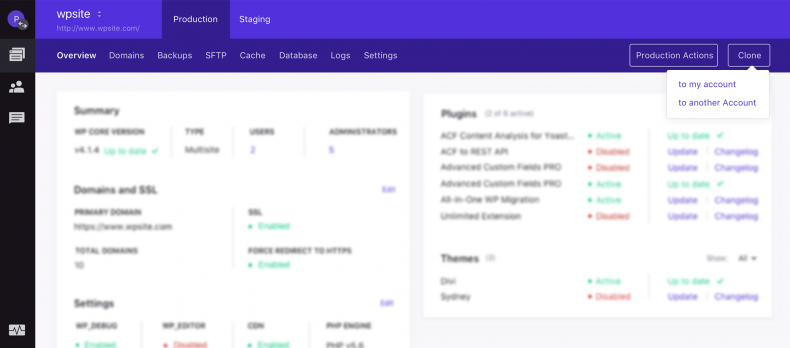 Clone your site, run tests and transfer billing with one-click
You can easily clone any site to a separate instance. You can work on it, run any tests, the lot. You can have different instances with different data. You can even clone to another account to perform billing transfer with one-click.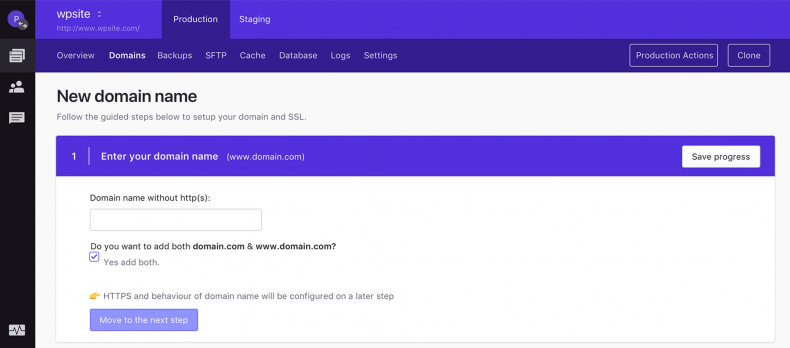 Map your domain and we will do the rest
To associate your WordPress site with a domain, update your DNS settings and use the "Mapped Domains" section. And we will take care of the rest. We will be able to accept traffic for your domain and route it to the appropriate WordPress site; we will perform an automatic back up of it, update the home and site url settings and even update your database to replace any references found on the old site url.

Manual and automatic backups
DB Administration with PHPMyAdmin
Role-based Access Control
One-click deployment from Staging
Integrated Log Viewing Application
Integrated Support Ticketing Service
Invoice and Billing History
Usage and Traffic Analytics
Website Migration Request
Website Cloning and One-click Billing Transfer


State-of-the-art architecture with dedicated server clusters
For enterprise clients we provide the same architecture with custom configuration in a dedicated server cluster.
Millions of monthly visits
Unlimited WordPress websites
Dedicated server cluster
Transparent scalability
Dedicated account manager
24x7 on-call engineers
Enterprise ready search
Custom infrastructure needs
Latest PHP versions available
REQUEST A QUOTE NOW
Show me all Enterprise Features
Get Started Today, Risk Free
Don't wait. Try Pressidium now and take your WordPress site to the next level.
Choose your plan