If you run a WooCommerce store and you want to expand your business to sell in other countries one of the key things you'll need to do is to accept payment in alternate currencies (or at the very least show pricing in local currencies).
A multi-currency feature in WooCommerce can display Multiple Currencies and convert products prices into local or customer-selected currencies. To enable this feature, you will need to use a Multi-Currency plugin. In this article, we will look at the options available to enable you to do this.
So why would you want to do this? One of the major benefits of selling online is that you can reach anyone with an internet connection. That's got to be better than restricting yourself to your local population (as is typical with traditional bricks and mortar stores).
So, ready to enable your store to work with multiple currencies? Let's get started!
The Advantages of Using Multiple Currencies in WooCommerce
There are a ton of benefits to using multiple currencies on your WooComerce store. Let's look at some of the key ones.
Avoid Confusing Customers with Currency
People want to purchase products using the currency that is familiar to them. No one wants to have to dive off to a conversion website like xe.com just to find out what a product is going to cost them. Not only is this hugely inconvenient but the fact that customers can't view products priced in their local currency is a total giveaway that the eCommerce store in question is run from another country. This alone might be enough to put someone off purchasing from it.
When displaying currencies it's often beneficial not just to rely on a currency symbol. When feasible, the best idea is to utilize a three-character currency code to help reinforce the fact that the price they see is in 'their' currency.
All of this means that customers won't get confused and are much more likely to purchase from your store.
Manage the Display of Multiple Currency Prices
Ideally, the Multi-Currency element of your WooCommerce store should not convert the price automatically to the customer's currency of choice. Why? Because the control of currency conversion should be in your hand. This gives you an opportunity to utilize psychological pricing.
Try our Award-Winning WordPress Hosting today!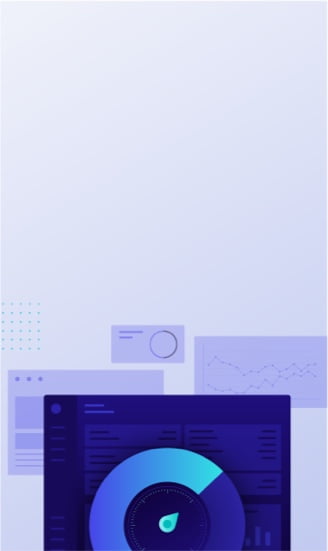 Let's say you are running your business from Australia, and the price of a product is AUD 50. If this was converted automatically, then, at the time of writing, customers from the USA would be presented with a price of USD 36.12. This is a bit of an odd price… you would probably be better off listing this product at USD 35 instead which would be much more appealing.
We now have the best of both worlds… a website that displays a currency that is local to your shopper and one that lists these prices in a psychologically appealing manner.
Best WooCommerce Currency Switcher Plugins
If you are now convinced that it's worth enabling the WooCommerce multi-currency feature and selling to customers outside of your country then the next step is of course to choose a suitable plugin that will allow you to do this. There is no shortage of choice when it comes to WooComerce multi-currency plugins. This is a good thing in some senses but can make life harder in others!
Don't worry… we've done the hard work for you and sifted through the options which have been narrowed down to the three we think are the best.
WooCommerce Multilingual – run WooCommerce with WPML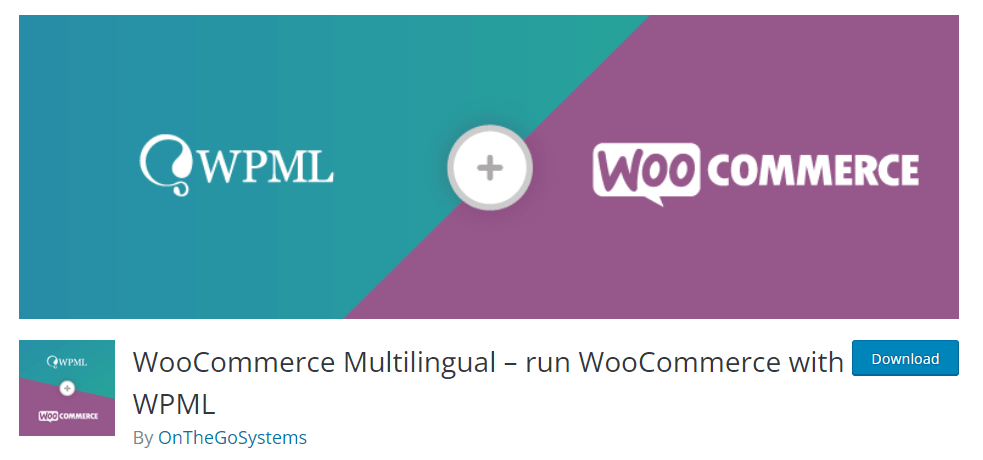 WPML is one of the most recognized WordPress plugins out there for allowing you to create a multilingual website. But did you also know that it can add multi-currency functionality to a WooCommerce store as well using their WooCommerce Multilingual plugin? This is an awesome feature as, if you're selling abroad, it's likely you will want to add different languages to your site so to be able to handle the currency aspect all from one plugin is a great bonus.
There are two main benefits of using WPML to support multi-currencies in your woo-commerce store:
More than 400,000 WordPress websites are powered by WPML, and most of them are WooCommerce sites. It's a complicated thing to do and you want to use a plugin that is reliable and well supported. WPML is both.
WPML, as mentioned, gives you not only the ability to add multiple currencies to your store but also the ability to turn it into a multilingual site as well.
Here are the key features of the WooCommerce Multilingual WPML plugin:
Translate your website's products, currencies, pages, menus, URLs, tags, and more.
In the free version, you can set two currencies, but in the paid version, you can set more.
Set a default currency for your site and display multiple currencies as per the language and the location of your customers.
Provide your exchange rate to customize the pricing.
Control the display of your currencies in the checkout and payment process
Integrates with PayPal and Stripe
It's the real deal and well worth a look.
WooCommerce Currency Switcher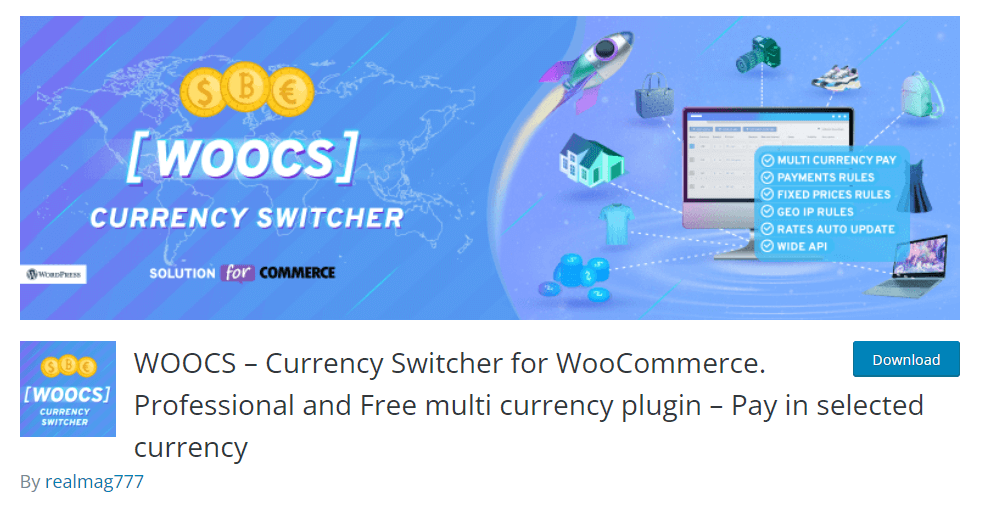 If you're on a tight budget, the WooCommerce Currency Switcher plugin provides a simple way to enable WooCommerce multi-currency functionality on your website. This plugin, which was released in June 2014, has an excellent user base and reviews.
Let's take a look at some of the features that make it one of the go-to choices for WooCommerce multi-currency plugins:
With a few customizations, you can convert the default currency to other currencies.
You can set your preferred currency exchange rates or enter a new one.
Schedule the auto exchange rate with intervals. You can set it once a month to once every 5 minutes.
Accepts local currencies so that customers can also pay with their local currency.
Price format, signs, and symbols of any currency are also customizable. Also, set currencies as 'Private', or 'public'.
Set user roles for different users and customize the price according to customer priority. This means you can raise or lower the price displayed for a specific customer but others can't see it. This feature is crucial to display discounts and loyalty programs.
It's free to download so why not give it a go.
WooCommerce Currency Switcher by Aelia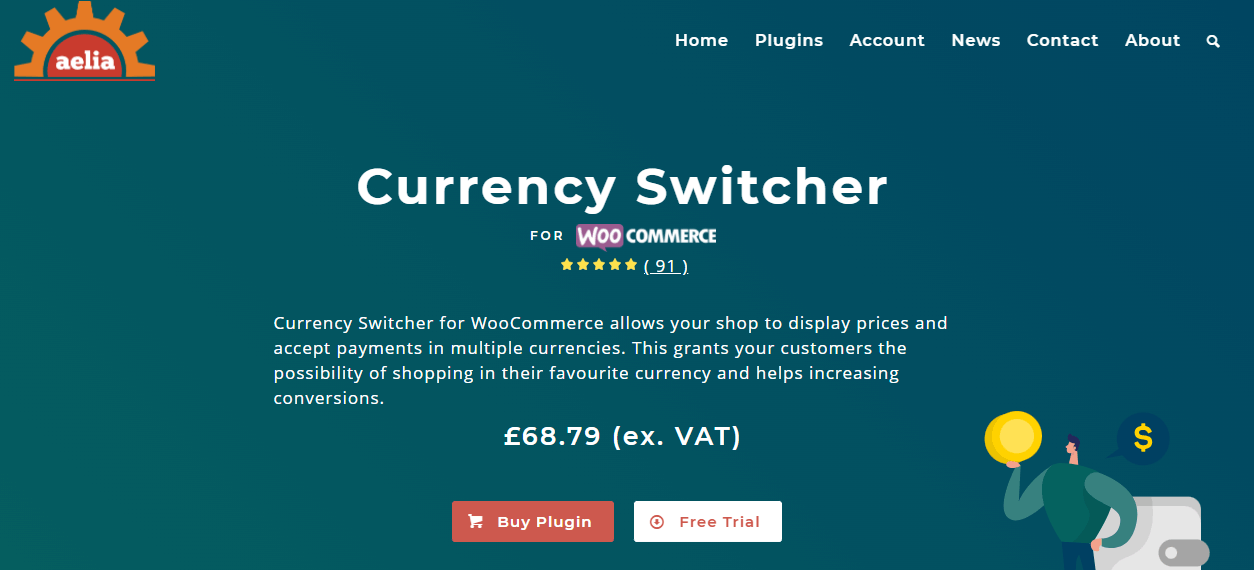 The WooCommerce currency switcher by Aelia plugin was one of the pioneers when it came to allowing users to accept multiple currencies on their WooCommerce website. As a result, they've done a lot of testing and optimization to ensure that the plugin works as well as possible. And not only is the plugin itself great but it's backed up with excellent support from the Aelia team meaning if you run into any problems then you can rest assured that someone is there to help.
Here are the key features of this excellent plugin:
User-friendly interface for customers and merchants.
Customer can choose their preferred currency for shopping.
Exchange rate settings according to customer preference.
Merchants can edit the price of the products and coupons in their selected currency without an exchange rate.
Merchants can enter a base currency and calculate the price in multiple currencies.
Shoppers location is detected via geolocation.
Shows currency according to billing and shipping address.
The plugin is around $100 to buy but a free trial is available meaning you can make sure it's right for you before committing to a purchase.
Conclusion
The world really is your oyster when it comes to selling via a WooCommerce website. All you need to do is setup a multi-currency option on your store, translate pages (where required) and you're off! Just imagine the sales boost you could experience by being able to reach previously untapped markets. Without a doubt, it can take a bit of effort to make a WooCommerce store ready to accept multiple currencies but, with the right plugin and a bit of effort, it's definitely possible so why not give it a go and make 2022 the year you begin selling internationally!
—–
About our Guest Author: Atanu Das is a professional content writer who is actively writing SEO-optimized content. For the last four years, he has been writing creative content on WordPress, WooCommerce, Google Merchant, eCommerce, and other topics. He is currently working as a content writer at Webappick – a WordPress Plugin development company.
Start Your 14 Day Free Trial
Try our award winning WordPress Hosting!