WordPress is a hugely popular solution for Universities and other Educational Organizations such as schools and colleges and as such it's vital that resources are allocated to ensure the infrastructure on which WordPress is run is continually modernized.
WordPress is often deployed as a Multisite network which allows multiple WordPress websites to be managed with relative ease. Most, if not all university IT administrators are probably familiar with WordPress Multisite and have a broad understanding of the benefits offered by this well-established system, in addition to the unique challenges it can present.
As well as being used to host interdepartmental websites, many universities will also use WordPress Multisite to host research blogs for their academic staff, faculty and postgraduate students. Ph.D. candidates will also likely be familiar with using WordPress to create their thesis and presenting their research.
We are passionate about WordPress Multisite and the benefits it offers Universities, and run many such networks for organizations. With our Pressidium High Availability Enterprise Architecture and next generation platform, we are helping Universities modernize their existing Multisite networks with a range of cutting-edge technologies. Our complete turn-key hosting solution has been built from the ground up and offers the world's first true, high availability platform for WordPress.
Identity Management Solutions
One of the primary appeals of WordPress Multisite installations is that they allow (an often overworked!) university IT department the ability to manage everything under one WordPress installation. This makes spinning up new sites a relatively quick process. In addition, a Multisite setup allows Admin or Editor rights to the Multisite network to be granted by the IT team from their primary Multisite Network Admin login. For Universities, the ability to manage the tens, or even hundreds of users across the Multisite network is, without doubt, a key benefit of WordPress Multisite.
Try our Award-Winning WordPress Hosting today!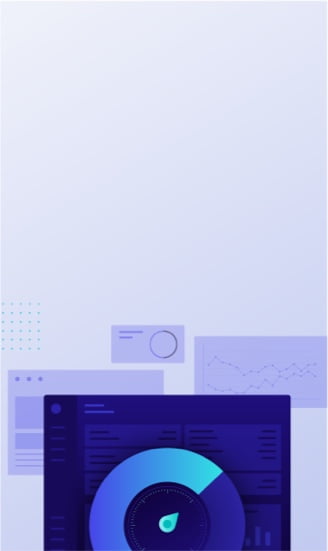 Today, an increasing number of Universities are choosing to set up Central Identity Management solutions that implement protocols such as SAML/SSO that allow users Single Sign On functionality across the entire suite of University systems with just the one login.
With the investment in these systems (such as Microsoft Active Directory or OpenLDAP based services), there is a clear desire to be able to incorporate WordPress logins into these Central Identity Management solutions. This avoids having a two-tier system whereby all other University assets can be accessed via a Single Sign On, but WordPress sites still require their own, separate credentials.
WordPress Plugins that implement this integration are now mainstream and provide a plethora of integrations with various Central Identity Management solutions such as Google Apps, ADFS, Azure AD, Okta, Oracle OIM, IBM's IAM and Salesforce to name but a few. The increase in Central Identity Management solutions provides new opportunities and ways of managing large WordPress networks and are a key area of focus for Universities looking to modernize their WordPress infrastructure.
Custom Infrastructure Setups
Many Universities have invested heavily in firewalls and other security systems to protect their own network. This can present a problem when using a third-party hosting solution to modernize an existing WordPress setup. Pressidium fully supports sophisticated Reverse Proxy setups that work with your IT architecture, allowing Universities to enjoy the benefits of a true, high availability platform for WordPress.
Another often overlooked benefit of Reverse Proxy setups is the ability for Universities to split their domain space. No longer does one hosting/network solution have to do all you require under one domain. For example, with a Reverse Proxy, a University can choose to host its Physics department WordPress site under one folder (e.g. university.com/physics) whilst the root domain (university.com) is pointed at a different provider or in-house server. This gives Universities the flexibility needed to customize their setup to achieve the optimal solution for them.
Modernizing WordPress in Universities
As we've seen, WordPress Multisite offers lots of benefits but, as mature Multisite users will know, there are some downsides. Because a WordPress Multisite network comprises of one primary WordPress install, this means the entire network of sites is run from a single WordPress core, a single PHP instance, and one (potentially huge) database. With just a handful of sites within this network, this isn't such an issue, but, as the network of sites increases (sometimes into the hundreds or even thousands at large Universities), problems can begin to emerge.
For example, a simple database or WP core upgrade could cause the entire network of sites to stall until it is completed, or the upgrade could be blocked entirely if any individual site in the entire network has an incompatible theme or plugin. An inconvenience for sure. More seriously, a plugin or theme on any of the sites within the Multisite network that has a security flaw could compromise the database and instantly provide the attacker with access to all sites within the network with all the horrifying consequences that this might entail.
With the increased prevalence of Identity Management Solutions and the ability to achieve custom infrastructure setups such as Reverse Proxy's, new opportunities have arisen for Universities looking to modernize their WordPress infrastructure by moving away from Multisite to single site WordPress installs that leverage the University's Central Identity Management system to administer WordPress user management.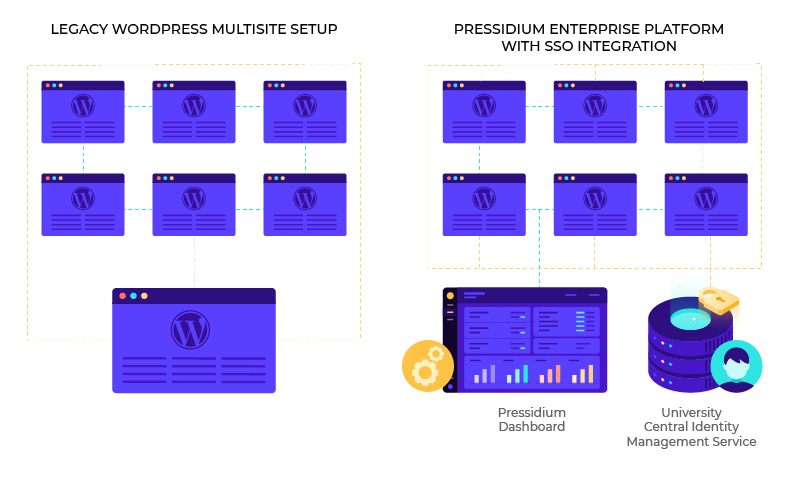 This, when combined with the Pressidium Platform which centralizes administrative management of all the University's WordPress sites, offers a truly modern approach to WordPress management with some significant benefits including:
Backups – Pressidium's Enterprise Platform offers daily offsite backups and instant snapshot backups that can be quickly and easily deployed for all your WordPress sites. So, if the Physics department (for example) install a plugin which accidentally corrupts their website's database, your IT team can deploy a backup instantly, often getting the site back up and running within minutes.
Staging Sites – Staging sites can be quickly and easily spun up for each individual WordPress install allowing the IT team or other site users to test changes to their site before initiating a single click deployment to the live site.
High Availability Multi-node dedicated server cluster – Your websites do not reside in just one server, but in a reliable highly-available clustered solution (2N+1 R highly available design in a multi-node dedicated server cluster) that can auto-scale during traffic spikes and slashdot effects, at a significantly lower cost.
24/7 Expert Support – WordPress DevOps support that becomes an extension of your IT department. We support faculty & academic staff, the student body and research mission on a 24/7/365 basis, something that is especially important in a University environment with academics and students working at weekends and evenings. We play an active role as a project stakeholder in all the phases of your WordPress ICT projects.
Upgrades – WordPress core and minor upgrades are undertaken on your behalf, plus security patching that is automated, and robust.
Multi-layer security – Security updates, malware detection, and removal, Web Application Firewall, bad-bot filtering, IP blocking, SSL certificates, SFTP access, the works! And, because each site is no longer part of a Multisite setup, any security vulnerabilities caused by plugins or themes are limited to that one install, not the entire network of sites as is the case with a traditional Multisite setup.
Data Availability – Backups taken by our Enterprise system are also freely available to your IT Teams admins allowing them the ability to download a copy of their own archive file of each and every site within the network. These backups include all WordPress assets (database, image files and so on) which can then be stored according to your University's data retention policies, giving you complete confidence that no matter what, your data is safe.
The Pressidium Advantage!
Our High Availability Enterprise Architecture platform is helping educational institutions such as universities around the world modernize their WordPress legacy educational infrastructure by providing a 360-degree integrated solution. This is backed up with superior engineering know-how, DevOps WordPress support from actual humans who know their stuff and who solve problems (instead of endlessly escalating tickets playing "hide and seek"!) and proactive security measures that will ensure your University WordPress Multisite network stays safe.
Start Your 14 Day Free Trial
Try our award winning WordPress Hosting!