One of the major issues WordPress developers deal with, is setting up the work environment. This is done before any actual work can begin. Tasks like creating accounts and tweaking templates and plugins, introduce a lot of overhead. Most of these tasks are fairly repeatable, and the time they take could be put to better use.
The Pressidium Website Cloning feature makes all that fuss go away. It helps you start new projects faster and develop with reusable components far more easily. More time plus more productivity equals more awesomeness!
Time lost before you get started
When you begin a new project there are usually two ways to go about it. The first involves the client setting up his hosting environment for you to begin. In the second case, you develop locally and then show your work to the client. Both ways have their pros and cons.
Depending on the client, you need to deal with some red tape to gain access to the development environment. That usually means waiting for paperwork, user accounts, access requests and even VM provisioning.
Try our Award-Winning WordPress Hosting today!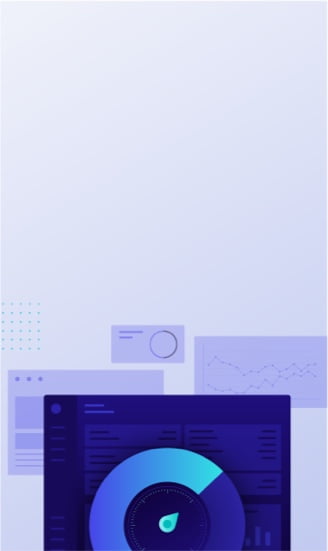 Then of course, when everything is dutifully set up for you and you get that "Ding! you're ready to start!" email, various things can follow, for instance:
Finding out you can't connect to the database.

Access to the public Internet is restricted and you need to download some files from within the server.

Experiencing connectivity issues. If your Wi-Fi router is misbehaving, a quick reset might do the trick. If the problem resides on the client's side, you need to report it in some way. Ideally, the client is made aware of the issue, acknowledges and fixes it on time, and you get back to work.
Bottom line is, when you develop in a client's site, you are dependant on the client's way of doing things. That means following internal processes and ways of communicating that the client defines. This lifts off from your shoulders the overhead of setting things up. But your productivity can suffer with downtime or time spent communicating over support issues. Successfully or not.
If you decide to host the project on your own, at least until the project's done, new challenges may arise. First, showing your work to your client becomes somewhat less straightforward. Besides the perennial support issues there are a couple of other ones.
You will need to accept the initial hosting cost for the client's project and add it to the budget.

Data from external resources such as API calls or databases will need to be mocked-up.

These areas can introduce integration issues, once the project is imported to the client.
We're not trying to paint the picture black just to make a point. In reality it's always a matter of choosing the right way of doing things depending on the situation. If your project requires heavy integration, hosting it on the client's side is logical. If your client needs something reasonable, but lacks hosting capabilities, setting it up yourself is the best way to go.
There is one way you can save both the client's time and yours (don't you love it when you can have your cake and eat it too?). But for now let's talk about how you waste even more time when you need to make Yet Another XYZ website.
..and time lost when starting
Design agencies and seasoned freelancers have built asset libraries over time. These are reusable components and tools (plugins, themes, permalinks, etc), used at the start of each new project. Such a thing is normal after working the ropes for many years. You have your own and we definitely have ours too!
For example, you have a specific library of neat stuff for building WooCommerce sites. You may even have them grouped under different "styles" of client.
Host your website with Pressidium
60-DAY MONEY BACK GUARANTEE
SEE OUR PLANS
However at the start of a project, you need to set them up for the client. This means time spent on installation and configuration. Following that, troubleshooting the usual unnamed tiny things that can go wrong.
One common solution is to use a dependency/package manager like composer or bower, but that doesn't come without a price. You need to invest a considerable amount of time learning the software and adapting it to your needs. Then there's the time you need to spend on fixing things when they go bad. When dependency managers work, it may seem like easy magic. But when they break, it's usually something out of a Kafka book.
With Pressidium Cloning, you start now
Let's say you usually build lots of WooCommerce sites. You always reuse some plugins or themes and have a specific library of assorted assets to build from. Installing them on every project takes time.
Instead, you use Pressidium's Cloning Tool and create a template website. You load it with all the goodies you use, clone it and you're ready to go! Every time you need a new template website to work from, it's there. You can even clone any of your existing websites or tools with their configuration. This means you can start working on the project as soon as you close the deal! Pretty sweet eh? It's all done in one click.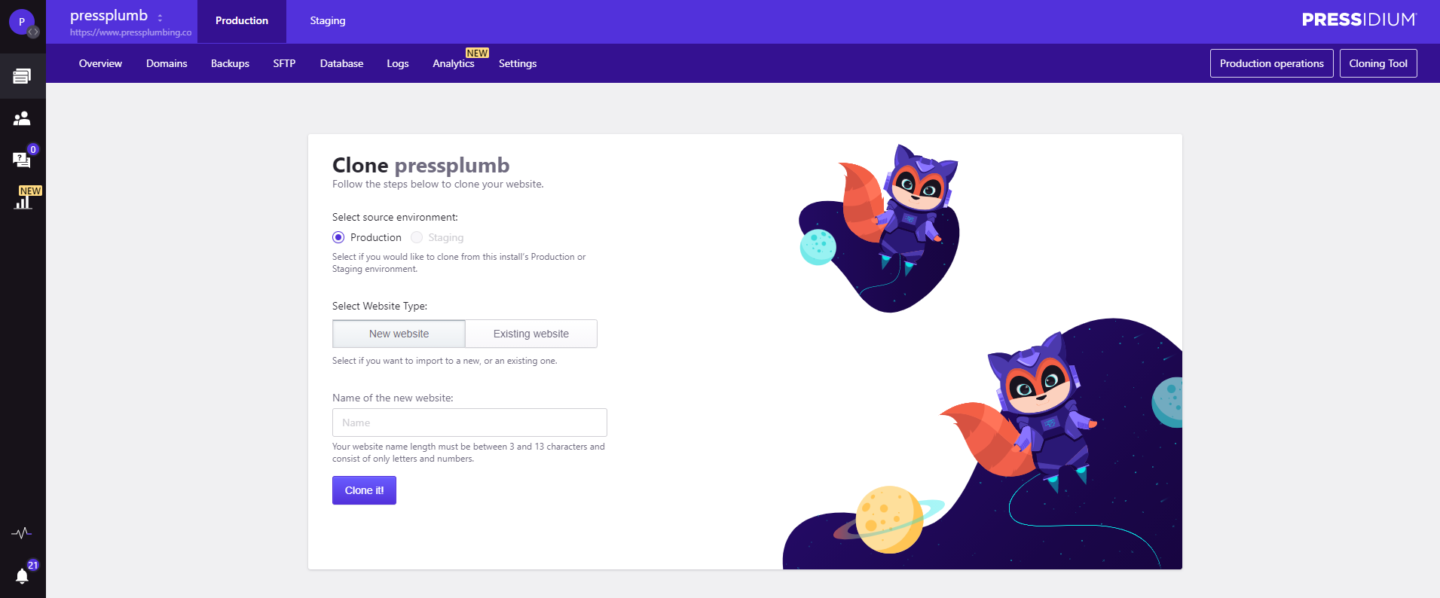 Even sweeter, let's say your project involves making updates to a client's existing website. Your client clones it to your account, and you start working on it immediately.
This works even if your client doesn't have a Pressidium account. Yes, even in that case! You can use our Migration Wizard and import any website your client needs in no time. Websites cloned with Pressidium Cloning are no different than regular ones. Once you import them to your account, you can use all our features and services on them. For example:
You develop in the cloned website's staging environment.

You finish a set of changes that you wish to show them to your client.

You push your changes to the clone's production with one click and it's over!
In the ideal situation where your client has a Pressidium account, shipping your project is super easy. Just click the 'Clone' button and select 'to another account'. You then enter your client's email, and an optional short message and that's it!
Once your client accepts your request the clone operation begins. All parties receive a notification email when the operation is completed.
Your work is deployed to your client's environment, without needing to do any complicated stuff. You get to deploy and ship on the spot (didn't we promise you can have your cake and eat it too?)
It's not just another 'feature'
We got repeated "I want to clone stuff!" requests from our partners and when we saw that their work would be significantly enhanced by it, we immediately got on implementing it. Computers are good at replicating exact copies of things, and that just saves time. The whole point behind it is use them where they're best. This in turn enables people to be awesome and creative (and get paid for it). Try it now!
Start Your 14 Day Free Trial
Try our award winning WordPress Hosting!