Updating to the latest version of WordPress is crucial for the security of your website. But sometimes it's not always as easy as hitting the update button. Whichever way you update your core WordPress installation, there's always the inevitable bugs that follow.
With Pressidium Managed WordPress Hosting we take a more intuitive approach to ensuring you're always using the latest, most stable version of WordPress. Read on to discover how we keep you updated and the rigorous process we follow.
Updating WordPress The Conventional Way
It's pretty safe to say that most of us have experienced the joys of standard shared hosting at some point in the past. When it comes to updating your WordPress installations on these standard hosting environments, it's often the case that you're left to do the nail biting task of updating WordPress yourself.
This can be a somewhat nerve wracking position to be in, particularly if your technical knowledge is limited. What if the update goes wrong? Who do you turn to for help? What do you do if something breaks during the update and you don't know how to fix it?
For freelancers, it means you need to manually update every WordPress installation you manage. With multiple clients on your books, that's a whole lot of time taken out of your work day.
Then there's the inevitable bugs that are found after an update. These can create multiple problems. In the case of large agencies, you'd need to pull in additional resources to troubleshoot and find solutions to these bugs for each individual client setup. Each website is different after all, with different setups and requirements.
Pressidium's Approach To Updating WordPress
As a managed WordPress host, we're responsible for ensuring your website(s) run the latest and best version of WordPress. Rather that just updating sites with new releases as soon as they're available we deliberately choose to wait until the first minor version of a new release has been pushed out by the WordPress team. For example, WordPress 5.8.1.
The reason? We want to be as confident as possible that new versions of WordPress are as stable as possible. It's common for major releases to have one or two bugs that typically can impact compatibility with plugins and themes. Normally these get resolved fairly quickly and the first minor update to a major release can fix a lot of reported glitches. We feel that stability and reliability are more important than getting instant access to the latest and greatest features hence the delay between the official release of a major WordPress update and us rolling this out to our customers. If however you want to upgrade early, you can do so easily from the Dashboard.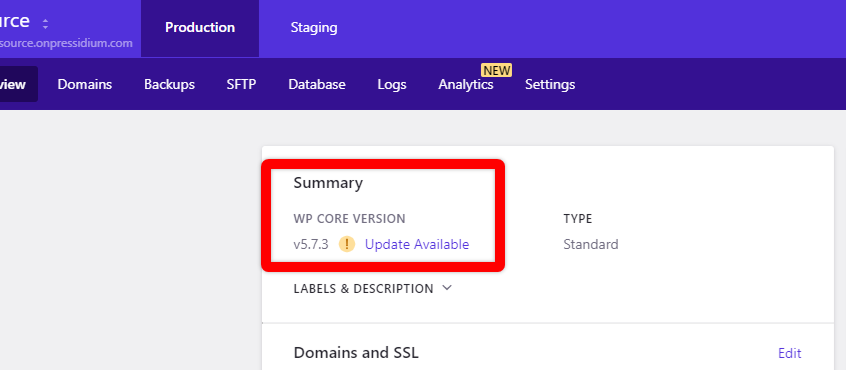 Simply visit the site in question, and, if an update to the WordPress core is available you'll see this highlighted as shown the screenshot above. Click the 'Update Available' link to begin the process.
Try our Award-Winning WordPress Hosting today!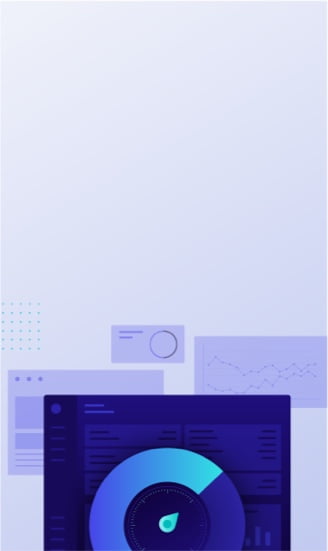 Most of our customers are happy however to let us handle Core updates. We notify all customers at least two weeks before rolling out an update and then a few hours before the update is due to take place so you get plenty of warning. Prior to the update a backup is automatically taken of your site. When the update is complete our systems will scan the updated website to check it seems to be working correctly. If it fails this test then we automatically roll your site back to the backup we took prior to the update and will notify you of the issue. Our team will then work with you to successfully upgrade your site.
Updating Plugins And Themes
We don't actively update plugins and themes for our customers unless we detect a really serious issue that might critically affect your site (and we'll always warn you if we do!). Instead we'll monitor plugins and notifiy you via email if we detect plugins that have any vulnerabilities we feel you could be harmed by.
Routine updates to plugins can be done from right within your Dashboard! This is awesome, especially if you have a large portfolio of sites… no more painful logging in and out of multiple sites! To do this, visit the website overview tab and on the right you'll see a plugin section.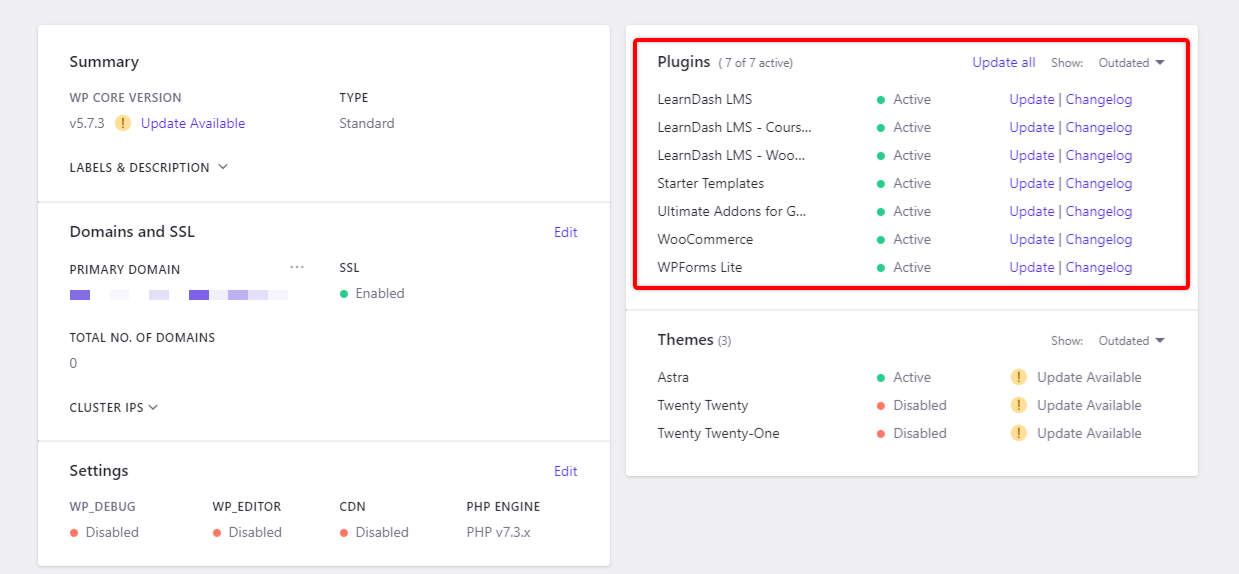 If an update is available you'll see a blue 'Update' text. Click this and your plugin will get updated to the latest version.
What This Means For Pressidium Customers
Running the latest version of WordPress is not only important from a security benefit but also means you have access to the latest features. Traditionally, updating your WordPress core could be fraught with problems. We take away these issues and ensure that you can enjoy the latest and greatest version of WordPress on your website. Just another benefit of hosting with Pressidium!
Start Your 14 Day Free Trial
Try our award winning WordPress Hosting!