One of the most popular features we offer at Pressidium is our free website migration service. This service enables our customers to seamlessly transfer a website hosted elsewhere, onto their Pressidium account.
Instead of having to go through the lengthy, technical process of doing this yourself, our team of trained WordPress experts do this for you. All you have to do is sit back and let us do the work for you. Of course, if you'd rather migrate your site yourself then you can easily do this using our automated Migration Wizard.
What Limitations Apply for Manual Migrations?
From the offset we'd like to highlight this – everyone, regardless of their pricing plan is eligible for free site migrations. It's a feature we believe everyone should have access to, therefore even our smallest, micro plans have the option of migrating your WordPress websites, for free.
How many migrations you're eligible for, depends on how many WordPress installations you're allowed on your current plan. We will migrate the maximum number of sites your plan supports. Here's an example of what you can expect:
Micro Plan – 1 Free Migration

Personal Plan – 3 Free Migrations

Professional Plan – 10 Free Migrations

Business Plan – 25 Free Migrations

Business Plus Plan – 50 Free Migrations
Again all of the above migrations, are carried out by our expert staff, completely free of charge.
What Is The Expected Downtime Of My Website?
The short answer is: None.
Every customer migration is unique, therefore the exact extraction and migration process depends greatly on certain variables and technical factors. These may include the size of your site in terms of files on disk, your database size and how often your content is updated with new posts and comments. If there are any other underlying complexities such as live feeds, integration with external API's and the time-frame for your migration etc., this also is a contributing factor.
Try our Award-Winning WordPress Hosting today!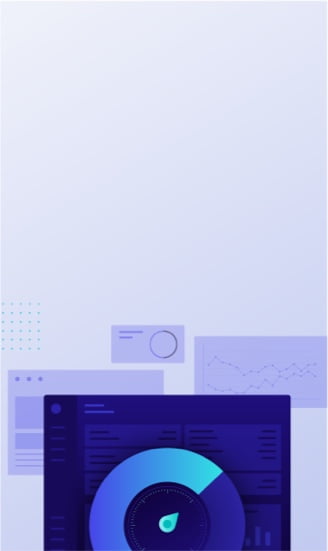 Regardless of this, our DevOps team will make sure that during the migration process your site will be available to your visitors. In the case of more complex migrations we'll propose a detailed migration plan with alternatives to you, so that you can decide on the option that best suits your business.
How Do I Begin Migrating My Website?
As mentioned, there are two options when it comes to migrating your site. The first is to do it yourself with some help from our automated Migration Wizard. You can find full details of how to do this here.
The second option is to request that our team migrate your site for you. You can request this from within your Dashboard.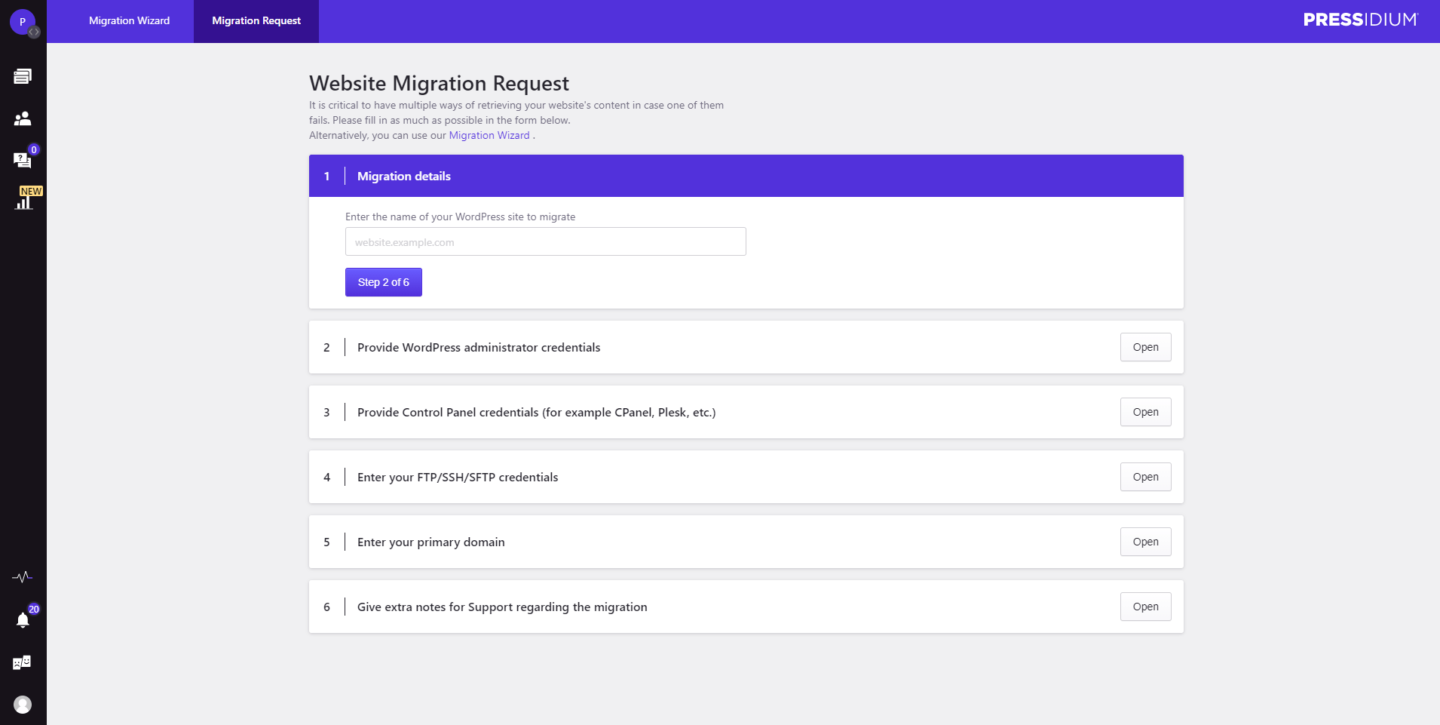 We'll ask for all the information we need in order to successfully migrate your website to us. If your site is particularly complex or you have specific needs with regards to your migration we'll be only too happy to discuss the migration process including a timetable for the move with you.
On the day of your migration we'll create an empty version of your website on our servers. We'll also create the appropriate domain mapping and redirects, as well as installing your SSL certificate (if you have one).
Next we'll backup your files and database from your old host, to our own servers. While we're doing this, we'll be actively scanning your files for malicious scripts and backdoors, before importing those files into the empty website we created for you.
Host your website with Pressidium
60-DAY MONEY BACK GUARANTEE
SEE OUR PLANS
One of the next steps we carry out, is to update your WordPress Core files to the latest, most stable version available. If we find outdated plugins we'll ask your permission to upgrade them. If for any reason you are not ready to upgrade a plugin (for example if you customized it and are afraid of losing your changes) we'll discuss with you potential alternatives.
Moving on from this, we'll ask you to preview your newly migrated website. If you approve the website and are happy that everything is where it should be, we can go ahead and update the site's DNS settings so your domain points to our servers.
If you've created new posts between the time of backup and the DNS update we'll transfer them separately using the WordPress Import/Export tool or by creating a new database export and copying the new media files.
Lastly we'll initiate the profiling of your database and make certain adjustments so that it is better tuned to your site. This is also the stage where Pressidium's performance optimization process begins. It's an ongoing process where we monitor your website and provide you with tips and advice on how it can be further improved.
To Recap
Migrating your WordPress website from your old host, over to Pressidium is a simple process! You're able to migrate a site anytime using our Migration Wizard or we're happy to migrate this manually for you for free (subject to plan limits).
So, what are you waiting for! Migrate your sites to Pressidium and begin experiencing the many benefits of our Enterprise platform today!
Start Your 14 Day Free Trial
Try our award winning WordPress Hosting!