The Pressidium platform was built from the ground up to offer an unparalleled WordPress hosting experience for our customers. We were the first to bring true high availability architecture to the WordPress world which ensures all sites on the Pressidium platform load quickly, reliably and have no single point of failure. If you've yet to experience high availability hosting for your WordPress website, then you can check out our competitively priced WordPress hosting plans here.
But our focus as a WordPress host hasn't just been on designing an amazing WordPress hosting architecture. We have also developed a range of innovative features that aim to make managing and running a WordPress website (or a portfolio of sites) as easy as possible regardless of whether you have a technical background or not.
And the even better news is that these features are included on ALL our plans! Let's dive in and take a look at the top ten Pressidium features (in no particular order) that are designed to make hosting and managing a WordPress site as easy as possible.
Number One: Spinning up a WordPress Site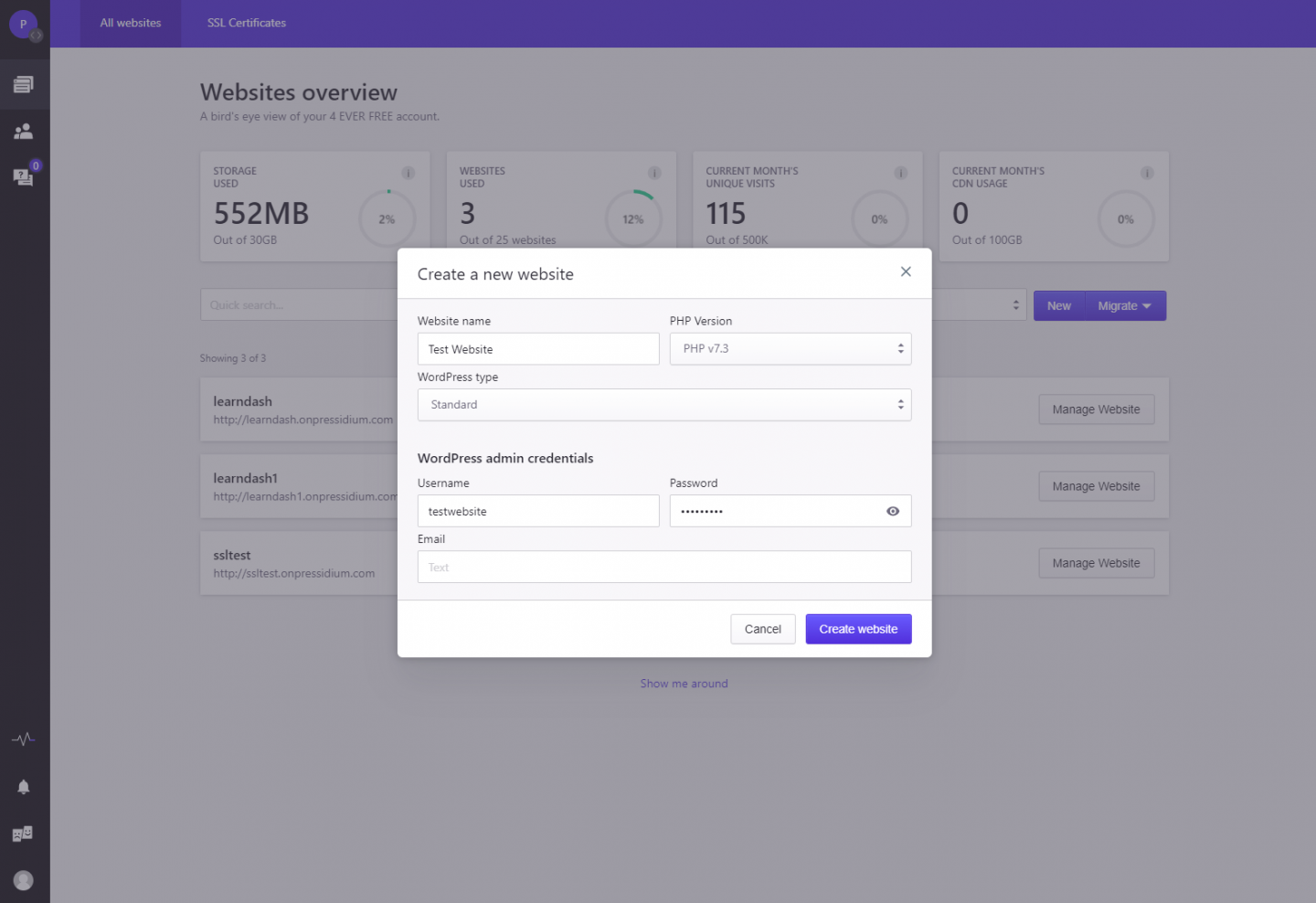 Although these features are listed in no particular order it does make sense to start with spinning up a WordPress website. After all, this is pretty much the first step you'll need to take to launch a WordPress site.
With many hosts, installing and launching a WordPress site can be a bit tricky (especially if the host in question doesn't specialize in WordPress). Although WordPress themselves state that installing WordPress manually is 'under most circumstances a very simple process' and 'takes less than five minutes to complete' the reality can be quite different.
As a managed WordPress host, we don't think you should have to wrestle with your hosting just to get WordPress setup. Just two clicks is enough to launch a brand new WordPress install from within your Pressidium Dashboard. To get started, login to your dashboard, click on 'New' and fill in the short form that asks for a website name and the Username and Password you'd like to set for your new WordPress website. Hit 'Create Website' and that's it. Your new website will be ready to go with the latest version of WordPress in about a minute. The moment it's ready you'll get an email notifying you and you'll be able to see it listed in your Dashboard.
Number Two: Backups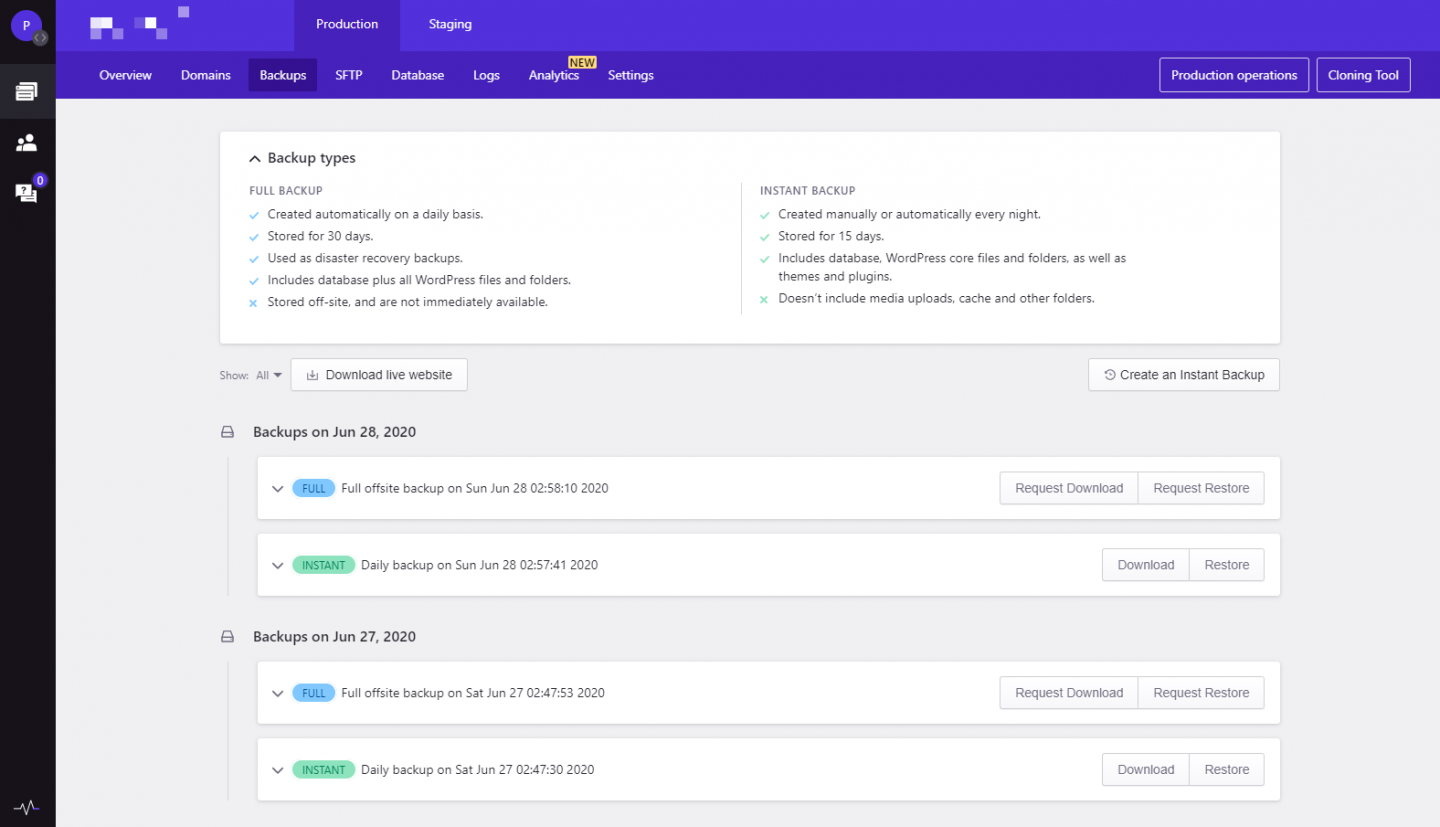 Head back a few years and backing up your WordPress website could be a seriously tricky task. Part of the difficulty of backing up WordPress website is due to the fact that a copy of the MySQL database needs to be taken along with all the files that go to makeup a WordPress site. Fortunately, things have moved on and there are now numerous plugins available that can help with the backup process. That's not to say however that backing up a WordPress website is now easy. Even with a good backup plugin it can be a time-consuming task and ultimately leave you with a backup that simply isn't worth the file space it takes up on your hard drive.
We understand just how important backups are and, because of this, have built a comprehensive backup solution right into our platform. No plugins or workarounds required!
We take two types of backups of your site(s). The first are Instant 'snapshot' backups which are available on demand. Instant backups are fantastic as they allow you take a comprehensive backup of your site prior to making any updates or changes (like upgrading plugins). They can be taken at the click of a button and are ready within a minute or two. Instant backups can act like a time machine and allow you to 'roll' your site back to a previous backup effortlessly. Anyone who has spent time working on a WordPress site will quickly appreciate the benefit of being able to do this and the ease at which backups can both be taken and deployed.
The second type of backups taken of your site are Daily Offsite Backups. Daily Offsite Backups do exactly what they say on the tin… backup your WordPress site and store it safely 'offsite' (i.e. on a different set of dedicated backup servers). We take a backup of your site, including the all-important SQL database once a day. 30 days' worth of offsite backups are stored and replaced on a 30-day rolling schedule. So, in the event of disaster striking (or one of your team accidentally deleting a raft of pages from your site!), you can rest assured that your WordPress site can be restored to a previous version within a matter of minutes.
Try our Award-Winning WordPress Hosting today!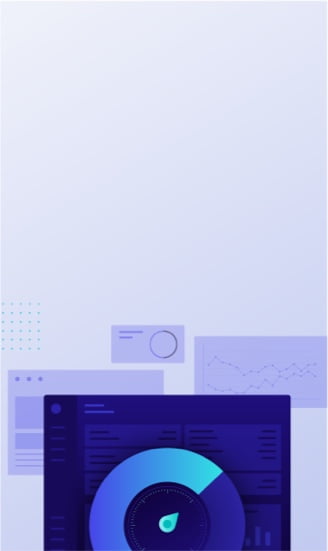 Finally, our backup system allows you to download a FULL copy of your WordPress backup files for your own safekeeping. You're not locked into the Pressidium system and your data is easily accessible whenever you want it. Backup Download Archives are available within moments via your control panel.
Number Three: Staging Sites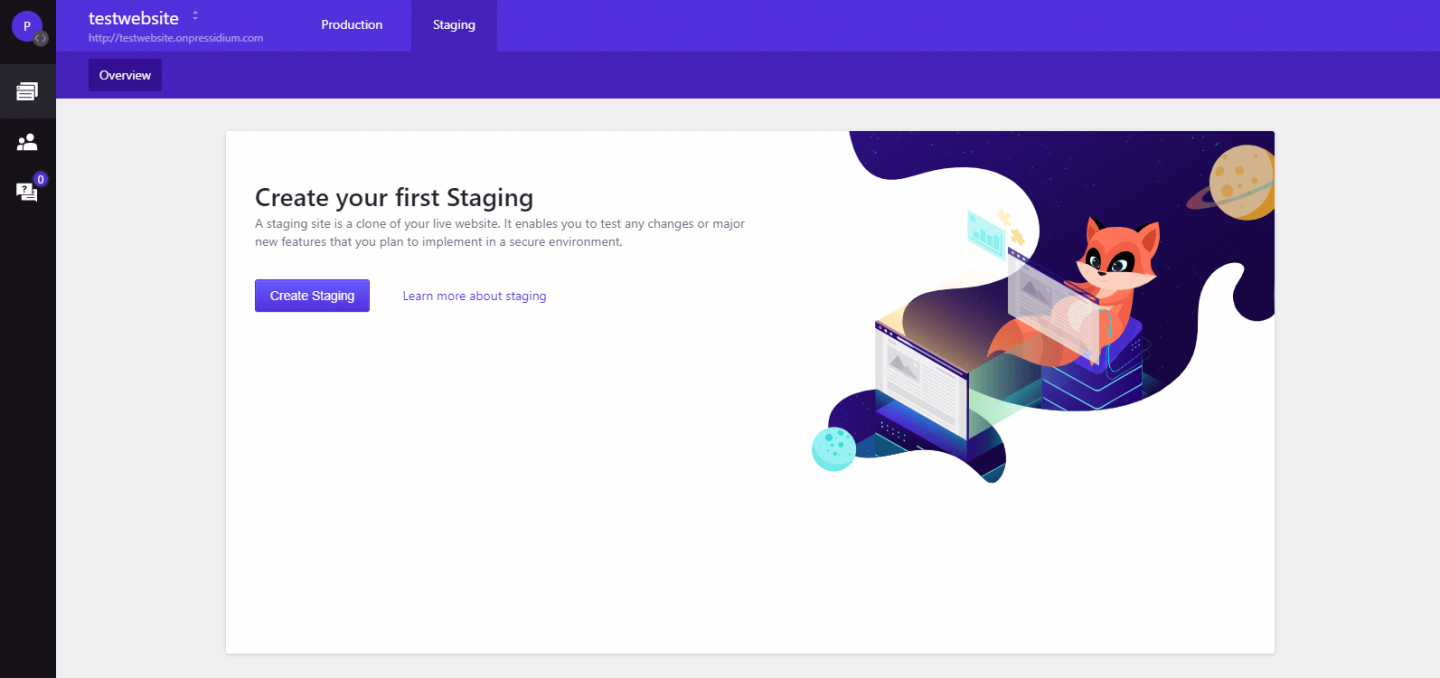 Have you ever wanted to test out a new feature on your website but not wanted to run the risk of ruining your live website? Or perhaps you want to re-design certain elements of your website but don't want to launch the changes immediately?
Our staging feature is the ideal solution for these types of problems. At the click of a button you can create a perfect copy of your website that is accessible via a 'dev' domain that is separate from your live domain. Bar the domain used to access the site, everything else stays the same (including login details). You're free to make all the updates and changes to your staging site as you wish without these changes appearing on your live site.
If you want any updates/changes to appear on your live site you can deploy these seamlessly to your live site at just the click of another button.
Staging sites provide you with huge levels of flexibility and are included with all Pressidum plans. You don't need extra plugins and the staging system is incredibly easy to use. Once you've tried it you won't every want to work on a WordPress website again without the ability to deploy a copy to a staging server.
Number Four: Multiple Website Management

If you have a portfolio of websites you know it can be time consuming trying to keep track of them all, especially if they are hosted on various different servers. The Pressidium Dashboard makes multiple site management incredibly easy. With a single login you can view and manage all your websites in one place, whether it's two or two hundred. For Agencies managing client websites this can potentially save hours and hours of time.
Headline stats are immediately available from within the Dashboard that show you how many websites you are currently hosting, how much storage is being used by them as well as the number of unique visits that have been made to them that month. If you have a CDN enabled (Content Delivery Network) then you can also see the data used at a glance.
Number Five: Plugin & WordPress Core Updates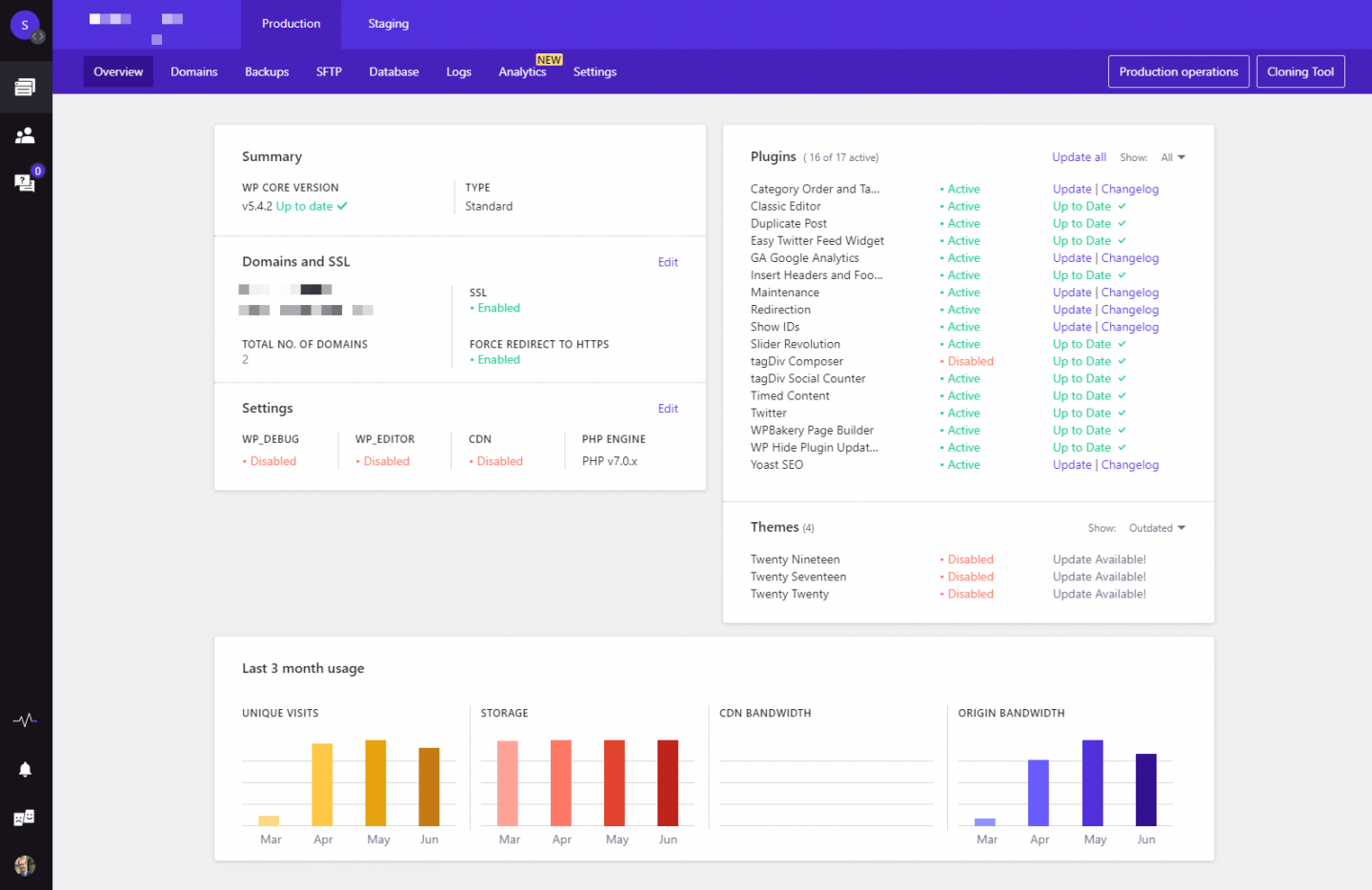 It's very important that both plugins and the WordPress core are kept up-to-date. As a managed WordPress host we make this as easy as possible for our users.
WordPress core updates are rolled out to client sites automatically shortly after they are released by WordPress. We run a range of tests on new core releases to ensure they are stable and then schedule these upgrades for our client sites. You are always notified in advance of these upgrades allowing you to plan accordingly. Prior to the upgrade occurring we take a backup of your website and then run an integrity check after the upgrade is complete to ensure your site is working as expected. If it is not, we'll roll it back to the point immediately prior to the upgrade and then contact you to help fix any issues so the upgrade can proceed. Always having the latest WordPress upgrade not only means that your site remains secure but that you can enjoy the latest features released by WordPress.
Plugins also need to be updated but, unless there are serious security concerns, we will leave you to update these in order to be sure that any updates don't cause problems with your site. If you have several sites, updating plugins can be time consuming. Fortunately, our new Dashboard allows you to see all plugins that need updating on a site by site basis. You can even update these plugins directly from the Dashboard saving you the time of having to log in manually to each site.
And don't forget, if you are concerned about a plugin update causing issues with your site you can take a snapshot backup of the site prior to updating your plugins (you can do this from within the Dashboard). Then, if an update does cause a problem with your site you can restore the site back to the point prior to the plugin update within minutes.
Number Six: Migration Wizard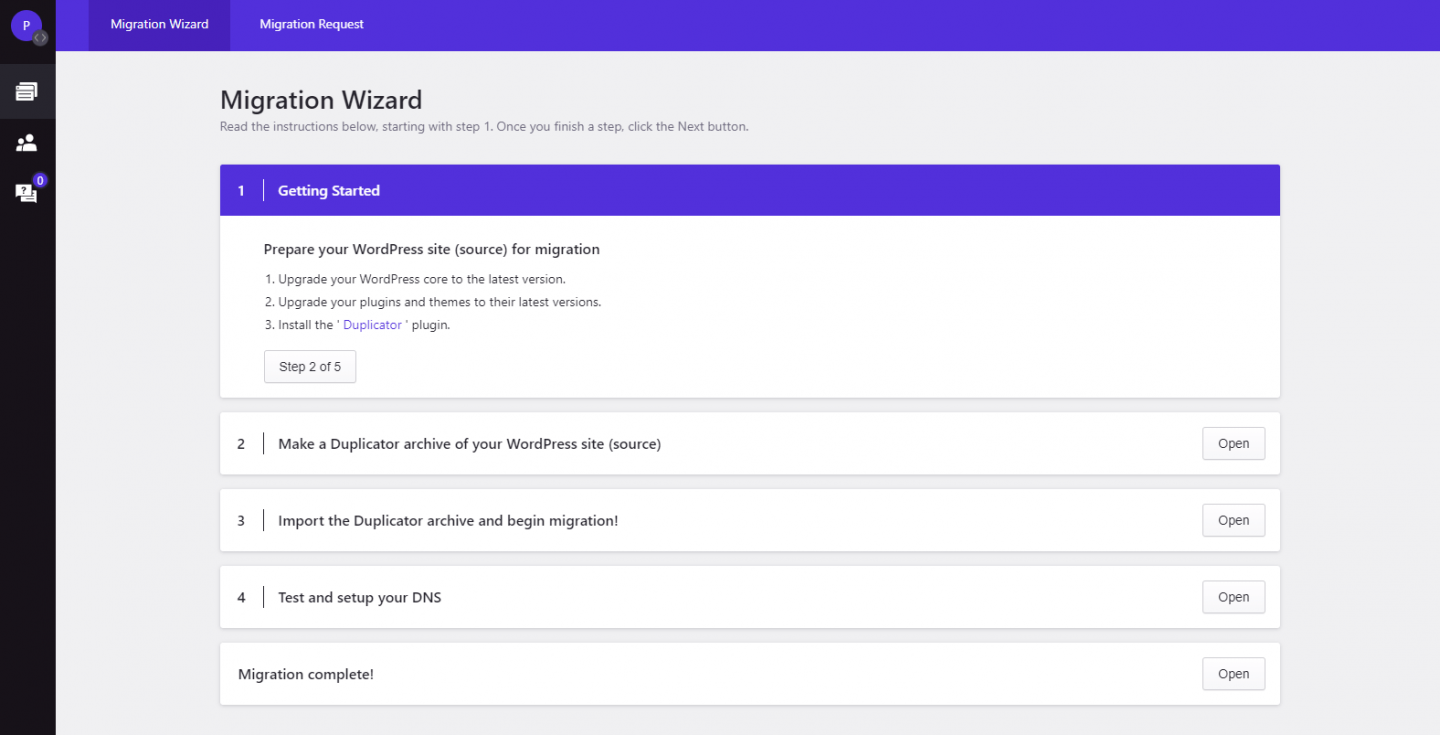 Migrating WordPress websites from one host to another can be seriously tricky! Fortunately, if you want to move a website to Pressidium, we make this process quick and easy to do. You have two options:
Request a free migration: Each of our plans comes with a free migration allowance (for example our Business Plus plan includes 50 free migrations). Simply request a migration from within your Dashboard and our support team will undertake this for you. You'll be kept informed on the migration progress and as soon as we have moved your site(s) and tested to ensure they are working correctly, we'll let you know. Easy!
Use the Migration Wizard: Want to move a site to Pressidium yourself? No problem. We've got an easy-to-use Migration Wizard that takes you through the process step-by-step ensuring moving your site is a pain-free process.
Number Seven: Team Website Management

If you work as part of a team our Team management system allows you to easily delegate control to all or just some of your websites to other team members. Simply invite a team member via email from within the Dashboard and choose what level of access you would like to grant them to your websites. This might be full control (including access to billing) or you might want to be able to just grant access to a single site.
Number Eight: Easy SFTP Management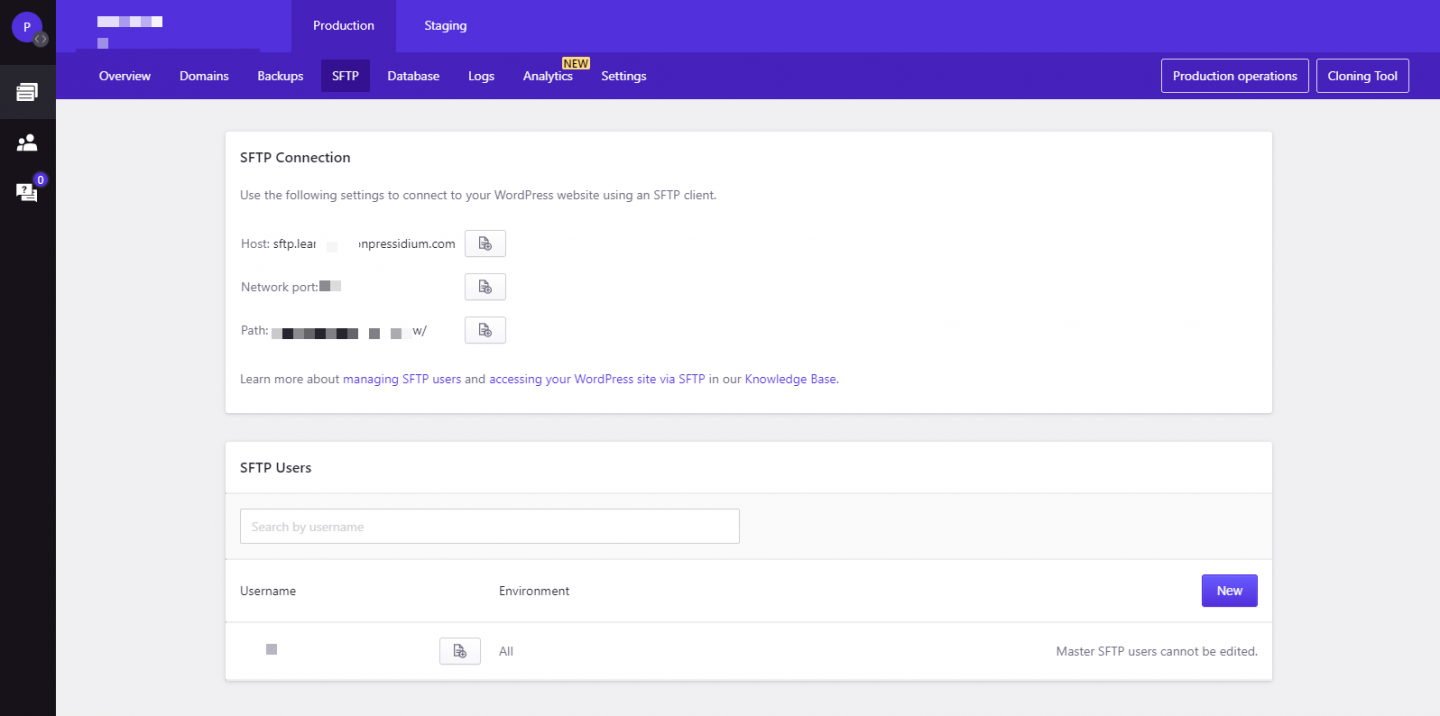 With a Master SFTP login you can access all your websites using one SFTP login which can save you a huge amount of time. SFTP login details are available via the SFTP tab on each website from within the Dashboard. In addition, you are able to add individual SFTP users to each website giving you fine grained control over each website.
Number Nine: Domain Management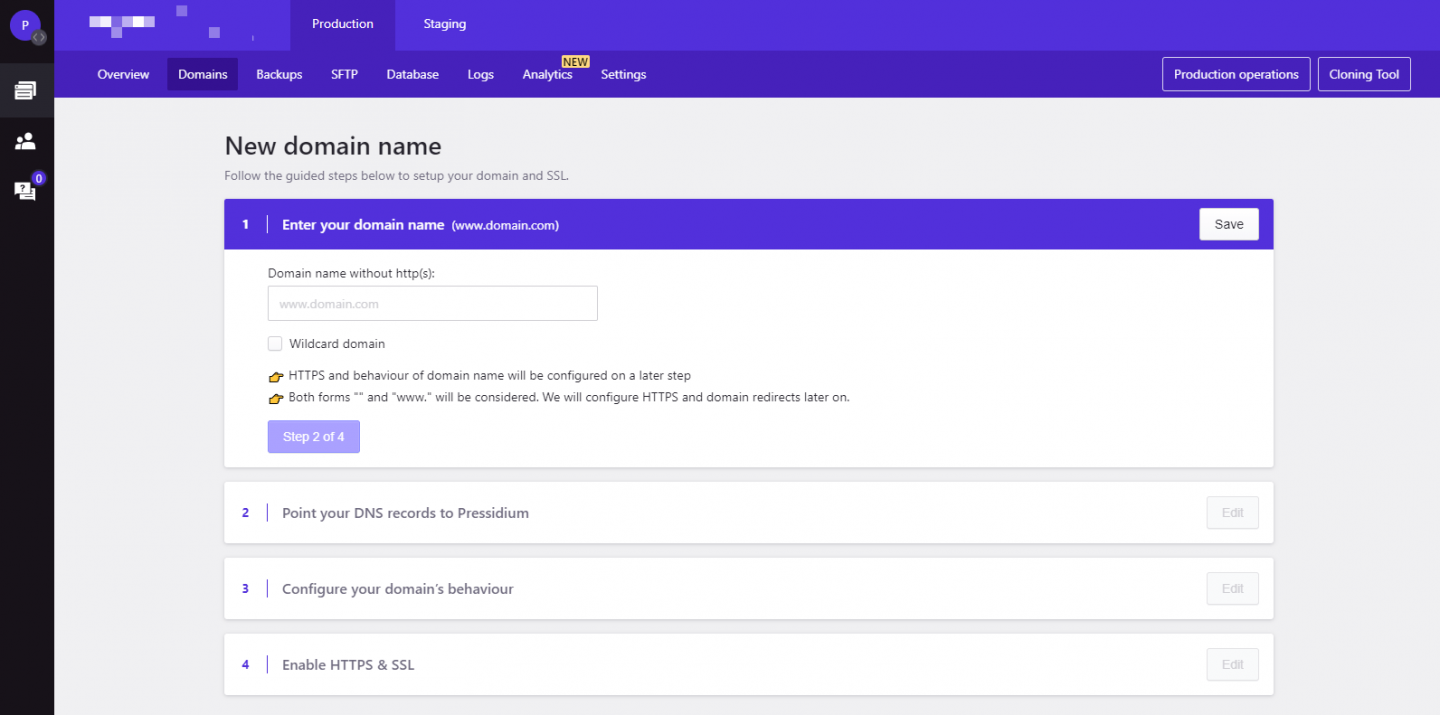 All websites that are hosted on Pressidium are accessible via a unique onpressidum.com subdomain which is allocated when the website install is initially created.
In all likelihood you are going to want to use your own domain to point to your website. Fortunately, this is incredibly easy to do via the Pressidium Dashboard thanks to an advanced Domain Management system which guides you through the process of adding your domain to your website. During this process you will also be given the option of adding a free 'Let's Encrypt' certificate to your website and forcing all traffic to the secure HTTPS version.
Our system takes care of all the internal site redirects needed to ensure your website works on its new domain from the minute it is applied.
And, if you want to change your domain in the future this can be done quickly and easily via the domain management panel.
Number Ten: Support Tickets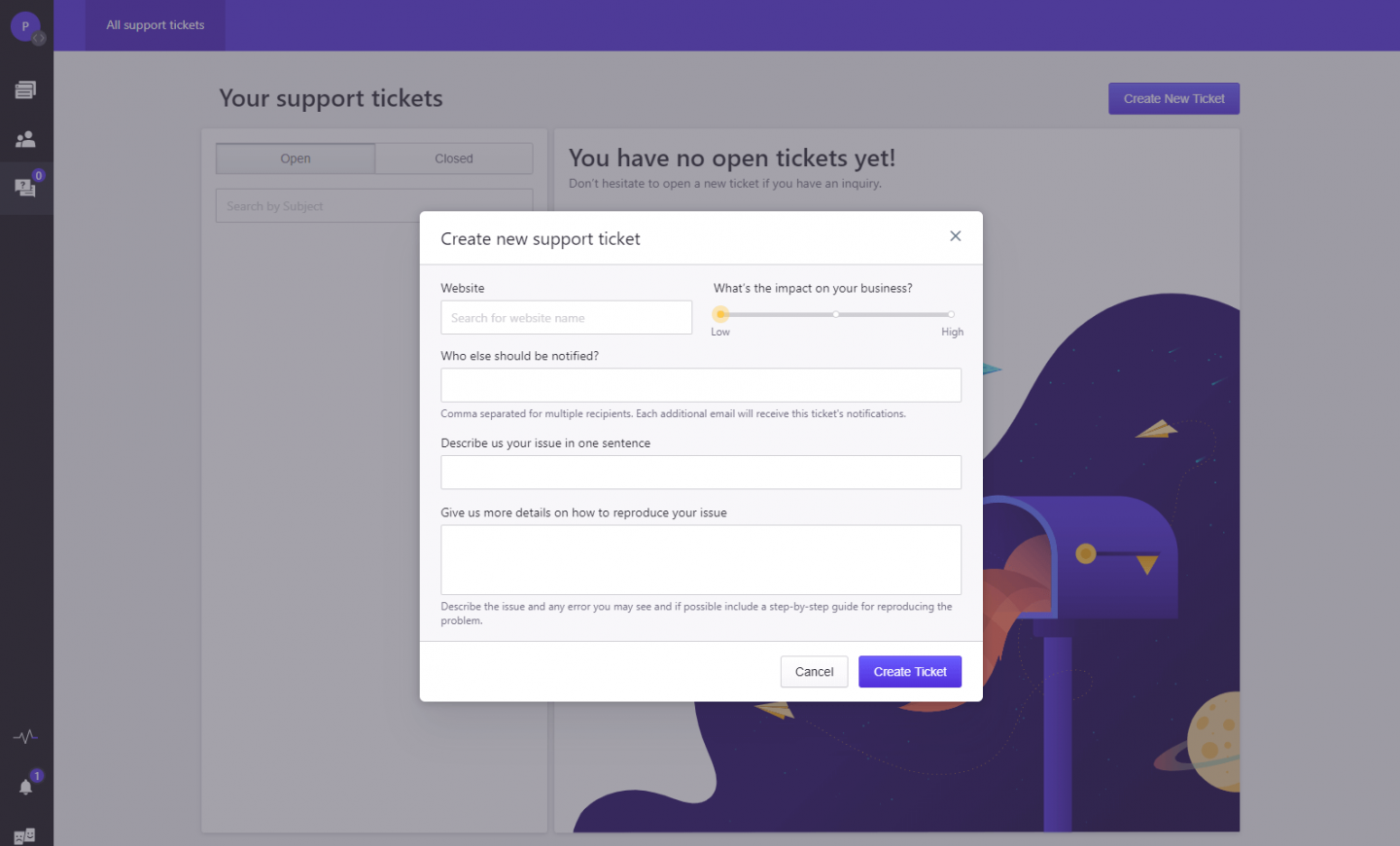 Although we've gone to great lengths to ensure you can accomplish as many WordPress management tasks as possible from within our Dashboard, there may be times where you need a helping hand either with a feature or with a problem you're experiencing with your website.
Our support team is staffed solely with experienced WordPress engineers and is available to help 24×7, 365 days a year. We have no Tier 1 and Tier 2 support teams… instead your support request will get sent straight to a team member who is qualified to help. Expect a comprehensive, helpful response to your support request within less than 5 minutes for Enterprise plans or 15 minutes for Standard plans.
Support requests can be submitted via the Dashboard and all previous tickets are kept in a searchable archive for future reference.
We truly believe the Pressidium platform offers an unparalleled hosting experience and is packed with features designed to make your life easy leaving you able to focus on building and managing your WordPress website rather than wrestling with hosting problems! Find out more about our advanced feature and try one of our standard hosting plans risk free for 60 days. And if you'd like to speak to one of the team about hosting your WordPress website with Pressidium then please feel free to contact us.
Start Your 14 Day Free Trial
Try our award winning WordPress Hosting!