WordPress 5.8 'Tatum' has arrived! The second major WordPress release for 2021 brings with it a huge array of improvements and feature updates. Let's find out what the WordPress team have been up to!
Pressidium WordPress Release Schedule
Before we crack on and look at the new features available in WordPress 5.8 let's just quickly recap on how we roll out new versions of WordPress at Pressidium. As a managed WordPress host, we're responsible for ensuring your website(s) run the latest and best version of WordPress. Rather that just updating sites with new releases as soon as they're available we deliberately choose to wait until the first minor version of a new release has been pushed out by the WordPress team. In this instance that is WordPress 5.8.1.
The reason? We want to be as confident as possible that new versions of WordPress are as stable as possible. It's common for major releases to have one or two bugs that typically can impact compatibility with plugins and themes. Normally these get resolved fairly quickly and the first minor update to a major release can fix a lot of reported glitches. We feel that stability and reliability are more important than getting instant access to the latest and greatest features hence the delay between the official release of a major WordPress update and us rolling this out to our customers. If however you want to upgrade early, you can do so easily from the Dashboard.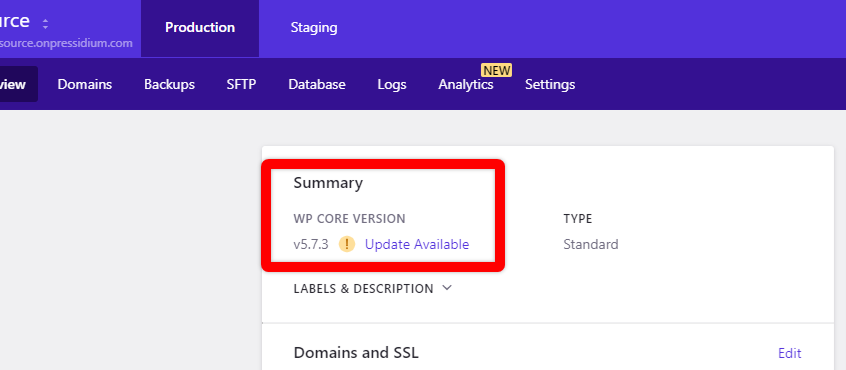 Simply visit the site in question, and, if an update to the WordPress core is available you'll see this highlighted as shown the screenshot above. Click the 'Update Available' link to begin the process.
Without further delay, and in no particular order, let's run through some of the standout features and updates in WordPress 5.8
Full Site Editing
Since WordPress 5.6 there has been an increasing move towards what's being called FSE or Full Site Editing. The goal? To allow WordPress users to create an entire site using just Gutenberg Blocks. Whilst 5.8 doesn't fully reach this lofty goal, it moves a big step closer with a wide range of extra features that can be included in the scope of Full Site Editing.
It's noted that a move to Full Site Editing in WordPress is a huge challenge and something that is going to be work in progress for a while. Rather than expecting to see full FSE capabilities being released in a future version of WordPress, we should instead get used to receiving incremental updates that move WordPress ever closer to offering a complete Full Site Editing experience using blocks.
WordPress 5.8 moves us a big step closer to being able to enjoy a full FSE experience in WordPress with the most notable update from a FSE perspective being the release of a Template Editor.
Until now, you've need to know how to code in order to create a new WordPress page or post template. With the new Template Editing mode that's been released with 5.8, it is now possible to create page or post templates using blocks. This is a significant step forward for WordPress and opens up a slew of possibilities. It's an exciting development!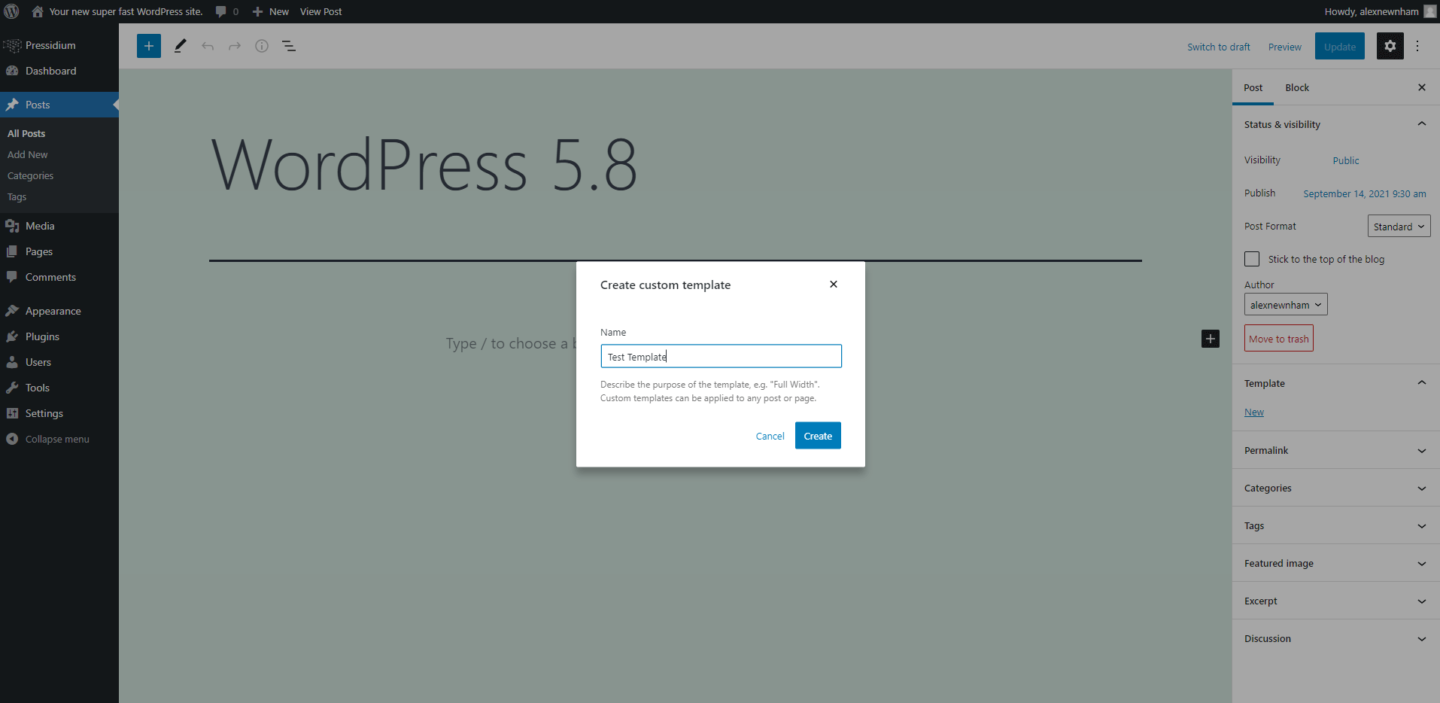 On enabled themes you should see a Template settings section in the Post or Page sidebar. Click on this and then click 'New'. A template editor will now open as shown below.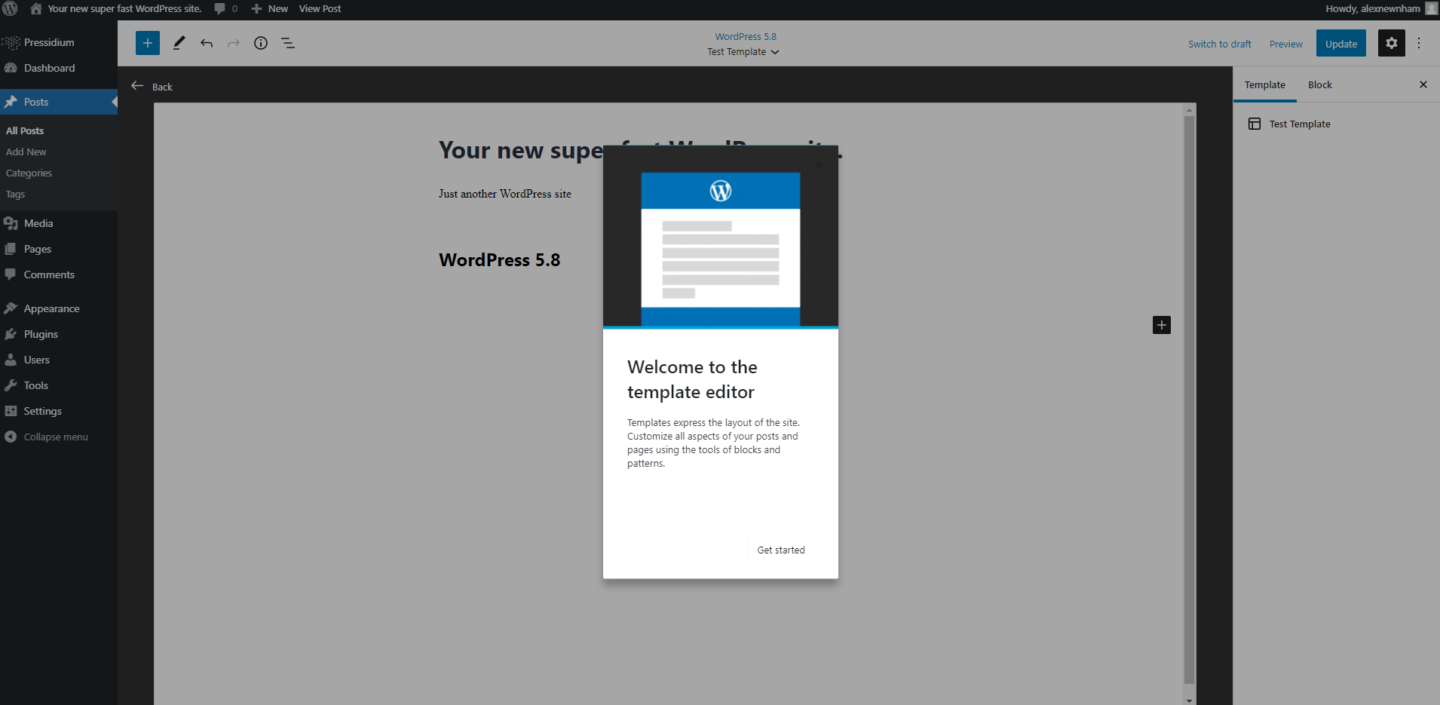 You're now free to create a custom template using the regular blocks available to you in the Gutenberg Block builder. Once you've create your template layout and saved this, you can head back to any Post or Page and you'll see the new Template available to you in the sidebar under the Template dropdown.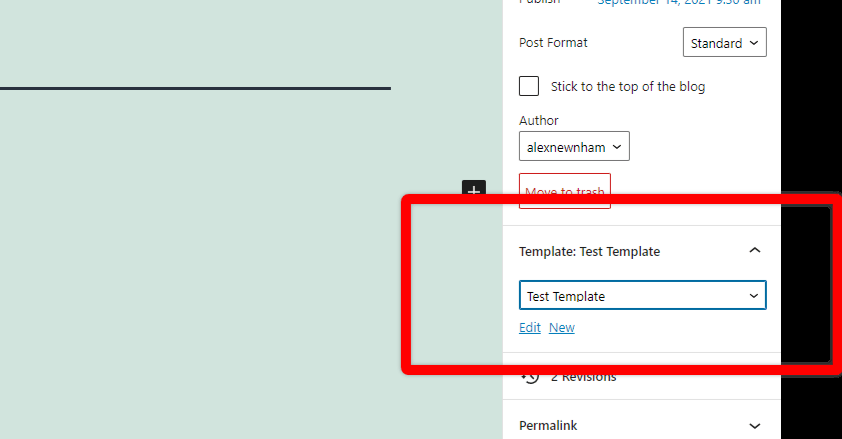 Templates are saved in your WordPress database (as you might expect). It's worth noting that not only can you now edit the template from within the template editor but you can also export these templates for use on other sites which is pretty cool.
Block Based Widget Editor
We really like this update! Widgets are a cool feature of WordPress but they can sometimes feel frustrating to use especially if you want to customize them in any significant way. This has all changed with WordPress 5.8. Now, when you click on the Widgets menu item (Appearance > Widgets) you'll see the following: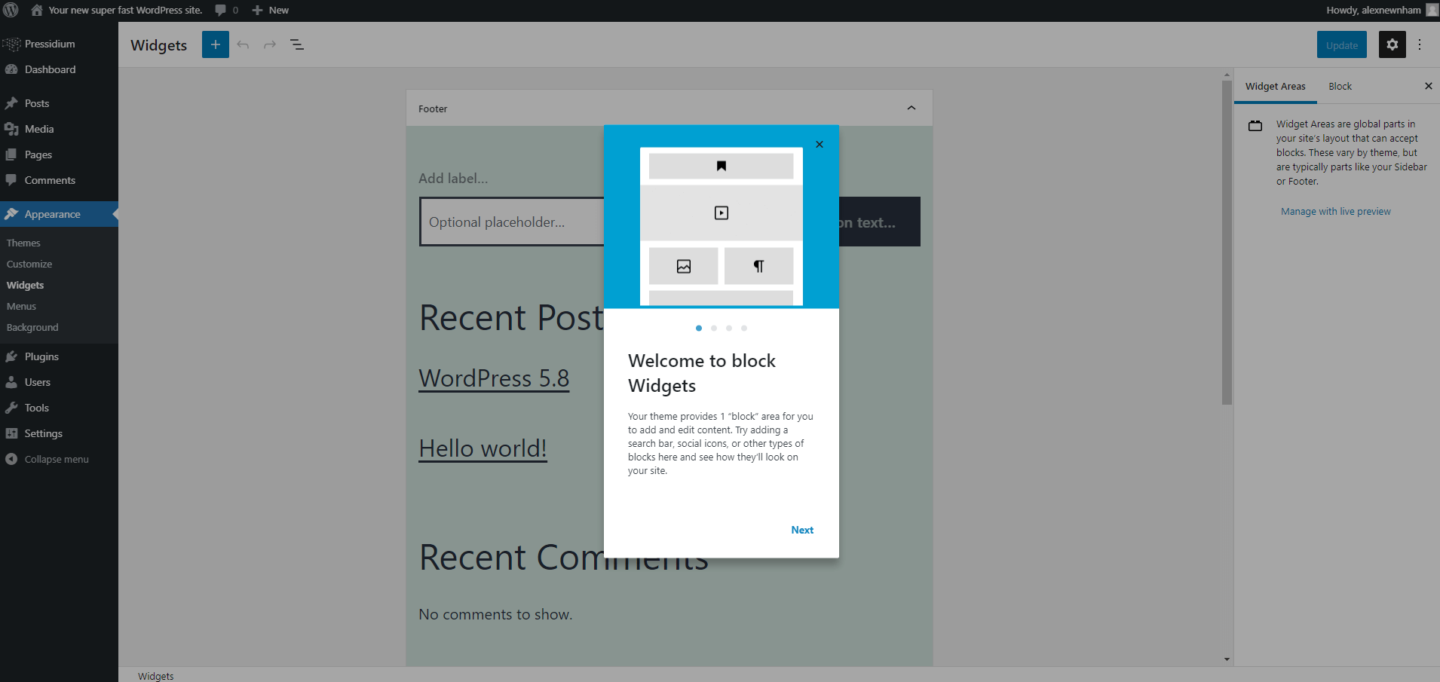 Follow the little on-screen tutorial as it does a great job of helping you understand the now radically different Widgets section on your site. It might take a bit of getting used to but the good news is that you're now free to edit each of your sites widgets as you see fit using all the power of the block editor. This might range from adding an image, right through to changing the color and text layout in a block. It offers a whole new level of freedom and finally brings you a post/page level of editing power to your widgets.
Try our Award-Winning WordPress Hosting today!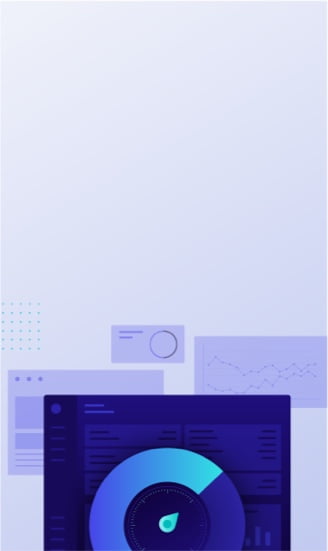 But if you really don't like the new Widgets layout in 5.8 then fear not! You can easily disable by installing the official Classic Widgets plugin.
Block Editor Updates
The rolling out of some Full Site Editing capabilities has somewhat stolen the show for this particular WordPress release. That doesn't mean however that the all important Block Editor has been ignored. Far from it. There have been multiple improvements made including the following:
Embed PDF's in Blocks
PDF's can be a fantastic resource for users of your website as they allow you to convey information that might be too complex in layout terms for a web page. Traditionally, embedding PDF's on the page was a bit of a hassle. No more with the File Block that now supports PDF viewing. You can now upload PDF's (and other file types) for quick and easy display on your page. It's a super useful update and one we're glad to see WordPress have added.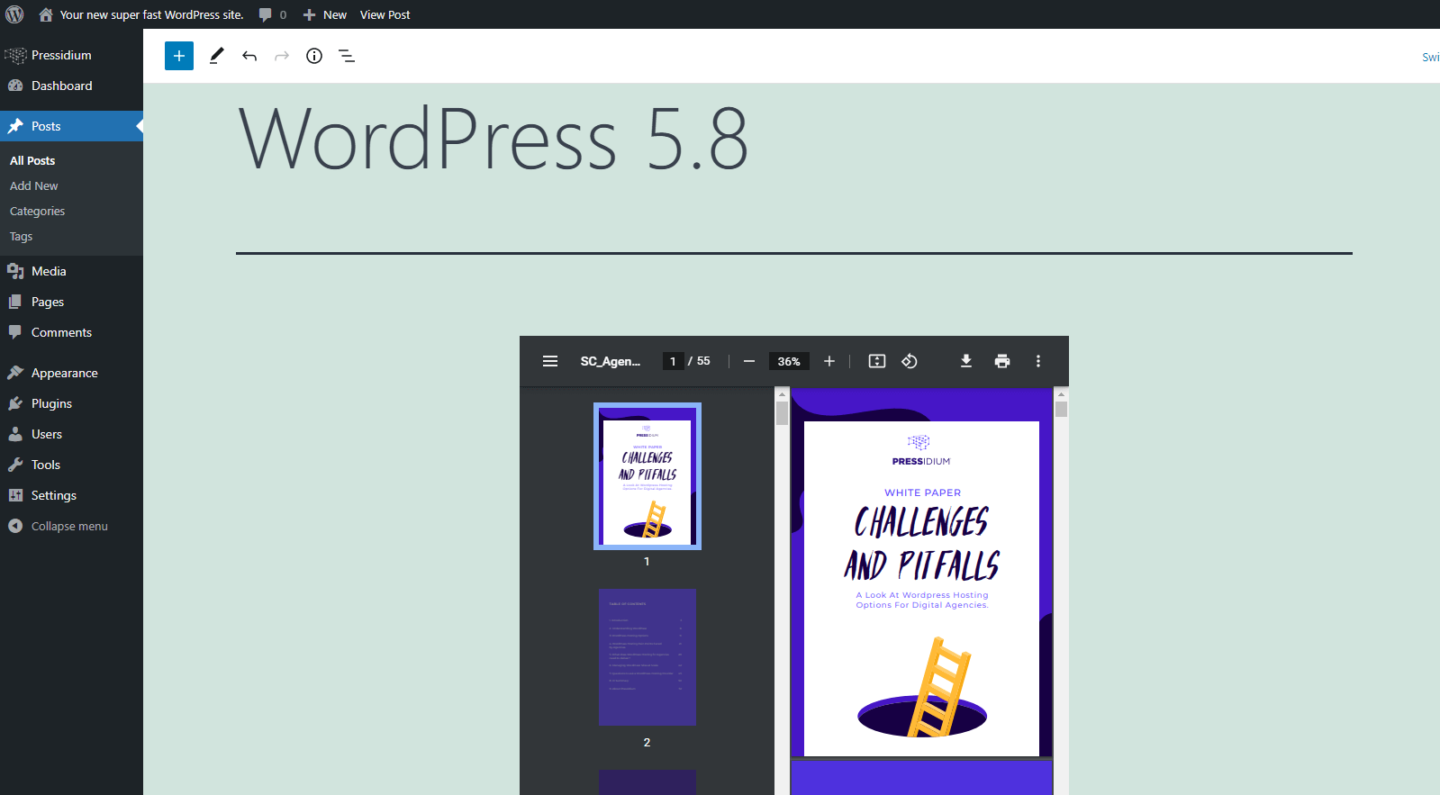 Reusable Blocks
Reusable blocks have been available pretty much since the initial release of Gutenberg. They're a popular feature for obvious reasons and the WordPress team have worked their magic on them to further improve their functionality. The focus on the Reusable block update has been on organization. When you next create a block in WordPress 5.8, you'll be prompted to name it. This means you'll find it that much easier to find this block the next time you need it. In addition you'll also note that there is now a revision history in the block editor itself so you can see what changes have been made and when.
Standardized Block Toolbar
If you use a wide variety of blocks in the editor, you might have noticed that the toolbar for each can be inconsistent in terms of layout with symbols appearing in different locations. This can be pretty frustrating and WordPress is working to address this by standardizing the toolbar for each block. Hopefully you'll notice some much needed improvements in this regard in 5.8 but be warned that it could take a while for all the blocks to receive the 'standardization' treatment!
Enhanced Site Health Interface
WordPress 5.2 saw the release of the Site Health Interface (available at Tools > Site Health). 5.8 sees a number of additions to the site information that is provided by default. If you've yet to take a look, it's worth doing so. You'll see a ton of useful stats about your site and might be able to spot problems that could cause issues in the future.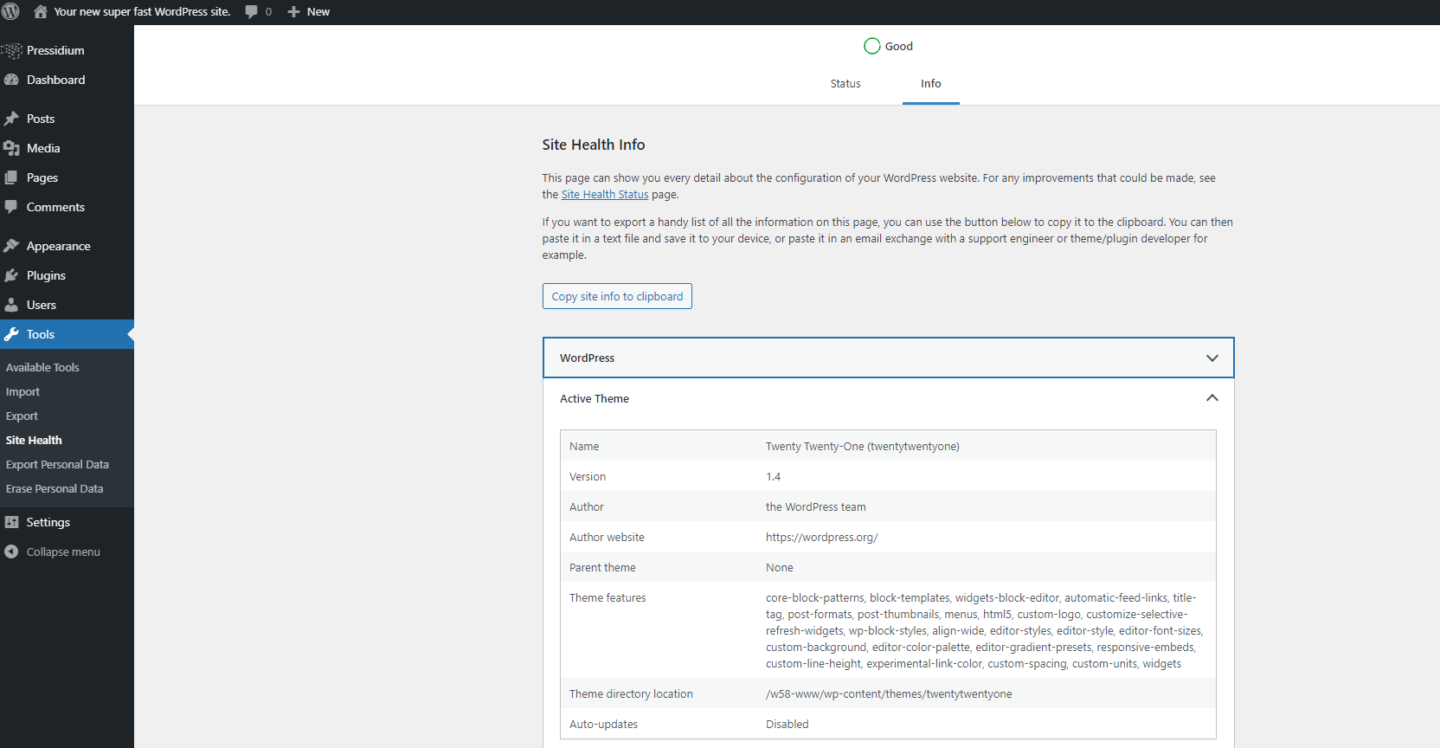 Developers can now also add their own tabs to the Site Health interface by extending the parameters used. Check out the official 'Extending the Site Health Interface' KB article on the WordPress website for more details on how to do this.
Internet Explorer 11 Support is No More
With Microsoft announcing they will no longer be supporting Internet Explorer 11 with Microsoft 365 applications, the writing is well and truly on the wall for this internet browser. Since this announcement, a slew of companies have stated they would also no longer be supporting its use including WordPress.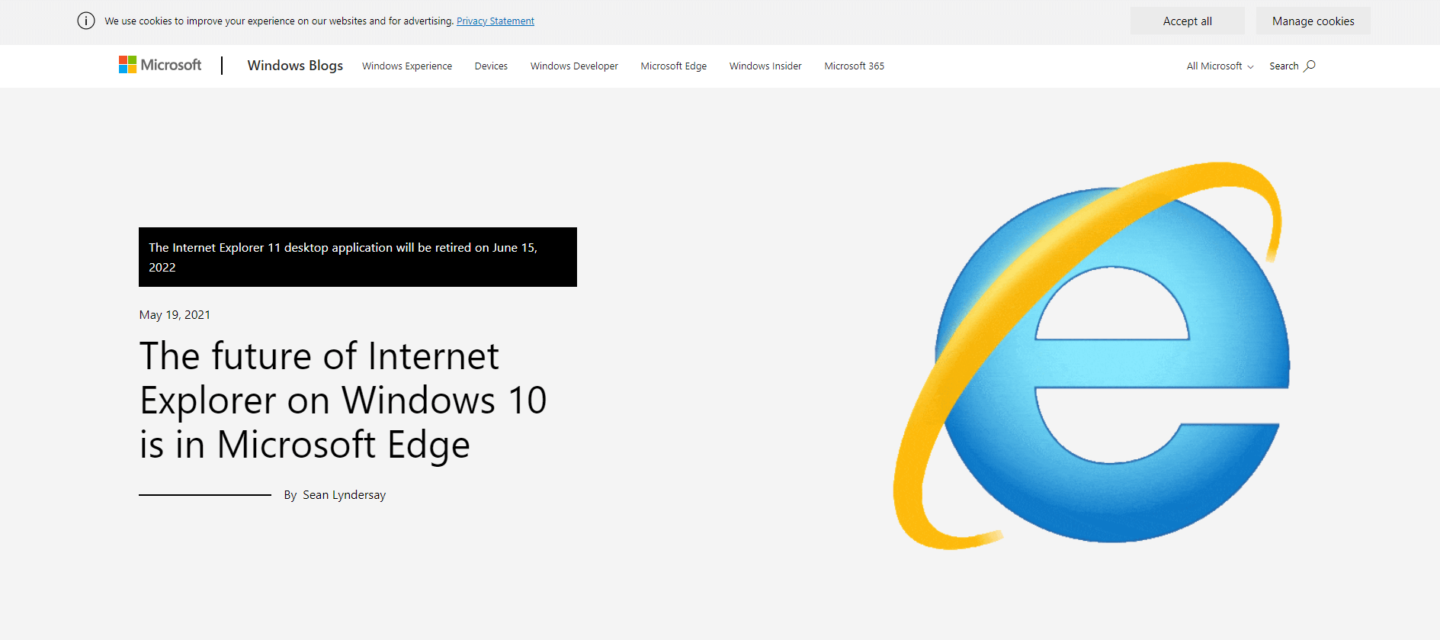 As such, future releases of WordPress will not be tested against IE11 which means specific support codes will no longer be required. This could well improve WordPress performance.
WebP Support
We are going to round off this feature review with one of the most exciting updates (well, we think anyway) in WordPress 5.8… WebP image support! This is a big one. For quite some time now, those of us that are website speed obsessed have wanted to be able to take advantage of WebP images on our WordPress sites. Sadly, there has been no native support which has meant some considerable hoop jumping was required if you did want to use this next gen image format.
WordPress have finally caught up with this often requested feature and now, with 5.8, you can go ahead and directly upload WebP files to your media library and use them as you would with any other file type such as JPEG or PNG.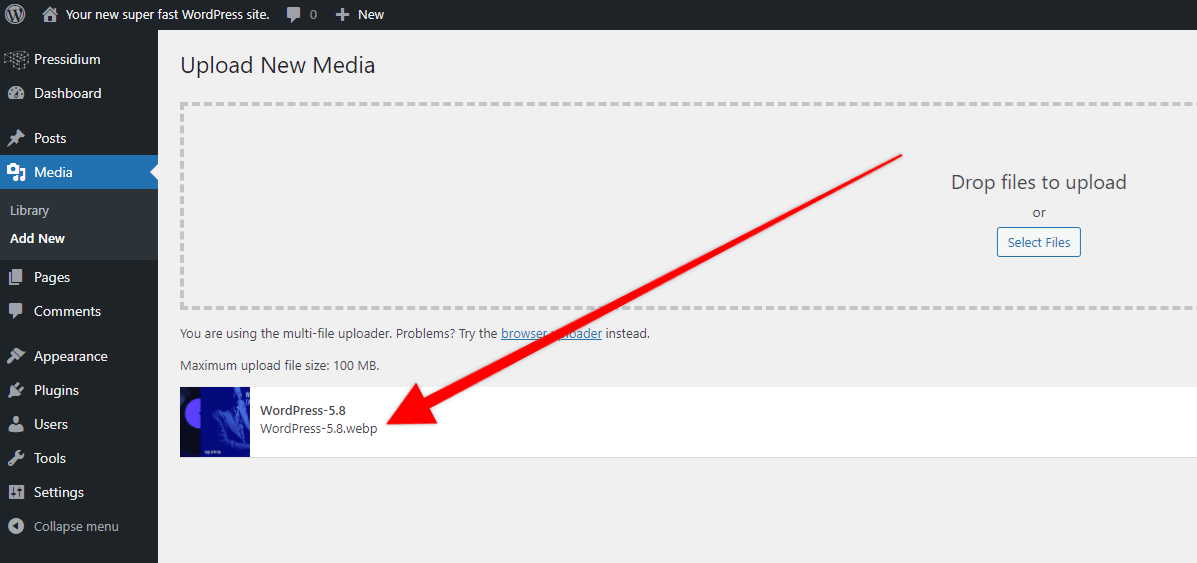 There are a couple of caveats to this, with the main one being that your host will need to support this function. You'll know whether this is the case or not as you will get an error message if you try to upload a WebP file on an unsupported server.
Further, WebP images support both lossy and lossless compression as well as support for transparent images. In WordPress, the lossless WebP format is only available if your web hosting server uses Imagick. You can find out if this is the case by going to the Site Health Interface (Tools > Site Health) and then clicking on the Server tab. Scroll down and you'll see the following: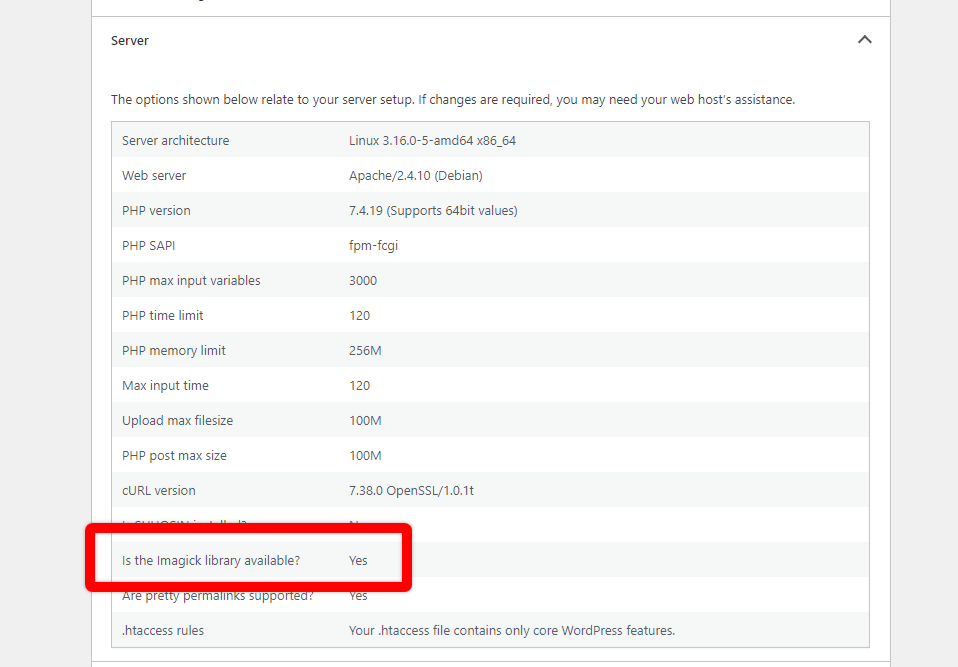 WebP promises to be a game changing tool when it comes to improving site speed and we know that support for this image format will be widely welcomed.
WordPress 5.8 Summary
What's been great to see in this latest and greatest release of WordPress is how the WordPress team are clearly listing to the WordPress community. Whilst it's awesome to see features such as Full Site Editing begin to come to fruition, it's incredibly exciting to see smaller updates such as PDF and WebP support being added. These are everyday requests from WordPress users and it's encouraging that the WordPress team isn't just prioritising the 'shinier' features over the more mundane but equally important features that can make a real different to everyday WordPress users. Great job WordPress!
And don't forget that to make the most of WordPress you need the very best in dedicated WordPress hosting. Pressidium provide world-class managed WordPress hosting engineered with unmatched industry leading technology coupled with DevOps Support that goes beyond expectations and becomes an extension of your team. Find out more about our hosting here.
Start Your 14 Day Free Trial
Try our award winning WordPress Hosting!