The second major WordPress release of 2022 is here! WordPress 6.0 'Arturo' has upwards of 1,000 enhancements and bug fixes and promises to help ensure the dominance seen by WordPress as the CMS of choice continues over the coming years with more than 42% of websites worldwide using it.
Pressidium WordPress Release Schedule
Before looking at the new features available in WordPress 6.0 let's just quickly recap on how we roll out new versions of WordPress at Pressidium. As a managed WordPress host, we're responsible for ensuring your website(s) run the latest and best version of WordPress. Rather than just updating sites with new releases as soon as they're available we deliberately choose to wait until the first minor version of a new release has been pushed out by the WordPress team. In this instance that will be WordPress 6.0.1.
The reason? We want to be as confident as possible that new versions of WordPress are as stable as possible. It's common for major releases to have one or two bugs that typically can impact compatibility with plugins and themes. We feel that stability and reliability are more important than getting instant access to the latest and greatest features hence the delay between the official release of a major WordPress update and us rolling this out to our customers. If you want to upgrade early, you can do so easily from the Dashboard.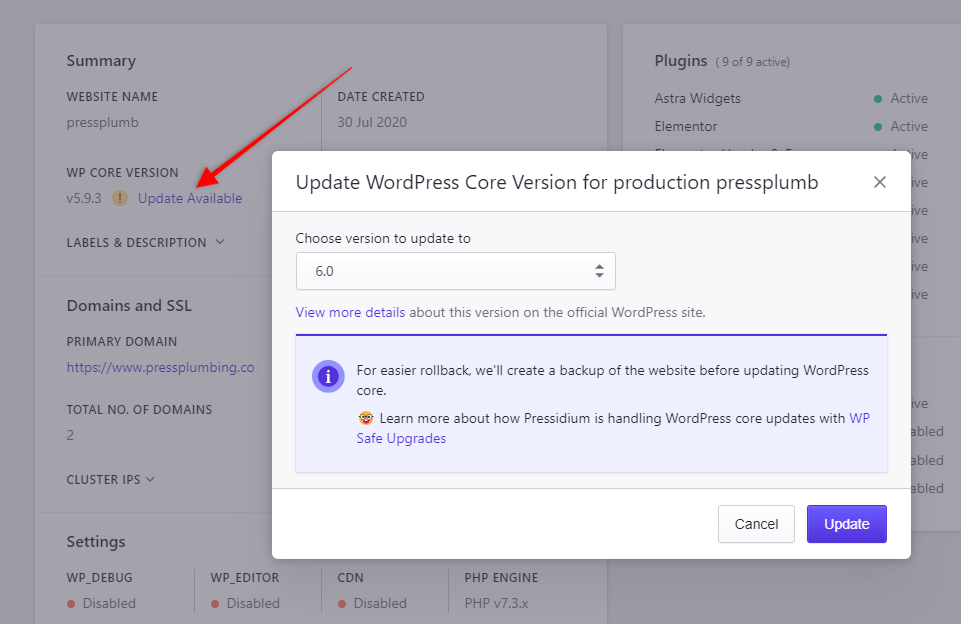 Simply visit the site in question, and, if an update to the WordPress core is available you'll see this highlighted as shown in the screenshot above. Click the 'Update Available' link to begin the process.
Without further delay, and in no particular order, let's run through some of the standout features and updates in WordPress 6.0
WordPress 6.0 Overview
WordPress 6.0 is an incremental increase from 5.9 – although the version number suggests major changes, this isn't the case with 6.0. Instead, expect to see a ton of incremental improvements, particularly around the block editor. WordPress released a development roadmap that listed 3 phases of the Gutenberg project. Phase 1 encompassed the new block editor which was released in 5.0. Phase 2 (the current phase) is focused on merging full site editing into WordPress which brings block editing to the entire site, not just posts and pages.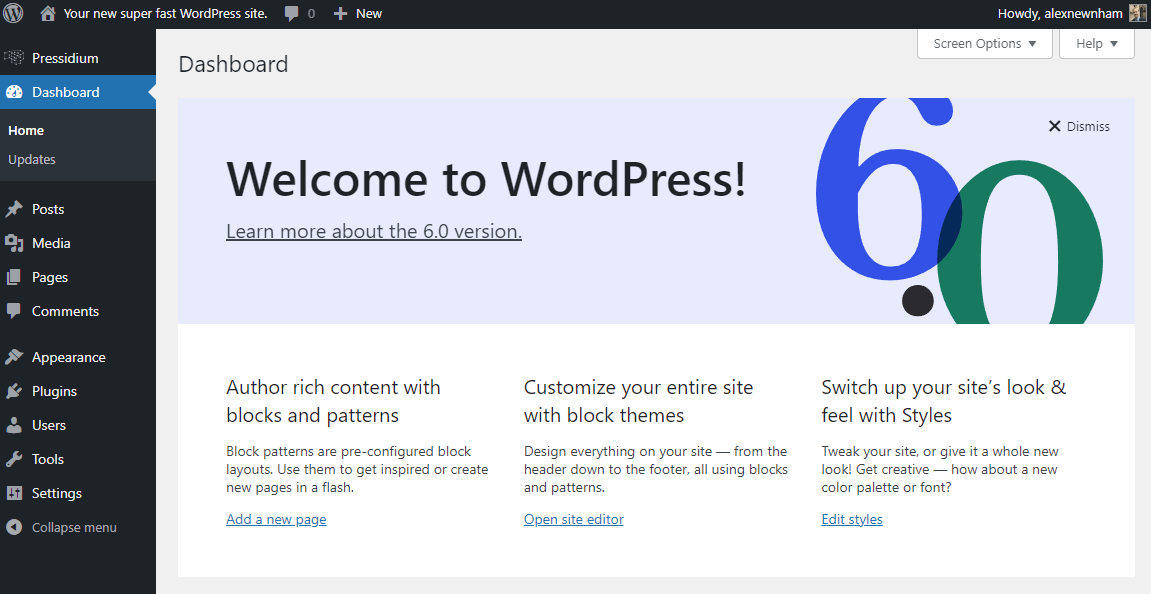 As you'll see below, 6.0 is all about improvements to the customization of WordPress with fewer notable standout feature updates.
Full Site Front End Editing Improvements
Full site editing was released in WordPress 5.9 and since then the WordPress team has been working on improving and extending this functionality.
One big improvement has been the addition of a number of new front-end blocks that can be used when editing/building your WordPress website. A few of these are as follows:
Comments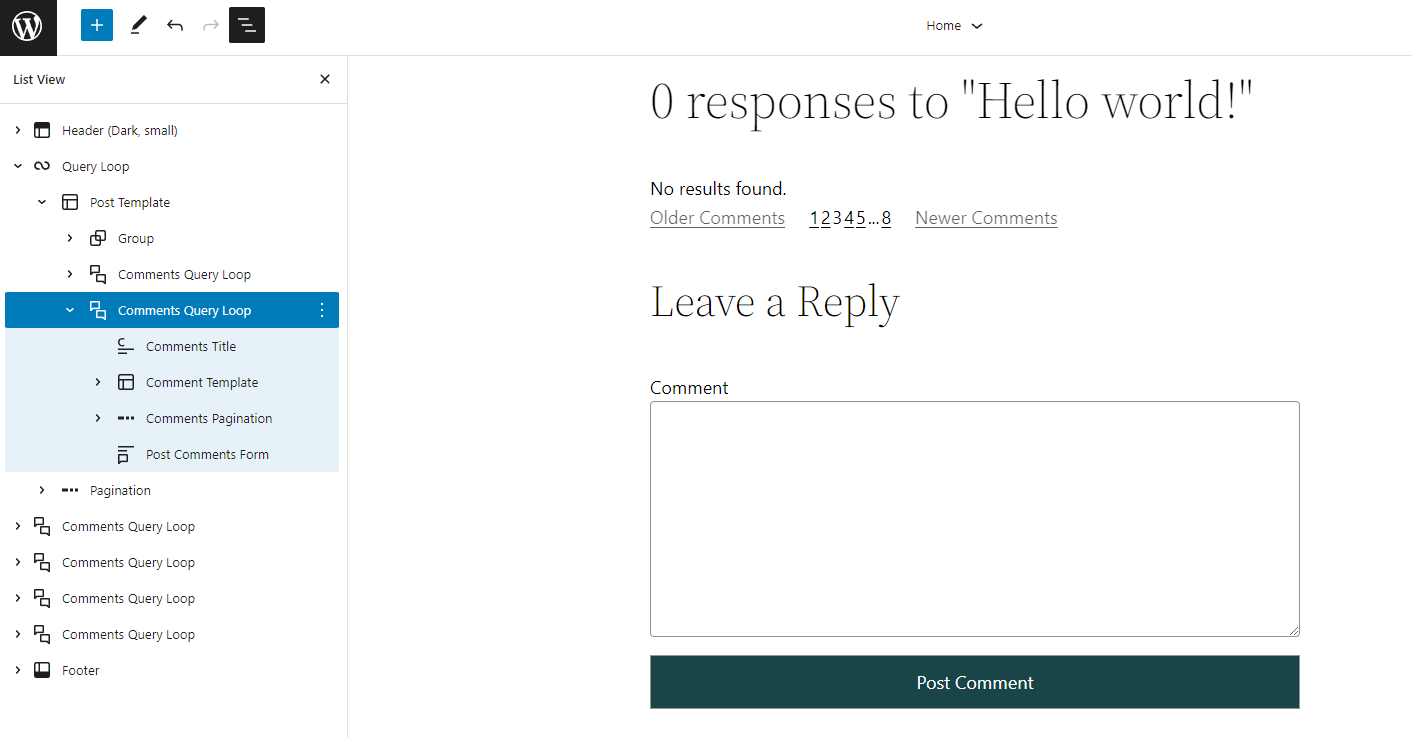 Say hello to the new Comment Query Loop block. This block can be added using the front-end editor and includes sub-blocks such as avatar, comment content, author, and so on. Each block can be individually edited to ensure it matches the style of your website. Comments can be a fantastic resource on a website where lively discussion keeps people coming back, so the ability to make these look as good as the rest of your site is excellent news.
Post Author Bio & Avatar Block
One frustration previously was that customizing the author bio and associated avatar on post pages could be tricky. For many sites, it's important to include this information prominently which involved a lot of hoop-jumping, coding and plugins to achieve the desired appearance.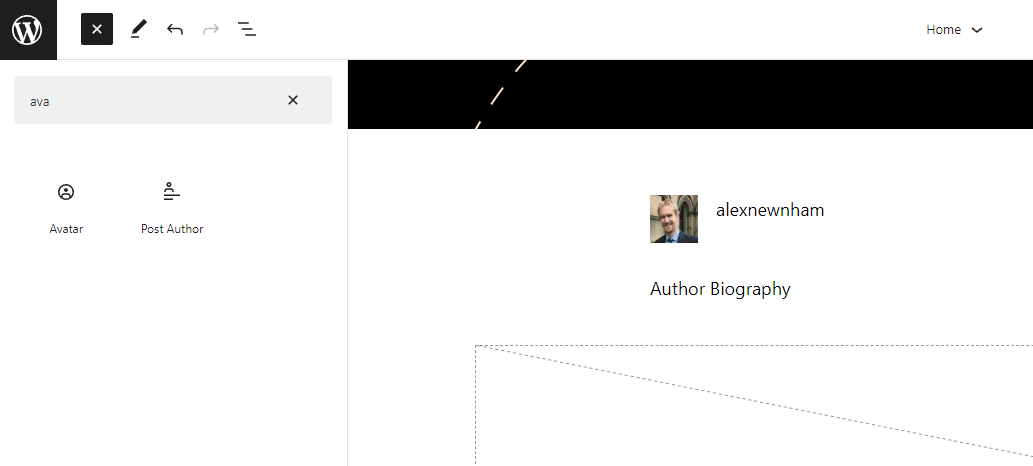 Now, WordPress 6.0 makes this easy. You can select a front-end Avatar, Post Author and Post Author Bio block which can be styled and placed as you see fit on your post pages. Awesome!
Try our Award-Winning WordPress Hosting today!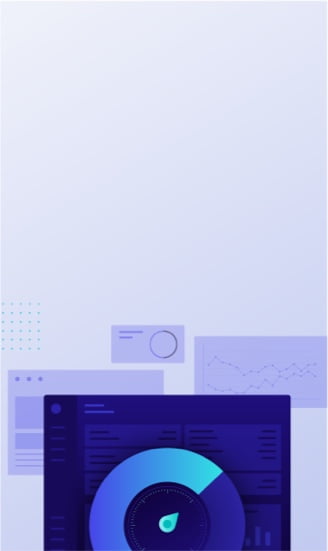 Read More
Add a 'Read More' block to your post excerps using another new front-end block. The aim with this block as many others is to introduce some much-needed flexibility when it comes to styling these small, but crucial areas of your website.
Easy Style Switching
This is a really cool new feature. How many times have you wondered what a new style would look like on your site and wanted to experiment but been put off by the work involved? Well, good news. The new front-end style switcher lets you (as the name suggests!) switch styles completely on the fly.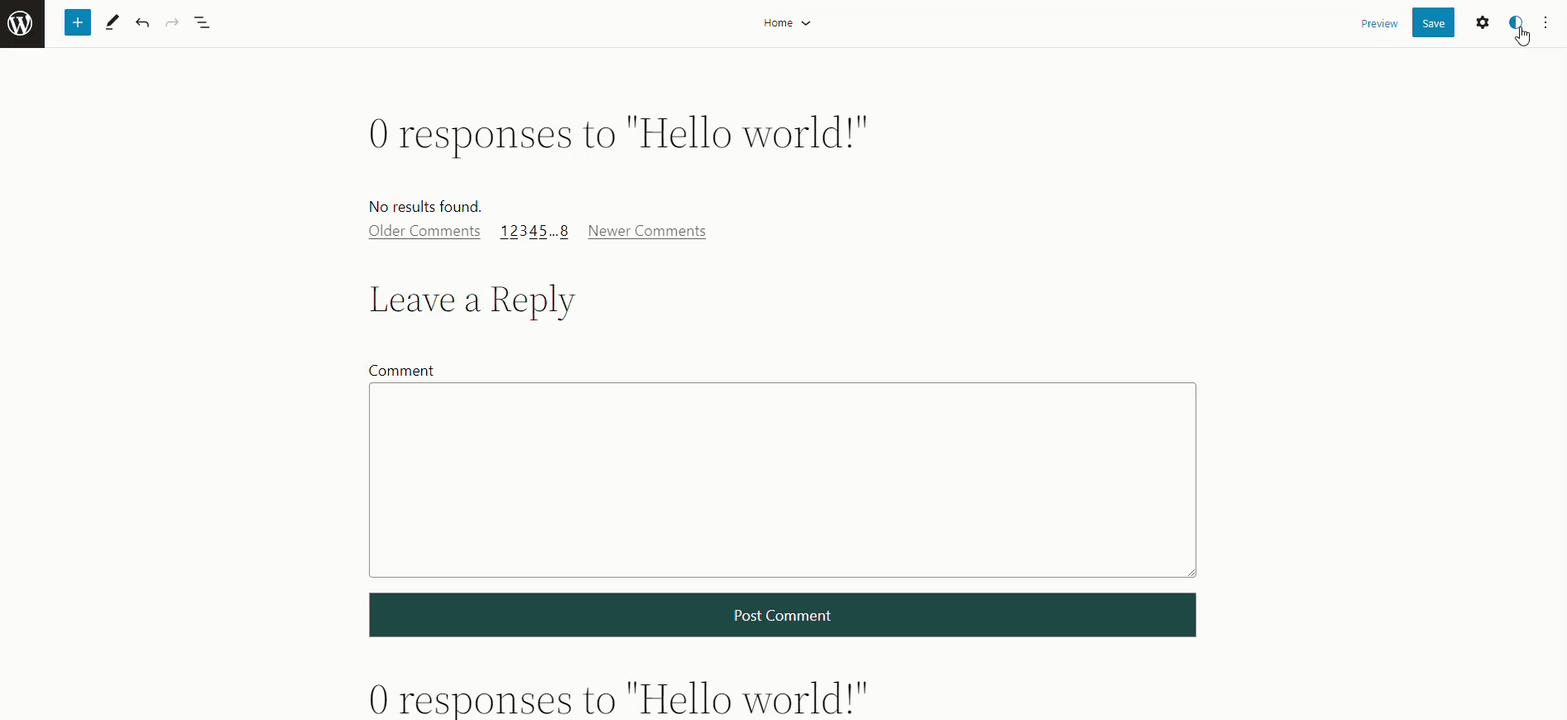 Just click the Styles button in the top right corner and select from the available options (which of course can be edited themselves).
Lock Your Blocks!
If you share your website with a team of users/editors then you might have found times where blocks got moved or edited (either accidentally or deliberately) in a way you didn't want. This can get a little annoying especially if you have spent hours creating the perfect layout.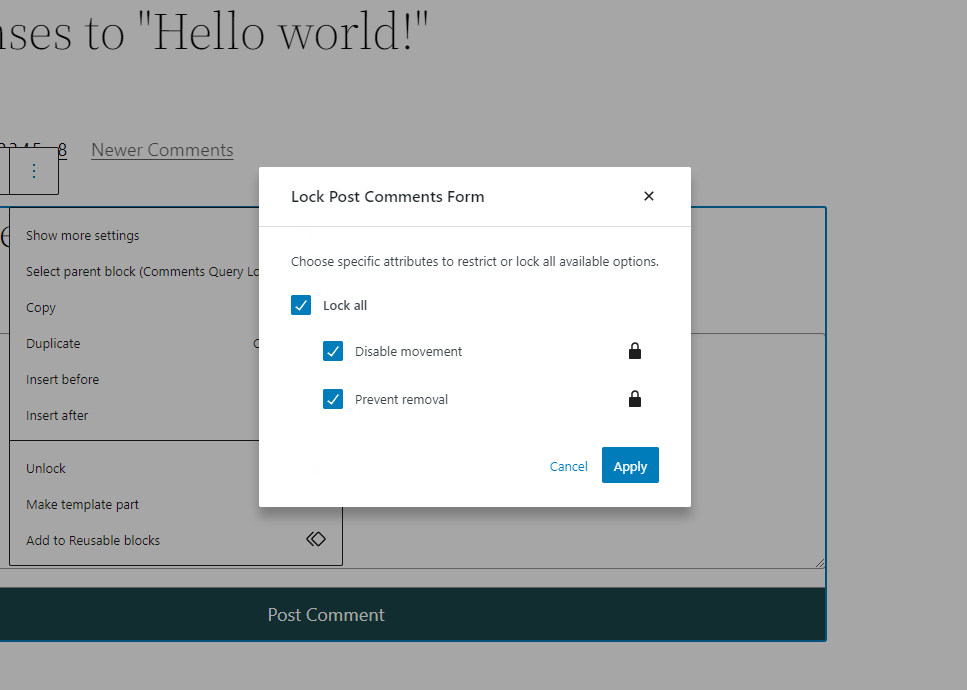 WordPress have clearly felt your pain as 6.0 now includes a block lock which allows you to, yup you guessed, lock blocks that you don't want others to edit. It can also be useful if you yourself find that blocks get accidentally moved when you're editing a large page. Just select the lock function from the block menu to activate.
Improved Text Selection
Personally, this update couldn't have come sooner. Nothing has the ability to frustrate quite as much as the inability to easily select content across multiple blocks from within the WordPress editor. Fortunately, WordPress has recognized that this was an unacceptable flaw and rolled out an update. You can now select across multiple blocks… phew!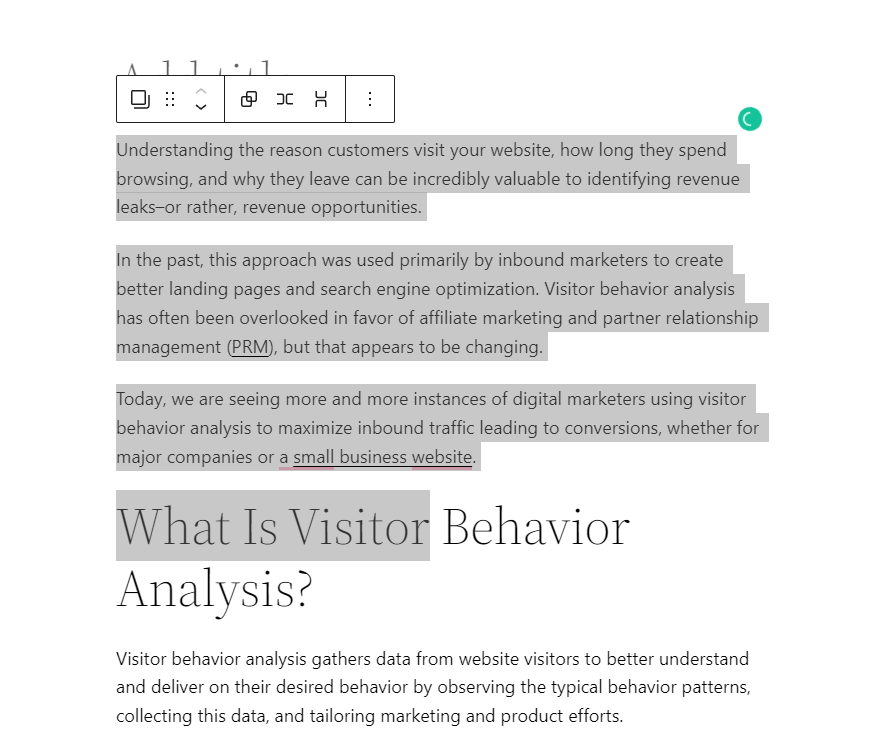 Row Content Orientation
Achieving the perfect layout on different devices can be tricky, especially with columns and rows which look perfect on a large screen but cease to make sense when oriented differently on a mobile (for example the 1st column ends up displaying under the 2nd etc.). Sorting this problem can be seriously difficult which is why it's great to see that you can now control the order and orientation of rows from within the block editor.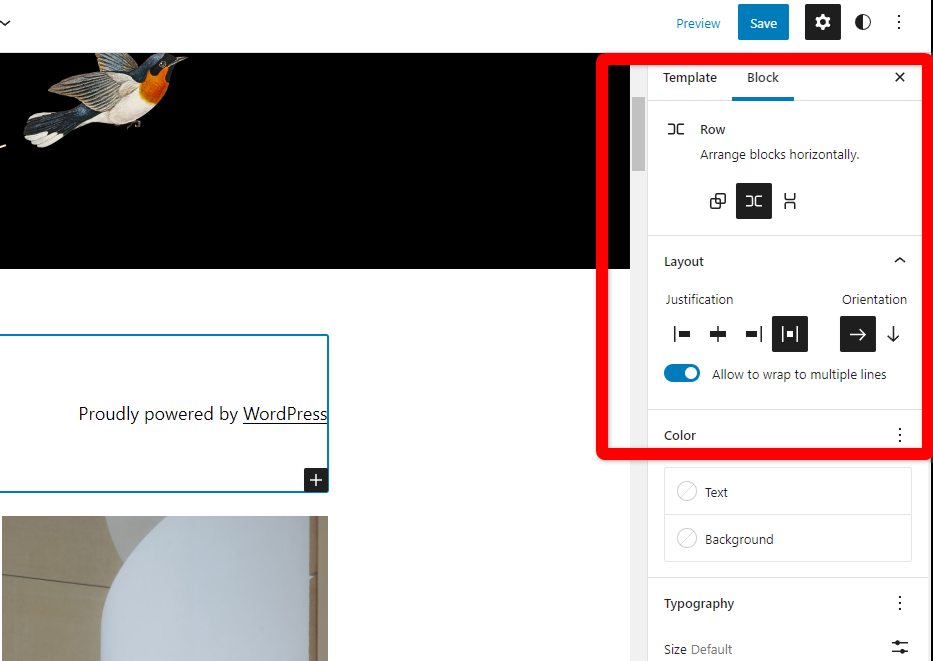 Miscellaneous Updates
As mentioned, there are upwards of 1,000 updates made to WordPress 6.0 – no blog post is ever going to be able to detail all of these. The items above are probably the main feature changes you'll notice but there are a couple of others that are worth noting:
Block Column Border
Want to add a border around the column block? Now you can!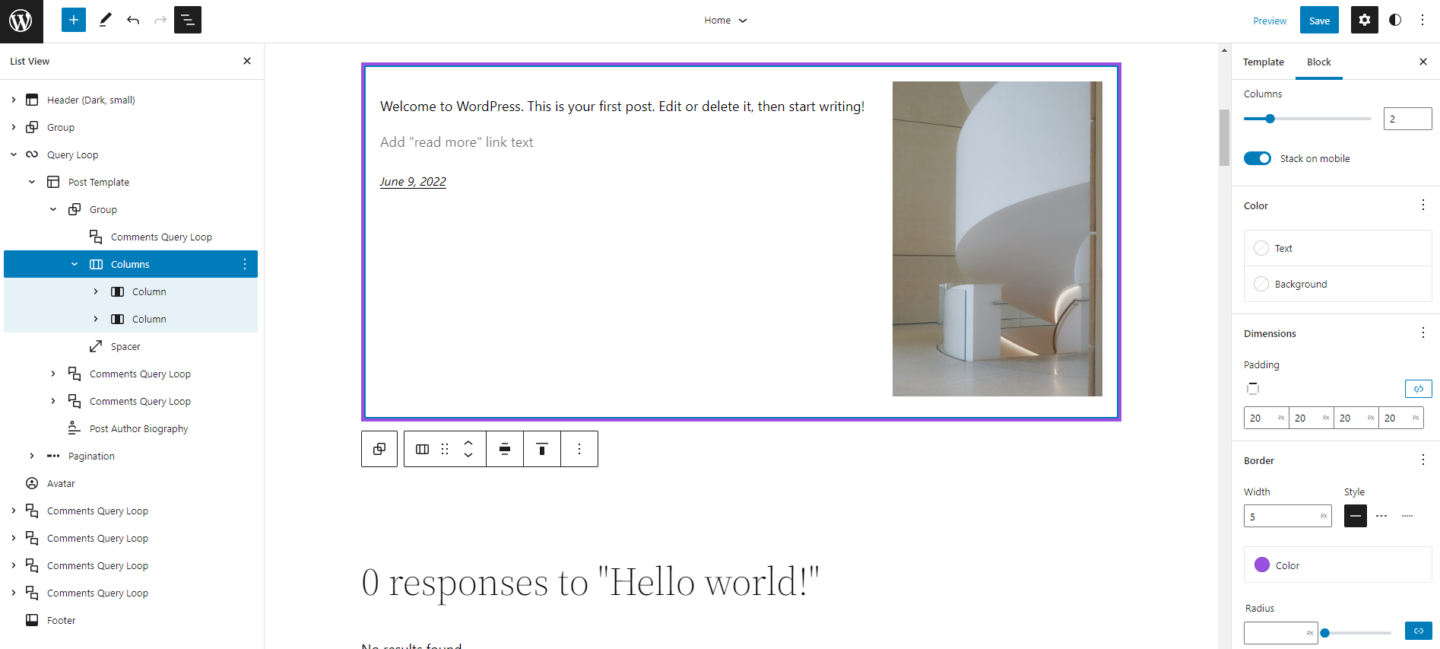 Image Gallery Spacing
Image galleries need to look good – to help with this you can now choose the spacing that appears between each thumbnail image. This helps really improve the overall appearance of any galleries that you use.
Performance Updates
It's never only about new features with WordPress. A lot of work goes on behind the scenes to keep this amazing CMS operating as quickly and efficiently as possible. WordPress state that in 6.0:
"This release includes several updates focused on improving the performance of WordPress. These enhancements cover a range of performance areas including improving the page and post-load speed, reducing the execution time of various query types, caching, navigation menus, and much more."
Full details of what the team is up to on the performance front can be found here.
WordPress 6.0 Summary
WordPress 6.0 cements a lot of the changes that were made to the front-end editor in 5.9. It's now a truly usable front-end build and design platform which further opens up its appeal to anyone who wants to build a website. It's going to be interesting to see how the rest of the Gutenberg project unfolds over the coming months!
And don't forget that to make the most of WordPress you need the very best in dedicated WordPress hosting. Pressidium provides world-class managed WordPress hosting engineered with unmatched industry-leading technology coupled with DevOps Support that goes beyond expectations and becomes an extension of your team. Find out more about our hosting here.
Start Your 14 Day Free Trial
Try our award winning WordPress Hosting!