The final major WordPress release of 2022 is here! WordPress 6.1 'Misha' has arrived. This is the third major release of the year and promises features that many in the WordPress community have been most excited about. It includes a brand-new theme (Twenty Twenty-Three) along with new templates and a whole lot more.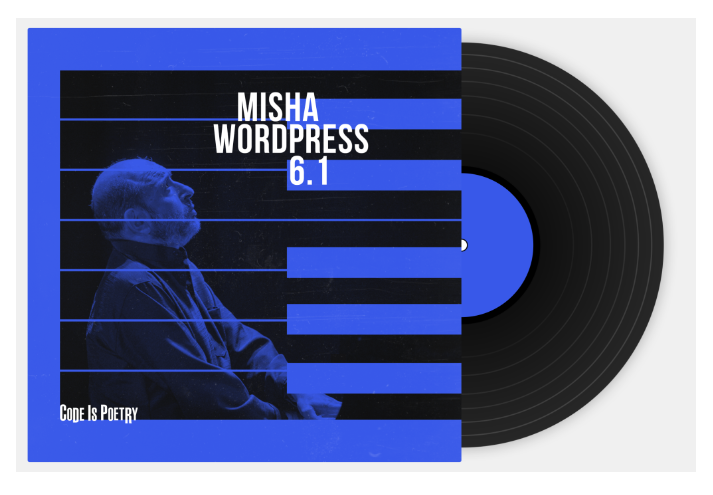 In this article, we'll be taking a look at some of the key elements of this latest WordPress release.
Pressidium WordPress Release Schedule
Before looking at the new features available in WordPress 6.1 let's just quickly recap on how we roll out new versions of WordPress at Pressidium. As a managed WordPress host, we're responsible for ensuring your website(s) run the latest and best version of WordPress. Rather than just updating sites with new releases as soon as they're available we deliberately choose to wait until the first minor version of a new release has been pushed out by the WordPress team. In this instance that will be WordPress 6.1.1.
The reason? We want to be as confident as possible that new versions of WordPress are as stable as possible. It's common for major releases to have one or two bugs that typically can impact compatibility with plugins and themes. We feel that stability and reliability are more important than getting instant access to the latest and greatest features hence the delay between the official release of a major WordPress update and us rolling this out to our customers. If you want to upgrade early, you can do so easily from the Dashboard.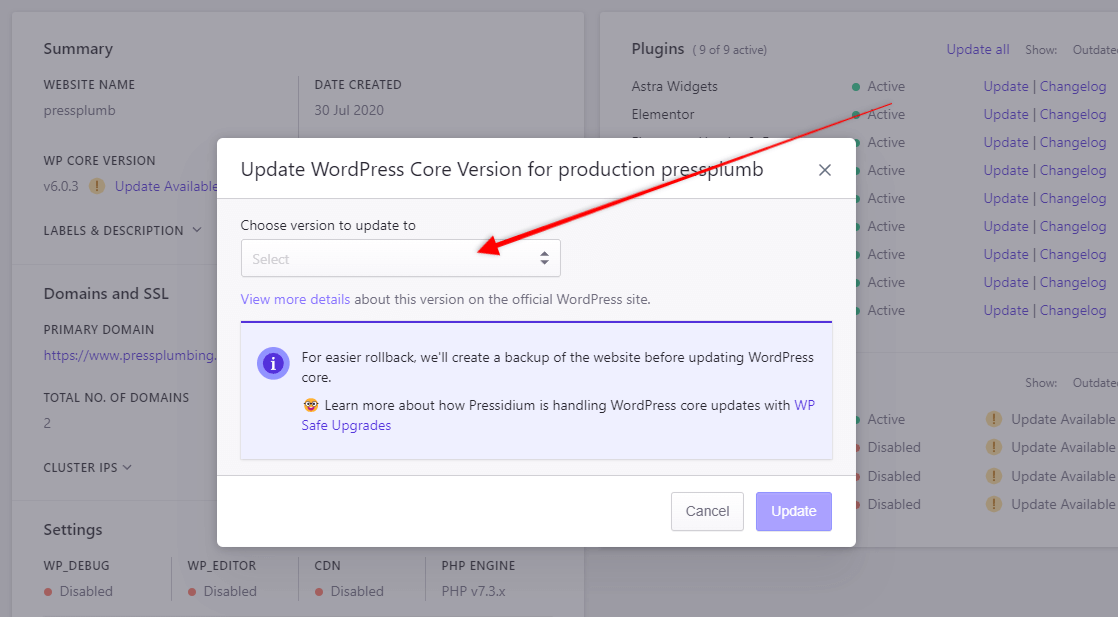 Simply visit the site in question, and, if an update to the WordPress core is available you'll see this highlighted as shown in the screenshot above. Click the 'Update Available' link to begin the process.
Without further delay, and in no particular order, let's run through some of the standout features and updates in WordPress 6.1.
New Default Theme – Twenty Twenty-Three
In common with other year-end releases, WordPress 6.1 is shipping with a brand-new theme for 2023… Twenty Twenty-Three!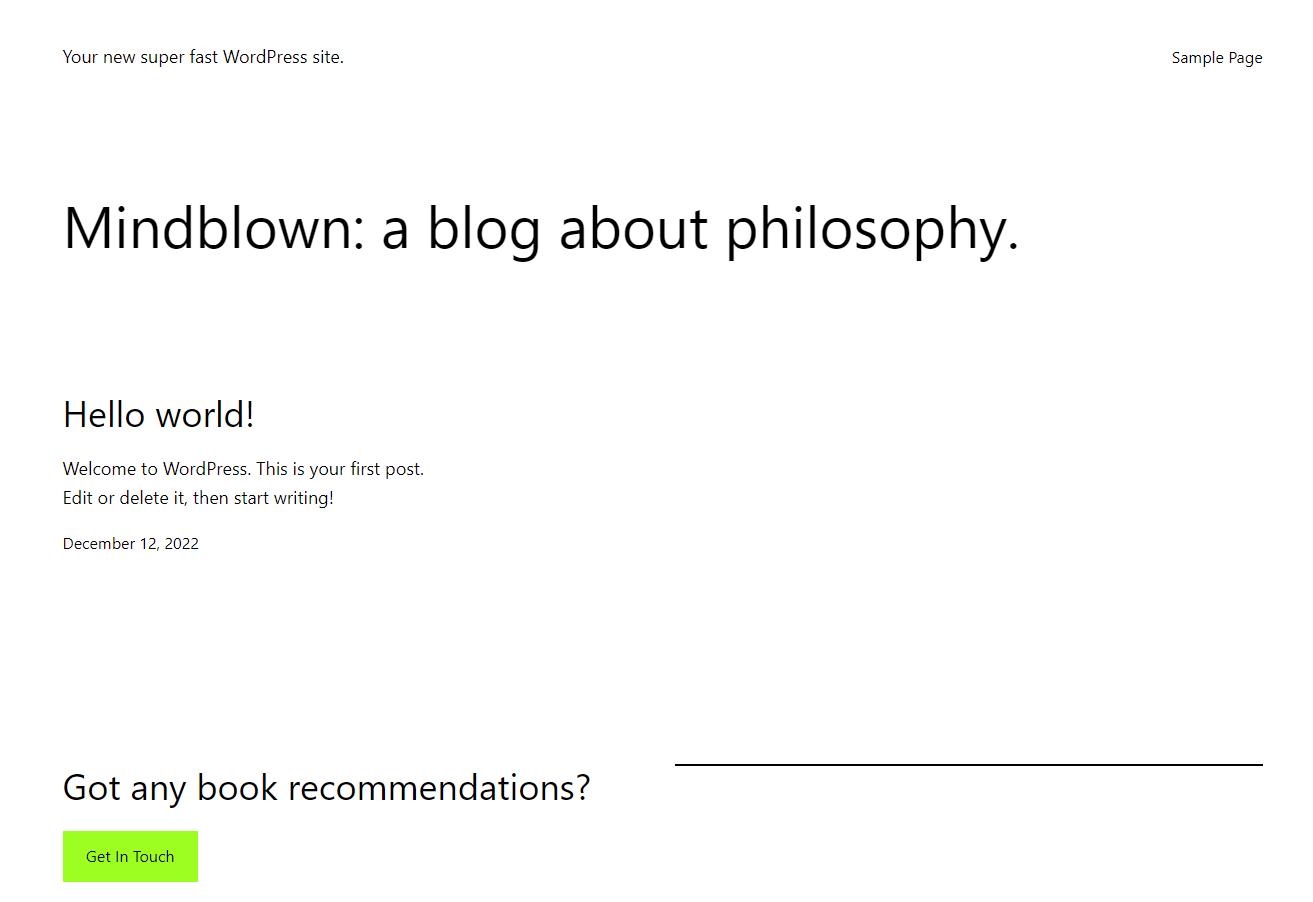 This theme is deliberately simple by design and gives you a blank slate with which to create your own look and style. The theme helps you make the most of the new design tools that have been introduced in 6.1 and you are helped along the way with ten diverse style variations which can be accessed from the Site Editor.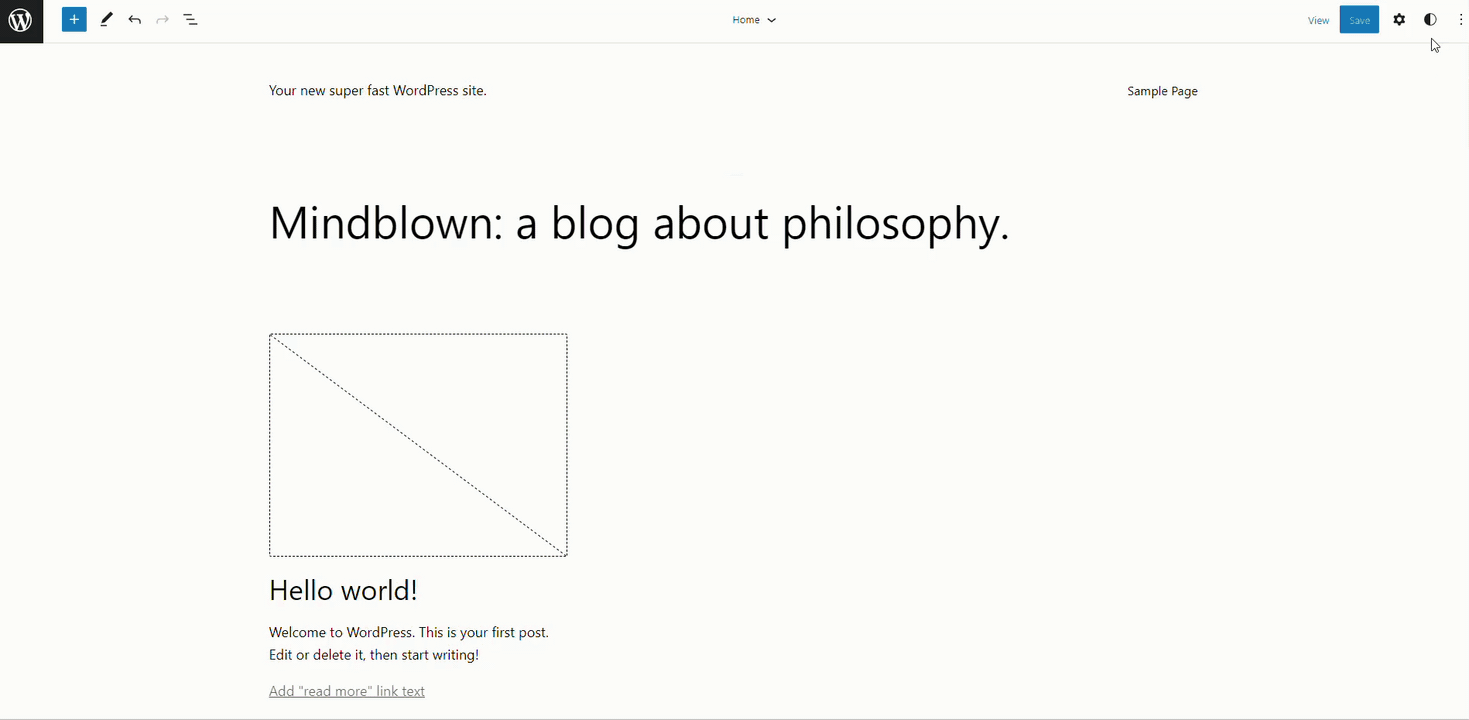 There are also 4 fonts included which can be mixed and matched with any of the ten styles. Combine with the powerful block editor this gives you a great kick-off point for designing your own 'bespoke' website using the tools WordPress places at your disposal.
Don't forget as well that you have pre-design templates ready and waiting to be used. These allow you to quickly 'wireframe' a page with a templated design that you can then go ahead and customize as required.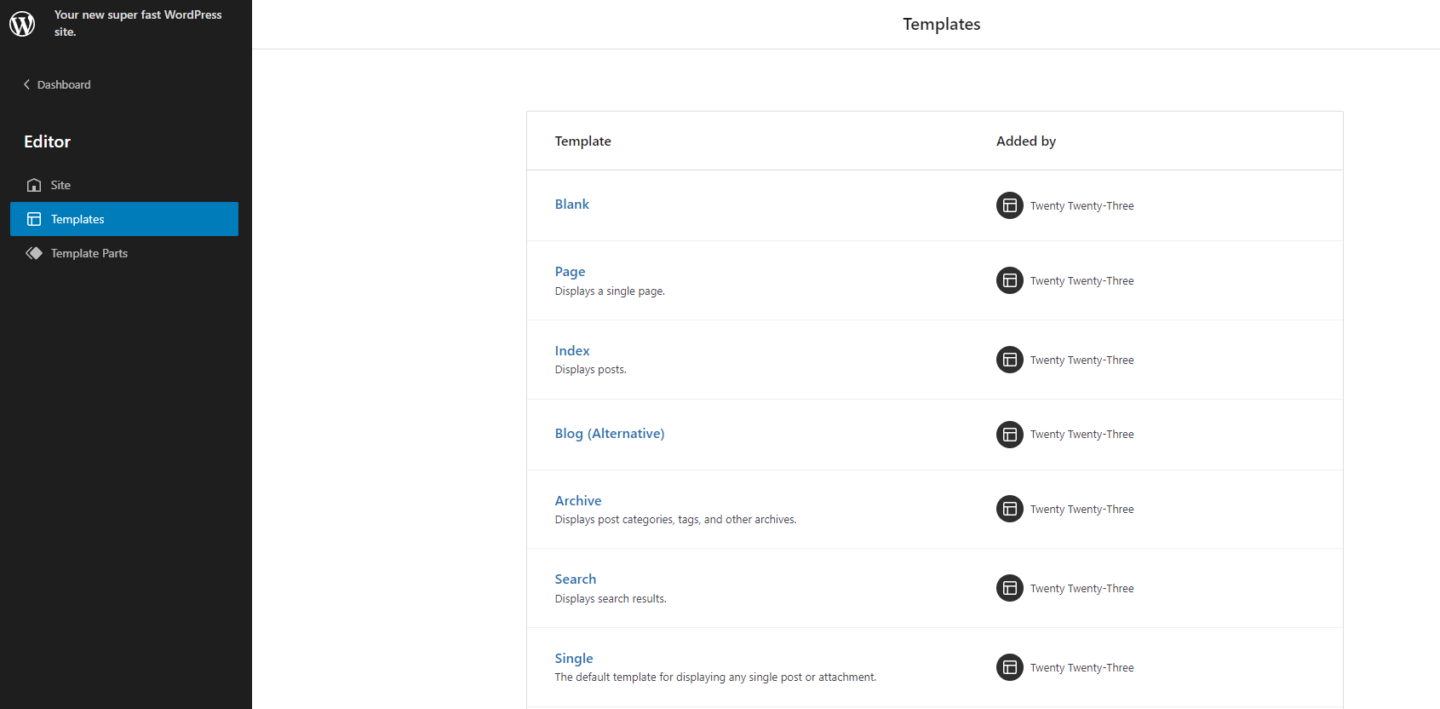 You can change templates on the fly so don't be afraid to experiment and bit. Using the right template to do some of the heavy lifting can save a ton of time when building a site from scratch.
Block Enhancements
Anyone who has been keeping up with WordPress will know that it's all about the blocks these days! The WordPress team has been working hard to build a refined editor that allows even new users to build complex websites using blocks. These can be edited both from the back end of the website as well as from the 'front end' where you can immediately see the impact of any design changes. These blocks also tie in with another WordPress goal, namely, Full Site Editing, where you can make changes to the actual page template.
Try our Award-Winning WordPress Hosting today!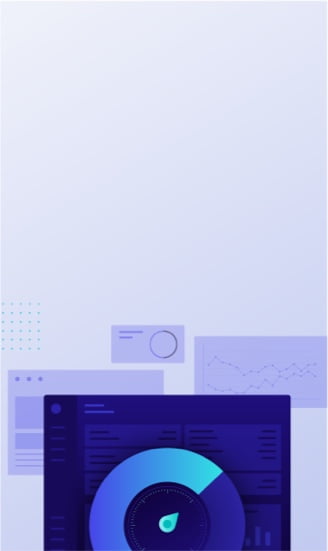 WordPress 6.1 is pushing hard to keep improvements for both blocks (and in turn, Full Ste Editing) flowing. Here are just a few of the main improvements and updates you'll see when you upgrade to 6.1.
Block Dimension Control
Want to nudge that block of text a little to the right? Or need some padding to help make the block stand out from its surroundings? WordPress 6.1 is here to help with the new Dimensions Control element. Simply select your desired block and then click on the new Dimensions section in the sidebar. You'll see a ton of options (these will vary however depending on the block you're editing). One thing to watch out for is to remember to click the option buttons that appear in the top right. These give you more fine-grained control over the dimension element.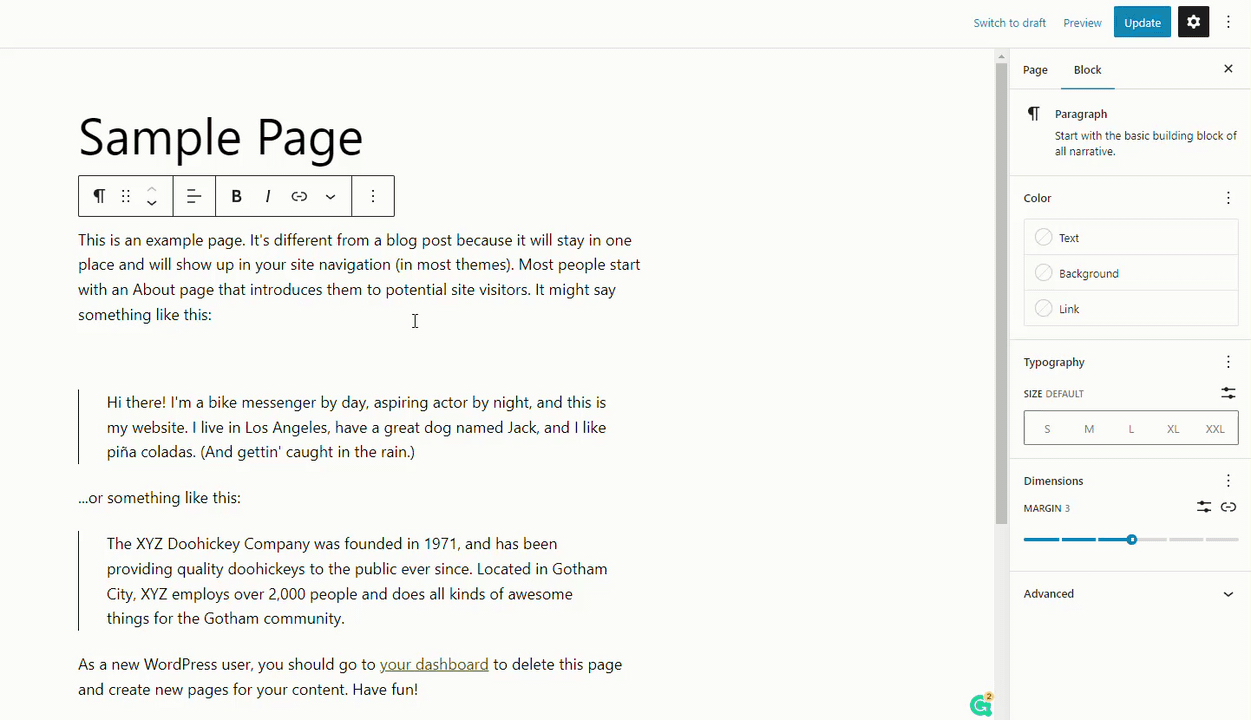 Control Your Borders
We're on a roll in 6.1 with improvements to the level of control that blocks can be subject to. This also goes for the border element which is a feature in many of the blocks. Now, rather than just being limited to the style of a border (such as the width in pixels), you can adjust the top, bottom, left and right borders separately. You can now also add borders to images, something that wasn't possible previously.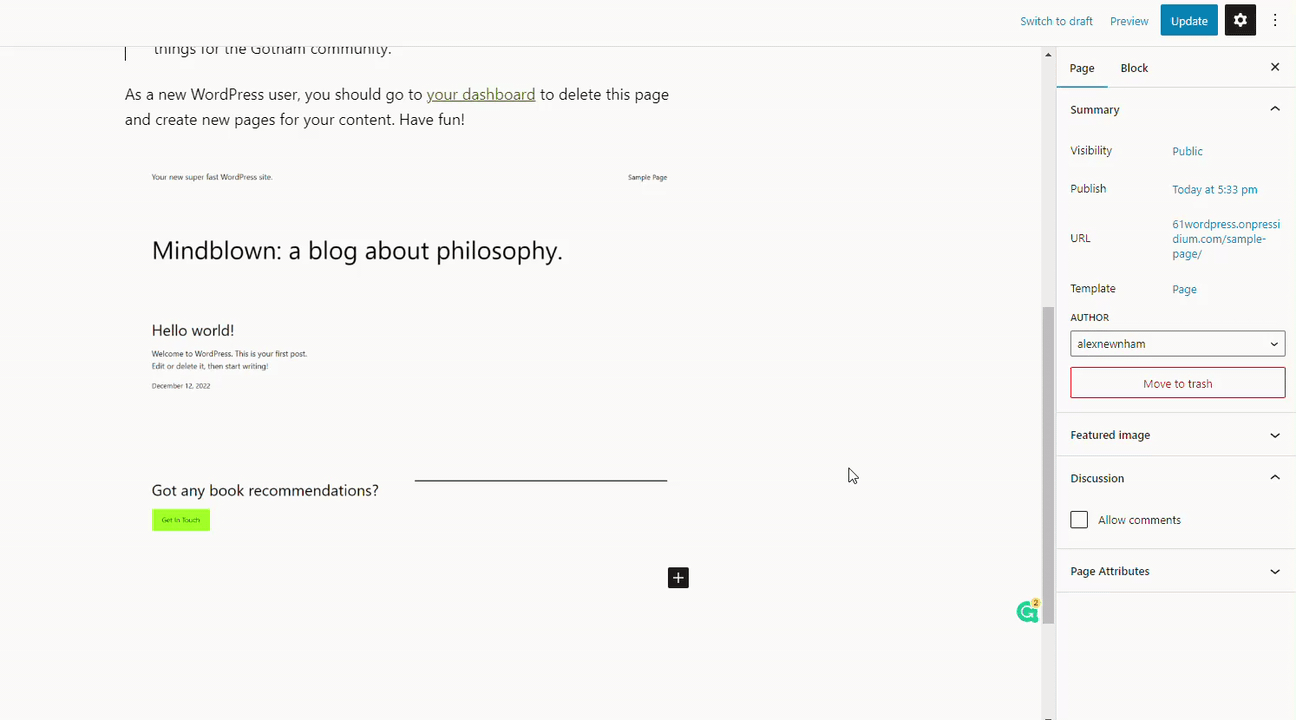 Featured Images in Cover Blocks
Want to use your Featured Image on your Cover Block? Rather than hunting through your media library for it, you can now add this straight from the cover block itself. Much quicker!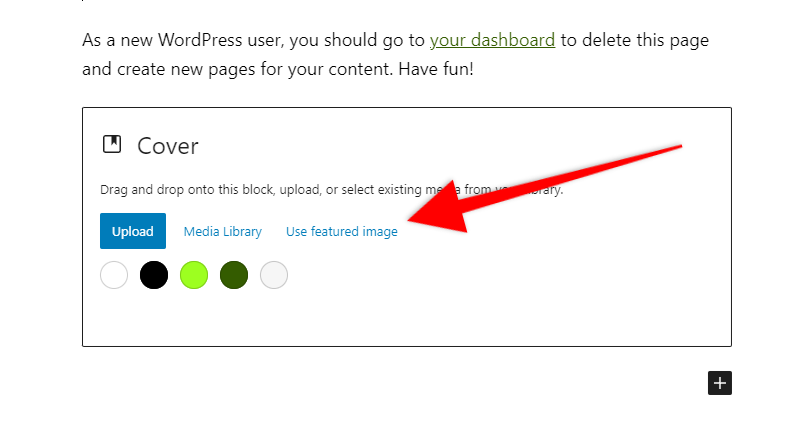 Editor Improvements
As well as enhancements to the overall functionality of blocks, you'll notice a range of improvements to the Editor itself. Usability is pretty key if WordPress want users to adopt Gutenberg for their site design (as opposed to a rival editor like Elementor) so ensuring it's friction-free to use is a top priority.
Updated Editor Preferences
Prior to 6.1 any editor preferences that were saved were only stored in the browser via local storage. This meant you'd 'lose' these settings if you cleared your browser cache or used a different browser for editing. From 6.1 a new system is being adopted with editor preferences being saved server side. Local storage will still be deployed in part however which ensures a consistent experience in the event of a network failure or offline working.
Site Icon
It's a small change but a cool one… instead of the WordPress logo showing in the View Posts button in the top right of any page you're editing, you'll now see your site icon (if you have added one).
Site Health Checks
WordPress introduced Site Health way back with the release of WordPress 5.2. It's not something you'd necessarily use regularly but it's worth a look on occasion as it provides a decent overview of the health of your site. You'll get status updates on things like server performance and security issues (if any) will be raised here.
There are two new site health checks in WordPress 6.1 which are checks for Persistent Object Cache and Full Page Cache. These only run on production websites.
The new Persistent Object Cache check determines whether the site uses a persistent object cache or not and recommends it if it makes sense for the site. It also links to a support resource created for the check.
The Full Page Cache check determines whether the site is using a full page cache solution and if the response time is acceptable.
Block Support for Older Themes
Until now, if you wanted to take advantage of the features offered by the new block builder you needed to use a theme that specifically supported these. This left a lot of users who were running so-called 'classic' themes out in the dark. This could be frustrating as a full site resdesign might well be out of the question, but none-the-less users might want to take advantage of certain elements of the new build functionality.
With WordPress 6.1 you can now use block template parts without adopting everything that comes with block templates. This, for example, would allow a user to edit and build a header with blocks without having to expose the site to the entire block template system. This is pretty good news as it opens up a new gradual pathway for the adoption of Gutenberg elements and means you can mix and match as required.
WordPress 6.1 Summary
WordPress 6.1 is still in Phase 2 of the Gutenberg Project roadmap. This phase is focussed on full site editing and blocks and we are certainly seeing these elements become more robust and feature rich with each new release of WordPress. We will look forward to seeing what comes next!
And don't forget that to make the most of WordPress you need the very best in dedicated WordPress hosting. Pressidium provides world-class managed WordPress hosting engineered with unmatched industry-leading technology coupled with DevOps Support that goes beyond expectations and becomes an extension of your team. Find out more about our hosting here.
Start Your 14 Day Free Trial
Try our award winning WordPress Hosting!