So you have a WooCommerce store and want to increase your sales through Instagram? You're not alone. With Instagram surpassing two billion active users, it's only natural to see it as an opportunity to attract potential customers.
But is Instagram a suitable place to sell products from a WooCommerce store?
Although Instagram began its journey as a social networking platform, it is also becoming an eCommerce-friendly platform. A Facebook study revealed that 81% of respondents research products and services on Instagram. Moreover, with the launch of Instagram Shopping, the visual network has propelled into a thriving marketplace for eCommerce businesses.
In this article, we will look at what Instagram Shopping is and how to leverage it for your WooCommerce store.
Let's get started.
What is Instagram Shopping?
Instagram shopping is a set of features that allows businesses to sell products to potential customers on Instagram. You get an online store within the Instagram app to share your products through Instagram feeds, posts, photos, videos, stories, and ad campaigns—and directly drive sales through it.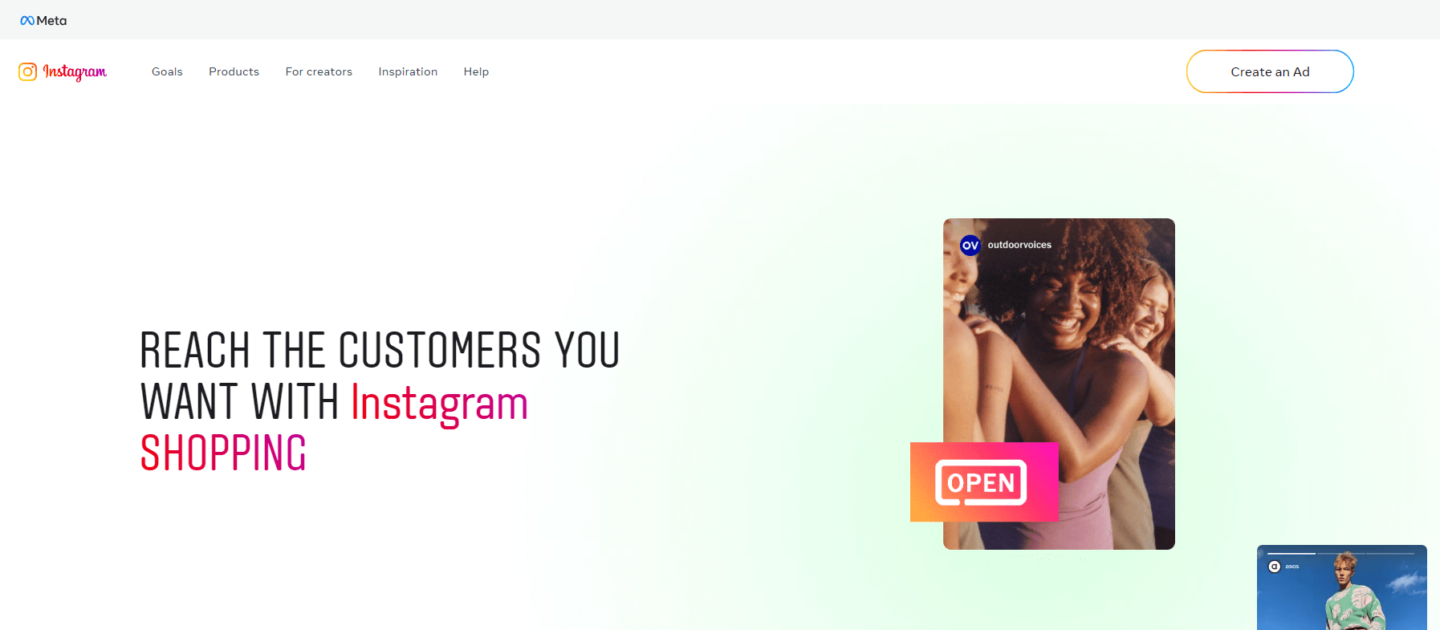 HubSpot surveyed over 500 marketers to uncover the biggest benefits of Instagram Shopping. Let's look at them:
In the past, users had to redirect from Instagram posts to the brand's website to get the product or service details. Today, they can learn everything — like product descriptions and pricing — right within the Instagram shoppable posts (more on that later).
Instagram's "wishlist" feature allows users to save the product they want to buy in the future.
Instagram shopping makes your products discoverable through search and allows people to explore and purchase products right within the app. This makes the customers' buying process more enjoyable.
Partnering with influencers becomes more effective as creators can send the traffic directly to the brand's Instagram shop instead of a website.
Note: The final checkout, a.k.a. Instagram Checkout, is only available to eligible U.S. businesses and creator accounts.
Try our Award-Winning WordPress Hosting today!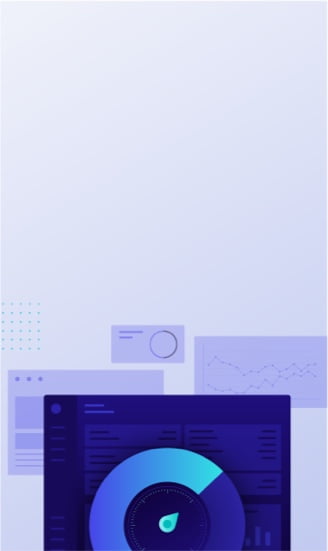 After knowing the benefits, you might want to begin your Instagram journey. But before that, let's have a brief look at if you qualify for Instagram Shopping.
What Do You Need to Use Instagram Shopping?
To sell on Instagram, you need to meet the following eligibility requirements:
Your physical store and Instagram account must be located in one of the eligible countries.
You need a Facebook account, Facebook Business Page, Facebook Business Manager Account, and Instagram Business Account.
You can only sell physical products. Digital products like ebooks, online courses, or any other intangible products are not allowed.
Additionally, you must also have the latest version of the Instagram app.
Once you fulfill the requirements, Facebook will take a few days to review your account and send an approval notification. When you get the green light, you can set up your WooCommerce store on Instagram and start selling more.
3 Ways to Sell Your WooCommerce Products on Instagram
Instagram Shopping helps your potential customers buy your products directly from your photos and videos. But we can't deny that it's a competitive platform—76% of businesses use Instagram to promote their products and services. So, it's imperative to know how to get ahead of the curve and drive sales.
Here are three tips to effectively feature products on Instagram Shopping and achieve your sales goals:
1. Create shoppable posts on Instagram
Instagram shoppable posts allow businesses to tag products (available in their Instagram Shop catalog) and link to their website. Users can click these product tags to find out product details, visit a brand's website, or purchase within the app through Instagram Checkout.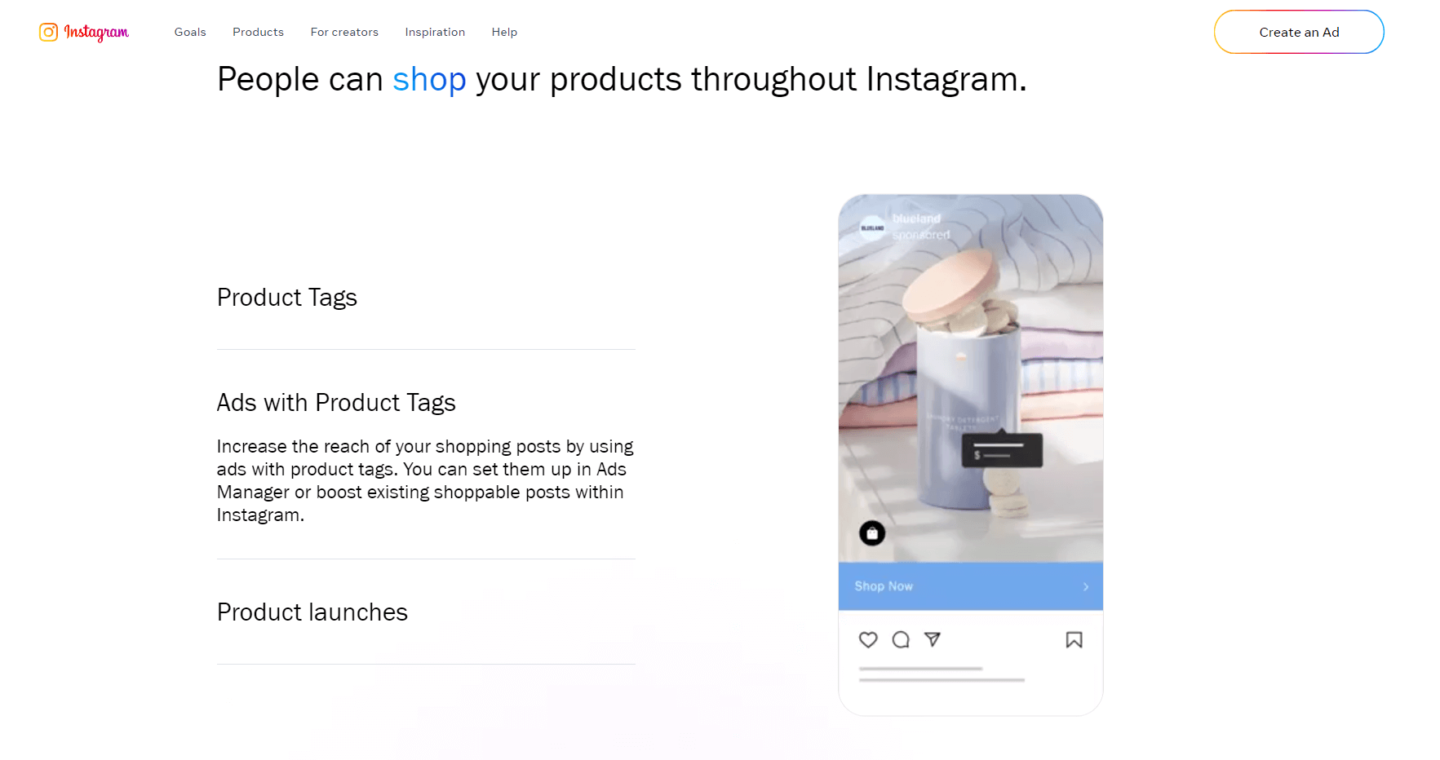 You can create different types of Instagram shoppable posts, including feed posts, Reels, Instagram Stories, IGTV videos, live broadcasts, etc.
Each month, 130 million people tap on shoppable Instagram posts to learn more about the products, showing their appetite for social shopping.
Instagram Shoppable posts are a persuasive way to sell products, as you can add context to your product posts (like sizes, fit, style, etc.) and offer a direct route to purchase. This streamlines the buyer's journey and boosts your odds of conversion. If you partner with influencers, they can also create shoppable Instagram posts by tagging your products, allowing their followers to interact with your brand on Instagram.
Before you start selling, you need to create a catalog of your products on Facebook—a file containing the products (and their details, such as pricing and description) you want to sell. There are two ways to upload your catalog:
Follow the do-it-yourself approach. Head to Facebook Business Manager account > Commerce Manager > Create a Catalog and manually add the items.
Use the WooCommerce plugin to connect your store with Instagram directly. It allows you to upload your catalog to Instagram and keeps your catalog synchronized. Whenever you modify products in your store, the plugin will auto-update your Instagram catalog.
Once you connect your product catalog, you have to submit your account for approval. When you receive access, you can start creating shoppable posts on Instagram. To do so, first, create a new post or select an existing one. Click the image where you want to add a tag, enter the product's name, your product will appear in the search box, select the product, and tag it into your post—just like you tag a person.
Once you finish tagging, select Done. Then preview your post, and if you are satisfied with it, share the image. Now, your audience can see your shoppable posts with tags and product details and actively buy from you.
2. Add Social Proof
Social proof is a psychological phenomenon where people are influenced by the actions of others—friends, family, influencers, celebrities, or large groups of people—to make decisions like whether to purchase a product or not. For instance, we trust Amazon reviews because people have used those products.
Any positive comments, photos, or videos on social media about your products act as social proof. For instance, an image clicked through an iPhone while traveling is proof that the iPhone is a good choice to click pictures on the go and has a track record of satisfied customers.
When people leave positive reviews or show how they are using your products, it's more likely they are enjoying it. Hence, potential customers trust your existing customers and consider your product a better option. 9 out of 10 customers read online reviews before making a purchase.
So if you want to score more sales, it's essential to collect social proof on Instagram and showcase it on your website.
Here are a few ways to acquire customer testimonials and reviews on Instagram:
Invite customers to be your brand ambassador. You can ask customers to try your products and post their photos or videos on their Instagram accounts. In exchange, you can repost their stories on your account and give them greater exposure. For example, Converse often invites customers to create product photos and share stories. Then, the brand generates a series of posts for its customers.
Sponsor a giveaway. People are willing to share their thoughts about a product in exchange for freebies. For instance, YMI Jeans announced a giveaway for customers who were happy to share their thoughts about the brand on Instagram for a chance to win a free pair of jeans.
Ask questions. An effective way to stir up a discussion on a relevant topic and collect customer feedback is by asking questions. 57% of Instagrammers prefer seeing polls and quizzes from brands. You can ask, "what your customers' favorite product is and why"—just like luggage brand CALPAK.
Create a branded hashtag like #ShareACoke. It makes customers feel like they belong to a community, encouraging them to share your products along with the hashtag. For instance, Black Girl Sunscreen's hashtag #BGSNAILDRIP influenced many customers to share the product with their nails done. Avoid banned hashtags.
Once you start receiving reviews on Instagram, you can add them to your website to show your potential customers how many people are happy with your products and give them a nudge to make a purchase.
You can also use an Instagram Reviews widget like Elfsight to publish Instagram posts as testimonials on your website.
3. Display Instagram feeds on your online store
75% of Instagrammers take action after seeing a post, whether it's buying, sharing, or visiting a website. You can bring this conversion rate to your online store by adding an Instagram feed to your website. For instance, a subscription service for dog owners, Vivadogs, displays the Instagram feed of their customers enjoying the products on their homepage.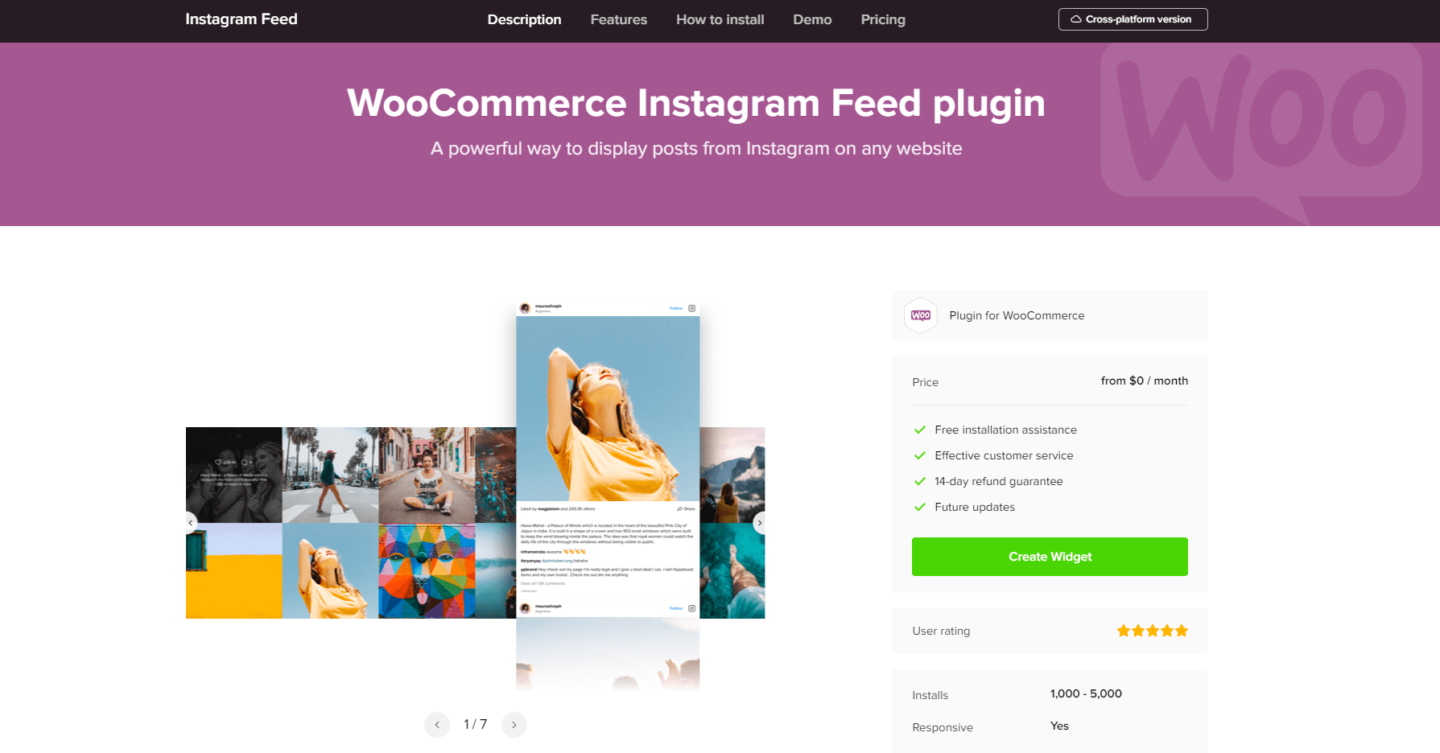 By embedding your Instagram feed on your website, you allow your visitors to engage with your social media content and increase their time spent on your website. If your customers post your products' photos and videos on Instagram, you can repost them in your account, which will also show up on your website. This will keep your social media portfolio updated, enhance brand recognition, boost engagement, and eventually convert visitors into buyers.
You can use a widget like InstaShow to add Instagram feeds to your online store. It keeps your website feed updated with the latest images, videos, and stories posted on your Instagram account.
Wrapping up
We hope you are all set to incorporate Instagram with your WooCommerce store. Shopping on Instagram makes it easy for your users to move from browsing to purchasing without leaving the platform.
Use the above-discussed strategies to leverage Instagram Shopping for your online store, and enhance your revenue with higher sales.
—–
About our Guest Author: Eduard Klein is an International Digital Growth Marketer, Blogger (eduardklein.com), and Entrepreneur with a global mindset. He guides through the process of starting and growing a digital business, and riding the wave of digital technology and marketing without getting swept away.
Start Your 14 Day Free Trial
Try our award winning WordPress Hosting!