Compressing your images before uploading them to your website is one of the easiest and most effective ways to improve your website loading time and, as a result, improve your website experience for visitors as well as boosting your search rankings.
Large images can significantly slow down the performance of a website which is bad news all round. Fortunately, there are some great tools you can use that will help you easily optimize your images. We're going to take a look at 7 of the best online image compression tools… and, as a bonus, they're free to use!
TinyPNG

Tiny PNG is well established player in the online image compression business. Its compression algorithm offers fantastic all-round performance by significantly reducing image sizes but without detrimentally affecting their quality from a visual perspective. As the name suggests, it works particularly well on PNG file types.
As well as compressing PNG images, it will also compress JPEG's. The free version limits the file size you can upload to 5mb but this should be more that enough. If you're image is much bigger than this to start then odds are, even with compression, it will still be too big for your website. You can upload upload up to 20 images at once and up to 100 images in a month. The size for each image can be up to 5 MB.
Using TinyPNG is easy. You just have to drag and drop the files in the dotted area 9Shown in the screenshot above) and in just few seconds, depending on the size of the files you uploaded, you will be provided with links to download the files separately or all together in a zip or save them to Dropbox.

You'll also be shown how much the file size has been reduced by (prepare to be impressed!).
TinyPNG also offers a WordPress plugin that will automatically optimize all your images automatically.
Kraken

Kraken is often regarded as one of the most reliable image optimization tools out there. It provides 3 main modes of compression; Lossless, Lossy and Expert with different optimization algorithms operating accordingly in each case.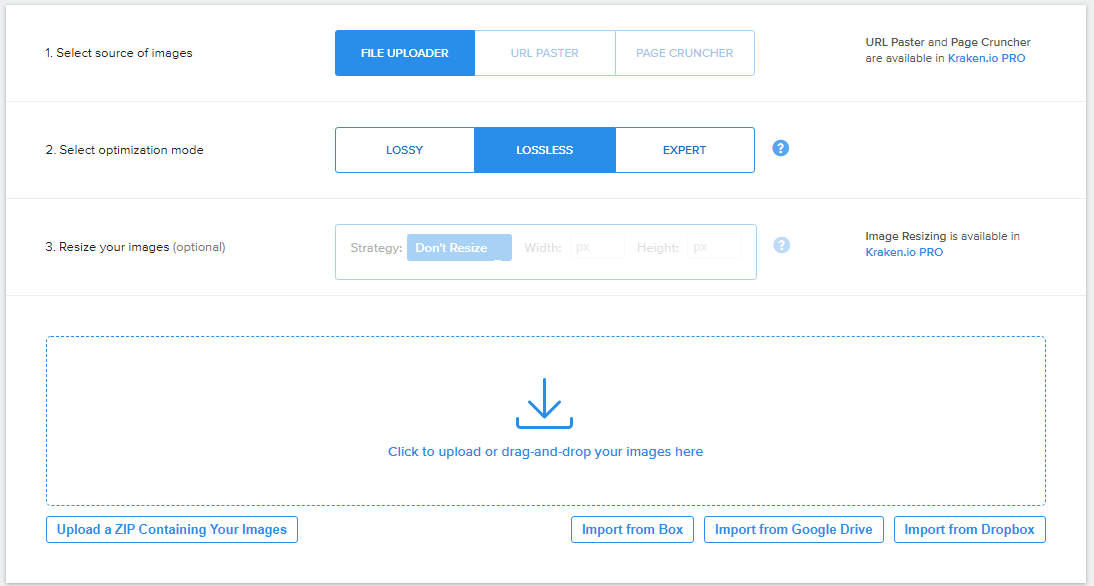 The Lossy optimization mode will definitely suffice for most users requirements. It results in images with usually 60-80% smaller file size compared to the original. This algorithm produces images that are of such good quality you'll be hard pressed to distinguish them from the original.
If you're a photographer or a professional that needs to work with images of the highest quality then you might want to choose the Lossless mode that offers no decrease in quality of the compressed image at all. This mode will save as much file weight as possible without affecting the pixel information. This is suitable for situations that have high requirement on the quality of visuals, such as marketing graphics.
Finally, the Expert view provides users with more detailed tweaks and, as the name suggests, is designed for users already familiar with image processing and optimization processes. Here you can set different quality levels for lossy JPEG and PNG optimization, preserve certain entries in the EXIF metadata, and automatically modify images orientation. You can even set a custom chroma subsampling value for JPEG images.
Kraken tool supports JPEGs, PNGs and GIFs and you can optimize files up to 1 MB for free. WordPress users can also benefit from the Kraken WordPress plugin.
JPEG Optimizer

JPEG Optimizer is also a robust solution that has been around for a while now. It only supports the JPEG format. The great feature that distinguishes this tool from others is that it allows you to resize your images to a new width, before the optimizing process initiates.
Try our Award-Winning WordPress Hosting today!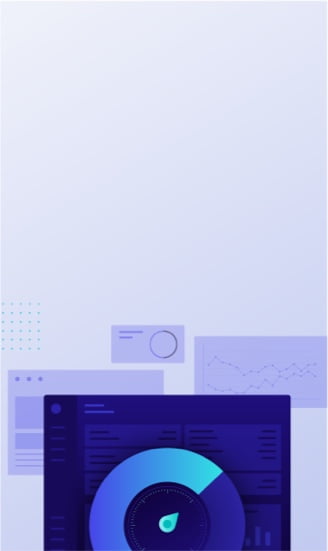 The default compression level is 65, which is adequate in most scenarios but you can set it manually to whatever compression level you require between 0 and 99.
Optimizilla

Optimizilla is similar to TinyPNG in that it supports JPEG and PNG formats. It produces images with good quality/size ratio as it combines great optimization and lossy compression algorithms to achieve the minimum possible size whilst maintaining the quality level.

You can upload up to 20 images and see the compression percentage for each image before deciding whether you should download it. Also, by clicking on each thumbnail, you can preview a comparison below it that shows the original and compressed versions of the image with the additional help of a horizontal slider and a vertical slider that further modifies the quality. Cool, right?
Compressor.io

Compressor.io is a popular option when it comes to image optimization with the ability to reduce file sizes up to 90%.
You can optimize more than one file at a time by batch-importing with a drag-n-drop. First, you choose between 3 compression types: lossy, lossless and custom, and then drag-n-drop the file(s) in there. After a few seconds you can see the related statistics for each image which includes the before and after size, the percentage compressed, the total size saved, and of course, download buttons for each image or one to save them all together in a zip file.
Another great thing about this tool is that it supports JPEG, PNG, SVG, GIF and WEBP formats.
ImageRecycle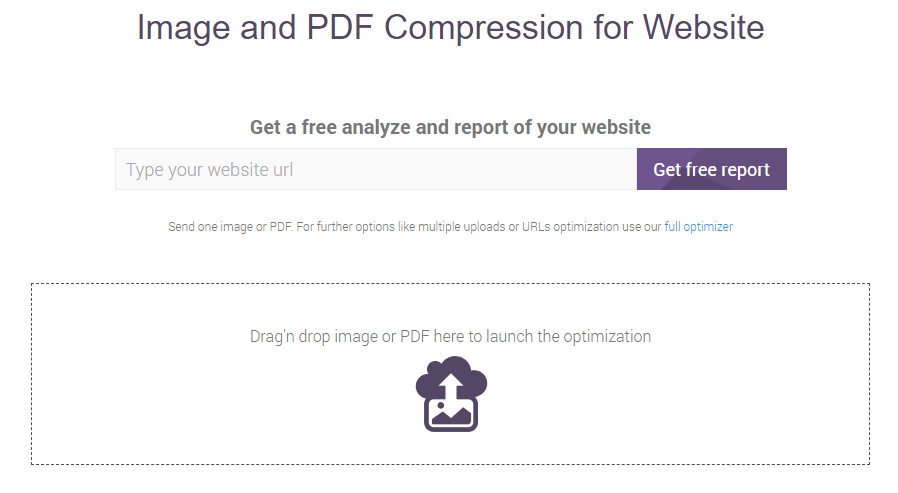 ImageRecycle is a less known in the world of image compression, but it's a great tool and supports JPG, PNG, GIF and PDF formats.
In its default screen, you can process only one file. When the optimization completes, you will see the original and compressed sizes, the percentage saved and of course, a download button.
If you want to upload more than one file at once, you will have to use the full optimizer. There you are provided with 2 options: Best saving and Original quality, that are actually lossy and lossless compressions correspondingly. By default, it is set to lossy compression which will probably work for you unless you have really high requirements like a photographer's.
The maximum file size allowed for each image is 30MB which is way higher that many of the other similar tools.
You can also benefit from their WordPress plugin and access the cloud service page from within your dashboard to make it work inside WordPress.
Conclusion
Handling image optimization via a cloud service has become a very popular way of reducing image sizes so they're suitable to be uploaded to a website. They're quick, easy and free to use. As such they really should form a 'must do' part of any website designer/developer's work process when building or maintaining a website!
Start Your 14 Day Free Trial
Try our award winning WordPress Hosting!