Every online business has a clear goal: to create a unique website that stands out against competitors. But this is often more easily said than done. After all, there are a lot of businesses that have a website. In fact, a recent study found that a whopping 71% of businesses have websites. Of course, these aren't necessarily all good.
Do you think you've designed the perfect website? Well, this could be the case. If only there were some way of measuring the success of your website. Luckily, there is. It's called heatmapping. But what is heatmapping, and how can it give your business the boost it needs? Let's explore!
Firstly… What Are Heatmaps?
So, you have a website. Great, but do you fully understand how people use it? For most businesses, the answer is "no." There's a good chance that you might use a program like Google Analytics (GA) – 56.5% of all websites use the tool. GA can provide some extremely in-depth data.
This information can then be input into advanced marketing tools to create highly targeted advertising.
But there are some areas in which GA falls short. While GA can tell us what happened on a website, it can't necessarily tell us how it happened. With heatmapping, you can gain detailed information from a visitor's perspective. This includes some of the following valuable pieces of information:
How long a user kept a web page open
A list of buttons the user clicked whilst on the page
The links that a user followed
The length of time that a user spent scrolling
This means that, for the first time, a business can put itself in a customer's shoes. By better understanding a customer's journey, you can start making real improvements. Tools such as Hotjar can help with this.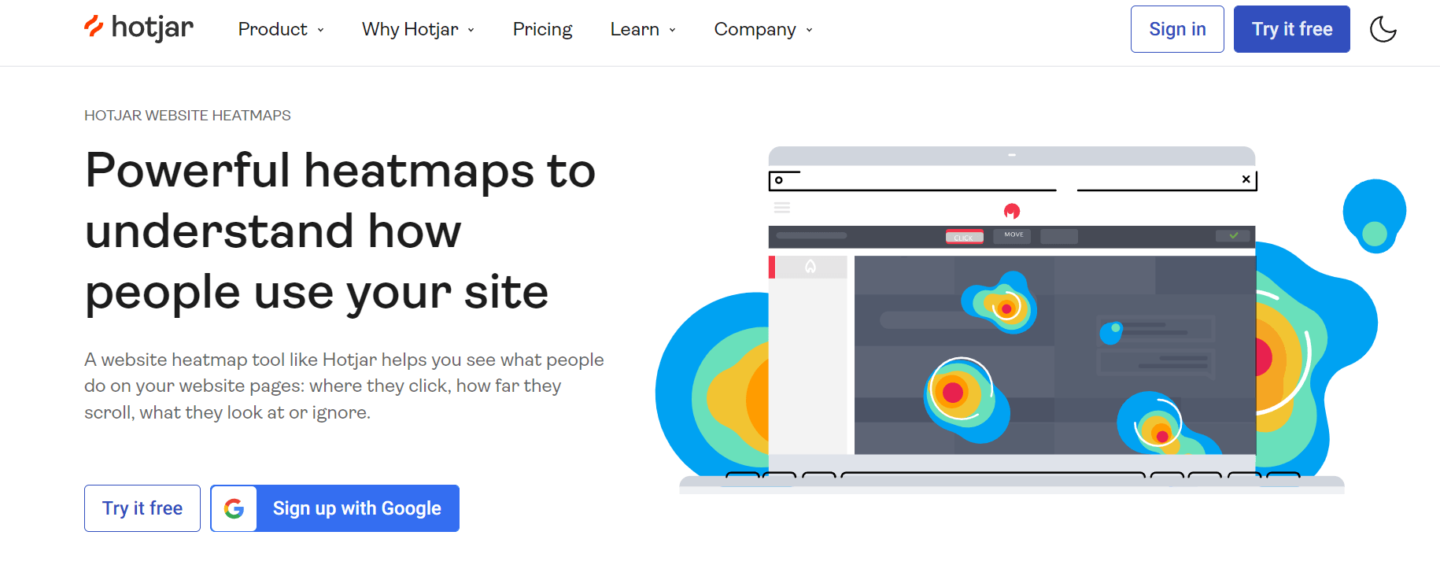 And, if you're a GA user, the good news is that the software comes with its own heatmap.
What Is CRO and How Can Heatmaps Help?
CRO stands for conversion rate optimization. To understand what this means, you first need to know what a conversion is. It's a term that many website owners will know well. But if you're new to online business, conversions are something to familiarize yourself with. Without conversions, your website won't get very far.
Try our Award-Winning WordPress Hosting today!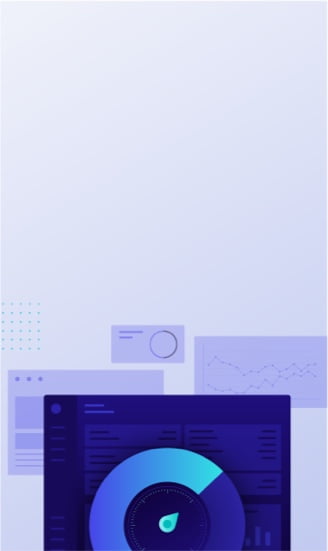 Essentially, a conversion represents each time a user makes a valuable interaction on your site. What exactly is classed as a conversion is up to you. You might ask, "What is the average conversion rate for ecommerce sites?". There is no clear-cut answer, but studies suggest the average rate is between 2% and 2.5%.
Ask yourself, what actions do you need your customers to take to grow your business? Examples of conversions include:
Purchasing an item
Adding an item to the cart
Signing up for= a newsletter
Clicking a specific button
Shares of your Facebook marketing
Conversion rate optimization is simply performing actions that will increase the number of conversions on your site. But how can you know which improvements to make? Well, you guessed it – with heatmaps.
How Do Heatmaps Work?
A heatmap presents a visual representation of how users view your website. Imagine a weather forecast. Certain areas of a map are colored to show rain. In the same way, areas of a website that receive more views are given darker colors. Less popular areas are given a lighter shade.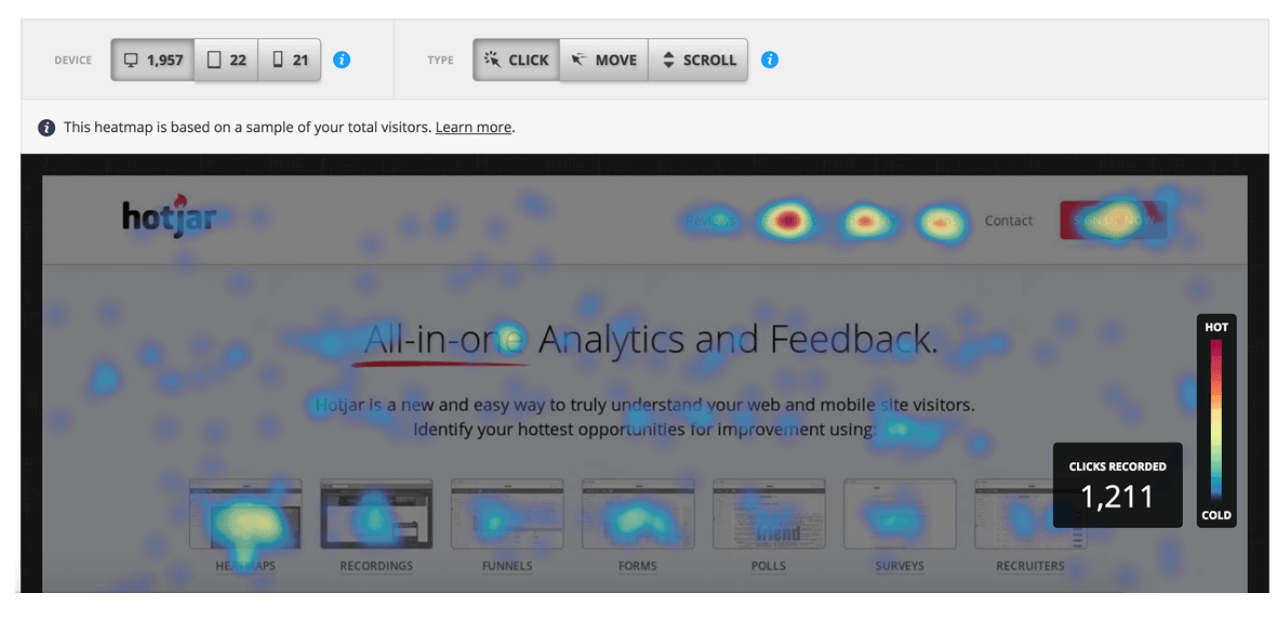 Unlike analytics programs, such as Google Analytics, there are no complex tables or reports to get your head around. Heatmapping is simple and accessible. You don't have to be tech-savvy to use them on your website.
Let's look at some of the ways that heatmaps can help improve your website.
Have a Better Understanding of How Your Website is Used
Understanding how your website is used is key to improving it. Just because you design a page with the intention of it being used in a certain way doesn't mean that it will be.
Let's imagine that a user is scrolling through one of the pages of your website. Suddenly, they stop scrolling. Why? Because something else has caught their attention. Obviously, if this only occurs with one user, the information isn't telling you very much.
But if multiple users are attracted to a certain piece of content, it starts to become a trend. What was it about an image, video, or headline that caught their eye? Could the way that it was presented be replicated in other areas?
Of course, making website improvements can be pricey. If you're running a small business, you might struggle to fund the work. If this is the case, look for ways to reduce costs. For example, replacing a traditional landline with a virtual number offers a cheap and effective alternative.
Keep a Particular Eye on Your Product Page
It's important that your product page is as accessible and visually appealing as possible. There's no point putting effort into improving the look of other pages if you neglect your product page. If you want to succeed, make the product page your priority.
When using your heatmap, you'll find that certain items are receiving more attention than others. Normally, the only way you can know the popularity of a product is by the number of sales that it makes. But heatmapping can tell us more than this. Perhaps users are attracted to a product but not purchasing it. If a product is selling, what caused a user to click on it?
There could be many potential reasons for this. Let's look at some information that heatmapping can give us and how we can use it to make improvements.
User Attention Is Focused on a Certain Group of Products.
This could be because an item is presented in a way that is attractive to users. Try to present other products in a similar way.
A Certain Product Isn't Receiving Attention
Start by looking at the price. Could it be too high? If so, try to lower the cost to a more reasonable amount.
If you've tried lowering the cost and changing the way an item is presented, and it's still not getting attention, there's a good chance that it's just not that interesting. In this situation, drop the item and replace it with a product that's closer to high sellers.
A User Couldn't Find the "Add to Cart" Button
If you see users hovering near the price of an item, there's a good chance that they're looking for a button to press. It's important that your "add to cart" button is clearly labeled. There's no use having great products if users don't know how to buy them. The same goes for your shopping cart. Make sure that all steps are clearly signposted.
It's not hard to see how, by keeping an eye on your heatmaps, you can start improving your CRO rates. Just make sure you communicate your findings to other members of your team. Strong communication will help to make sure that you have a coherent vision for your website. Investing in a top-of-the-range business communications tool will help.
You Can Test the Usability of Your Site
You've designed a fantastic-looking website – great! But certain parts of it are hard to navigate – not so great. You might have tested your website and thought its usability was good. But just because it seems usable to you doesn't mean that customers will feel the same way.
It's important that you have strong customer support in place to help resolve any user issues that crop up. A hosted contact center provides a scalable, easy-to-use, and flexible solution.
With heatmapping, you can begin to understand which parts of your website users are struggling to navigate. You might notice that users are attempting to reach a certain page but are unable to. Could it be that the button is too small or malfunctioning?
When you encounter an issue, it's important that you resolve it as quickly as possible. Otherwise, you'll leave customers feeling annoyed. Increasing your process efficiency will help to get the job done more quickly.
Give Your Site a Speed Boost
There may be certain parts of your website that are navigable but not receiving clicks. This is a good indication that the content isn't of interest to your audience. There's no point hanging onto pages that aren't receiving views. Deleting them will help boost your website speed and improve the user experience.
Heatmapping Is the First Step to Improving Your Website
Heatmapping is a valuable tool that helps to reduce the amount of head-scratching when planning website improvements. You can begin to understand how and why a user acted in the way that they did. And if you understand your users, you can begin to build a website around their needs. The more user-friendly your website is, the higher your CRO.
So, give it a try. Heatmapping is easy to use, and if you've already got a Google Analytics account, it can be set up quickly.
Just remember, when adding new features to your website, it's always better to make data-driven decisions. With heatmapping, you can build a stunning, data-driven website and boost your CRO.
—–
About our Guest Author: Jenna Bunnell is the Senior Manager for Content Marketing at Dialpad, an AI-incorporated cloud-hosted unified communications system that provides valuable call details for business owners and sales representatives. She is driven and passionate about communicating a brand's design sensibility and visualizing how content can be presented in creative and comprehensive ways. Jenna has also written for sites such as zenloop and Codemotion. Check out her LinkedIn profile.
Start Your 14 Day Free Trial
Try our award winning WordPress Hosting!