Building a website using WordPress has never been easier thanks to its easy-to-use interface combined with a huge library of plugins that extend functionality in just about every way you could ever need. And when it comes to building themes or templates or custom blocks for your site, page builders like Elementor and Beaver Builder make this a breeze. In this Elementor vs Beaver Builder review we're going to be taking a look at some of the features of each of these popular page builders to help you decide which might be best for your project.
Let's get started!
Elementor
Elementor describes itself as 'The World's Leading WordPress Website Builder'. First appearing on the scene back in 2016, Elementor has become hugely popular with an incredible 5+ million active installations.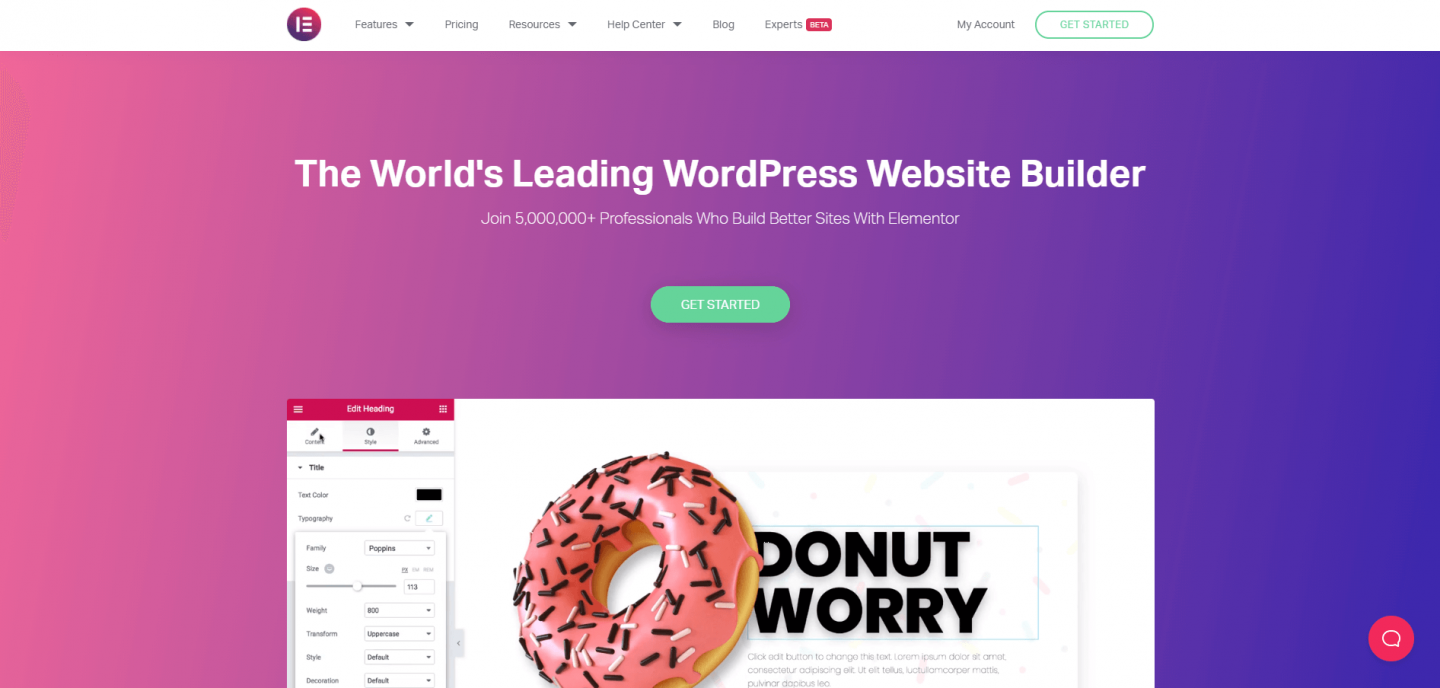 With an active worldwide community of more than 60,000 members, multiple local and international awards, as well as valuable partnerships Elementor routinely tops the list as the WordPress page builder of choice among website designers and developers.
Elementor Pricing
In common with many WordPress plugins, Elementor operates a 'freemium' pricing model. Their base plugin is free to use and boasts an impressive array of functionality for a free product. If however, you want to take advantage of some of the more advanced options available to you then you'll need to upgrade to one of their plans.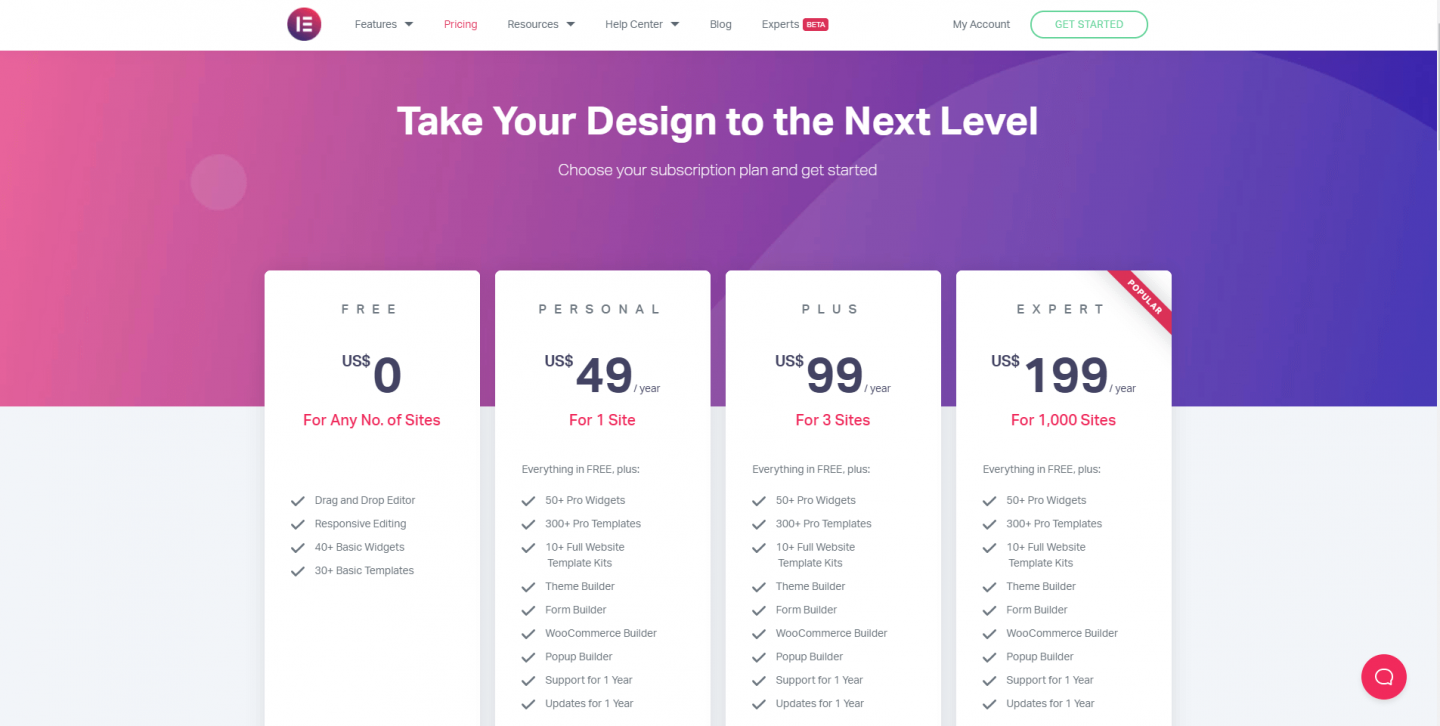 The primary difference between the free version of Elementor and the Premium version is the inclusion of additional 'Pro' Widgets. These significantly extend the options available to you when building a website. In addition, you'll gain access to website Template Kits which can speed up the build process, a popup builder, and access to support. The only difference between the Premium plans is the number of sites you can install Elementor on.
If you're serious about your website then it's definitely recommended that you purchase a Premium licence. For one website this is just $49 which is cheap when you consider the additional functionality you'll gain. This licence is valid for the lifetime of the website (i.e. no annual renewal is required). If however you don't renew your Premium licence annually, you'll lose access to their support and updates. This is a fair compromise… if your site is up and running and you have no further need for support then you won't need to renew and your site will continue to operate with all the pro features available. Just bear in mind that as well as losing access to support, you won't be able to install updates that may include security patches as well as new feature releases.
A Closer Look at Elementor Pro Features
Support and updates aside, what do you get for your money with Elementor Pro? A lot actually!
We all want our websites to look good and the more easily we can achieve this the better! Elementor Pro includes 50+ widgets to help you do just this. These include things like Pricing Tables, Forms, Animated Headlines, Galleries, Media Carousels, Login widgets and a whole lot more. You can check out the full list on the Elementor website.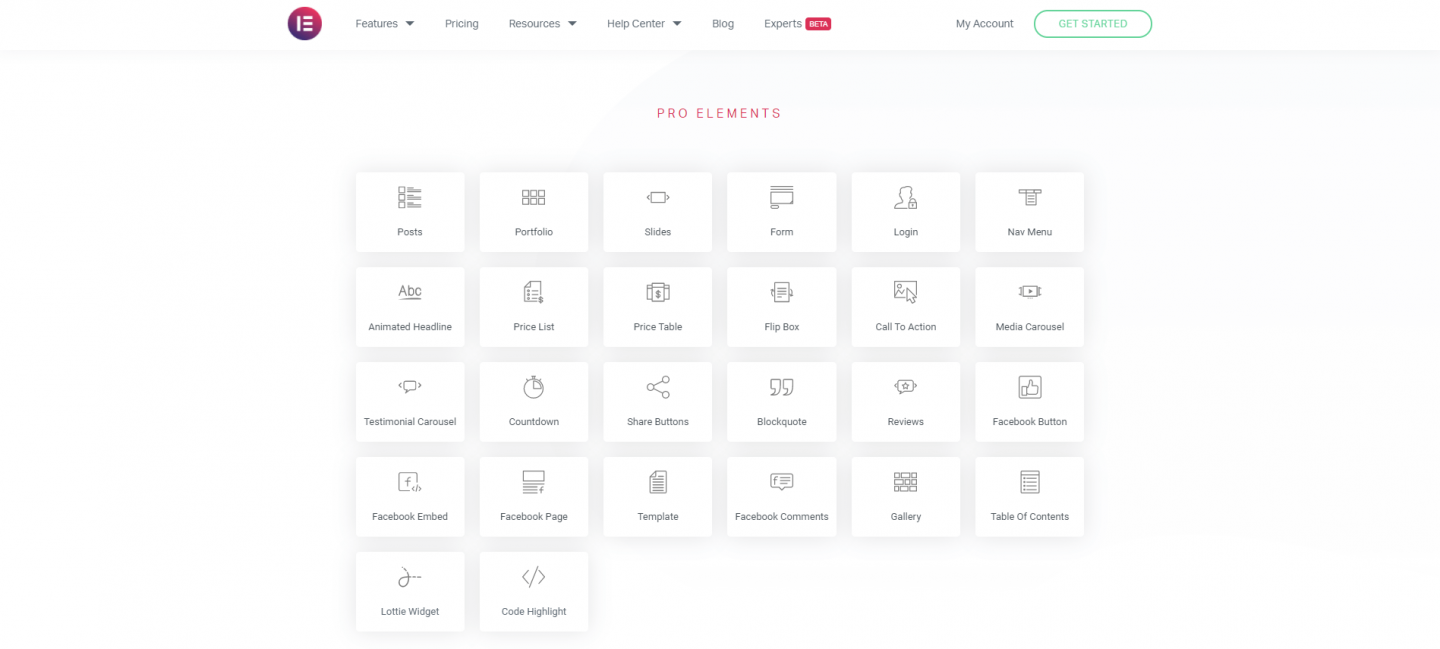 From a marketing perspective, Elementor Pro includes some really useful additions including tools like a Popup Builder, Sticky Elements, Social Buttons & Integrations, Social Proof Widgets, Call To Action Widgets, Action Links and much more.
Elementor Pro also provides you with an almost unparalleled ability to edit the layout of the header and footer sections of your website, areas which are normally 'out of reach' with many alternate page builders. This really can help you take your website designs to the next level and all without having to touch a line of code.
Elementor Integrations
Elementor integrates with a wide range of other apps including Mailchimp, Slack and more.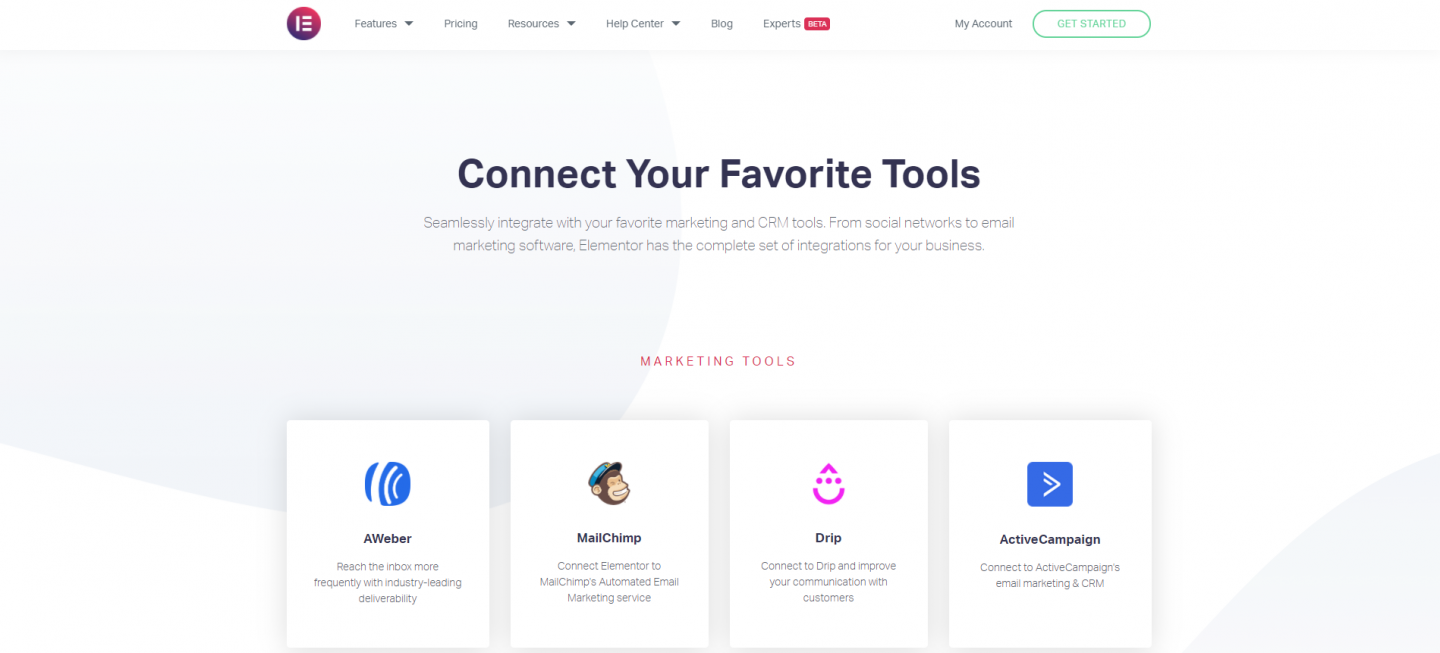 And if you're feeling really adventurous, Elementor allows you to build your own integrations meaning you can connect your website with the apps you really need to use.
How to Use Elementor
Getting started is quick and easy. As with any WordPress plugin, the easiest way to install it is by heading to the Plugins section. From there, search for Elementor and then install it.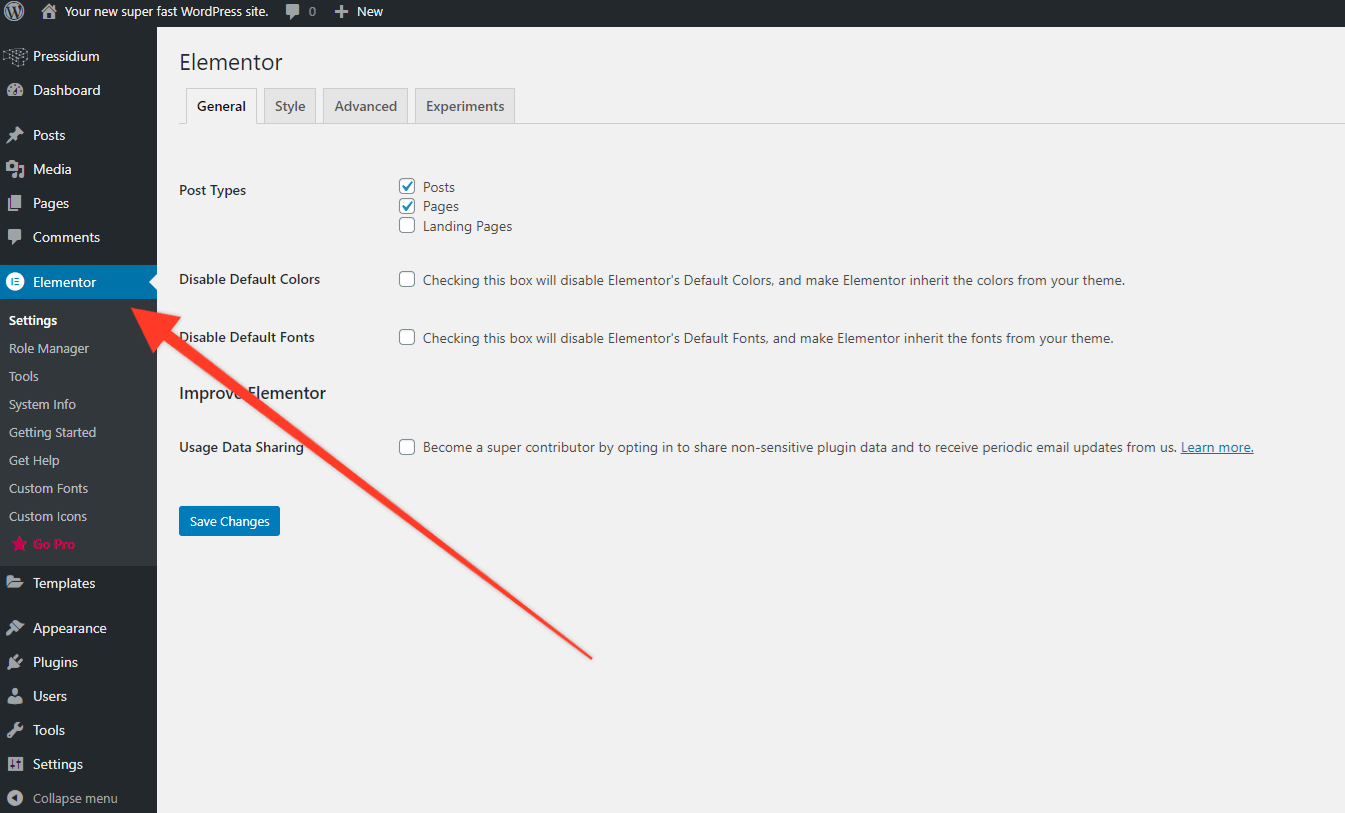 Now, create a new page or post and you'll see at the top a button that says 'Edit with Elementor'. Click this to open the Elementor Editor.

At this point, your page will open and you'll see the Elementor sidebar. Take some time to get used to this… you'll be spending a lot of your design time using it! Anyone who has used page builder before will quickly pick up how this works. Essentially, you have a number of widgets (upgrade to the Premium plugin if you want more) that can be dragged to sections on your page.
Elementor allows you to add multiple sub-sections to each page which can contain any number of widgets. These sections can be divided into columns and resized by dragging. Every Elementor widget you use has its own menu that can be used to control how the widget works and looks. You'll at first probably be a bit overwhelmed by the options you are provided with but after time come to appreciate the sheer level of fine-grained control that is given to you. This in turn allows you to create complex page layouts that would normally only have been possible with extensive levels of custom coding.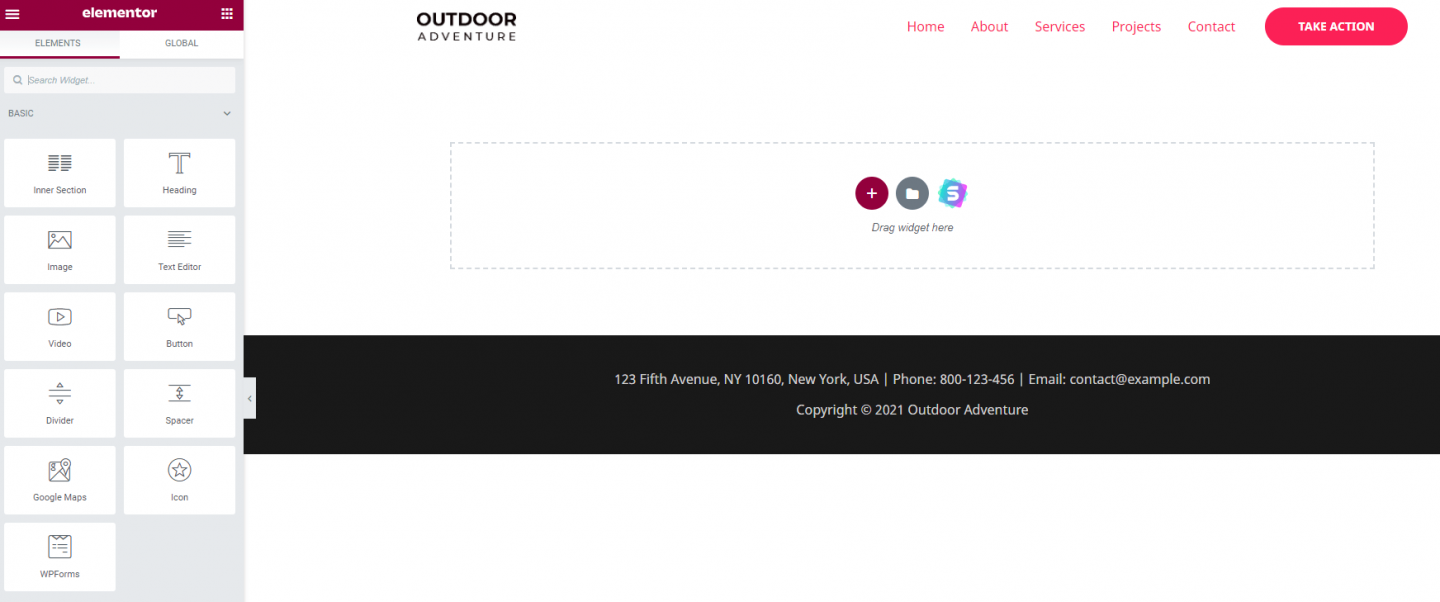 The easiest way to get to grips with Elementor is simply by having a play. In about 15 seconds we were able to add a header image, a two-column layout below this that contains Header text, paragraph text, and a button, all by dragging these from the widget panel.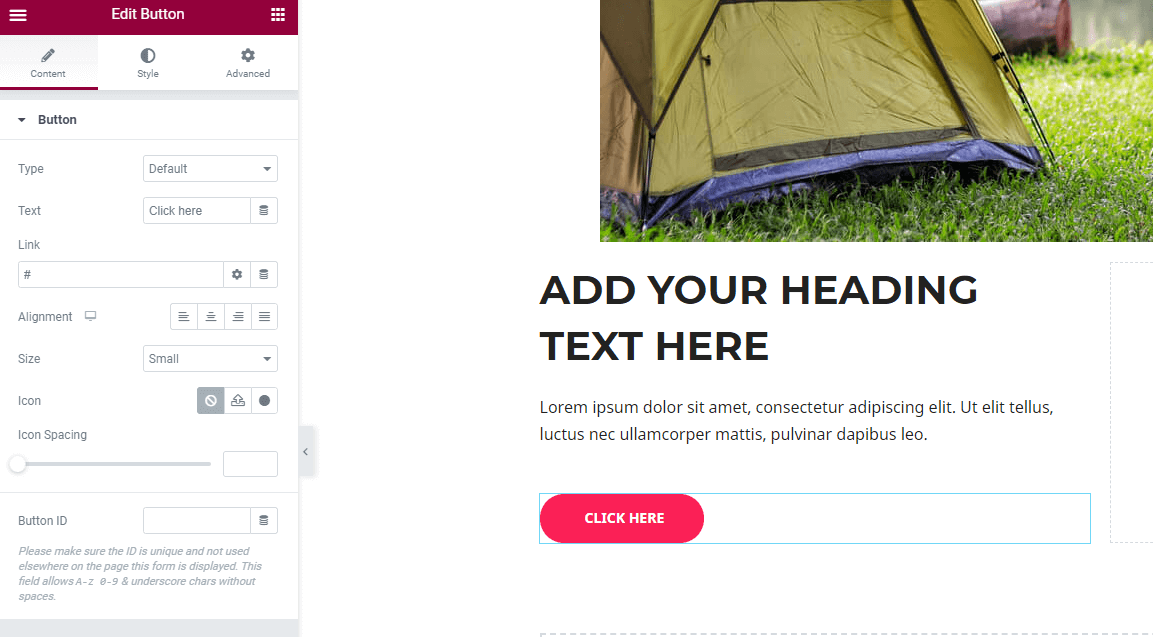 You'll see in the image above that the Elementor sidebar isn't showing the various widgets available. This is because we have clicked on the pink button that has been added to our page. Elementor is therefore showing us the various options available that can be used to customize this button, from obvious things like the url you want the button to head to when clicked right through to size, style, color and so on. The level of customization available to you is seriously impressive.
Try our Award-Winning WordPress Hosting today!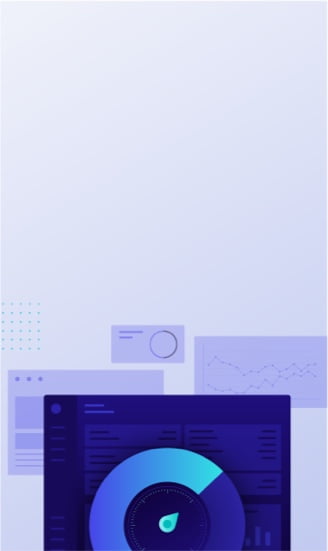 Elementor, as perhaps you might expect, also allows you to design your site so it is mobile responsive. If you look at the bottom of the Elementor menu sidebar you'll see a small icon that looks like a computer screen. Click this and then choose either tablet or phone layout. Elementor then shows you how your site looks in this format.
Here's the clever thing… you're not restricted by the auto-generated layout that Elementor creates for these mobile views. If you want to refine how your site appears on these different screen sizes then go right ahead and edit your page content whilst the page is open in the responsive view. Elementor will save these changes which will only appear in that particular view. Again, control is the watchword here and Elementor provides it in spades.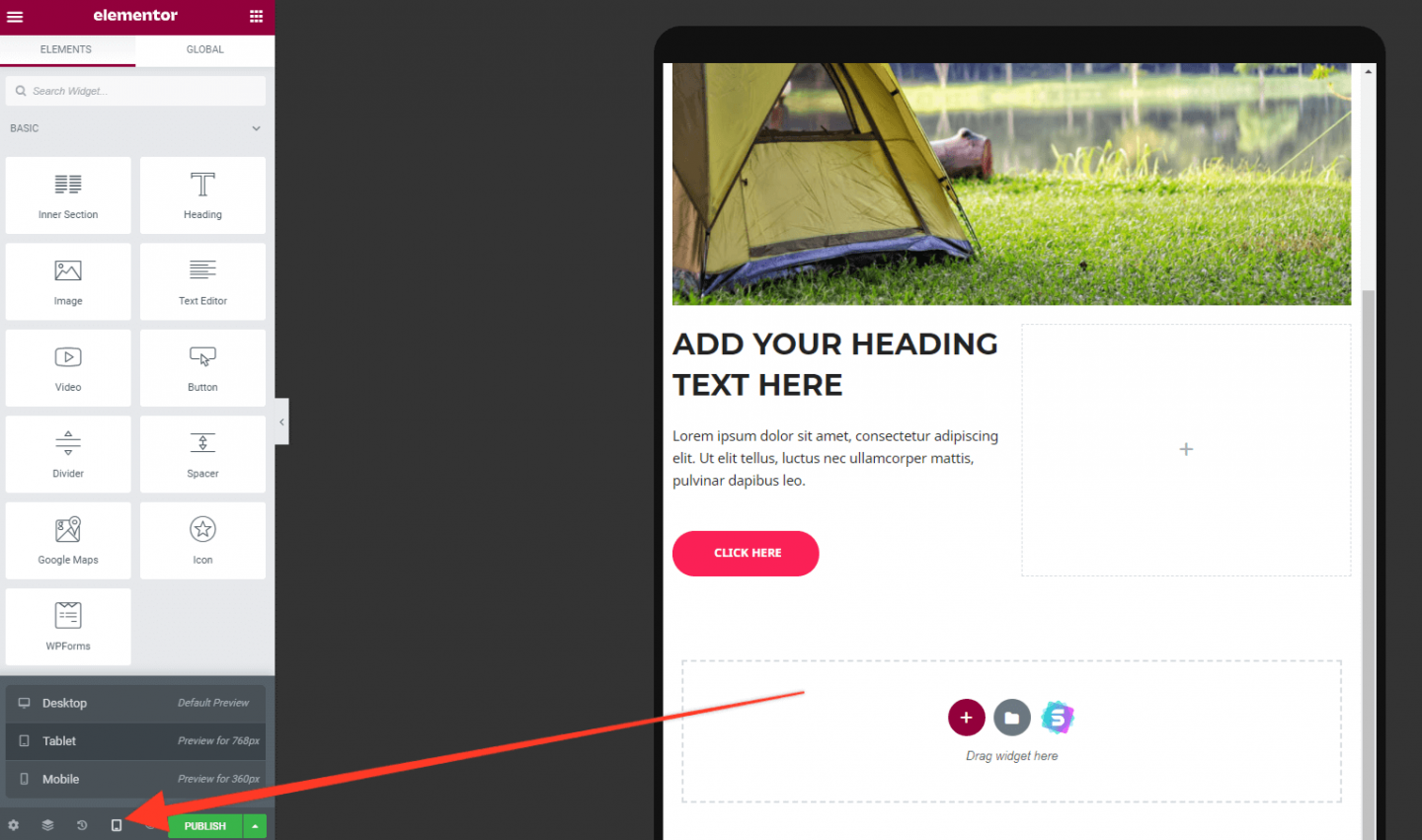 By right-clicking in the content area you can view the navigator, a very practical tool for jumping into any section quickly. Just click on a section and the page will automatically scroll to the start of this area.
Elementor Template Library
The Template library that Elementor provides is one of many reasons why it is such a popular choice as a page builder. You can access this straight from on the page by clicking the folder icon (see below).

This will open a modal window that displays a wide range of both Templates and Blocks. Templates are whole page layouts that can be imported with a single click. These give you a huge boost in terms of speed but can also be a really useful way of 'reverse engineering' how a specific design has been created in Elementor.
Blocks are similar to Templates but restrict themselves to a smaller subsection of a page (for example a Hero section or Call to Action area). This allows you to pick and choose different designs that can be used on your page.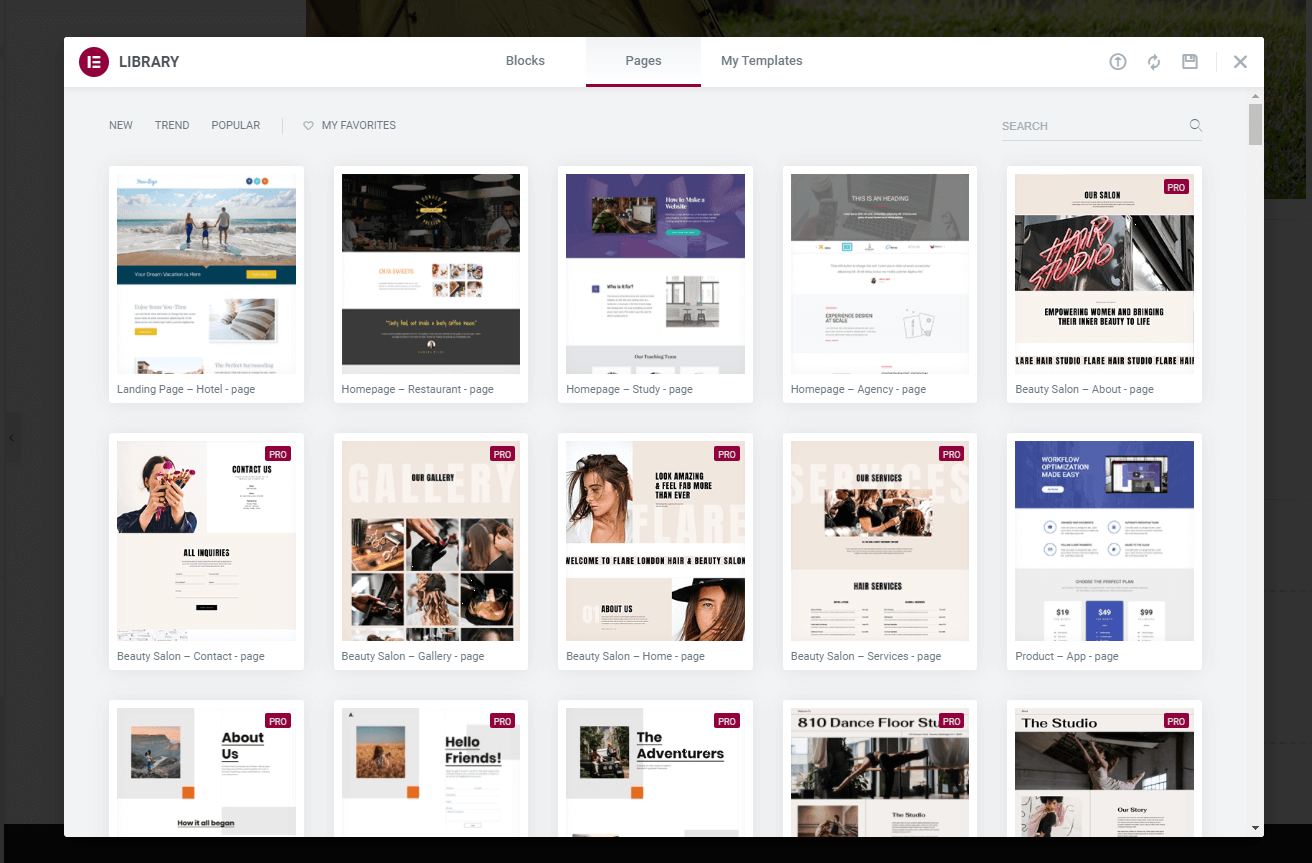 Revision History
Made a mistake? Not to worry. Elementor has an excellent 'Revision History' feature that allows you to wind back any changes you make. To use this, click the History icon right at the bottom of the Elementor menu and you'll see a full list of the changes that have been made to your site. Select any of these to restore your page to that point.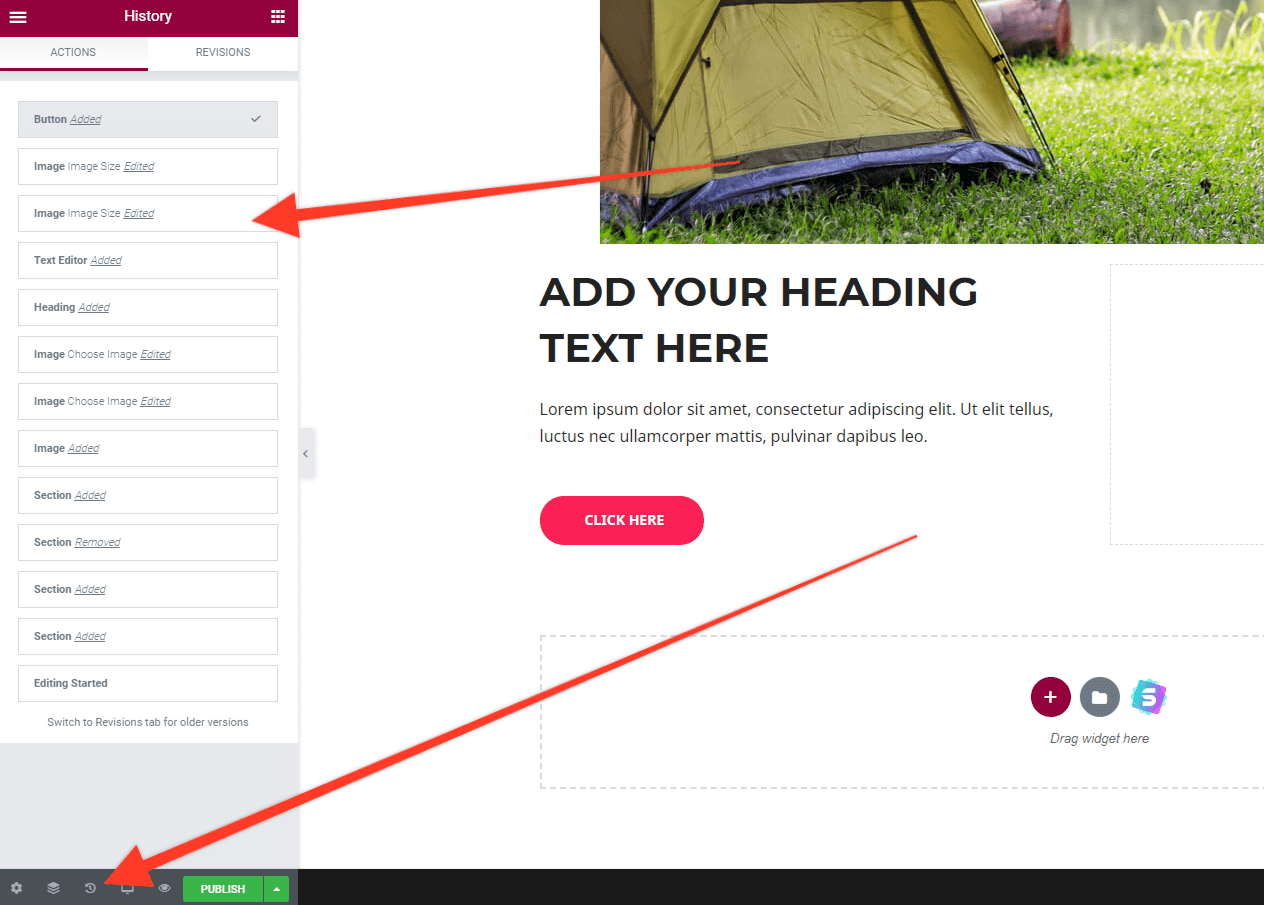 Elementor… the Page Builder to Beat?
Elementor is, without doubt, a top choice for those who want a feature-rich WordPress page builder. It is robust, well supported, and allows you to create a truly bespoke WordPress website with little know-how required. The free version provides enough tools to allow you to really 'try before you buy'. You might well find it offers everything you need but at least upgrading to the Premium version won't break the bank if this is needed.
Beaver Builder
Beaver Builder, like Elementor is a page builder for WordPress. According to Beaver Builder over 1 million websites now use their page builder to create great looking websites. Beaver Builder has a sizeable fan base and is consistently recommended for creating custom elements, themes or templates.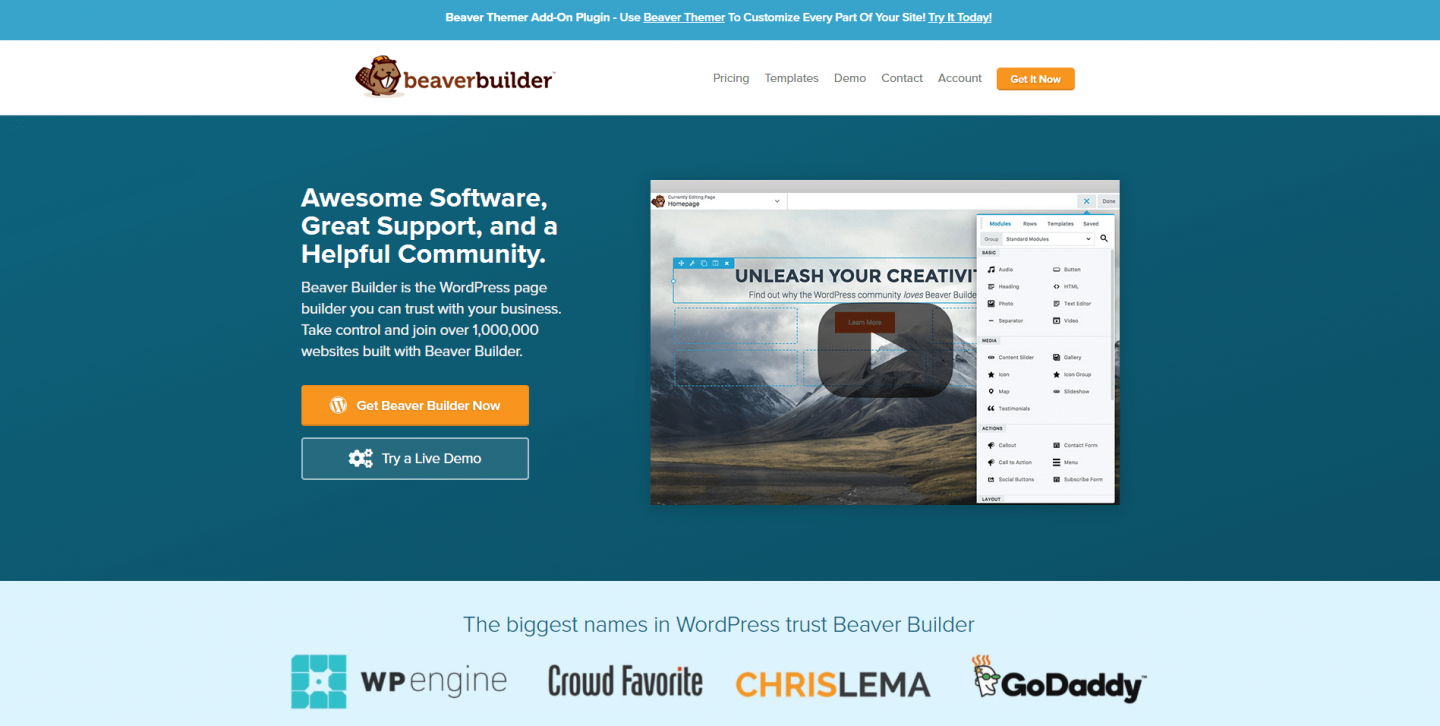 Beaver Builder was launched back in 2014 and has been consistently developed since then. With over 300k active installations it's certainly popular. Let's take a look at what it has to offer!
Beaver Builder Pricing
Beaver Builder has three different price tiers you can choose from as well as a 'Lite' version of the plugin which can be downloaded directly from the WordPress repository.
Unlike Elementor, each plan can be used on unlimited websites. Instead of limiting the website usage, however, the three plans offer increasing levels of features. The Standard plan includes support and Premium modules. The Pro version includes the Beaver Builder theme and is Multisite capable whilst hopping up to the Agency plan allows you to White Label your site… perfect for ensuring your brand, not Beaver Builder's shines through on client sites.
As with Elementor, if you're serious about making your website the best it can be then it's likely you'll want to opt for a Premium version of Beaver Builder. Which one will depend on whether or not you want to use the Beaver Builder Theme (which is a lightweight Bootstrap framework that helps you kickstart your website build) or want to be able to white label the Beaver Builder module. Despite offering a free version of the plugin, Beaver Builder generously agree to provide refunds if you do choose to upgrade and then decide it's not for you.
How to Use Beaver Builder
To get started with the free version of Beaver Builder, head to the Plugins page and search for Beaver Builder. Install it as you would for any other plugin. Beaver Builder doesn't have it's own primary menu link – you'll find it's located under the Settings Menu. First things first and that's to enable it for all the Post Types you want to use it on. To do that click on 'Post Types' and tick the ones you want.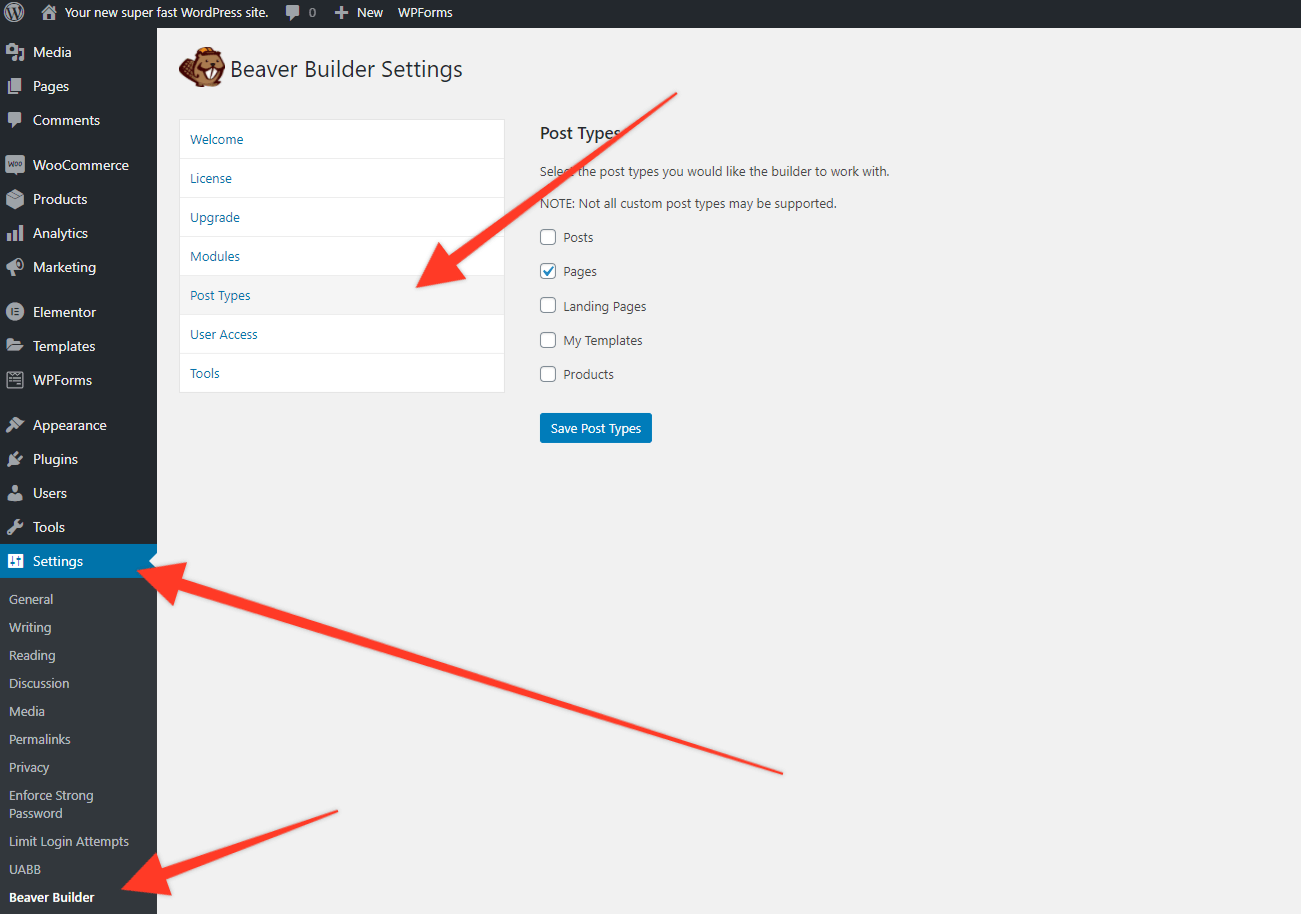 To begin designing pages using Beaver Builder, create a new page (or post) and you'll see a 'Launch Beaver Builder' button in blue. Hit that and the editor will load.

When the Editor loads you'll be offered the opportunity to take a guided walkthrough of the system which is worth doing. Once you've done that, take a look at the top right of the page. You'll see a '+' icon. Click that and the main Beaver Builder menu will open. This works in a similar manner to the menu provided by Elementor with a list of widgets that can be dragged to your page. You'll also spot the Premium widgets – if you want to use these you'll need to purchase a Premium licence.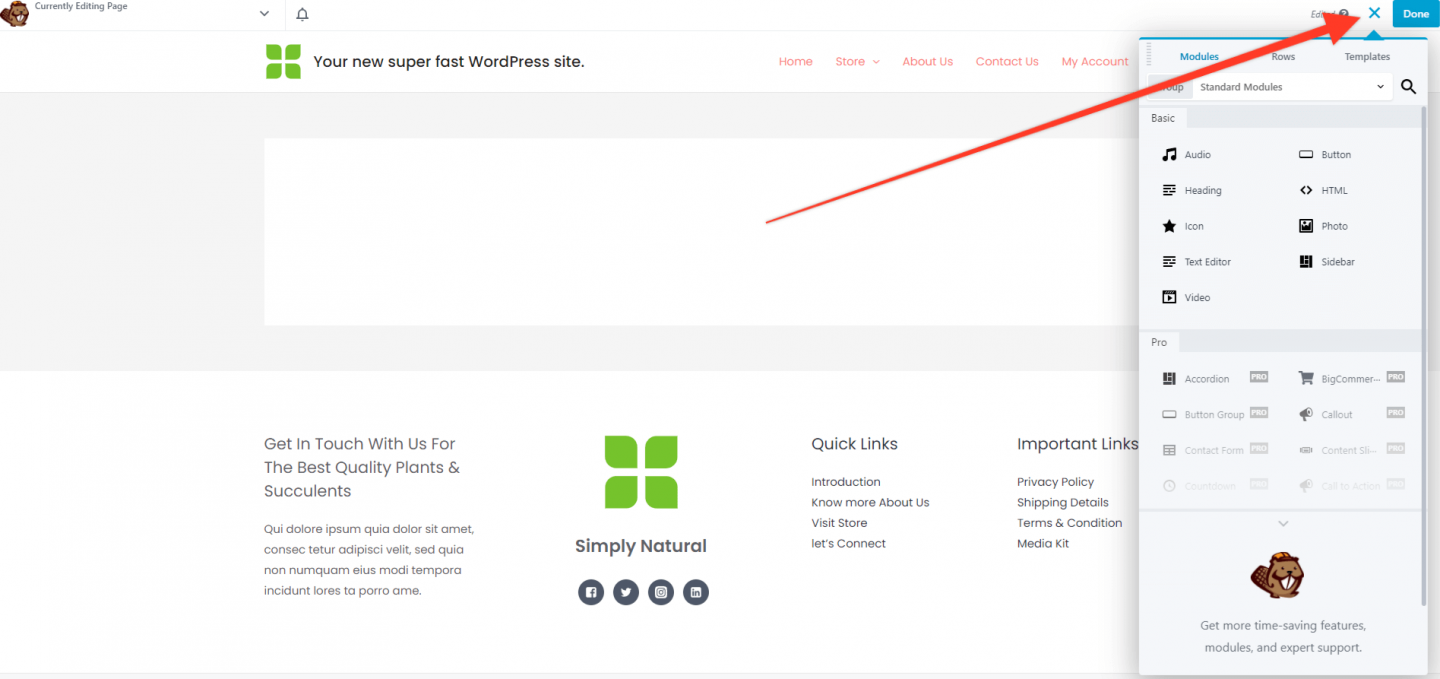 Once you've dragged a widget to the main page body you can click on it and, again in common with Elementor, a new menu will open that will allow you to further configure that section. The range of customizations possible are pretty extensive and you should have no problem achieving the style you want.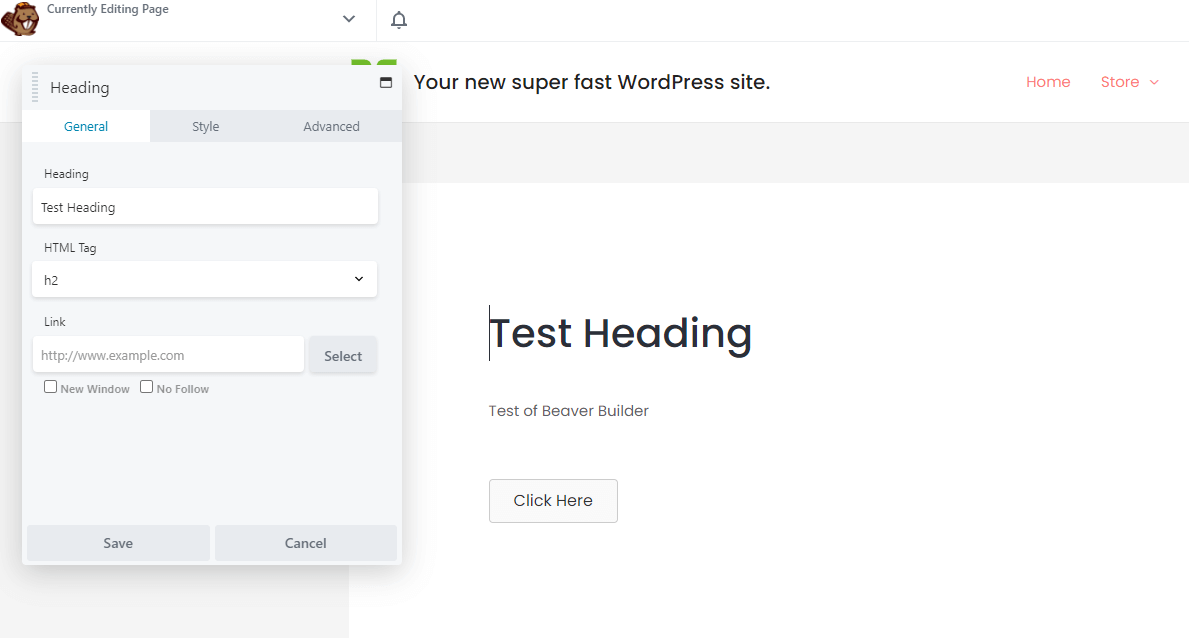 One of the really neat features about Beaver Builder is the ability to create columns by just dragging an element to the left or right. A column is automatically created and then you can size the width of that column by dragging this. It works really rather well!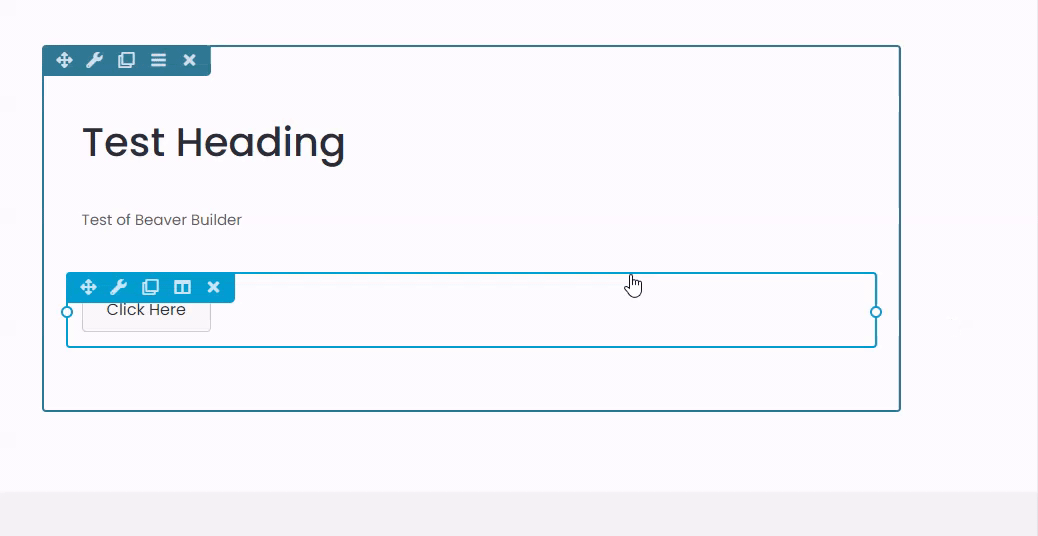 Beaver Builder Integrations
Rather than trying to integrate with thousands of apps, Beaver Builder has focussed on integrating with four platforms and doing so really well. These are:
Big Commerce: The Big Commerce plugin allows you to pull your Big Commerce products into your WordPress website. Beaver Builder then allows you to design custom layouts for these products helping ensure your store looks as bespoke as you want it to be.
Easy Digital Downloads: This complete eCommerce solution for selling digital products through your WordPress website is widely used. Beaver Builder allows you to customize the look of pages used to display products to make them as appealing as possible.
The Events Calendar: This awesome plugin is fantastic when you want to display a calendar on your website. As good as it is though, it can be hard to stylize it to suit your site. Beaver Builder to the rescue! Create your own themes for The Events Calendar quickly and easily so it blends in with the style of your site.
WooCommerce: Perhaps the most popular eCommerce plugin for WordPress, WooCommerce is used by thousands of sites around the world. Beaver Builder integrates extensively with WooCommerce allowing you to enjoy all the customization features you will come to rely on in Beaver Builder to stylize your WooCommerce site.
Extensive support documentation is provided by Beaver Builder to help you make the most of these integrations.
So… Which One is Best?
Oh, it's so hard to answer a question like this! As with most software, there is a lot of user preference when it comes to settling on a system and WordPress page builders are no different. There are things we love about Elementor such as the popup builder which is included with their Premium version of the plugin. Equally, it always feels like there is a modest learning curve to get the best out of the system which can be frustrating for newcomers.
Beaver Builder on the other hand is very intuitive to use. Things like the ability to create columns on the fly by dragging elements around the page borders on the genius! Perhaps though an argument could be made that it's not as feature-rich as Elementor.
So what to do? Your best bet is to install both plugins and have a play. Only then will you come to appreciate the pros and cons of each and settle on the WordPress page builder that is right for you.
Start Your 14 Day Free Trial
Try our award winning WordPress Hosting!