Although WordPress is free to use there are some 'hidden' costs that need to be taken into account when building a WordPress website. These costs include hosting and potentially a theme plus certain plugins used on your site.
When faced with costs, it's pretty natural to look at ways of keeping these low or eliminating them altogether. When you're launching a website on a budget it can therefore be super tempting to save your cash and use a free theme for your new WordPress website.
This gives rise to the question, are premium themes worth the money or can you manage with a free theme? In this article we'll aim to give you the answer!
What is a WordPress Theme?
Before we get into the nitty gritty of whether premium or free themes are best, let's just quickly clarify what exactly a theme is.
WordPress is the underlying system that powers your website. It's completely free to use and can be installed on any suitable server. It provides the core framework that allows your website to function.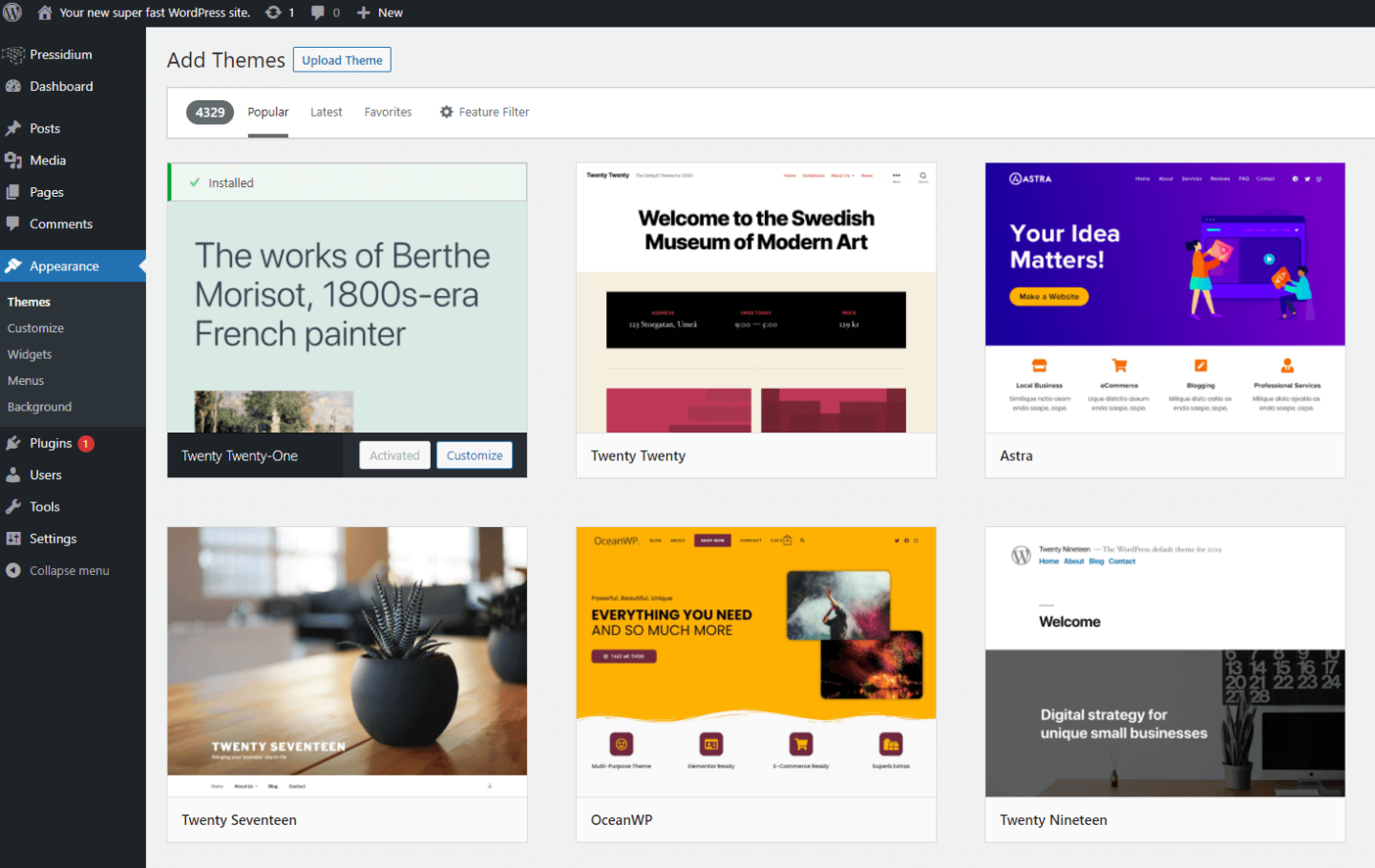 With the underlying framework in place courtesy of WordPress, you now need to make your website look and operate as needed by your or your client. That's where themes come in. Without a theme, a default WordPress website looks super simple (to the extent it almost appears 'broken'). Themes are a collection of files that can be easily installed to turn your WordPress website into something looks, well, more like a website!
Themes dictate page layout, colors, fonts and some functionality on your site. They tend to be configured with a certain style in mind but can be manipulated (often via the WordPress Customizer) to achieve a different 'look'. In common with many WordPress functions, you don't often need a vast amount of technical knowhow to use a theme which is one of the reasons they are so popular.
Free WordPress Themes
Free is good right? Well, normally yes! There are lots of upsides to using free themes but some downsides to consider as well.
Try our Award-Winning WordPress Hosting today!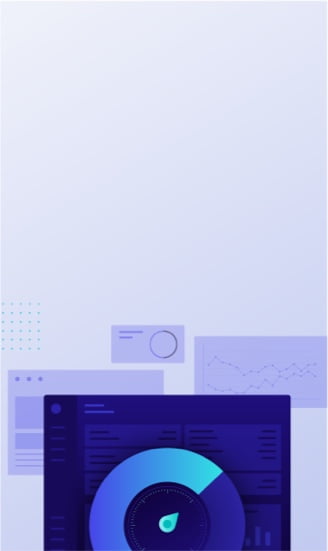 Free WordPress themes are super easy to find. Whack such a search term into Google and you'll get more results than you know what to do with. Whilst on the face of it, the sheer number of free themes is a good thing you do need to be aware of the pitfalls of using some of these. Let's take a quick run through of some of the good and bad when it comes to free WordPress themes:
Free Themes – The Good Points
Free: The first is the obvious one… they're free to use. If you're on a budget or just setting out into the exciting world of WordPress design then a free theme is a great way to test the water without having to part with your hard earned cash.
Simple to use: Free themes are often much easier to use than their often more complex counterparts. This is partly a happy accident… because there are fewer features this reduces complexity. This means they can be a useful training tool for those new to WordPress.
Low Maintenance: Due to their often simple nature and lack of features you can find that they are less onerous when it comes to maintenance.
Fast: This isn't always a given, but many free themes can be very fast to load thanks to their simple design. When layers of features are added, websites can slow down. Free themes tend to be free from the bloat that often accompanies premium themes.
Now we've looked at some of the benefits of free themes, let's crack on and see what the potential downsides are to using them.
Free Themes – The Bad Points
Reduced Functionality: Because building themes is time consuming you rarely get free versions that are packed with features. This can prove frustrating when you find you're unable to achieve the look or function that you want in your site.
No Support: Found yourself stuck with your free theme? Unfortunately, you're likely to be on your own… it's extremely rare for free themes to come with any form of support which means the moment something goes wrong you're faced with paying a developer to help out. This rather ruins the often most common reason for using a free theme in the first place!
No Updates: WordPress is constantly evolving. Both plugins and themes need to keep pace with this change or they risk become insecure and/or stop working. This issue is one that is often overlooked and the costs associated with it are not insignificant, especially if you rely on your website for your livelihood.
Buggy: Some free themes are poorly coded. This will impact both you, the website builder and possibly the end user (your customer). It is hugely frustrating to find an issue with certain elements of your site that can't be easily resolved and are as a direct result of the theme you're using. The time needed to correct such issues can be significant as well as the money involved if you need a developer to help.
Free Themes Conclusions
If you're looking for a free theme, then one of the best places to start is on the official WordPress theme repository. Why? All themes that are submitted go through a comprehensive check before being allowed onto the official repository. This gives you some confidence that the theme is coded to official standards and should work.
Free themes are great when you're just starting out with WordPress or if you're a developer who knows how to handle some of the potential problems listed above. If your website isn't used to generate revenue and is more of a hobby then a free theme could be ideal.
If however you need a more complex site or the reassurance that the theme will be kept up-to-date and that support is on offer then you might want to look at a premium theme.
Premium WordPress Themes
'Premium' in the context of WordPress themes or plugins normally means 'paid for'. In other words, you're going to need to splash some cash if you want to use a premium theme on your WordPress website.
With thousands of free themes available you'll no doubt be asking why you'd do that and not save the money. Let's find out with a look at some of the good and bad points to consider:
Premium Themes – The Good Points
Feature Rich: One of the main reasons people tend to gravitate towards premium themes is that they are often much more feature rich than their free counterparts. When you're looking to build an exciting, good-looking website that has all the bells and whistles needed to delight your customers, premium themes are much more likely to be able to deliver.
Support: Struggling to use the theme or found a bug?Reputable themes from good developers should always come with decent support which gives you reassurance that expert help is at hand when you need it. Just double check the support T&C's before buying however. Most won't provide support for theme modifications that could be deemed 'customization' of the existing theme beyond using any built-in customization options.
Updates: As mentioned, WordPress gets regular updates and your theme needs to keep up or you run the risk of it stopping working (or worse, leave yourself vulnerable from a security perspective). Premium themes will normally come with at least one years' worth of updates (beyond which you may need to pay for further updates).
Given that a significant number of high-quality themes cost around $50, the added benefits that come with such a theme are pretty significant. Whilst on the face of it you might not want to spend more than you have to, $50 (or thereabouts) is a relatively modest investment if it ensures your website looks great and functions as needed.
Premium themes are widely available although it's important to be 'buyer aware'! Not all are created equal. When it comes to finding a suitable theme you have two main options. The first is to use a theme marketplace such as Theme Forest. You'll find thousands of premium themes to choose from along with detailed reviews of each so you can be confident you're buying the right theme for you.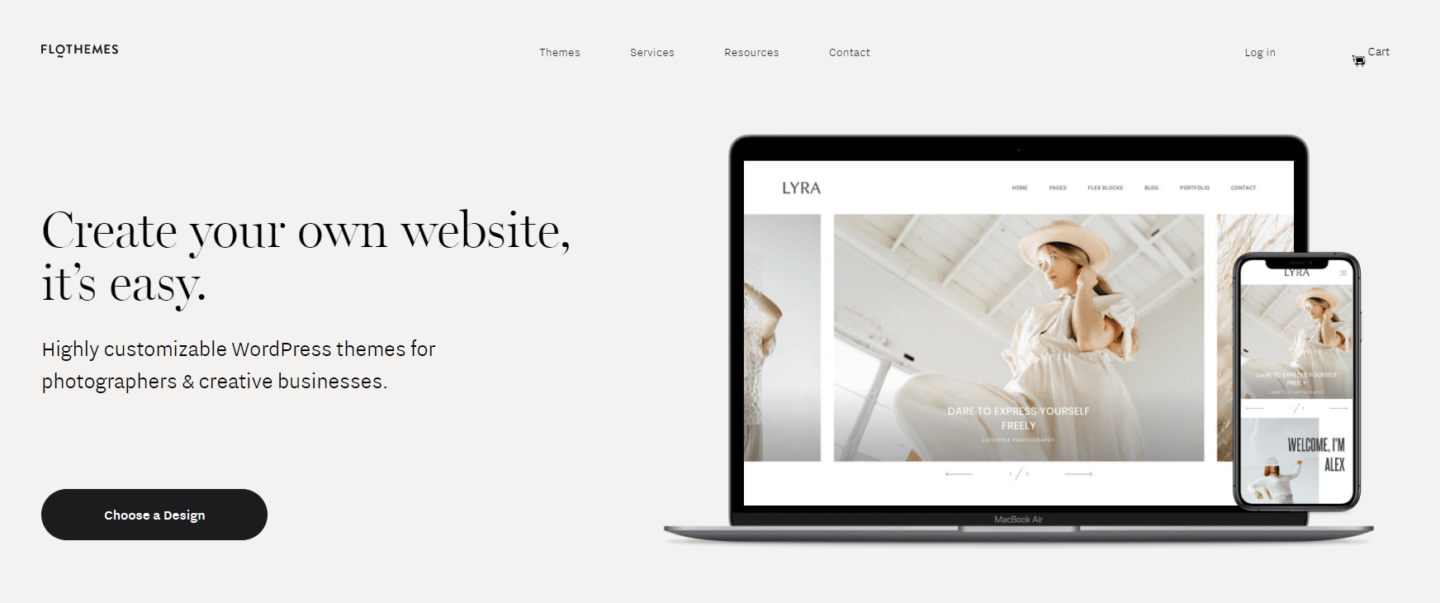 Other options are to buy from a dedicated theme developer that might specialize in building themes for your industry. For example, Flothemes build slick looking themes for photographers.
So, Which is Best?
In our opinion a Premium theme is pretty much the right choice for just about everyone who cares about their website. The sheer amount of effort and time required to customize a basic free theme to achieve what you want is normally significant and far eclipses any monetary saving. The only real time that free themes come into their own are if you are either a) a developer who is capable of expanding a theme to suit your needs or b) new to the world of WordPress and just want something to get the ball rolling with.
Whatever you choose however you won't regret using WordPress as your CMS of choice for your website. Happy site building!
Start Your 14 Day Free Trial
Try our award winning WordPress Hosting!