Ever found yourself on the hunt for that perfect agency partner for your projects, and thought, "There's got to be a better way"? Well, we've had our 'Eureka' moment, and do we have some exciting news to share!
At Pressidium, we're all about providing businesses and brands with premium, super-fast, ultra-reliable, and rock-solid managed WordPress Hosting. But guess what? We've got more up our sleeves. We're about to change the game with the Pressidium Partner Agencies Directory.
How to Access the Directory:
This isn't just another "coming soon" announcement; it's the real deal! You won't have to sit idly waiting for the launch because our directory is live and ready to assist you right now. As of today, you can jump right in and start exploring: Visit Partner Agencies Directory
How to Master the Filters:
We've gone all out to ensure your experience is nothing short of stellar. Our efficient filter system lets you customize your search, ensuring you discover the ideal partner for your project. Whether you're looking for agencies in a specific location, specific services, or budget-friendly options, our filter feature has you covered.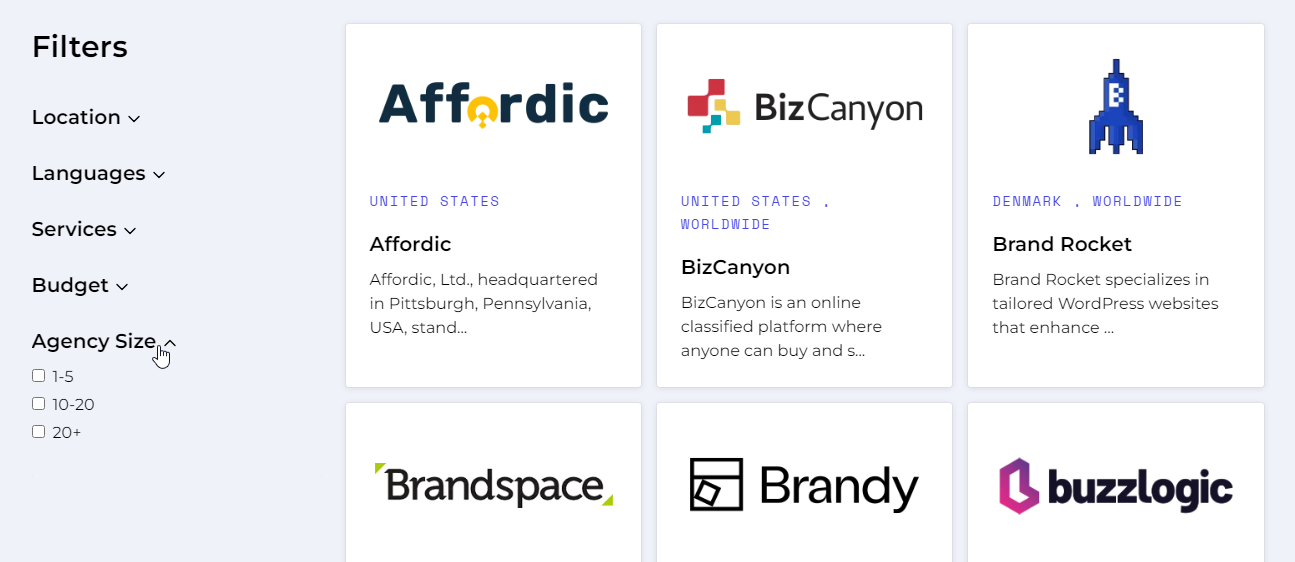 A Sneak Peek into Agency Profiles:
Each agency comes with its own dedicated profile, packed with all the essential details, including:
Services: Discover what each agency specializes in, from web development to digital marketing, design, and beyond.
Project Pricing: Get the inside scoop on how agencies charge for their services, so you can choose one that fits your budget.
Location: Need an agency close by? Our directory has you covered.
Size: Whether you're looking for big or small, we've got agencies of all sizes.
Languages Spoken: If you require an agency that speaks your language, look no further.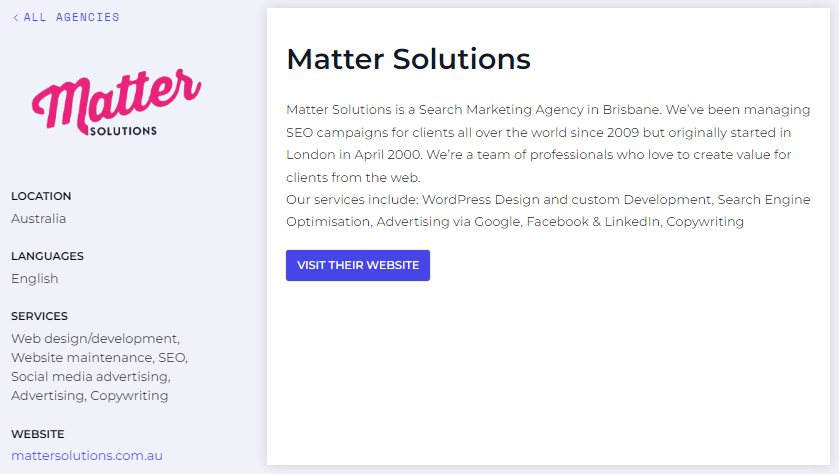 So, what's in it for your WordPress site and business project?
Streamlined Selection: Say goodbye to those endless hours scouring the internet or tapping into your personal network to find the right agency. Our directory is your one-stop-shop to spot potential partners quickly.
Efficient Comparison: No more juggling multiple tabs and dealing with messy spreadsheets. We've introduced standardized profiles filled with key information to make your search smoother than a stick of butter.
Time-Saving: Why waste precious time researching and reaching out to agencies individually? Our directory narrows down the options based on your specific needs, giving you more time to focus on what you love.
Increased Confidence: Our agency profiles are concise but packed with essential info. This assures you that the listed agencies are top-notch with a track record of successful collaborations, helping you make confident decisions.
User-Friendly Interface: Our directory isn't just about results; it's about your journey. We've designed it with you in mind, making it effortless for you to find, compare, and connect with partner agencies.
So, what's in it for the agencies?
Network Expansion: We've come a long way from our humble beginnings. We started with just a handful of agencies, and now we proudly boast a dynamic network with over 20 partner agencies and counting.
Growing with Purpose: We're not just about the numbers. Quality always trumps quantity. We thoughtfully select every addition to guarantee excellence.
All agencies listed enjoy fantastic exposure right here on Pressidium.
This is our partner ethos:
"Thanks for doing this for us. You guys really separate yourselves from all the others by doing work like this on such a hyper-personal level. In today's age, this is exceptionally rare and I just want to pass on my gratitude.
Thank you guys. 🙏 "Nick Schvabenitz/ Affordic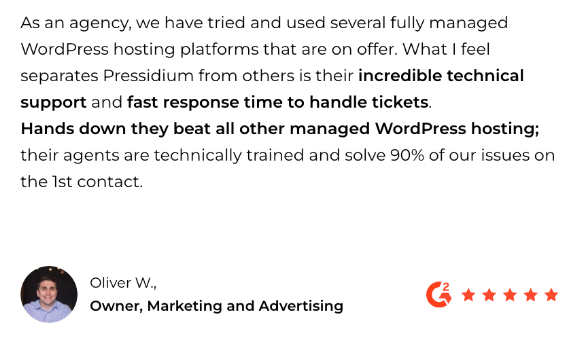 How to Become a Partner Agency:
Joining our directory is a breeze. Simply complete this form, and our Partners team will reach out promptly. Don't miss the opportunity to grow with the Pressidium community!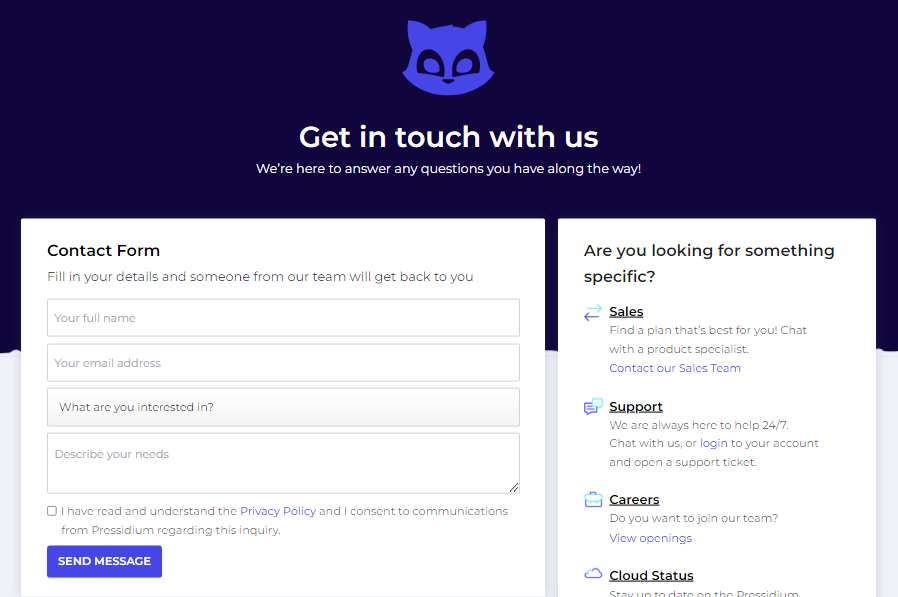 We're always on the move, working to improve our Partners Network. Here's a sneak peek of what's coming:
Ongoing Expansion: Our directory continues to grow, offering a wide range of services.
Introducing a Tech Partner Space: Get ready for a dedicated hub featuring tech leaders from various industries, paving the way for exciting collaborations.
Stay updated: Watch for our latest directory updates, new partnerships, and the launch of our Tech Partner Space.
Share Your Ideas: Your input is incredibly valuable to us. If you have any suggestions or specific sectors you'd like to see, reach out and help us shape the future.
With our continuously growing directory of agencies and the introduction of the Tech Partner Space, we're dedicated to connecting you with trusted and innovative partners in the tech and WordPress community. We're excited about the possibilities and collaborations that will result from this initiative.
So, stay connected with Pressidium to access the latest and greatest. Let us know how we can make your experience even more amazing and tailored to your unique needs. Because of your success? That's our number one goal!
Don't forget to follow us on Twitter, Facebook and Linkedin.