We have a bumper load of new features that have been rolled out over the last month. Of particular excitement is the hotly anticipated release of our brand new Two Factor Authentication system for the Dashboard. Read on to find out more!
Two-Factor Authentication is Here!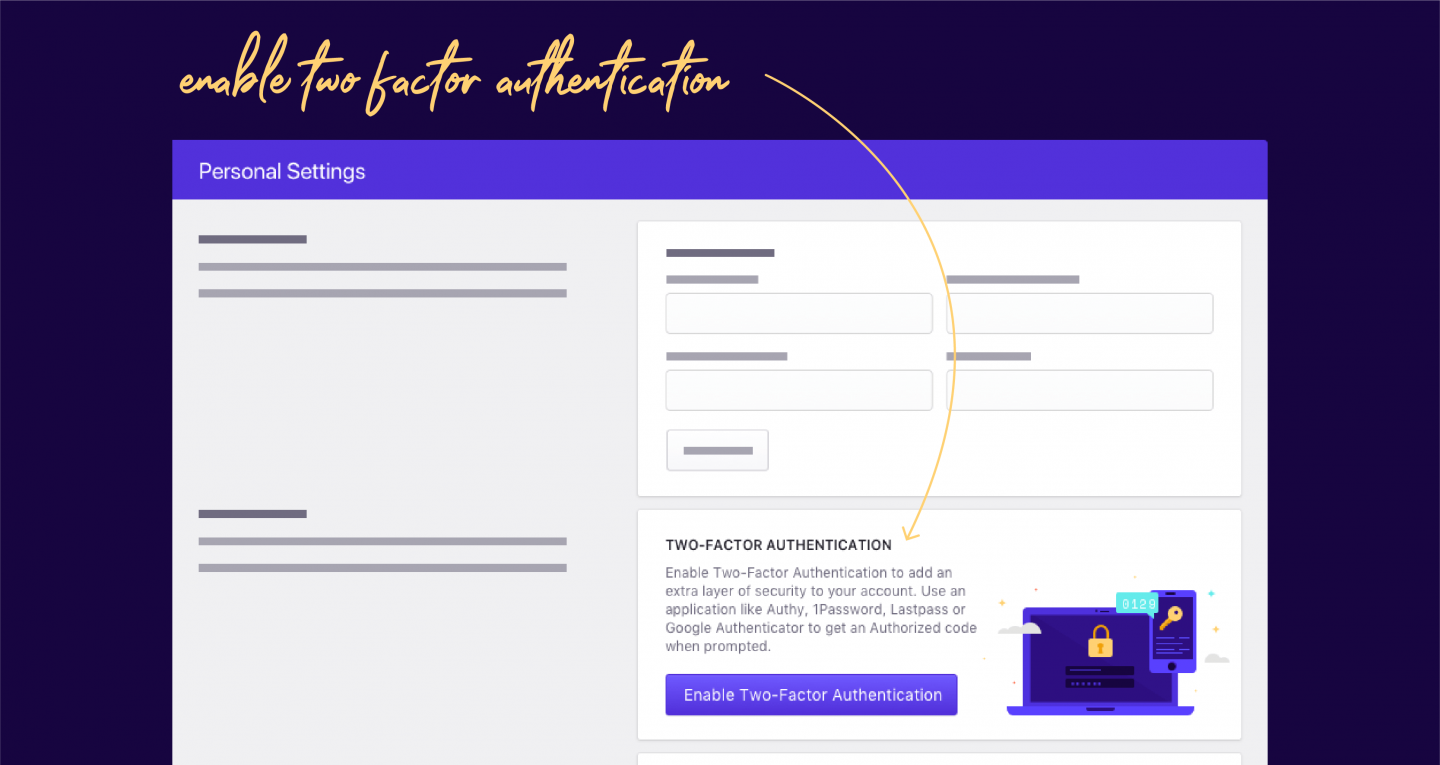 We are really excited to roll out a hotly anticipated addition to our Dashboard… Two-factor Authentication. Two-factor authentication (2FA) greatly enhances your account security by requiring a second piece of information to validate your identity when logging in, helping protect your Dashboard from unauthorized access.
It's super easy to enable. You'll first need to download an authenticator app (like Google Authenticator) on your phone. Then, log into your account and head to 'Personal Settings' (click on the user icon in the bottom left of the screen). You'll then see the new Two-factor Authentication screen. Follow the steps in this guide for more information.
Easy WordPress Core Updates from the Dashboard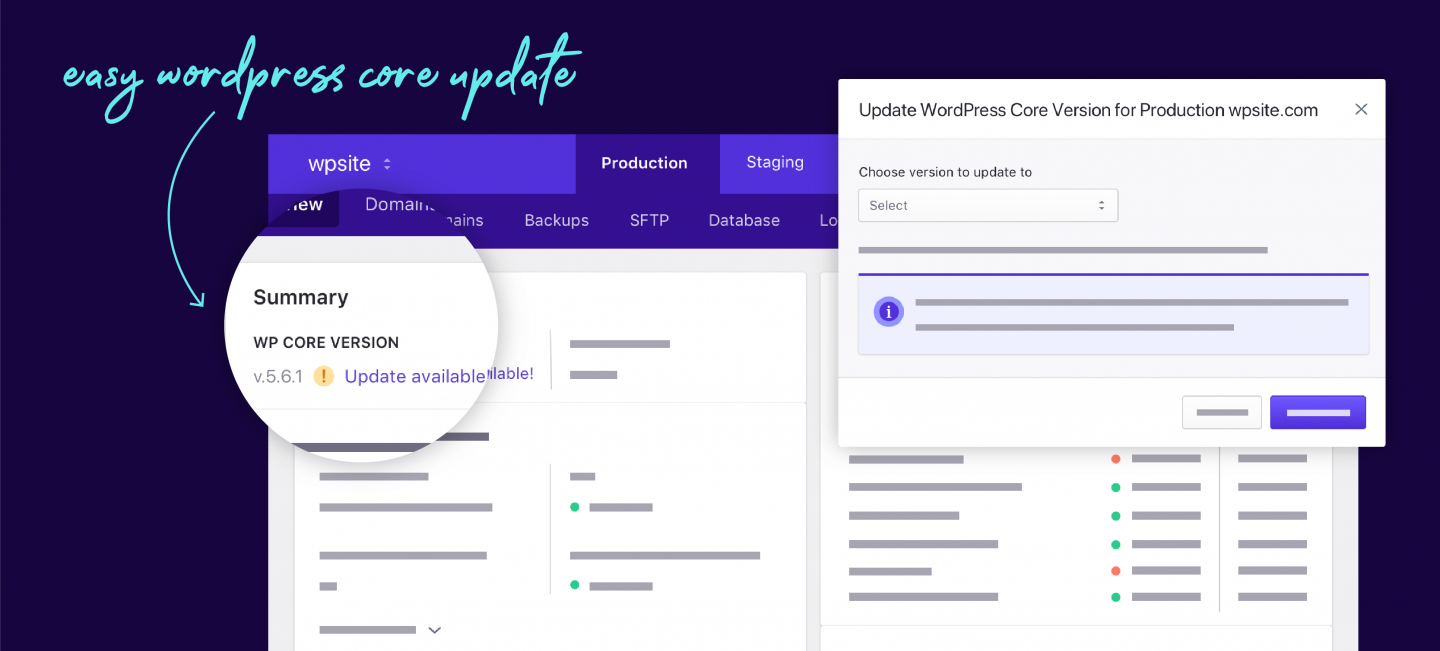 As a Managed WordPress host we take care of updating your website(s) WordPress core for you. We do this in a controlled manner after testing each new release of WordPress to help ensure that there are as few compatibility issues as possible as a result of any update. Because of this testing phase, there is normally a short delay between the release of a new version of WordPress and this update being rolled out to your account. You can read how we handle core updates in more detail here.
There may be times when you want to proceed with a core update prior to this being deployed on our platform. Previously this was only possible by instigating the update from within the WP Admin area of each website. This could prove a little frustrating, especially if you are managing multiple websites. Now though you can manage this process from within your Dashboard!
Simply open a website from within your Dashboard and, on the Overview tab, you'll see a Summary section which details the WP Core Version which that site is running. If an update is available it will display here. Simply click this to initiate an update to the latest version.
Website Notes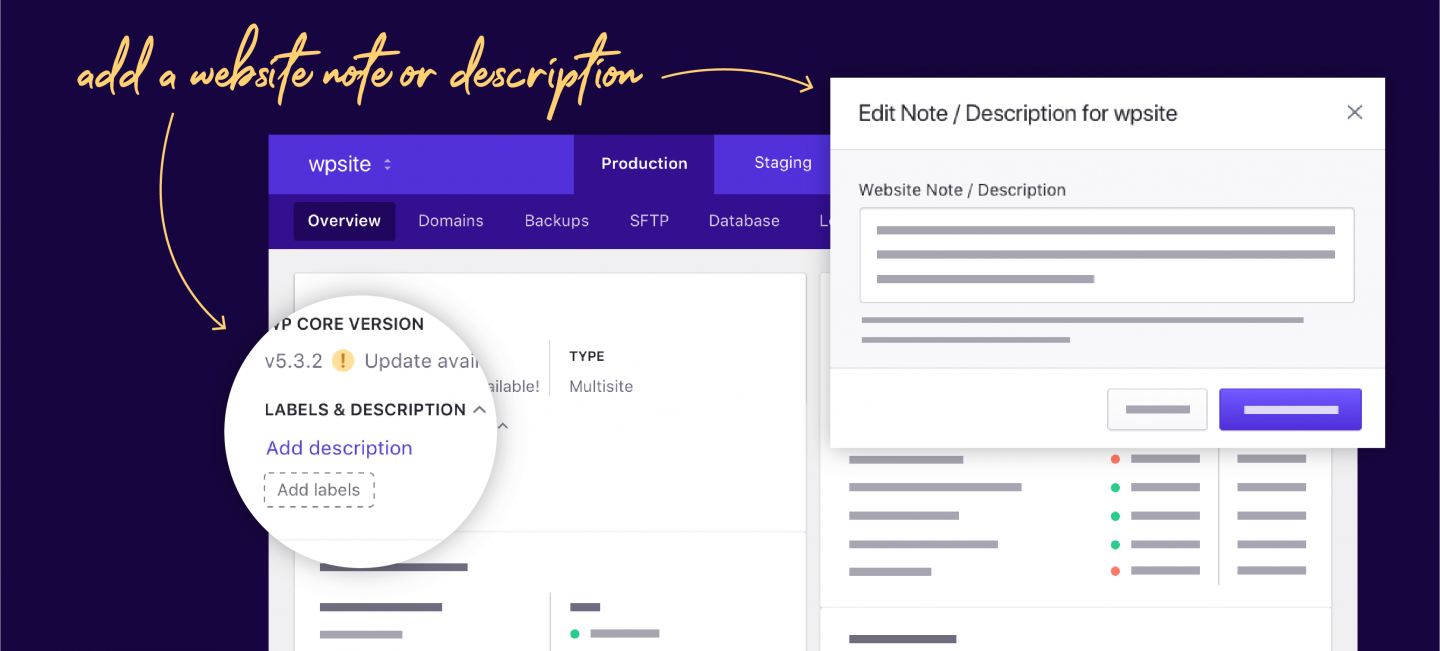 If you're managing a large portfolio of websites, and especially if you have multiple team members undertaking work across these sites, it can be hard to keep track of certain critical information pertaining to each individual site in your portfolio. Now though, it's easier than ever thanks to our new Description feature.
You'll find the 'Add Description' link located just below the Labels & Description section in the Overview tab. Click this to launch a popup where you can add notes about the website. This is a simple but cool feature that we hope you'll find useful!
That's it from us this month. If you haven't already, subscribe to our newsletter to be kept up-to-date on the latest news from us.
Start Your 14 Day Free Trial
Try our award winning WordPress Hosting!