In Part 2 of our series 'Life & Work During the Coronavirus Epidemic' we are going to take a look at how remote teams can share files and better collaborate on projects. We'll be looking at the tools available that can help make this process easier, clearer and less stressful!
File Sharing Services
For quite some time, many businesses relied on an in-house server to share files between team members. In the last few years, cloud storage and collaboration tools have taken a leap forward making in-house servers a thing of the past.
Today, services like Dropbox, Box and Google Drive all allow quick and easy asset sharing – from Word docs through to PDF's, photos and more. These services act very much like an in-house file server but come with a multitude of additional benefits, with the number one 'must have' feature of allowing employees to access files from pretty much any device anywhere in the world.
This is a huge improvement over more old-fashioned file storage and sharing systems. Not only does it make accessing files super easy but these cloud-based systems also offer an additional layer of security for your business files in the form of an offsite backup.
Ease of use is another major reason why so many businesses are now embracing third-party file-sharing services like Dropbox. The learning curve is low whilst the control and level of features available are high. For example, it's the work of a couple of clicks to change access permissions for whole folders to allow (or deny) access to designated employees.
File revisions are another great feature that you'll wonder how you lived without… when you have a team collaborating on shared files you can sometimes end up with the unfortunate situation where changes are made that you later decide are not wanted or are perhaps incorrect. Traditionally it would have been hard to revert to a previous copy of a document. With the likes of Dropbox or Box, it's possible to see the number of file versions made over the lifetime of the document and to revert to any one of those at a click of a button. A lifesaver at times!
Let's have a quick look at 3 of the main players in this sector:
Dropbox
Dropbox has undergone something of a makeover in the last couple of years. It wasn't that long ago that it was viewed as primarily a 'home' file storage and sharing app. How times have changed. It is now a serious player in the Enterprise sector and trusted by household names such as Lonely Planet and Expedia.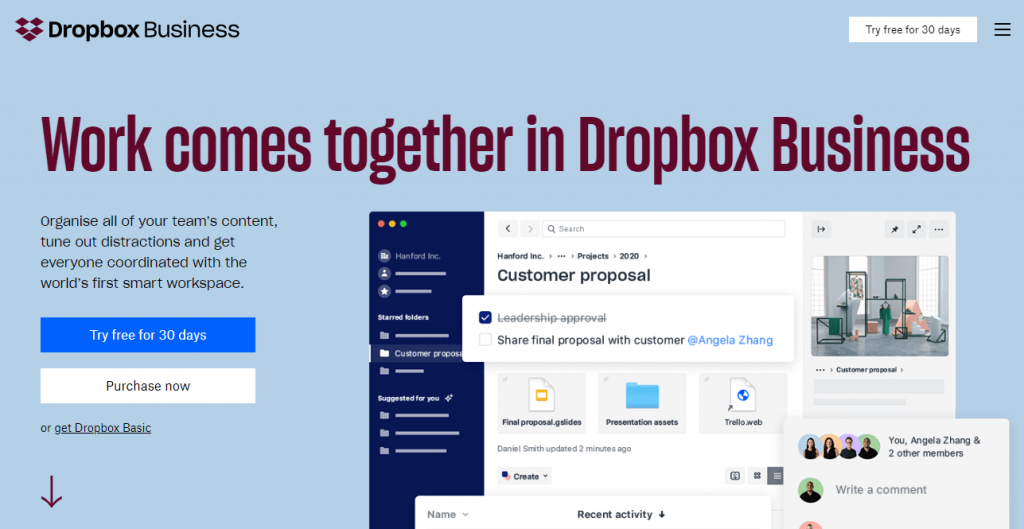 Dropbox works best when you download their desktop app. This creates a dedicated Dropbox folder on your computer into which you can drag all the files that you want to store on Dropbox. And, plan dependant, this can be an unlimited number with no storage restrictions at all. These files can stay living on your desktop which gives you easy access if you don't have an internet connection but also seamlessly get copied to the Dropbox cloud in the background. This then allows you to grant access to these files or folders to other team members. File revisions are kept and can be restored at a click of a button, whilst the fact that these files are stored securely by Dropbox gives you peace of mind if your computer or laptop was to either fail or be stolen. On that note, Dropbox even provides the ability to remote wipe your computer in the event of theft.
Dropbox is definitely worth a try. The file sync and restore process is staggeringly fast and reliable and the overall system is extremely well designed. Check it out at dropbox.com
Major pro point: Effortless file sync between your desktop and the Dropbox cloud almost regardless of the number of files you want to store.
Microsoft One Drive
One Drive pitches itself as a Dropbox competitor and is the primary file sharing and storage system for Microsoft 365 customers. If you have an Office 365 subscription that includes email and access to things like Word and Excel then you almost certainly will have access to around 1TB of storage on One Drive.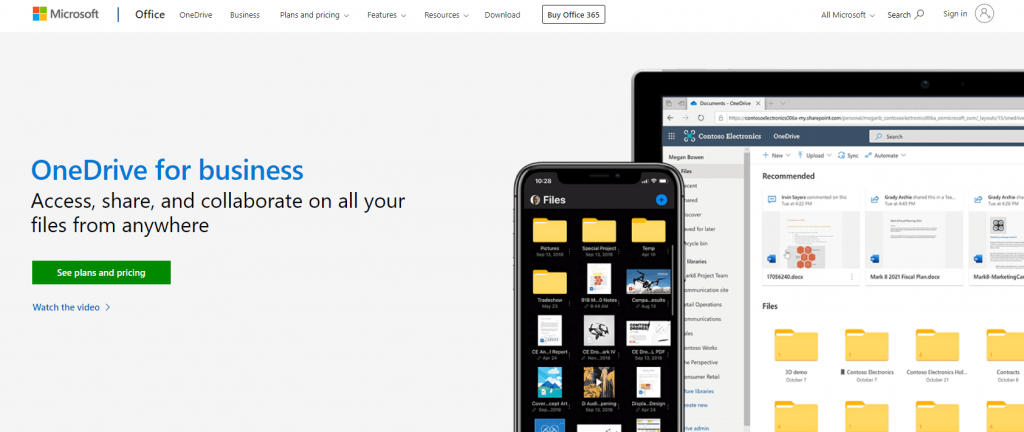 The idea behind the system is very similar to Dropbox… it allows files to be stored in the Microsoft Cloud giving you the ability to share and collaborate with your team plus the added benefit of having your files backed up to a remote location.
Because it forms a key part of the Office 365 product offering it is very well integrated into pretty much all Microsoft products (like Word) and allows you to quickly and easily save to the cloud from within these apps.
Try our Award-Winning WordPress Hosting today!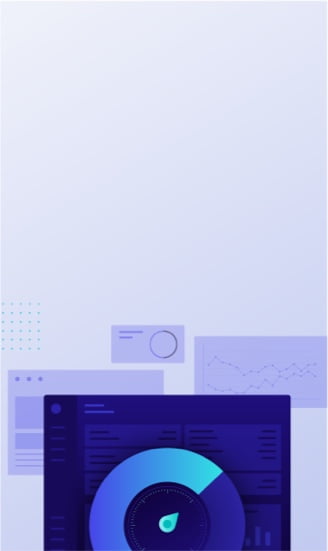 Microsoft also have a Desktop app that, like Dropbox, turns a folder into a 'live' connection with the One Drive cloud. Files dropped into this will sync with One Drive and files already saved will download to your computer allowing for easy offline access.
Although it offers good value for money courtesy of being included in an Office 365 subscription there have been reports of issues when trying to sync large numbers of files. That said, for smaller teams who don't have tens of thousands of documents it offers a viable way to share and collaborate with colleagues. Take a look at office.com
Major pro point: Included for free with Office 365 subscriptions meaning you have one less bill to pay.
Box
Box is a major Dropbox competitor (and not just because they have similar names!). Box was the original Enterprise file sharing service and continues to this day focussing its efforts on delivering a great file sharing tool for companies around the world.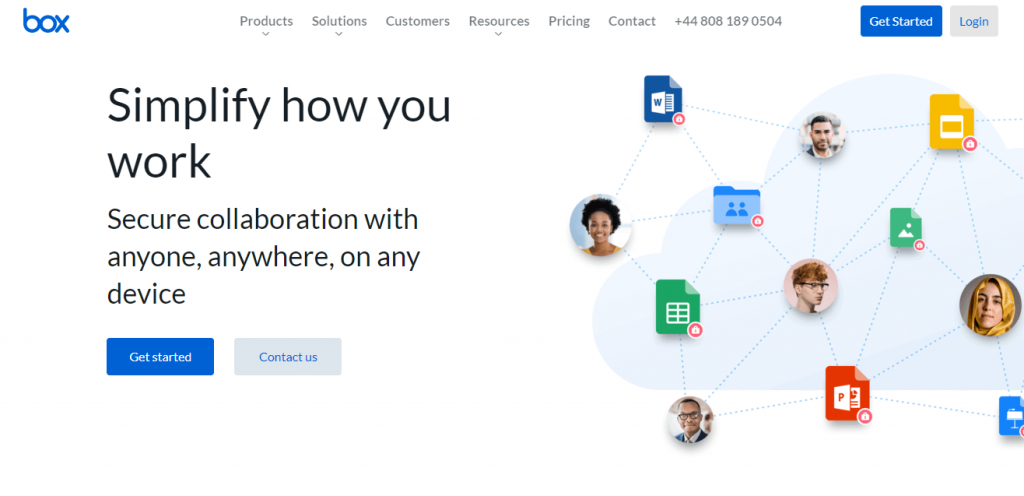 If security and compliance is of importance in your business then Box should have you covered. They offer a pretty extensive array of security tools and count banks and other financial services providers who require adherence to industry standards like FINRA and GDPR among their clients.
Like Dropbox and One Drive, Box allows you to access files via your web browser and to also sync files via a Box app to your desktop. Perhaps unsurprisingly all of the file-sharing services mentioned in this article also come with good iOS and Android apps meaning you don't have to stay glued to your laptop all day long. More information at box.com
Major pro point: Excellent security features and regulatory compliance ensuring suitability for businesses where security is a top priority.
File Collaboration
So, we've covered three of the big names in file sharing and storage. Whichever you choose I think you'll be pleasantly surprised at how nice it is to be able to easily access files remotely… gone are the days where you have to remember to email yourself a document you want to work on at home! The backup and file revision aspect also is a really nice additional bonus for using services like these.
So, are there any other benefits? There certainly are and the big one is effortless collaboration.
We've already touched on the file revision aspect provided by these services. All three systems allow you to revert to previous copies of a document as required. But what about when there are a few of you all working on the same document?
Fortunately, Dropbox, One Drive and Box all have an array of features that help make this a breeze. From notifications that someone else is editing a document right through to the ability to 'lock' a file to prevent anyone making changes, you'll find that collaborating becomes fun. All these systems allow easy commenting live on documents and various tracking features mean you can see how work evolves over time. In the absence of all sitting around a table, these features make working together a real breeze.
Capture & Share Tools
The final set of tools we're going to look at today are ones that allow you to capture your screen, either as a screenshot or video. Did you know that it's 6 times faster to communicate with spoken words compared to writing (according to Loom, one of our featured apps, anyway!).
When you're working remotely, it can be frustrating trying to explain small details via email (or Slack if you read our last article!) every two minutes. Similarly, sometimes you just want a way of quickly pointing out something on-screen. Normally this might involve a tedious email or phone call but now, thanks to these three apps, it's quicker than ever to get your point across.
CloudApp
CloudApp 'brings screen recording, screenshots, and GIF creation to the cloud, in an easy-to-use enterprise-level app.'. Perhaps one of the 'original' screen recording/file-sharing services, CloudApp offers a pretty slick sharing experience that allows you to quickly communicate either via screenshot or screen recorded video.

To get started, download their desktop app and install it. Once you're up and running, simply pressing CTRL / ALT and 6 on your keyboard will instantly bring up a recording window. Press 'start' and then proceed to demonstrate or show whatever you need to. CloudApp will record your screen and voice in the background. As soon as you're done, exit the recorder and a few moments later your video will be uploaded automatically to the CloudApp servers. A unique url will be generated that you can then quickly paste into an email, slack or another tool to send to your colleagues.
No need for a video? CloudApp allows you to take a quick screenshot and then annotate this will arrows, text, boxes and more. As with videos, you'll get a shareable url that can then be sent on to your colleagues.
It takes a little while to get used to using a system like this but once it's integrated into your workflow you'll wonder how you managed without it! Full details at getcloudapp.com
Droplr & Loom
And if you like the idea of using a tool like this then there are other options you might want to check outsuch as Droplr, a CloudApp rival. Whilst their system works on Windows it was originally more at home on Macs… so, if you're a Mac user this could be the system for you.
Finally, Loom is the 'new kid on the block'. A generous free plan is available during the COVID outbreak. Functionality with video recording is similar to CloudApp and Droplr but if you want to take screenshots then Loom isn't the app for you as it focusses entirely on video.
Tomorrow we're going to be looking at your working environment. Working from home presents some unique challenges and, ensuring you're setup in an optimal manner can make all the difference in terms of productivity and also your health.
From us all at Pressidium, stay well!
Start Your 14 Day Free Trial
Try our award winning WordPress Hosting!