WordPress is rapidly becoming one of the most popular website CMS's for Universities and Educational Institutions from around the world. The need for truly scalable Enterprise WordPress hosting, suitable for the University and Educational sector continues to grow.
Say hello to Pressidium. Established in 2014, Pressidium has amassed a wealth of experience providing high-quality, Enterprise-grade WordPress hosting. Some of the most prestigious Universities and Academic Institutions from around the world enjoy these features. The Pressidium platform, built from the ground up, offers a wealth of features that allow Universities and Educational Institutions to confidently deploy WordPress as their primary CMS for use by both staff and students. And thanks to our industry-leading Enterprise XS plan, Universities, and Educational Institutions are able to enjoy all the benefits of using a renowned managed WordPress hosting provider to host their WordPress websites without breaking the bank!
Before we take a look at the features and benefits offered by the Pressidium Enterprise XS plan let's find out more about Pressidium and why we are a leading choice for WordPress hosting in the Educational sector.
The Pressidium Story
Pressidium was established in response to an unmet need. We felt that the WordPress industry, in general, was disparate in terms of the quality, infrastructure, and services it provided and that's what we wanted to change. How? With standards-driven engineering, transparency, and enterprise infrastructure built from scratch by IT veterans.
We've come a long way since our launch in 2014. Thousands of Universities, Educational Institutions, and businesses trust us to deliver an unparalleled premium web hosting and management service that provides fast, robust, scalable Enterprise WordPress hosting for their websites. We are proud to count Cornell University, the University of Kentucky, and the University of Kent among them.
With the release of our Enterprise XS plan back in March of this year, high-quality, scalable WordPress hosting from Pressidium has now become even more affordable and offers a fully scalable solution that can grow as demand dictates.
Pressidium Enterprise – Scalable Enterprise WordPress Hosting
The Pressidium Enterprise platform brings the power of webscale technologies used by Google and Facebook to your WordPress sites. Built with real-time high-performance clustered environments it allows our customer's sites to scale along with their unique requirements.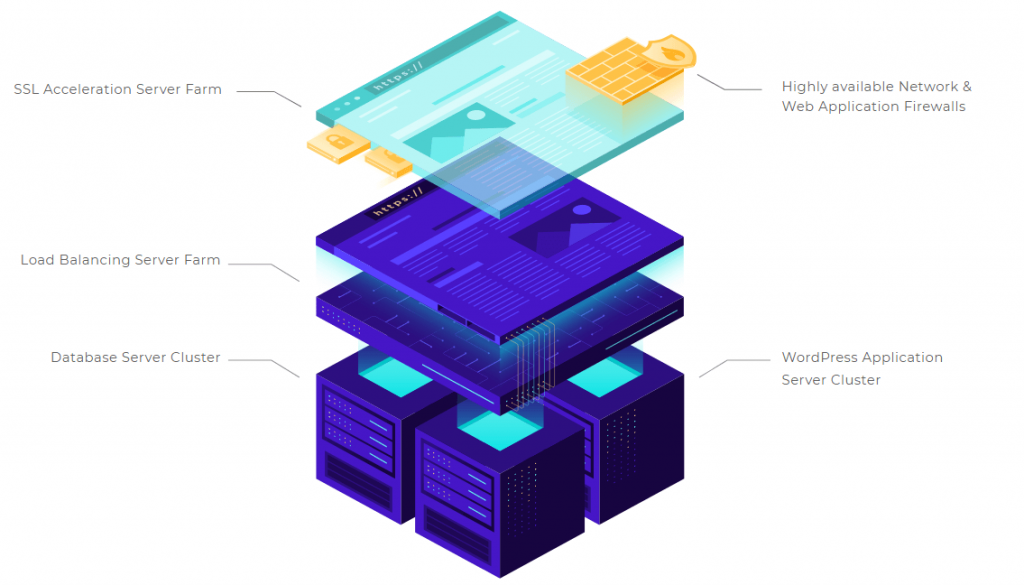 Features of the Pressidium Enterprise platform include:
Reverse Proxies
Universities can have a vast network of websites serving different departments. Often these are built using legacy systems and it would traditionally have been a major (and expensive!) project to migrate any of these to WordPress.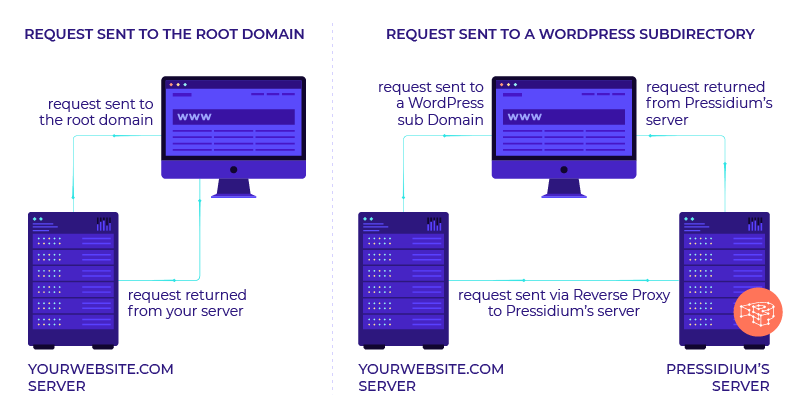 By implementing a Reverse Proxy, Pressidium is able to respect University's or Educational Institution's in-house IT setup whilst offering complete flexibility to one or more departments to choose to use WordPress. The result is seamless, allowing departments to enjoy all the benefits offered by both WordPress as well as Pressidium's hosting platform (including automatic core updates, daily backups and staging servers).
Try our Award-Winning WordPress Hosting today!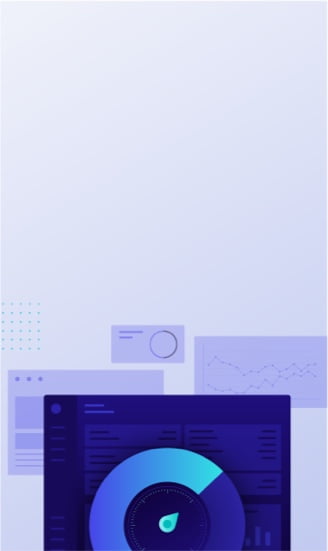 This makes moving some of your departments to WordPress a much more viable prospect. One that requires far less investment, both financially and in terms of time. It also allows for a more graduated role out of WordPress. Without the need for wholesale buy-in from across the entire University or Educational Institution.
Website Security
Hassle-free threat prevention is built right into the Pressidium Enterprise platform. Features include:
Managed Web Application Firewall Layer – Our proprietary web application firewall layer inspects actual HTTP requests in real-time. It then filters web content to and from your WordPress sites. It will, for example, pick up SQL-Injection attacks, bad bots, brute-force attacks, or malicious cross-site scripting activity.
Managed WordPress auto-updates – We proactively install WordPress security updates. We keep your site up-to-date and secure without you having to think about it. Whenever WordPress issues a minor or major update, we test it and then apply it to your site.
Malware monitoring and removal – We actively scan for, detect, and block malware and vulnerabilities.
Scalable WordPress hosting with High Availability Architecture
Lightning-fast, scalable, and robust. The Pressidium Enterprise platform has been built with performance in mind.
Fully Scalable – With transparent horizontal & vertical scalability, your environment grows as your demands grow. Our Enterprise Hosting plans are designed to scale up to 10 million visits or more.
Dynamic Load Balancing – This ensures that the delivery of your site's content is accelerated, as each request is intelligently dispatched to the least busy server. If the traffic on your site peaks, our total traffic management solution will evenly distribute load across our server farms eliminating the pitfalls of slashdot effects.
SSL Acceleration – We offload SSL transactions at the load-balancing layer. This seriously accelerates traffic toward backend servers. The result is that your visitors will have 100% secured & encrypted web browsing while their whole SSL browsing experience is greatly accelerated.
Dedicated Server Clusters – Built with High Availability and Disaster Recovery that won't let you down.
No Single Point of Failure – Thanks to 2N+1 Redundancy of all infrastructure the Pressidium platform has no single point of failure (unlike more traditional server setups).
In addition to these features, all our clients also enjoy access to staging environments that allow for website testing with easy one-click deployments.
Backups are also of paramount importance. Again we have you covered with daily offsite backups stored at secure facilities for disaster recovery along with instant snapshot backups. Backups are available to your team 24/7 through your control panel and can be downloaded for your own safekeeping if you wish at the click of a button.
Support when you need it – 24/7, 365 days a year
Running WordPress websites can be a full-time job for an overstretched IT department. We understand you don't have the time or resources to deal with an additional layer of issues caused by moving your University or Educational Institution websites to WordPress. Fear not! In the unlikely event of a problem, our team is here to help.
We take support exceptionally seriously and only employ DevOps engineers and WordPress experts who own their support tickets and work tirelessly to resolve your problem. And with response times of 5 minutes or less, you won't have to wait long for a resolution to your issue. We also realize that you need support not just Monday to Friday but year-round. We are here 24/7, 365 days a year so you can be confident that support is available when you need it most.
Truly Affordable Scalable WordPress Hosting – Pressidium Enterprise XS
So, what is all of this going to cost your University or Educational Institution? The good news is it's less than you might think. Just $770/month for our entry Enterprise XS plan. This is designed for 1,000,000 visits/month (with no overage visit charges – ever!) and offers unlimited WordPress installs on 120GB Enterprise SSD Replicated HA storage.

And if this isn't enough, we offer larger Enterprise plans to meet your specific needs. Because of the way our architecture is built, you are able to begin using our Enterprise XS plan now and then effortlessly upgrade in the future if this is needed with no migrations required and zero downtime. We can even scale your plan up to meet anticipated needs for a limited period (for example during exam periods) and then scale you back down if the additional resources in our larger Enterprise plans are no longer required.
Enterprise XS is truly a game-changer and one that offers exceptional value. If you are interested in finding out more about our plans and how our Scalable Enterprise WordPress Hosting could benefit your University or Educational Institution, then hit the button below to get in touch. We have no sales teams who will hassle you, just qualified DevOps Engineers who will work with you to fully understand your unique setup and are able to help deploy a WordPress solution that is right for your organization.
Start Your 14 Day Free Trial
Try our award winning WordPress Hosting!