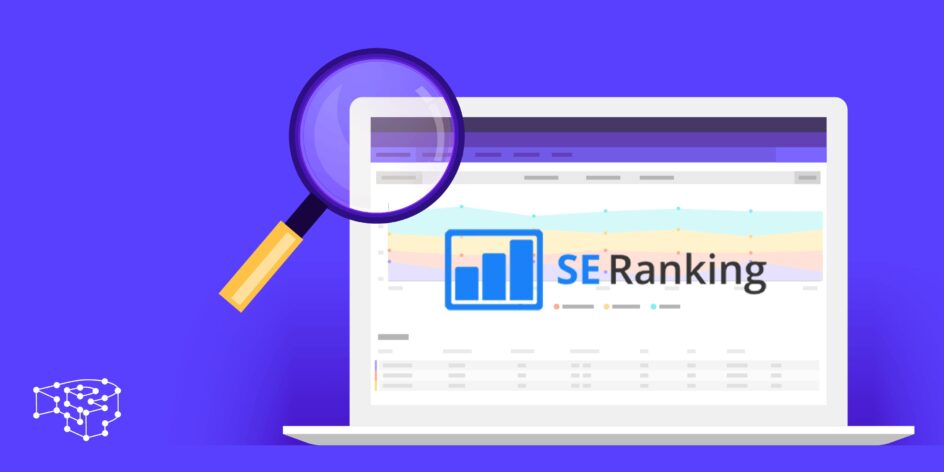 Got a website? Then the likelihood is that at some point you've considered how to get it to rank better on Google. We live in a competitive world and with more and more people using a Google search as their first choice for finding products and services, it's understandable that most businesses want their website to rank as high as possible in the SERPs (Search Engine Results Pages).
SEO Optimization
SEO or Search Engine Optimization is the term given to the work that's done to help boost a website's rankings in the SERPs. SEO is a seriously massive topic and one that has spawned an entire industry of 'SEO experts' who will, with varying degrees of success, work with you to get your website to rank better.
And without doubt, done correctly, it is indeed possible to improve how your website ranks in Google. Changes to the technical structure of your website, the keywords and overall content, the number of backlinks you have, social media presence and so on all can affect the position of your website in the SERPs. Get it right and the rewards can be significant. It's estimated that a website right at the top of the SERPs gets around 42% of the traffic, the second 11% and the third on the page only gets 8%. Clearly anything you can do to gain that coveted number 1 slot is time well spent!
Track those SERPs
Understandably, there is a significant amount of information available to you which explains exactly how you can go about optimizing your website and general online presence in order to boost your website visibility in the SERPs.
What is less discussed though is that with any SEO optimization campaign, it is absolutely crucial that you use a tool that allows you to track your website SERPs. Without doing this you are effectively flying blind. A good keyword rank tracker allows you to firstly see where your website is ranking for search terms that you choose. This gives you a baseline against which you can measure your future SEO efforts against. It then allows for continual monitoring of your website SERPs so you can see how things are progressing. This is vital as otherwise, your SEO efforts could prove to be for nothing.
SE Ranking
There are several tools available that allow website owners to track the position of their sites in the SERPs. Most are paid-for products and the cost can vary from a few $'s a month to $100+ a month. It's understandable that you might be reluctant to commit to yet another monthly bill for your business but being able to accurately track your website's position in Google is really important and the right tool makes this a breeze to do.
Having used a number of these ranking tools over the years I believe there is a standout winner that combines great functionality at an affordable price point. And it's called SE Ranking.

Described as 'All-in-one SEO software made simple' SE Ranking provides the tools you need to track your keyword positioning in the SERPs. As a bonus it offers a number of additional tools that can help you in your quest for Google domination. I'll take a look at these add on tools later but for now, let's look at the core service offered by SE Ranking – keyword position tracking!
Using SE Ranking to track your Keyword Positions
Getting started with SE ranking is a breeze. They offer a generous free 14-day trial so first things first, head over and sign up.
Once you're registered you will be guided through adding a project. A project is essentially a container for your website and will contain the SERP's position results when they're generated. Got more than one website you want to track? No problem. Just add a second project. Depending on your price plan you add an unlimited number of websites.
It's recommended you add the root domain (although we've just added a URL in this example) so SE Ranking can scan your entire website.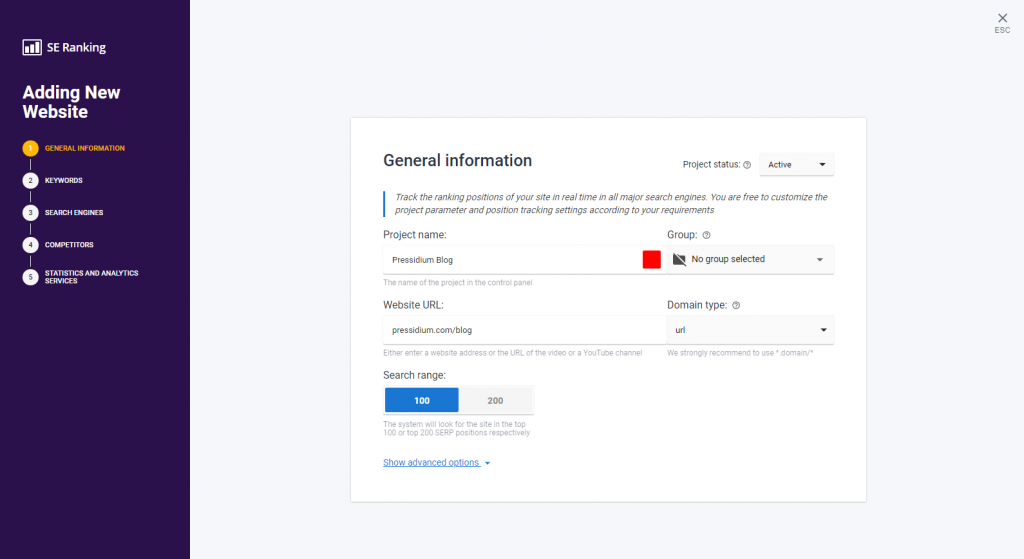 Once you've done this and clicked next, you'll be taken to the Keywords section. This is the most important step in the process and you'll be adding the keywords that you want to track. What these keywords are will entirely depend on your website and business. If you're running a gym, then you'll be adding keywords like 'local gym' or 'gym classes near me'. The trick when thinking of keywords is to try and get inside the head of your customer… what kind of searches would they undertake on Google? This list of keywords is absolutely vital as you will also use this list to dictate much of your SEO efforts later on.
If you're not quite sure what kind of searches your customers will undertake then not to worry. SE Ranking provide a keyword finder tool that offers suggestions based on search volumes. For now, just add as many keywords as you can sensibly think of. This list can be updated later. When you've typed them in, click the 'Add Keywords' button.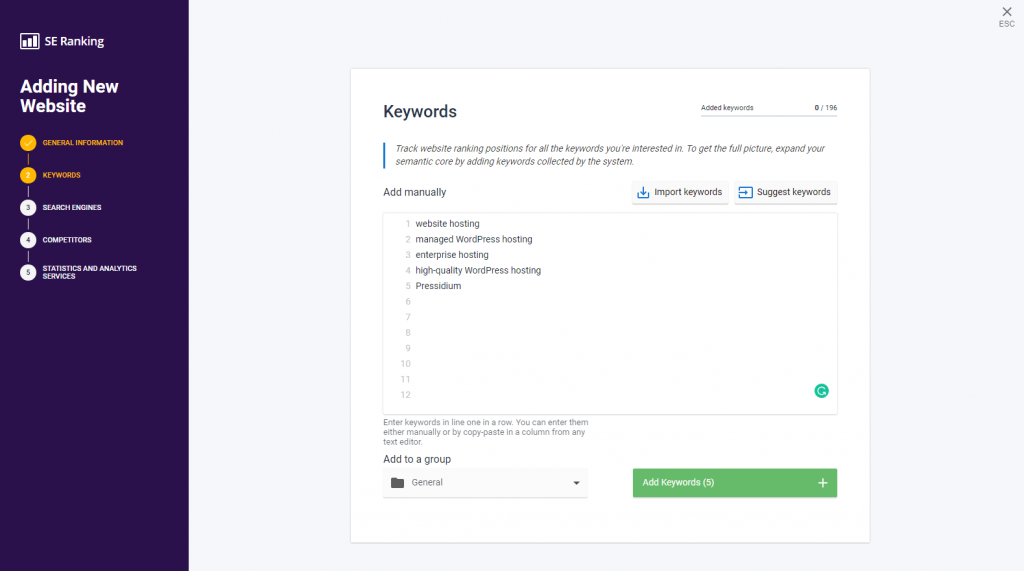 The next step is to choose your search engine and also the location where your customers are based. Whilst Google is clearly the most popular search engine around, SE Ranking also allows you to monitor rankings in Yahoo and Bing. You can add multiple search engines and locations.
Location is important as Google (in this example) displays different search rankings based on location. If your Gym is in Washington DC, but you set the location to Austin, Texas, you're unlikely to find your website ranking.
Once this is done you can also put in your competitors' websites (up to five). This is a fab feature as you can directly compare how your website ranks to your rivals. Finally, you can pull in data from your Google Analytics account and Google Search console which provides further insight into your website rankings.
Next Steps
Now this is done, go grab yourself a coffee. SE Ranking will take a few minutes to pull data in and compile a report that shows you exactly how well your site is ranking for the keyword searches you chose. Get ready to be pleased with the result or perhaps frustrated!
Once the report has compiled, head to the Keyword ranking page for your project. Here you'll see all your keywords neatly listed along with a position of where they are ranking. You'll see a date at the top and, as the days go by, this data is repeatedly checked leaving you with the ability to see whether your rankings are improving, staying the same or getting worse.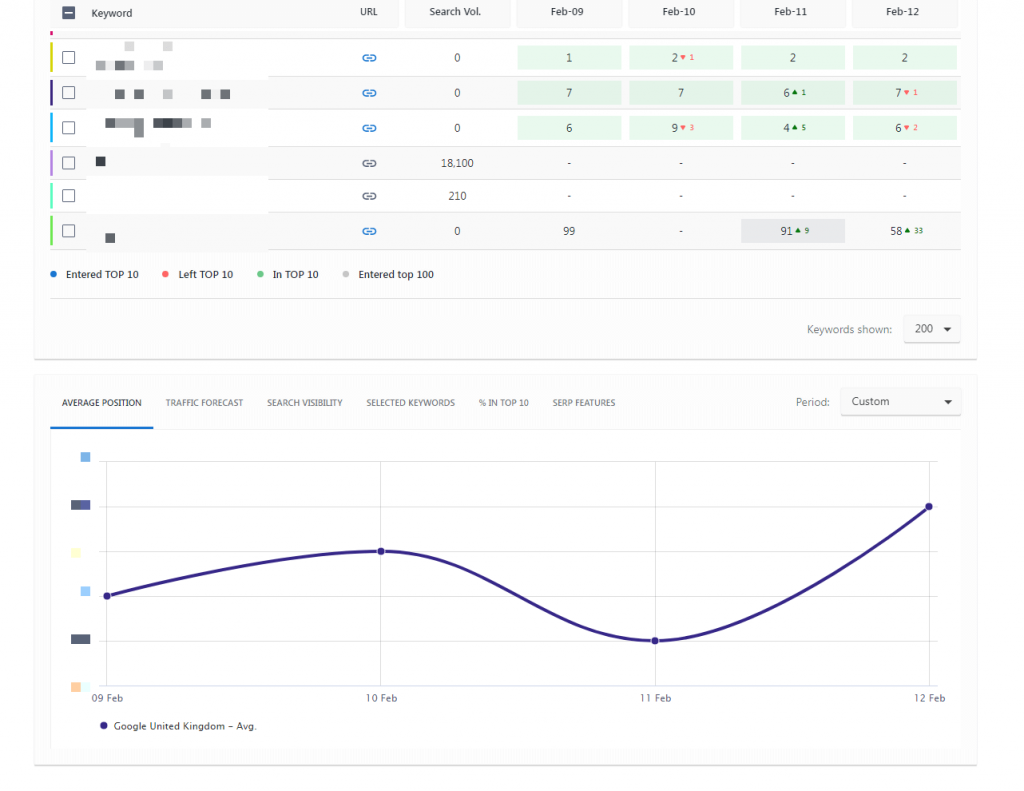 Thanks to the incredibly neat layout of this data you can very quickly spot trends. For example, if you've been actively blogging and your overall SERP results are on the up, then it would be a logical conclusion to draw that your blogging efforts are paying off. Equally, things like a big fall in SERP rankings can alert you to a more fundamental problem with your website.
Google is famous for rolling out regular changes to the algorithm they use to determine how websites are ranked. For example, websites that don't have an SSL certificate installed are now being penalized. An unexpected fall in your SERP rankings gives you the heads up you need to fix whatever problem your site might have.
Graphs are also provided which allow you to quickly see overall website progress in the SERPs as well as track changes over time for individual keywords in a graphical format.
Additional Tools
Although the keyword tracking element of SE Ranking is my favorite feature, the platform also offers a variety of other useful tools that will help you dominate the SERPs.
Competitors Research – See how the competition is faring for certain searches. In doing so you can alter your SEO strategy as required.
Website Audit – SE Ranking will run a full SEO audit of your website which checks for SEO health. It will pick up things like broken links, check for site maps, title tags and a whole lot more. It's a quick way of making sure your website is in tip-top condition from an SEO perspective.
Backlink Monitoring – Backlinks are an important component of any SEO strategy. SE Ranking makes it easy to monitor the backlinks your website has.
Keyword Research Tools – Find keywords that your competitors rank for as well as get keyword suggestions for your own website.
I'm doing SE Ranking a disservice with a relatively brief run-through of the additional tools they include. In practice, there is a lot more available to you to help with your SEO efforts from within the SE Ranking platform. Make sure you take a good look around!
Pricing
If you're running a business, you'll be only too aware at how your IT bill can add up! Price is a key consideration when choosing whether to begin using a new tool and SE Ranking has hit the sweet spot in this regard.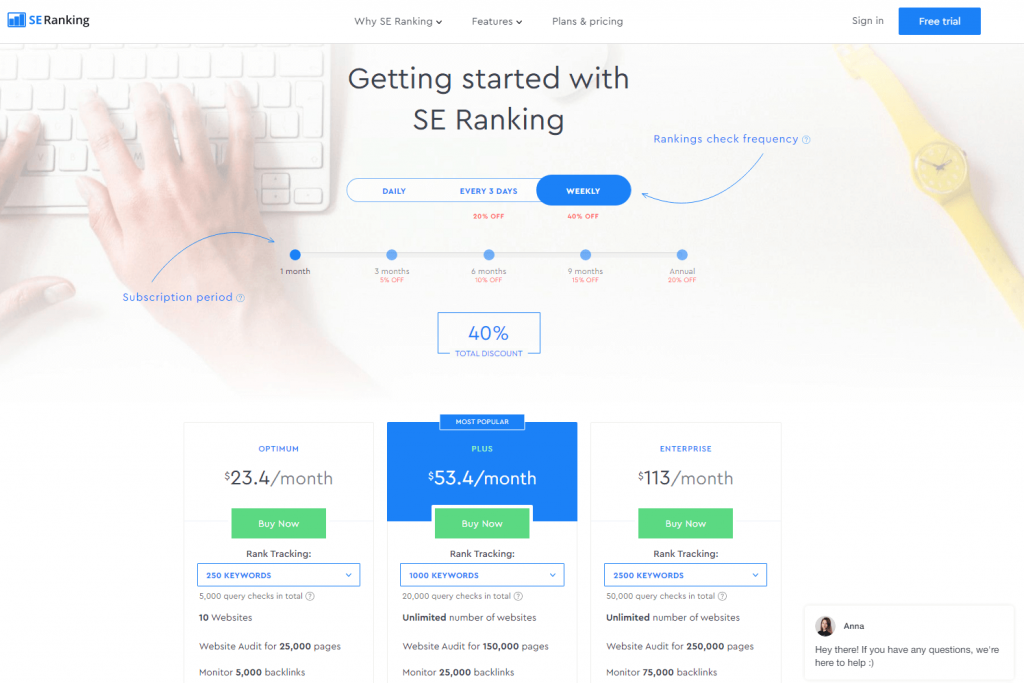 SE Ranking is a subscription service and your monthly fee is dictated by two metrics. The first is the number of keywords you want to track and the second is the frequency with which you want the rankings updated. Choose 250 keywords and weekly keyword tracking and SE Ranking is yours for $23.90/month. Increase to daily tracking (I'd recommend this) and you're looking at $39/month. If you need more keywords or to track unlimited websites, then the price increases from this point but it still offers excellent value.
Conclusion
If you're serious about improving your website SERP's then using a keyword tracking tool is a must. SE Ranking offers a well-rounded, affordable package that is perfect for businesses or bloggers with just one website right through to Web Agencies that might have hundreds of websites they want to track. Results seem to be accurate and the system highly reliable. Great job SE Ranking!
Start Your 14 Day Free Trial
Try our award winning WordPress Hosting!
START YOUR FREE TRIAL
VIEW OUR PRICE PLANS