If you want to process payments online through your website, or even accept payment for things like invoices via an Accounting app like Zoho Books, you will need a payment gateway like Stripe or PayPal. In this Stripe vs PayPal review, we'll look at the key features of both platforms and in doing so hopefully help you decide which is the best for you and your business!
Accepting Payments Online
As with many online activities, it's got much easier to accept credit and debit card payments online and that's just as well with eCommerce sales booming. Only a few years ago, if you wanted to be able to take payments via your website it could potentially involve some significant expense as well as hassle. You will need to setup a payment processor that integrated with your eCommerce store (trust me, unless you were very tech-savvy this was easier said than done) and then you would need to apply for a Merchant account, typically with a mainstream bank. The applications for Merchant accounts could run to pages and involve all manner of checks as well as steep monthly fees. This all changed with Stripe and PayPal. Both of these businesses made it a lot easier to begin accepting payments online, primarily by combining the role of Payment Processor and Payment Merchant all bundled into one easy package that has the added bonus of not charging a monthly fee to use. This bundled solution is referred to as a Payment Gateway and saves you a ton of hassle.
In addition, Stripe and PayPal as leading processors of online payments, are tightly integrated into a massive array of apps and systems such as plugins designed for WooCommerce. These integrations make it exceptionally easy for non-tech minded individuals to setup payment systems on their website which can only be a good thing.
Whilst both Stripe and PayPal have their similarities (the ability to process payments!) a direct head-to-head isn't the most useful way of comparing these payment solutions as each offers their own unique way of doing things.
Instead, we're going to take a look individually at both Stripe and PayPal and in doing so highlight the best bits of each service allowing you to choose the one that offers the ideal features for your business.
Let's get started!
Stripe – Online Payment Processing for Internet Businesses
Stripe is described as 'online payment processing for internet businesses'. It does exactly what it says on the tin with a slick platform that now processes billions of dollars in transactions every year.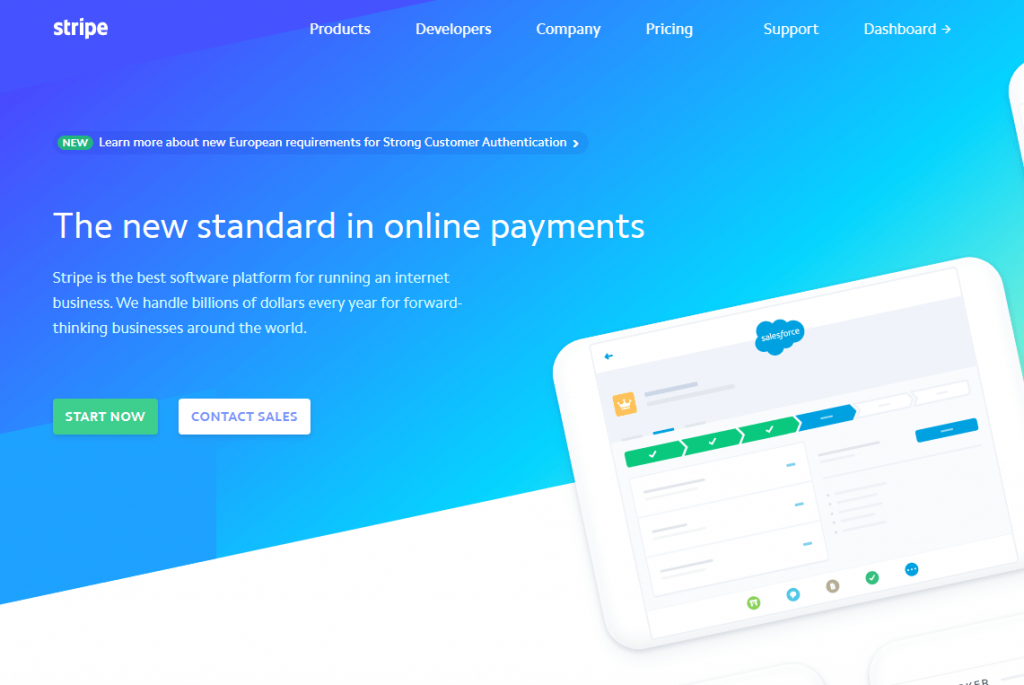 Stripe Overview
Stripe can initially seem a little intimidating as their focus appears very much to be on providing a developer-friendly payments platform. Within the initial paragraph of their website, they are already referring to how their 'meticulously designed APIs and unmatched functionality help you create the best possible product for your users'. Clearly, if you're a developer this will all make total sense but for the rest of us who just somehow want to take payments online it can seem like Stripe is a non-starter. Rest assured this is not the case!
Stripe for Developers
As we've mentioned, Stripe pitches itself as a developer-friendly payments platform and for good reason. Their elegant (and revolutionary) code base offers a truly extensive toolkit for developers who want to incorporate a payment system into just about any conceivable digital product. As stated on their website 'Rapidly build production-ready integrations with modern tools, from React components to real-time webhooks. Using Stripe's developer platform means less maintenance for legacy systems and more focus on core customer and product experiences'. Enough said?
Certainly, this article can't do justice to the Payment Stack on offer from Stripe so, if you're a developer, then head over to Stripe to take a look and get started.
Stripe for non-Developers
For those of us who can't make code dance, how do we use Stripe? The answer is simple… through an integration with their system of which there are hundreds (perhaps thousands!).
As everyday users of digital systems, non-developers are spoilt for choice when it comes to the range of user-friendly apps available to us. No longer do we need a degree in IT to setup our own website or, in this case, take payments online. A huge amount of the hard work has been done for us.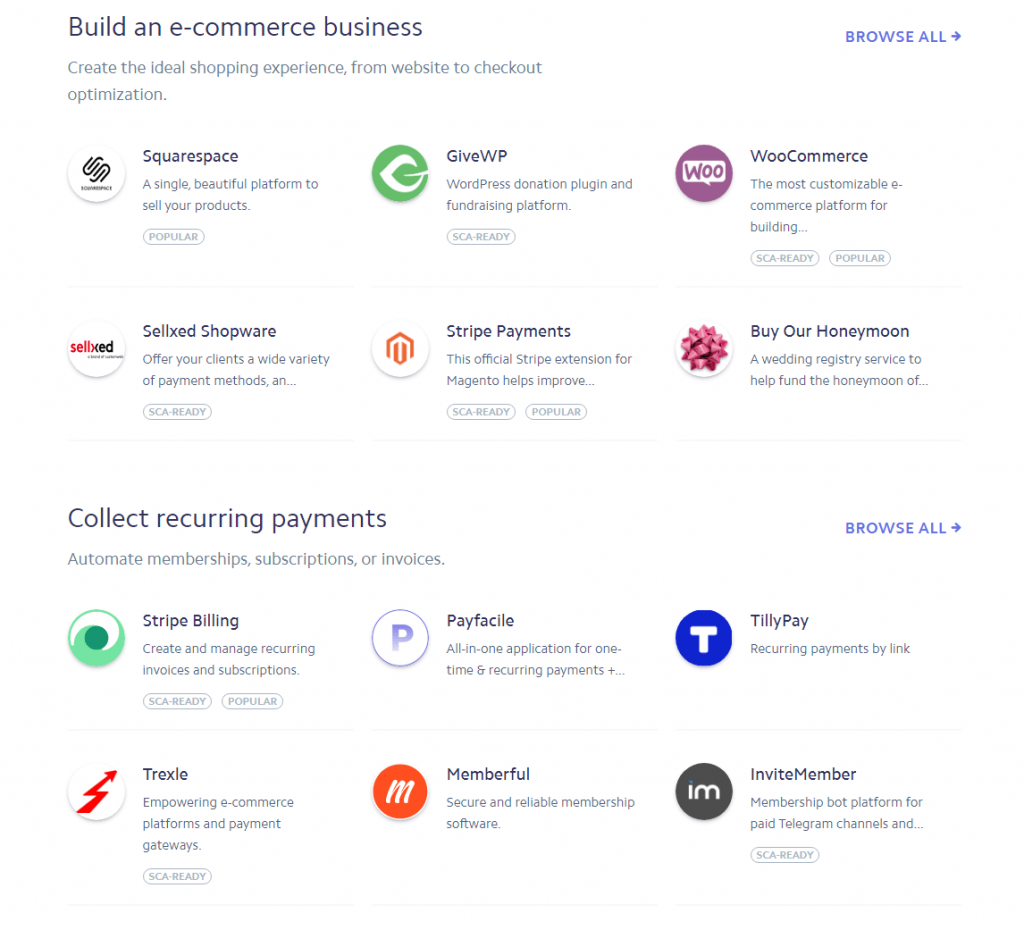 One of the primary ways you will likely use Stripe is to process payments for your online store. Regular readers of this blog won't be surprised to hear me champion WooCommerce as the WordPress eCommerce system of choice. So let's assume you have your WooCommerce store setup and hosted (preferably on Pressidium!). Products are loaded up, descriptions are added and things like your refund policy clearly stated. All you need to do now is 'switch on' payments. One of the easiest ways to do this is by setting up a Stripe account and then adding the WooCommerce supported Stripe plugin.
Getting Started with Stripe
Before you can begin using Stripe with WooCommerce (or any of the other many integrations available) you'll first need a Stripe account. Head to Stripe and signup. All that is initially required is your email, name and password and you're in.
The next step is to register your business with Stripe. You can skip this step initially and just 'play around' with the system but before you can begin accepting live payments you'll need to complete a further short form.
This form is one of the truly remarkable things about Stripe… it's so short and so quick to fill in compared to the often-convoluted application processes that you would have to endure at the hands of a more traditional merchant bank. Applications to process live payments are more often than not accepted immediately meaning you can go from having no means of processing online payments to be able to accept them within mere minutes. Quite incredible!
Using Stripe
We began discussing how to integrate Stripe with WooCommerce by way of example as to how to actually use Stripe to process payments. Now you have a live Stripe account, the process couldn't be simpler. Once the WooCommerce plugin is installed you will need to add in a 'Live Publishable Key' and a 'Live Secret Key' which are obtainable from your Stripe account. Once this is done, you will be able to begin processing payments via Stripe.
With other services and apps (like Zoho Subscriptions which can be used to process recurring payments), it's as simple as entering your Stripe Username and Password from within the Payments settings of your Zoho Subscriptions account and the setup will be complete.
And herein lies the beauty of using Stripe… thanks to its popularity, it is an extremely well-supported payments system meaning most relevant third-party apps will support it as a payment gateway.
The Customer Experience
Due to the way Stripe works, payments are processed from within the app or system that you are using… in other words, thanks to the clever Stripe. js APIs, all the payment wizardry happens behind the scenes without redirecting your customer away from your website. Clearly this adds enormously to the user experience of your customers and makes your business look even more professional.
The Stripe Dashboard and App
Now you're all setup and busy receiving payments it's time to log in and take a look around at the Stripe Dashboard. Beautifully laid out it gives you real-time info on all payments that have been processed including customer's names and email addresses. A raft of reports are available at a click of a button and even things like refunds can be processed from within the Dashboard.
Try our Award-Winning WordPress Hosting today!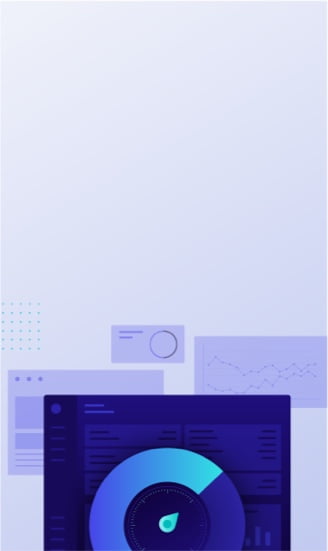 An excellent iOS and Android app are also available which closely replicates the functionality of the web-based Dashboard.
Receiving Payments
When you registered your business during the initial setup phase, you will have been asked to provide bank details. Stripe collects the payments made by your customers and then pays out these funds on a rolling schedule (normally 7 days). You can view your balance from within the Stripe Dashboard which also lets you know when these funds will be transferred to your bank account. For some accounts, Stripe is now allowing next day fund payment meaning you will get your money much more quickly.
Pricing
Stripe do not charge any account maintenance or monthly fees for using their system. It is free to create an account and if you never process any payments through it then you'll never pay a penny. Instead of a monthly fee, Stripe typically charge around 2.9% of the transaction value plus 30¢ per transaction. So on a $100 sale you would pay a total of $3.20 in fees.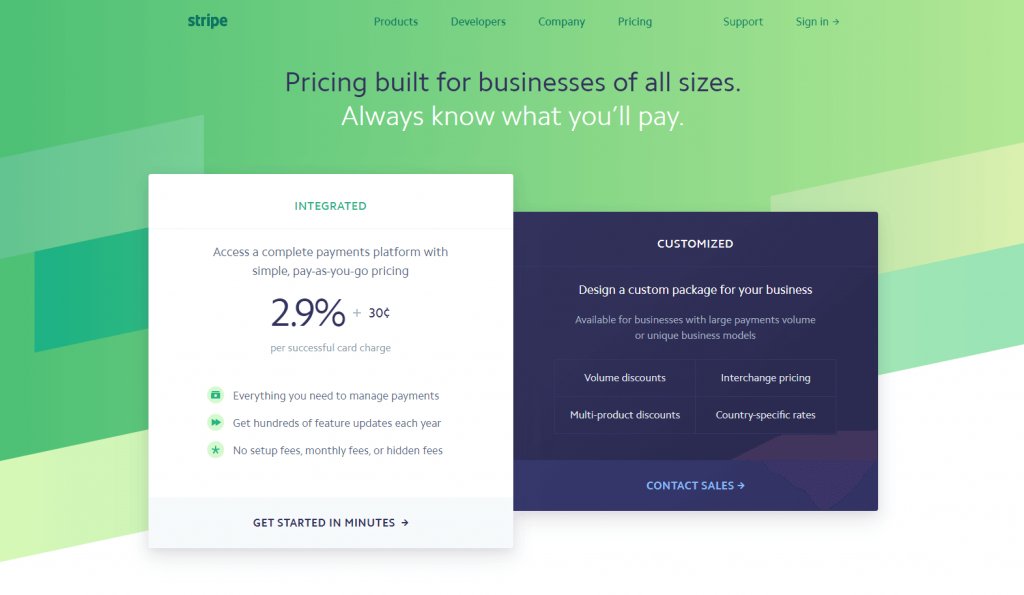 As your business grows you may be entitled to apply for volume discounts which can reduce the cost of using Stripe.
Stripe Summary
Stripe is a truly user-friendly payment gateway suitable for businesses large and small. It's cost-effective and easy to get started, reliable and benefits from extensive integrations with other apps. Payments are processed quickly and efficiently ensuring a great customer experience.
PayPal – Payment Solutions for Your Business
PayPal could be considered a household name. It's likely that you think of PayPal more as a solution for making payments rather than accepting them and this is because its roots lie originally in offering payment solutions for shoppers. Many will remember that it originally formed part of eBay before being spun off to operate independently.
As well as offering a robust personal payments solution, PayPal provides millions of businesses with the ability to accept payments both through websites, apps and also in person.
Getting Started with PayPal
PayPal offer an extensive range of payment solutions for businesses. Where Stripe is much more focussed on providing the infrastructure that allows developers to tightly integrate Stripe's payment systems into their apps and websites, PayPal Business is more focussed on offering account-based payment solutions that cover a wide variety of needs for business owners. This even includes business funding.
Getting started with PayPal Business is pretty straightforward and free to do. Register with them to get the ball rolling. Once your account is setup you can then begin to explore the variety of payment services that are offered to businesses by PayPal.
Accepting payments with PayPal on your WooCommerce Store
In common with Stripe, the easiest way to get started with PayPal is by using a system that already integrates with PayPal. In this instance, we'll look at WooCommerce.
Traditionally, PayPal is viewed by users as a way to pay that is distinct from Credit/Debit cards. When shoppers see the PayPal icon, they can opt to checkout via their own PayPal account from which funds will then be deducted from their own payment source (for example a bank account). Theoretically, this can offer some additional buyer protection and there are lots of customers who would prefer to shop online using PayPal.
WooCommerce allows you to setup a 'checkout with PayPal' option quickly and easily. In addition, WooCommerce now allows you to setup PayPal Checkout. To understand the distinction between 'ordinary PayPal' and PayPal Checkout we need to look at the user flow at the checkout.
Unlike Stripe which operates in the background of your website and processes payments without the customer knowing who the payment gateway is operated by, PayPal sits front and center during the checkout experience. With the standard PayPal payment solution users are redirected to PayPal upon clicking on the 'buy now' button. They need to log into their PayPal account, authorize the payment and are then redirected back to your website. With PayPal Checkout the process is more seamless and doesn't even require the customer to have a PayPal account.
The entire setup of this process is completed without any coding knowledge via the WooCommerce PayPal plugin.
Paypal Payments Pro also offers the ability for you to keep customers on your own website during the checkout process (as with Stripe). There is an additional fee for this though (see 'Pricing' below).
PayPal Buy Now Buttons
Occasionally you don't need to a full-blown eCommerce website and just want to be able to accept payments for a limited range of products or services. PayPal comes into its own in this scenario with PayPal Buttons. These are setup from within your PayPal account and allow you to create PayPal branded buttons that can be configured to charge your customer a fixed amount.
They are relatively quick to setup and, whilst you'll need to embed some code in your website, it's not a difficult job to do as the code is created for you by PayPal. In WordPress, embedding this code is a simple process that will only take even the most inexperienced users a few minutes.
PayPal Card Readers
So what if your business not only needs to accept online payments but also payments in person (for example in a store)? Paypal has you covered with a slick card reader or a fully-fledged Point of Sale solution.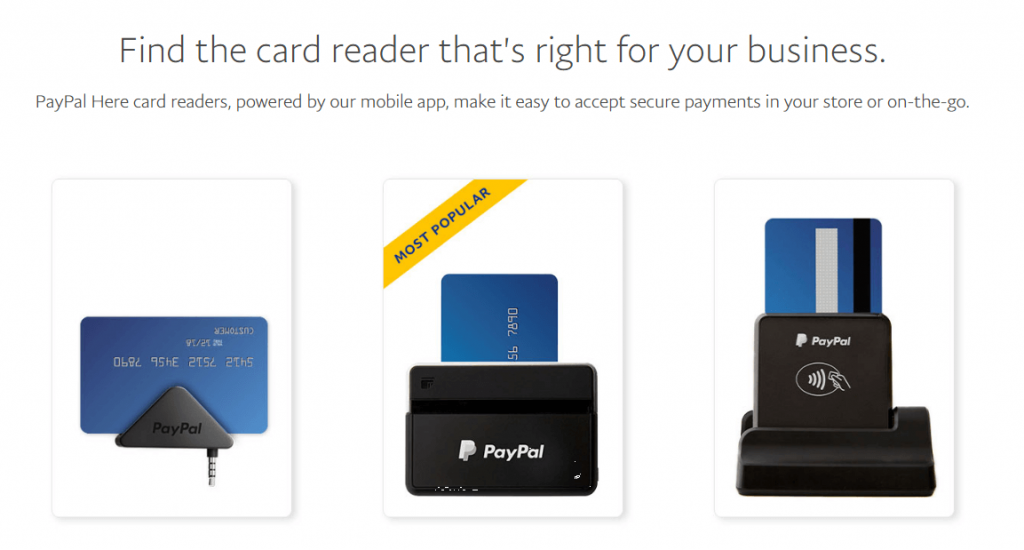 To get started you'll need to purchase a card reader (or PoS kit) from PayPal and have an active business account with them. Starting from just $24.95 these are great value and a really easy way of being able to accept payments in person.
Most PayPal card readers integrate with a sophisticated PayPal app available on iOS or Android. Simply log into the app, pair it with your card reader and you're ready to take payments in person.
PayPal Invoice
Need to invoice a client? PayPal offers the ability to create and send customized invoices from within your PayPal account via email. Your client will then be able to click on the 'Pay Now' link from within your invoice and make their payment through the PayPal system. Whilst this might not be a feature-rich or brandable enough solution for some businesses it is definitely handy to have available for occasional use.
The PayPal Dashboard
In common with Stripe, you can control all of your PayPal related activities via the PayPal dashboard including setting up 'Buy Now' buttons and sending invoices. You can quickly see all payments made to you and the source from the dashboard. In addition, you can also pay other people from within PayPal (for example suppliers).
Receiving Payments
So how do you access your funds from within PayPal? All payments made to you via a PayPal system (card readers, websites, invoices, etc.) all get added to your PayPal funds. You can view your available funds from within the dashboard. Unlike Stripe, these funds are not automatically deposited in your bank account. Instead, you will need to manually instigate a transfer of these funds. It's a relatively quick process and, subject to certain checks, your funds normally hit your bank account within minutes.
Pricing
Pricing is more complex for PayPal than for Stripe thanks in part to the array of different ways you can be paid. Online payments (e.g. like via a WooCommerce store) are currently 2.9% plus + $0.30 whilst payments via a card reader are a little lower.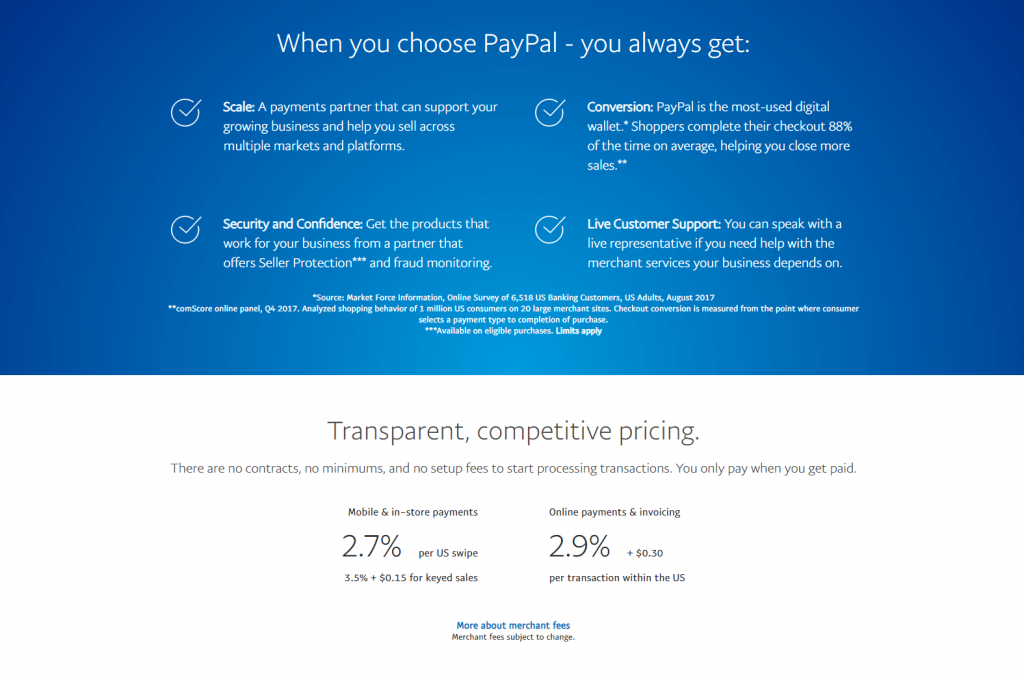 You can also subscribe to PayPal Payments Pro for $30/month. This gives you access to an enhanced range of services including (as mentioned earlier) the ability to keep customers on your website when they checkout. Another useful bonus is the addition of a 'Virtual Terminal' which allows you to accept payments over the phone.
Stripe vs PayPal – The Verdict
So which is best? As you can see there are some significant differences between these two payment heavyweights. A side-by-side comparison isn't strictly fair as they offer different ways of doing things with the ultimate goal of course of allowing you to accept payments!
Stripe Summary
Stripe is great. If you're a developer who wants to integrate a payment portal into your app or website then it's a no brainer to use. If you are a website owner who wants to accept payments via their eCommerce website then it's also a truly slick solution, although one that you will likely need to use as an integration with another system (such as WooCommerce). As accounts are free, it's a very useful tool to have in your business toolbox. There won't be many situations where you are using an app (whether it's WooCommerce, an accountancy system etc.) where Stripe is not offered as an integration so its well worth signing up for an account.
PayPal Summary
As you will have seen, PayPal offers a wider variety of solutions for receiving payments from customers from within one system. If you don't want the complexity of multiple systems then PayPal offers a robust solution that allows you to accept payments online, via the phone, in person and via invoice, all from one system. Whilst you might not want to commit to PayPal Payments Pro at the outset, the free account is pretty feature-rich and the option is always there to upgrade later.
Much like Stripe, it has its place in your business toolbox so why not signup so you have an account ready to go when you need it!
Start Your 14 Day Free Trial
Try our award winning WordPress Hosting!