Email marketing has been around almost as long as email itself. For small businesses though, getting started with email marketing can seem daunting. It can seem that there are sometimes more questions than answers… 'how do I send marketing emails to customers?', 'what's the best way to build an email list?', 'Is email marketing worth it or should I spend my money on social media ads?'.
Even if you are familiar with email marketing, it can sometimes feel like you're spinning in circles and are unsure which way to go next.
Well, whether you're brand new to email marketing or familiar with the thrill of pressing send on a new campaign, we hope this short series of articles on email marketing provides you with some fresh insights and the know-how to make your email marketing campaigns a real success!
Let's get going!
What is Email Marketing?
For the uninitiated let's just quickly check out what exactly email marketing is.
Mailchimp, who run a popular email marketing tool (more on them later), state that email marketing is:
"A powerful marketing channel, a form of direct marketing as well as digital marketing, that uses email to promote your business's products or services. It can help make your customers aware of your latest items or offers by integrating it into your marketing automation efforts. It can also play a pivotal role in your marketing strategy with lead generation, brand awareness, building relationships or keeping customers engaged between purchases through different types of marketing emails."
We've all got an email account… well, most of us anyway. It's almost impossible to use an online service without one. Because of this, marketers have a direct line to almost all consumers out there (assuming they know what your email address is). This fact alone accounts for email marketing's popularity. Throw in the relatively low cost to send a few emails (or few thousand emails) and you can easily see why it's an attractive marketing channel.
The question is, as a small business, are you making the most of it?
Is Email Marketing Worth It?
Before you dive headlong into email marketing, a reasonable question has to be 'is it worth it?'. As mentioned right at the start of this article, email marketing has been around for almost as long as there has been email. No doubt you'll have heard people say it's no longer relevant. Well, that's not quite the case.
Unless you've had the internet turned off and not been out for the last two years you will have noticed we've had a Covid pandemic! To say this has changed how we all live and work would probably be a mild understatement.
Covid restrictions bought in by governments around the world meant that many businesses had to literally shut up shop. For those that were fortunate, they were able to take their services online. Clothes shops for example could no longer sell in person at a store but instead had to sell online and ship goods to their customers via mail.
Reaching these customers was clearly a top priority and email proved to be highly effective. According to Litmus, email volume increased significantly since the pandemic began with high rates of engagement. They estimate that for every $1 spent, email marketing showed a return of $36! That's pretty amazing and certainly not a number that suggests email marketing is about to die a quiet death anytime soon.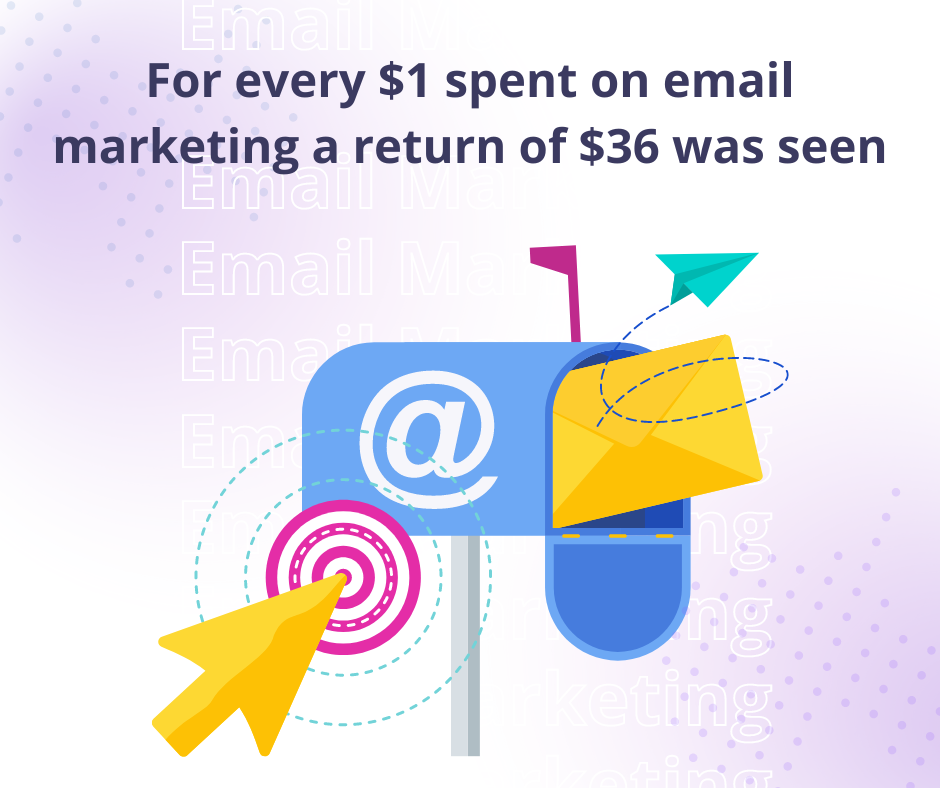 Email marketing is also pretty affordable. Think of the alternatives that most small businesses have. Social media is the obvious one that everyone tends to gravitate towards. Organic social media reach (i.e. the number of people your posts will be seen by without paying to boost them) slips lower every year. So, you're going to have to pay to boost posts. Google Ads are another 'favorite'. These however can cost mega bucks. It's probably unrealistic to kick off any Google Ad campaign with anything less than a $1,000/month to spend. Much more for certain industries like financial services.
In comparison, email marketing can literally just cost you your time which makes it an excellent choice for the budget-conscious business. Of course, if you can afford to invest in marketing that spans several channels (like social media) then that is likely to be the best approach. But to leave email marketing out of the occasion could be really costing your business.
Email Marketing Stats
If you still need convincing that email marketing is right for your business, then take a look at some of the stats below:
So, it's probably fair to say that email marketing is a worthy addition to your business marketing strategy.
Email Marketing Downsides
So, we've looked at the good. But are there any downsides to email marketing?
Some business owners instinctively shy away from email marketing as they feel like they're spamming their customers by contacting them this way. It's an understandable reaction as anyone reading this will have had plenty of spam email in their own inbox. The thing is, if you're communicating with genuine customers (not ones from a list you bought off the internet) about a topic they are interested in then no, it's not spam. Far from it. People do derive real value from email communications. It's just important that yours is one of those!
Try our Award-Winning WordPress Hosting today!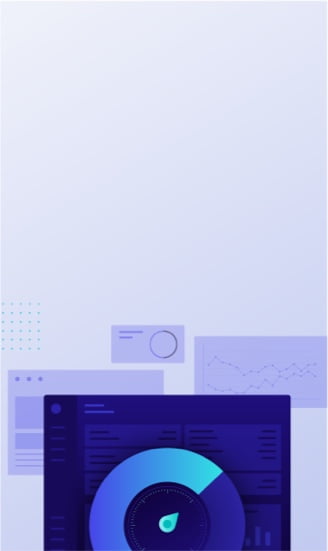 So, if you're running a barbers, then an email with some 'do it yourself' home grooming tips and tricks would be relevant to your target audience and likely to be received well. But your customers are likely to get irritated pretty quickly if you started sending them cooking recipes or something!
Keep it relevant, keep it interesting and don't bombard your email list and you won't go far wrong. Also, you can be 100% confident that if your customers don't want to receive your email, they'll unsubscribe. We'll go into all of this later on in this article.
Getting Started with Email Marketing
Ok, we're all convinced… email marketing is worth both time and money. But you need to do it right. Here's how to get started.
Building an Email List
Before you can even think about emailing someone you first need an email list! If you've ever read any other articles on email marketing you might have seen people talking about having thousands of email addresses. For a small business that's just starting out, this can seem a little daunting. The important thing to recognize is that email marketing is a marathon, not a sprint. If you're looking for instant results it might not be the best marketing tool. Instead, think of it as a way of regularly 'checking in' with your customers. A way of reminding them you're there. As a way of building trust.
In other words, get set for the long haul. A favorite sales term is 'nurturing'. Salespeople nurture their leads. They don't expect them to purchase a service or product immediately. Instead, they chip away over time and ultimately get the sale. Email marketing is perfect for this.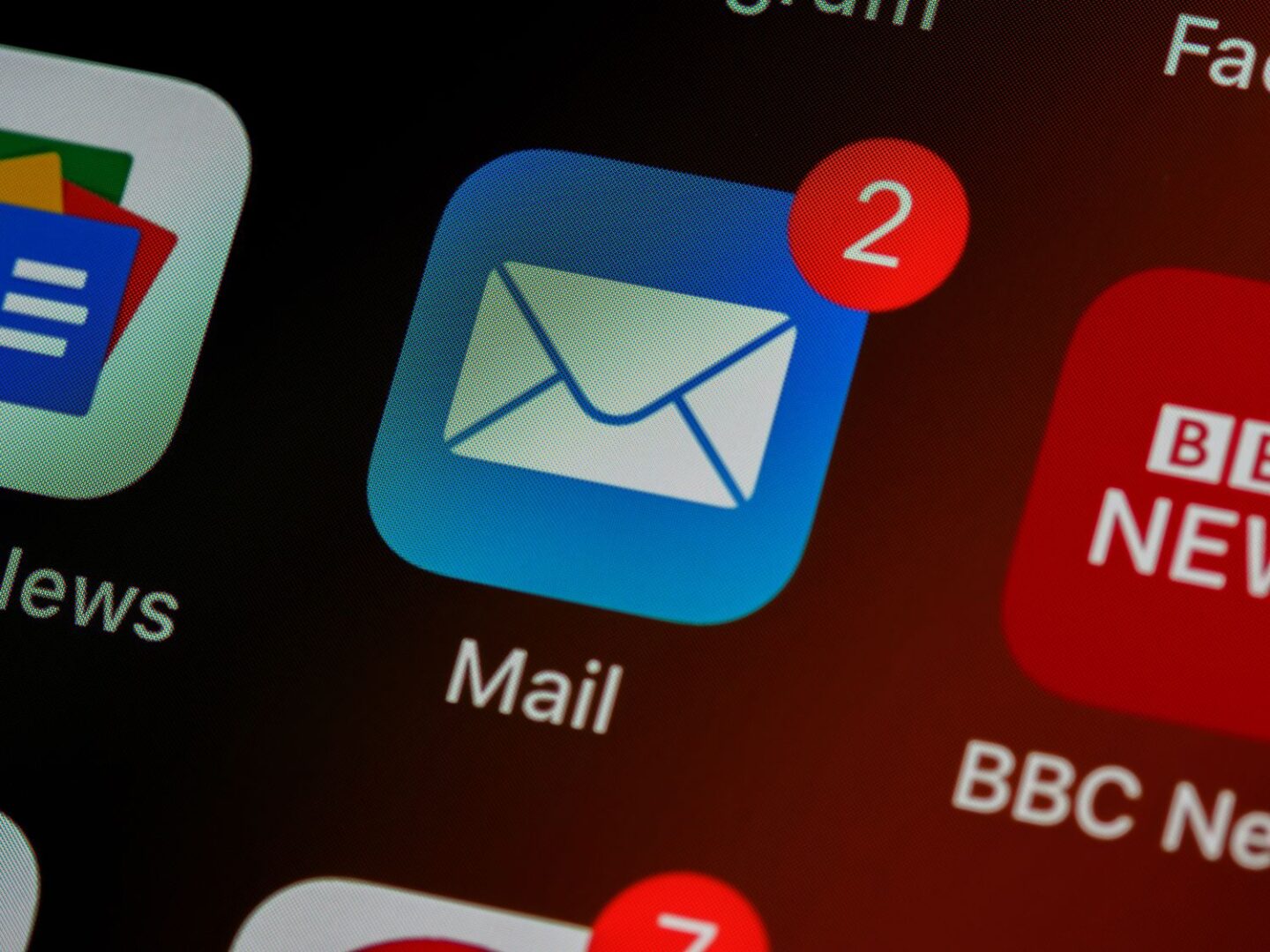 As such, if you've only got a handful of email addresses to begin that's absolutely fine. BUT, begin to collect more! If you operate online, this is fairly easy to do and odds are you're collecting an email address each time someone purchases something through your eCommerce store. If your business operates a physical store then get in the habit of asking your customers for their email when they shop with you. Read on to find out more.
Ways of Collecting Email Addresses – Online
Whether or not your business primarily operates online or you just have a brochure-style website that is used by your customers to find out about your business, collecting email addresses is something you really must try and do.
Your website is ultimately a sales tool. However, you've managed to get traffic to your website (word of mouth, SEO optimization, Google Adds etc.) you want to extract the maximum value from each visit. At the very least this means an email address than can then be used to help sell your product or service via email marketing.
So, how can you go about this? It's called a lead magnet.
People won't very often give up their details for nothing. If you want their email address (and you do!) you're going to have to provide a good reason for them to give it to you. First thing is first… you'll need to ask for the email. Then, you'll need to offer something in return. This could be:
A discount on a product or service: If you're running a barbershop then you might offer someone 25% off their first shave.
eBooks are popular lead magnets: Using our barbershop example, give people a free eBook that has 10 styling tips in.
Free products: This is obviously expensive and so you might only offer someone a free product if they make a purchase but this type of offer can be tempting!
Remember earlier that we said emails from your business should be relevant and informative? Well, equally, free content or a free service should be relevant as well. Any lead magnet can help set the tone for future emails and, if your lead magnet is good, people are more likely to engage with content from you at a later date.
Lead magnets should be thought of as a stepping stone to a future purchase. You want to a) capture an email address and b) encourage a customer to take advantage of your product or service so it's in your interest to really spend some time thinking about what your customers really want and what would be genuinely useful to them.
You might be wondering how you actually go about capturing email addresses via your website. We're going to cover the mechanics of this later on in this article so keep reading!
Ways of Collecting Email Addresses – Offline
Waiting for a customer to hit your website if you're an offline business is a wasted opportunity. You need to build email collection into your sales processes on the shop floor. How to do this? Just ask!
For example, when your customer is paying after receiving a service ask if you can take an email and add them to your email list. Promise them they won't be spammed and that as a thank you for signing up their first email will provide something of value. You can use the same lead magnet that you have setup on your website but one that is perhaps tweaked to recognize that this is an existing customer. For example, you're not going to want to send an existing customer a voucher that gives them 25% off their first purchase… they've already made a purchase. This would be a classic case of sending poor-quality marketing content to your customer. They'll turn off quickly and likely unsubscribe. Instead, they need to be given something that is relevant to them.
If you're not already, a good way of storing emails is to setup and use a CRM. A CRM is a 'Customer Relationship Manager'. It's basically just a user-friendly database that stores data on your customer. Their contact details, preferences, any notes that might allow you to offer a more personal service and so on. Keeping information like email addresses on a system like this is infinitely more preferable to pen and paper or a spreadsheet.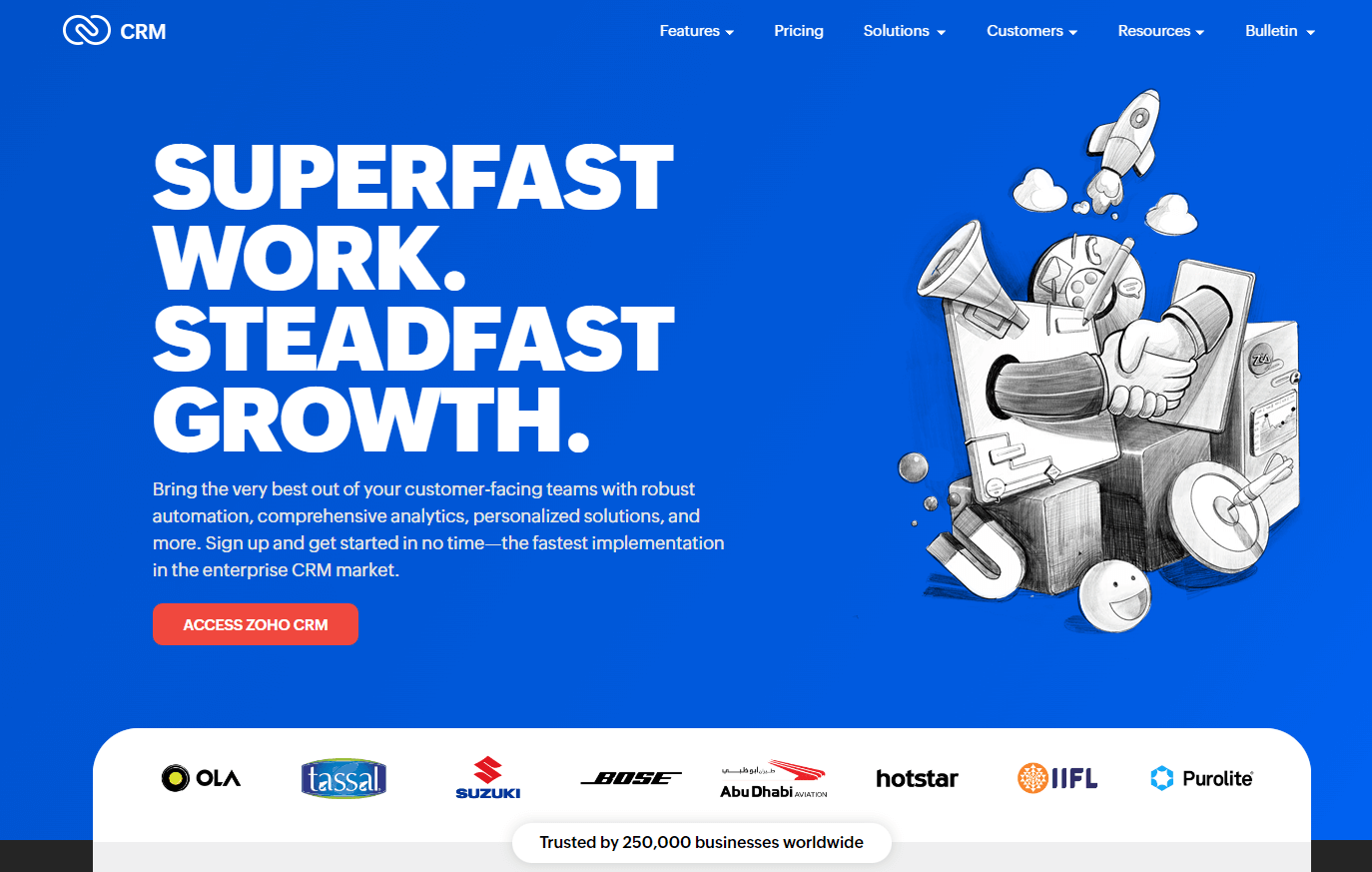 A good option for businesses on a budget is Zoho CRM. With a free plan or affordable premium plans, Zoho CRM is a powerful tool that allows you to keep close tabs on your customers (from a business perspective!) and allows you to leverage the data you hold on them to best effect.
Email Marketing Permissions
Something you'll hear a lot about when it comes to email marketing is 'permission'. In other words, do you have permission, or could it be construed as reasonable to email someone, about your product or service.
If you don't, your email would generally fall under the definition of spam (whether or not you think it is!).
The Merriam-Webster dictionary defines spam as 'unsolicited usually commercial messages (such as emails, text messages, or Internet postings) sent to a large number of recipients or posted in a large number of places'.
Email spam is a hugely complicated topic and the rules around it vary significantly depending on where you and your customers are based.
Across the EU and UK for example, email marketing is governed by a privacy policy called GDPR. This states that email must only be sent to people who have expressly consented to receive it. In the 'good old days', marketers generally deployed forms on websites that had tickboxes that required the customer to tick if they did NOT want to receive marketing. In other words, consent to receive marketing was implied not given. This changed with GDPR and now the box has to be ticked by the customer if they WANT to receive marketing.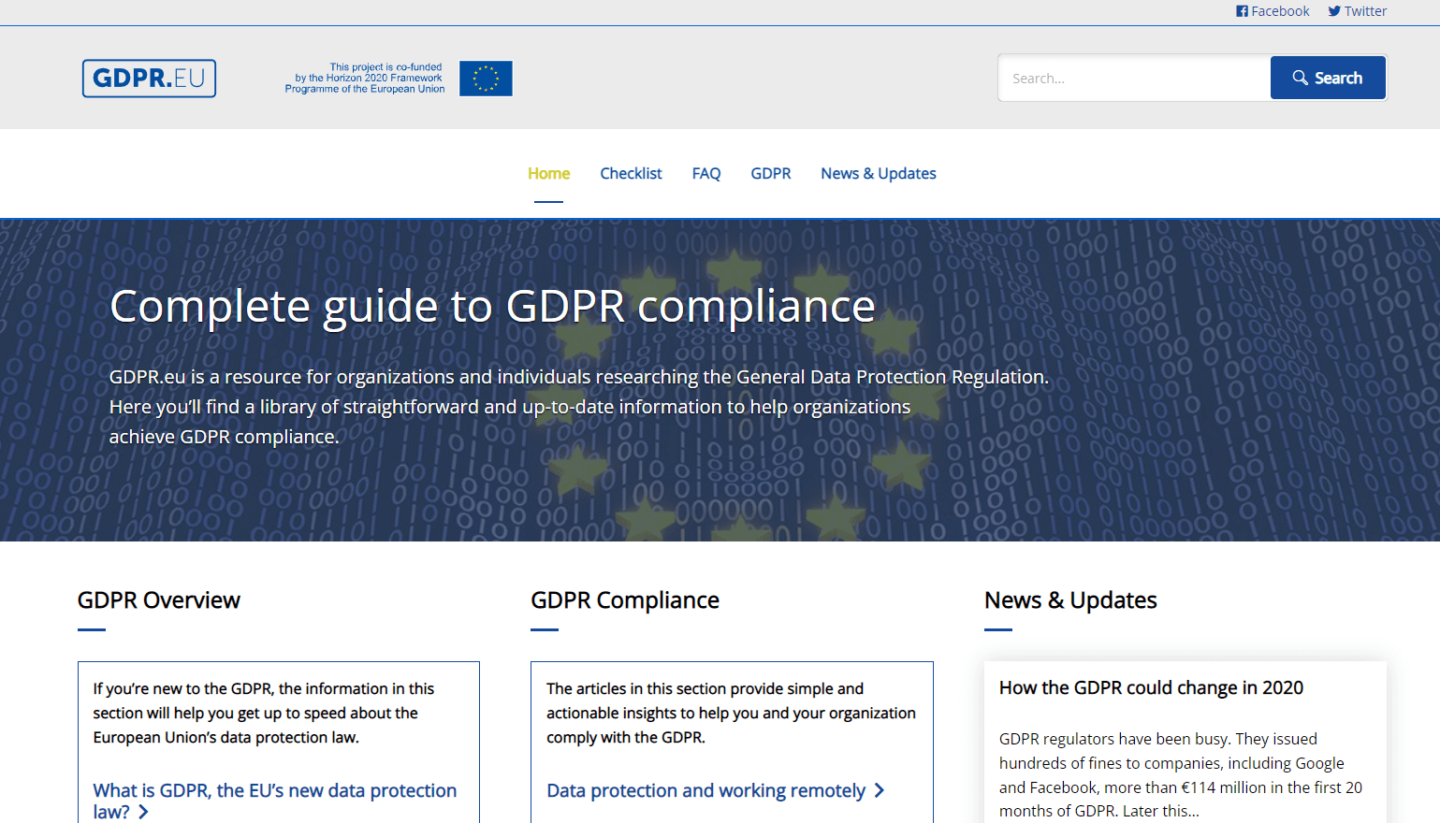 This might sound like a problem, especially when it comes to emailing existing customers from whom you never got consent. In fact, the GDPR rules do allow for a little bit of flexibility by allowing businesses to contact existing customers as long as the messaging is relevant.
In the US, rules vary from state to state but on the whole, email marketing is only allowed to be sent to those who have given their permission. The rules that govern this are referred to as CAN-SPAM. Equally, as with GDPR, permission can be implied if there was an existing relationship between you and the customer.
What is absolutely non-negotiable both legally and from a good business practice standpoint is that customers should be able to 'opt out' of any email marketing communications. That means making sure that any marketing emails sent to them contain an 'Unsubscribe' button that removes them from any future email marketing campaigns.
Further requirements common to both GDPR and CAN-SPAM are:
Your company name and address must appear in each email
Subject lines must indicate the email content
Real email addresses must be used in the 'From' and 'Reply to' fields
On the whole, a little common sense goes a long way in keeping you on the right side of the law. Plus, if you use one of the major email marketing tools like Mailchimp, they'll help ensure you stay compliant (by for example mandating Unsubscribes links).
Launching Your Email Campaign
We've run through the why's surrounding email marketing and covered how you might go about creating an email list. We've also looked at the law surrounding email marketing. It's about time we actually cracked on and looked at the mechanics behind sending an email campaign and we're going to start with how you would actually go about collecting email addresses on your website. Grab a coffee and let's dive in.
Capturing Emails on Your Website
Head back just a few short years and you needed to be a bit of a whizz kid (or developer!) to setup high-quality forms and lead capture fields on your website. Fortunately, it's now super easy to do thanks to a plethora of tools.
We assume you're using WordPress to power your website (and if not, why not) and this makes things even easier. If you've ever used a plugin on your site then you're fully qualified to go ahead and start capturing emails!
Simple Popups
We've all seen them… popups that appear on a website asking for your email address. In their most basic form, they tend to just ask you to subscribe to the business's email newsletter. A little uninspiring perhaps but super simple and better than nothing.
If free is your thing then check out Popup Maker. With tons of 5-star reviews, it offers an easy way of starting out on your email list-building journey!
Advanced Popups, Exit Intent Modules, & More
If you want to take things to the next level, then something like OptinMonster might well be worth a look. It's not free but does provide you with an easy way to more imaginatively try and convince your customers to hand over their email addresses.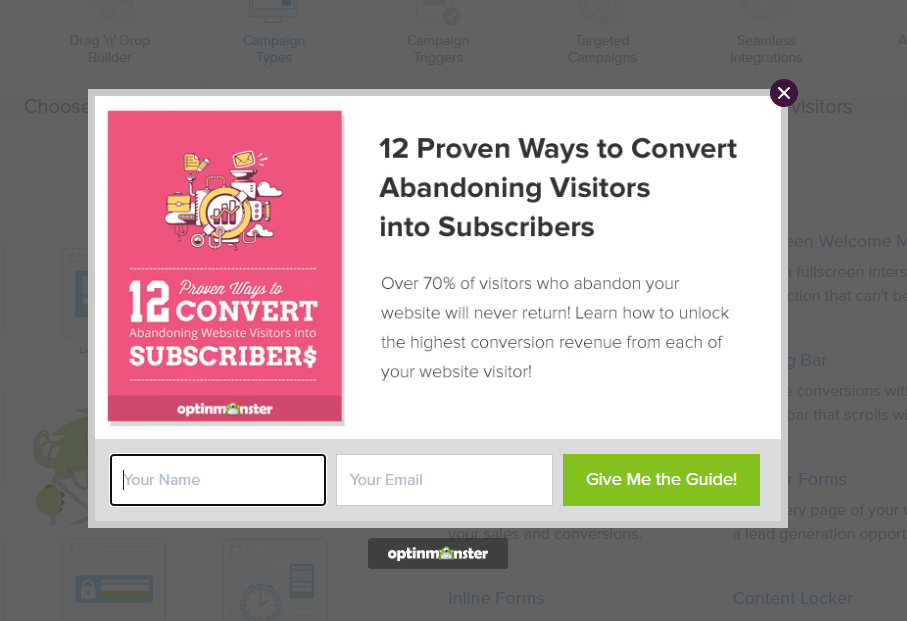 Examples of how this tool work include things like 'exit intent' modals. When the user moves their mouse in order to leave the website, a popup is triggered that hopefully displays an irresistible offer to help keep them on the site. You can also configure more sophisticated popups that trigger when a website user reaches a certain page (or even place) on your website so any offer is more targeted. It's a clever tool and one that could help you build that email list in no time.
Landing Pages
If you've got an amazing lead magnet (i.e. a freebie such as a PDF eBook or a money-off voucher) and you really want to be able to showcase this whilst at the same time collecting an email address then a landing page could be the ideal solution.
Landing pages are web pages that are very focused on one thing. They strip out all the 'normal' things you might find on a website such as the Nav bar and cluttered website footer. All the customer has to focus on is your sales pitch which is hopefully compelling enough for them to fill in a form (including their email) in order to get whatever it is you're offering.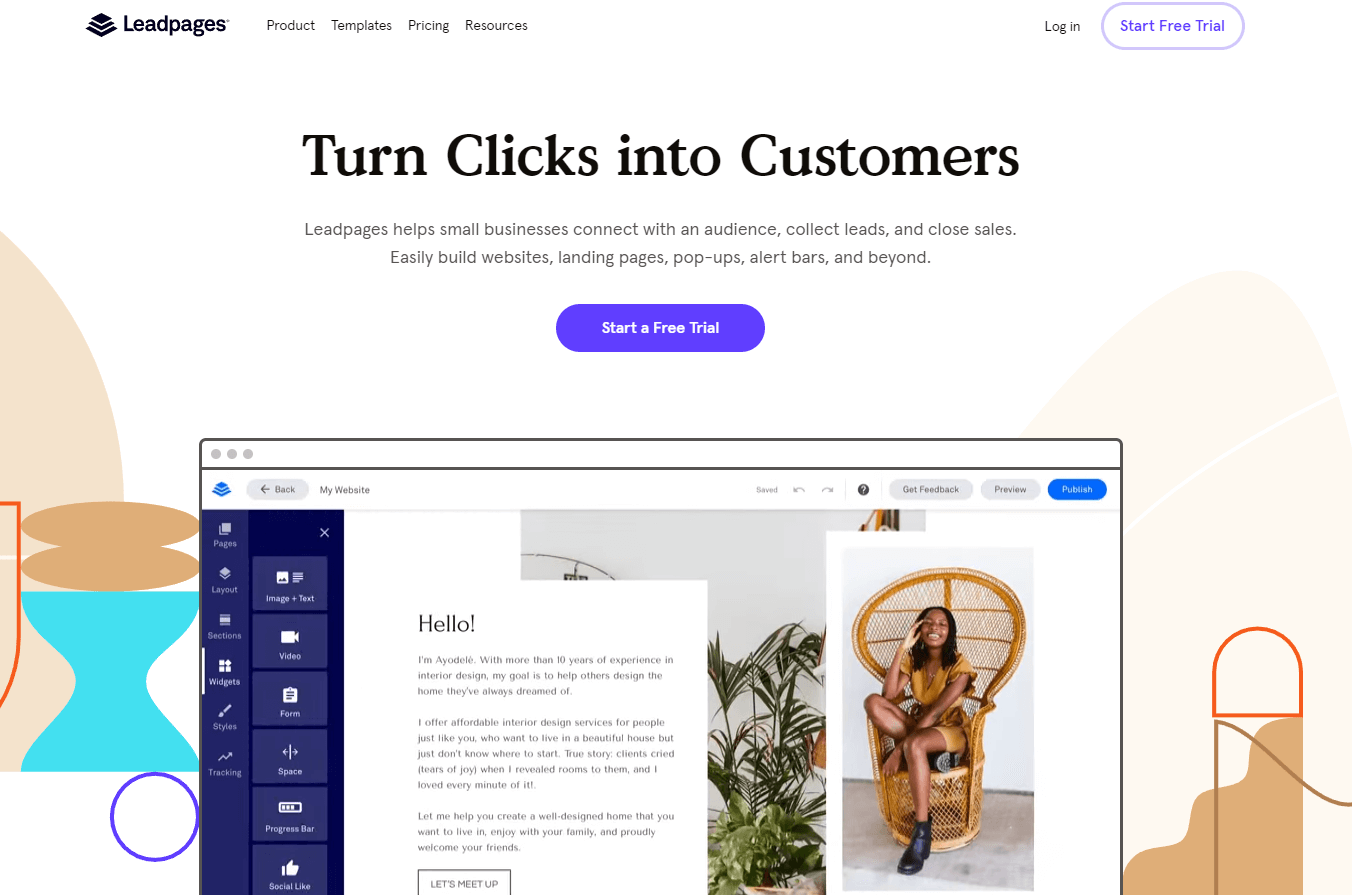 Now of course you could build a page like this using WordPress but that definitely requires a reasonable amount of know how. Instead you could use a service like Leadpages which does all the heavy lifting for you. You can even use their service to build popups.
Integrations
One of the key benefits of the tools listed above is their ability to integrate with your email marketing platform of choice. In other words, captured emails will get sent straight to your email marketing software for safe keeping and, crucially, can be immediately used to send emails to your new lead.
One of the key benefits of the tools listed above is their ability to integrate with your email marketing platform of choice. In other words, captured emails will get sent straight to your email marketing software for safekeeping and, crucially, can be immediately used to send emails to your new lead. 
You can connect your email marketing tools with other tools to send data to one another using automation platforms like SureTriggers and Zapier which then allow you to automate personalized email campaigns based on client behaviors and triggers.
So, what exactly is email marketing software? Glad you asked…
Email Marketing Software
So, we've figured out how to capture emails on our website. Now what?!
We all know how to send an email. It's simple right. Open up your email system (Gmail or perhaps a dedicated business email account), whack in the person's email address, write your message and press send.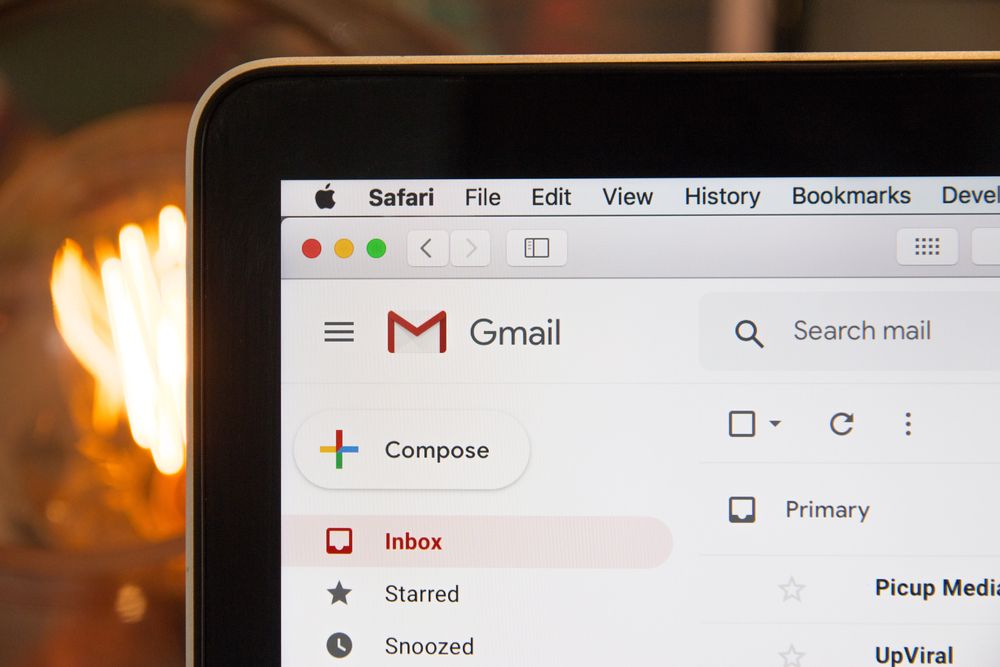 These kind of email systems are of course awesome for day-to-day emailing tasks. Chatting with friends, family. Contacting suppliers etc. etc. But they are categorically NOT suitable for mass email. Why I hear you ask?
It's hard to send 'rich' emails that contain images, video, nice formatting and so on using 'normal' email systems.
They won't contain an easy-to-use 'unsubscribe' link.
Whilst you can in theory 'BCC' your email list which hides who is on it, it's all too easy to accidentally reveal other email addresses on your list. Not only is this going to seriously annoy your customers but it could even leave you open to fines for not handing sensitive data carefully.
There are no analytics baked in – you'll have no idea how many people opened your email among other things.
It's just plain amateurish!
So, what do you do instead. Simple. Use some email marketing software. And the good news… there are loads and loads of options to choose from!
Email marketing software allows you to send emails like the ones you'll no doubt have received from perhaps retailers and so on that you yourself have agreed to get marketing content from. In their most basic format they comprise of the following:
A list management system: This holds all your customer info such as their name, email address (of course!) and perhaps some other details such as their age, gender, product preferences and so on.
An email builder: You know how we said it's hard to build a glossy, good-looking email in a 'regular' email system? Well, email management systems have this side of it licked. They normally provide a WYSIWYG editor that allows you to drag and drop content around the page so you too can create great-looking email. They'll also make sure this will look good on both mobile and desktop screens.
Compliance systems: The businesses behind email marketing software have absolutely no desire to fall on the wrong side of the law and it's definitely not in their interest to have you sending out spam email from their systems. So they go to great lengths to help you do things the right way. That means forcing you to use compliant email footers than include your business contact details and perhaps most importantly including an unsubscribe link in all email that is sent from their system. This in turn dovetails with the email list management system and automatically de-lists any email addresses if and when the recipient clicks the unsubscribe link.
You might well recognize the names of some of the big players in the email marketing software space. They include:
All of the above do broadly the same thing but with their own unique twist. And most will integrate seamlessly with tools like OptinMonster and LeadPages which makes managing your email marketing a whole lot simpler.
And the best bit? Many of them offer a free plan so you don't even have spend a dime to kickstart your email marketing efforts.
It's best to sign up to a few (use the free trials they make available) and have a play around. Take a look at the features on offer and read some reviews before settling on your favorite. You'll be spending some time in their company so you want to try and make sure they're a good fit. That said, don't worry if further down the line you want to move – all will allow you to easily export your email lists and all make it equally as easy to import lists.
Keeping Your First Campaign Simple
Once you've chosen some email marketing software (EMS) to use, it's time to send your first campaign. Let's assume you have a small email list you've built using existing client data. You'll need to upload this information to your chosen EMS. No doubt they will ask you to confirm that the recipients on this have agreed to receive email marketing from you. If they haven't, make sure there is a prior relationship and you don't fall foul of CAN-SPAM or GDPR regulations.
With your list in place you can now build your first campaign. This will involve creating a template newsletter that is branded suitably. You'll be able to re-use this template for future campaigns so don't worry if it takes you a while to setup and get looking good.
Host your website with Pressidium
60-DAY MONEY BACK GUARANTEE
SEE OUR PLANS
Finally, with your template ready you can write your first marketing email. Remember, keep it interesting and relevant.
With that done make use of the test/preview functions that your EMS provides. Check for typos, ensure subject lines are correct and the content looks good. Then check again!
With that done you can press the send button. But wait, don't send your email at 3am when your customers are asleep!
Taking Things to the Next Level
One of the really cool things about email marketing is how, with a bit of effort, you can continually work to improve the success of your campaigns.
There are a ton of metrics you might choose to look at and, with your first campaign on its way you'll no doubt be keen to check out the stats that your ESM provides. You'll see data on open rates, bounce rate (where your email couldn't be delivered), click thru rates and much more. Don't be disheartened if your open and click-thru rates seem low. Typically click thru rates can be around 2%.
The goal is to continually improve these stats and there are lots of ways of doing it.
Your EMS will provide a range of tools to help you enhance your campaign. They may include features like A/B testing that allow you to send slightly different emails to your audience so you can see if something like tweaking the subject line improves opening rates. Over time you'll also get a feel for what works best and can naturally up your email marketing game.
Email Automation
We mentioned one of the reasons for using a lead capture tool like OptinMonster is that it will integrate directly with your chosen EMS. This allows you to do some cool things. For example, you can build a workflow that sends out a stream of emails over a period of weeks based on your website user's activity.
Let's look at an example.
You design a popup on your barbershop website that offers people who fill out their email 25% off their next haircut. The popup appears when they land on your booking page but only if they don't book within 1 minute of hitting this page or go to leave the page.
The form that accompanies your popup asks them for the following details:
Their first name
When is their next haircut due
In return, they are promised a voucher entitling them to a 25% discount on their next booking.
Your prospective customer fills out the form. This data is sent to your EMS where it gets automatically added to a list called 'Prospects'. The EMS now automatically sends out a pre-prepared email to the prospective customer with their voucher.
Based on their response a second email is sent on the date their next haircut is due reminding them of their discount voucher and including a link to your online booking system.
Finally, a third email is set to be triggered 2 weeks after this date which could remind them they've forgotten to get their haircut!
Hopefully, the customer chooses to book and, if they do, their details need to be moved from the 'Prospect' list in your EMS to a second list 'Customers'.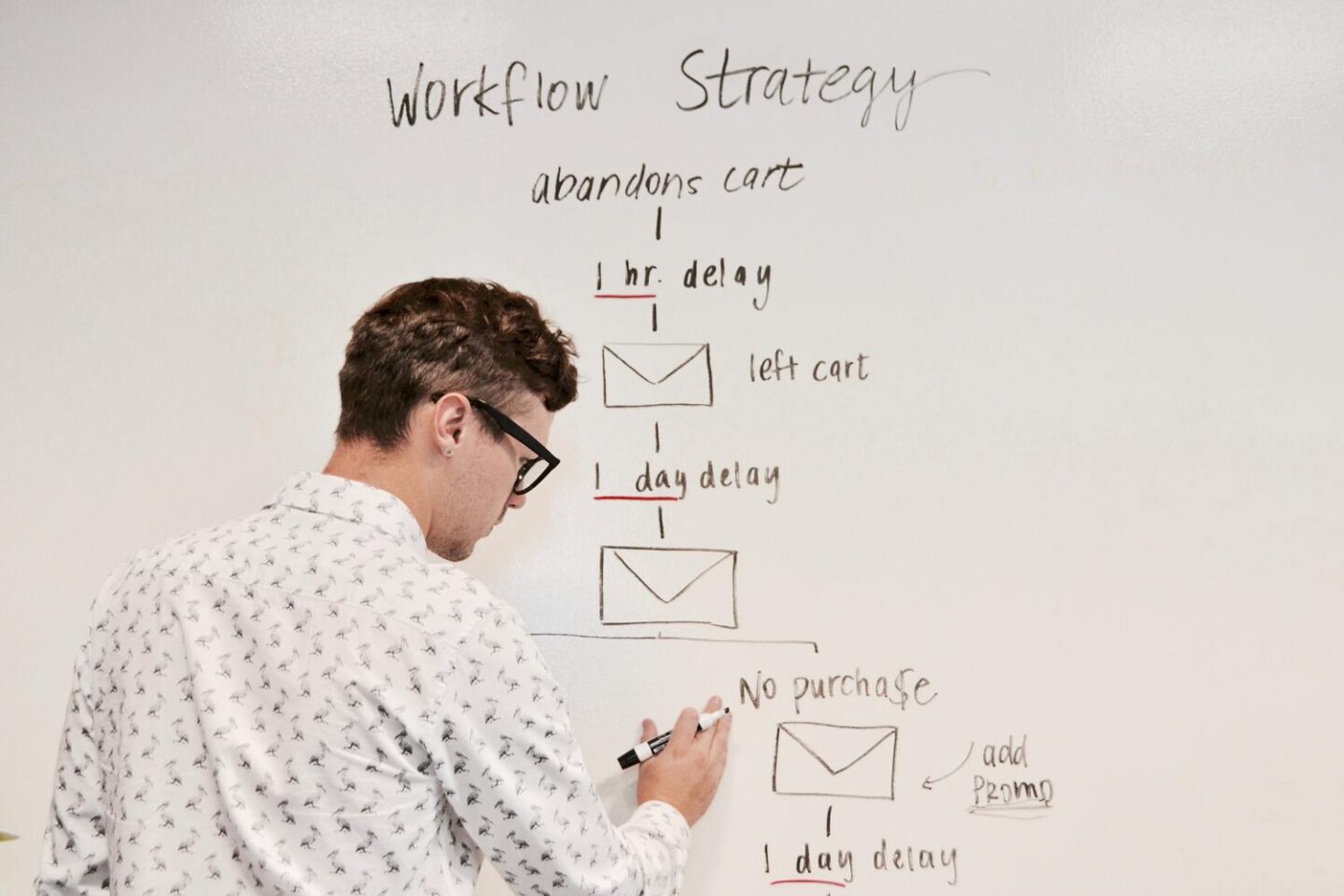 Some EMS offers staggering levels of automated options and pretty much the only limit to what you can achieve is your imagination. Creative, time-sensitive, targeted emails are MUCH more likely to achieve the desired outcome and you should aim to really leverage the clever automations available to you through your EMS.
What Are You Waiting For?
Email marketing is affordable and it's effective. It's also super easy to get started with. You can kickstart your business email marketing by investing nothing more than your time by utilizing all the free tools available to you. If you like what you see the option is always there to take things up a gear and at this point paying for premium tools may make a lot of sense.
However you choose to do it, you've very little to lose and a lot to gain by joining the 64% of businesses that already make the most of this the king of marketing channels.
Start Your 14 Day Free Trial
Try our award winning WordPress Hosting!