Looking to hire a WordPress expert or freelance WordPress developer? With WordPress powering 43% of the world's websites, at the time this article is written, it's essential to understand when you might need professional help. While WordPress is user-friendly for basic designs, more complex projects can be challenging. In this article, we'll explore why you should consider hiring a WordPress developer and how to find one.
Due to WordPress popularity, there's a somewhat reasonable assumption that it's incredibly user-friendly, and practically anyone can jump in and create a website without being an expert or having to hire a WordPress developer. Whilst this is true in part, it doesn't necessarily reflect the reality.
Truth is, beyond the most basic of website designs, you still need a reasonable amount of technical know-how in order to make the most of WordPress. The good news is that there is a treasure trove of articles and videos online which can teach you practically anything you need to know. The downside to that is it can take a long time to 'learn the ropes', time that many of us don't have, especially if you are running a business. And, if you need more sophisticated elements on your website (perhaps an interface with a stock management system) then this can get seriously complicated very quickly.
This is when you hire an experienced WordPress developer to take on your project. It will make your life easier and ensure you end up with a website that does you and your business justice. In this article we will take a more detailed look at why you might want to hire a WordPress expert and also where to find one!
Reasons to Hire a WordPress Developer
There are countless reasons why you might opt to use a WordPress developer as opposed to going it alone. Let's look at a few of them.
Customization
As you probably already know, WordPress is incredibly customizable, thanks in part to an almost endless number of themes and plugins which can all be used to customize your site both from a design and functionality perspective. Despite this, if you really want a truly bespoke design or need a specific feature or function then you are likely need to hire a WordPress developer for this.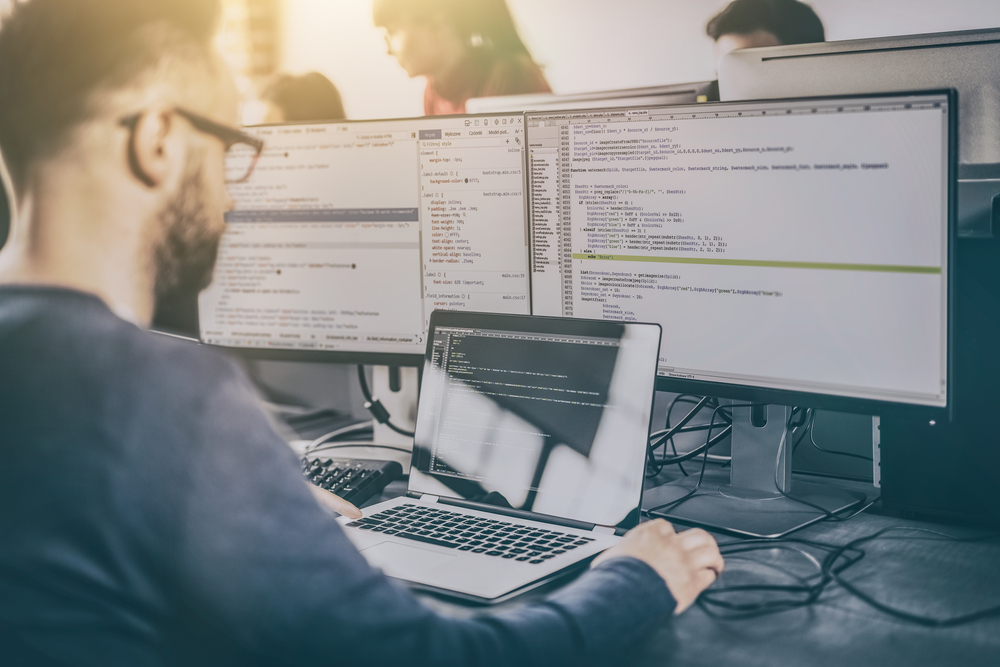 Themes, plugins and extensions can all be great but often result in a generic website that doesn't fully represent your business the way you want. This is where a skilled developer comes in play and can create the design or functionality of your website as you see fit.
The Right Theme/Plugin
Even if you commission a bespoke website, odds are high that a theme will be used as the 'backbone of the website and various 'off the shelf' plugins will be used. Choosing the right theme and plugins can make a huge difference when it comes to how quickly your website loads, how secure it is and longer term how well it continues to function. Developers have tried and tested countless plugins and themes and are therefore in a good position to advise on which ones should be used.
Technical Support and Μaintenance
There is a perception that once a website is built, 'that's it'. Unfortunately, this is far from the truth!
Try our Award-Winning WordPress Hosting today!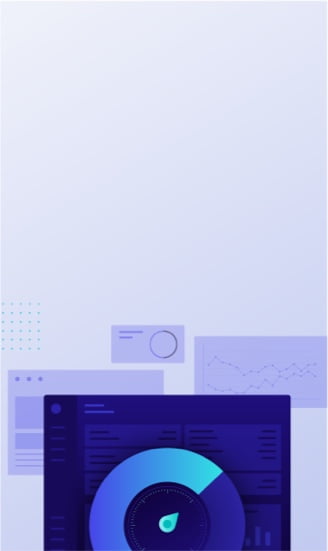 A website needs regular maintenance and updates, no matter how big or complex it is. Modern websites are actually pretty complex. Behind the scenes there is a lot of code and this code is normally the result of numerous third parties (plugins, themes and so on). As these things continue to evolve you can find conflicts occur and this can result in your website breaking. A good developer will understand this and will be able to resolve any issues that arise over the website's lifetime. Moreover, they will provide ongoing maintenance services that reduce the risk of any website downtime.
Security
Malware attacks, DDOS attacks, spam users, SQL injections… do these things sound scary? Well, the should! Websites can and do get hacked and it's important that not only is a website well designed in the first instance but that continual efforts are made to keep the site secure. Ongoing maintenance will help with this. A developer should be well-versed in these issues and their support help ensure that your website never falls victim to a hack.
Understanding Your Audience
A WordPress developer should take the time to understand your audience. The more insights into this you can give them the better. As a result, they will be able to adjust the website's appearance and how the content flows in order to appeal to them. This should result in maximum engagement levels with your site which in turn should mean higher revenue.
SEO
An additional benefit you will get from a developer's work is to improve the SEO ranking of your website. A developer will deploy a range of tools to help your website achieve the best possible rankings. SEO begins with website design and you're more likely to succeed in this arena if you have built a website to modern standards that adhere to the SEO guidelines laid down by Google and other search engines.
Where to Find a WordPress Developer
Finding a developer who has the skills you require, availability to take on your job and at a price you can afford can be tricky! Fortunately there are a number of websites dedicated to helping connect clients and developers. We've listed a few of the ones that you might want to try below. If you're looking to hire a WordPress expert, you can explore these platforms to find the right developer for your needs.
Codeable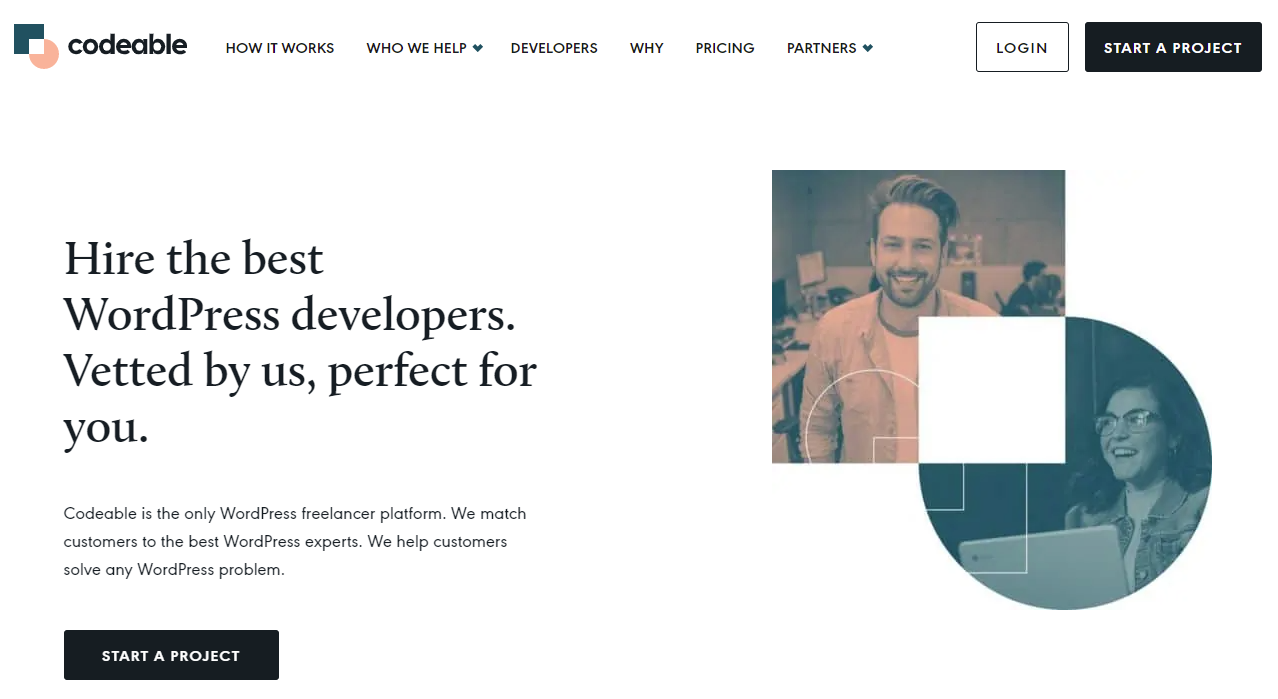 Codeable is a popular platform on WordPress development services with a good reputation. Encouragingly, reviews given by users who have commissioned projects through the platform are almost without exception, positive.
Codeable only allow developers to join the platform when they have passed a rigorous screening process which includes a professional review and technical exam. As such, you can be confident that any of the developers listed on the platform should work to high standards.
To begin finding a developer on Codeable, you'll need to register for an account and submit the job details form. The platforms developers will then review your submission and contact you with a price for the work you want doing (Codeable states that rates tend to vary from $70 to $120/hr). Once you have accepted a quote you'll need to deposit the fee in a secure escrow account overseen my Codeable. When you mark the project as complete, the developer will receive these funds.
Codeable offer 24/7 customer support which can be invaluable in the event of any issues.
Toptal

Toptal state they run an exclusive network that comprises the top 3% of developers from around the world. The aim is to save you time when it comes to screening potential developers as they, in theory, have already taken care of this for you.
Developers are only selected after checking their language skills, technical skills and their passion for development work. In addition, each developer on their site has to undertake a 'demo' project and complete it to Toptal's required standards before they are allowed to operate through the platform.
The profiles of developers on Toptal are well presented and thorough with a resume, skill description, experience, location, portfolio and more which helps when it comes to choosing the right developer for you.
The feedback so far both from users is good. High quality results, communication and professionalism are areas that reviewers have commented on when reviewing their Toptal experience.
In order to find the right developer to work with, Toptal asks you a range of questions on your project such the type of the project (e.g. website development), the roles you would like to hire, the deadline and budget of the project etc. Once you have submitted your answers, you'll get a call from one of their team who will discuss your project in more depth with you. They will the recommend a developer.
In order to use the service you will have to deposit $500 that can of course be applied to your job.
Upwork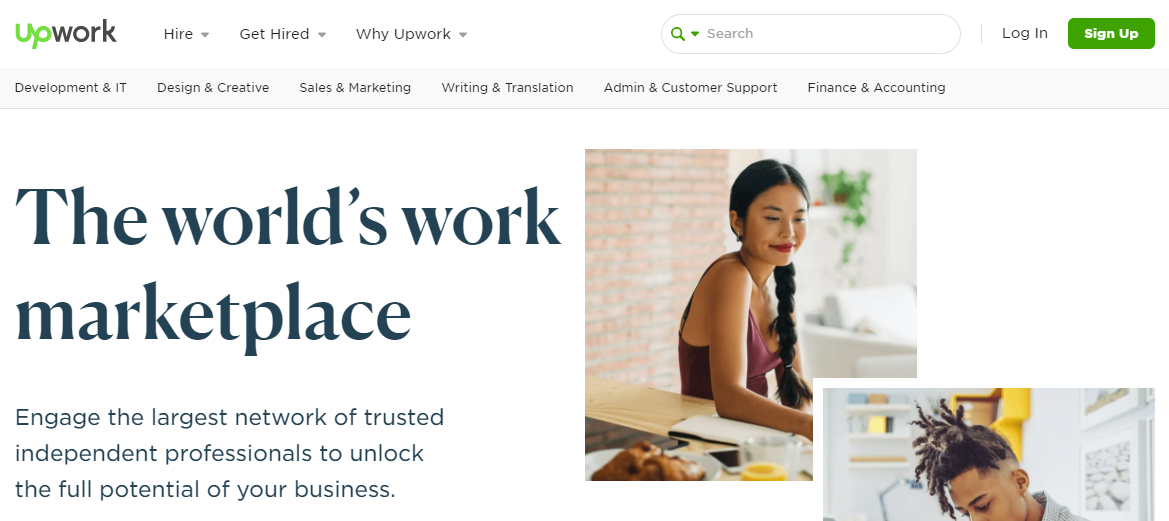 Upwork is another hugely popular platform that helps connects developers with clients. As well as web developers you can find graphic designers, writers, finance and accounting experts and more.
Posting a job is free to do or you can sign up for a premium account which runs at $49/month. Premium accounts benefit from a dedicated account manager who can help you in your search for the perfect web developer!
ClickWP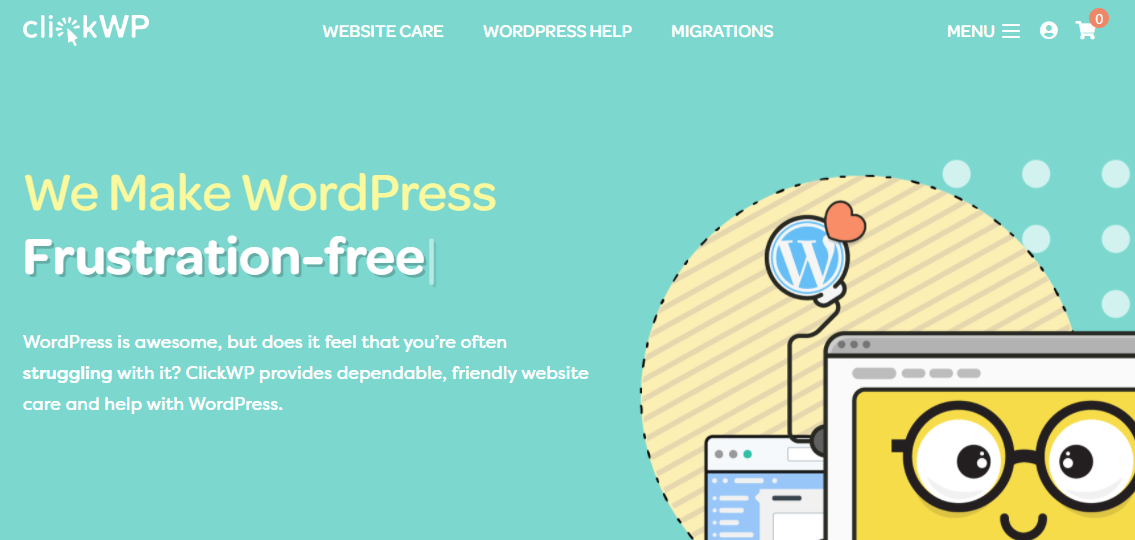 If you're happy building your own website but just feel like you might need a hand with maintenance or perhaps a specific coding issue then ClickWP might be the ideal choice.
They offer a 'Website care' package that us reasonably priced starting from $35 per month. This is suitable for simple tasks like plugin configurations, theme tweaks, updates, backups or security monitoring.
In addition they offer two further levels of support (for an additional fee). You can choose between the 'Sidekick Support' for tasks like formatting & publishing content, on-page SEO, setting up email subscribe forms, configuring plugins and themes and so on. If you need help with development level tasks then their 'Superhero Support' might be a perfect choice.
They also provide starter packages for Bloggers and Small Businesses to help you launch a professional website quickly.
WordPress Jobs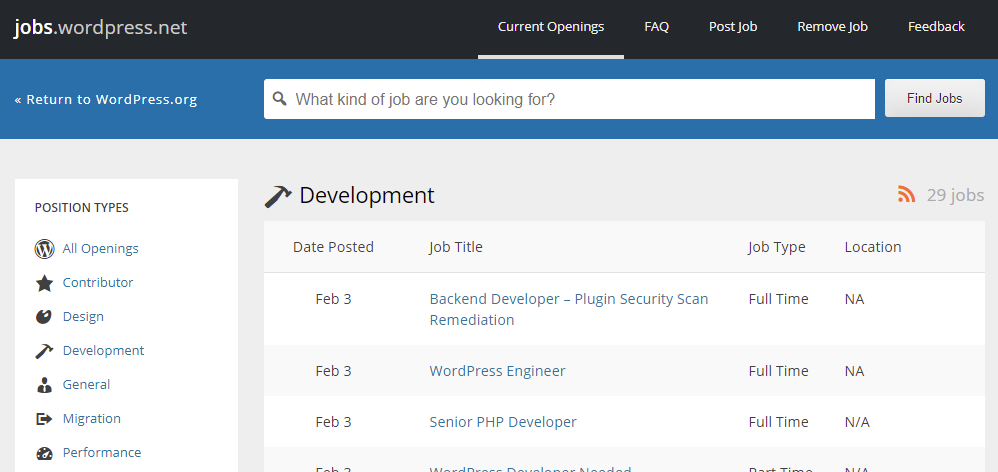 The WordPress Jobs website is the official WordPress website for finding developers who can undertake WordPress related jobs for you. It's quick and easy to post a job. There are no fees but equally no vetting process for developers. As such it's very much up to you to check you're happy with whoever you hire.
There is a standard form where you can submit your job with some details of job category and type, available budget and more. If your post is accepted developers will be able to see it for 21 days and contact you to find out more.
WPhired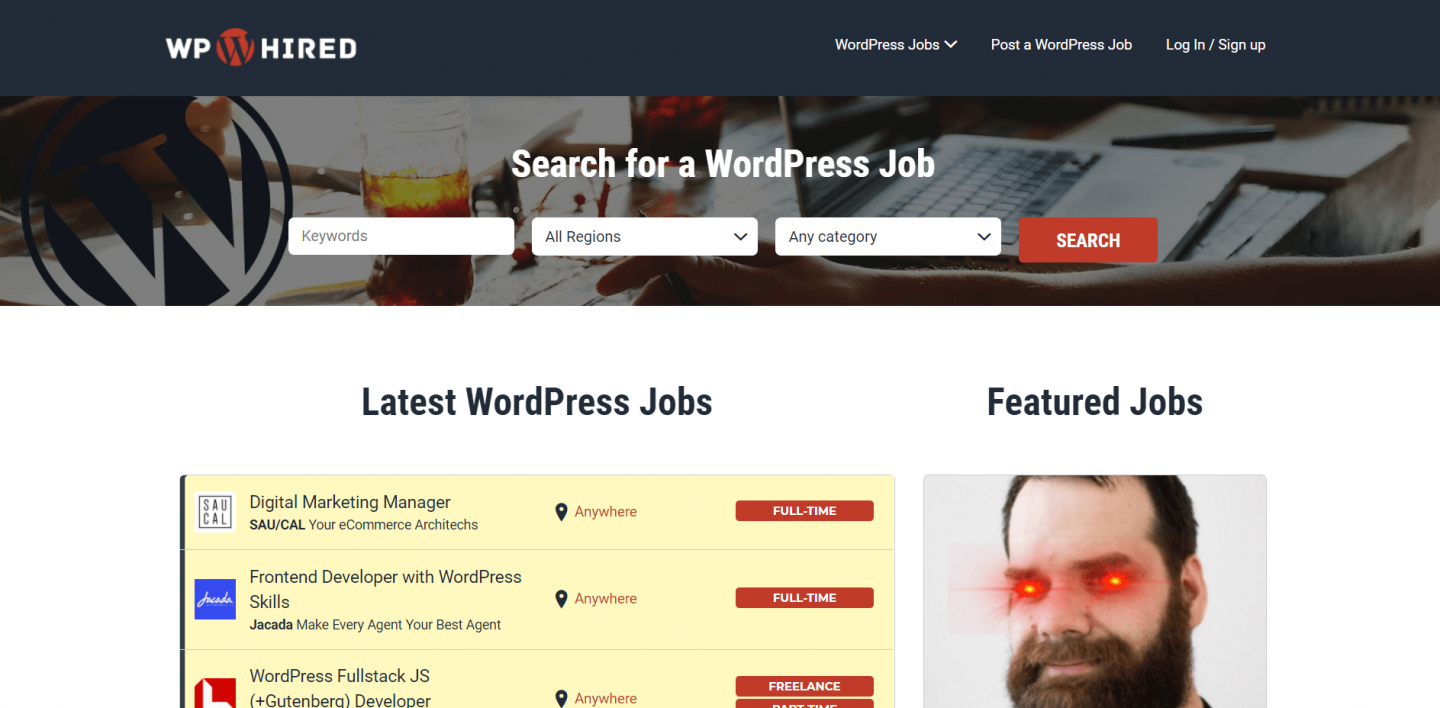 The WPhired service focusses solely on WordPress jobs. Creating a jobs listing is free but there is the option to 'boost' your advert.
Similarly to WordPress Jobs, candidates can contact you via a method of your choice and it's then up to you to move the project forward.
How to Choose a WordPress Developer
There are a number of factors to consider when hiring a WordPress Developer. We've listed some of the criteria you might want to consider below.
Ratings and Reviews: Many of the websites we've listed provide detailed reviews left by previous clients. Check the level of satisfaction others have experienced with the work performed for them.
Skills: A WordPress website developer needs a variety of skills and technical competencies. These include multiple programming language knowledge such as PHP, MYSQL, CSS, JAVASCRIPT, HTML, AJAX and maybe more. Check they have the skill set to undertake your project to a high standard.
Expertise: How familiar is the Web Developer with WordPress? Don't forget that you can be a web developer but NOT use WordPress! As such it's important to make sure that a prospective developer works with WordPress on a regular basis.
Previous Work: Checking out a range of previous work undertaken by a developer. Does it look good and function well? Does the style of work match the style you'd like for your website?
Communication: Ascertain how easy it will be to communicate with the developer. Are they available to reach them by phone? Do they answer your questions quickly?
Response Time: Ensure that your prospective developer does not have an excessive workload and can manage your project within your required timeframe.
Pricing: The old adage 'you get what you pay for' applies just as much to WordPress development work as anything else. Cheap isn't necessarily a good thing!
Paid Test Project: Before embarking on a major job with a developer try getting them to complete a smaller job. This allows you to truly see how they work without having to risk a lot of your time or money.
Scope of the Job: Make sure the developer(s) involved fully understand the scope of the project and you clearly document what you expect so everyone is on the same page. Remember, don't rely on verbal communication. If it's not in writing and there is a disagreement at a later date you won't be able to enforce your contract with them.
FAQs
Should I hire a WordPress developer?
Hiring a WordPress developer is essential mostly for more complex website projects. If you need a unique and custom website design or your website requires complex functionality, such as e-commerce, membership systems, or booking systems, you should look for a WordPress expert. They will also save you much trouble with theme and plugin code customization, security and performance optimization, troubleshooting, backups, website migration and many more. To find a WordPress professional, you can look up in services like Codeable, Toptal, Upwork, ClickWP, WordPress Jobs, WPhired.
How Much Does it Cost to Hire a WordPress Developer?
When you're looking to hire a WordPress developer, make sure to talk to them about their experience and how much they charge. Some developers might ask for money based on the hours they work, while others might have a fixed price.
This price can vary depending on factors like experience, project complexity, location and more. At the time this article was written, the estimated cost typically ranges from $50 to $100 per hour to achieve a dignified result. If it is a fixed price project charge, the range becomes much wider as it depends on the analysis of the requirements of the project. It may start from a few hundred dollars and up to several thousand dollars.
Before you hire them, it is wise that you ask for an estimation of how much everything will cost, to avoid surprises later on.
Conclusion
Deciding who is the right developer for your project isn't an easy task! Take the time to research the options and ensure you are completely clear about what you want to achieve. Ideally, don't undertake projects with tight deadlines!
With a bit of luck you'll be able to find a WordPress developer who you work well with. It's worth the effort to find the right match. Happy searching!
Start Your 14 Day Free Trial
Try our award winning WordPress Hosting!