The first ever WordCamp Athens 2016 took place on the weekend 19-20 of November. It was an amazing experience that brought together people from different backgrounds, sharing a keen interest in WordPress.
More than 400 attendees gathered in the center of Athens, at the spacious and hospitable venue of Technopolis, Gazi. The first day of the event was comprised of an interesting and diverse series of speeches delivered by 20 professionals. These were separated into two tracks. Track 1, dealt with a number of technical approaches to WordPress and addressed issues about UX, typography, website maintenance, website security, WooCommerce, managing workflows and the WordPress database. The introductory talk about the REST API by Automattic's Jack Lenox was particularly interesting. The WordPress REST API will eventually get merged with WordPress core in the 4.7 December release. This is an important step in Wordpress becoming an full-fledged application server. While at the same time, the Track 2 speeches, moved towards covering issues related to digital strategy, blogging, SEM-SEO, theme designing and publishing on WordPress and issues related to CodeCeption and WP-CLI.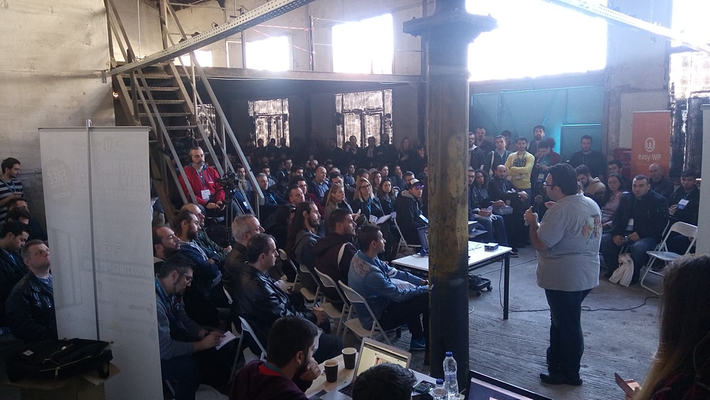 Photo by Stefanos Grammenos, Pressidium Devops and WC Athens 2016 organizer.
It was, admittedly, a unique experience for the WordPress fans of Athens, as this was the first time such an event was organised in Greece. The place was buzzing with attendees opening up to new approaches, enquiring about a range of issues related to WordPress and exchanging ideas freely. They were also given the chance to socialize and network; mainly over the small breaks and during the lunch break, when everyone got the chance to relax and enjoy the warm Athenian sun.
On the 20th of November, the second day of the event kicked off at the premises of Found.ation. On the much-awaited Contributor Day, everyone present was given the chance to be inspired and bring forth individual contributions to the shared WordPress Community. Motivated, inspired and open to learning new things, the 60 attendees made the best of this creative day.
WordCamp Athens 2016 was off to a highly promising start! Looking forward to the next year's event!
Host your WordPress Website with Pressidium!
View our price plans