Whether you are running or working in a business with 100's of people on the team or are a solo entrepreneur busy working day and night on your business chances are you will need some way of keeping track of your (and your team's) to-do list. Our Asana vs Trello vs Todoist comparison pitches each one of these hugely popular project management tools against each other so you can decide which one is best for your needs.
Taking an Overview… The World of To-Do List & Project Management Software
Google 'Project Management Software' or 'To-Do list apps' and you'll be presented with an astonishing array of choices. Clearly, keeping organized is something we all ideally need to do and lots and lots of apps have sprung up to service this need.
Choice is great but it can make things very confusing. As such I'm just focusing on the solutions which I think are the best on the market and are the leaders in this sector; Asana, Trello and Todoist. There is no such thing as a one size fits all project management or to-do list solution. The aim of this article is to explain how these tools work and to help you understand which one might work best for your particular circumstances.
Let's get started!
Asana Initial Overview
Asana has been around since 2008 and is probably one of the most recognizable task and project managers available.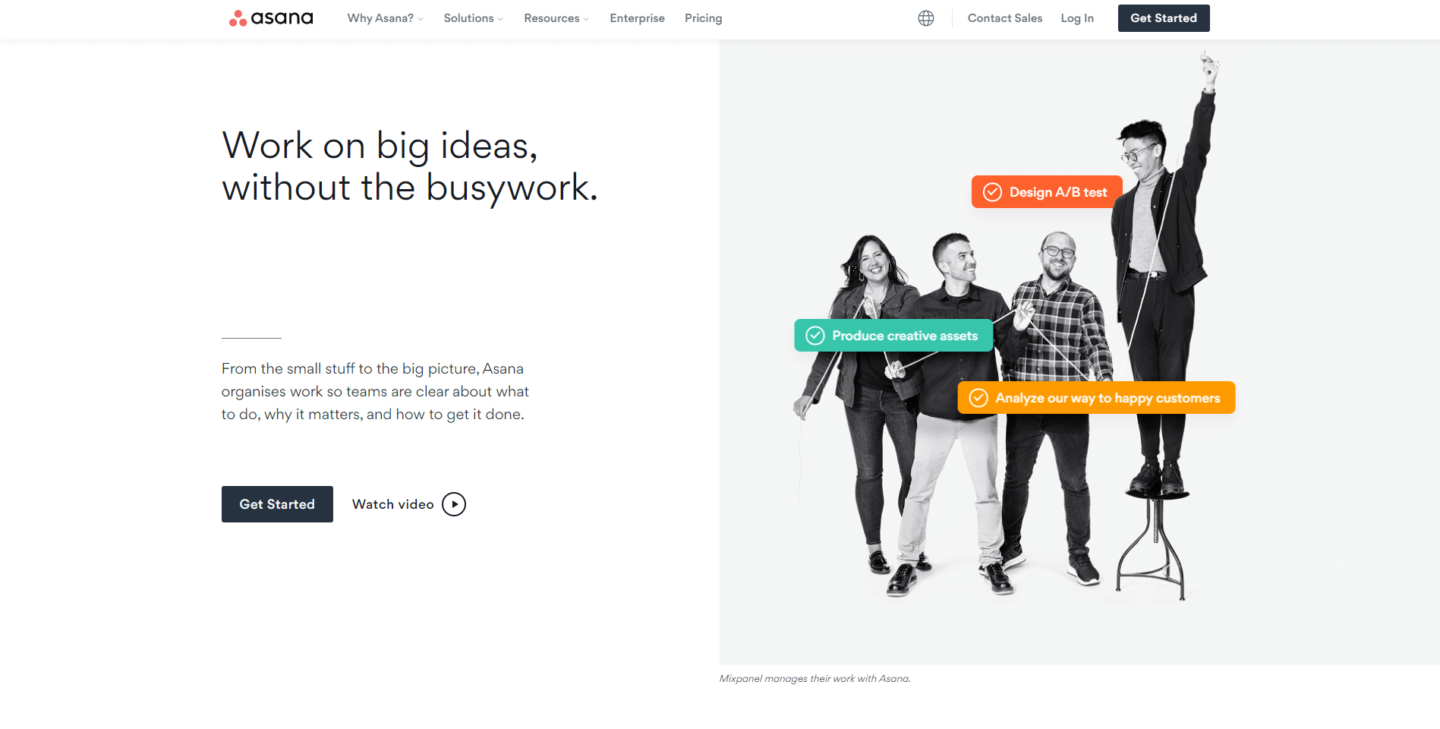 Widely used by teams large and small it's a feature-rich platform that has a very intuitive interface allowing you to get organized quickly and easily. It is geared towards slightly larger teams rather than solo entrepreneurs but that said, there is absolutely no reason why you can't use it as an individual to keep yourself and your business organized.
Trello Initial Overview
Trello was launched at a similar time to Asana with the same aim… to help you organize your projects.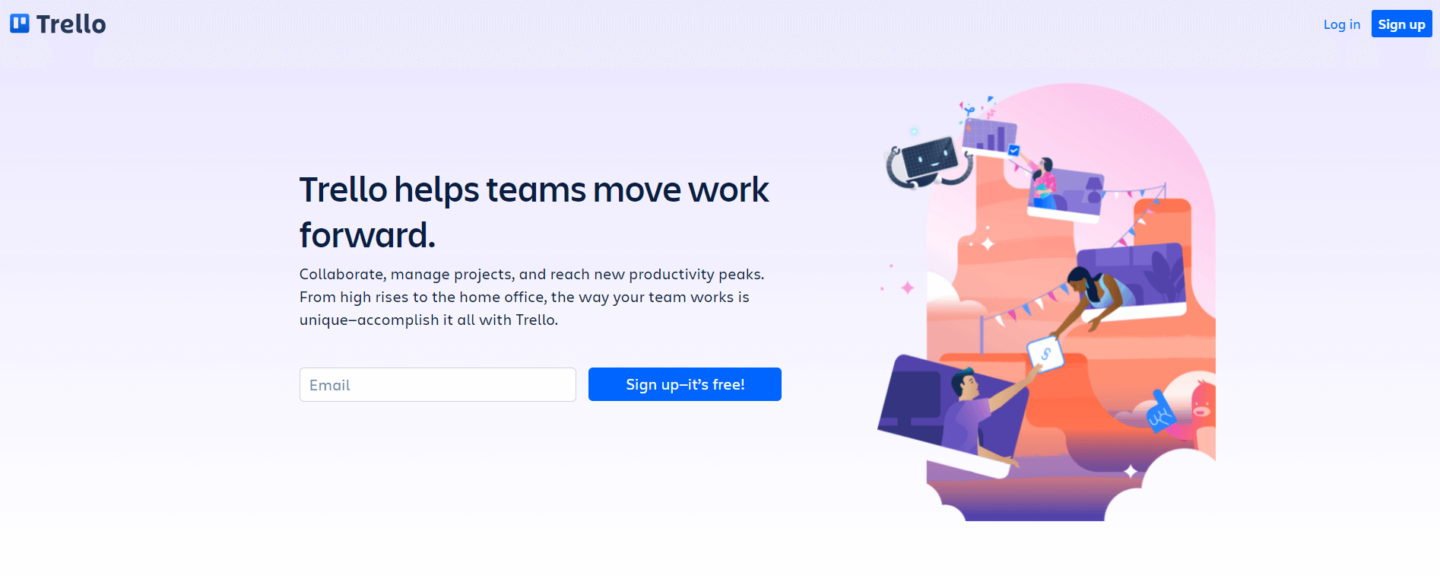 The approach differed at the outset from Asana however with the entire Trello system built around boards. These boards are filled with cards that can be dragged and dropped into various orders. Each card can be filled with lots of information about the projects you're working on. The design is colorful and visually appealing and the whole system very much a virtual pinboard populated with sticky notes.
Todoist Initial Overview
Launched in 2007, Todoist has forged ahead to become one of the most recognizable to-do list apps on the market.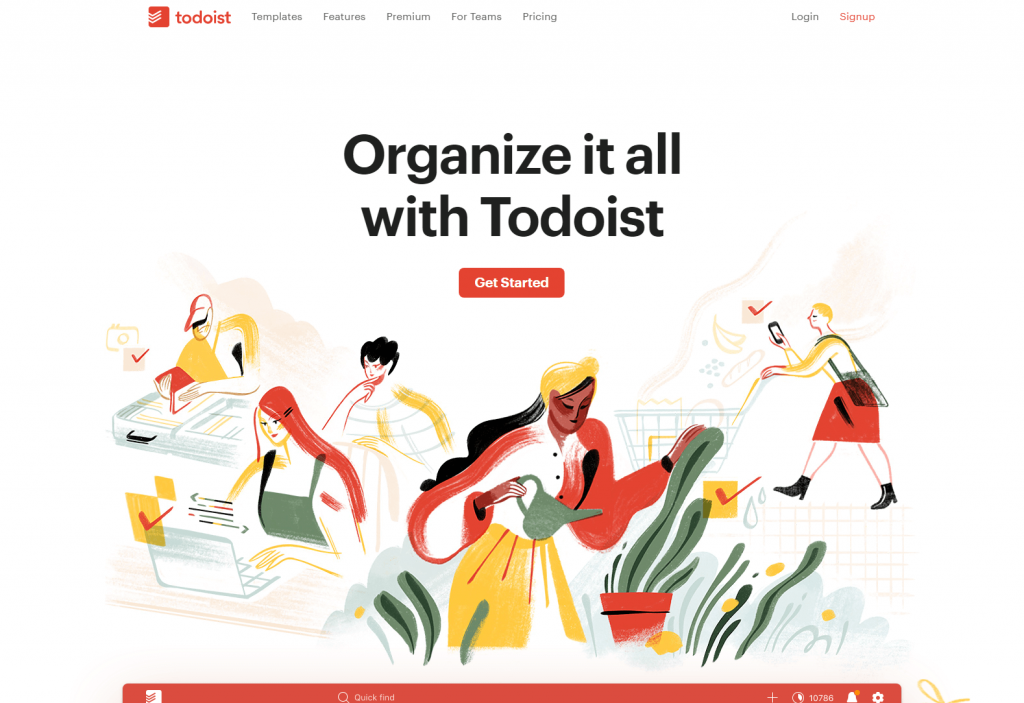 It serves both the business and retail market (single users, families and so on) and has never strayed from its roots in providing a simple, but highly effective digital to-do list experience.
Asana vs Trello vs Todoist: Pricing & Plans
I don't know about you, but often before checking out the features of a new product, the first thing I do is take a look at the price! After all, if a product is too expensive then there is little point in getting excited about its features! With that in mind, let's find out more about how Asana, Trello and Todoist charge for their product.
Asana Pricing
Asana offers a free plan as well as two Premium plans aimed at larger organizations. The free plan is reasonably generous and allows you to try Asana out to see if it's a good fit for you and your team with up to 15 seats allowed on the free plan.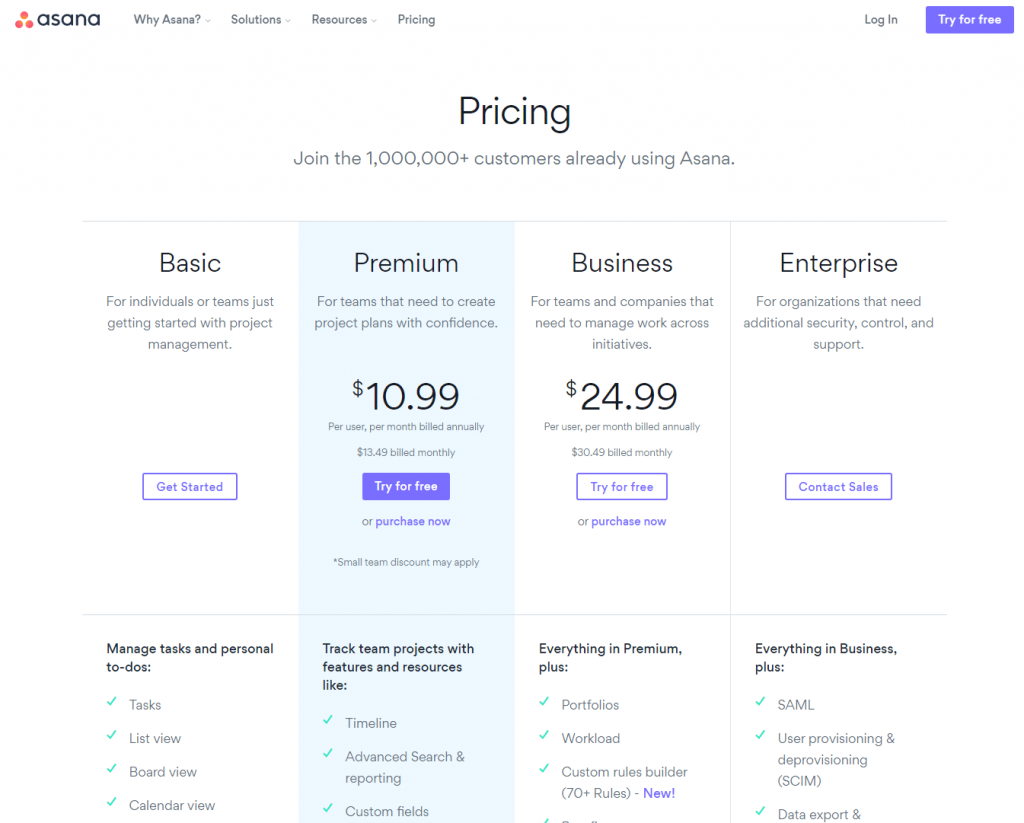 Asana Premium costs $10.99 a month per user. In reality, if you are going to make Asana central to your task and project management workflow then you will probably want to upgrade to the Premium plan which includes additional features such as Custom Search & Reporting, Private Projects and Timeline. More on these later!
Asana Business is a new price plan tier that was introduced in 2019. It bumps the price up fairly considerably to $24.99 per user per month. Additional features over and above the Premium plan include Adobe Creative Cloud integration, Portfolios and Workload.
Try our Award-Winning WordPress Hosting today!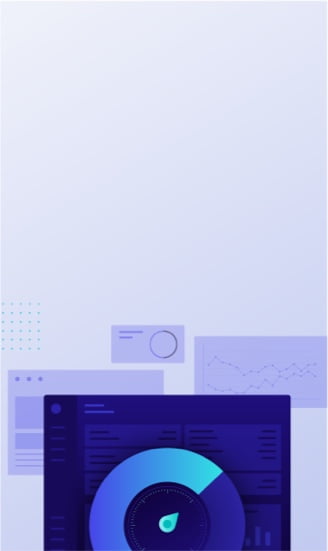 To get started with Asana, head to https://asana.com and sign up for a free account (you can easily upgrade at a later date without losing any information).
Trello Pricing
The pricing structure of Trello is relatively similar to Asana with a free plan and then three business-level plans (called 'Standard', 'Premium' and 'Enterprise').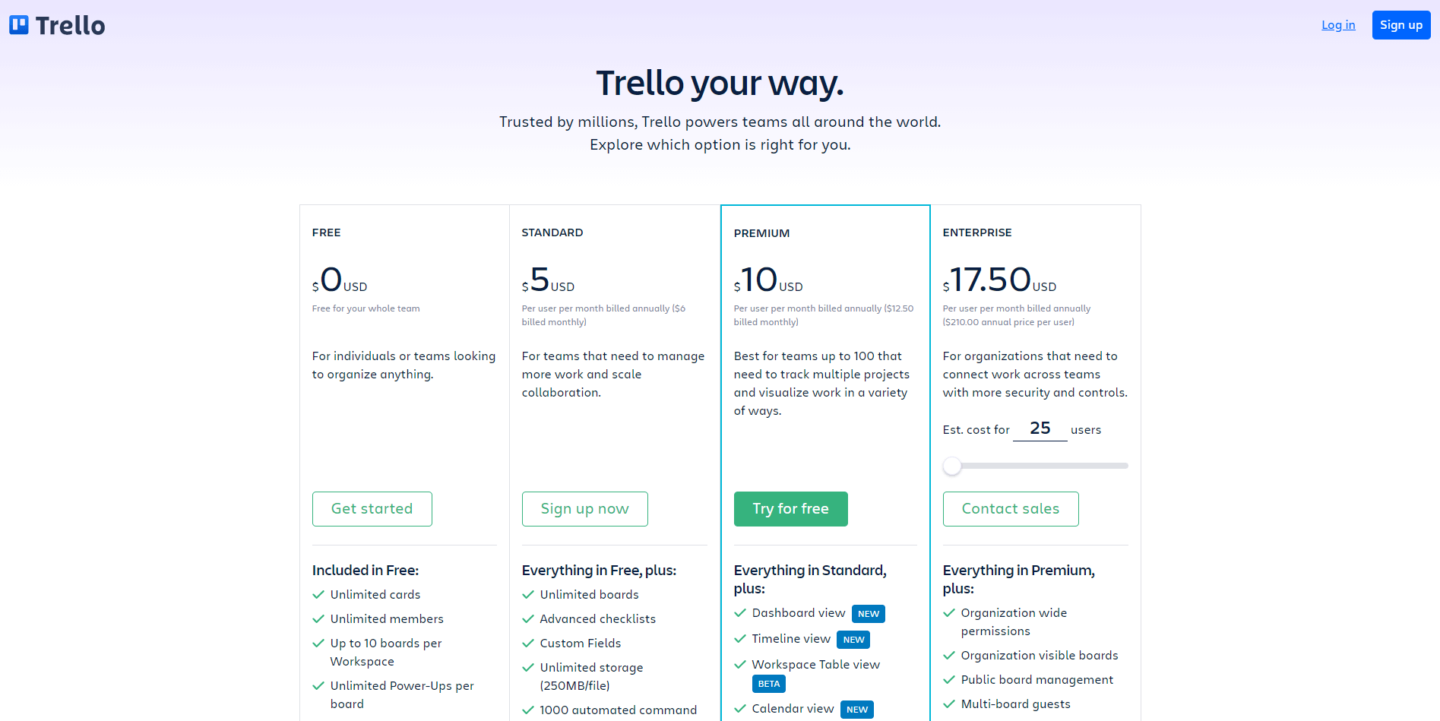 The free plan is a perfect way to try their system out and more than adequate for individuals who just want a way to help them organize one or two projects. Standard adds a few 'must have' features (like unlimited Boards) whilst Premium gives you access to pretty much all you'd need as an individual or small team.
Trello Enterprise is for large organizations and starts at $17.50 per month per user with a minimum of 25 users required to sign up. The cost falls the more users you add to the plan. Trello Enterprise has approximately the same feature set with the addition of further security controls.
To get started, head to https://trello.com and hit the 'Sign up' button. Registering is quick and easy and you'll be creating your first board within a minute.
Todoist Pricing
Once again (we're starting to see a pattern here!), Todoist, in common with Asana and Trello have a tiered pricing structure that begins with a free plan. The big difference is the distinction between their Pro plan and Business plan… the Pro plan is aimed much more at individuals whilst the Business plan is, well, for Businesses!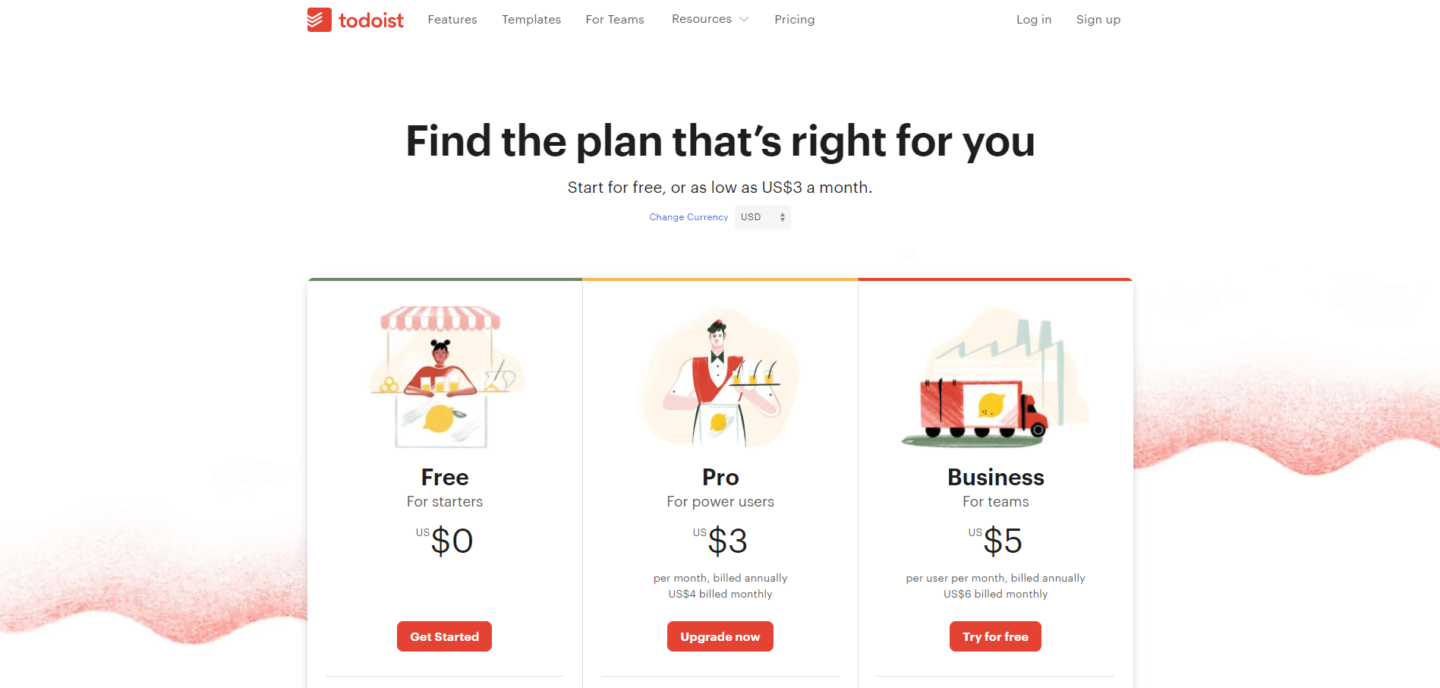 Todoist Free is a great way to get started and more than enough to allow you to create some helpful everyday to-do lists.
If you find you like Todoist, then their Premium plan at $3/month (with no minimum user requirements) is well worth it. The number of lists (or projects) you can have increases from 80 to 300 but my favorite addition is 'reminders'. Worried about forgetting something? Then set a reminder on a task and you'll get notified by email, text and push notification. Neat!
Todoist Business is designed with teams in mind. The feature set is basically the same but there is the addition of a team Inbox, centralized Admin controls and larger limits on Projects.
To give Todoist a try head to https://todoist.com and click the Sign-Up link in the top right of the screen.
Comparing Asana, Trello and Todoist
There have been plenty of articles written about Asana, Trello and Todoist. The comparisons in these articles are often a little bit confusing. Instead of an exhaustive list pitching feature against feature, I'm instead going to write about what each system is like to use from a personal perspective and in doing so, hopefully, help you decide which system would be best for you.
Asana
All three companies have invested heavily to ensure the user interface is slick and intuitive and Asana's interface is excellent.
When you log in you will be presented with a main taskbar on the left and then a Projects section on the right. The core structure of Asana revolves around Projects. Each project contains tasks. And each task can have subtasks, comments, due dates and more. Pretty logical really!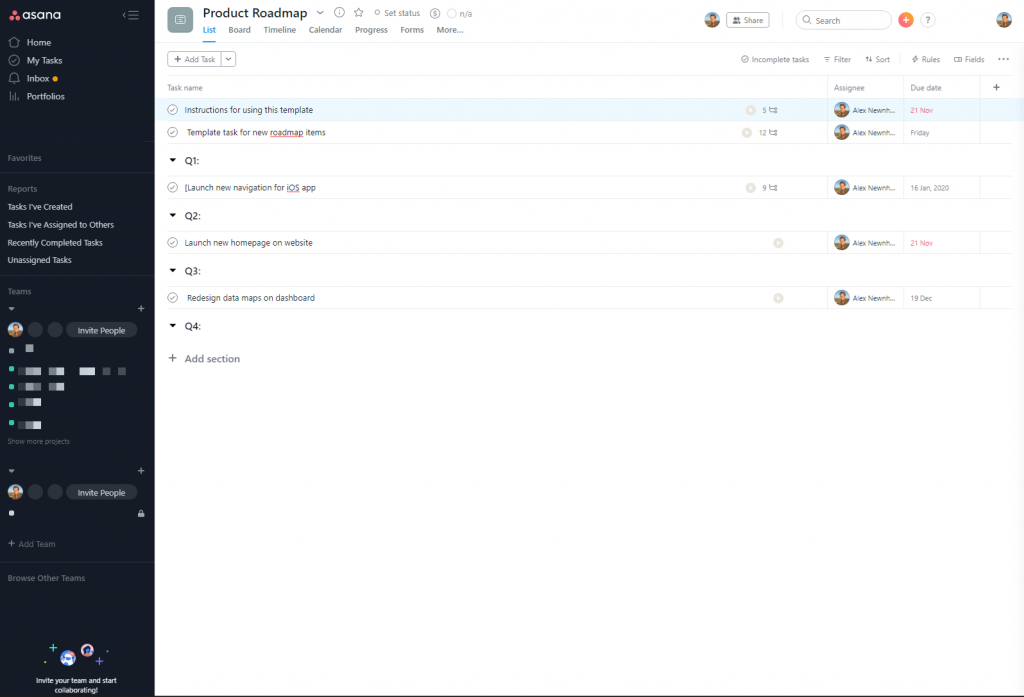 With this in mind, you will first want to create a Project. You can do this by clicking on the 'Create a project' text in blue that's located in the black bar on the left.
You will be asked if you want to create a list or a board. This is the first big decision with regards to how you'll be using Asana. Lists were the mainstay of how Asana worked from the beginning. They comprise of a simple list of tasks presented one after the other. Trello by contrast (and more on this later) operates with a system of boards where tasks are presented as 'cards' pinned to these boards. Clearly Asana felt it was missing a trick and they rolled out a board system to rival Trello's. At the time of writing, you can't switch from list to board (or vice versa) so your best bet is to create a Project using the list format and a Project using the board format to see which you prefer.
Remember that you can use both… one Project might work best as a list (for example you might choose to setup an office shopping list that contains a list of office consumables that need ordering), whilst a board would work best for managing a client's project.
Adding and Using Tasks
Once you've setup your project and chosen whether you want to use a Board or List you can move onto adding Tasks. Click the plus icon in the top right of the screen to get started with this or add one from directly within the Project.
You will see a popup open that allows you to customize a range of elements to do with the task. The one I find most useful is the 'Due Date'. As you'll have guessed, this field is used to mark when you want the task done by. An additional great feature with the Due Date function is the 'Set to repeat' function. This allows you to get Asana to replicate the task at a future date based on the criteria you provide. For example, if you want to setup a task to remind you to post to your business social accounts three times a week you can tell Asana to create a new task on set days each week. This means you'll see a new task created every Monday, Wednesday and Friday (for example). It works brilliantly.
Assigning Tasks and Team Communication
In the same popup box for your task you will see the option of assigning a task to someone registered to your account. If you have a team of people working on a project (which is what Asana envisages) then you can assign each task to a team member, add a due date and then adding a description and comments on this task. Your team member will then be notified of this task.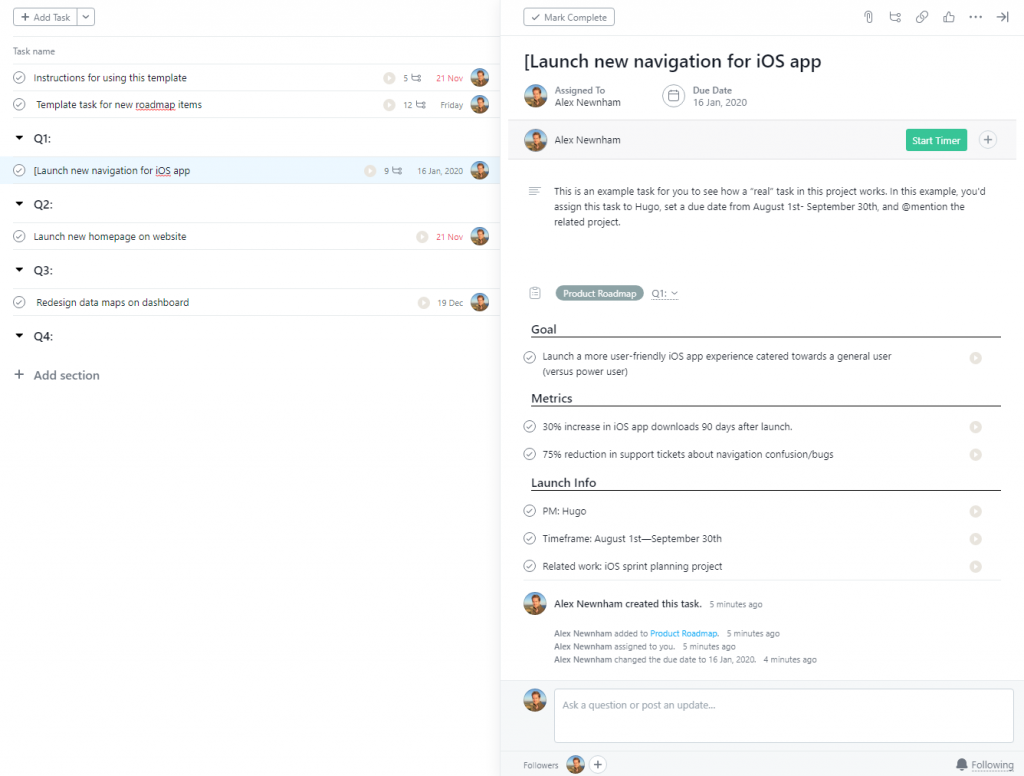 The comments box allows for collaboration around this task which means conversations can stay away from email. You can upload documents and other assets to the task either directly or via Dropbox, Google Drive, Box or Sharepoint which means everything is kept in one place. It's a slick system.
The only small criticism of this system is that only one person can be assigned a task. I've seen this commented on numerous times as a negative. Asana's response is that tasks tend not to get done if more than one person is assigned them. They instead encourage ownership of tasks and allow subtasks to be created within a task that can then be assigned to others on the team. You may like this, you may not but that's how Asana do it!
Working on the move with Asana
The web app works brilliantly and for many teams sitting at desks, this will be their primary means of using Asana. There are of course however times when you are on the move or working remotely and it's useful to be able to access your tasks on your mobile or tablet.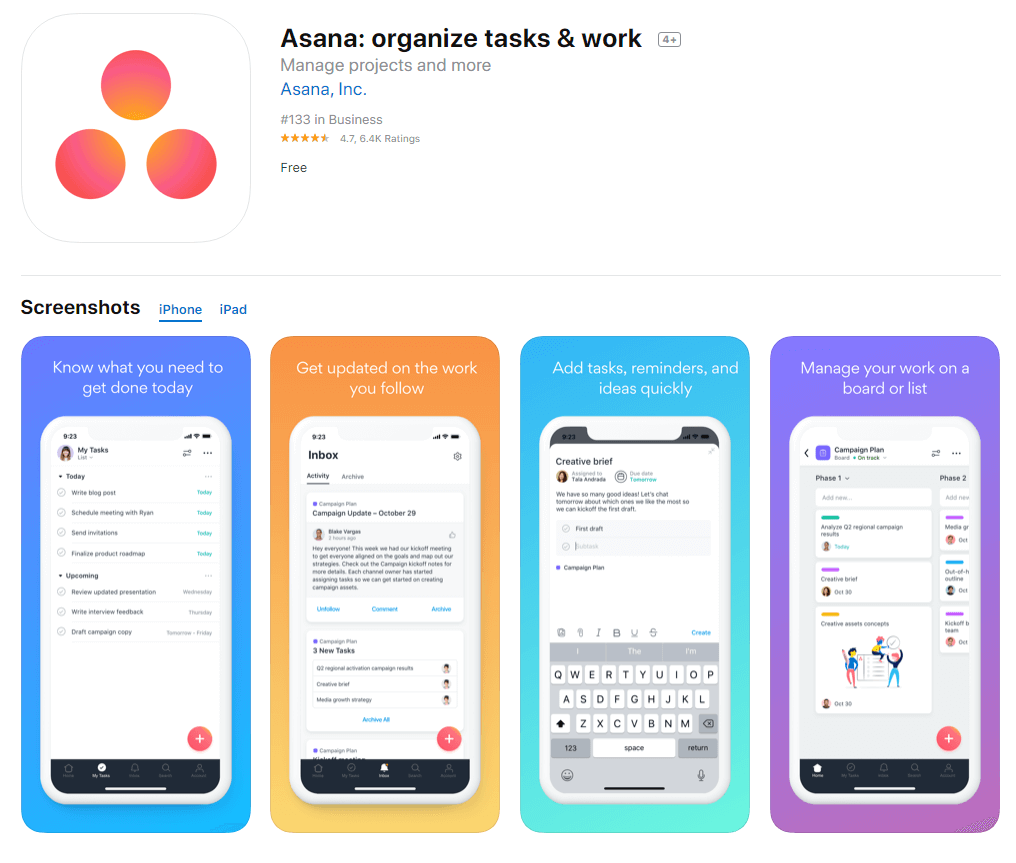 Asana caters for this with a feature-rich app that provides almost the same functionality as the web app. You are also able to work offline and any changes you make will be synced when you reconnect to the internet (useful for when you want to get on top of your to-do list on a flight for example).
Asana Integrations
Asana offers a range of integrations that, in my experience, are well-engineered. A personal favorite is Everhour which allows you to track time spent on tasks right from within Asana. Check out their App Directory for a full list.
Asana Takeaway – Impressions and Thoughts
I use Asana daily and find it strikes a great balance between functionality and simplicity. Some to-do or project management apps can be horrifically complex and this complexity tends to get in the way of getting jobs done. Seemingly simple elements like recurring tasks work brilliantly and reliably (and this is not always the case for some Asana rivals).
Any bad points? The main gripe is not with the system itself but with its pricing structure. I wish they allowed you to purchase seats/users individually rather than forcing you to buy them in blocks of 5. Also, the Business plan (which is a relatively new edition) has a lot of extra features that would be great for small businesses but are priced at a level that is prohibitive.
Trello
When you've signed up and logged in the first thing you will want to do is create a Board. Trello Boards are a bit like Asana Projects. They act as containers for your list of to-do's. As such, you'll likely want to think about how best to structure Trello to suit you. One option might be to have a new board for General Tasks and then perhaps board for each client or project you have on the go.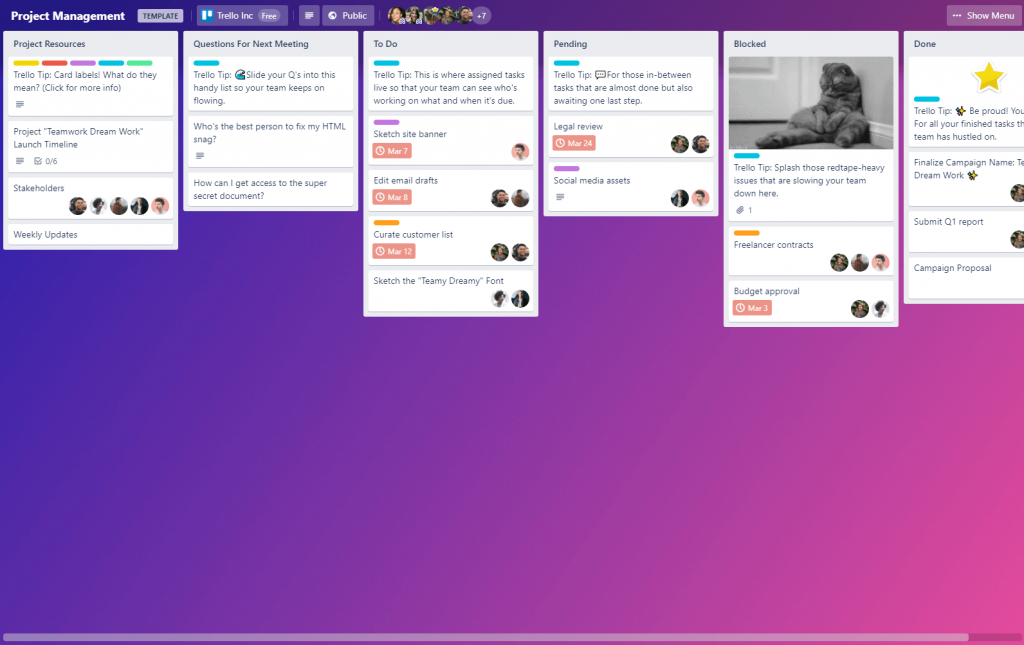 Each board is broken down into Lists and each List has cards on it (which act as your tasks). I'm not aware of the limits placed on how many boards, lists and cards you can have but think it's fair to say you would be seriously stretched to run out of space!
The idea behind the Board and List system is that you can move your cards (or to-do's) through a series of stages. For example, 'Waiting to Start', 'In Progress' and 'Complete'.
Cards can be dragged from list to list but not from board to board. To move a card from one board to another you'll need to click on the card and then select a board from within the card.
Adding and Using Cards
Once you've setup your board(s) and the lists within these boards you can then crack on with adding your tasks. Click on 'Add Card' from within a list and then give this card a name (normally the title of your task). Once that's done you can then click on the card to open it.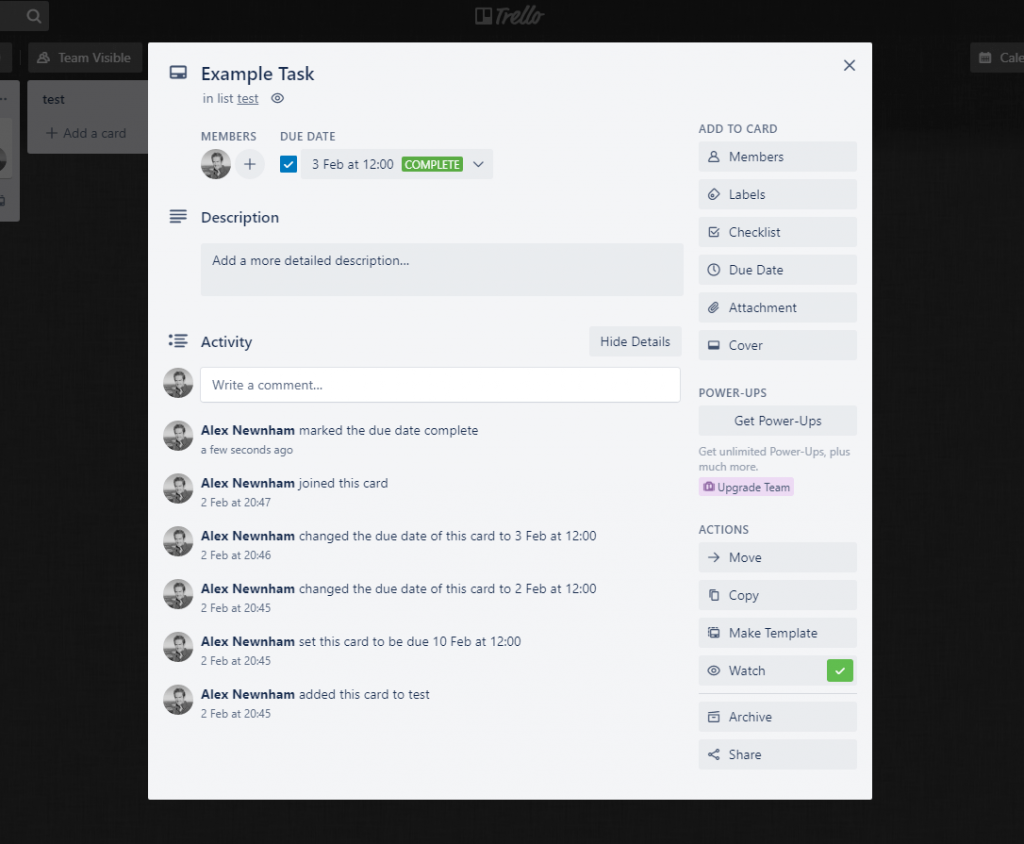 Within the card there are a wealth of options. You are able to add a description for the task, add a due date, a checklist (for subtasks) and also get started with Powerups. Like Asana, you can assign a task to a team member… unlike Asana however you can assign a task to multiple people! Commenting is available from within the card which helps you stay clear of the dreaded email chain.
Trello Powerups
Powerups are integrations with the Trello system and include everything from linking to your Dropbox account right through to things like adding in Google Hangouts or even a map! You can take a look at the range of powerups at https://trello.com/power-ups
Powerups make cards incredibly powerful as you can coordinate and manage a huge range of activities right from within the card itself. This means Trello can act as your project 'Command Center'.
Working on the move with Trello
Trello has a great mobile app that closely mirrors the web app in terms of design and functionality.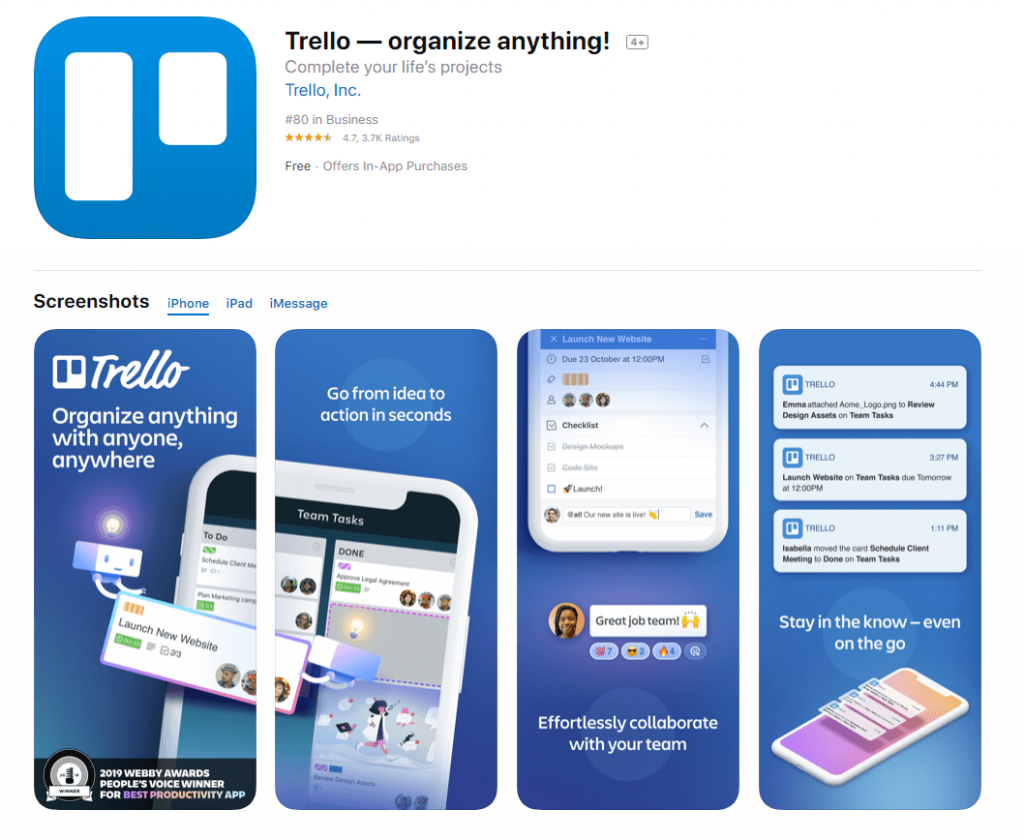 When I was using Trello to manage tasks, the mobile app wouldn't work offline which was very frustrating. Thankfully though, offline support has now been rolled out meaning you can work on your boards no matter whether or not you have mobile signal.
Trello Takeaway – Impressions and Thoughts
I really, really like Trello. I'd also really like an excuse to use Trello! As it happens though, despite working with it extensively, I have, with regret, moved away from the platform. Why? Simply because the projects I work on are less suited to the layout of Trello. Trello I think works best when you have a very specific project in mind, for example, a re-design of a website. In this instance, you would create a brand new board called 'New Website' and then setup multiple lists for this project. These might be a brainstorming list, a list that includes 'must-have' features, a task list, a progress list and a completed list. Team members who are working exclusively on this project would have a fantastic resource at their fingertips allowing them to communicate and keep track of every inch of the project.
Where (like me) you have a lot of smaller projects on the go, especially ones which have lots of small tasks, each with due dates attached, it's harder to keep track of these in Trello. Why? It's down to the fact that there is no 'Unified Inbox' type function that allows you to easily see ALL of your tasks ordered by date, either in list form or on a calendar. Instead, you need to visit each board to view tasks within these boards. As mentioned, this is absolutely fine when you have larger projects on the go, but for me, it's not so helpful. This is however not a criticism of Trello, just a simple observation on how it works.
Todoist
Todoist really is the ultimate to-do list! Upon logging in you'll quickly feel in the 'to-do list' zone and rapidly find yourself adding task after task. Overly complex layouts and a bloated list of functions have been stripped away in favor of a clean, modern and easy to use to-do list system and one I think you'll love.
In common with Asana, you can subcategorize your tasks into Projects. This is done via the very clean user interface menu on the left. Go ahead, log in and then create your first project.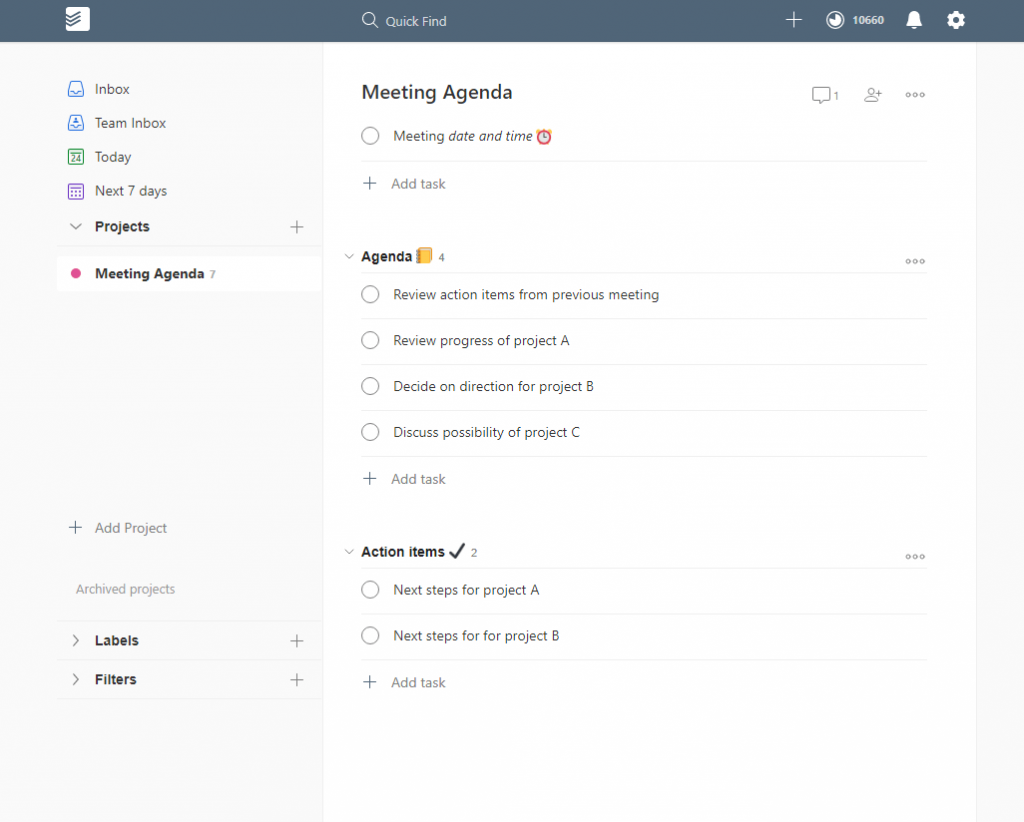 Projects can be color-coded and also shared with others (more on that in a bit). The menu on the left also gives you super quick access to a true Task Inbox as well as a shortcut that will list all of your tasks that are due in the next 7 days. This is one of my favorite features and is achieved with no filters or complex search functions.
For those of you who want more fine-grained control over your tasks, you can also add in labels that give you another way of sub categorizing your tasks. A filter system is also provided meaning you can hunt down tasks based on certain criteria such as 'No due date'. It's a useful feature!
Adding Tasks
Once you've setup a Project, open it up and then click on 'Add Task'. That's it… you're on your way. I told you Todoist was the king of To-Do lists! If the task is just a reminder to do something then you can leave it at that. Like Asana and Trello however you can add in more information if you wish, starting with a Due Date. In Todoist, this is labeled as 'Schedule'. Click on this and Todoist presents you with a few options… Today, Tomorrow, Next Week or a Calendar for you to pick a date. You can even add in a time.
A really neat feature is the addition of natural language processing. This means that instead of using the date picker (as described above) you can write your task to include the due date. So, for example, you could enter 'Finish website wireframe by tomorrow at 5pm' and Todoist would turn that into a task that said 'Finish website wireframe' with a due date and time of tomorrow at 5pm. Clever!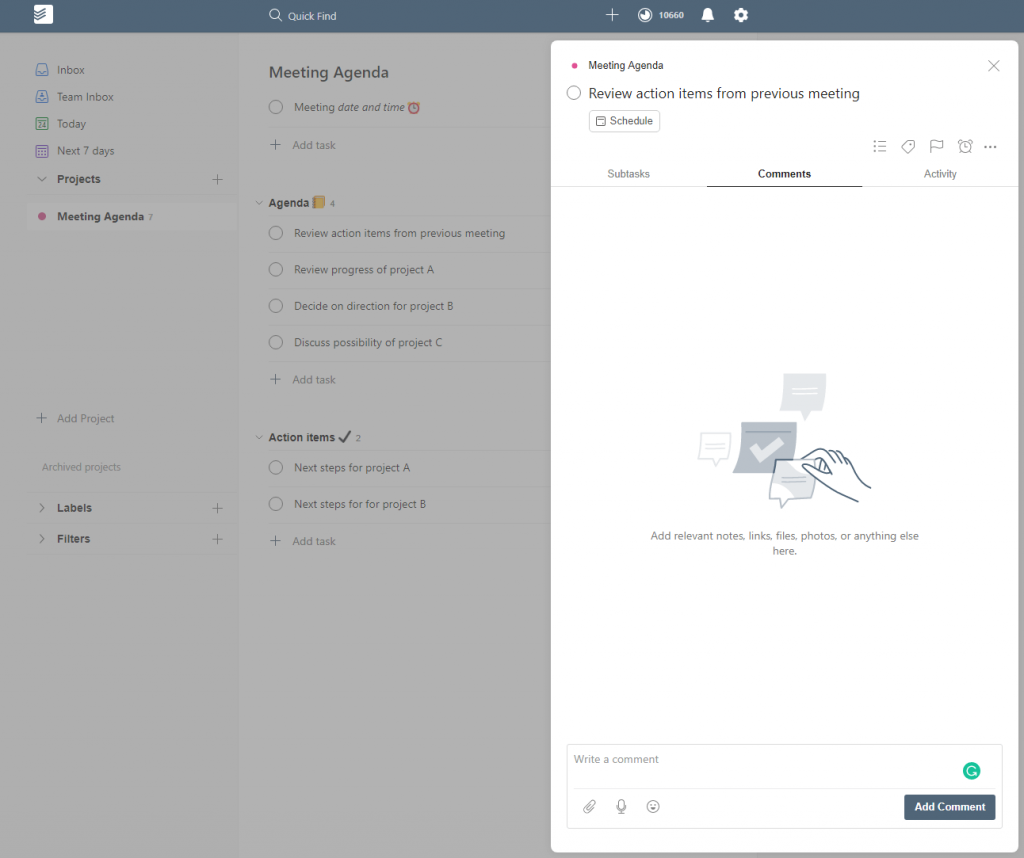 You can also add comments to tasks, upload files from your computer, Google Drive or Dropbox and set reminders. Reminders (a premium feature) are massively helpful… after all, some tasks you need a nudge so you don't forget them. Todoist will send you a reminder email, an SMS and a mobile push notification.
Additional Features
If you're working with a team you can share projects with members of your team. Once you've done this you can then assign individual tasks to users. Todoist also really comes into its own as a personal/family to-do list app. It's the perfect space from which to create a Project that is shared with other members of your family from which you can then all keep up-to-date. A shopping list is a great example… share a Project called 'Shopping List' with your partner and then there is no excuse to forget things when one or the other of you go to the shops! Because the list gets updated in realtime (and you are notified when someone else completes a task) you can even add items on the fly whilst they are in the shop.
Working on the move with Todoist
Todoist really starts to shine when you download and run the mobile app. If anything, the mobile app is better than the web app. It's very modern, polished and reliable.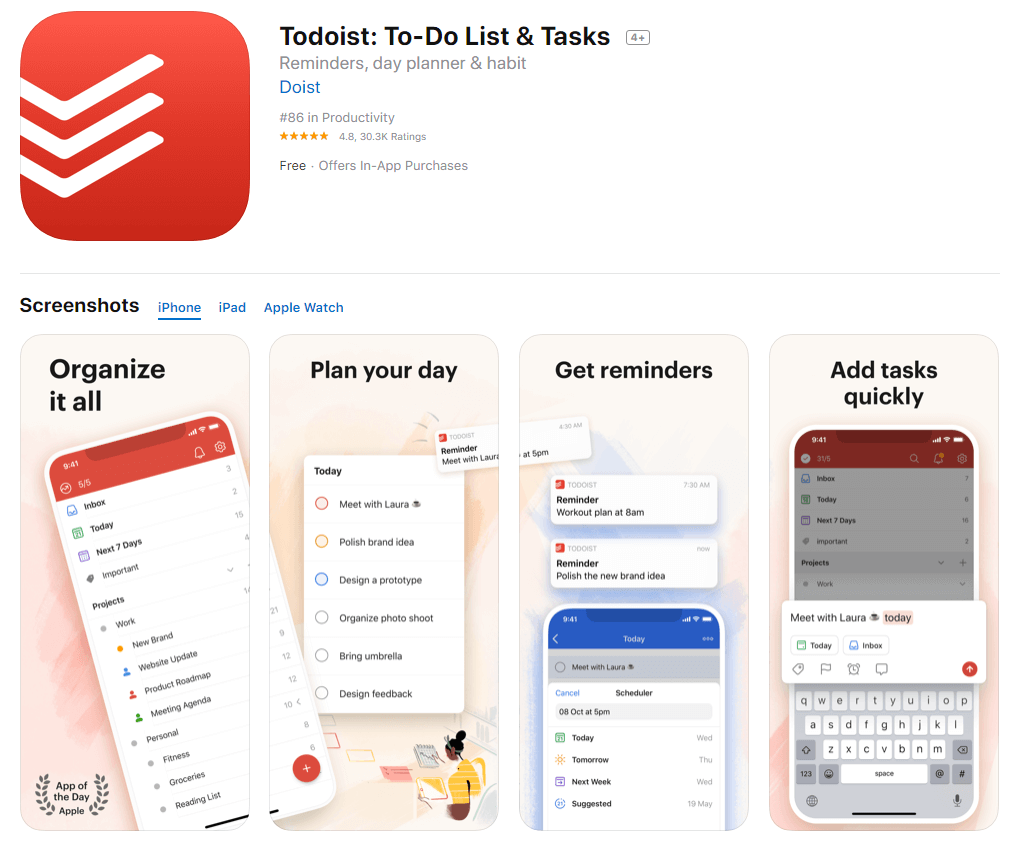 It'll work online and offline and makes adding new tasks super easy.
Todoist Integrations & Extensions
Todoist comes with a wide range of apps & extensions in addition to the mobile version including a Chrome Extension, a Windows or Mac Desktop app, apps for certain watches (like the Apple Watch) and also plugins for email programs like Outlook that allow you to add tasks straight from your emails. There are also 60+ app integrations. Take a look at https://todoist.com/integrations
Todoist Takeaway – Impressions and Thoughts
As a pure to-do list app, Todoist is hard to beat. With the release of Version 10, Todoist has shown it can continually refine and improve and has made turned the humble to-do list into a modern, easy to use app that anyone will get on well with from the get-go.
For personal use, I think it's great. And, depending on your business, there is no reason why it can't be used to good effect. It is perhaps a little less feature-rich than Asana and Trello and, if you're running complex projects, might feel a little 'underpowered'.
But this 'weakness' is actually its strength. It's not trying to be an all-singing, all-dancing app. Instead, it's focussed on doing one thing really well and that's giving you a central repository for all your everyday tasks. I use it on a daily basis and suspect if you give it a whirl so will you!
So… which one is best? Who wins in the Asana vs Trello vs Todoist battle?
Having used all three products extensively over the years I can honestly say that they are all excellent. The reality is though that they all meet slightly different needs and as such, there isn't a clear 'winner' here. It all depends on what you plan on doing. I've summarized how I see each one fitting into a workflow best below.
Asana: Best for teams who have a lot of different projects on the go that are time-sensitive. The system is feature-rich enough to ensure your team is kept on the same page, but not so complex that it will be hard to get buy-in from your team. The fact that you can filter and see ALL of your tasks regardless of the Project they're in is fantastic as you can quickly get an overview of what you need to be doing filtered by urgency (whether that's priority or date).
Trello: Best for in-depth projects that you and your team will be focussing on over a period of time (for example the re-design of a website). The Board and List layout makes it ideal for keeping track of the raft of information your average project generates and ensures your team are all on the same page.
Todoist: Best for keeping track of everyday tasks and jobs that require limited collaboration. The mobile app makes it particularly easy to continually add to or complete tasks on the go.
All three apps have a reasonable free plan which gives you enough features to be able to work out which is best for you so give them a try and see what one works best for you.
Still confused and want to use all three of these apps together for different purposes? There's a great way to do it using automation platforms like SureTriggers or Zapier. 
These apps will allow you to connect all three platforms together to automate your repetitive tasks and build custom workflows. For example, SureTriggers is an automation platform that allows seamless integration and task automation across many apps such as Trello, Asana, and Todoist. It enables you to create workflows that runs some activities in one app triggered by events or data from another app. Just think of it like your personal advisor. 
For example, you can automatically build a Trello card for a new Asana task. This keeps your project management synchronized across all platforms, saving you time and effort in data entry.
Similarly, when a new card is added to a specified list in Trello, you may automate the creation of tasks in Todoist. This simplifies job management and guarantees that key activities are not overlooked.
By connecting these apps with SureTriggers, you can decrease the need for manual data transfer and repetitive operations, enhancing efficiency and productivity. SureTriggers enables you to automate workflows across Trello, Asana, Todoist, and many other compatible applications, simplifying your work processes and boosting collaboration across platforms, whether it's synchronizing project updates, generating tasks, or triggering actions based on certain circumstances.
Happy planning!
Start Your 14 Day Free Trial
Try our award winning WordPress Hosting!