It's time to relive the electrifying atmosphere of WordCamp Europe (WCEU) 2023, where people from all corners of the world came together to embrace the power of WordPress and share their remarkable ideas and experiences.
Let me just say, Pressidium Managed WordPress Hosting was there and brought the house down! A huge shoutout to all the incredible individuals who stopped by to say hi and joined us for the Pressidium giveaway. Your presence made the event even more vibrant and memorable.
In the true spirit of the WordPress celebration, we had the privilege of connecting with numerous partners and forging exciting new connections. It was a whirlwind of inspiration and collaboration that enriched our WordPress journey.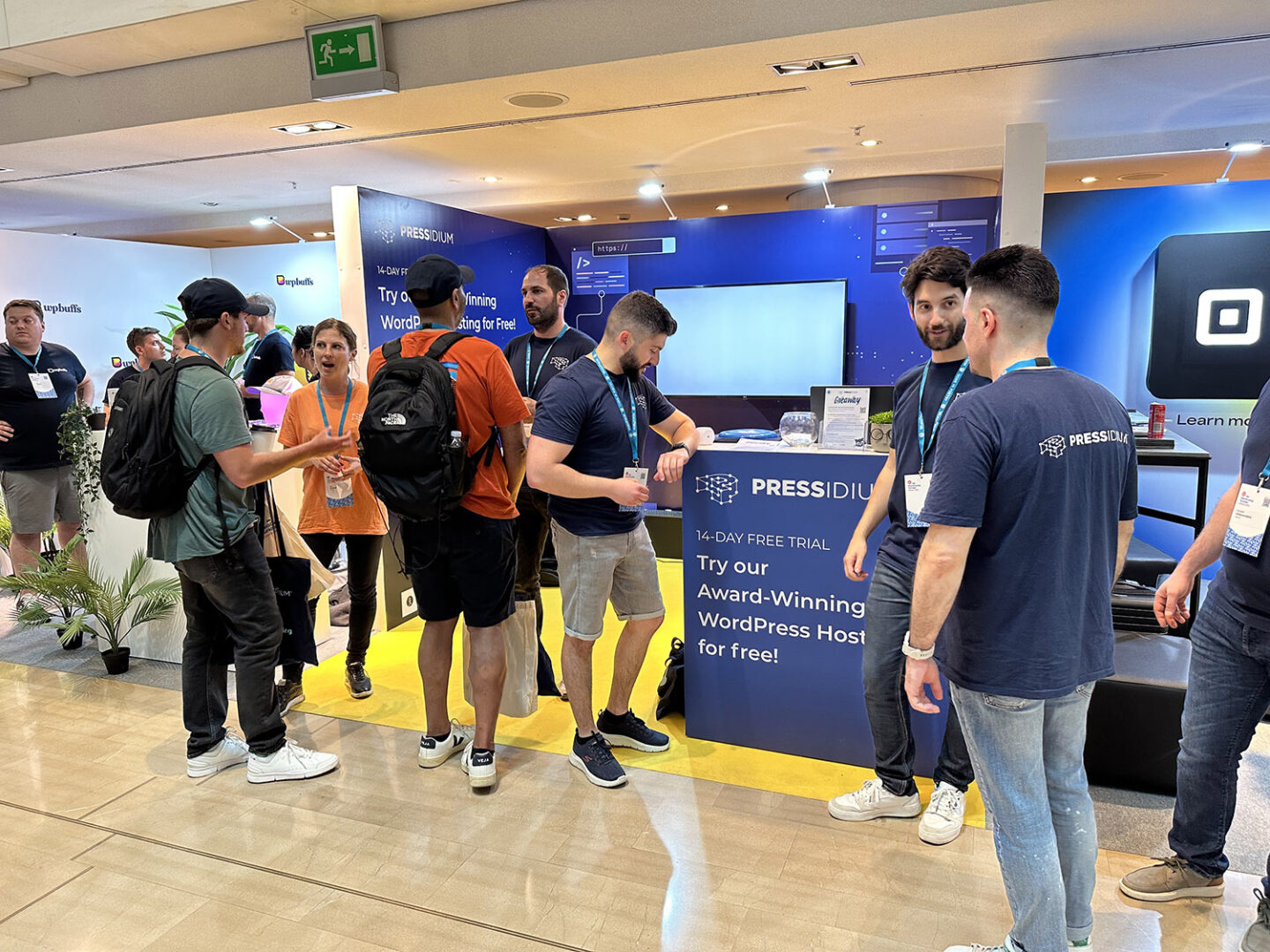 And let's not forget the unsung heroes of the event: the speakers, sponsors, volunteers, and organizers. They went above and beyond, delivering outstanding performances and raising the community spirit to new heights. Their contributions truly elevated the entire event.
This WordCamp Europe event gathered tens of speakers, and over a hundred sponsors and welcomed over 2000 visitors altogether for the 3 days duration.
In the midst of engaging in discussions with our partners and enthusiastic visitors, the Pressidium Team couldn't help but notice some scorching hot topics that defined the essence of the event. From High Availability, Performance, and Speed Optimization to the revolutionary Gutenberg Blog Editor and the cutting-edge advancements in AI technology, the WordPress community was buzzing with excitement.
Not only that, but the spotlight also shone brightly on the captivating world of WordPress Themes, Plugins, and page builders. These topics ignited passionate conversations, both on the panel stages and during the lively visits to the Pressidium booth. It was a melting pot of ideas and insights that truly showcased the pulse of the WordPress ecosystem.
Recalling WordCamp Europe 2023
This year, WCEU unfolded right in the heart of Athens, at the magnificent Concert Hall (Megaro Mousikis) from the 8th to the 10th of June. The vibrant energy of the city blended perfectly with the electric atmosphere of the event, creating an unforgettable experience for all attendees.
The best part? You won't miss a single moment, as all the sessions were recorded and will soon be available on WordPress Youtube Channel.
But wait, there's more! Pressidium went the extra mile to create our very own collection of videos and memorable photos, capturing the essence of WCEU 2023. Follow us on social media to check out all the highlights.
Try our Award-Winning WordPress Hosting today!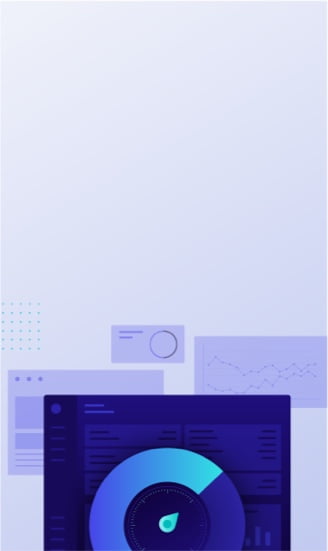 Ah, let me take you back to those amazing days of WordCamp 2023! The excitement was palpable right from the get-go. The first day was dedicated to the spirit of contribution, as enthusiastic contributors gathered to exchange knowledge and ideas. It set the tone for the following two days, which transformed into a vibrant exhibition buzzing with excitement.
As the event progressed, various businesses, including Pressidium, proudly showcased their booths, teams, and engaging giveaways. The exhibition halls were abuzz with captivating talks, dynamic panel discussions, and immersive workshops. To add a dash of spontaneity, this year's event introduced "lightning talks," allowing participants to dive into brief yet powerful presentations. The action was split into three tracks, ensuring there was something for everyone.
But it wasn't all work and no play. The organizers, sponsors, and volunteers of WCEU 2023 came together on the 8th for a delightful beachside dinner party. The atmosphere was electric, and the energy continued to reverberate throughout the exhibition, panel talks, and workshops in the subsequent days.
As the event drew to a close, anticipation filled the air for the highly anticipated talk titled "Variations on a theme: 20 years of WordPress ." Matt Mullenweg, Josepha Haden Chomphosy, and Matias Ventura took the stage, providing profound insights and reflections on WordPress's remarkable journey.
But the celebration didn't stop there. The WordCamp Europe afterparty was a grand finale, where attendees unleashed their dancing skills and created great memories.
The Pressidium Experience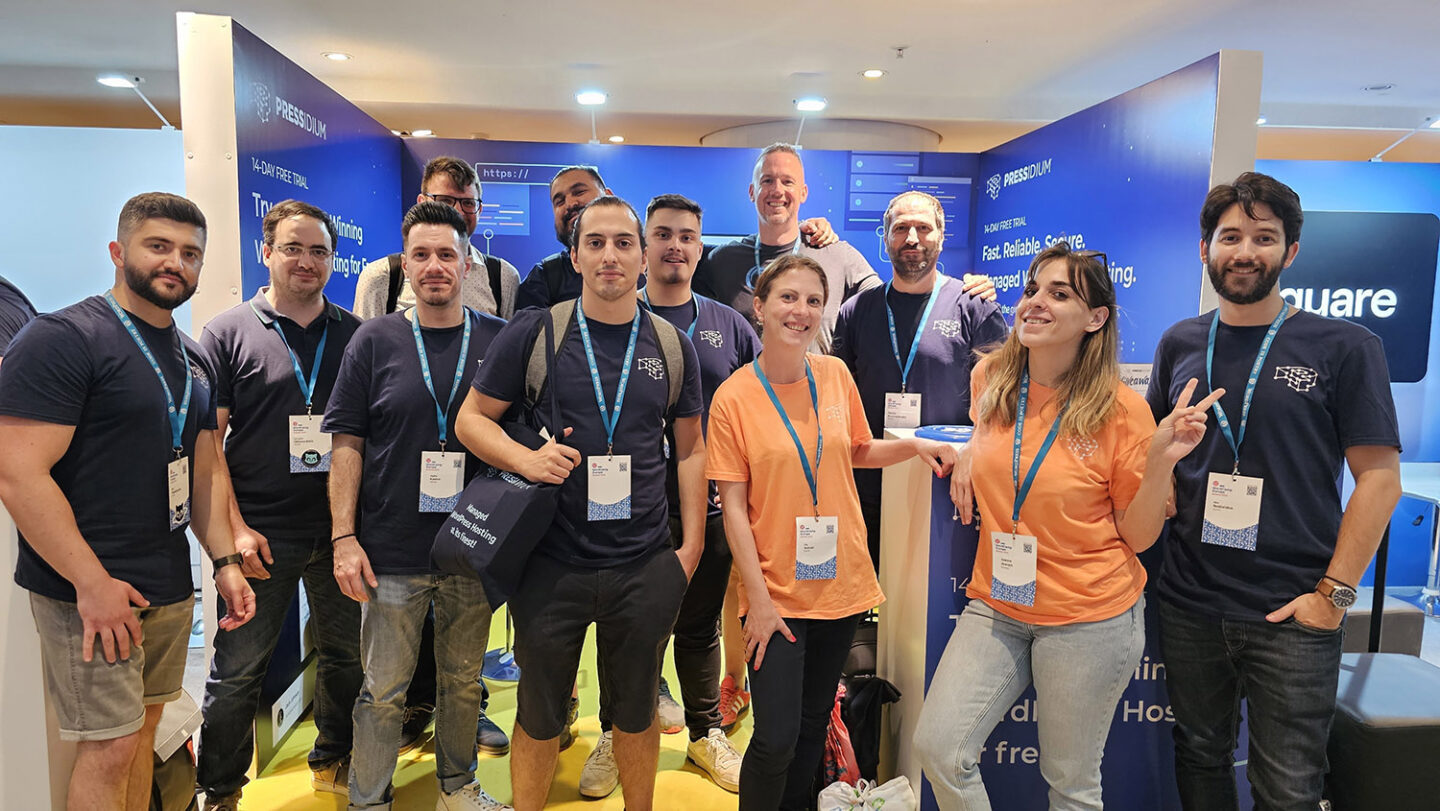 Pressidium was a proud Author sponsor at WordCamp Europe 2023. That was a fantastic opportunity to engage with attendees and offer on-site, real-time website performance assessments. Visitors to the Pressidium booth had the chance to receive personalized advice tailored to their specific needs. We welcomed anyone interested in evaluating their website's performance and were thrilled to provide them with valuable insights and recommendations.
Our team of performance engineers was at the spot talking to website and business owners, developers, designers, agencies, and every WordCamp attendant really.
Things kicked off for Pressidium on the 8th when our awesome team member, Chris Paloukas, joined the contributor's day events and left a lasting impact with his eagerness to volunteer and help.
The Pressidium team was brought together at the booth on the 9th and 10th, with team members from both the business and technical units, alongside the Pressidium founders and leaders. During this time, various professionals were able to watch a brief video of a performance test displayed on the screen or consult on-site with a Pressidium expert.
Topics like WordPress-specific features, high availability, performance and speed optimization, uptime and reliability, migration assistance, scalability, and growth-these were the big discussions, the ones you'd hear all around. Our performance test evaluation and consulting got heads turning, and folks flocked to our booth to speak with an expert from our team. The vibe was pure tech coolness, with creativity and big visions fueling the air.
A Treasure Trove of Insights and Offerings
One of our new tips is the performance test and audit, combined with a consultation to provide improvement suggestions. We offer this service completely free of charge!
Another offering we had for everyone attending the event was our fully-featured 14-day free trial.
Additionally, we encouraged attendees to join our affiliate program and be part of our network. By becoming an affiliate, you not only contribute to our success but also have the opportunity to earn up to $600 per sign-up.
Cody & the Pressidium Giveaway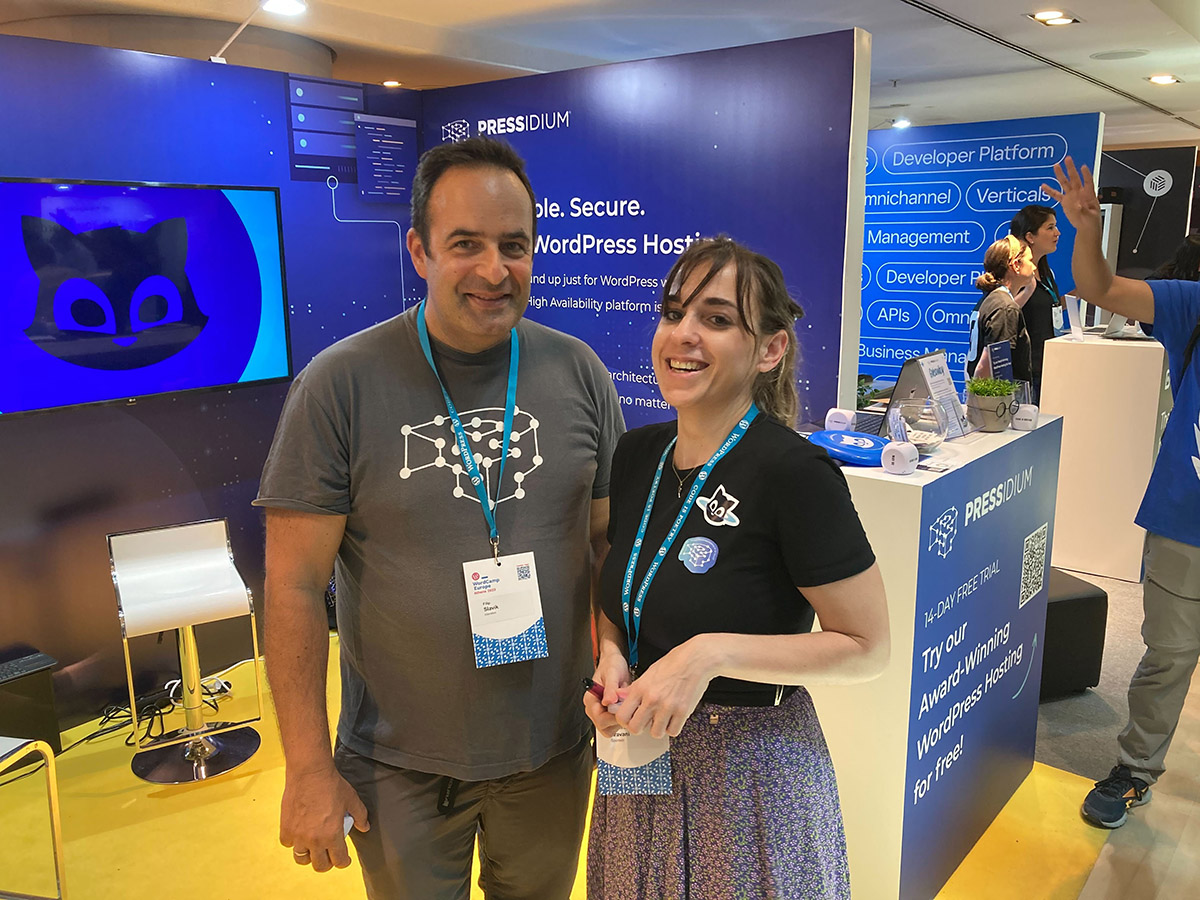 If you attended WordCamp Europe 2023, you surely couldn't have missed us. Our friendly mascot, Cody, was there to welcome everyone, both on the TV screen video and through the swag gifts we offered to our guests. Who is Cody, you ask?
Cody, Pressidium's beloved mascot, captivates everyone with its irresistible charm. This adorable character embodies our brand's spirit, captivating visitors and leaving a memorable impression. With its undeniable appeal, Cody adds a touch of magic to the Pressidium experience, making it simply cool and unforgettable.
Cody also presided over our exciting giveaway competition. As a token of appreciation, this year we provided everyone who visited our booth with a bag filled with awesome swag items. Inside, you would find a frisbee for some outdoor fun, a pen and notebook for jotting down ideas, and an anti-stress dice to keep the good vibes going. We also gave everyone who visited us, a 10% discount on all Pressidium standard plans
We had an amazing lineup of prizes up for grabs. Here's what lucky participants had a chance to win:
A one-year subscription to the Pressidium Professional Plan, worth $1500
An exclusive Udemy course to enhance your skills and knowledge.
5 lucky winners received a 50% off coupon for the Universe Bundle for LifterLMS
For those interested in LearnDash bundles and WooNinjas quick launch plans, we gave away a special combo discount. It's a 25% off all LearnDash bundles and 15% off WooNinjas quick launch plans.
The announcement of the winners took place during the week following the event, building up anticipation and excitement.
Severo Cutinho
Congratulations on winning a one-year free subscription for the Professional Pressidium plan!
Oriana Schiavone
You've won a free Udemy course to enhance your skills and knowledge!
Wesley Stessens
Enjoy a 50% off coupon for a recurring discount on the Universe Bundle for LifterLMS!
We extend our heartfelt congratulations to all the winners and thank everyone for participating in our giveaways.
Make sure to connect with us on Twitter, Facebook, and LinkedIn to stay up-to-date with the latest news and developments.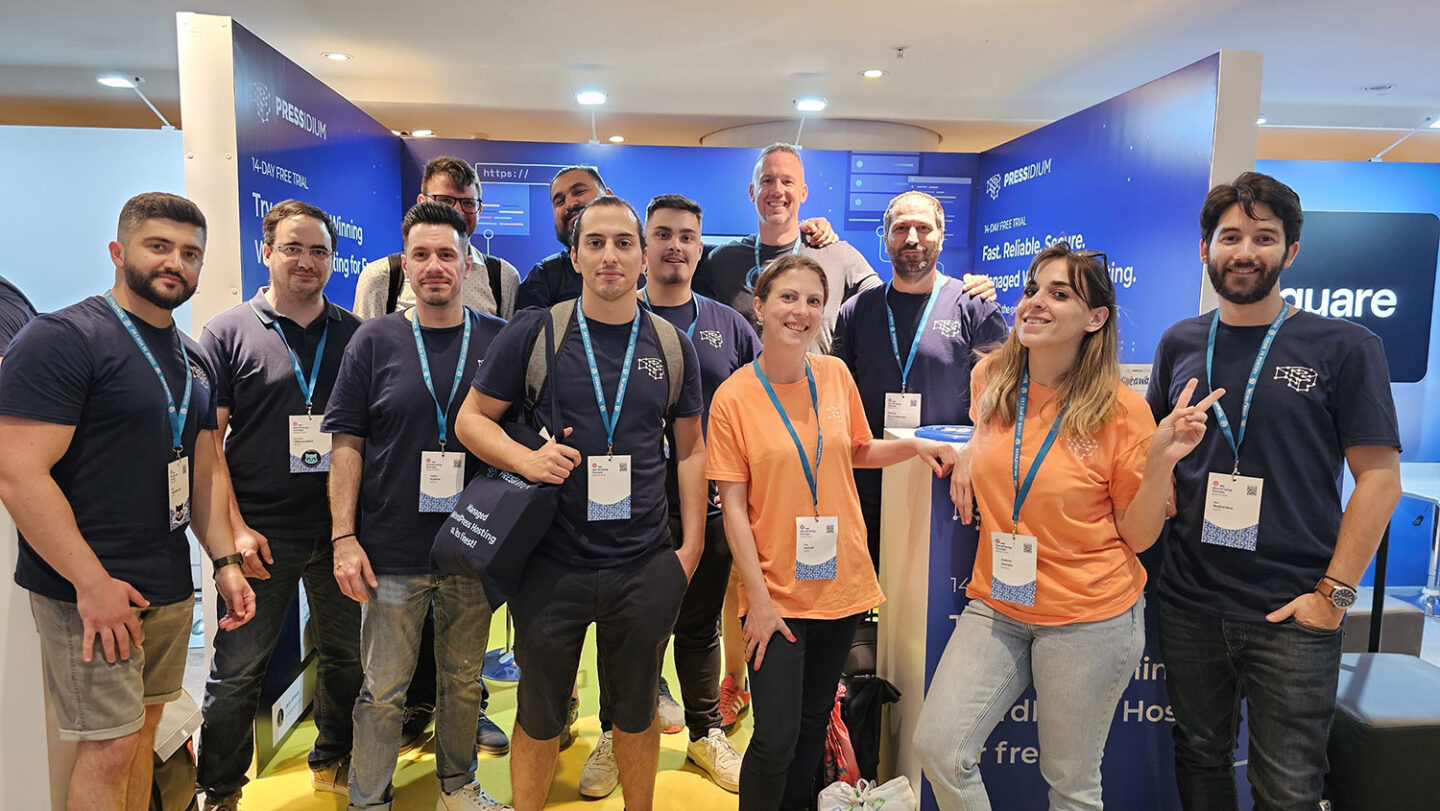 We're already looking forward to the next WordCamp Europe gathering in Turin, and we hope to see you there. Don't miss out on another incredible experience!
Start Your 14 Day Free Trial
Try our award winning WordPress Hosting!