The world in 2022 is a very different place now compared to just a couple of years ago. Seismic changes have occurred to how we all live and work with many activities such as education and training moving increasingly online. This has presented huge opportunities for both students and educators alike by removing many of the barriers traditionally associated with education such as cost and the need to be physically located near the school / university / training provider.
Equally, the meteoric rise in home working has presented challenges for employers who now need to manage their workforce at a distance. Training that would normally have been undertaken in the office now needs to be delivered remotely.
Both of these situations have fuelled some significant demand for online training platforms that are feature-rich enough for educators to deliver the kind of in-depth courses that their audience demands as well as being robust and easy to use so that launching a course can be done relatively quickly. One such product, LifterLMS describes itself as the most flexible LMS (Learning Management System) for WordPress and in this review we're going to take a look to see if it lives up to this claim… let's get started!
What is a WordPress LMS?
Before we continue with our review of LifterLMS let's take a quick refresher on what a WordPress LMS actually is.
Hopefully, we all know what WordPress is and does. WordPress is (in our opinion anyway!) the best platform you can use to quickly and easily build a great-looking website. It's what's known as a CMS or Content Management System which enables you to build and manage your website without having to write a single line of code or download any software. It's hugely popular powering 43% of all websites.
Straight out of the box WordPress comes with everything you need to get a brochure-style website or blog online quickly and easily. But what do you do if you want to deliver online training through your WordPress website? Well, in theory, you could load up content to a 'standard' WordPress website that could be accessed by your students, but this would be accessible to anyone and you couldn't do things like provide quizzes or even run exams. Also, presenting content in an easy-to-digest way (as it would normally be in a classroom) would be trickier.
An LMS solves these issues at a stroke by providing a comprehensive framework that 'bolts' onto WordPress, normally in the form of a plugin (as is the case with LifterLMS). It makes use of all the amazing features offered by WordPress but, in addition, helps you deliver an online course much more effectively. Features vary from LMS to LMS but might include the ability to charge students for accessing course content and allow you to drip-feed information throughout a period of weeks rather than providing access to the entire course all at once. In short, an LMS will allow you to build an online training program that looks professional and helps your students succeed.
LifterLMS Overview
LifterLMS was founded and developed by Chris Badgett way back in 2014. Since then the product has gone from strength to strength and is recommended by WordPress industry experts such as Chris Lema . The LifterLMS team's vision is to 'To Lift Up Others Through Education' and the LifterLMS plugin provides the tools needed to help people around the world do just that.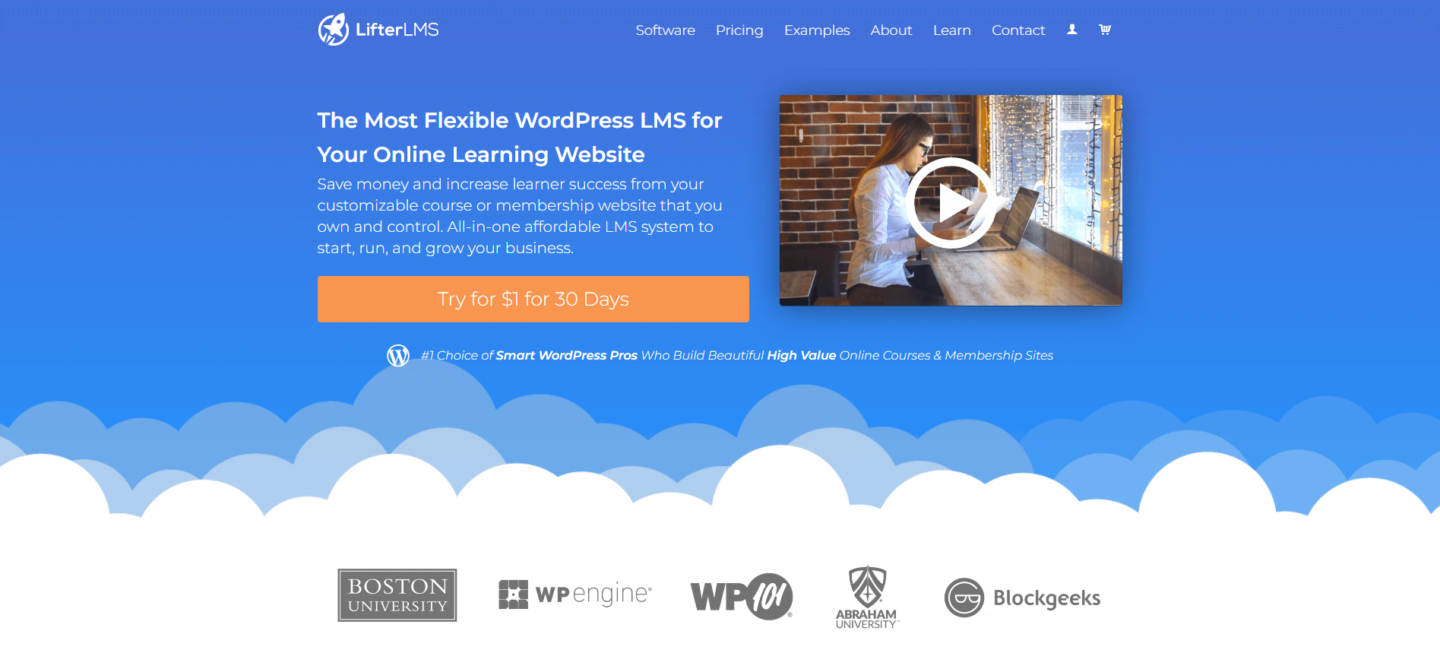 The LifterLMS product is provided as a downloadable plugin that is installed as you would any other WordPress plugin. The aim of the LifterLMS product is clearly to provide a truly comprehensive LMS system that can be used for all manner of courses and content in a way that suits you. The ability to create a course that looks and works as you, the content creator wants it to look and work, is clearly something that LifterLMS excels at and helps set it apart from the competition. This level of control is pretty awesome and a real tick for LifterLMS.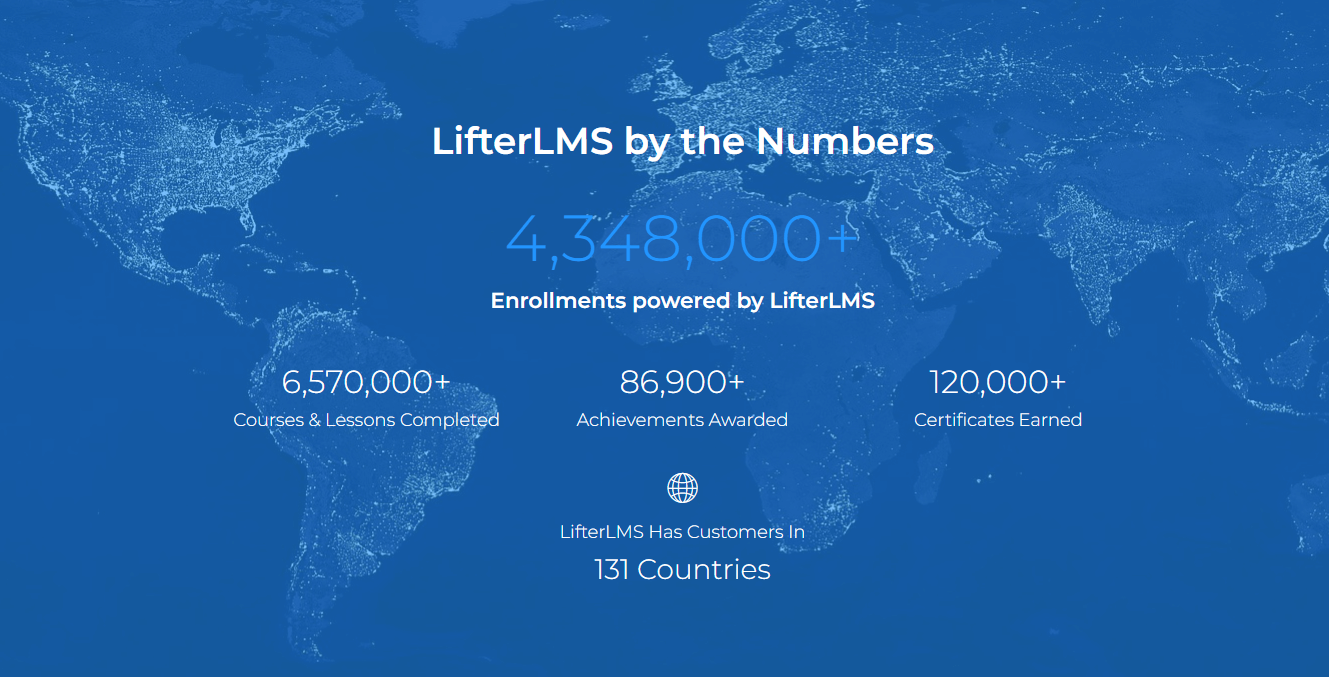 The stats speak for themselves with over 6.5 million courses and lessons completed using LifterLMS. Feedback on the plugin repeatedly highlights the usability of the product as well as the flexibility of the plugin.
LifterLMS highlight 5 key challenges that LifterLMS rises to meet on any learning and course creation journey.
One: Creating your Course
If you're planning on launching an online course then you're probably an expert in the field in which you wish to teach. So, the biggest challenge you face is not the teaching but actually building the course. LifterLMS aims to make this process as easy as possible so you can create a beautiful course quickly and easily. With no additional tools and just your laptop you can get a course live using their drag-and-drop course builder. LifterLMS supports anything from the simplest of courses right through to multi-instructor based training websites.
Two: Getting paid for your course
For many course providers, one of the main reasons for setting up an eLearning website is to generate revenue. After all, you have a valuable skill and, in teaching others this, you should be well compensated for this! Handing payments online can be fraught with difficulties however. Fortunately, LifterLMS make this vital step in running an online course easy allowing you to sell your course for any price and in any format that works best for your business. Importantly, you won't need a separate e-commerce plugin to do this.
Try our Award-Winning WordPress Hosting today!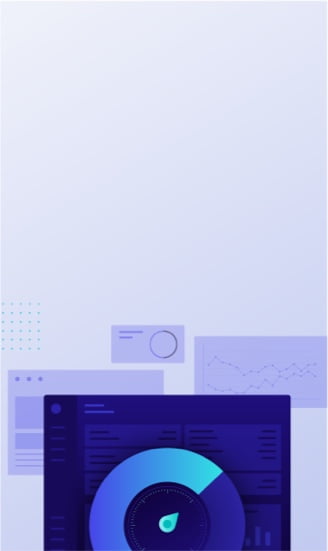 Three: Keep users engaged
It's not enough to just sell a course and then walk away… your students are going to want to see results. They signed up to learn something and, unless you're able to successfully teach them this, they're not going to be satisfied customers. Cue refunds and poor reviews. LifterLMS helps ensure that your learners are satisfied and actually make real progress by allowing you to build a course that helps them on track with things like gamification, assignments, quizzes, coaching and more.
Four: Protect your content
Your content has real value. Not only would it have potentially taken years for you to become an expert in your field but building a course (even with an excellent product like LifterLMS) involves time and effort. You don't want to see that given away for nothing. With full control over your training assets though, LifterLMS has got you covered. As they say, 'You get to decide who can see what, when, and at what price.'
Five: Integrate with other apps
LifterLMS does a great job of running a course but it's no island. You're going to want to connect your shiny new website with other tools such as Mailchimp as well as other WordPress plugins. LifterLMS makes this easy meaning you can use the tools you need to deliver a great product.
Using LifterLMS
LifterLMS is pretty easy to use. It consists of a base plugin that is actually free to download (more on pricing later) along with a range of paid-for 'bolt-ons' which extend its functionality. This bolt-ons include things like a Stripe Add-on which allows you to process payments via Stripe.
This is a pretty neat way of structuring a product as it allows you to a) test the core product without spending any money and b) means that if you want to extend its functionality you only pay for the elements you really need. A true-win-win there.
Getting Started
As mentioned, the core LifterLMS plugin is free to download. You'll be asked for your email (which is a fair trade!) and will then be sent a link to the latest version of the plugin. Once you've requested your copy, head to your WordPress website and install the plugin as you would for any other.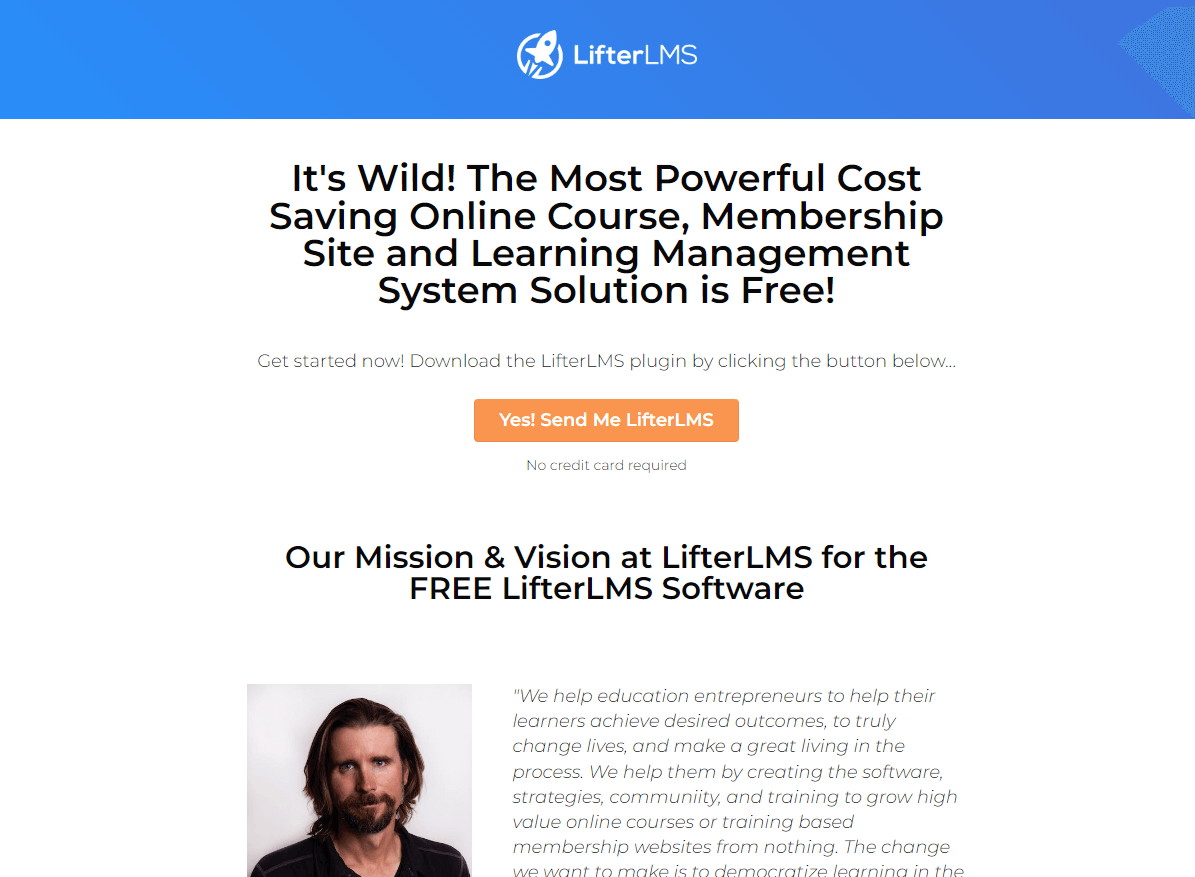 With the plugin activated you'll be taken to a setup wizard which walks you through the setup process in five steps. Don't worry if you're not sure about what a particular setting should be at this stage. Take your best guess. Everything can be refined later on from the LifterLMS settings panel.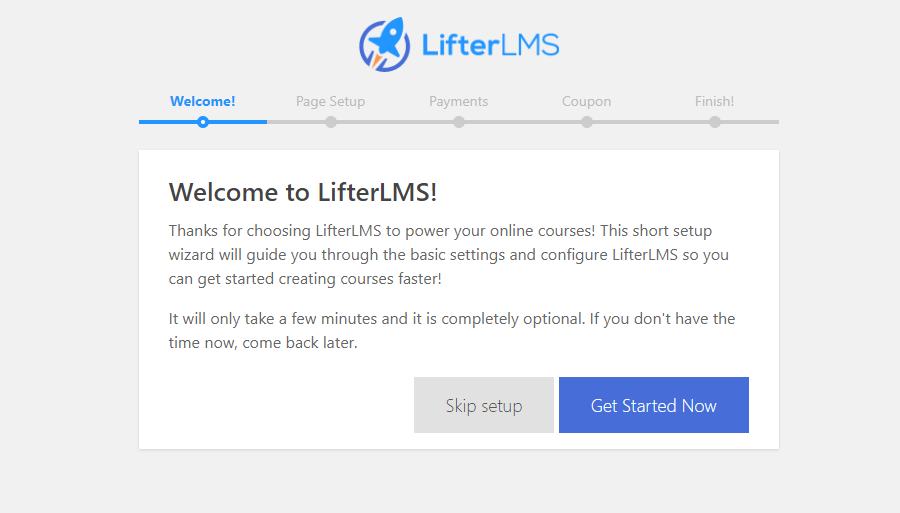 TIP: Installing an LMS plugin like LifterLMS involves quite a lot of changes to your website as the plugin will create new pages, add menus and a whole lot more in order to turn your WordPress website into one capable of delivering online courses. Doing this on a live website is NOT recommended! Ideally, you should setup a development website on a staging server and use this to build your new eLearning course. If your hosting provider has the ability to let you take backups as you go this is suggested as it means, should you make a mistake, you can revert back to a previous backup which can be quicker than having to unpick changes piece by piece.
As part of the setup process LifterLMS will offer to send you a coupon in return for you sharing some non-identifiable data about how your site users LifterLMS.
The final step allows you to import some demo courses and templates. Unless you've used LifterLMS before, it's probably an excellent idea to do this. It's SO much quicker to figure out how a product works when you've got some examples to reference. If you don't want to risk messing up an existing site then, as per the tip above, it's a good idea to use a staging server or even a new website install to initially test and have a play with LifterLMS before you then commit to installing it on your 'live' website. The import process may take a few minutes so hit the 'import' button and go get a coffee!
Setting up a theme
The next step in getting things going is to sort out your theme. LifterLMS state that their plugin works with any well-coded WordPress theme. This is neat, especially if you've already heavily invested in your current website and were planning on just adding on a course, as opposed to starting completely from scratch.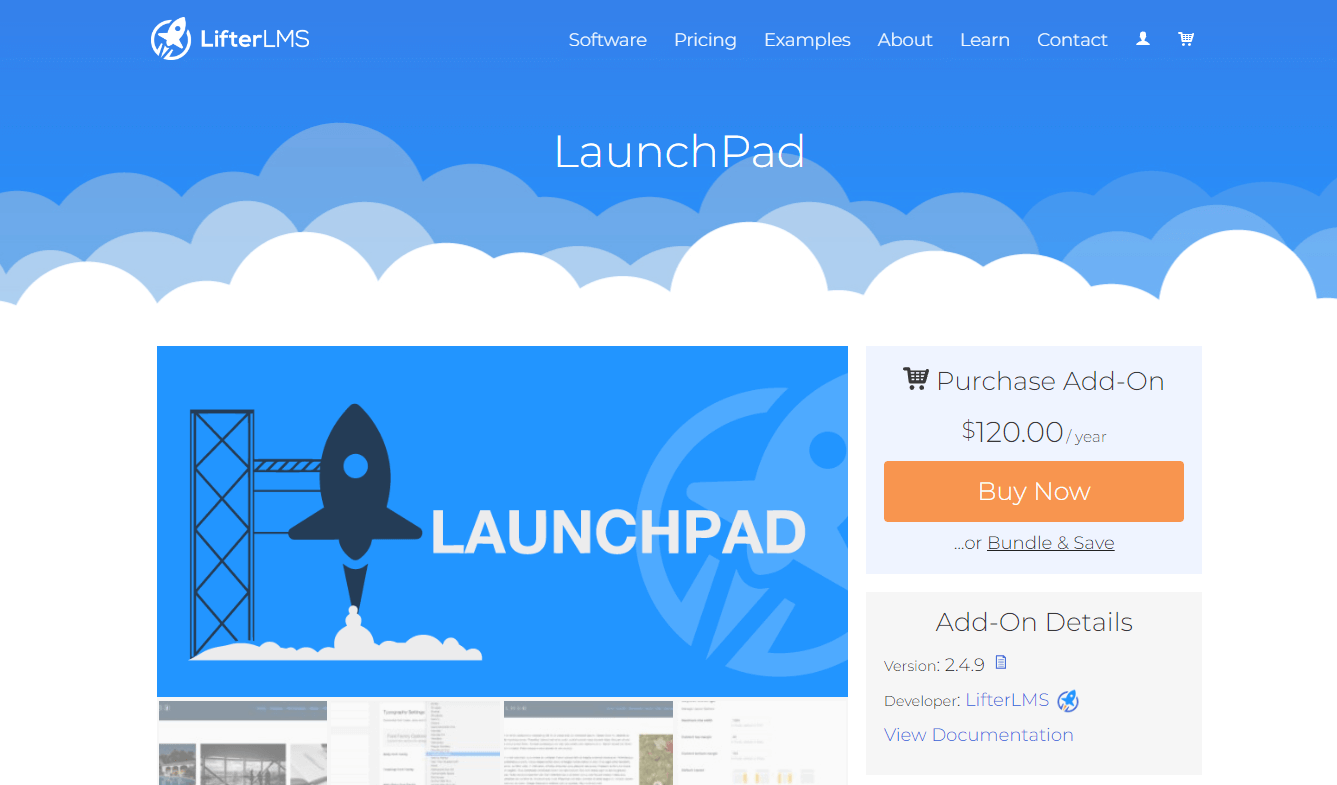 If you're not sure where to start then you might want to consider purchasing the dedicated LifterLMS theme, Launchpad which is currently $120/yr or can be got as part of a bundle (see pricing below).
Building your course
With your theme setup, you're onto the real nitty-gritty…. building your course!
Tip: Although you've no doubt got a good idea about how you want your course to look, it's always a good plan to sketch your course out on paper before beginning the course-building process. With the course content fully planned you can then more efficiently focus on building your eLearning website.
LifterLMS breaks things down into 'Courses' and then 'Lessons' within each course. Simple! Head to the 'Courses' tab you'll see in your menu and then click on 'Add Course'. Name and define your course. Next, you'll see 'Lessons' in the menu. Begin to build these. If you've installed the demo content, you'll have access to a Course Template, a Free Course Lead Magnet Template and a LifterLMS Quickstart Course. These can all be used as a base for your own course or just as a learning tool enabling you to see how LifterLMS works in practice. The official Quickstart Course is also available on the LifterLMS website and is well worth taking as it (perhaps obviously!) goes into far more detail about how to use LifterLMS than we could ever do in a review like this.
Setting up payment gateways
If you want to monetize your course then you're going to want to setup a payment gateway. LifterLMS makes this super easy thanks to three integrations that you can choose from:
LifterLMS Stripe Payments
LifterLMS PayPal Payments
LifterLMS WooCommerce Integration
LifterLMS Authorize.net Payments
These integrations are $120/year each or available as part of a Bundle purchase which reduces the cost significantly. Setup varies from integration to integration but is typically very easy. You're also well supported by the LifterLMS team as part of your purchase. There are also excellent KB articles to help show you the way, such as this one for Stripe.
Fine-tuning your LifterLMS website
With your theme in place, your course setup and a payment gateway(s) working, it's time for some 'under-the-hood' tweaks to make sure your shiny new eLearning website is configured correctly. To do this, head to the LifterLMS menu and click on 'Settings'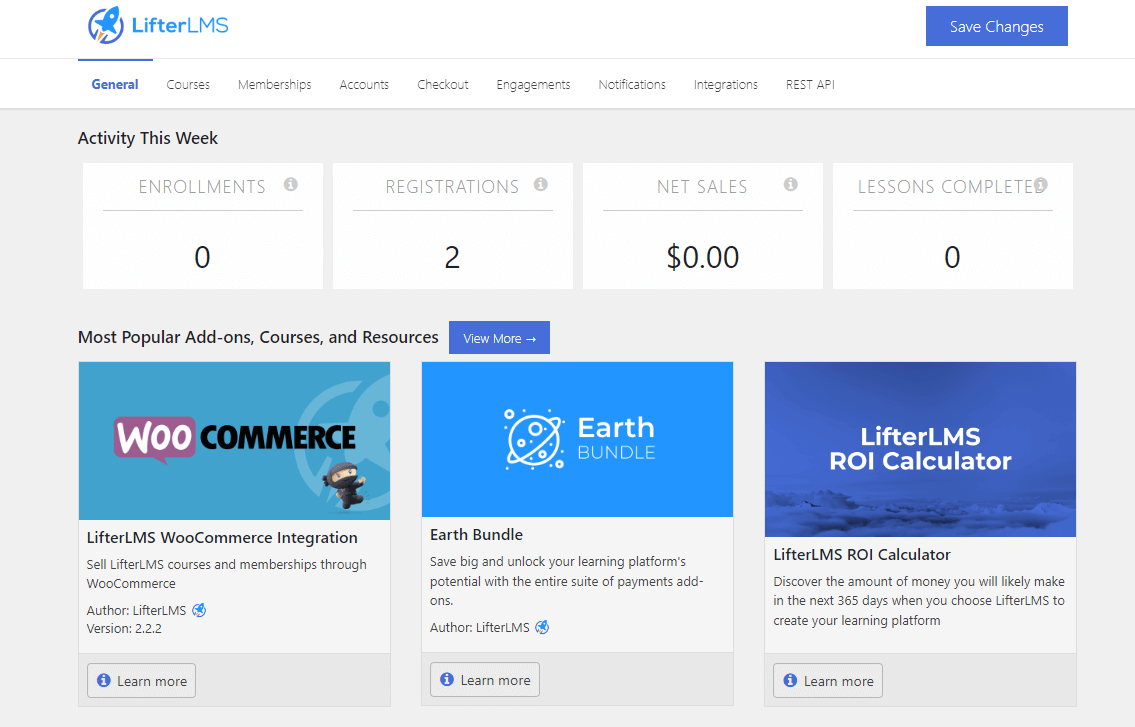 Here you'll find a range of options that allow you to adjust important things like notifications and how the checkout experience works. It's well worth clicking through each page to familiarize yourself with the various options and in doing so, allowing you to check that something crucial (such as the currency you're selling in) has been set correctly.
With everything set as required, you should be good to open the doors to your new eLearning website!
LifterLMS Key Features
As we highlighted earlier, one of the many reasons people like LifterLMS is that it's incredibly feature-rich whilst allowing you to build and run your course the way you want to. The list of features available is seriously impressive… (and long!). We've highlighted just a few of what we consider are the key features in LifterLMS:
Multimedia Lessons: Variety is the spice of life (or so they say). Keep things mixed up in your lessons with video, audio, text, image-based lessons and much more.
Lesson downloads: Allow students to download helpful resources for offline learning such as PDF's, audio files and more.
Multi-instructor enabled: Setup an eLearning website that offers courses taught by different instructors. Or even assign multiple instructors to the same course if you teach in teams.
Discussion areas: Allow students and teachers to mingle with lesson comments, forums, private teaching zones and more.
Multiple payment options: Charge a one-time fee, recurring payments or even a payment plan option.
Sell course bundles: Enhance the appeal of your courses by bundling them together for a single fee.
Create sales landing pages: No need for landing page software… LifterLMS allows you to build sales pages for your courses.
Extensive integration options: Integrate effortlessly with payment gateways, email marketing platforms, forum plugins, your CRM and much more.
One could perhaps argue that the feature list of LifterLMS is a little overwhelming. Just remember, there is no need to utilize every aspect of the system… instead, rest easy knowing that if you need to do something a certain way for your eLearning course, odds are high you'll be able to do it with LifterLMS.
LifterLMS Support
LifterLMS describe their support as 'anything but standard from an industry perspective'. All paid-for bundles come with a year's worth of support which is accessible via a support ticket system. In addition, there is an extensive Knowledge Base which includes some great videos to help you get the most out of LifterLMS.
LifterLMS Pricing
As covered, the base LifterLMS plugin is free to download. You can then choose to purchase optional add-ons which enhance the product, such as payment integrations. Integrations vary in price. LifterLMS also have 3 bundle deals available which reduce the cost of getting some of their most popular integrations as well as providing technical support. These are called Earth, Universe and Infinity.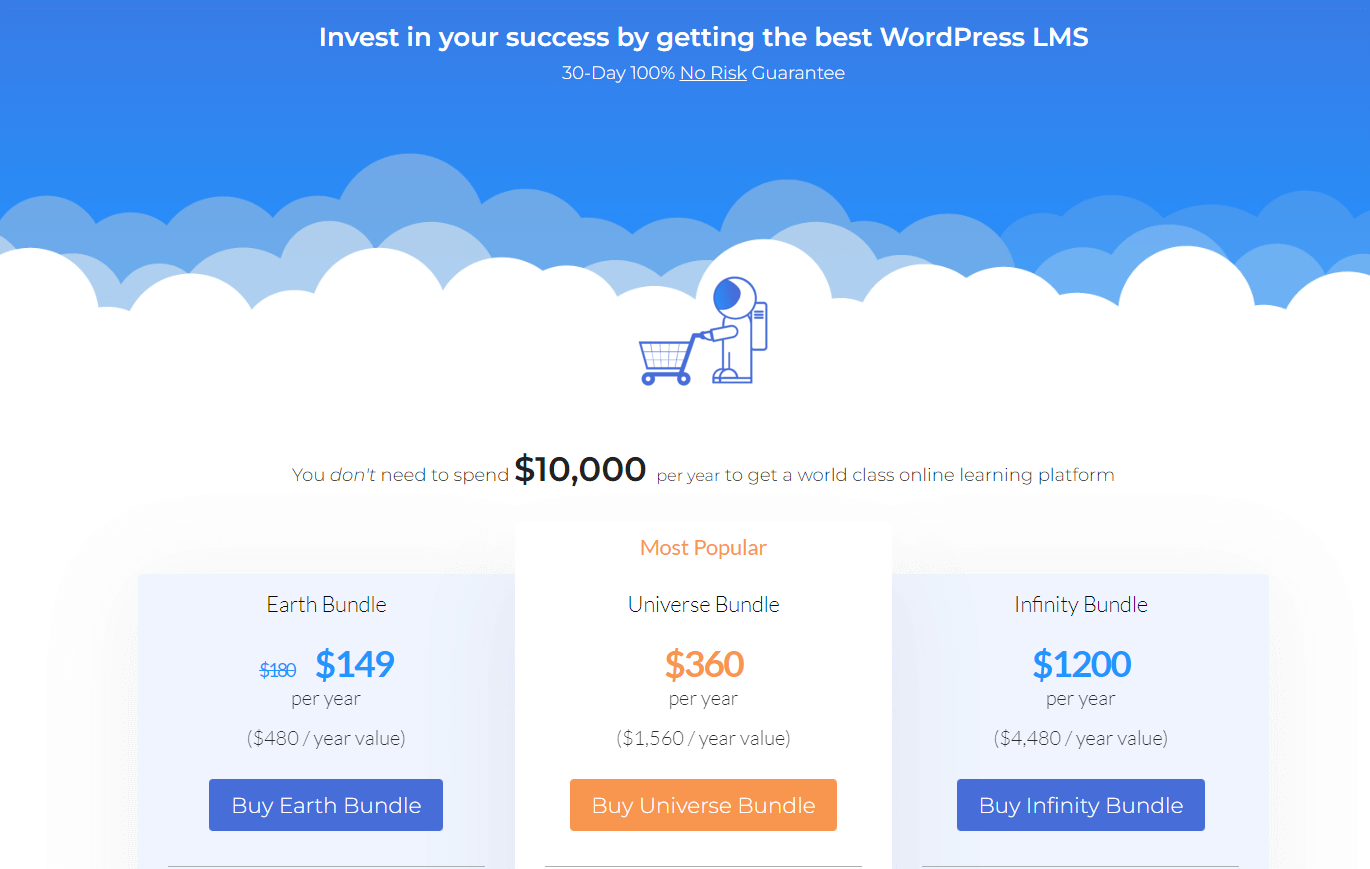 The Earth bundle is licensed for one site whilst the Infinity bundle allows for usage on unlimited sites (great if you're running an LMS-orientated agency).
Hosting an LMS Website
LMS websites are typically pretty resource intensive thanks in part to the need to be able to handle multiple concurrent back-end processes that occur as a result of things like students saving their course progress. It's a lot for a server to handle. If you don't use suitable hosting for your LMS website then your students are going to struggle to make the most of your course as it will run slowly and may even crash.
Pressidium specialize in hosting resource-intensive eLearning websites that run complex LMS plugins like LifterLMS. You can find out more about how we do this here where you will also find case studies and our 'Secrets to LMS Success' White Paper which is free to download.
Conclusion
LifterLMS is clearly a well-respected and well-liked LMS plugin for WordPress. Users rave about the feature-rich nature of the system and it appears to be almost infinitely customizable. If you're looking for a robust LMS with which to build your course on WordPress then LifterLMS is a serious contender and well worth exploring!
Start Your 14 Day Free Trial
Try our award winning WordPress Hosting!