The last couple of years have seen a seismic shift in how we all live, work, and learn. The trend for eLearning was rapidly accelerating even prior to the global pandemic. With Covid keeping everyone home, eLearning saw a massive explosion in popularity and this upward trend in online learning shows no sign of abating even as societies begin to more effectively live with Covid.
Delivering effective online training can be challenging at the best of times. Thankfully there are a number of excellent LMS (Learning Management Systems) that can help deliver effective training remotely. MasterStudy is one such LMS and, in this review, we're going to be looking at some of the features it offers and exploring why it could be a great choice for those looking to deliver a WordPress-based eLearning course. Let's get started!
What is a WordPress LMS?
Before we continue with our review of MasterStudy LMS let's quickly look at what a WordPress LMS actually is. Hopefully, we all know what WordPress is and does. WordPress is (in our opinion anyway!) the best platform you can use to quickly and easily build a great-looking website. It's what's known as a CMS or Content Management System which enables you to build and manage your website without having to write a single line of code or download any software.
Straight out of the box WordPress comes with everything you need to get a brochure-style website or blog online quickly and easily.
But what do you do if you want to deliver online training through your WordPress website? Well, in theory, you could load up content to a 'standard' WordPress website that could be accessed by your students, but this would be accessible to anyone and you couldn't do things like provide quizzes or even run exams. Also, presenting content in an easy-to-digest way (as it would normally be in a classroom) would be trickier.
Try our Award-Winning WordPress Hosting today!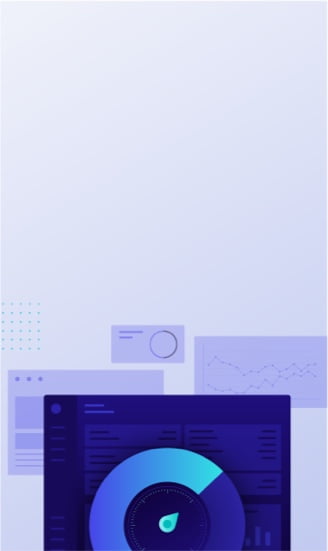 An LMS solves these issues at a stroke by providing a comprehensive framework that 'bolts' onto WordPress, normally in the form of a plugin. It makes use of all the amazing features offered by WordPress but, in addition, helps you deliver an online course much more effectively. Features vary from LMS to LMS but might include the ability to charge students for accessing course content and allow you to drip-feed information throughout a period of weeks rather than providing access to the entire course all at once. In short, an LMS will allow you to build an online training program that looks professional and helps your students succeed.
MasterStudy LMS Overview
MasterStudy LMS has been developed by the talented team at Stylemix Themes who are also responsible for a range of other excellent plugins as well as some great themes for WordPress websites. MasterStudy is clearly one of their top products however as demonstrated by the truly extensive level of features bundled into the one plugin.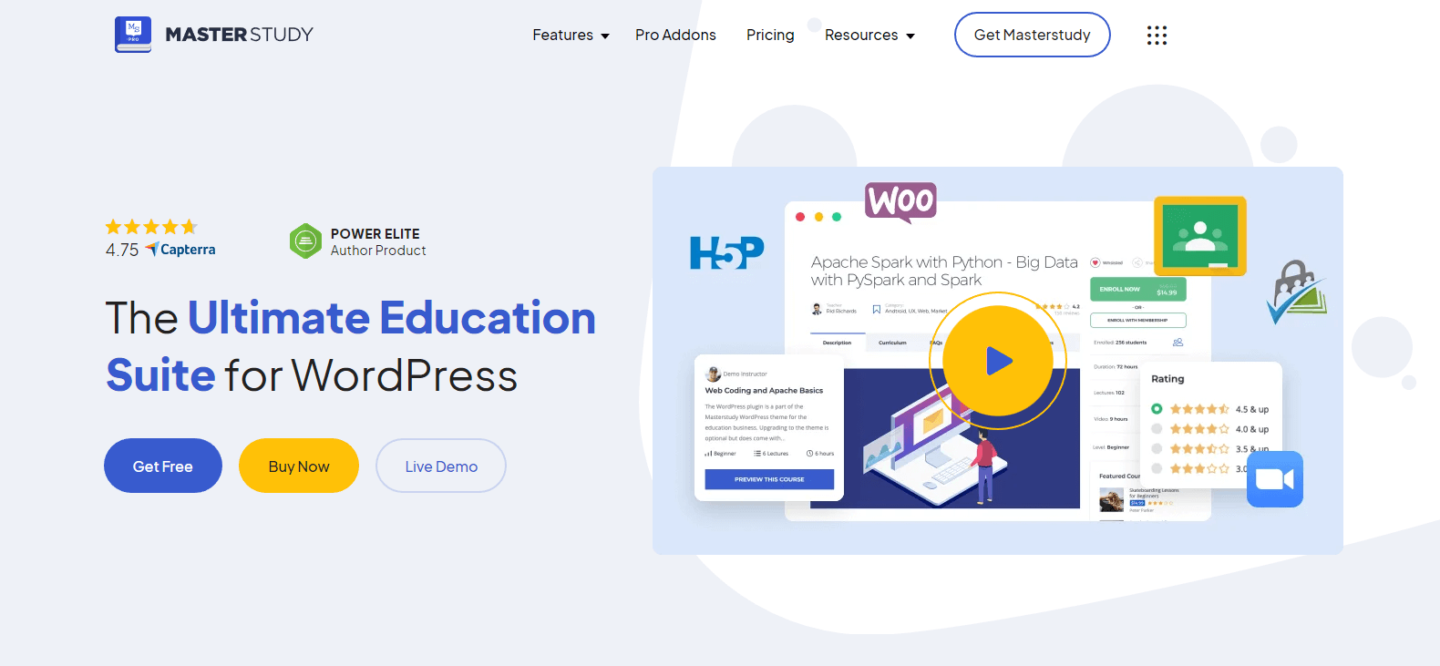 MasterStudy is described as the 'Ultimate Education Suite' for WordPress and consists of three core elements:
The MasterStudy WordPress plugin (free and premium versions available)
The MasterStudy WordPress theme
An iOS and Android MasterStudy app
We'll take a more detailed look at the above as we progress through this review. In summary, however, the Stylemix team seem to have thought of everything when it comes to the needs of teachers and trainers who want to offer a comprehensive online training solution.
MasterStudy WordPress Plugin
The MasterStudy WordPress plugin is the core engine that adds eLearning features to your WordPress website. A free version is available which allows you to get started building your online course within minutes. We love free versions of plugins as they allow you to really get to grips with a product without the pressure of handing over your hard-earned cash first. In common with most 'freemium' products, you've got the option of upgrading to the Premium version of the plugin if you require more features. At around $85 for the Premium version (single site license) we'd suggest this is well worth the investment in order to unlock the full potential of the MasterStudy LMS. Because of this, we'll be looking at both free and premium features throughout this review.
Getting Started
The initial setup of the plugin is super easy. Head to the Plugins menu from within your WordPress website and search for MasterStudy. You'll see the free plugin appears as the first option available.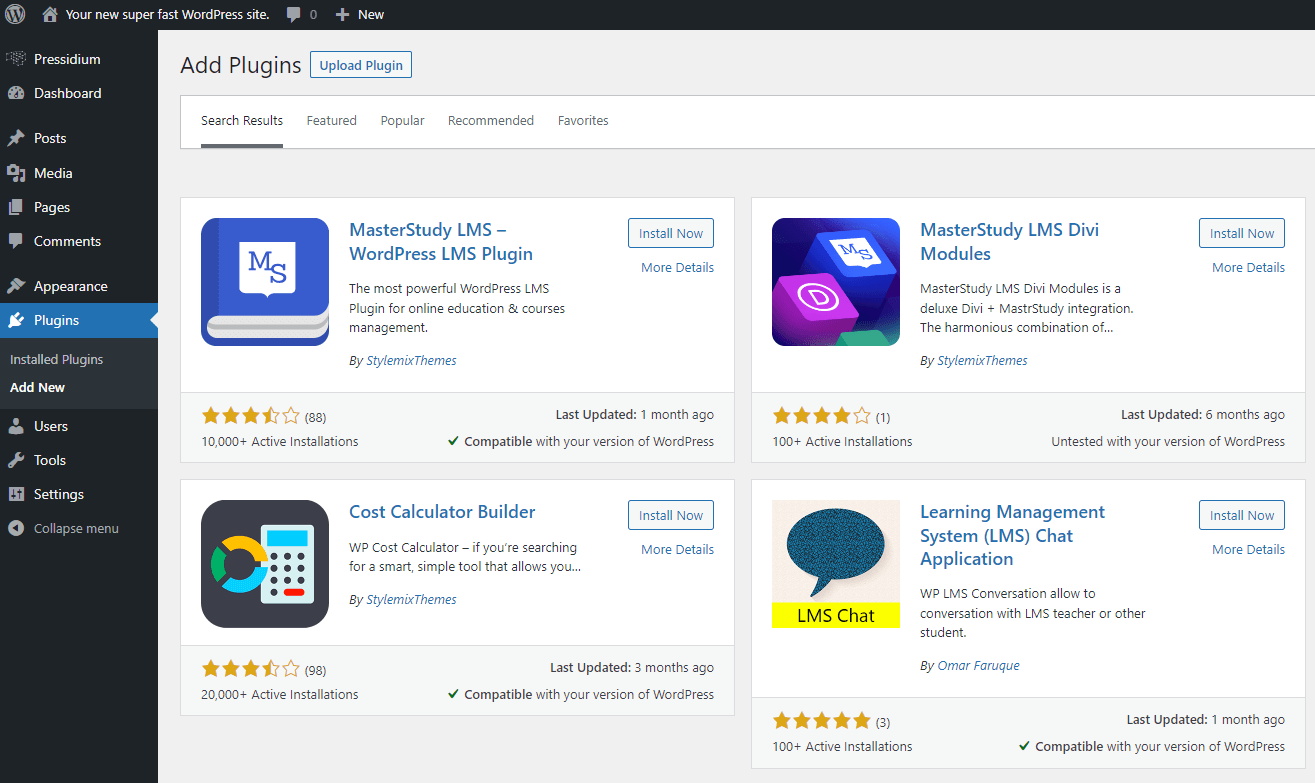 Once this has been installed and activated you're taken to a comprehensive setup Wizard which walks you through the initial configuration process. It's a remarkably slick Wizard and helps you get up and running in no time at all.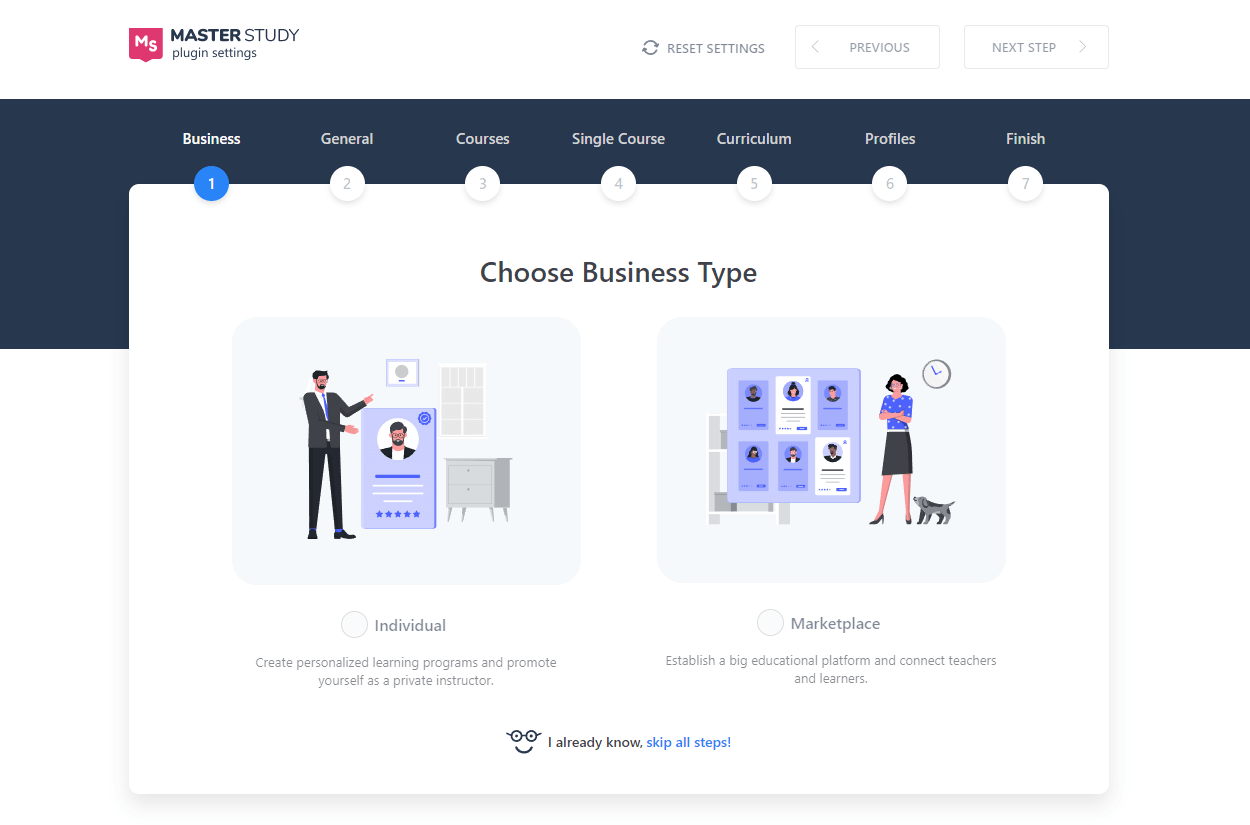 TIP: Installing an LMS plugin like this involves quite a lot of changes to your website as the plugin will create new pages, add menus and a whole lot more in order to turn your WordPress website into one capable of delivering online courses. Doing this on a live website is NOT recommended! Ideally, you should setup a development website on a staging server and use this to build your new eLearning course. If your hosting provider has the ability to let you take backups as you go this is suggested as it means, should you make a mistake, you can revert back to a previous backup which can be quicker than having to unpick changes piece by piece.
At the end of the setup Wizard, you have the option of importing some demo courses. This is highly recommended if it's your first time using MasterStudy as it really helps flatten the learning curve when you can see some 'real' content on the site.
With everything installed you'll see a number of new additions to your WordPress website, with the main element being a new control panel.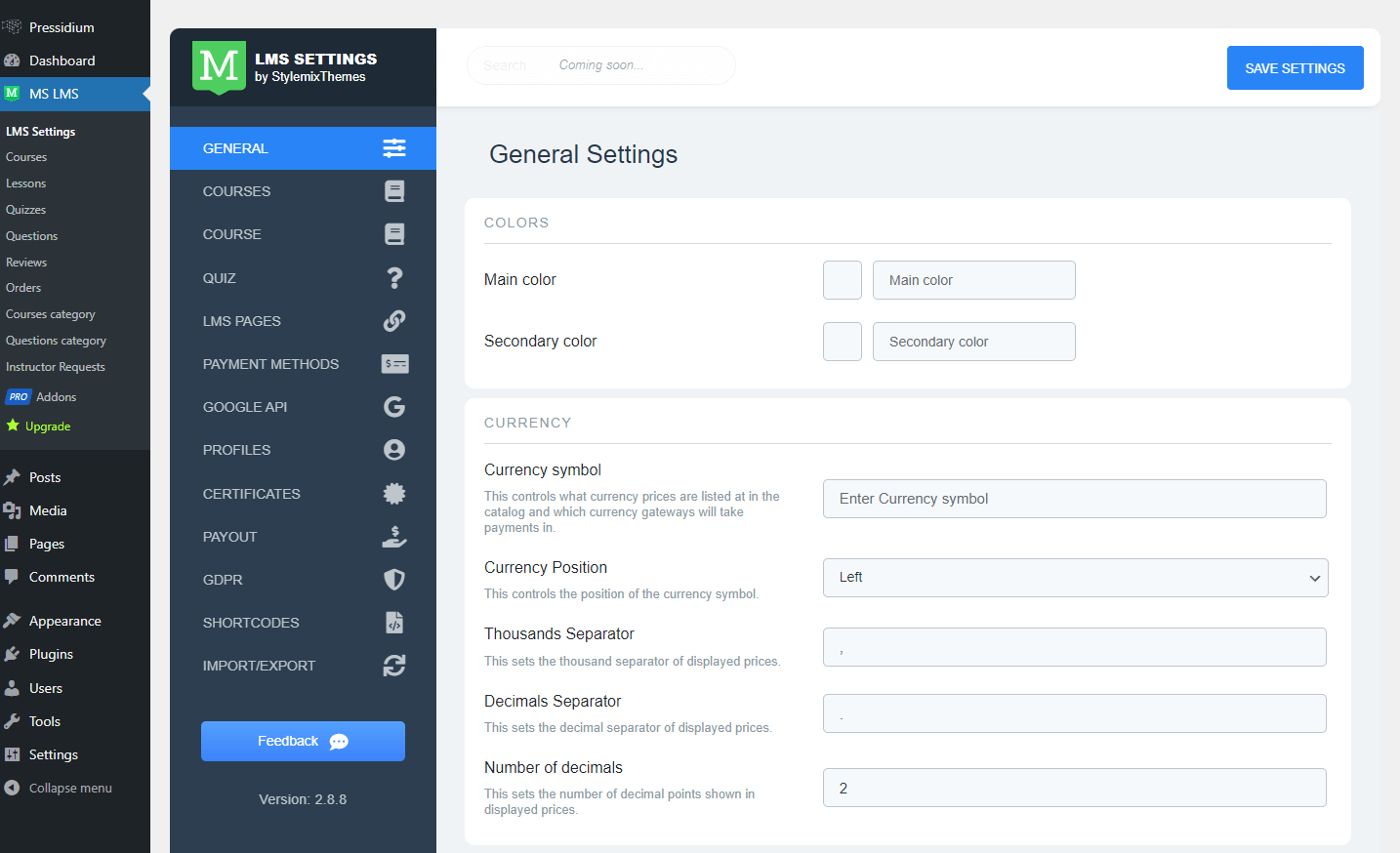 From here you can configure just about everything to do with your new LMS website including design elements (such as colors), course settings, page layouts, profile settings and a whole lot more.
To begin building your course you'll need to click on the 'Courses' menu when you'll be able to add new pages to this. If you've imported the Demo content you'll see this has been pre-populated with content so you can get a clear idea of exactly how this works. Each course page includes a 'Course Settings' menu which gives you fine-grained control over the course including things like price if you're charging for it.
Styling your eLearning Website
Once you've got to grips with building your course from the backend of WordPress you'll want to work on how this looks from the front end. MasterStudy offers a range of options in this regard with two of the most popular being:
A dedicated MasterStudy Theme
A Divi integration
The MasterStudy theme
Using the dedicated MasterStudy theme (built by Stylemix, the authors of MasterStudy) is probably the quickest and easiest way to get a great-looking WordPress website that tightly integrates from a design and functionality perspective with the eLearning elements of the MasterStudy LMS.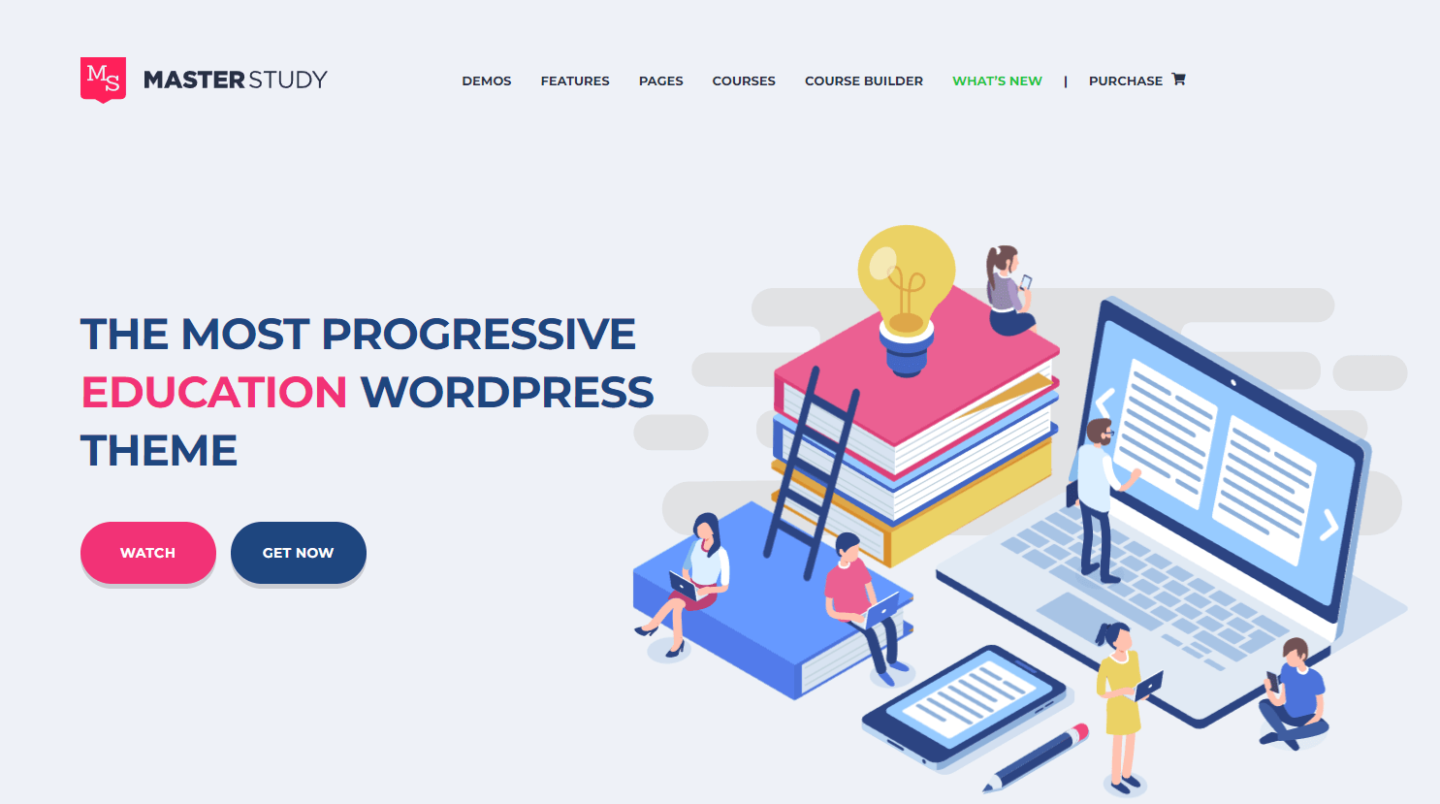 It's available to purchase through Themeforest and, at the time of writing, is $69 for a single site license. Stylemix are highly regarded theme authors and their eye for detail makes its way into the MasterStudy theme which looks great straight out of the box. There are a ton of 5-star reviews and, of particular note in these are the comments about how helpful the support team are which is super encouraging. Even the most talented of developers can get stuck at times using third-party products and nothing is more frustrating than not being able to access support when you need it the most. Clearly Stylemix work hard to keep their customers happy which is a huge tick when it comes to choosing a theme (or any product come to that!).
Although you're buying one theme, what you actually get are 15 thanks to 15 pre-built demos that can be used to get your site looking good in the shortest possible time frame. As with many themes, you've also got the option to fine-tune how it looks via the theme control panel. It integrates tightly with Elementor or has its own front-end 'drag and drop' interface you can use to re-arrange elements and style your page.
Use MasterStudy with Divi
Divi is described as the 'most popular WordPress theme in the world'. Perhaps this was one of the reasons that Stylemix made sure that MasterStudy was able to tightly integrate with it. This is done by using the MasterStudy Divi plugin that adds modules to the Divi module library that are designed to work with elements specific to courses.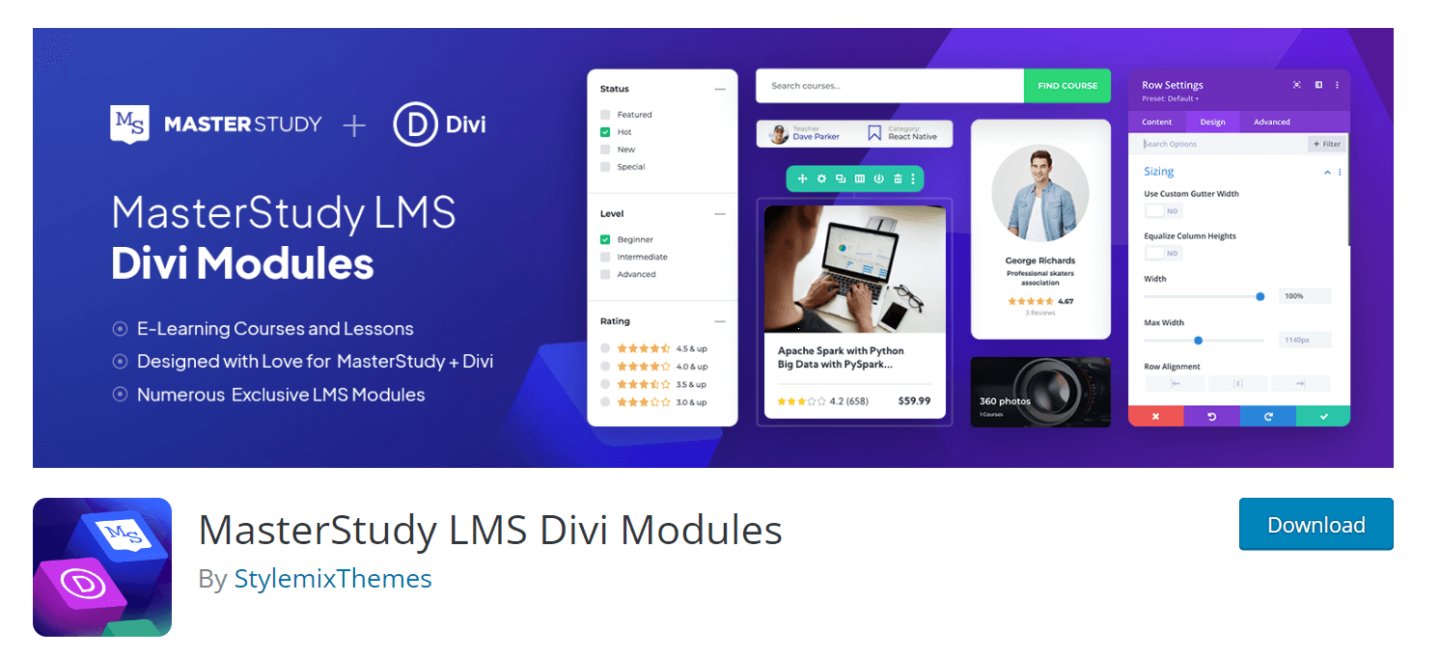 This makes building and styling your course pages a much simpler process and helps ensure the design and style is consistent with the rest of your website. It's a neat add-on feature and one that's also free to use as a bonus!
Other Theme Based Integrations
If Divi isn't your thing and you don't want to use the MasterStudy theme then fear not. There are a lot of other options available to you. MasterStudy is fully compatible with Elementor as well as WP Bakery, both of which are excellent page builders. Odds are pretty high you'll be using one of these if you're not using Divi. This level of flexibility is great, especially for users who already have a fully functioning website that uses one of these page builders and who just wants to add LMS functionality.
LMS Features
Whilst it's obviously important that you can get your new LMS website looking great, this isn't much good if the underlying eLearning functionality is poor. Fortunately, that's definitely not the case with MasterStudy with a raft of excellent features ready to go to help you design and run engaging online courses.
There are far too many to look at in detail (for that head to their website) but, in no particular order, are a few of our favorites:
Advanced Quizzes
As an eLearning educator, it's probably important to you that your students truly benefit from your courses. Quizzes have been shown to be an excellent way to cement student knowledge and ensure they understand a topic comprehensively before moving on to the next stage in their learning.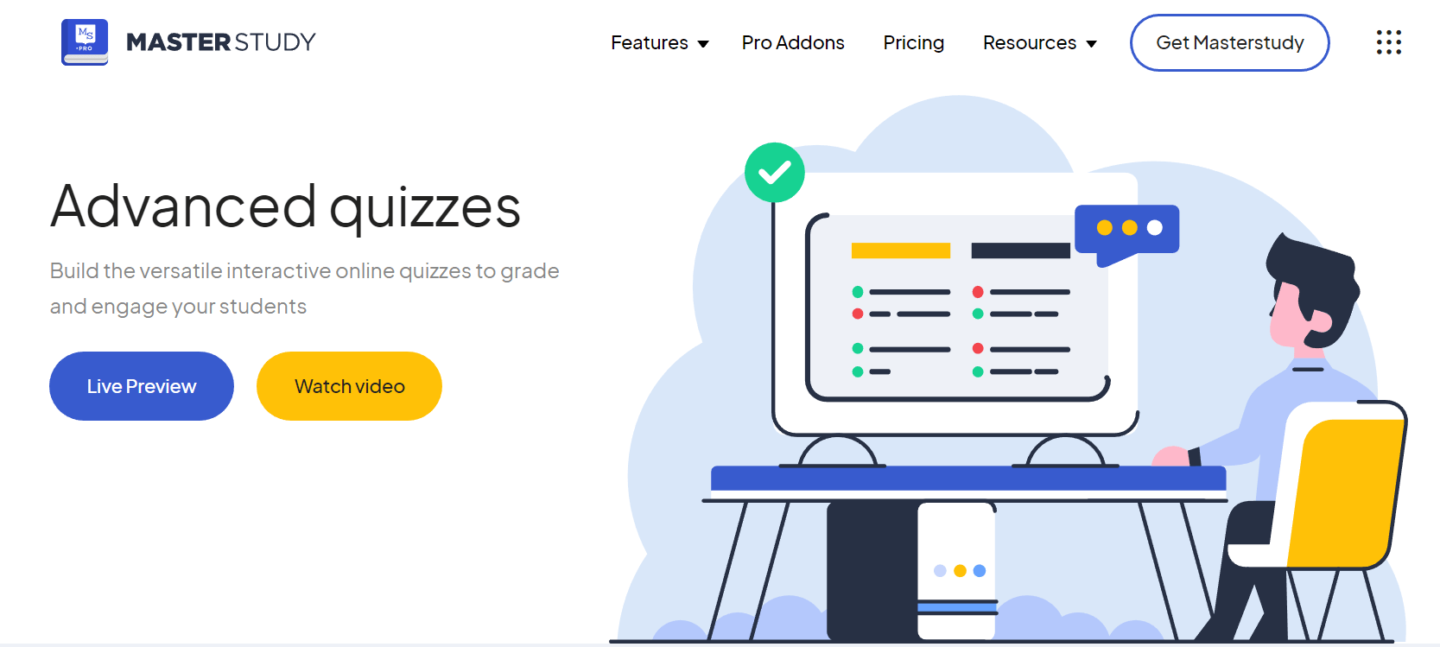 MasterStudy recognizes this and provides the tools needed to help you build versatile, interactive quizzes that can be used to both engage and grade your students. Features include:
Multiple question types: These include Item Match, Keyword ordering, True/False and Fill the Gap options. Their image-based questions are particularly engaging and can even include comparing images with text identification.
Quiz Layouts: Select from a range of layout options that help ensure you can control the appearance of your quizzes to best match your website and learning style.
Quiz Dashboard: Enjoy fine-grained control over quizzes with reviews, timers, limited attempt options and much more. Results of quizzes can be automated and quiz questions can be pulled from a question bank. Combined with the question randomizer you can be confident no two quizzes will be exactly alike.
Not only are you provided with a wide range of options when it comes to building quizzes but the MasterStudy LMS plugin makes setting these quizzes up a complete breeze.
Online Lessons
One size does not fit all when it comes to teaching lessons online with different content requiring different approaches. MasterStudy provide the option for you to create lessons by combining video, text and slides that can be mixed together as needed in order to deliver the best lesson possible.
The plugin has no limits on the number of lessons that you can create which is good news for topics that require in-depth study.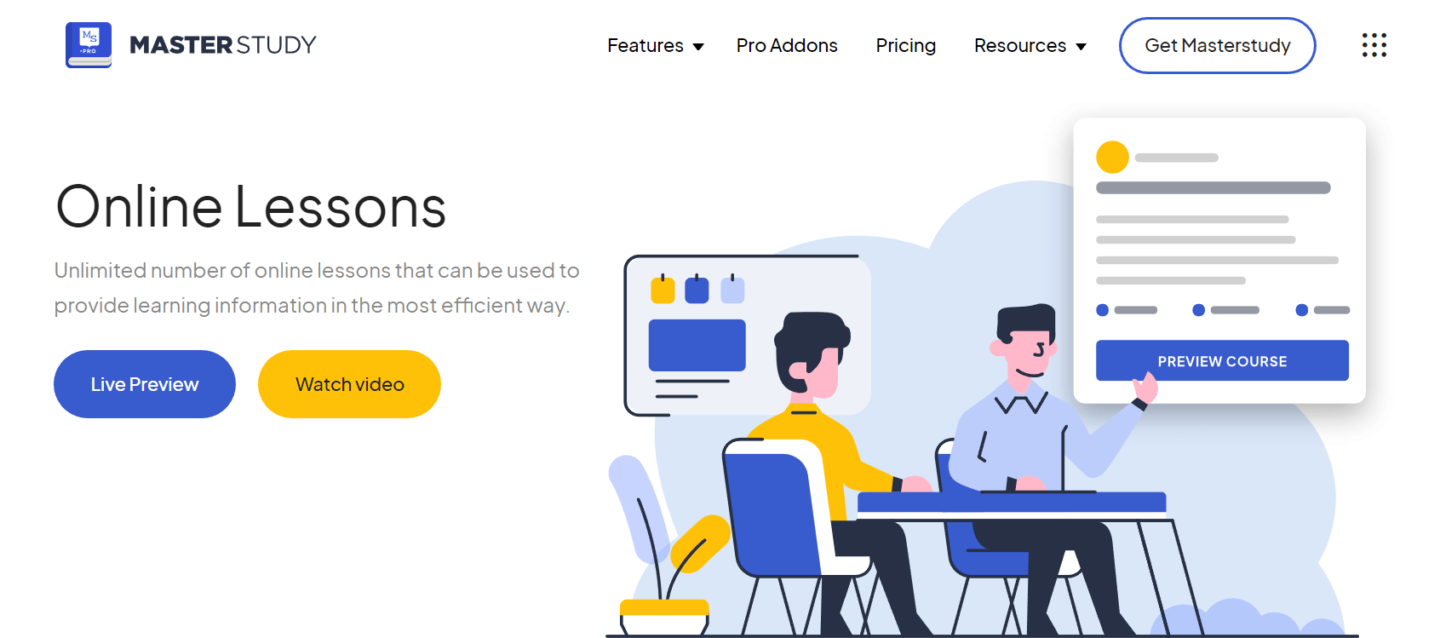 Even though eLearning lessons are delivered, by definition, online, that doesn't mean that you're forced to remove all human participation. MasterStudy offers the ability for you to live stream lessons which enables you to connect with your audience in real-time. Further, you can use Zoom to create online webinars giving you additional options when it comes to delivering your content.
Certificates
After spending time learning it's nice to be rewarded… with MasterStudy, you can provide your students with personalized certificates upon completion. The certificate builder is pretty comprehensive and offers multiple customization options.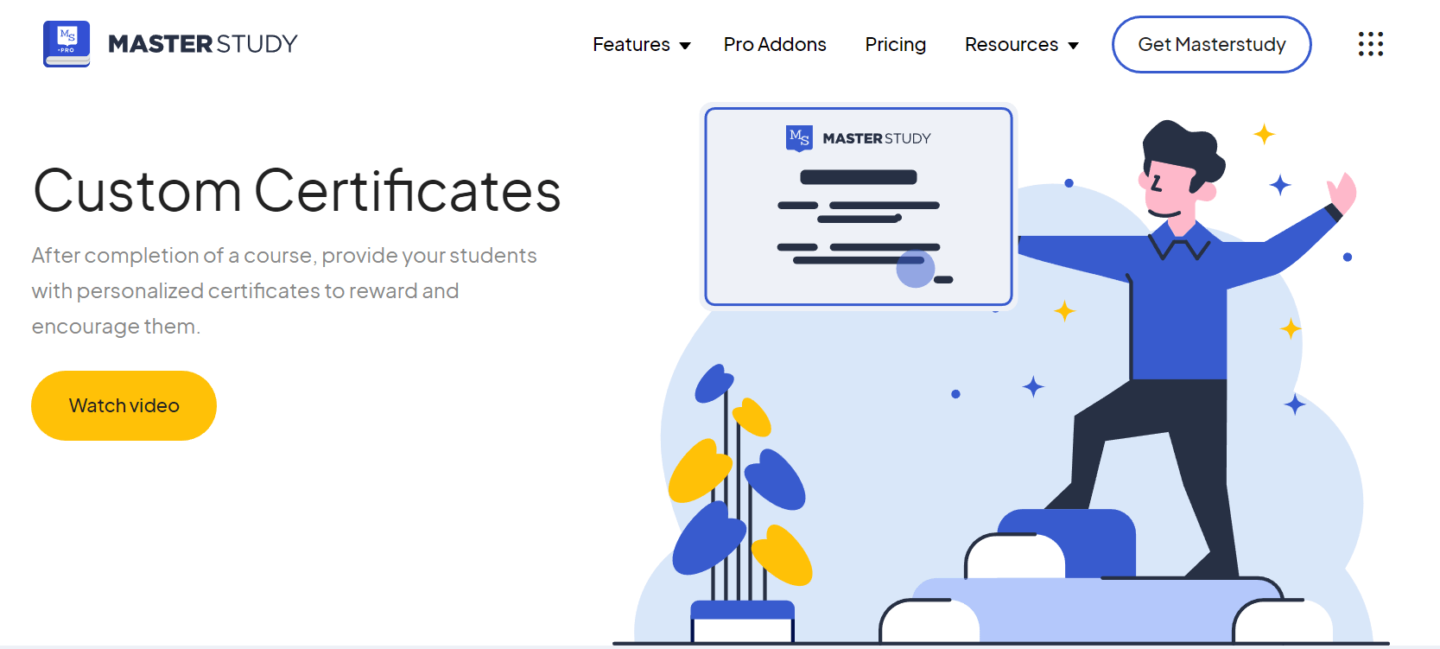 As an added bonus and for qualifications where it's important to potential employers (for example) to verify that the candidate in question is presenting a valid certificate, the MasterStudy LMS offers a certificate validator where the unique certificate number can be verified for authenticity. This stops others from copying certificates and passing them off as their own. Neat!
The MasterStudy App
If you choose to use the MasterStudy theme, you also have the option of launching your very own iOS or Android app which mirrors the content of your eLearning website whilst delivering a true mobile experience that your users will love! This is pretty revolutionary stuff given the cost of the plugin required is just $49 (plus any respective app store fees).
App users will enjoy a bespoke experience that makes learning on a mobile totally initiative and includes things like personalized real-time push notifications that wouldn't be possible with just a mobile responsive website.

In addition, content is now available offline which makes it the perfect choice for commuters who might not always be able to access decent mobile signal when on the move.
The app fully integrates with your 'master' LMS website and any changes made on this seamlessly sync to the app meaning this is a true integration not a separate tool that requires its own upkeep.
If you're looking for a way of distinguishing yourself from other eLearning competitors then this could be the ideal choice for you.
Product Support
We touched earlier on the rave reviews that have been left by users who purchased the theme. It's clear that the MasterStudy LMS system is very well supported by the Stylemix team.
Not only is there an excellent resource library that contains a ton of documentation but, for those who purchase the premium version of the LMS plugin, there is Priority Support that will help you make the most of your purchase.
In addition, for all purchases, 1 year of updates is provided meaning you can be confident the plugin will continue to work with newer versions of WordPress.
Pricing
Pricing is perhaps a little complicated but at the same time offers complete flexibility. Instead of bundling all the features together into one product, users are given the option of purchasing the following items separately:
MasterStudy LMS plugin
MasterStudy Theme
MasterStudy App
Pricing begins at $85 for the plugin with one site license (but offers are occasionally available). Discounts kick in for those that need more licenses.
The MasterStudy theme is currently available for purchase through ThemeForest for $65 whilst the MasterStudy App can be bought through CodeCanyon for $49.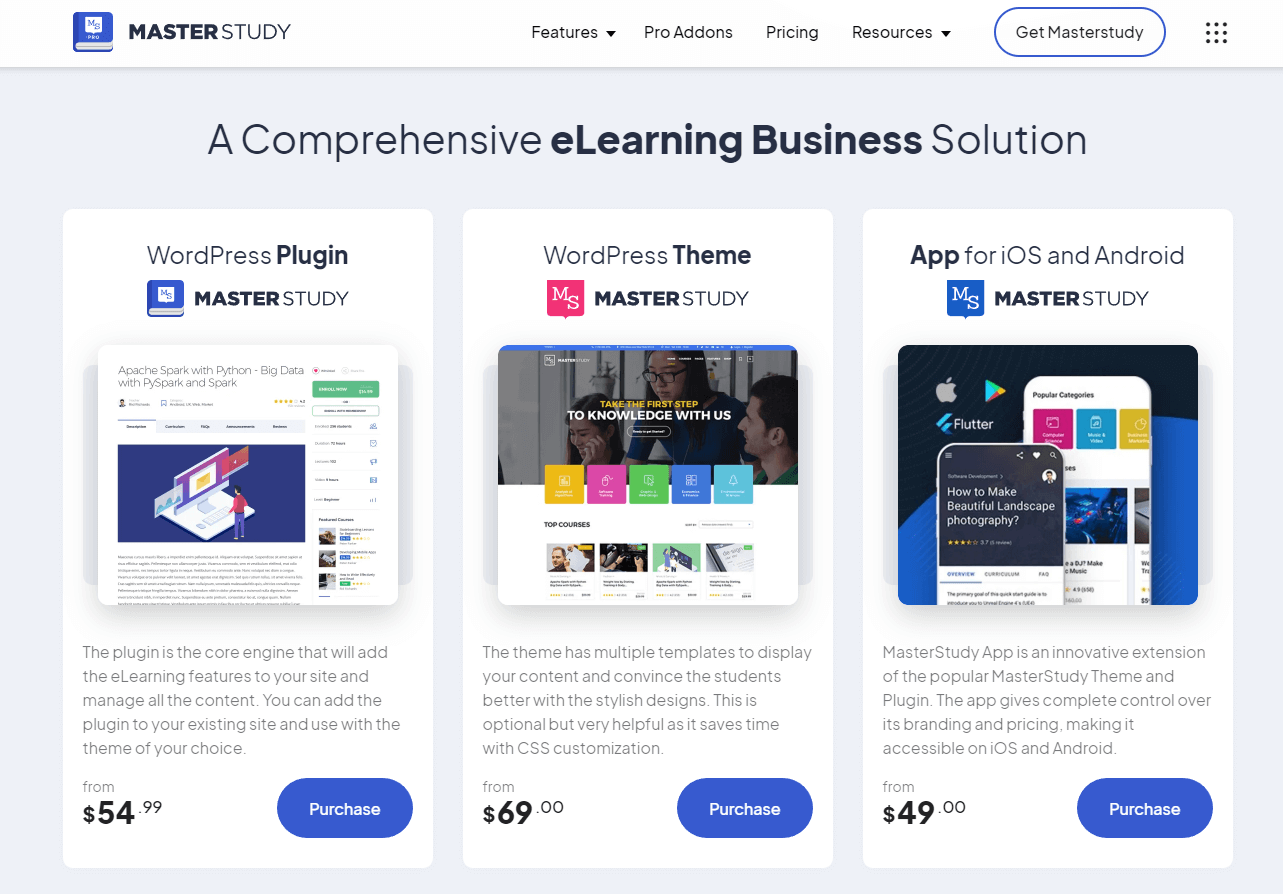 So, assuming you don't find a discount, you're looking at around $200 for the complete bundle that includes the plugin, theme and app. That's pretty good considering this also includes 1yr of support.
LMS Hosting
To complement what promises to be an excellent WordPress LMS, you're going to want to make sure you run this on suitable WordPress hosting.
WordPress Learning Management systems are typically very resource-intensive. This isn't necessarily as a result of bad plugin design but more to do with the fact that your hosting server needs to deal with multiple concurrent requests as a result of having users who need to login to access their courses. This action and the need to run elements like quizzes, sometimes simultaneously for lots of users places a significant burden on a server meaning you need to make sure it can handle it.
After all, there is no point in having the perfect course if it runs slowly or crashes when more than a handful of students want to access it at the same time!
Pressidium specialize in hosting resource-intensive eLearning websites that run complex LMS plugins. You can find out more about how we do this here where you will also find case studies and our 'Secrets to LMS Success' White Paper which is free to download.
Conclusion
Choosing the right LMS plugin for your WordPress eLearning website can be challenging. MasterStudy offers a truly viable option with some great features backed up by excellent customer support. With a free version for you to try, you've nothing to lose by taking it for a spin and, if you end up deciding it's the plugin for you, you'll be able to build a truly comprehensive eLearning experience that is complemented by an App-based version of your site that is sure to impress your students!
Start Your 14 Day Free Trial
Try our award winning WordPress Hosting!