Is your website important to your business? What would be the cost to you if it went down, even for just a few minutes? For many of us, our website is hugely valuable to our business and even short downtimes can cost our business a significant amount of money as well as reputational damage. But how do you know when your website is down? What you don't want to do is to rely on clients or customers telling you… no, you need to monitor your website uptime history and to check this yourself you need to deploy a website monitoring tool.
We've listed 5 website monitoring tools that allow you to not only quickly track your website uptime history but, more importantly, that alert you if your site goes down so you can take immediate action. Let's take a look at the options.
Uptrends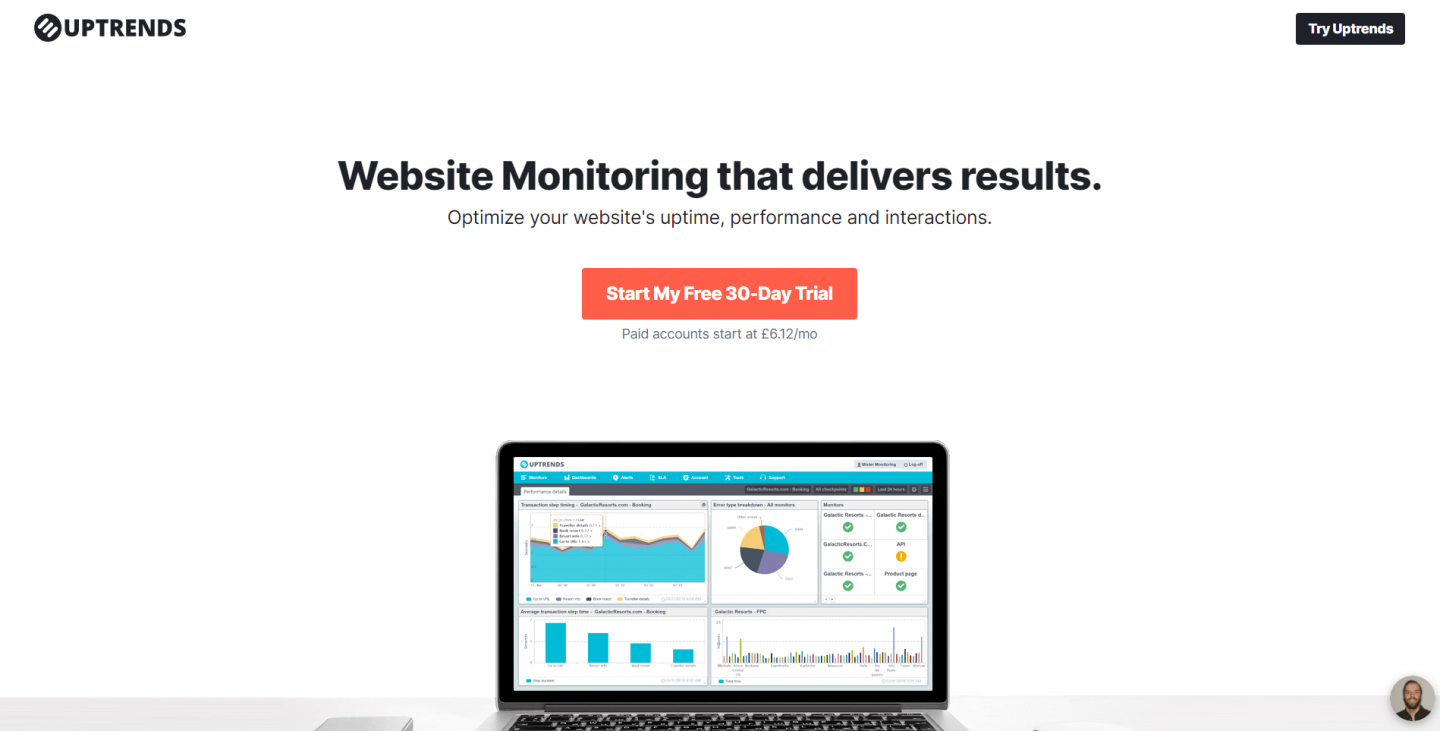 Uptrends offers a comprehensive website monitoring system that not just displays uptime history but also tracks website performance and even mobile visitor experience monitoring.
If your website goes down then you are notified via both SMS and also email which helps ensure you're the first to know about the problem, not your customers. They also deploy a 'double check' system which helps reduce false alerts… after all, you really don't want to be woken at 3am to deal with a website that hasn't actually gone down!
Plans are based on the number of websites or servers that you want to monitor and start at around $12/month for up to 10 websites/servers. There is a cap on the number of SMS alerts you'll receive depending on the plan. Find out more at uptrends.com
Free Plan – No
Paid Plans – Starting from $12/month
Free Trial – Yes, 30 Days
UptimeRobot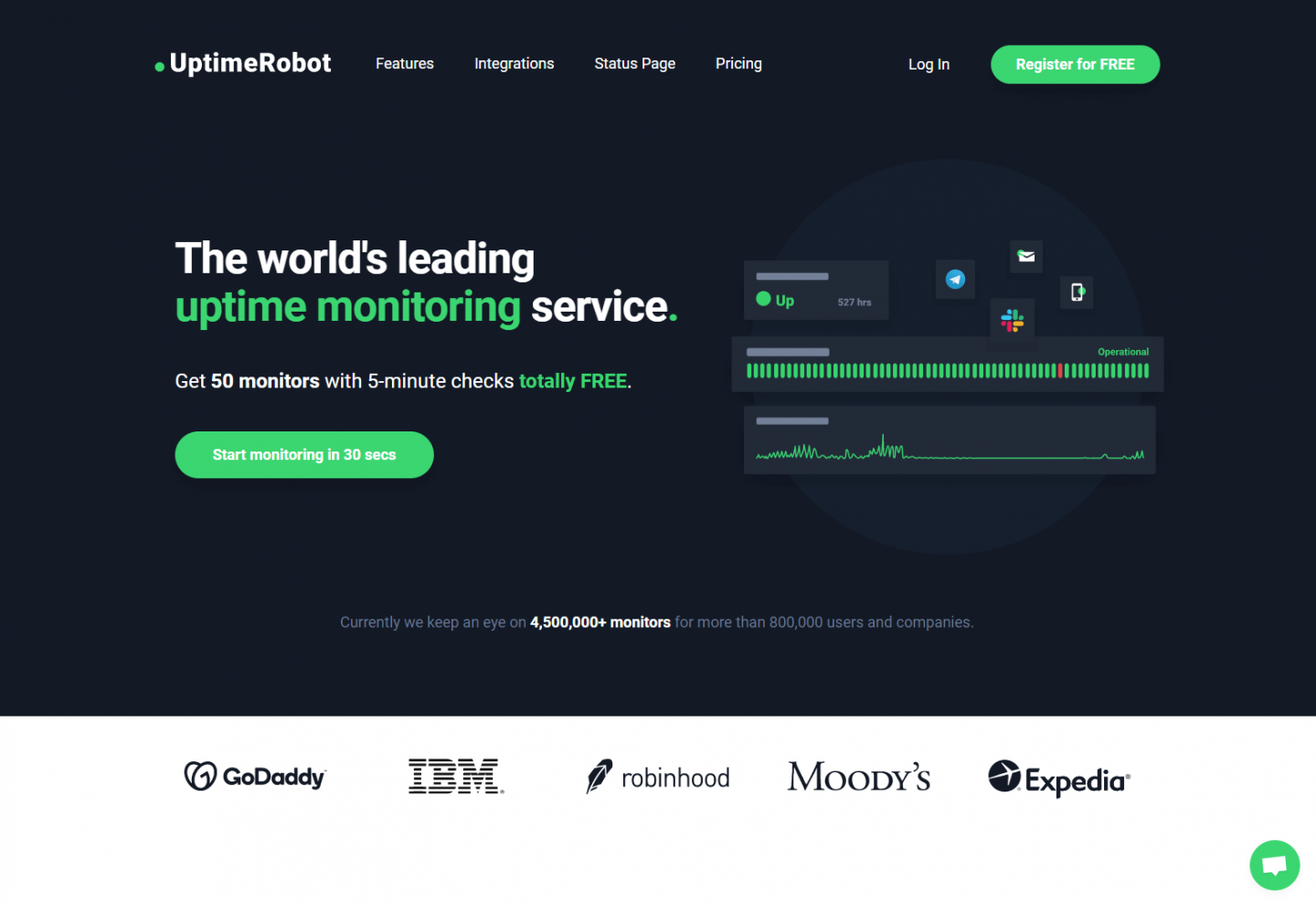 UptimeRobot boats of clients such as IBM, Expedia and Moody's and says they have more than 800,000 users worldwide. Their website monitoring system is robust but equally nice and simple and focuses just on website monitoring as well as SSL certificate monitoring, Port & ping monitoring and Cron job monitoring.
Setting up your monitors is incredibly quick and easy and you can choose what aspect of the page is monitored. For example, if you just want to check if you website is live or not, use the http(s) monitor which sends requests to a url (or urls) of your choice and then monitors the status code returned. If it gets a 200 code then everything should be ok but a 404 code would indicate a problem which will then generate an alert.
Try our Award-Winning WordPress Hosting today!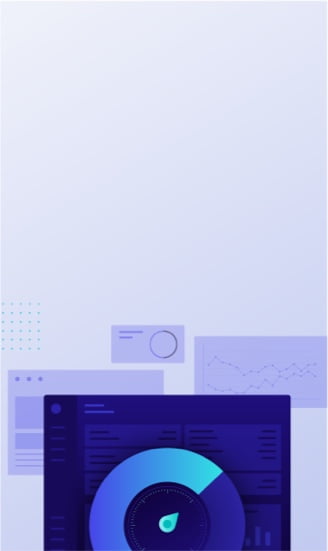 As a bonus, UptimeRobot offers a free plan that allows you to add up to 50 monitors to your account. This, for many users, may be more than enough. The free plan, however, doesn't provide some features, such as SMS alerts or a custom status page that can be used to showcase a website's uptime check results. For these, you'll need to upgrade to a paid plan which offer 1 minute status checks for up to 50 monitors for $7/month which is pretty good value. If you need more monitors then these are of course available for an additional fee. Find out more at uptimerobot.com
Free Plan – Yes
Paid Plans – Starting from $7/month
Free Trial – No, but free plan available
Uptime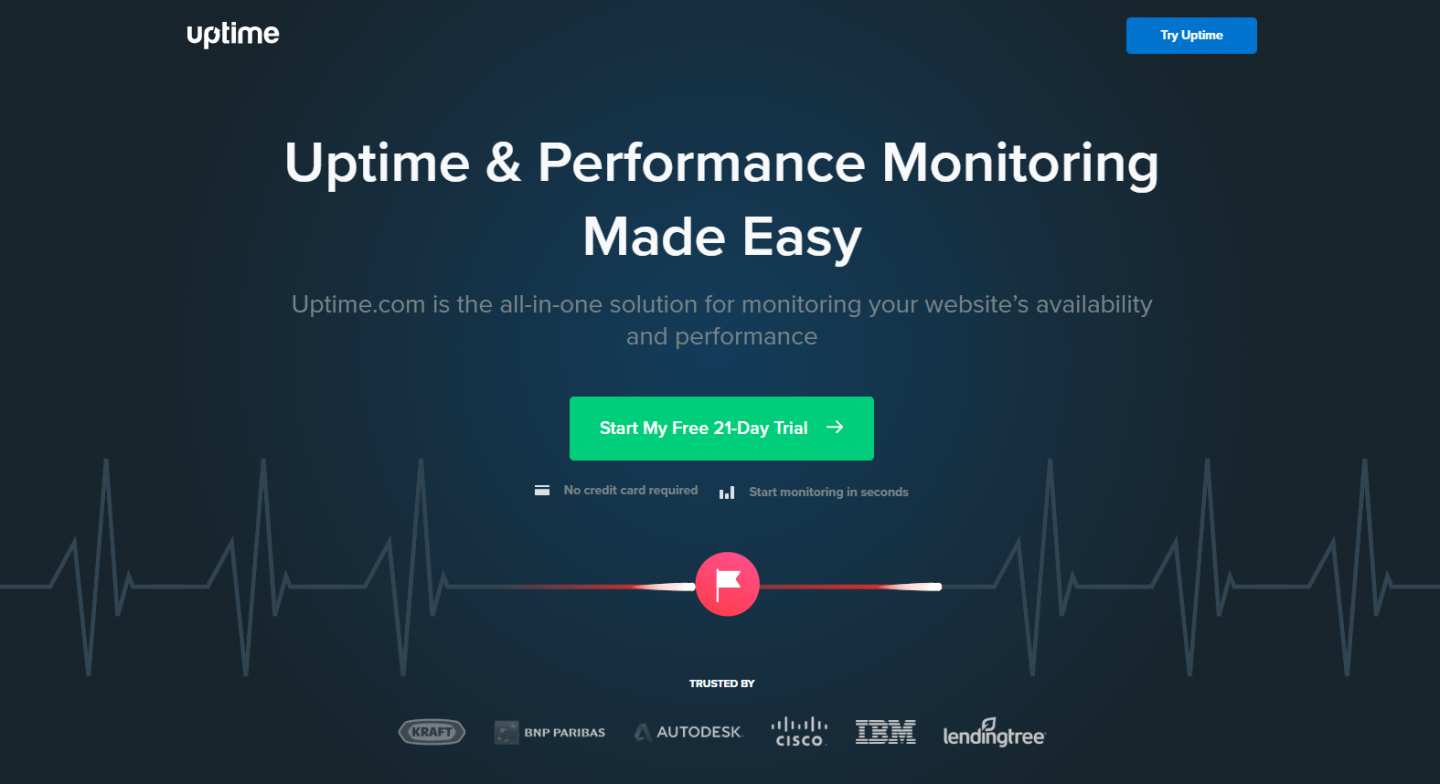 If there was a prize for snagging the best business name and associated domain for this industry then perhaps it should be awarded to the aptly named Uptime. It'll come as no surprise that Uptime does exactly what it says; monitors Uptime history on your website.
Uptime is a serious player in the monitoring industry and offers reliable uptime monitoring for websites, servers and domains. Their system provides Enterprise grade capabilities delivered 'at a reasonable price'.
Their Dashboard is modern, clear and informative and allows you to quickly add new monitors to your account whilst ensuring you can see the status of existing monitors as a glance. As a nice bonus they also provide feature rich iOS and Android apps. In common with other monitoring tools, your website or server is pinged at 1 minute intervals and if it fails a check then you are alerted. Uptime includes alerts via email, SMS and even a phone call (useful for alerts generated in the early hours of the morning when you are asleep!).
Uptime is a little more expensive than UptimeRobot or Uptrends. After a 21 day free trial you'll need to pick a plan that start at $19/month for ten monitors. The price falls to around $1.10 per monitor when you reach their Business level plan. Find out more at uptime.com
Free Plan – No
Paid Plans – Starting from $19/month
Free Trial – Yes, 21 Days
StatusCake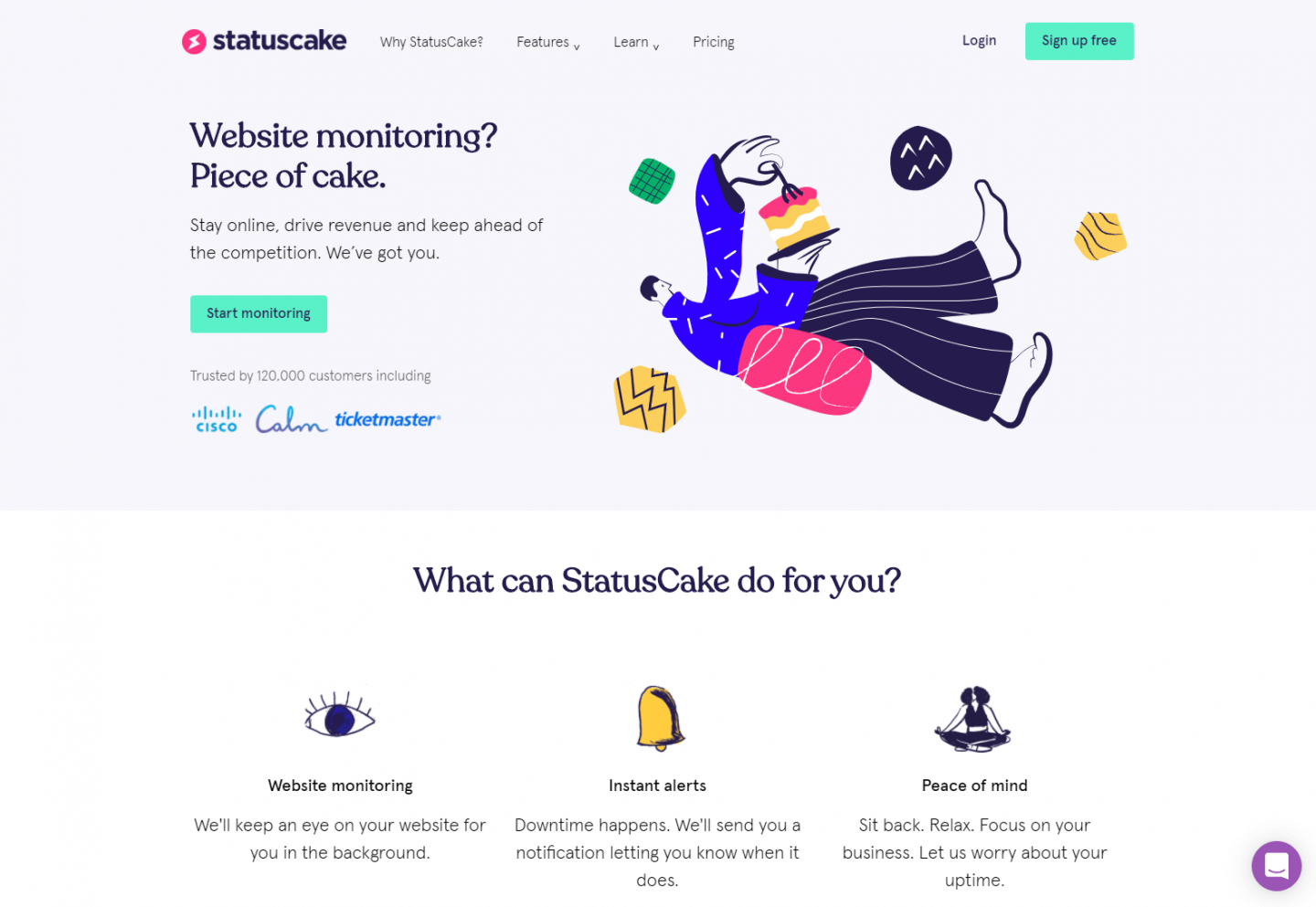 StatusCake is a feature-rich website uptime checker that provides instant alerts if your website ever goes down. They have very fast monitoring intervals of just 30 seconds (i.e. your website is pinged to check it's still live every 30 seconds) which can be very reassuring especially if you're running a site like a WooCommerce store where every second down could mean an instant loss in sales.
In addition to sophisticated website uptime monitoring, StatusCake also bundle a range of additional tools such as Page Speed that monitors load times on your site, Server monitoring which alerts you when your server exceeds custom thresholds of RAM, CPU and disk usage as well as SSL expiry monitoring.
It's great to see that StatusCake also offer a Free plan. Other than a cap of 10 monitors and limited additional checks (such as SSL monitoring) the only thing really missing from the free plan is a Reporting tool making this one of the best free plans we've seen. And if you need more monitors then a paid plan starts at around $20/month for up to 100 monitors. Find out more at statuscake.com
Free Plan – Yes
Paid Plans – Starting from around $20/month
Free Trial – No, but free plan available
Pingdom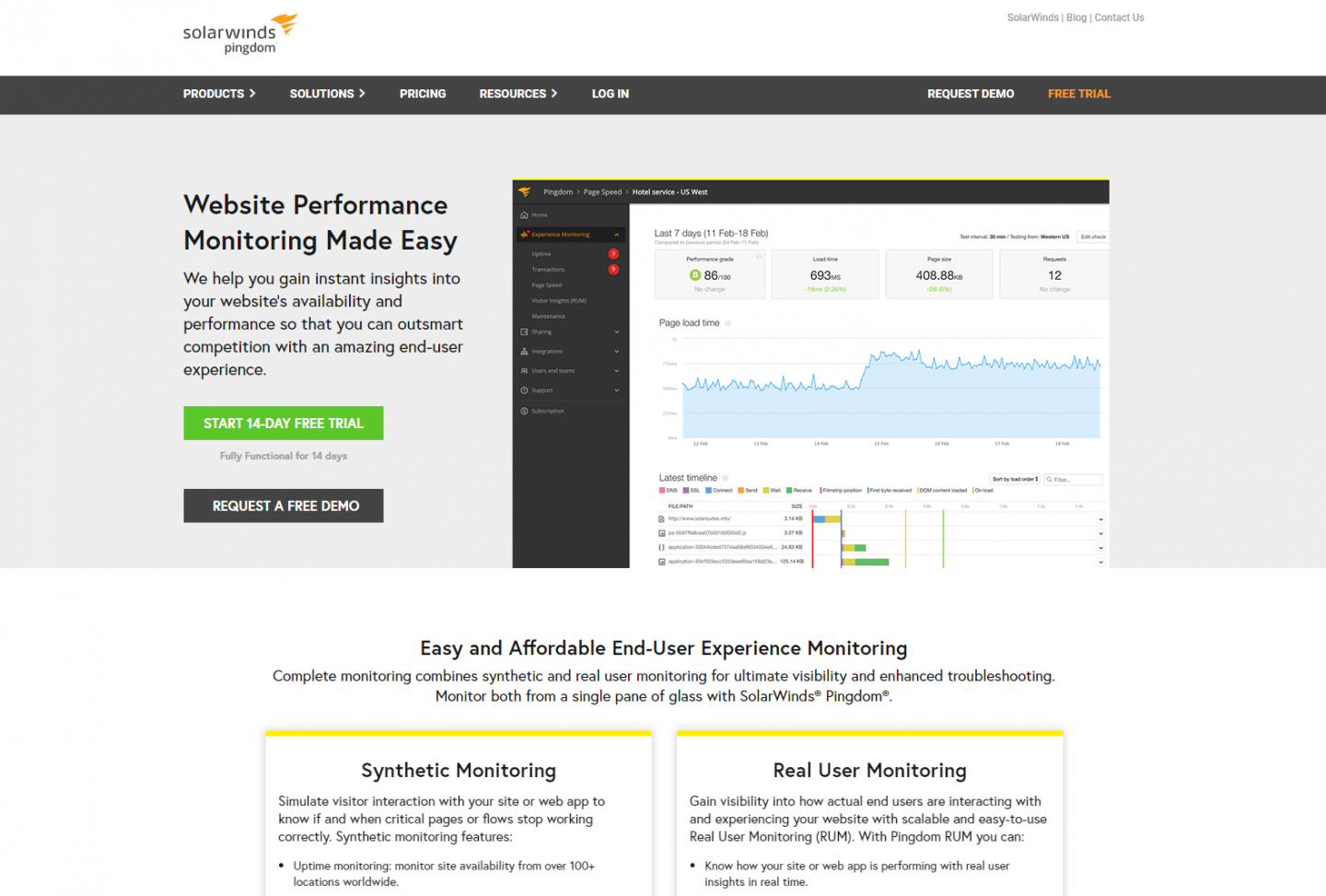 Pingdom is an industry heavyweight in the monitoring world and offers a sophisticated set of tools to help you gain insights into your website's availability and performance. This of course also means alerting you when your site goes down.
Pingdom is best suited to users who want to really deep dive their website's availability and site interactions and who run complex, mission-critical websites. For example, they offer Transaction monitoring which can be used to test simple or highly complex transactions on your site such as new user registrations, shopping cart checkout, search and user logins.
Their optional 'Real User Monitoring' solution helps you gain visibility into how your end users are interacting with and experiencing your website. This monitoring solution offers fast and accurate client-side problem identification and resolution.
Pricing is more complex than with other monitoring tools we've looked at and is based around the number of website uptime checks and Advanced checks (such as page speed) that you require. Expect to budget around $15/month to get started with pricing increasing as you add further checks and services. Find out more at pingdom.com
Free Plan – No
Paid Plans – Starting from approx. $15/month
Free Trial – Yes, 14 Days
Pressidium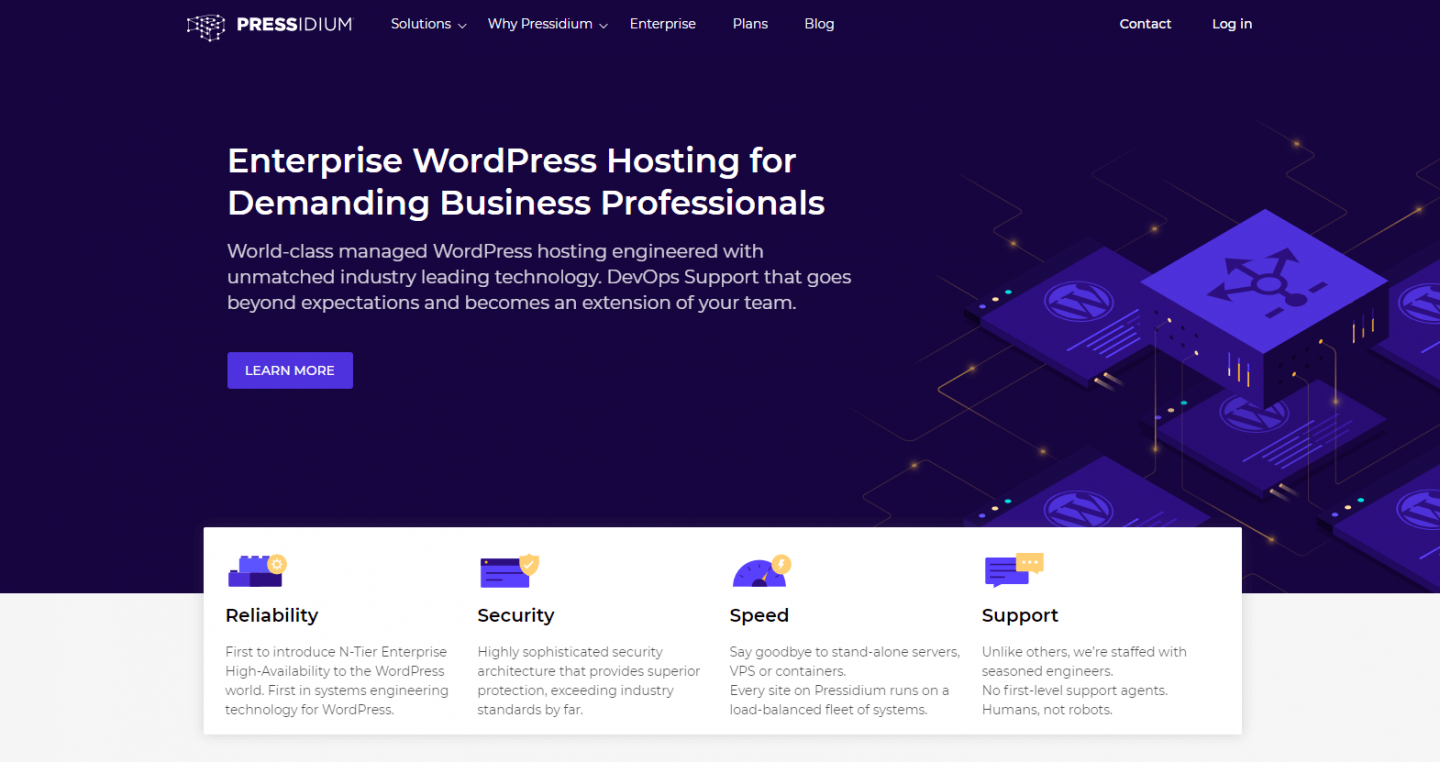 Pressidium isn't a website monitoring service but we had to add a shout out to our own product none-the-less! Pressidium's WordPress hosting platform features N-Tier, Enterprise High-Availability architecture which is designed with no single point of failure. This means it's the perfect solution for mission critical websites such as WooCommerce stores. In addition, our team proactively monitor all websites on our platform and will alert you if for some reason your website were to suffer an outage due to any failure in our infrastructure, whilst simultaneously working to bring your website back online. This monitoring and proactive level of service is provided 24×7, 365 days a year. To find out more head to pressidium.com
Start Your 14 Day Free Trial
Try our award winning WordPress Hosting!