Squarespace and WordPress are two of the most popular CMS's (Content Management Systems) available today. This makes them the perfect choice for a Squarespace vs WordPress head-to-head around important aspects like hosting, functionality, portability, pricing and more!
Both Squarespace and WordPress give a relative website novice the ability to spin up a website without the need for a professional website designer and have both played a significant role in democratizing the website design process. Only a relative handful of years ago, if you wanted to build a website then you would have had to learn how to code. A good grasp of HTML and CSS would have been a prerequisite for spinning up your own website. Tools like Dreamweaver started to make the process easier with their WYSIWYG editor but it was still a tall order for a complete beginner to build their own website.
How times have changed! Using Squarespace or WordPress, pretty much anyone who has a computer and an internet connection can get their own website up and running in a matter of hours with very little background knowledge.
And of course, it's not just beginners who use these CMS's. Both Squarespace and WordPress are heavily used by web professionals. WordPress in particular still dominates with over a third of all websites online powered by this incredibly versatile CMS.
So, which is best to use? Squarespace or WordPress? You might think we've already answered that question with the statistic that over a third of the world's websites are WordPress. You'd surely use the most popular? Well, yes and no. In this Squarespace vs WordPress showdown, we're going to look at the two systems side by side so you can quickly gauge which one is best for you.
Note: If you're a seasoned web developer then this article isn't for you! Check out our WordPress Developer Dossiers for some articles just for you!
An Introduction to Squarespace and WordPress
As discussed, both Squarespace and WordPress are what are known as Content Management Systems or CMS's for short. These are web-based interfaces that allow you to publish content to a website without the need for a code editor. They both offer user-friendly interfaces that are accessed via a username and password. Once you've logged in, you will find lots of options that enable you to publish content to your website as well as change how the website looks, how many pages you have and so on. Additional functionality can also be added with widgets or plugins such as contact forms.
Both systems will ultimately deliver a good looking, fully functional website. The primary differences are how easy this is to do and how much flexibility each system offers in terms of design and functionality. Let's take a look at how to get started with these platforms.
Getting Started
This is it! You've decided to build your own website and you're itching to get the ball rolling. But before we dive in we need to look at two very important elements of building a website. The design (or theme) and the hosting.
Themes
A theme is a website framework that controls how your website looks. Strictly speaking, if you built a website from scratch (i.e. wrote all of the code) you wouldn't use a theme, but for us lesser coding mortals, a website theme is a pre-built package of code that lays the design foundations for our website quickly and easily.
Themes can literally save us tens if not hundreds of hours compared to starting completely from scratch. Themes can be customized to make the website look how you want but only within some pre-defined parameters. Think of a theme as the body of the car. The main structure has been put in place (the bodywork) but you are free to make the car whichever color you like. You can choose what upholstery to have and whether or not to tint the windows. By tweaking these options you can end up with a car (or website!) that looks pretty unique.
Themes are not 100% customizable though. Using the analogy of the car again, if you had chosen a 4-door saloon as your theme design but wanted now to change the design to a 2-door roadster you're not going to be able to do this very easily. In all likelihood, you would have to change the theme you use in order to achieve this totally different design.
Website Hosting
Your website is at its heart, a very large collection of files. These files consist of code and images. Instructions in the code dictate how your website will display. For example, where the pictures will appear and what color the font is. All these files need to live somewhere and that place is called a server.
Try our Award-Winning WordPress Hosting today!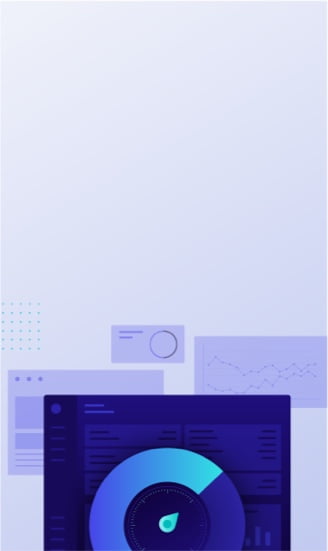 A server is just a glorified computer that is normally housed in a massive data center somewhere in the world. These servers are always switched on and are connected to the internet. When someone goes to your website address (or domain name), the server loads up all the files that belong to your website enabling the user to view and use your website.
'Website hosting' is provided by Web Hosting companies who rent or own space on one of these servers from which your website will be served. There are thousands of web hosts available to choose from, some better than others! In essence though, they all do the same thing; provide storage space for your website files so they can be accessed by website users.
Now we know what a Theme is and have an idea of how Website Hosting works we can take a look at the initial steps you'll need to take with both Squarespace and WordPress to get your website off the ground.
Squarespace
First things first… head to squarespace.com and hit the 'Get Started' button in the top right of the screen. You'll be taken to a Templates page where you can choose from a range of pre-built website designs. Select one you like and then carry on through the registration process (it's free to register and try and platform so give it a whirl!).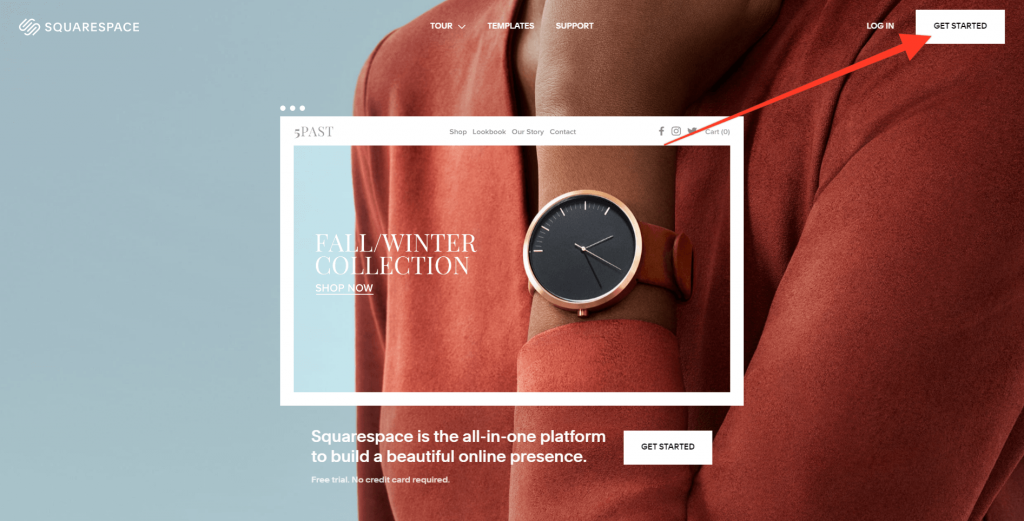 Squarespace charges a monthly fee for their service ranging from $12/month up to $40/month for their advanced plan. All plans include two very important things… a Theme and Web Hosting. This makes setting up your first website very easy indeed.
When you are fully registered you will be presented with a page that shows your website template and on the left a menu of options. Setting up your Squarespace website is a quick and easy process from this point on. Assuming you were happy with the color scheme and layout of the template you could theoretically launch a live website from this stage within a few minutes.
WordPress
Setting up your WordPress website presents a few more challenges than Squarespace and herein lies one of the major differences between the two platforms. Flexibility.
To get started with WordPress you will need to choose a web host (like Pressidium) and then you will need to choose a theme to install. There are thousands of themes, many of which are available through the WordPress theme directory. Third-party themes can also be purchased from theme stores such as Themeforest.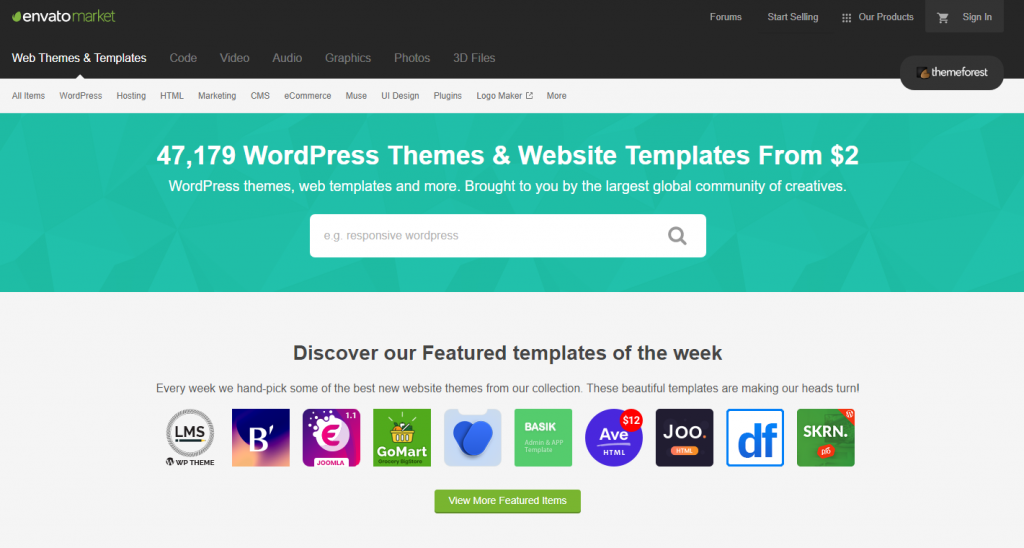 Setting up your website requires a little more know-how. If you're using a dedicated WordPress host like Pressidium then the core WordPress system is already pre-installed. Setting up your theme is a relatively easy process but none-the-less more complex than Squarespace. Once your theme is installed you will have a variety of options when it comes to customizing your theme depending on the theme you have installed.
Customizing Your Website: Squarespace vs WordPress
Now we've sorted out the initial setup, we can move onto the exciting job of customizing your website. The process differs depending on whether you are using Squarespace or WordPress. Let's take a very quick look at how to go about this.
Squarespace
The first thing you'll want to do is to head to the Design tab on the left-hand side. Click on this and then click on 'Styles'. You'll be presented with a menu that offers a range of customization options for the core style elements of your website. This includes colors, fonts backgrounds, padding and spacing on the site, header layout and more. You'll see your website update in real-time on the right so you can see how these changes will look in practice.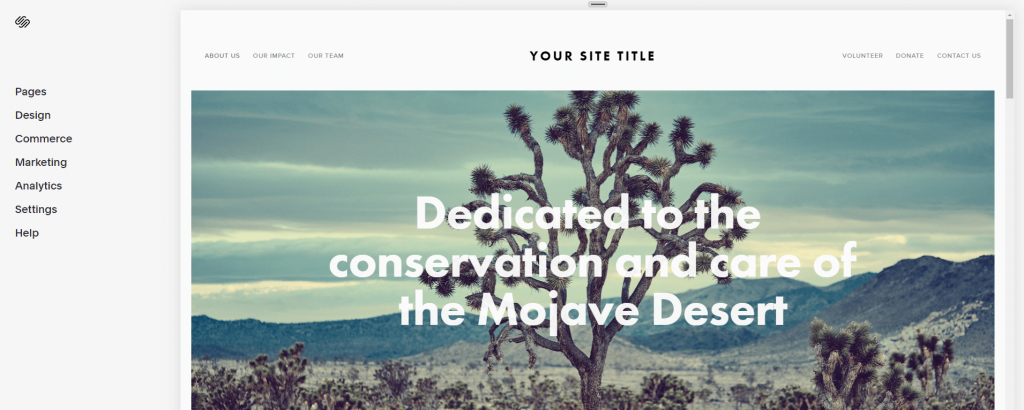 Exiting out of this menu and heading back to the main menu gives you the option to edit your websites pages. The theme you selected has a number of pre-built pages setup to get you started but these might not suit. You are free to delete these pages and add in your own. If you just need one page, then that's fine. If you need 100 pages then get clicking!
With the pages setup and your site styles in place, you can now click on an individual page and start adding in text and changing the layout to suit you. Squarespace uses blocks to allow you to quickly add different sections to your page. These sections can be dragged around on-screen to achieve the layout you want.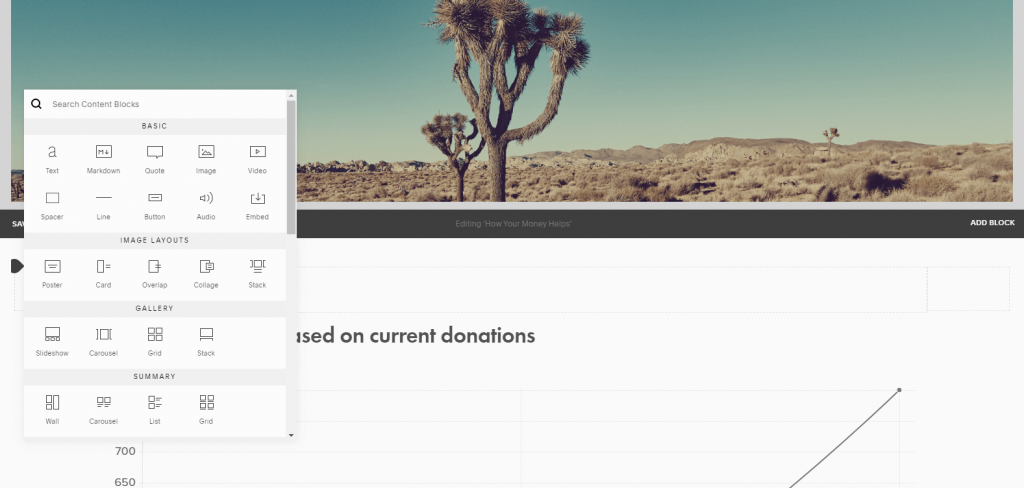 Once you're done, head back to the menu, select a plan, pay and then you can go live with your website. If you need to make further changes you can log into your Squarespace account at any time and update your site accordingly.
WordPress
Once you've signed up for a hosting account you will need to spin up your website. With Pressidium this is super easy to do. Simply click the 'New' button from within the Dashboard and you will be presented with a popup asking for some simple details about your website. Fill this form out and then sit back. Within a couple of minutes you will get an email in with full details on your new website. Log into your website and you will see the WordPress admin.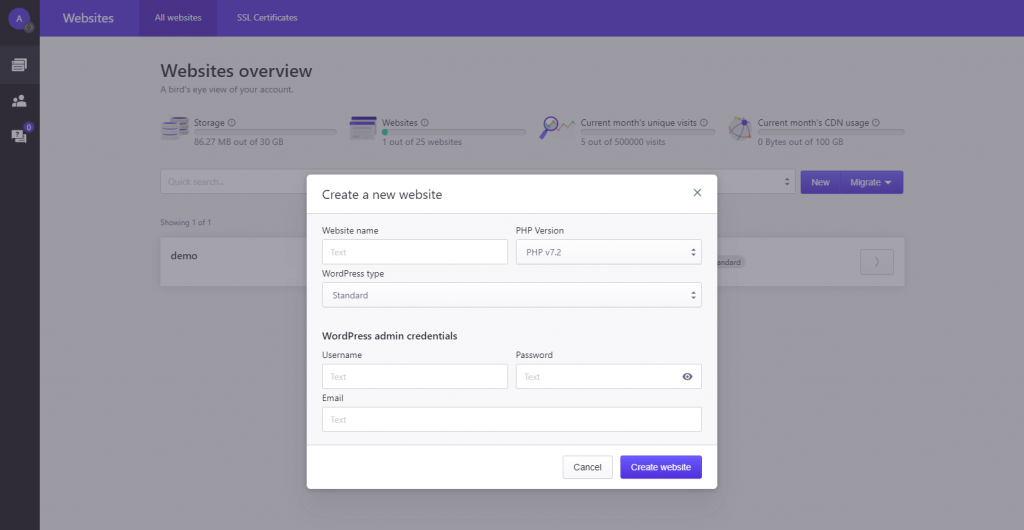 At this point you will need to install a theme. A great starter theme is called Divi and is built by Elegant Themes. This article isn't going to go into how to setup the theme but you can watch a helpful video tutorial on the process on the Elegant Themes website.
Once you've installed the theme you will be presented with an interface that offers a range of options on the website styling. From here you can change the fonts, colors and more. Add new pages via the WordPress pages tab and then customize those page layouts via the Divi drag and drop editor. Although the mechanics are slightly different the process is very much like Squarespace. Divi also offers a wide range of pre-built website designs that can give you a great looking website very quickly.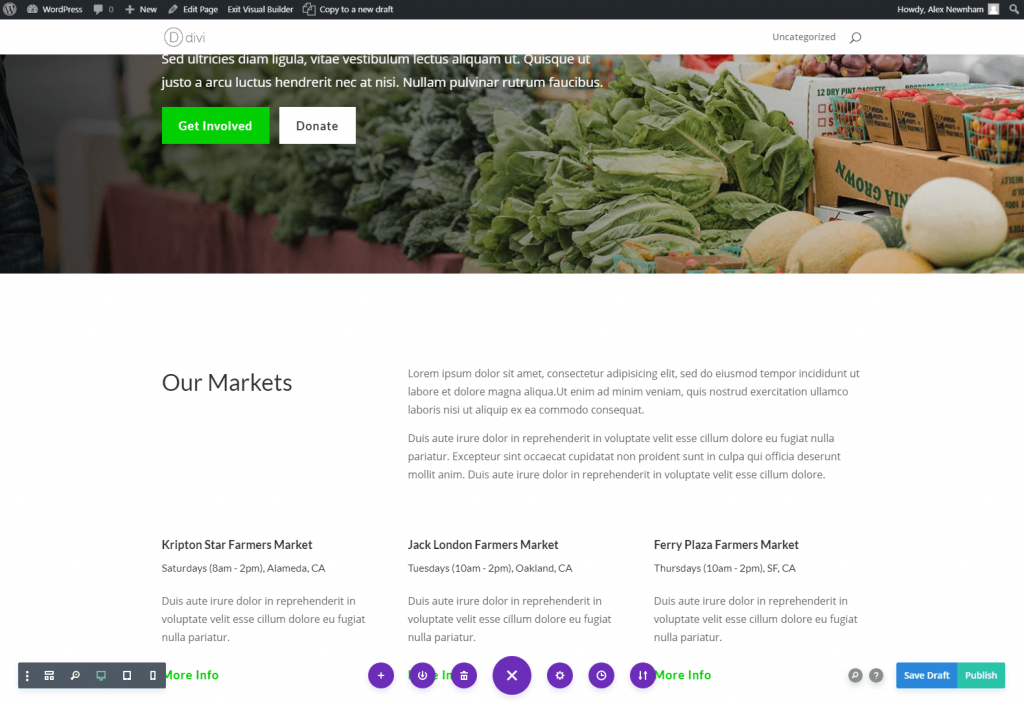 Once your site is built it's a simple case of pointing it to your domain name and you are ready to go live!
Website Functionality: Squarespace vs WordPress
With your design sorted and your website published you can now look at ways of expanding your website functionality.
Squarespace
Squarespace offers a limited amount of additional functionality beyond the core elements that you would expect to be included in a website. This extended functionality is provided via enhanced blocks which are available on their Business plan and above and include things like an OpenTable block for restaurants that would allow people to book a table at your restaurant. Popups to collect emails are also available along with notification banners. These additional levels of functionality are slick and work well but are quite limited.
WordPress
Thanks to an amazing thing called a 'Plugin' you can add an unbelievable array of different functions to your website. WordPress provide a 'Plugin Repository' where you can search for and install plugins that do anything from allow you to integrate a Contact Form on your site right through to plugins that can add a forum or membership system.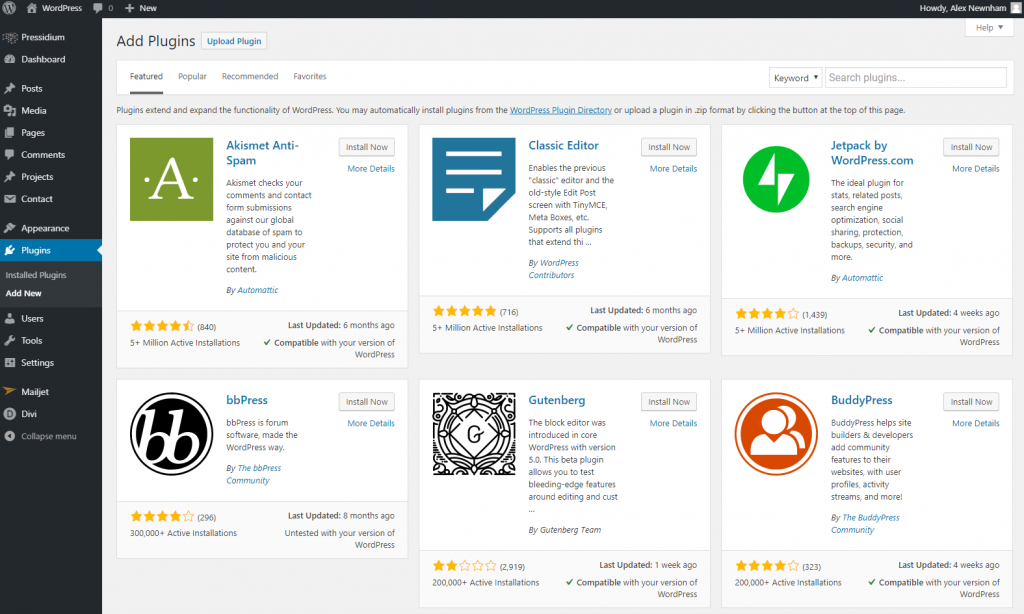 Odds are if you want to do something then someone has already built a plugin to achieve it.
Website Portability: Squarespace vs WordPress
So what happens if you decide you want to download a copy of your website and move it elsewhere?
Squarespace
Broadly speaking, you are locked into the Squarespace platform. Your images, text and other uploaded assets are yours but you can't download your entire website as one and move it elsewhere. If you want your Squarespace website to continue working you have no choice but to stay on the Squarespace platform. Previously it has been possible to download an XML file that will help you move some of your Squarespace core content (e.g. text) into an alternate format (for example WordPress) but we note that the latest Squarespace version (7.1) no longer allows this.
WordPress
With the self-hosted version of WordPress, your data is truly yours. You can move your WordPress site from web host to web host and you are free to extract your data in any way you see fit giving you the ultimate in flexibility.
Pricing: Squarespace vs WordPress
Whilst Squarespace offers a subscription price plan, WordPress is technically free to use but with some caveats.
Squarespace
Squarespace offers 4 different price plans with more expensive plans providing more features such as advanced blocks or e-commerce functionality. Hosting is included in all plans. You can pay monthly or save by purchasing an annual plan.
Note – if you cancel your plan your website will be deleted.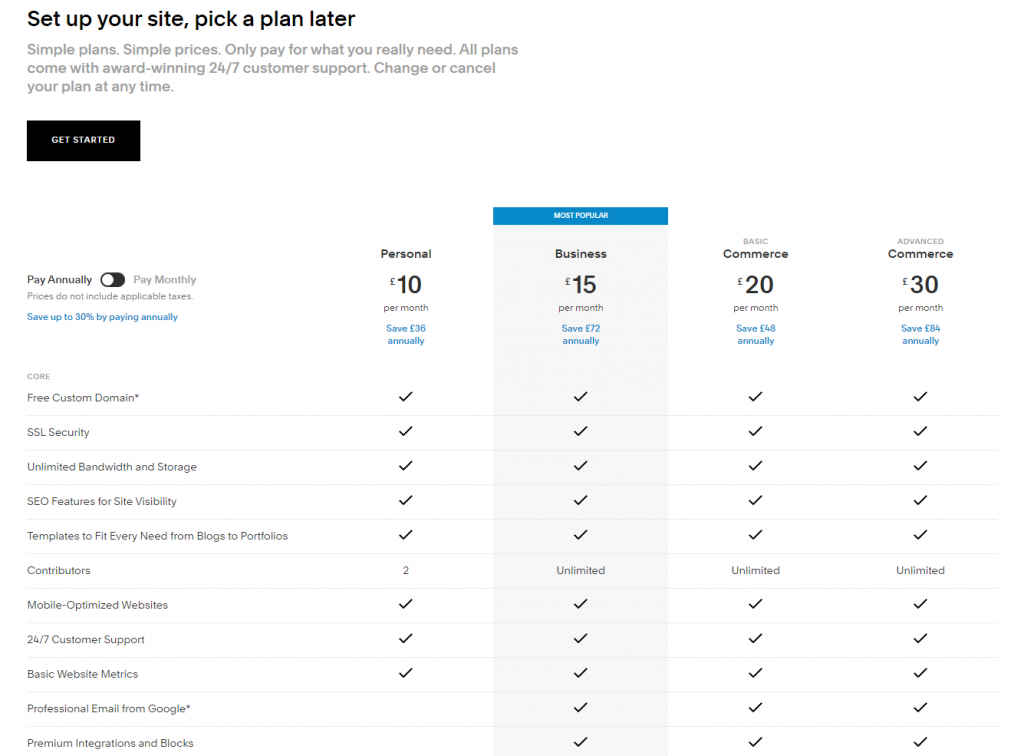 WordPress
WordPress itself as a CMS is free to download and use. You do however need a web host and also a theme. Web hosting can vary massively in terms of cost but a managed WordPress host (like Pressidium) will charge around $21 per month for a single-site hosting plan.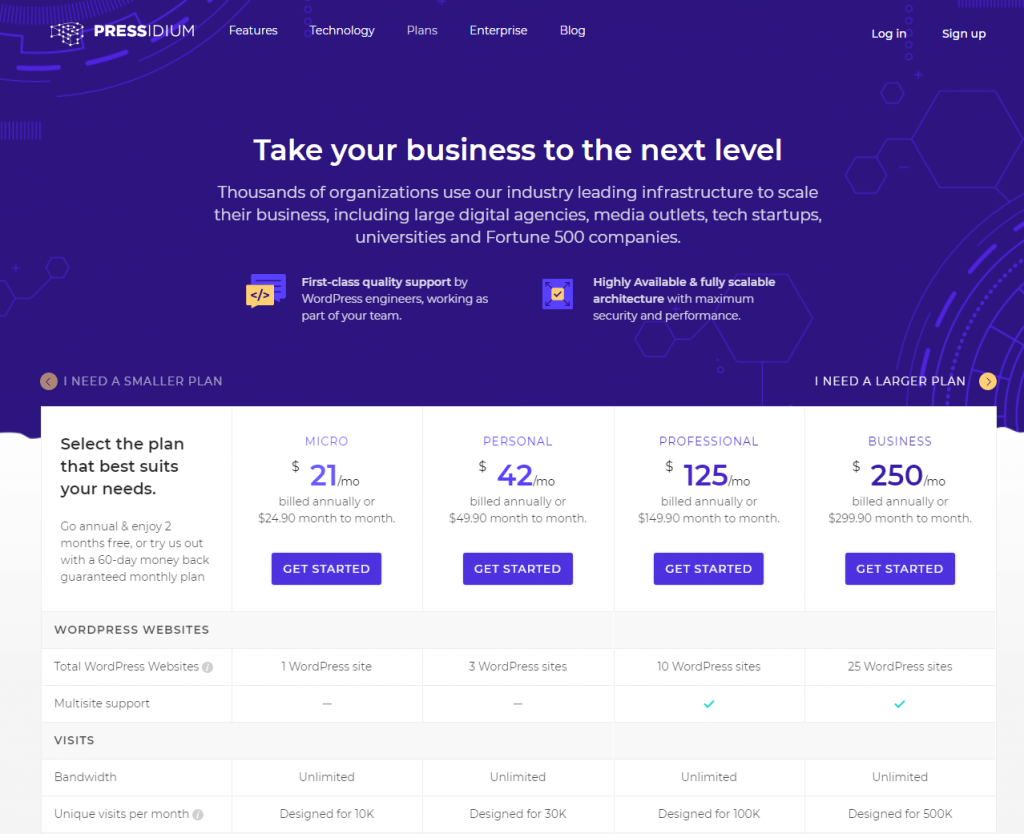 If you need to host more than 1 website then bulk plans are available which brings the cost of hosting per website down quite significantly to around $10 per site or less. Themes come in all shapes and sizes and many are free to use. Some premium themes like Divi cost around $90 to purchase.
And the winner is…
So, after our Squarespace vs WordPress head-to-head, taking a look at all of the options which CMS should you choose? Squarespace or WordPress? The answer isn't perhaps as clear cut as you might like. Both systems have pros and cons making it hard to say definitely that one is better than the other.
Squarespace Summary
Squarespace offers an excellent choice for people who have limited time and/or limited technical ability. It is very easy to build a website that looks pretty good with a relatively minimal amount of effort.
Good Points:
Quick and easy to use.
Very little technical ability required.
Works 'straight out of the box'.
Bad Points:
You are limited in how much you can customize the design of your website.
You will lose your website if you cancel your Squarespace subscription.
Functionality is restricted to the features built into the Squarespace platform.
WordPress Summary
WordPress is an insanely good all-rounder. The learning curve is definitely a little steeper than with Squarespace but there are endless amounts of resources available to help get you started. We're a little bit biased but, if you can set aside a few hours to get to grips with the basics of using WordPress, you will end up with a website that can continue to grow to meet your needs. In our opinion, WordPress is definitely the way to go.
Good Points:
Total flexibility with your design.
Amazing levels of functionality are available courtesy of plugins.
You own your website and can do with it what you wish.
Bad Points:
Slightly steeper learning curve.
We hope you've found this Squarespace vs WordPress overview helpful. If you want to give WordPress a try then sign up for one of our hosting plans. With automated backups and WordPress updates we make using WordPress as easy as possible for you. Our expert team is on hand to help you get started. Find out more and signup today!
Start Your 14 Day Free Trial
Try our award winning WordPress Hosting!