Convenient and hassle-free, Dropshipping is a popular way of operating an eCommerce business. Combine the methodology with a WooCommerce store and you may just have the perfect eCommerce business that can run with minimal day-to-day input. Dropshipping plugins can further increase the efficiency of running an online business by automating many of the actions required on a day-to-day basis.
In this article, we are going to take a look at ten of the best WooCommerce Dropshipping plugins so you can decide which might work best for your business.
Why Use A WooCommerce Dropshipping Plugin?
Dropshipping plugins can speed up the day-to-day running of your eCommerce store in several ways. Some of the features you might expect to see are:
Functionality to make editing your product descriptions super easy
Make bulk ordering hassle-free by sending your order directly to the supplier
No need to type out product information manually. You can import details of a product in an instant
Get access to various dropshipping suppliers so you won't have to worry about inventory management
The requirements of what functionality is needed will for an eCommerce dropshipping business vary but there are normally some key features that most will need. Let's take a look at a few of them.
4 Things To Look For In A WooCommerce Dropshipping Plugin
Here are 4 areas to consider while choosing a WooCommerce Dropshipping plugin for your marketplace.
Ease Of Importing Products: Importing content can be super time-consuming. A good dropshipping plugin should be able to help with this. It's always important to choose a plugin that can eliminate tiring and repetitive tasks especially if you're hoping to grow the business.
Effective Inventory Management: The plugin you pick should be able to update your inventory status and help ensure you never run out of stock. A plugin with an effective inventory management feature should be able to make use of the data generated by your site and present this in a manner that helps you run your shop effectively.
Automates Order Placement To Suppliers: If you have significant levels of turnover and a large catalog of products then a plugin that can automatically re-order when stock falls to pre-defined levels can be a significant time saver. It also helps ensure that products that sell well never end up being out of stock (which would result in lost sales).
Handle Customer Reviews: Despite the prevalence of fake reviews, consumers still place trust in the reviews left by others (even if some don't offer an accurate reflection of the product). Plugins that help manage reviews can be invaluable.
Try our Award-Winning WordPress Hosting today!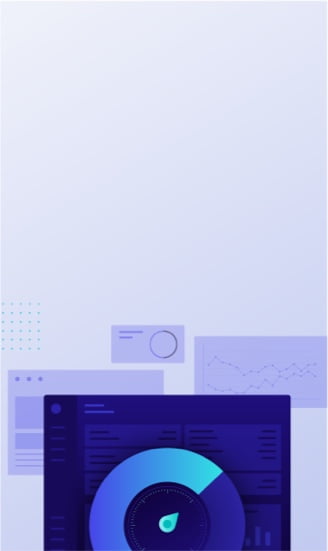 Listed: The 10 Best WooCommerce Dropshipping Plugins
Now that we've looked at what we consider are some of the must-have' features for any dropshipping plugin lets get stuck in and look at the top ten WooCommerce plugins available today!
Dropified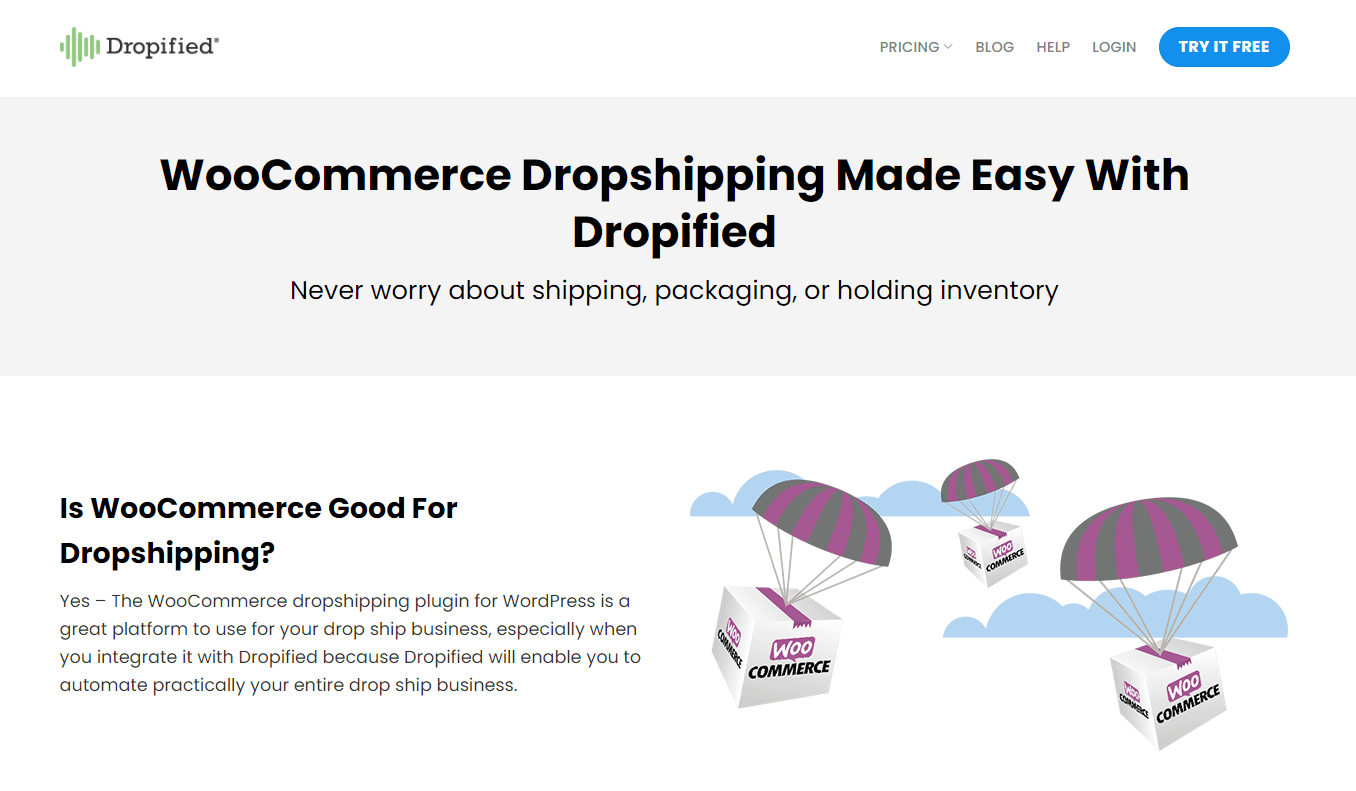 Dropified is a well-known dropshipping plugin that integrates well with several eCommerce platforms such as Shopify, CommerceHQ, and WooCommerce. And some great reviews by over 281,337+ satisfied users since its launch speak volumes about the product.
Dropified helps automate daily tasks needed to operate your dropshipping stores and frees you from time-consuming and mind-numbing repetitive tasks. It also offers a full order fulfillment service to save time and reduce shipping costs. It has three subscription plans for you to manage different dropshipping business scales easily.
What separates this plugin from the rest is the customer service it provides to its users. Integration is easy since they have tutorial videos with step-by-step instructions. It also has other videos with clear information on resolving specific issues. Additionally, they constantly update their blog section with analytics, guides, reviews, and news about the latest happenings in the dropshipping industry.
Features include:
Offers free trial for all plans
A Chrome extension that can add products from suppliers' websites to your store
Gives you access to a massive catalog of Alibaba, eBay, and AliExpress products
Centralized system for automatic order fulfillment, order management, and tracking
Unlimited orders and a maximum of 25 stores can be managed through a single account
Has ePacket scanning function to filter out products that are not eligible for ePacket shipping
A user-friendly dashboard that not only lets you operate your daily needs but also displays profits
List, sell, sync, and manage eBay accounts, Google shopping, Facebook Marketplace, and Instagram shops with variant mapping
Gives you access to their weekly internal content named Insiders Report and provides the latest information and updates on unique, proven products
AliDropship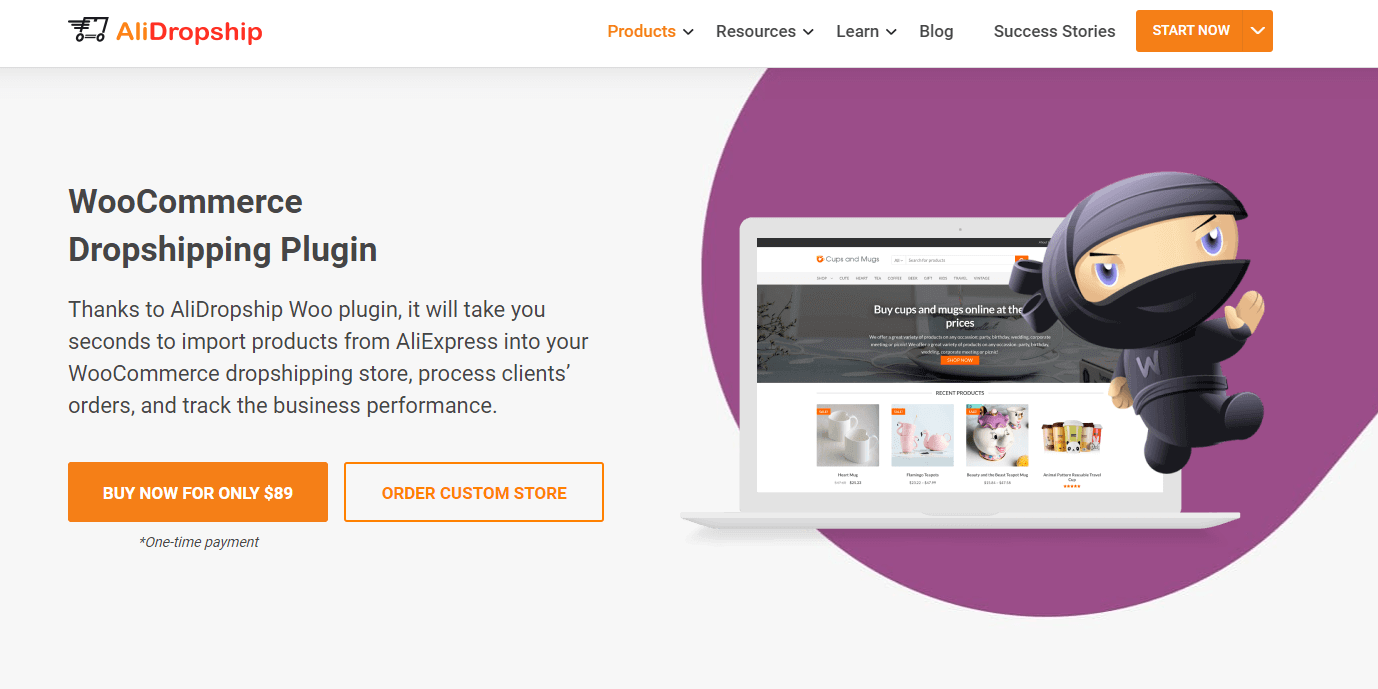 AliExpress is a super popular marketplace for sourcing dropshipping products. So what better way to fulfill AliExpress dropshipping than by directly using the AliDropship plugin for your WooCommerce business?
AliDropship offers a range of products from manufacturers all over China. In addition to its fundamental capabilities, AliDropship gives you the freedom to be creative with your online store. You can design your product page however you choose, letting your store reflect your individuality.
Store customization based on your interest and the niche is a snap, thanks to their customer support. You will receive ongoing support while you build up your online store from a dedicated support manager.
Additionally, customers will have free access to a digital marketing course on "How to Run & Promote Your Dropshipping Store," making it a great choice for people who want to start dropshipping but time manageability is an issue.
Features include:
It has an integrated image editor
Instant statistics are provided by Google Analytics
It offers a cashback program with up to 8% in sales commissions
AliDropship Themes lets each retailer choose a high-converting store template for their business
You can choose an existing dropshipping store and replicate it as your own with AliDropship Premium Stores
It comes with handy built-in marketing tools, such as discount coupons, product reviews, email list builders, and abandoned carts
AliDropship Woo Plugin is designed specifically to work with WooCommerce, giving you the best dropshipping selling experience
Its automation tools help with search and import, updating product information automatically, auto-pricing, order fulfillment, and tracking
WooDropship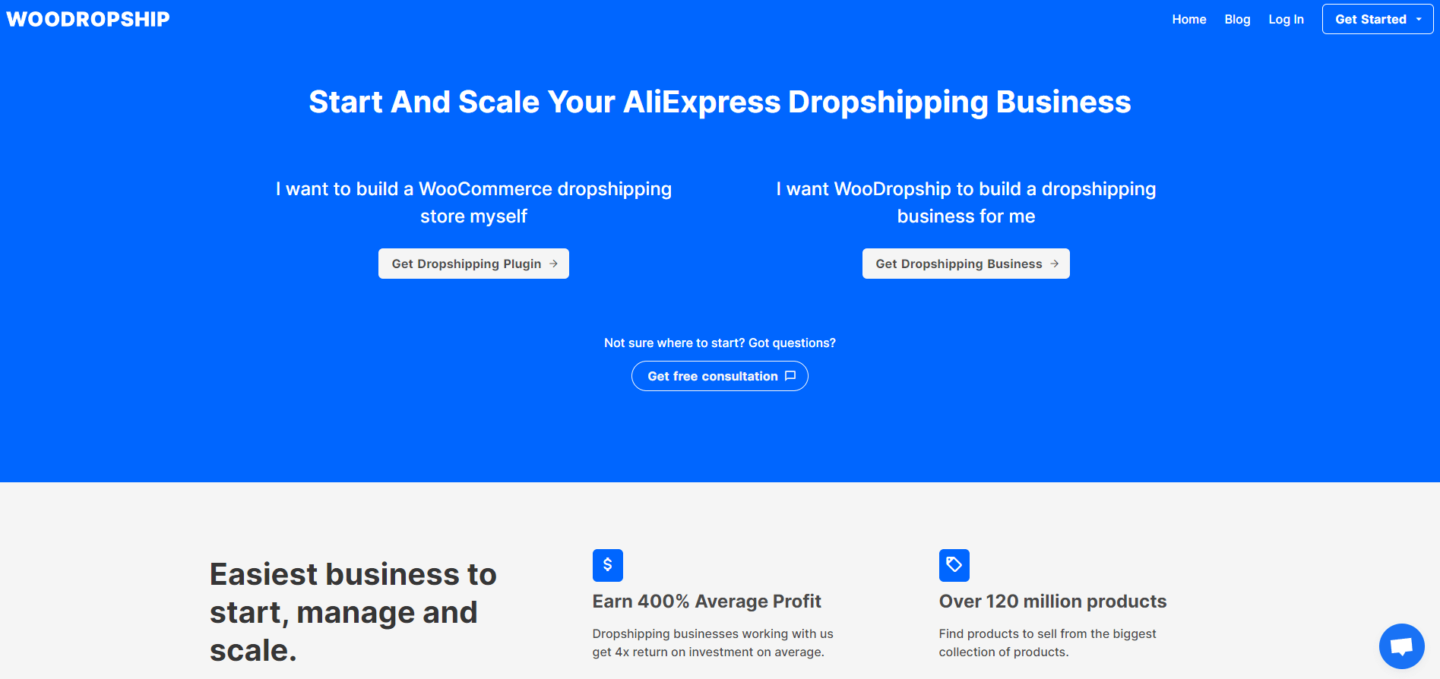 WooDropship is a low-cost but high-function replacement for AliDropship if you are on a tight budget, a novice in dropshipping, or have just begun exploring the dropshipping industry.
It comes with a free plan in which you can add up to 1500 products to your WooCommerce and WordPress websites and process up to ten customer orders each month. In-app image editing, pricing automation, automatic order fulfillment, and daily product synchronization are available too.
The paid plans offer a 7-day free trial and have all the features included in the free plan. The number of products you can import and the volume of monthly orders fulfilled, however, are different. You'll get easy product management and a user-friendly interface while running your business with WooDropship.
Features include:
Automated order fulfillment
Prices are highly competitive
Customizable invoices and sales reporting
Own your website domain and make your brand known
Easy integration of Paypal gateway to accept payments
It offers logo customization based on your particular niche
Customizable product details and automatic price updates
Chrome extension provided easy product import, including product images, product titles, descriptions, variants, and prices
Advanced marketing visuals tool allows you to import product images and customize their layout and graphics for social media platforms
DropshipMe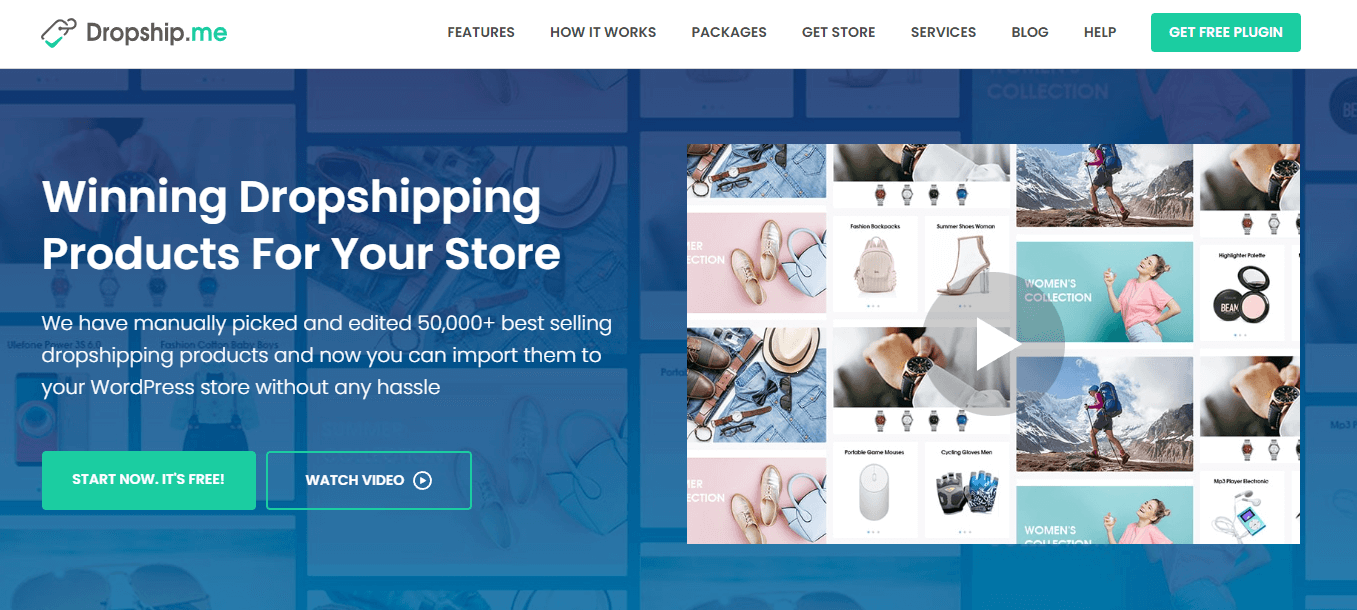 With just one click, the DropshipMe plugin enables you to add the top dropshipping products to your online store with optimized photos and descriptions. It streamlines the entire product research process and helps you find the best products and suppliers as well as potentially profitable niches.
To ensure that you only receive the greatest items out of the available options, they have thoroughly chosen over 50,000 products for you to import. And all this can be accomplished with only a single click. The experts in DropshipMe will ensure that the products you choose:
Are sold by trusted and reliable suppliers
Have a higher ranking and promising revenue potential
Meet the most popular market trends and have a massive demand from consumers
Hold a high standard of customer satisfaction and must have gained satisfactory reviews
Features include:
Powerful search and filter tools
Pricing markup recommendation
Over 50K quality products to choose from
Access to reputable suppliers, quality products, and reliable service
Spocket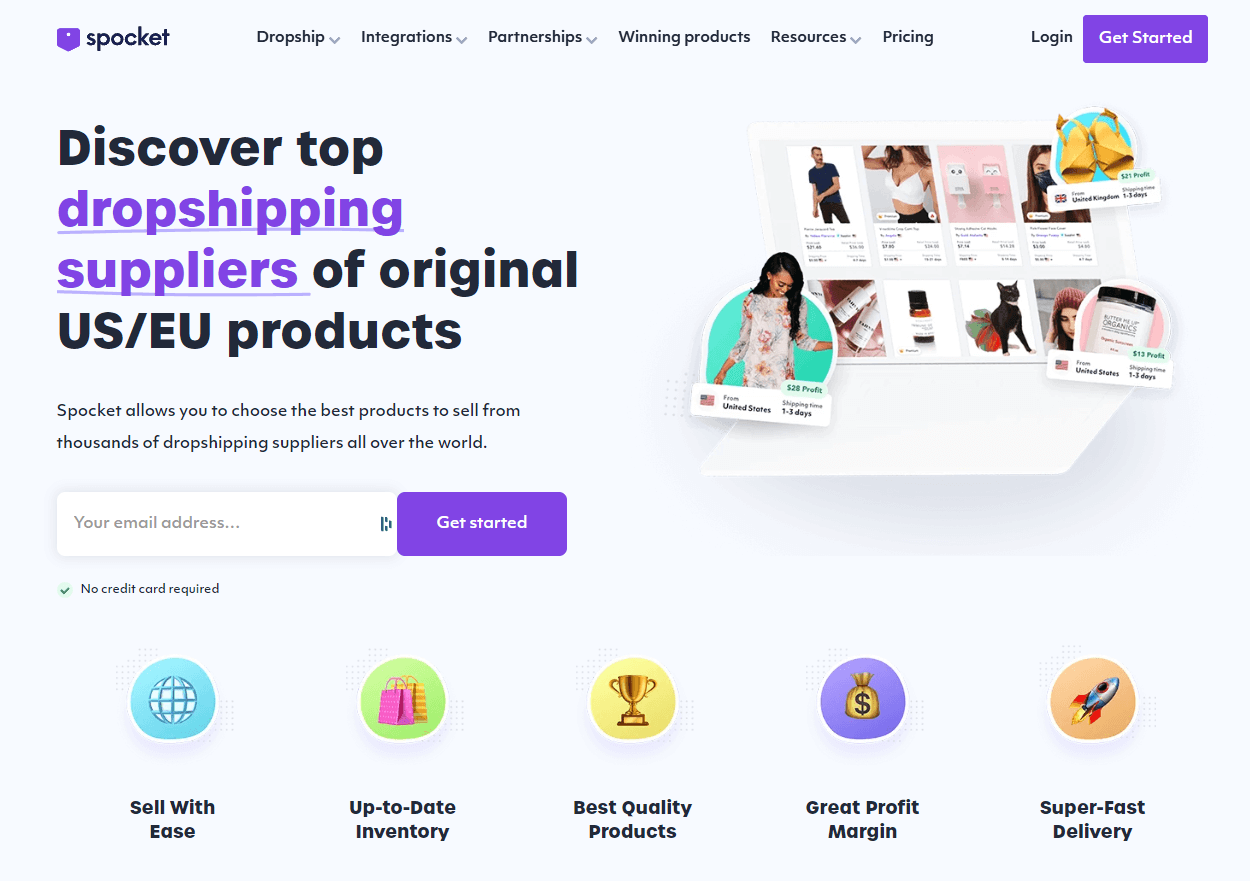 One of the top WooCommerce dropshipping plugins is Spocket, which helps business owners find the top dropship vendors in the US or Europe. This allows you to sell products globally while having all of the product fulfillment take place in the aforementioned regions.
Spocket mainly integrates with Shopify and WooCommerce-based stores. You get quick and reliable shipping to locations inside the US and Europe because that's where the majority of their suppliers are located.
For dropshipping businesses that depend on sales during holidays and other special occasions, this local sourcing can be particularly beneficial. For this specific example, an online retailer wanting to boost its revenue by selling costumes for Halloween or an upcoming cosplay convention cannot afford to have products delivered from international suppliers because of time constraints.
The event or convention may have already ended by the time the products arrive at the end user because these international deliveries typically take 4-6 weeks. This might result in fewer conversions, canceled orders, or even chargebacks. Most of these issues can be resolved if you have US-based dropshipping vendors.
Your online store can effortlessly integrate with Spocket, and all orders will automatically show up in your app. The plugin gives you access to a wide range of manufacturers that Spocket has carefully chosen and vetted.
Features include:
Provides in-depth analysis of trends and products
Lower wholesale rates to boost your profit margins
Transfer information from suppliers to your online store instantly
You can get free samples of the products before placing an order
Get the best discounts and offers that range between 30% to 40%
Access to real-time order tracking for every transaction made. Spocket will notify you and your buyer of the parcel's status and delivery stages
Spreadr

Spreadr is unique in that it was not designed purely with the functionality of a full shop plugin in mind, unlike other typical plugins now available. Rather, it is perfect for WordPress sites that want to include a side online store. Spreadr is also your best bet if you want to expand your company by including more stores.
With Spreadr plugin, you may run your dropshipping or affiliate marketing business by importing Amazon products to your WooCommerce stores. With only a few clicks, you can locate products on Amazon and import them to your WooCommerce store.
Spreadr is a powerful tool, especially for young businesses that may use more items to vary their product lines and carry well-known brands that will help them appear more established.
Features include:
Tool for bulk imports to add an entire category
Reasonable commission rates for particular products
Allows you to make Amazon your dropshipping source
Support for podcasting software so you can monetize your podcast
Analyze and filter out any non-Amazon Prime product on the platform
More advantageous for those that have existing websites than new stores
The Amazon products are displayed with the same look and feel as your business thanks to a consistent user interface (UI)
WooShark WooCommerce Dropshipping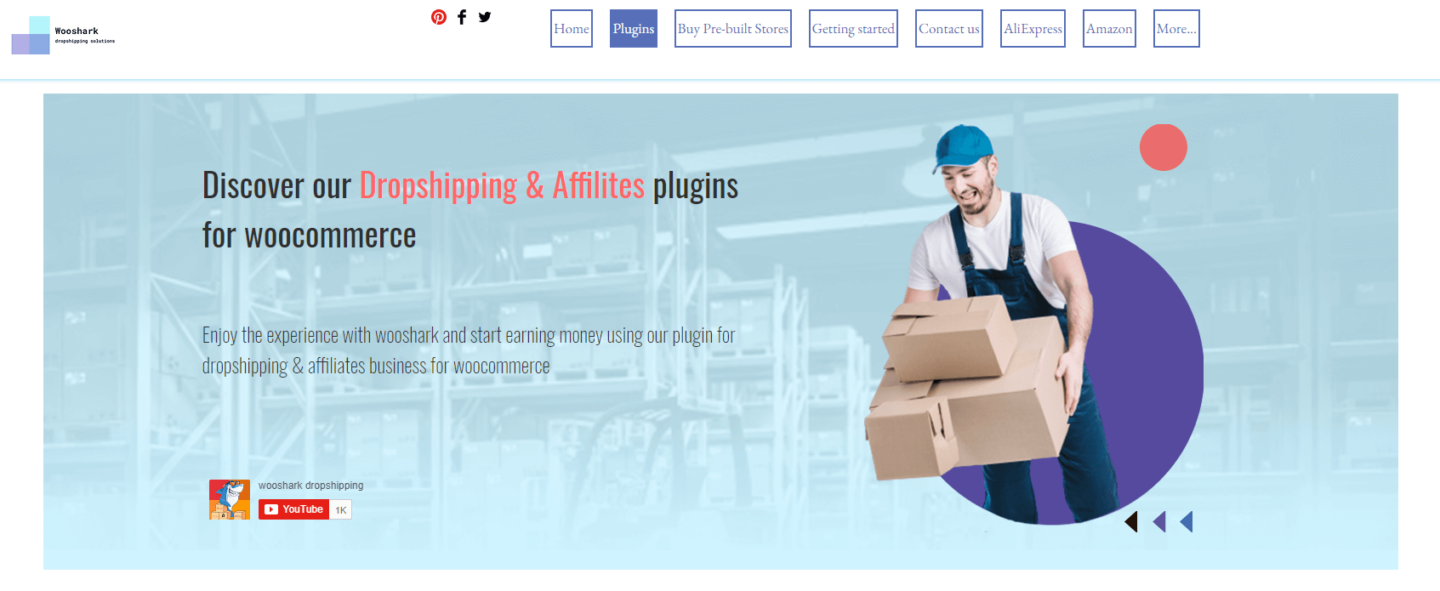 WooShark WooCommerce Dropshipping is another leading plugin on our list that processes your orders from vendors like Amazon, AliExpress, eBay, Etsy, and others. And this diversity gives it an edge over many other plugins.
It is easy to configure and you can customize all items before selling. Along with the bulk import tool, which enables you to import products from many sources, the automatic repricing option makes sure you receive the right commissions on your sales. Being able to fully handle every component of the product makes it a more interactive plugin.
Features include:
Installation and usage are simple and easy
Allows you to import reviews and variations
Provides bulk import function for simpler listing
Collaborates with several reputable drop shippers
Automatically updates the product prices and availability
Allows complete customization of product listings and prices
Automatic fulfillment will redirect to the drop shipper's checkout
Printful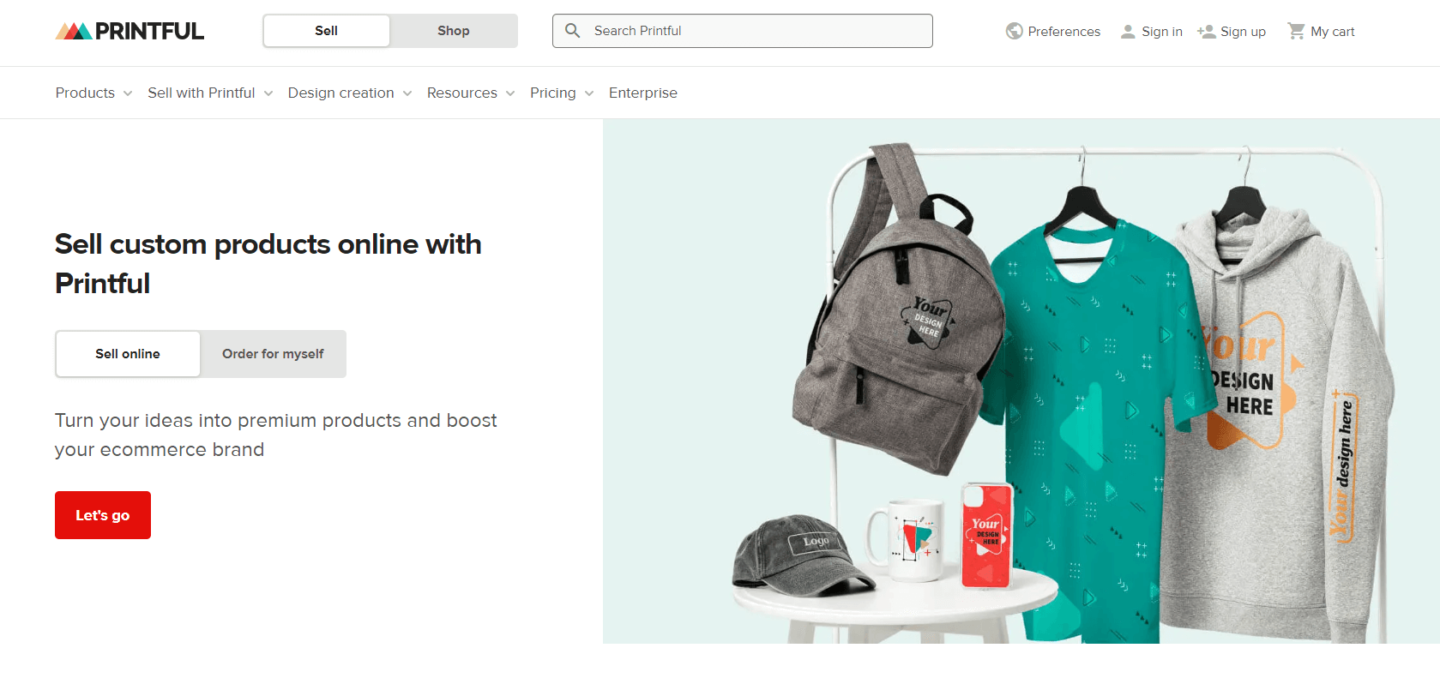 Printful is another powerful plugin designed to specifically handle customizable printed products. If you dropship printed items like mugs, t-shirts, and hoodies from the US and EU, this plugin will be the perfect option for you.
Instead of having to keep your own inventory, Printful allows you to make your own unique designs and have them fulfilled directly by Printful. Since you can sell your unique designs straight from your own WooCommerce shop, it makes a perfect alternative for adding a dropshipped merchandise store to your already existing website. However, it can also function effectively as a standalone store.
Features include:
Custom-made products can be ordered
Smooth integration with WooCommerce
Free Design Maker to create beautiful designs
Sell directly on Facebook, Instagram, and Pinterest
A powerful tool for creating products mockups for sale
Efficient 24/7 customer support to guide you every step of the way
Knawat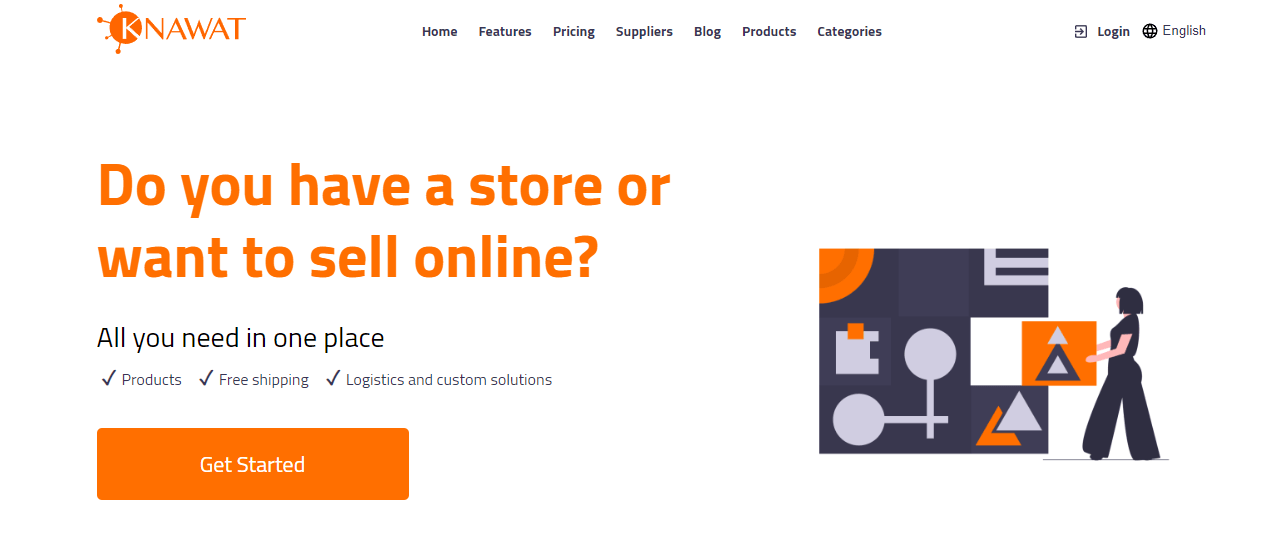 Knawat is an easy-to-use Dropshipping service. With a one-click installation, you can sync your store with Knawat and start dropshipping right away. It allows its users to collaborate with multiple suppliers at the same time using the same account, which not many can do.
The suppliers are mainly from Turkey and EU which are thoroughly vetted to ensure reliability and quality. The best thing about Knawat is its automated order processing in which all the orders are processed and shipped by Knawat. They also offer various resources and training materials to guide you through the process.
Its "Real Time Sync" makes sure there are no canceled orders as the system automatically adjusts daily quantity levels for the goods you sell.
Features include:
Supports multiple languages
Simple tool for product import
Offers various shipping methods
Automated order notification and fulfillment
Handles order processing and shipment on its own
Manage numerous parcels from various drop shippers
Easy to dropship and fulfill orders from Turkey and Europe
Gives you the option of paying after the sale has been made
Cartflows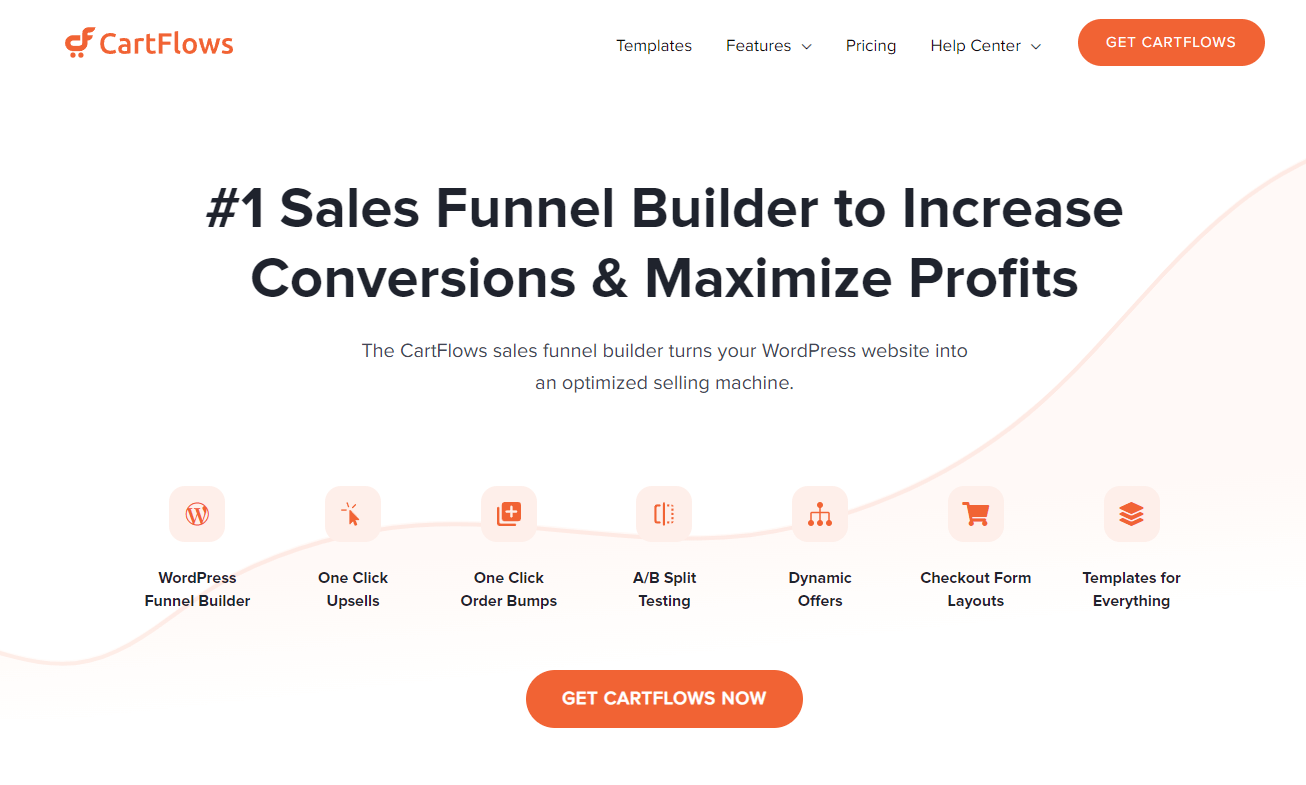 Cartflows is one of the most efficient WooCommerce plugins that provide various sales funnels for better conversion rates helping you optimize your Dropshipping operation. Its one-click upsell increases average order value by suggesting and convincing customers to buy other products from your store at the checkout page.
Identifying abandoned carts, getting them back, and increasing sales are all made simple with CartFlows. You can also use it to transform standard upsells and order bumps into highly targeted dynamic offers. A fully customizable and frictionless checkout experience provided by CartFlows can even replace the standard WooCommerce checkout.
Features include:
Provides certain offers and incentives
Offers multiple add-ons to boost sales
Excellent integration with WooCommerce
Increase robust funneling features in your stores
Provides templates and guides that are easy to follow
Supports a variety of payment options including Paypal and credit cards
Conclusion
We just looked at the ten best WooCommerce dropshipping plugins for business owners. Whilst there is never a one size fits all solution, hopefully, this review will help point you in the right direction when it comes to choosing the right dropshipping plugin for your WooCommerce store!
—–
About our Guest Author: Burkhard Berger is the founder of Novum™. A WordPress and WooCommerce enthusiast he has extensive knowledge of SEO and business development.
Start Your 14 Day Free Trial
Try our award winning WordPress Hosting!