It's been a seriously busy 2021 for our development team here at Pressidium. We've pushed out a number of innovative new features all designed to help make hosting WordPress websites as easy as possible for our customers. We hope you've found them helpful.
As we head into a new year, we thought we'd quickly recap some of the 2021 releases. Check them out and see if you can spot any you've missed that might be of use!
Password Protect Your Website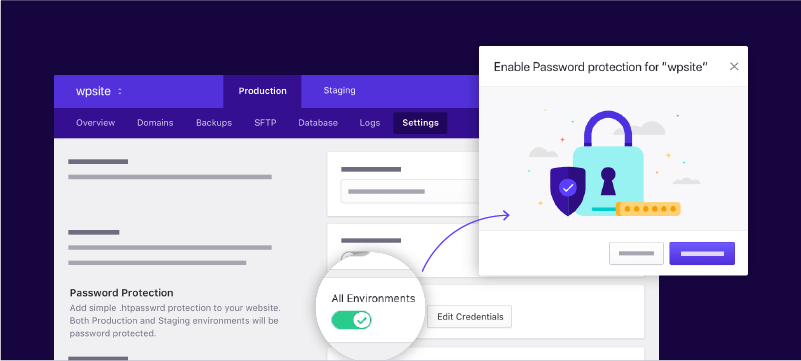 Sometimes you just don't want people to be able to access your website! This might be whilst you work on some updates or because you're not yet ready to launch, but none-the-less want your site 'ready to go'. Traditionally, password protecting your site would involve using a plugin such as Password Protected but this adds another layer of work.
Activity Logs for Team Owners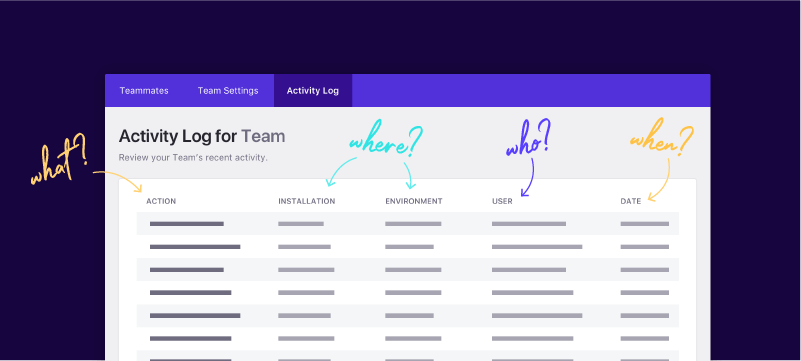 Knowledge is power, or so they say. With multiple people from your team (with your permission of course) able to access your Pressidium dashboard, sometimes it's useful to be able to keep tabs on who has done what. Equally, in the event of a problem, being able to see what actions were taken, and when they were performed, can help troubleshoot an issue. To that end, say hello to our new Activity Log.
Quickly Find Your Website IP's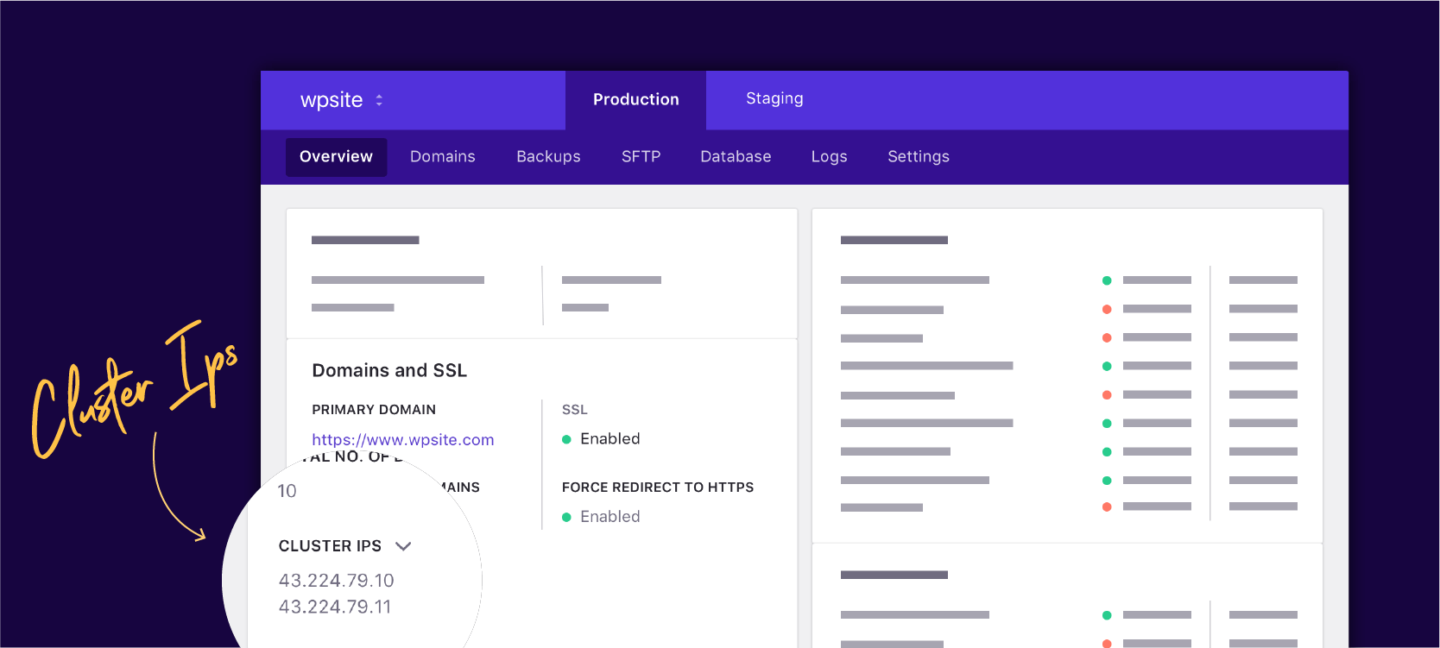 Sometimes it's the little things… although this might not be the most exciting update we ever push out, we hope you find the ability to see the IP's for your website at a glance from your website overview screen useful!
Organize Your Websites with Labels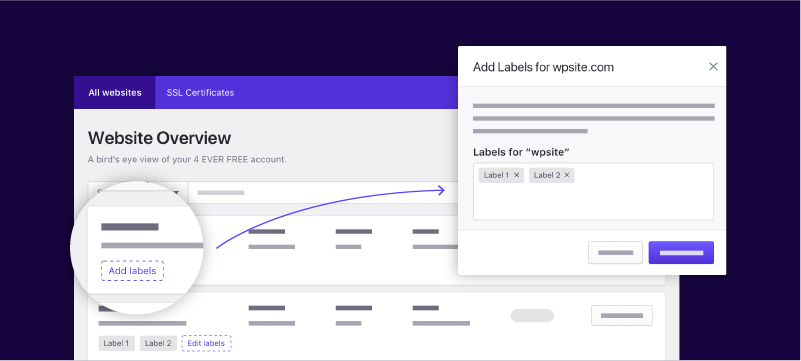 If you've got a large portfolio of websites, then keeping track of them can be tricky. Sometimes the name of the website alone doesn't provide all the info you need and can make various maintenance and management tasks hard. Now, organizing your sites juts got a whole lot easier with Labels.
Shareable Ticket Links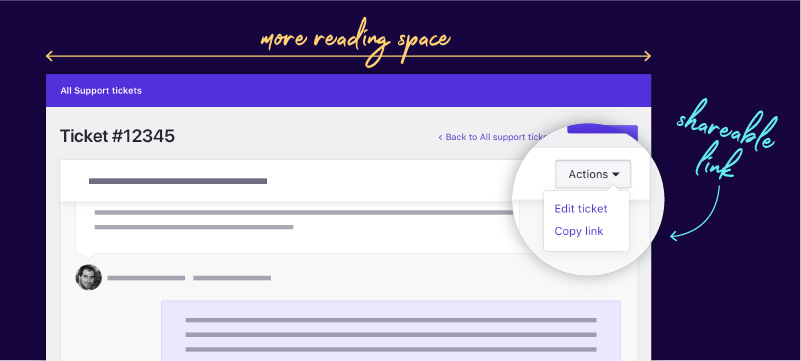 Sometimes support tickets can get buried and it can be hard to share these with your team. To help, we've now created the ability for you to copy a url that points directly to a specific support ticket. This link can be shared internally with your team or bookmarked for future reference. In addition, when you view a ticket via it's unique url, the ticket now opens in 'wide' view which makes for easier reading!
Enhanced Control over Staging Site Deployment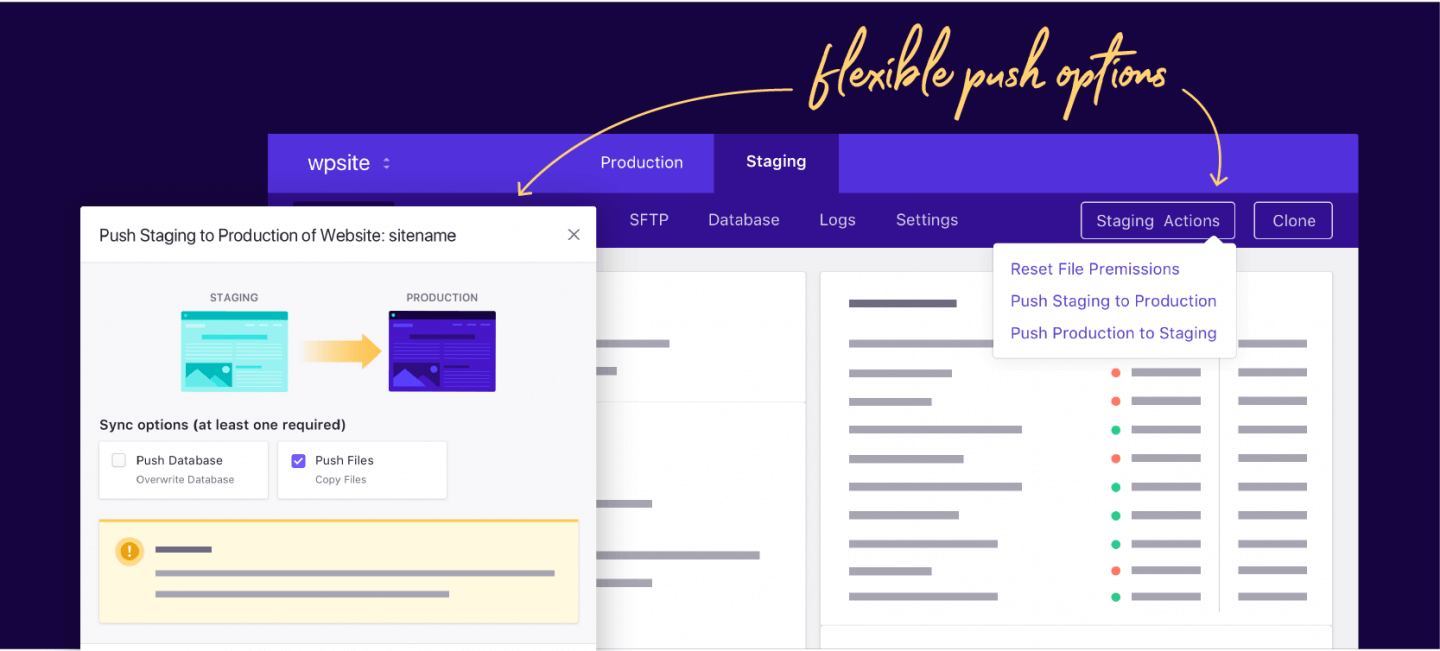 Staging sites can help revolutionize your website development and maintenance processes. As such, it's no surprise that they're one of our most popular features (and if you've never used this function before, try it!).
Try our Award-Winning WordPress Hosting today!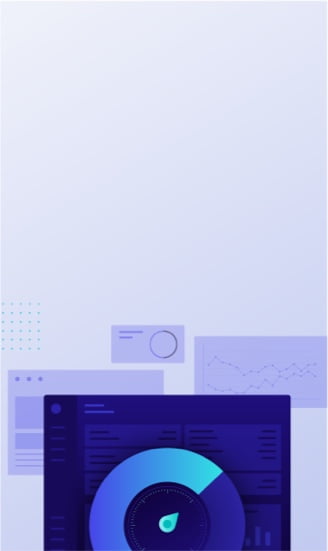 Our enhanced staging site deployment process with clearer graphics (so you can be fully confident about the operation you're about to perform) as well as enhanced functionality that allows you to choose whether you copy database updates, file updates or both to your production or staging site.
Copy a Database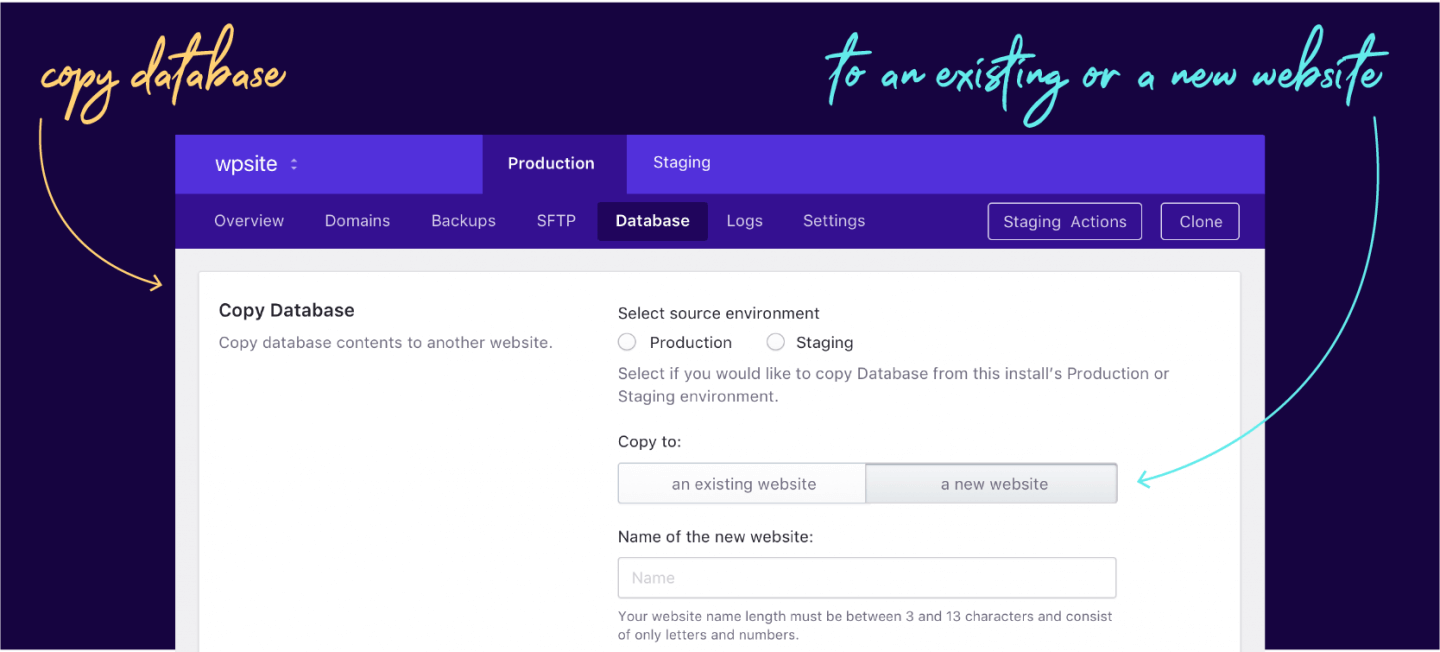 WordPress websites live and die on their database. It can be incredibly useful to be able to copy a database to another site, for example when you have multiple people working across both the Production and Development versions of a website.
Normally this would involve directly accessing the database via phpMyAdmin which is time consuming (and sometimes prone to errors). Now though you can quickly, easily and above all, accurately, copy your database from one site to another with just a couple of clicks from within your Dashboard.
Two-Factor Authentication is Here!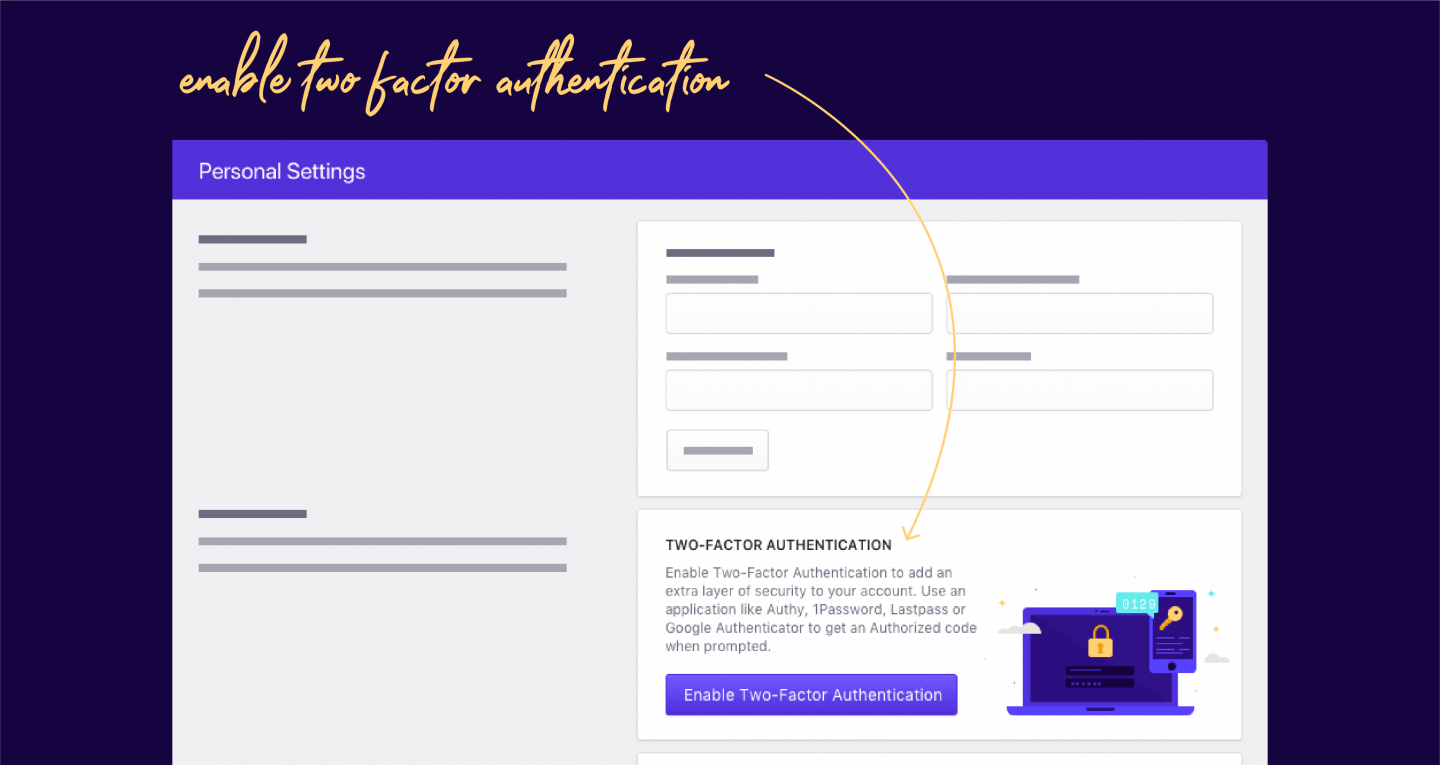 We were really excited to roll out a hotly anticipated addition to our Dashboard…Two-factor Authentication. As we explained in our article about Two-factor authentication (2FA), this practice greatly enhances your account security by requiring a second piece of information to validate your identity when logging in, helping protect your Dashboard from unauthorized access.
Easy WordPress Core Updates from the Dashboard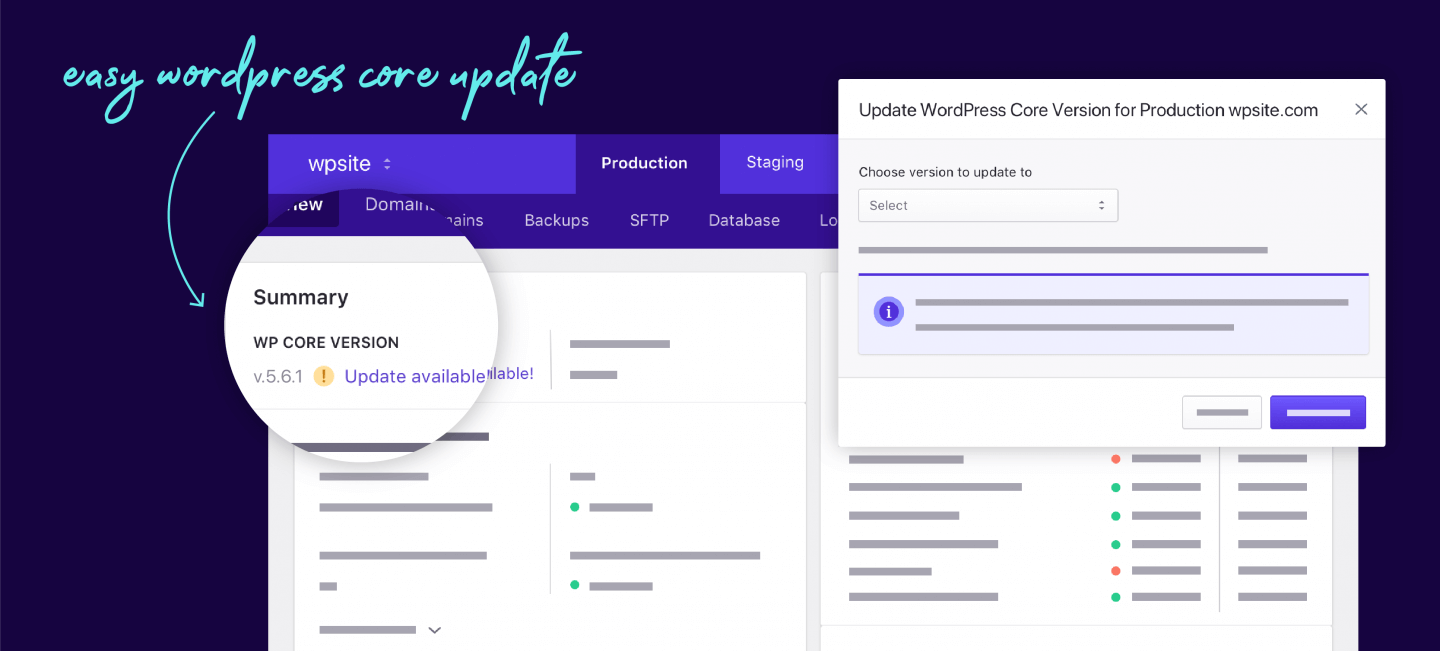 Whilst we take care of WordPress core updates for you, there may be times where you want to update your core yourself ahead of our release schedule. You can now do this straight from the Dashboard.
Simply open a website from within your Dashboard and, on the Overview tab, you'll see a Summary section which details the WP Core Version which that site is running. If an update is available it will display here. Simply click this to initiate an update to the latest version.
Website Notes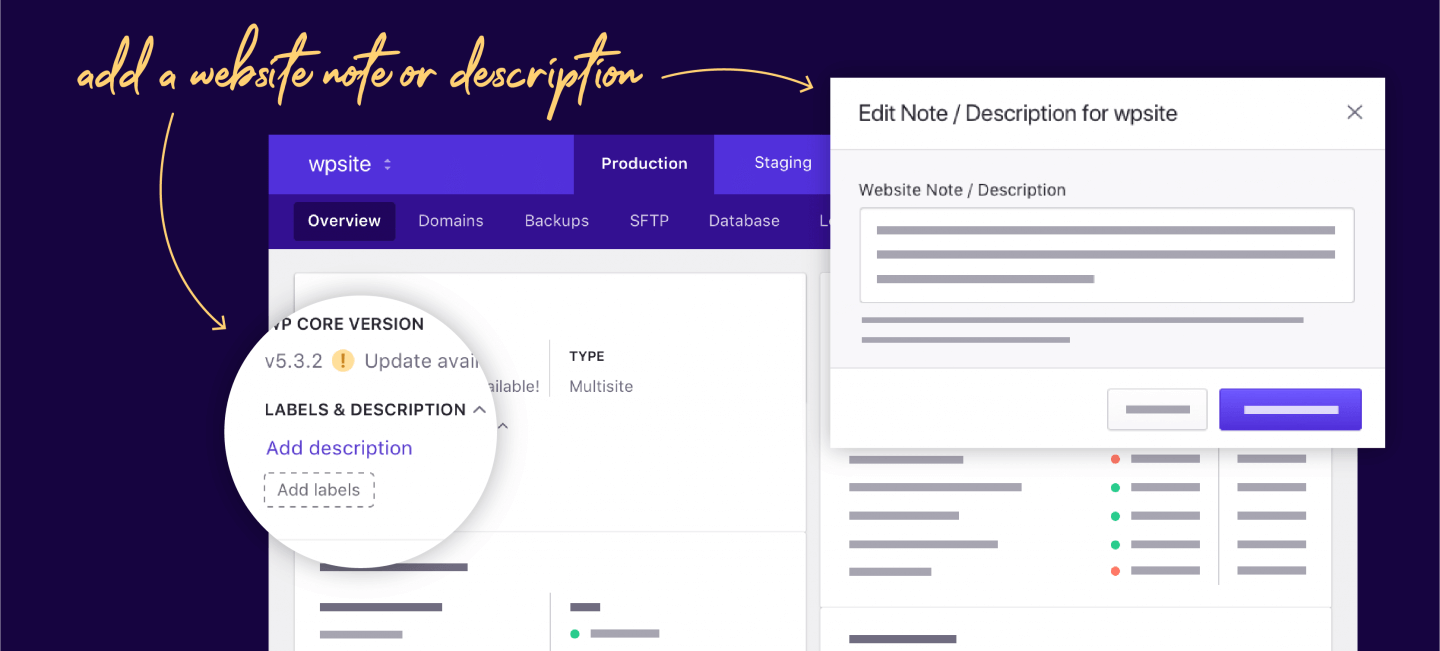 If you're managing a large portfolio of websites, and especially if you have multiple team members undertaking work across these sites, it can be hard to keep track of certain critical information pertaining to each individual site in your portfolio. Now though, it's easier than ever thanks to our new Description feature.
You'll find the 'Add Description' link located just below the Labels & Description section in the Overview tab. Click this to launch a popup where you can add notes about the website.
Restore to Another Website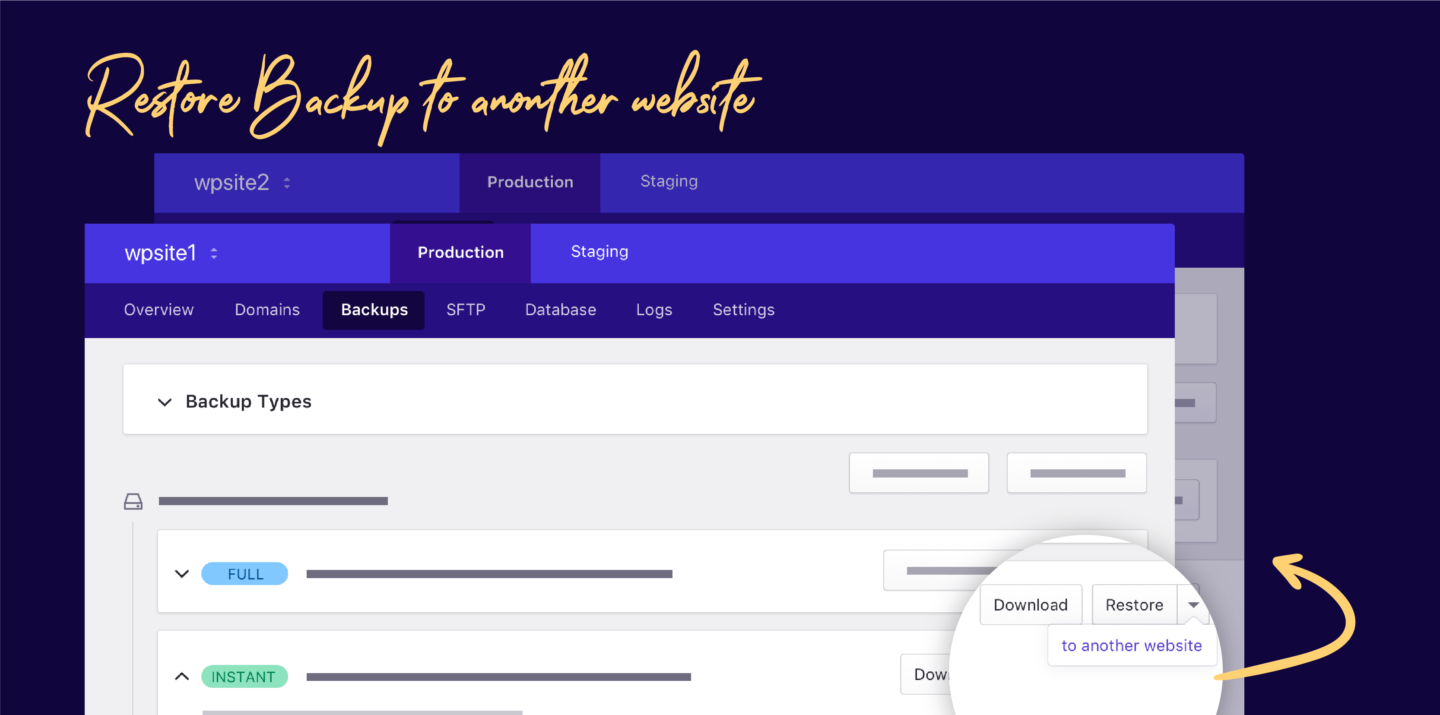 Always wanted to be able to restore an instant backup to another website? Well now you can! By restoring an Instant backup to another website you can easily:
Compare content between backup versions.
Compare content between a backup version and the staging or production environment(s).
Compare theme and plugin behavior between backups or between backups and the live site.
Troubleshoot plugin and theme issues.
We've already seen significant usage of this new feature. If you've yet to give it a go, then don't forget to try it when the opportunity arises.
What New for 2022
We have some exciting plans for a whole range of new features for 2022… but for now we're keeping quiet! Make sure you sign up to receive our newsletter (if you haven't already) to be notified when the next batch up updates hits the Dashboard.
Start Your 14 Day Free Trial
Try our award winning WordPress Hosting!